There are only 4 ingredients in this easy Crock Pot Brisket!  You will be amazed at how delicious this BBQ Beef Brisket tastes coming out of your slow cooker.
***If you love EASY and DELICIOUS meals that you can make for your family in your slow cooker, please join me over on Instgram where I share ALL slow cooker recipes!  Hope to see you there!  Find me on Instagram at @slowcookerrecipelove ***
While my kids were in high school, I spent a lot of time in the costume shop at the school.   One of my favorite things about it was the opportunity it gave me to meet some of the other moms of my children's friends.
And it never fails, when moms get together, the conversation always makes it around to, "So what are you having for dinner?"  I love to ask that question.  I have gotten a lot of great new recipes by asking it.
Today's recipe is one that I got from a costume shop conversation back in 2009! It is so easy and delicious that it has been in our dinner rotation ever since.
This dish is so simple you won't even need to print the recipe!  Just place your brisket in the crock pot.  Squirt mustard over the top.  I like to use a Spicy Brown Mustard but Cindy, who gave me the recipe, used regular old yellow mustard.
Next, mix one package of Lipton's Onion Soup Mix with one cup of water and pour it over brisket
Then let it cook on low for 8 hours!  And that is it!  Delicious slow cooker brisket.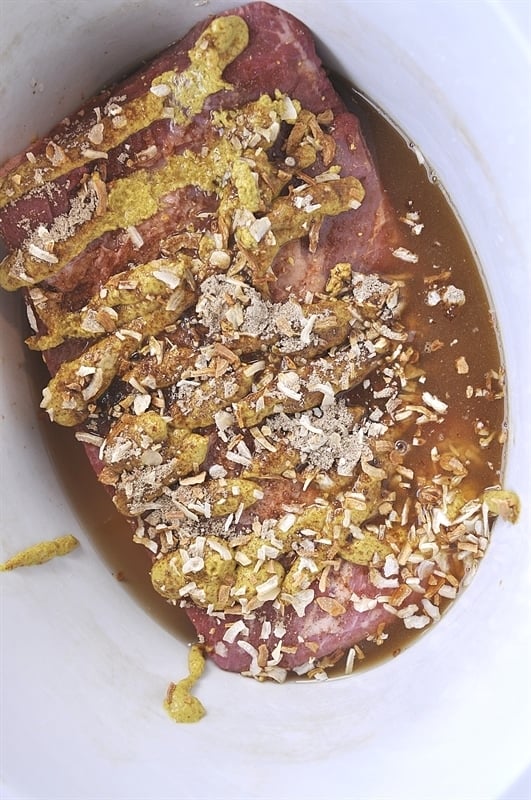 It is great served with a side of mashed potatoes.
BBQ Beef Brisket
After enjoying the brisket and mashed potatoes the first night, I shredded the left over brisket, added some barbecue sauce, and made BBQ beef brisket sandwiches for dinner the next night.
Dinner doesn't get much easier than this.  Only four ingredients and you end up with two nights of delicious dinner.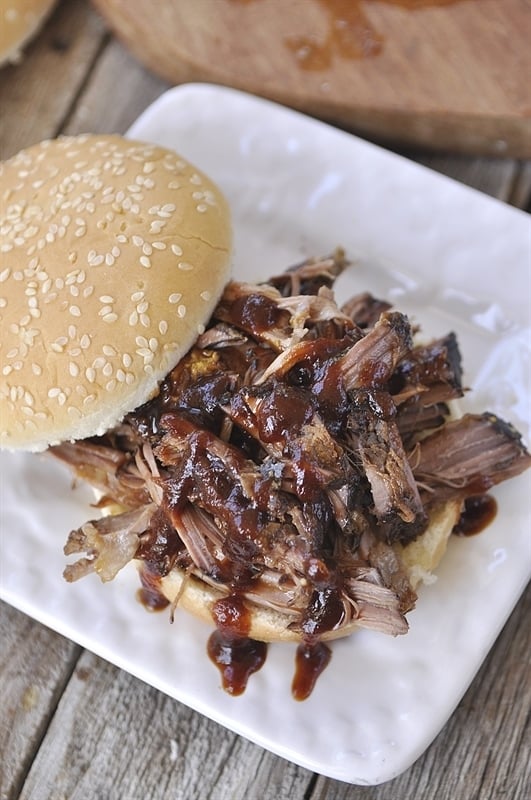 ***If you love EASY and DELICIOUS meals that you can make for your family in your slow cooker, please join me over on Instgram where I share ALL slow cooker recipes!  Hope to see you there!  Find me on Instagram at @slowcookerrecipelove ***
Slow Cooker Brisket Recipe
Crock Pot Brisket
Total :
8
hours
5
minutes
Ingredients
3-4 lb. beef brisket
spicy brown mustard or mustard of choice
1 pkg of Lipton Onion Soup Mix
1 C water
BBQ sauce
Instructions
Place brisket in slow cooker.

Cover top with mustard, just squirt away!

Mix soup mix in with water and pour over brisket

Cook on low for 8 hours.

Remove and shred.

Add BBQ sauce if desired