I am excited to share today's recipe with you for a couple of reasons.
First,  it is yummy!
Second, it is quick and easy!
Third, it is a recipe from one of you.  Remember that nice, little request I made last week?  I am starting a fun new series – from your kitchen… to my kitchen and I have invited you to send me some of your favorite family recipes and I will pick some of them to try out and share here on the blog.  Today's recipe is the first of those recipes!!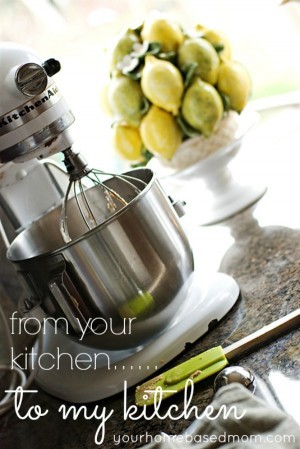 We recently bought a new grill since our old one totally died on us right in the middle of trying to cook dinner on it so we have been into grilling lately, trying out the new one.  It's also been hot here in the NW  the last few weeks so turning on the oven is not as desirable!  Grilling is the perfect solution – take the heat outside.  I also love the ease of grilling and the fact that I can put my husband in charge of it!
Today's recipe for grilled lemon mustard chicken is delicious and easy.  The recipe came from blog reader Carolyn.  In her email she said,
I don't think I'm a great cook so I wasn't going to send you any recipes, but when I told my son about it, he encouraged me to send you some of our family's favorites.  Several of them are completely original, the rest I have received from friends, but I have changed things in them to make them the way we like them.  I hope you enjoy trying them.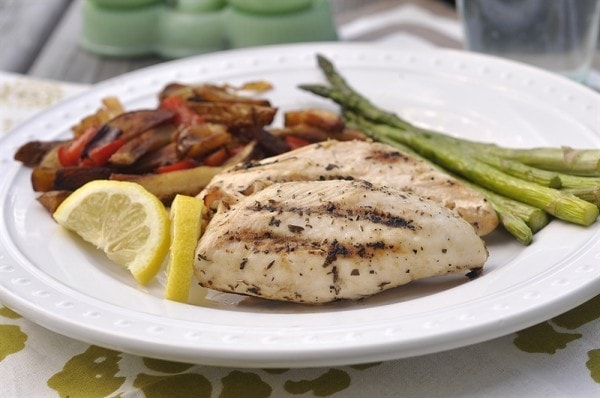 I am so glad her son talked her into to sending me some recipes!
I loved the flavor of this marinade.  She recommended marinading the chicken overnight and so I did.  I think it helped to tenderize the chicken as well as infuse it with wonderful flavor.  The marinade is a combination of  fresh lemon juice, dijon mustard, garlic and some herbs de provence.  So flavorful.  The only tweek I made was to use fresh lemon juice since I had lemons.  The original recipe called for bottled lemon juice.  So either will work.
I used skinless, boneless chicken breasts.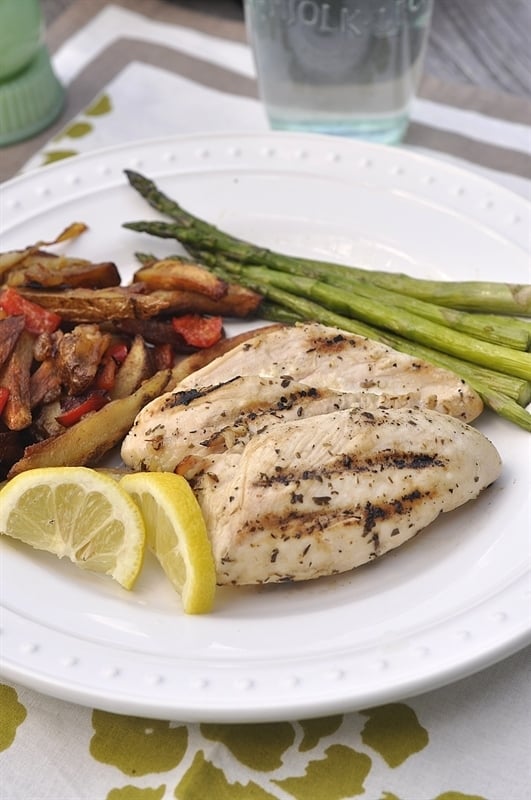 It was the perfect summer night meal – light and flavorful.  I served it with some roasted asparagus and skillet potatoes.
Carolyn said this was her family's favorite chicken marinade and I can see why!  It's a new favorite of ours.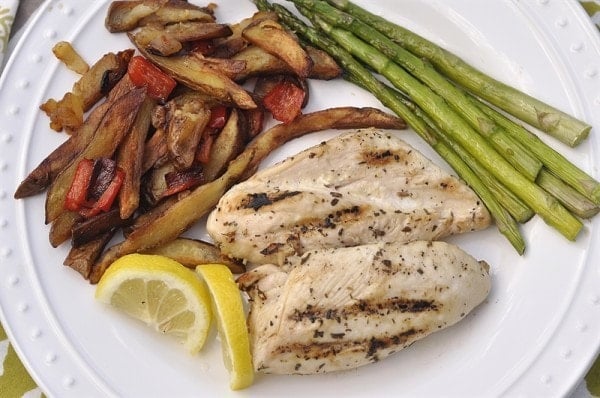 So I am still accepting recipes and I would LOVE it if you would share one with me.  Just leave it in the comments or email it to me at [email protected]
For some other yummy chicken recipes try these:
Chili-Lime Pineapple Chicken Skewers
Enjoy!
Leigh Anne
You can also visit me on Facebook, Pinterest, Twitter,  Instagram
and Google+
For a list of where I Link Up each week go here.
Grilled Lemon Mustard Chicken
Ingredients
2/3

cup

bottled or fresh lemon juice

1/3

c

vegetable oil

1/3

c

water

4

t

dijon mustard

4

t

sugar

2

t

chicken bouillon paste

2

cloves

garlic

1

T

Herbs de Provence

2

pounds

boneless

skinless chicken
Instructions
Mix together all ingredients except chicken.

Stir thoroughly.

Pour over Chicken breasts.

Marinate, turning over occasionally for at least overnight.

Grill for a few minutes on each side.
Stay Updated!
Need more recipes and creative ideas? Sign up and get a FREE copy of my ebook! Do you think your friends would love this too? Please share my blog with them. Thanks!