This lemon herb chicken marinade is simple to put together and the taste is fabulous. Perfect for summertime grilling, or making anytime feel like summertime.
Every good cook needs to have a repertoire of good marinade recipes.  A good marinade can be a total life saver, especially in the summer. I have been in a total non cooking mood lately.  It may be due to the fact that I planned and prepared three meals a day for 15 people for a week (love my family!) or that it has been hot here in Portland (something we aren't really use too)  Who wants to heat up the kitchen on a hot summer day?  I have just not been in the mood to cook but I still want to eat!!
When I am in the non cooking mood and it is too hot to cook that is when I love to use our grill.  My husband got a new grill for Father's Day, not that he really wanted one, but I wanted one!  Do you ever do that, give your spouse a present you really want??  We have a Traeger which we love but I was really missing the high heat that gets you those grill marks on a piece of meat so I decided we needed a regular grill too.
It doesn't get much easier than marinading a piece of meat and then popping it on the grill at dinner time.
Today's simple but delicious marinade came from my friend Tracy and it has become my go to chicken marinade.  The use of lemon juice and herbs gives it a fresh, light summer time flavor.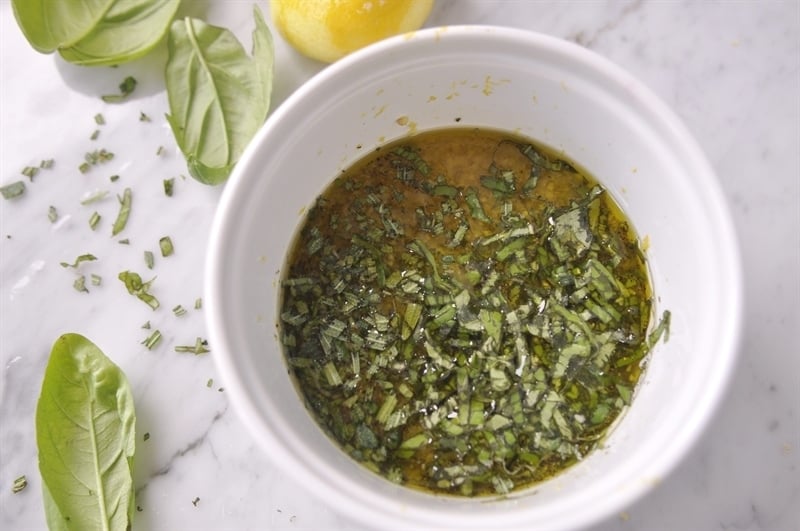 Lemon Herb Chicken
This marinade is a combination of olive oil, lemon juice, garlic and herbs.  You can use either fresh herbs or dried herbs.  In the summer when I have easy access to all the herbs in my garden I use fresh, in the winter dried herbs work just great.  You can even switch up the combo of herbs depending on what you have but I like to use basil, rosemary and thyme.  A little garlic, salt and pepper and you are good to go. The ratio of fresh herbs to dried herbs is 3 to 1.  Three teaspoons or 1 Tablespoon of fresh to 1 tsp of dried.
Just allow the chicken to marinade for about 4 hours and then pop it on the grill.  Dinner is ready!
Lemon Herb Marinade Recipe
Print
Lemon Herb Chicken Marinade
Ingredients
2

Tbsp

lemon zest

1/3

cup

fresh lemon juice

2

cloves

garlic

minced

1

tsp

dried basil

or 1 Tbsp fresh basil

1

tsp

dried thyme

or 1 Tbsp fresh thyme

1

tsp

dried rosemary

or 1 Tbsp fresh rosemary

1

tsp

salt

1

tsp

pepper

2

Tbsp

olive oil
Instructions
Mix all ingredients in a zippered bag and add chicken.

I usually use 4-6 bonesless, skinless chicken breasts to this amount of marinade.
Nutrition
Calories:
293
kcal
|
Carbohydrates:
12
g
|
Protein:
1
g
|
Fat:
28
g
|
Saturated Fat:
4
g
|
Sodium:
2330
mg
|
Potassium:
83
mg
|
Fiber:
2
g
|
Sugar:
2
g
|
Vitamin C:
48.8
mg
|
Calcium:
77
mg
|
Iron:
2.4
mg