Grilling your vegetables is a fun and easy way to create a delicious side dish!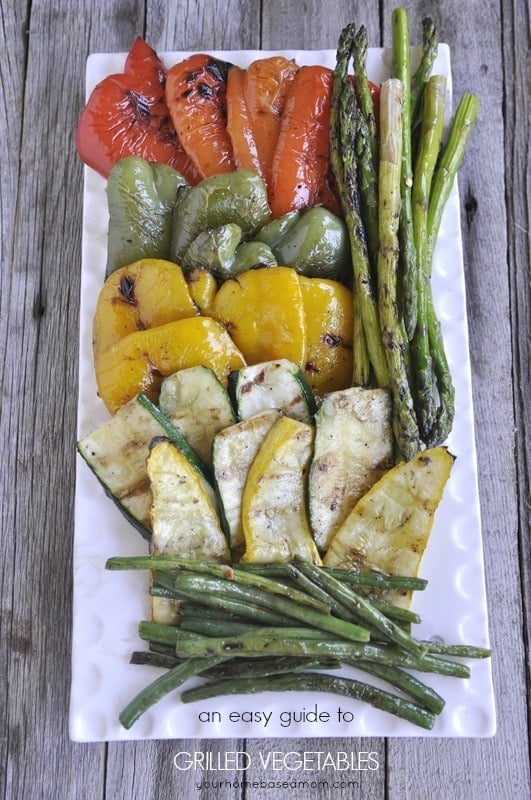 Basically any kind of vegetable can be grilled. From your harder root vegetables such as carrots, potatoes, etc. to your softer vegetables such as zucchini and squash. The process is the same for all the different vegetables. The only thing that really changes is the amount of time it takes to grill them. The harder the vegetable, the longer it will take to grill.
I use two different methods for grilling vegetables. The first is to place the vegetables directly on the grill and the second is to place them into some type of grill pan and then on the grill. I like to use a disposable aluminium foil pan for my grill pan. It is inexpensive and clean up is easy. Just throw it away.
If I am grilling directly on the grill I cut the vegetables into bigger pieces so they don't fall in between the grill. I cut my peppers into quarters and my zucchini and squash into longer, flat horizontal pieces.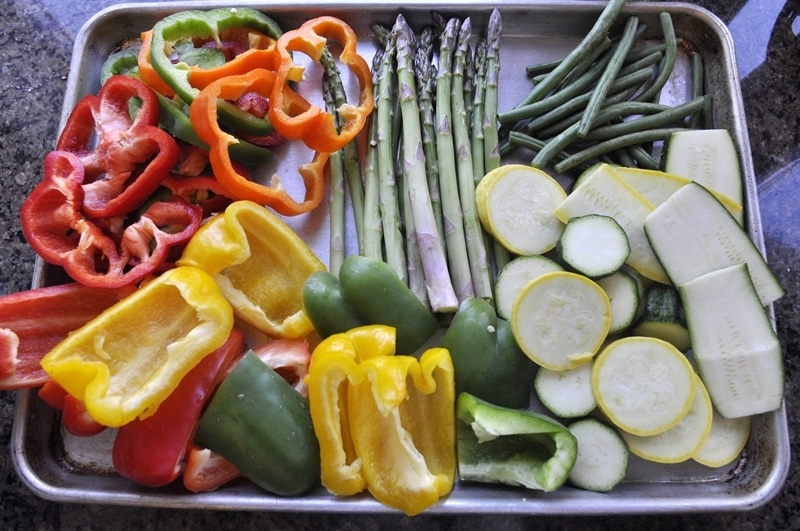 If I am using a grill pan I will cut my peppers and zucchini/squash into circles or coin shaped pieces. Just be sure that they are all the same thickness for even grilling. I will place asparagus directly on the grill but like to grill my green beans in a grill pan.
After cutting up and preparing my vegetables I like to place them in a plastic zippered bag and add some olive oil and salt and pepper.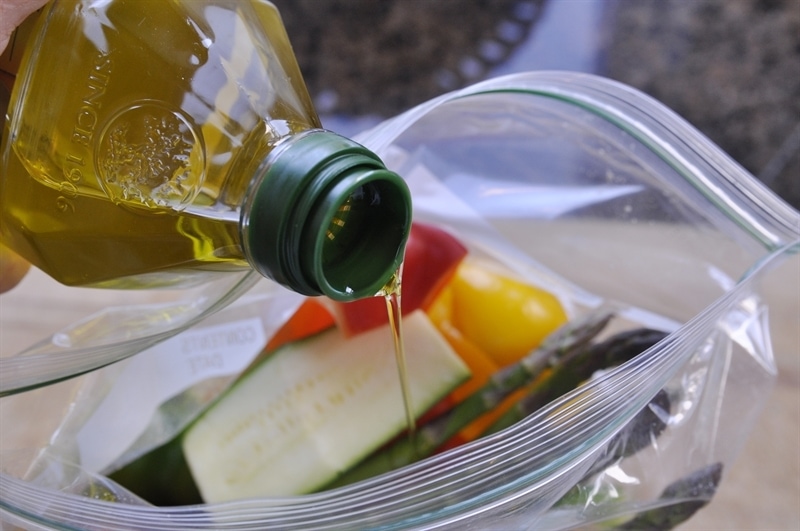 Smoosh them around so that they get evenly coated with oil and seasoning.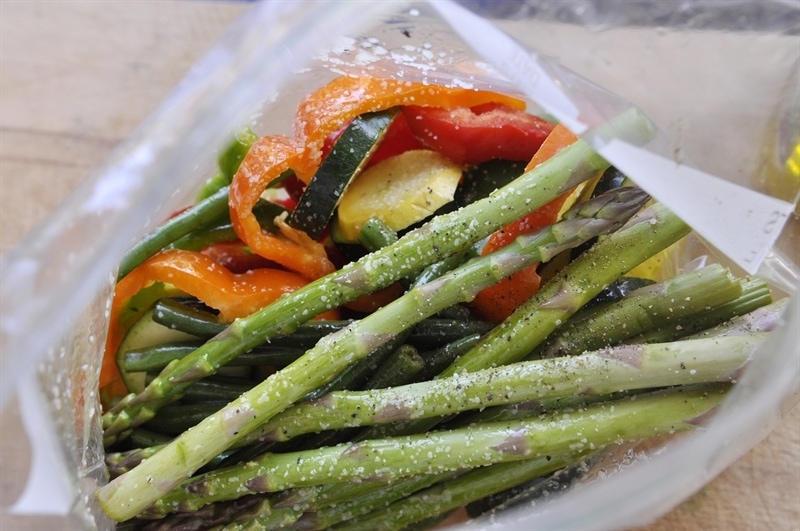 Then it is time to heat up the grill. I put mine on a medium heat. If you are using the first method, place your cut vegetables directly onto your grill.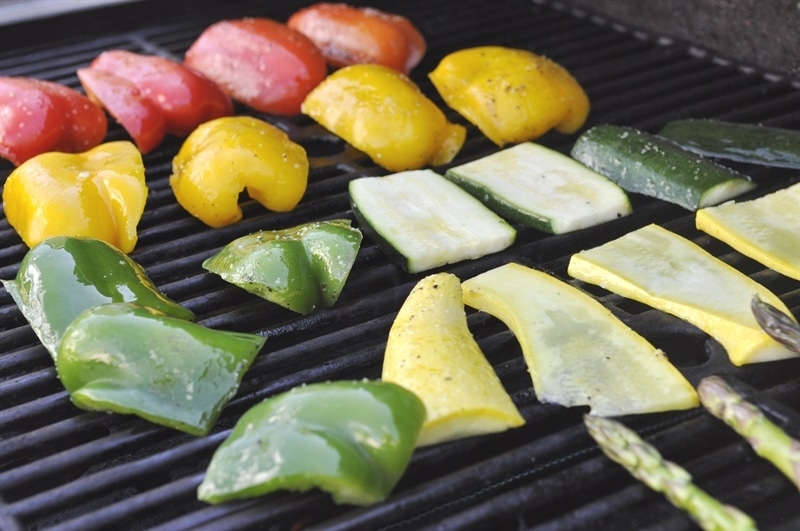 Your denser vegetables will take longer to cook. My peppers took about 15 minutes where my zucchini only took about 10. The asparagus and beans cook faster also. Cook until they reach the desired tenderness.
I like my vegetables to not be too soft but tender crisp.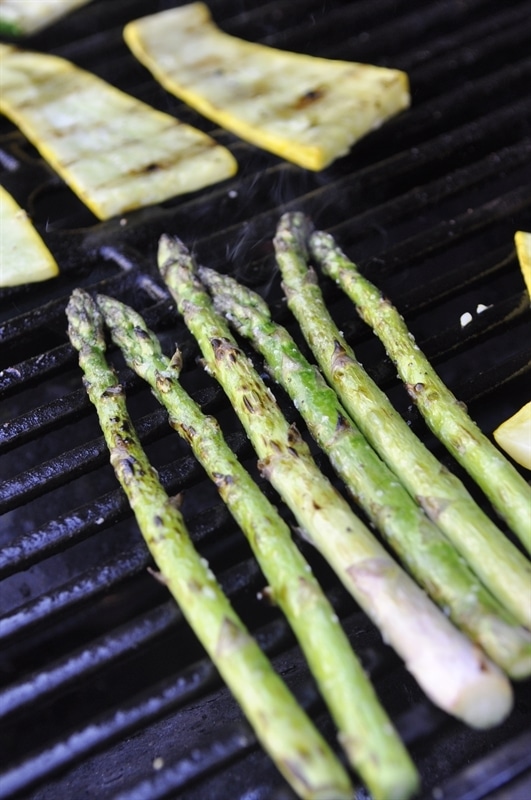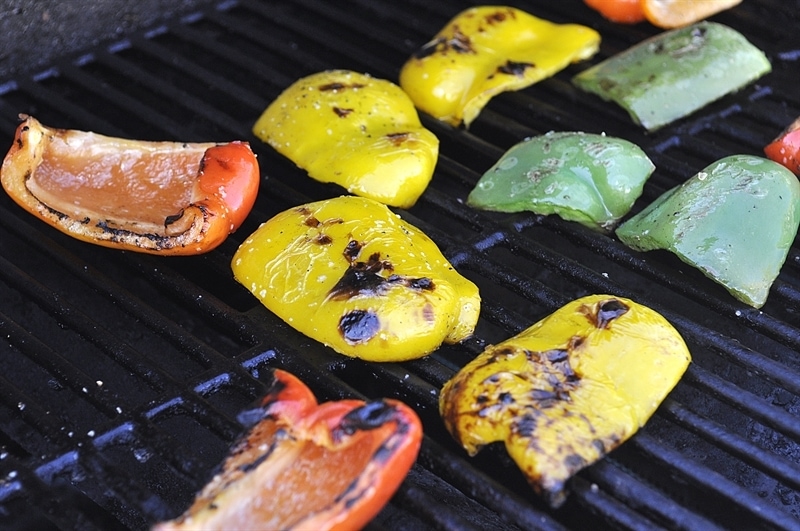 For the second method I put my vegetables directly into the foil pan, after adding the oil and seasoning. I divide them putting my denser vegetables such as peppers, carrots, potatoes into one pan and my softer vegetables such as my zucchini, squash, asparagus and green beans in a seperate pan.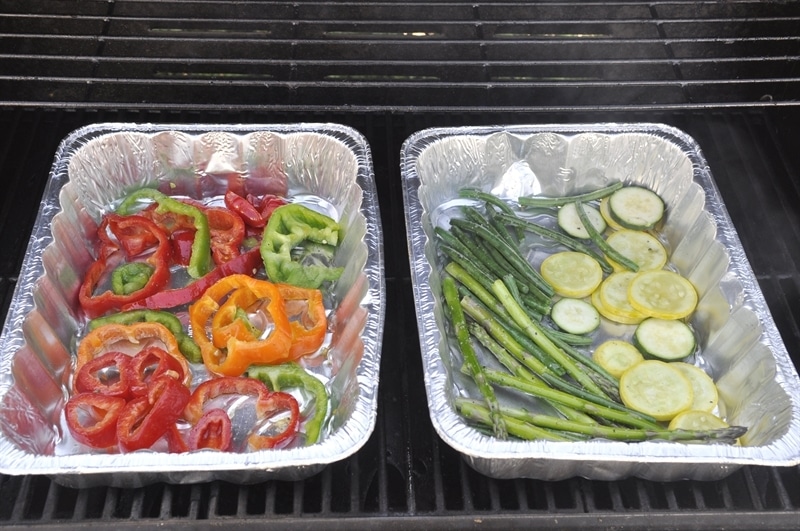 Allow them to cook until desired softness, approx. 12-15 minutes. Turn the vegetables occassionaly and shake the pan so they don't stick to the bottom and burn. Use a medium heat.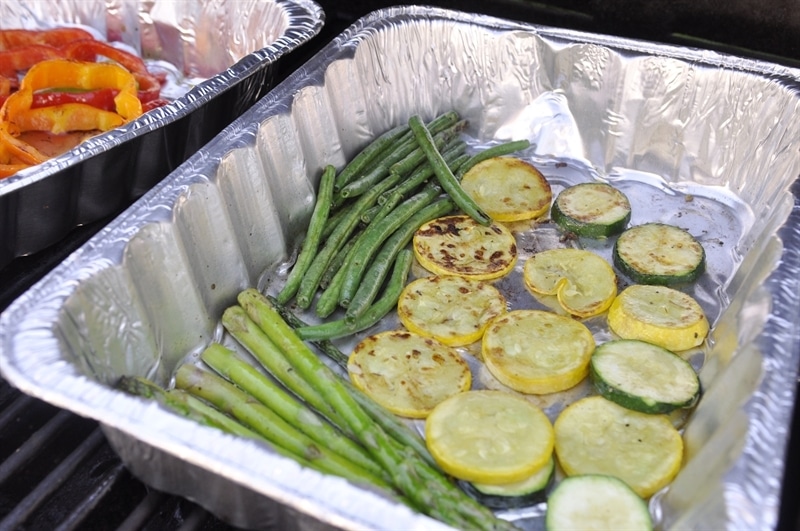 Grilled vegetables can be used all kinds of way. I love to drizzle them with a bit of balsamic vinegar and serve as a side dish.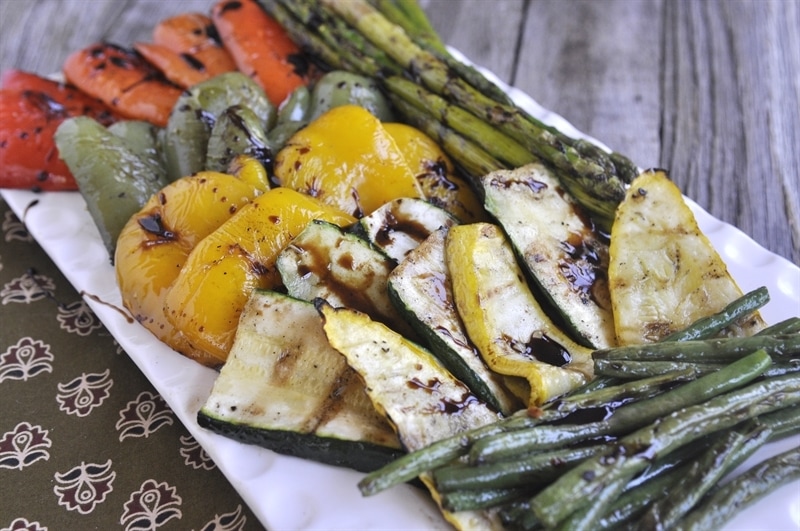 They are delicious in a salad, in wrap or a sandwich too.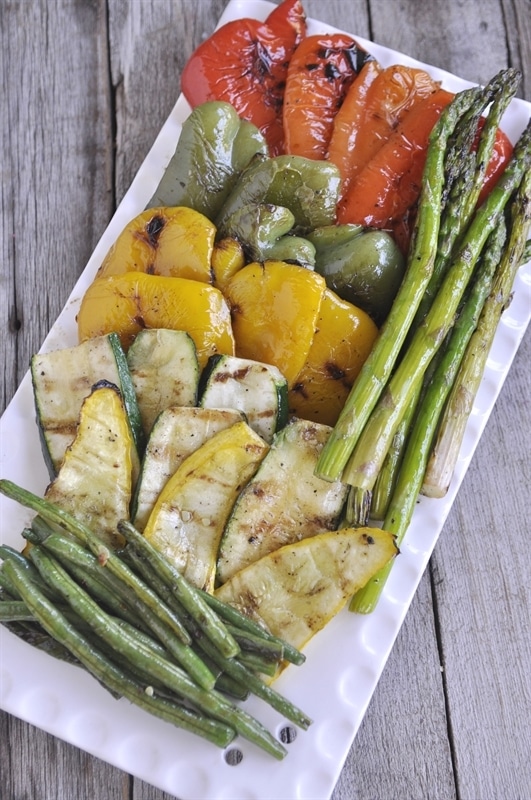 We also love to use them to dip into hummus or add some into an omelet! And of course they are delicious all by themselves too.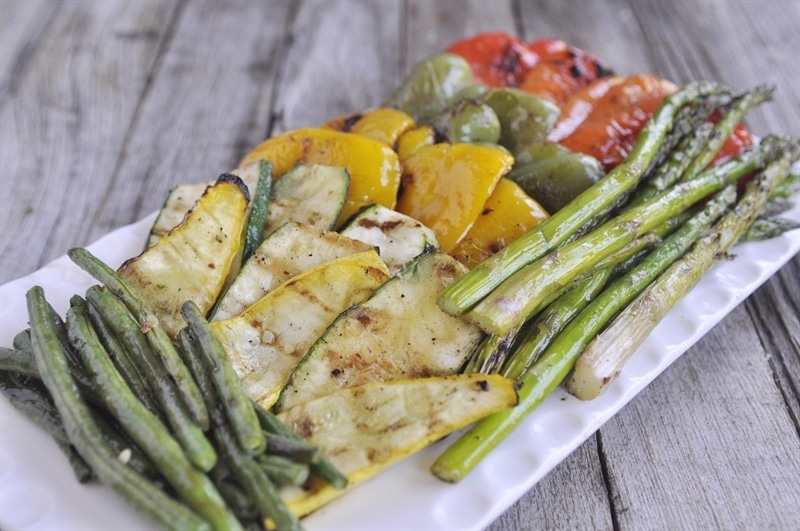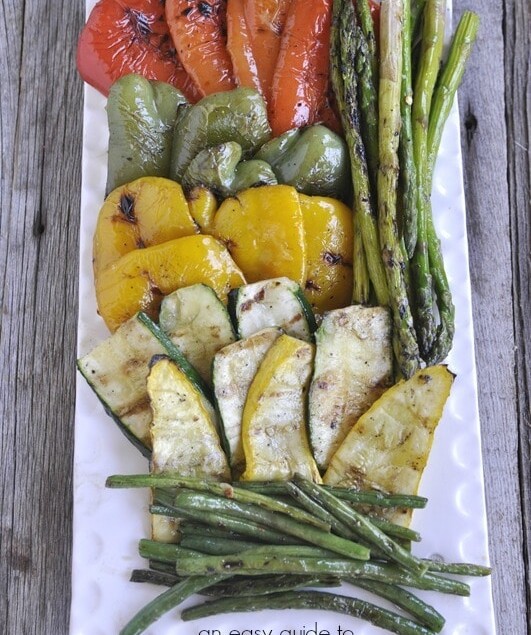 Grilled Vegetables
Two great ways to cook vegetables using your grill.
Ingredients
2 lbs vegetables of your choice carrots, potatoes, peppers, zucchini, squash, onions, asparagus, green beans all work well.
2 Tbsp Olive Oil
Salt and Pepper
Instructions
Slice vegetables into pieces depending on grilling method. Round, smaller pieces if using a grill pan and longer, wider pieces if placing directly on the grill.

Place in a plastic container and coat with 1-2 Tbsp olive oil and salt and pepper.

Grill over medium heat until desired tenderness.

Drizzle with balsamic vinegar or more salt and pepper if desired.
Nutrition Facts:
Calories: 155kcal (8%) Carbohydrates: 22g (7%) Protein: 2g (4%) Fat: 8g (12%) Saturated Fat: 1g (6%) Polyunsaturated Fat: 1g Monounsaturated Fat: 5g Sodium: 157mg (7%) Potassium: 726mg (21%) Fiber: 6g (25%) Sugar: 11g (12%) Vitamin A: 37889IU (758%) Vitamin C: 13mg (16%) Calcium: 75mg (8%) Iron: 1mg (6%)
* Disclaimer: All nutrition information are estimates only. Read full disclosure here.