Lemon Meringue Pie Ice Cream  is the perfect way to enjoy the flavor of lemon meringue pie in the summer time.
If you love lemon meringue pie and you love ice cream, than this combination of the two is the perfect summer treat for you.  Lemon meringue pie ice cream will soon become a highly requested summer treat in your home.
I have shared my favorite  lemon ice cream recipe here on the blog before.  It is pure lemon loveliness!  But sometimes you want something more.  I love lemon meringue pie, so I put a little twist on the original recipe and created lemon meringue pie ice cream.
The idea for lemon meringue pie ice cream cam from a bag of vanilla meringue cookies I had bought for my husband.  They were delicious and I knew they would be the perfect meringue in my lemon meringue ice cream.  For the crust, I used vanilla wafers.  I crushed up both of them so I had one cup of each.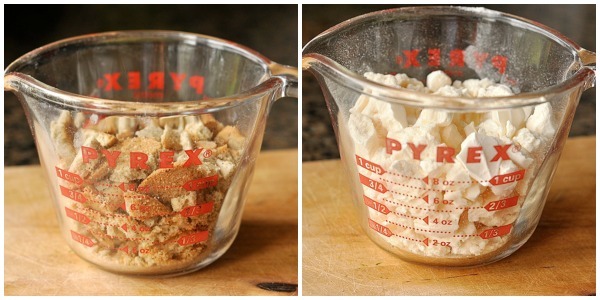 This recipe is a combo of whipping cream, half and half and whole milk.
I added all the ingredients into my 2 qt Cuisinart ice cream maker and let it churn.  Right before it is done churning I add in the crushed up meringue and vanilla wafers and let it mix in.  I add it at the end so they don't get dissolve into it as it churns.
I love biting into a little piece of cookie or meringue in the creamy ice cream.
The recipe uses lemon extract.  I used about 2 tsp but if you want a subtler lemon use less.  Add to your personal taste.
So next time you are in the mood for pie and ice cream why not combine the two with lemon meringue pie ice cream!
If you love lemon, try these other delicious lemon desserts:
Lemon Pound Cake with Lemon Curd

Lemon Meringue Pie Ice Cream Recipe
Lemon Meringue Pie Ice Cream
Ingredients
2 eggs
1 C sugar
1 T vanilla
2 tsp lemon extract
1 1/2 C whipping cream
1 C half and half
1 1/2 C whole milk
pinch of salt
1 C meringue cookies crushed
1 C vanilla wafers crushed
Instructions
Beat together eggs and sugar.

Add in extracts, liquids and salt

Process in ice cream maker

A few minutes before it is done mix in the cookies

Freeze until firm