These Peppermint Meringues filled with white chocolate chips and crushed candy cane may be my favorite holiday cookie of all time!
For other White Chocolate Peppermint goodness try White Chocolate Peppermint Blondies, Peppermint  Bark Dip or White Chocolate Peppermint Fudge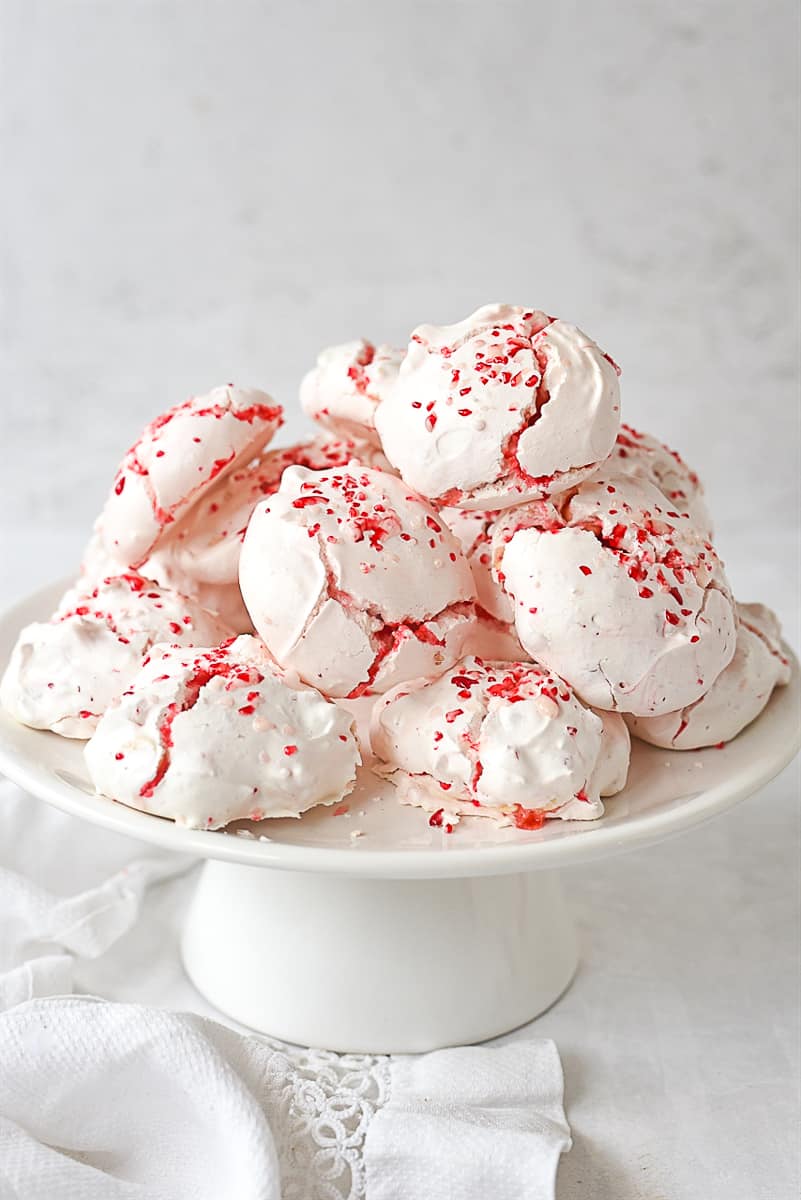 My latest flavor obsession is white chocolate and peppermint.
The obsession started years ago when a friend brought these amazing white chocolate peppermint meringues to a holiday party. Let's just say I ate more than my fair share. I loved them so much I went home and made them myself the next day. I couldn't wait for the holidays to roll around again this year so I would have an excuse to make them.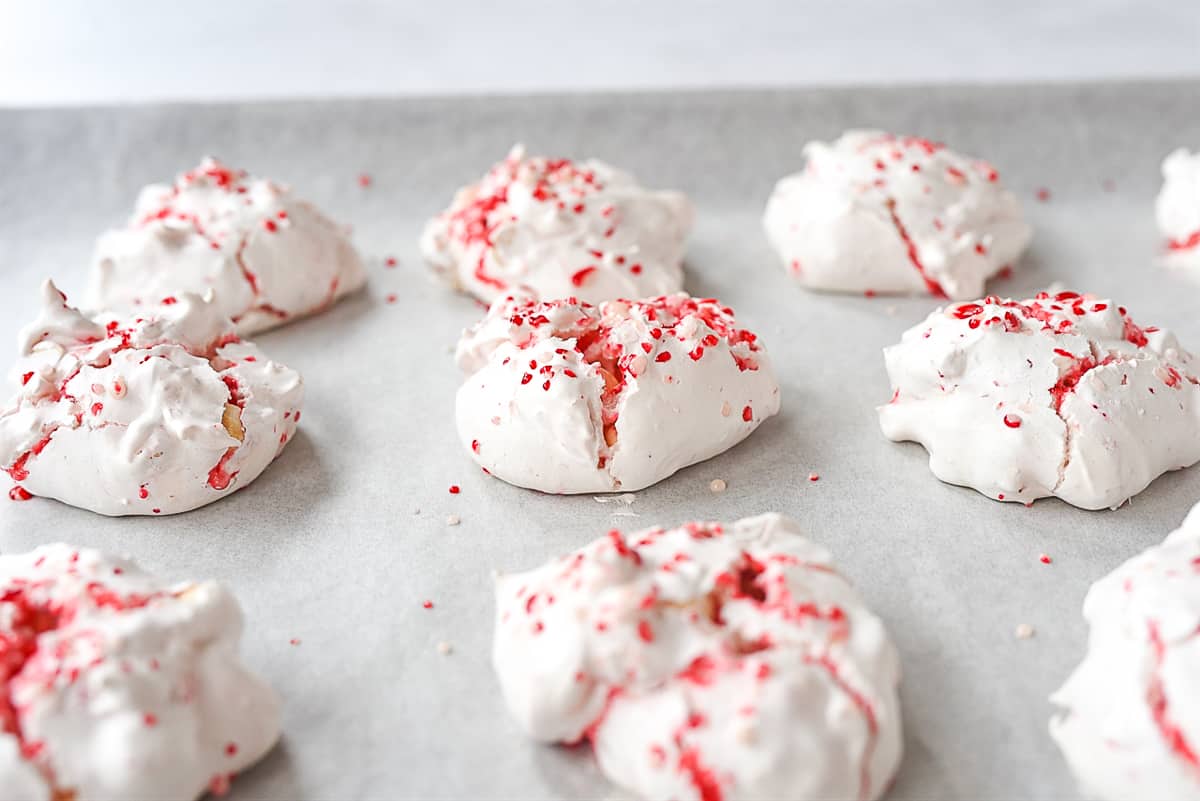 But really, do I need an excuse? I think not. Although they shout Christmas these lovely meringues would be delicious any time of year, you just need to save some candy canes or peppermint candies on hand!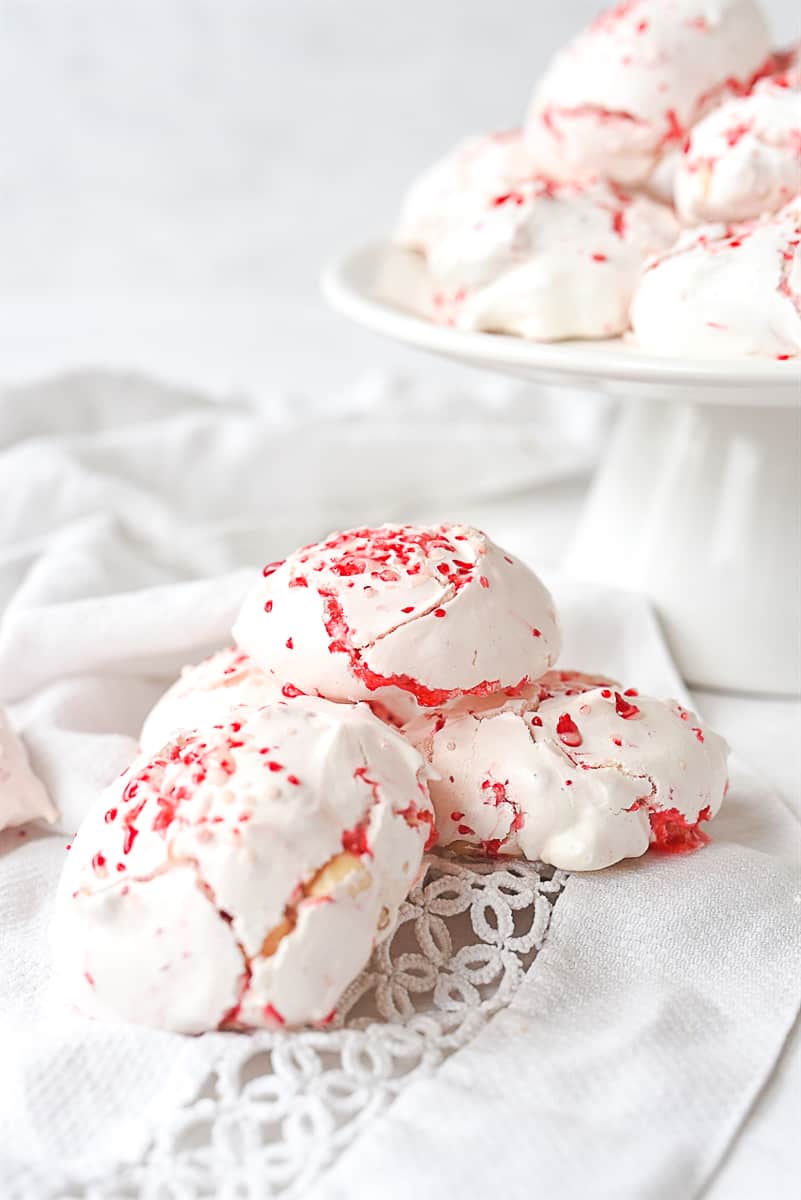 Peppermint Meringue Cookies
Don't let meringue scare you away. It is really quite easy to do although it is best time to do it on a dry day, not a rainy one. On a wet or humid day your meringue may turn out softer and not as crisp. That can be a bit of a challenge here in Oregon but I manage to pull it off! For me the perfect meringue is light and crisp on the outside and a little soft and chewy on the inside.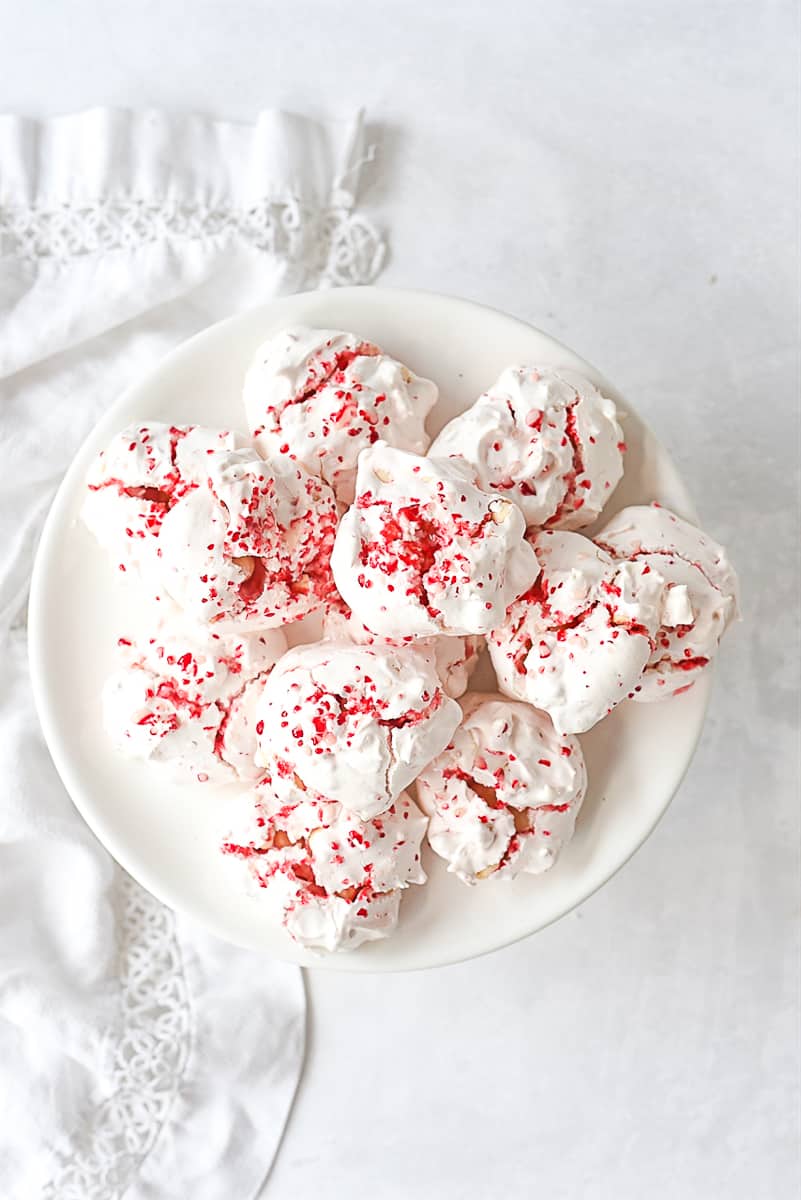 How to Make Peppermint Meringue
Meringue is just a combination of egg whites, some sugar, a pinch of salt, a bit of vanilla, and cream of tartar.
The addition of white chocolate chips and crushed candy cane is what takes these meringues to the next level. A little bit of heaven in your mouth.
First, whip your egg whites and cream of tartar until they form a soft peak. Egg whites whip best at room temperature.
Add in your vanilla and a dash of salt. With your mixer on high gradually add in your sugar a tablespoon or so at a time.
Beat it until forms stiff peaks and is nice and glossy.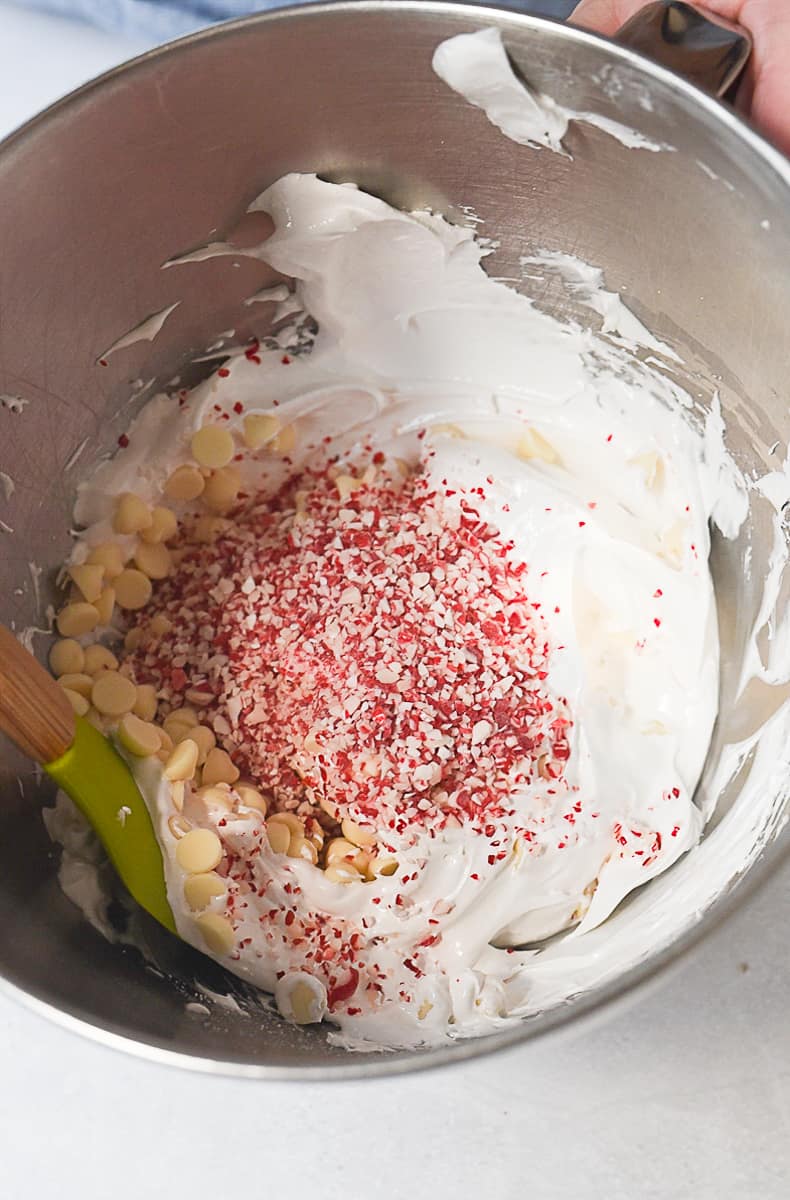 Add in crushed candy cane and white chocolate chips and fold gently in by hand using a spatula.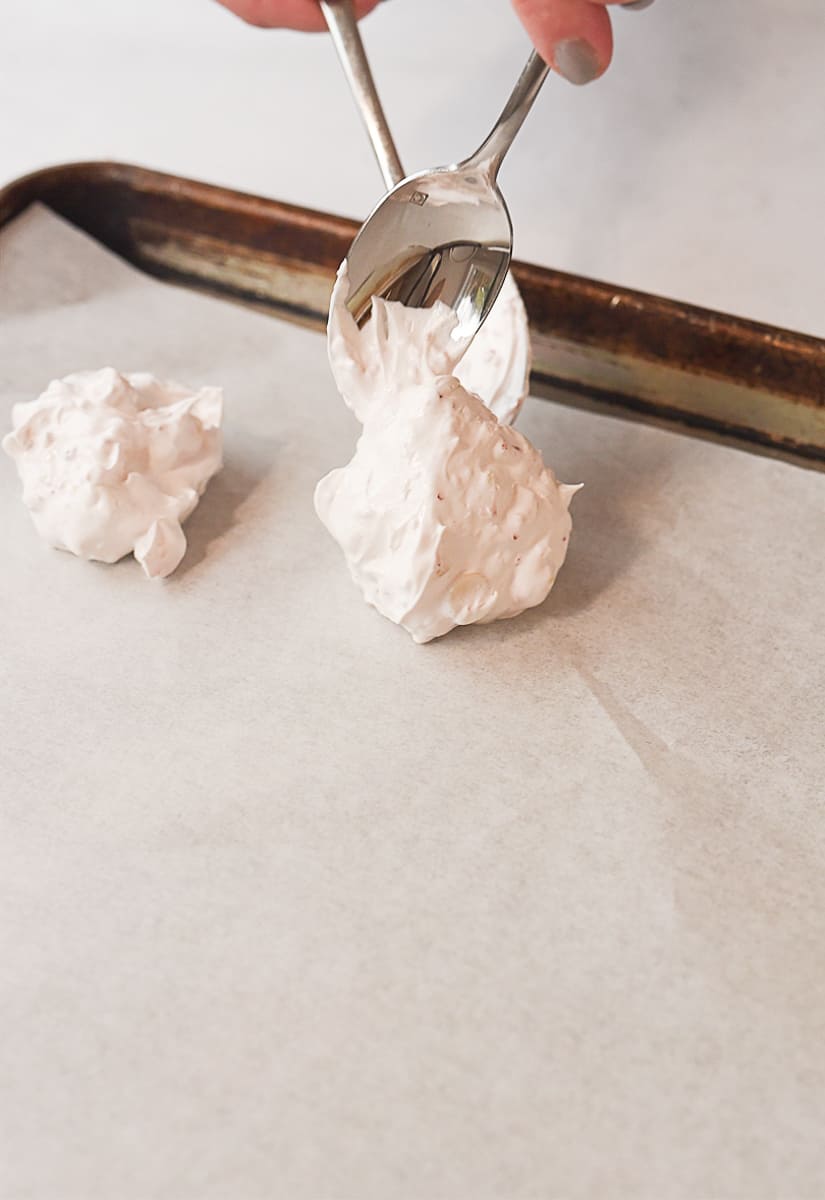 Drop the meringue by spoonful onto a parchment paper lined cookie sheet. I made mine about the size of a golf ball.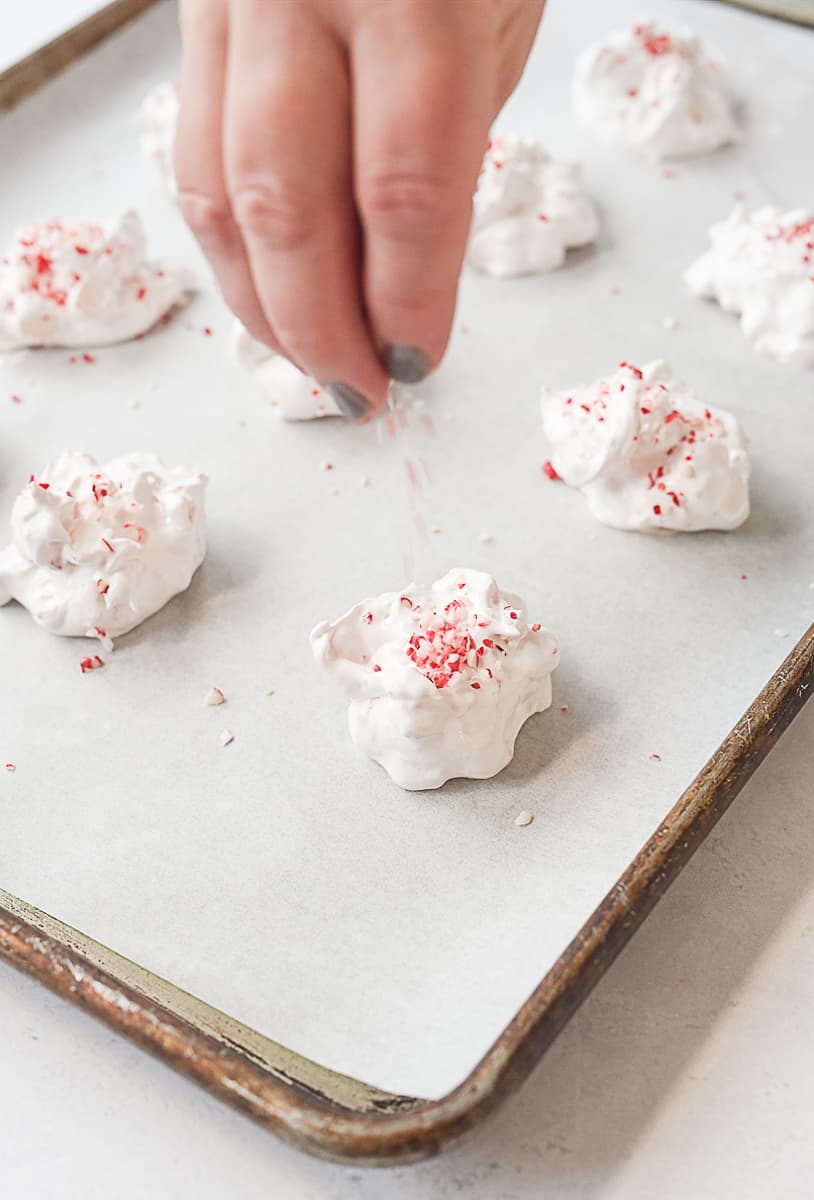 Sprinkle them with a bit more crushed candy cane.
Bake them at 250 F degrees for 30-35 minutes. Turn the cookie sheet half way through the baking time. After the baking time, turn off oven but let meringues sit inside of oven as it cools with door ajar for about 10 minutes. Then remove them from the oven. They should feel and look dry.
Once cooled to touch put them on a cooling rack until totally cool. Be sure and store them in an airtight container.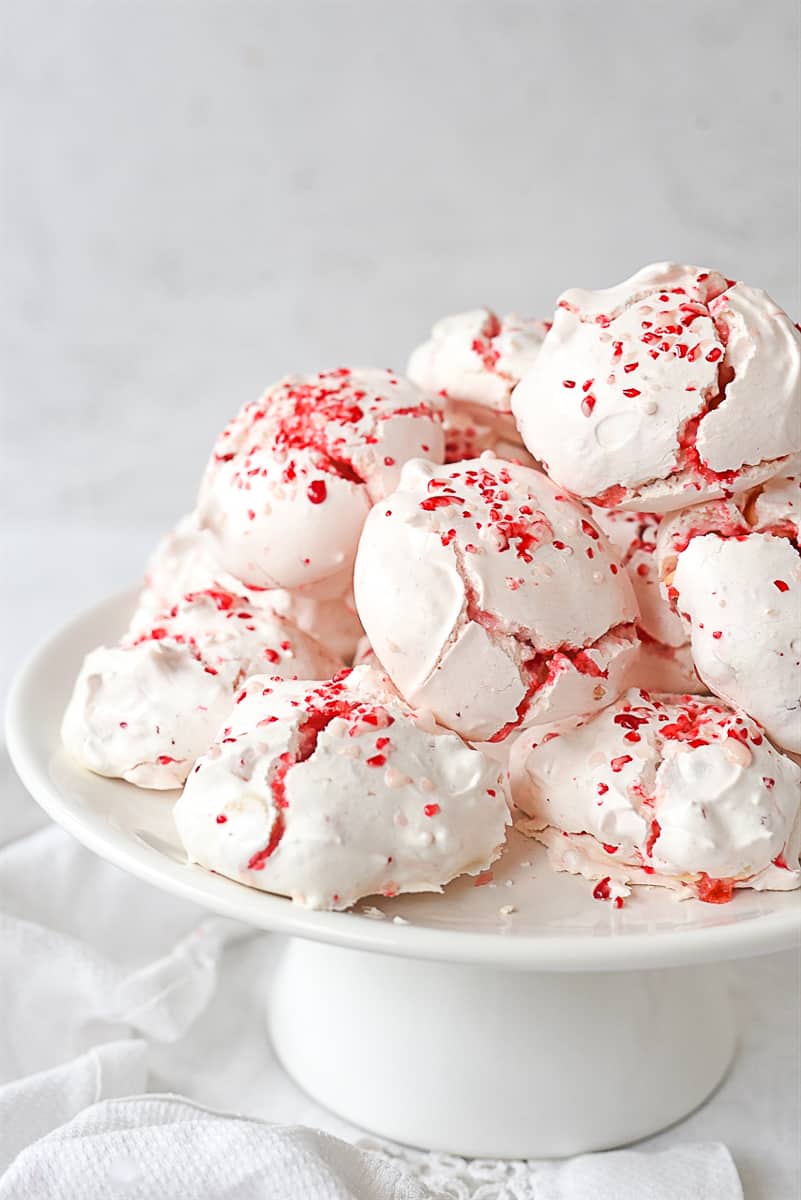 They are pretty and delicious and they taste like sweet air when you eat them. They are light and sweet and you feel like you could eat a dozen. Believe me you will want to!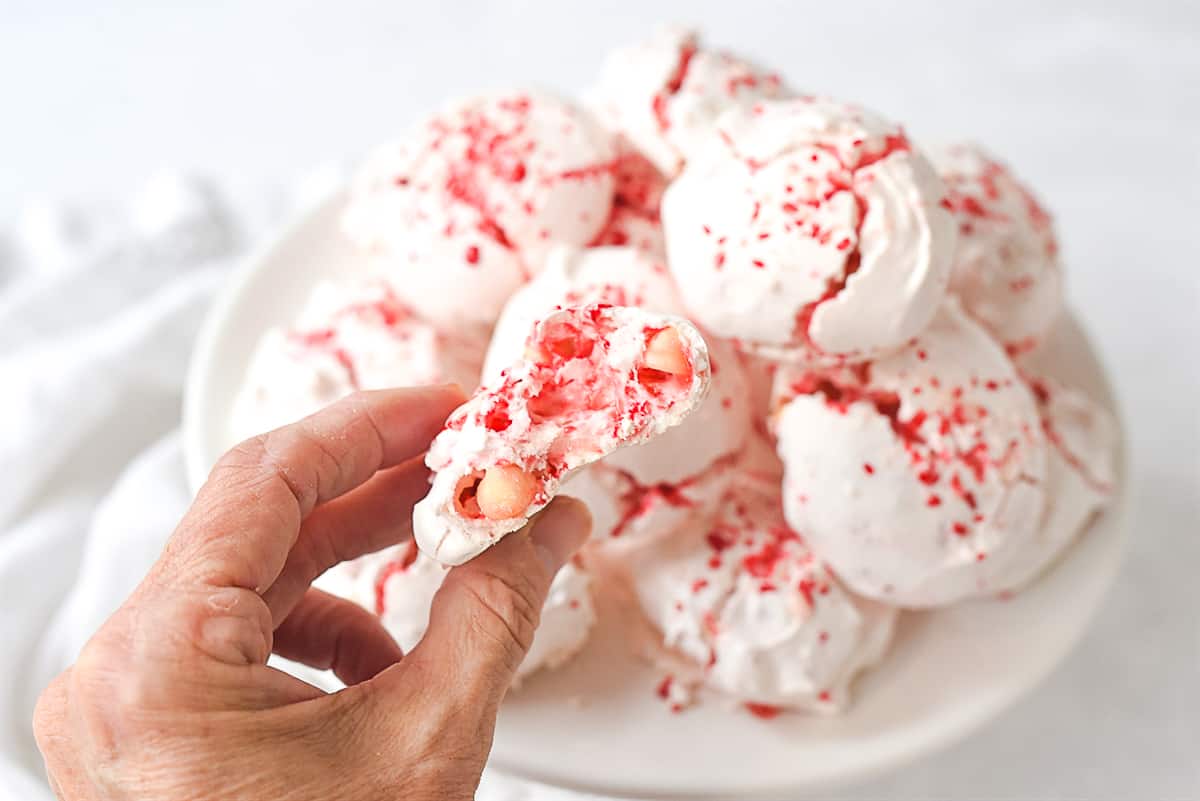 Enjoy a little more white chocolate peppermint heaven!
For all of my other favorite kitchen products and tools visit my Amazon Store.
Did you know I wrote a cookbook? Check out the Holiday Slow Cooker Cookbook for 100 delicious recipes.
Peppermint Meringue Recipe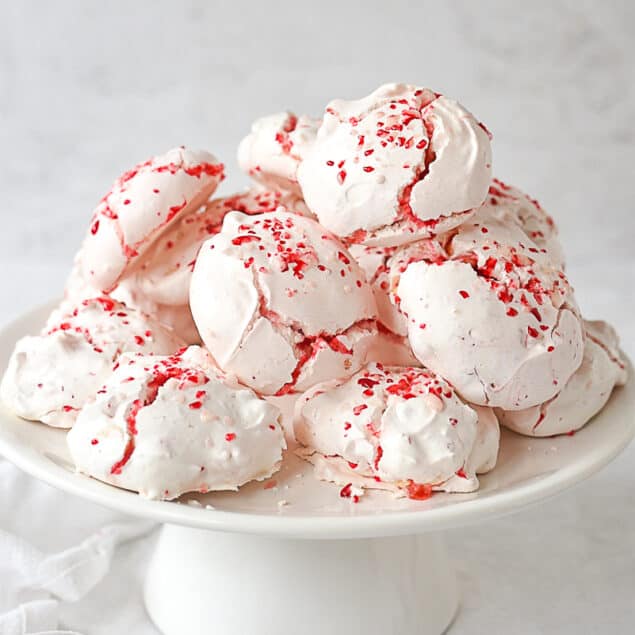 White Chocolate Peppermint Meringues
Peppermint meringue cookies filled with candy canes and white chocolate.
Ingredients
2 large egg whites at room temperature
1/8 teaspoon cream of tartar
1/2 teaspoon vanilla extract
1/8 teaspoon salt
3/4 cup sugar
1 cup white chocolate chips
1/3 cup plus 2 tbsp. coarsely crushed peppermint candies
Instructions
Preheat oven to 250°.

Beat egg whites and cream of tartar in a deep bowl with a mixer, using whisk attachment if you have one, just until soft peaks form.

Add vanilla and salt. Add sugar 1 Tbsp at a time while mixer is running.

Scrape inside of bowl and beat another 15 seconds. Beat until meringue forms stiff peaks

Fold in chocolate chips and 1/3 cup candies with a spatula.

Line 2 baking sheets with parchment paper

Drop meringue by the spoon full (about golf ball size) onto sheets.

Sprinkle with remaining 1 1/2 tbsp. candies.

Bake until meringues feel dry and set when touched but are still pale, 30 to 35 minutes, switching pan positions halfway through.

Turn off oven, open door, and let cookies stand about 10 minutes. Let cool on pans.

Make ahead: Up to 2 days, stored airtight.
Nutrition Facts:
Calories: 76kcal (4%) Carbohydrates: 13g (4%) Protein: 1g (2%) Fat: 2g (3%) Saturated Fat: 1g (6%) Cholesterol: 2mg (1%) Sodium: 23mg (1%) Potassium: 28mg (1%) Fiber: 1g (4%) Sugar: 12g (13%) Vitamin A: 2IU Vitamin C: 1mg (1%) Calcium: 15mg (2%) Iron: 1mg (6%)
* Disclaimer: All nutrition information are estimates only. Read full disclosure here.