So I have developed quite a love affair with peppermint this holiday season.  I blame it on those white chocolate peppermint M & M's.  They got me started and I can't seem to stop.
When my husband was a kid they had a family tradition on New Years of making peppermint ice cream with all the leftover candy canes.  I like that kind of tradition.
Tillamook Peppermint Candy Ice Cream is or should I say WAS one of my favorites.  This summer I discovered that Tillamook has discontinued Peppermint.  I almost cried right there in front of the gal at the Tillamook Cheese Factory.  How was I going to survive?
I decided I was going to survive and I wasn't going to have to wait until New Year's to enjoy peppermint ice cream.   So I dug in the back of my cupboard and found half a box of candy canes leftover from last Christmas and I made myself some peppermint ice cream.  Who needs Tillamook!!
This ice cream is amazing.  Unfortunately for me my husband loves it too which means I have to share!
Not only is it delicious but it is darn pretty too -don't you think!?  The ice cream uses a combination of peppermint flavoring (either extract or Torani's syrup) and lots of crushed up candy cane.
The pretty pink color comes from the candy canes dissolving into the ice cream as it churns.  You end up with a few pieces though that don't dissolve so you get a nice little candy crunch in the ice cream too.
Enjoy!
Leigh Anne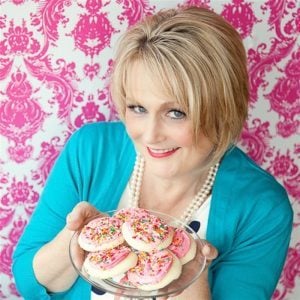 You can also visit me on Facebook, Pinterest, Twitter or Instagram.
Print
Peppermint Ice Cream
Ingredients
1 1/2

C

whole milk

1 1/2

C

half & half

2

C

whipping cream

1 1/4

C

sugar

1/4

tsp

salt

1

Tbsp

vanilla extract

1

tsp

peppermint extract or Torani Peppermint Syrup or to taste

1

C

crushed candy cane
Instructions
Mix together milks and sugar. Add in salt, and extracts. Add in crushed candy cane. Mix well. Pour into ice cream freezer and process.
Shared at:Fireflies & Jellybeans*36th Avenue*House of Hepworth*Sweet Treats Thursday*Creative Thursday*Showcase Your Talent Thursday*Lil Luna*Fantabulous Friday*
TidyMom*Cupcake Garden*Whipperberry**Tater Tots & Jello*Strut Your Stuff*Sweet Treats & Swanky Stuff*Saturday Show & Tell*I Heart Nap Time*Nifty Thrifty things*
Chef in Training **Sugar Bee Crafts   **