Homemade Salted Caramel Ice Cream is the perfect flavor combination.  A lot of sweet and a touch of salt makes for a delicious treat.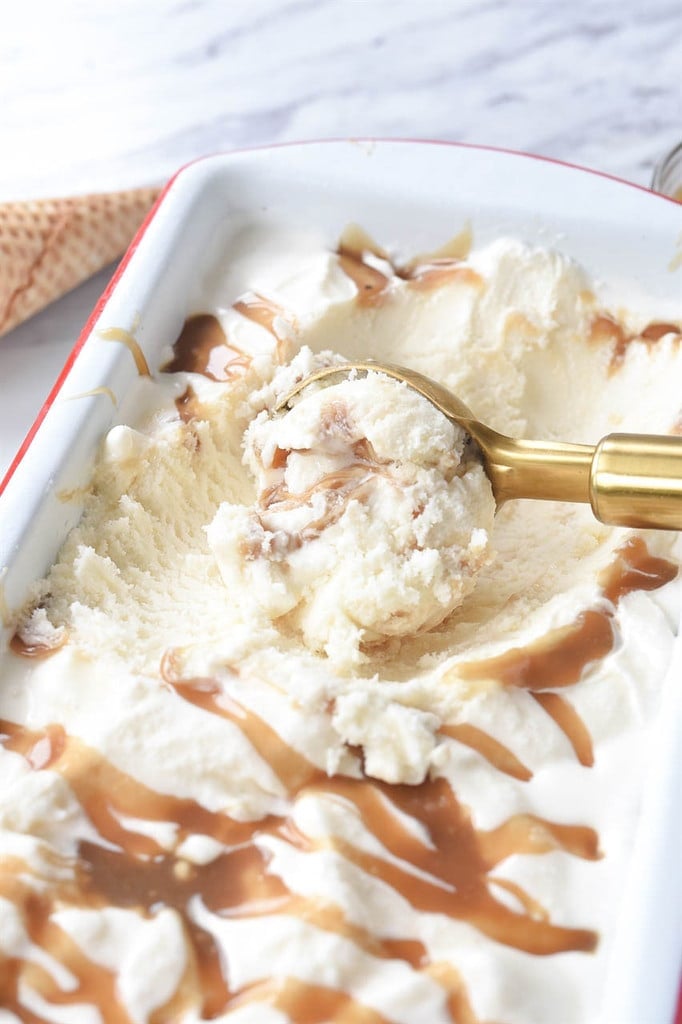 If you ever come to visit me here in Portland, Oregon, one of the places I am sure to take you is Salt & Straw Ice Cream.  It is definitely Portland's best ice cream.  And the line that goes out the door and wraps around the corner is well worth it!  They have a unique and delicious flavor selection and each month they have special flavors of the month.  Every time I go, I taste all the new flavors.  And then, without fail, I order the same thing I always get,  Sea Salt with Caramel Ribbons.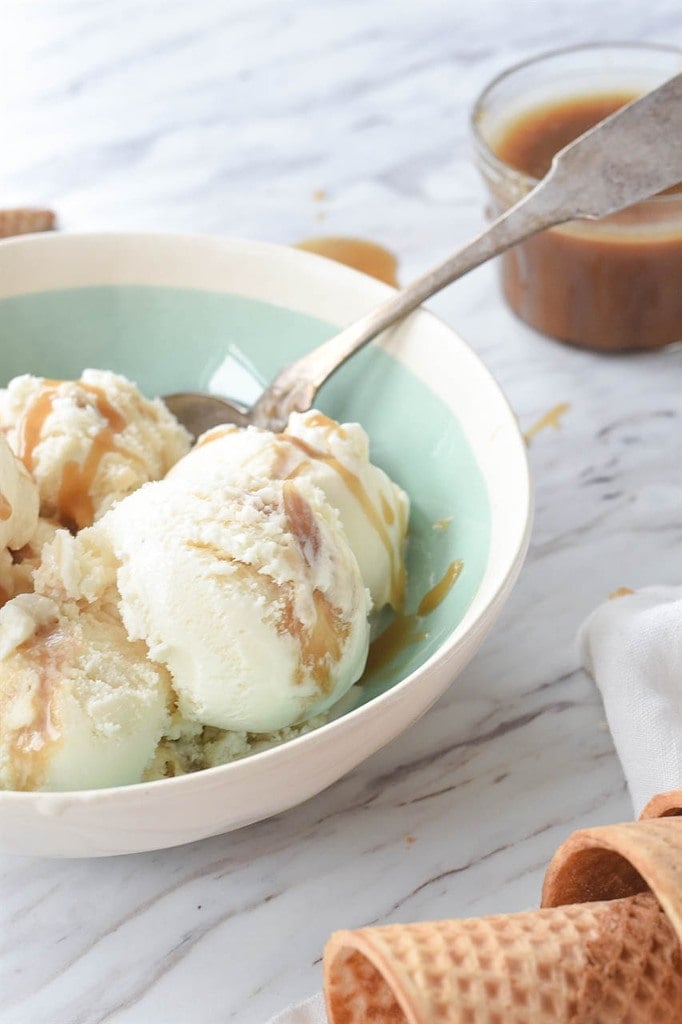 I think it is hands down, the best ice cream they make.  I get it EVERY TIME!  So, I decided I needed to see if I could make it at home.  And I did!  That is how this homemade salted caramel ice cream recipe was created.  I used my go to, homemade vanilla ice cream as the base.  I'm pretty sure their vanilla base has salt in it, but I decided to just add the salt to the caramel ribbon.  For the caramel ribbon, I used my favorite caramel sauce recipe and added in some of my favorite french salt. You want to use a good, coarse salt.  Not the stuff with the girl with the umbrella on the front!
Salted Caramel Ice Cream
To make the salted caramel ice cream, I put a layer of vanilla ice cream down and then drizzled the salted caramel sauce over the top.  Then added another layer of ice cream and another layer of caramel.  My one regret is I didn't use more caramel.  Don't be stingy with the caramel sauce.  When you scoop the ice cream, the caramel will disperse through the ice cream.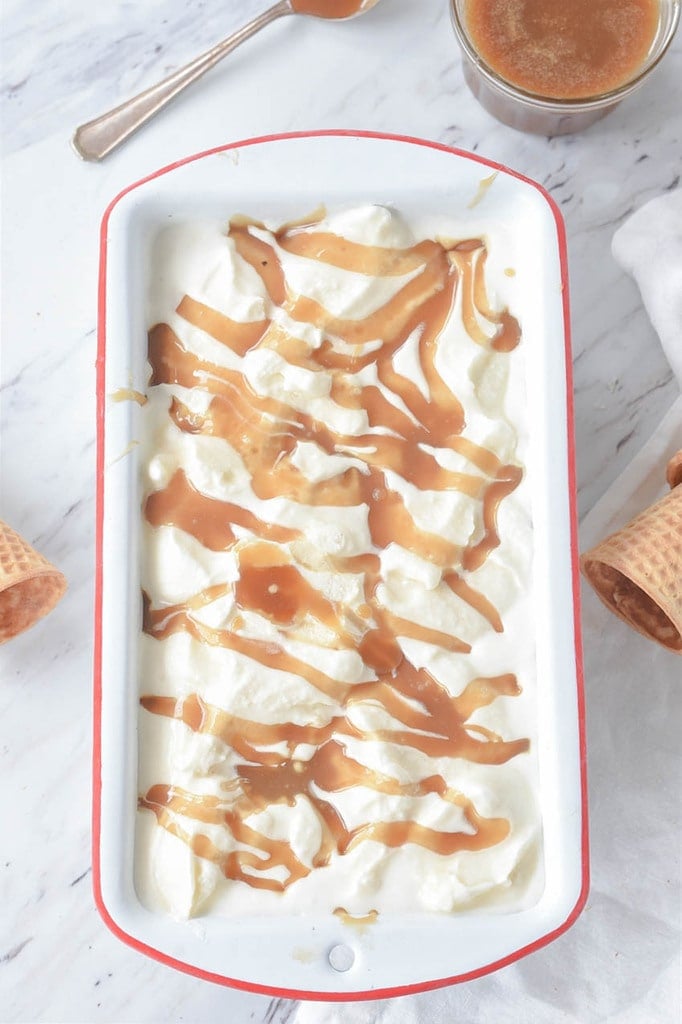 Like I said, be generous with that caramel sauce.  You won't regret it.  You want lots and lots of caramel!!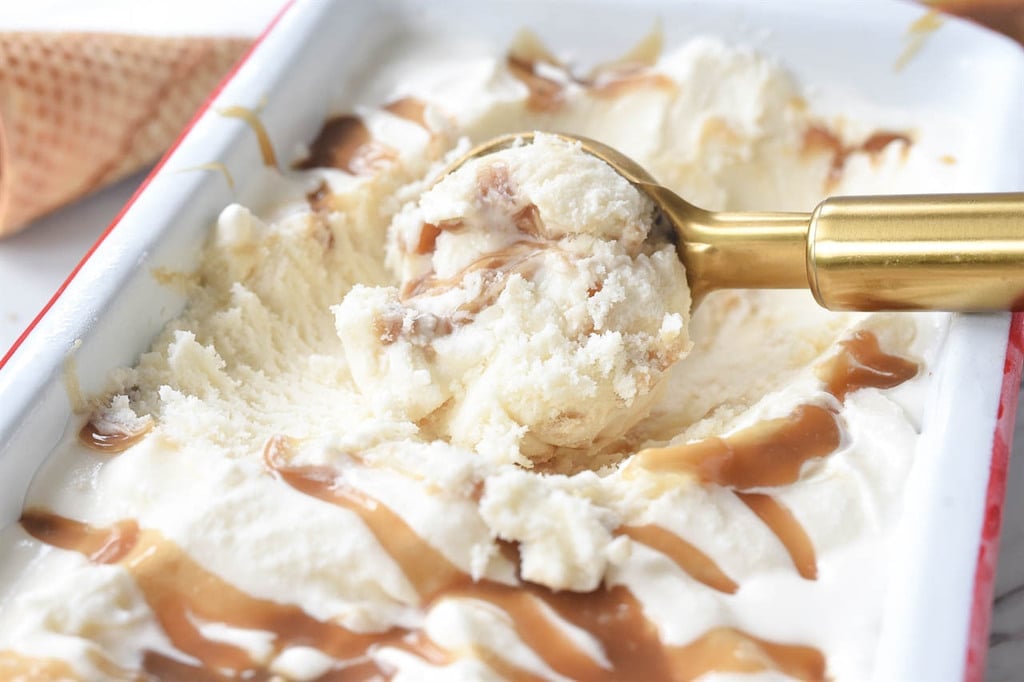 My favorite way to enjoy this homemade  salted caramel ice cream deliciousness is in a waffle cone, even though it's great in a sugar cone like in the picture below.  I was out of waffle cones! But a waffle cone is always my first choice.

Some of my other favorite ice cream recipes:
Some of my favorite kitchen tools I use to make this Homemade Salted Caramel Ice Cream Recipe:
ICE CREAM MAKER:  This 2 qt. Counter top ice cream maker is one of my favorite kitchen appliances and gets used all summer long!
INSULATED ICE CREAM TUB:  After churning my ice cream I put it into this and then into the freezer.  It keeps the ice cream smooth and easy to scoop.
ICE CREAM SCOOP:  Get the perfect scoop of ice cream every time.
FRENCH SALT:  I love this stuff!  It's amazing on everything.  I love to sprinkle it on the top of my cookies.
Salted Caramel Ice Cream Recipe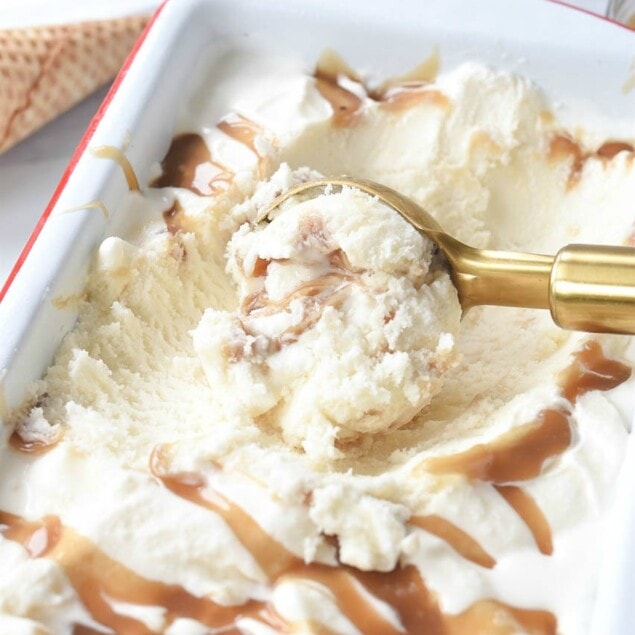 Homemade Salted Caramel Ice Cream
Homemade Salted Caramel Ice Cream is the perfect combination. A lot of sweet and a touch of salt makes for a delicious treat.
Ingredients
Vanilla Ice Cream
1 1/2 cups whole milk
1 1/2 cups half and half
2 cups whipping cream
1 1/2 cups sugar
1/4 tsp salt
1 1/2 Tbsp vanilla
Salted Caramel Sauce
1 cup brown sugar
1/4 cups light corn syrup
1/3 cup whipping cream
3 Tbsp butter
1 tsp vanilla
1/2-1 tsp coarse French salt according to taste
Instructions
Mix together all ice cream ingredients and put into ice cream maker. Churn according to manufacturers instructions.

While ice cream is churning combine brown sugar, corn syrup, and whipping cream in a pan over medium heat for 5-6 minutes or until a candy thermometer reaches 230 degrees F.

Stir in butter and vanilla.

Cool before adding into ice cream.

Put a layer of ice cream into a 9" loaf pan. Drizzle generously with caramel sauce.

Repeat with another ice cream layer and more caramel. Cover and put in freezer to firm up
Nutrition Facts:
Calories: 871kcal (44%) Carbohydrates: 105g (35%) Protein: 6g (12%) Fat: 49g (75%) Saturated Fat: 30g (188%) Cholesterol: 171mg (57%) Sodium: 254mg (11%) Potassium: 277mg (8%) Sugar: 100g (111%) Vitamin A: 1851IU (37%) Vitamin C: 1mg (1%) Calcium: 227mg (23%) Iron: 1mg (6%)
* Disclaimer: All nutrition information are estimates only. Read full disclosure here.
Need some help figuring out what's for dinner tonight?
Come join our Facebook Group!  Join hundreds of others who love sharing dinner time ideas.  You don't want to miss out on the fun!

You'll find lots of ideas for dinner from all our awesome members and you can share your ideas too!  Join the Family Dinner Table today.