Salted Caramel Brown Sugar Cookies are soft, chewy and full of amazing flavor.  Thanks to brown butter, caramel, salt and a chocolate drizzle you can't go wrong.
We love brown butter is almost anything and everything. Some of our favorite was to use brown butter are in these Brown Butter Rice Krispie treats, Brown Butter Frosting which is good on everything and it's amazing on these Brown Butter Brussels Sprouts too.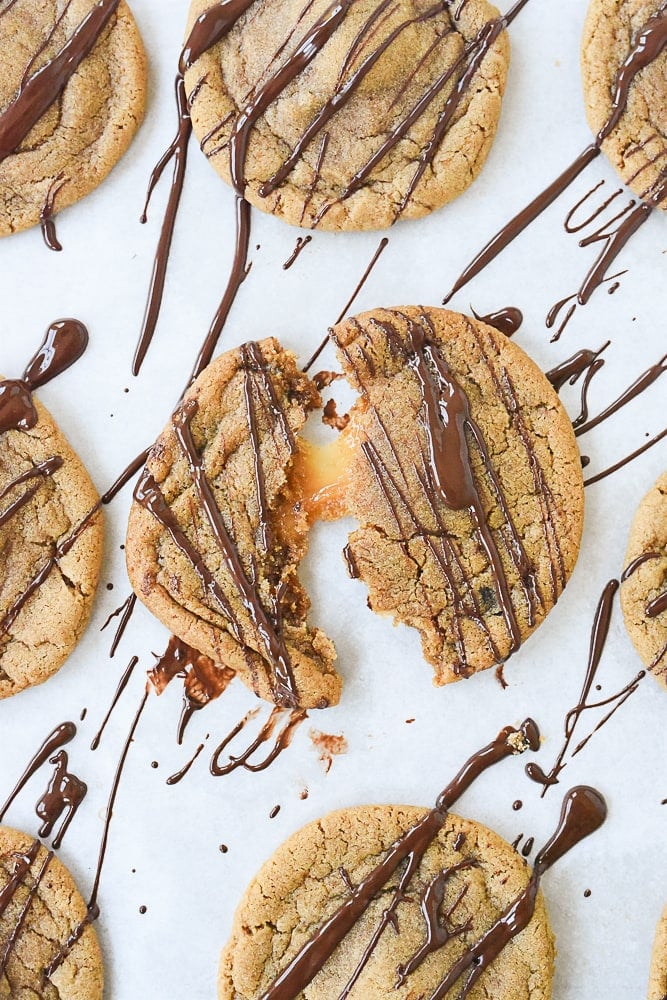 Best Cookie Ever!
"Oh my word, Those are the BEST cookies I have ever had! I need the recipe!! That was the text I received from my neighbor after we had dropped off some of these Salted Caramel Brown Sugar Cookies at her house. I have to admit, they are pretty dang good!!
A few weeks ago I remade an old favorite, Brown Sugar Cookies, which are delicious and wonderful all on their own. But I decided I could make them even better, take them up a notch or two or three by adding in caramel, French salt and a dark chocolate drizzle – oh yeah!!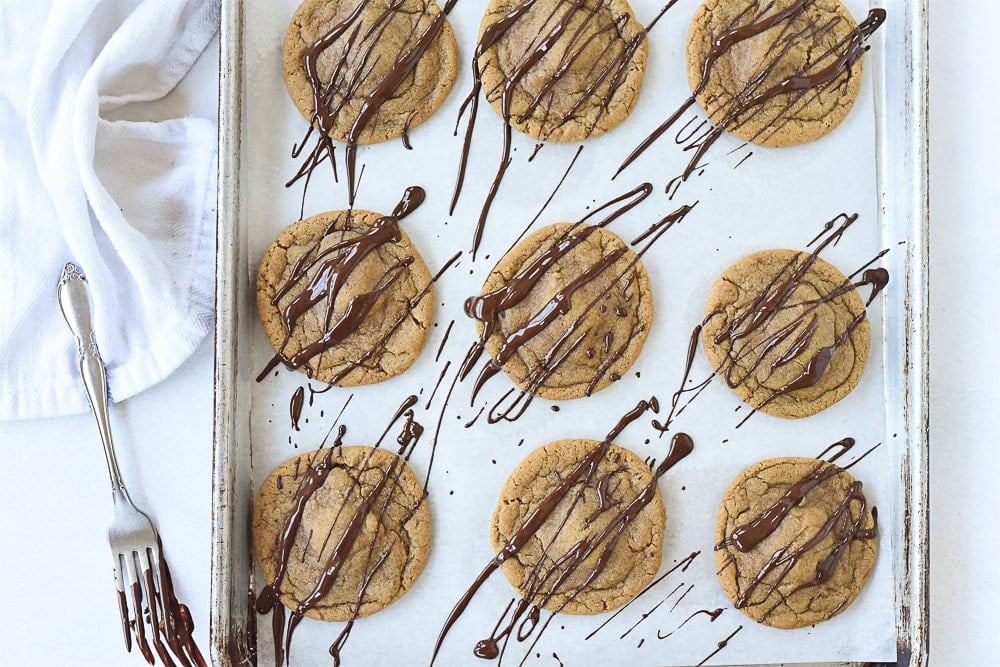 There are quite a few things that make these cookies amazing.
First, brown butter. It makes a huge difference in the flavor and is so easy to do. Just follow the tutorial here.
Second, dark brown sugar. The dark brown sugar has more molasses in it and it is going to give you a deeper, richer flavor.
Third, caramel squares. What is better than biting into a cookie and finding some ooey gooey caramel waiting for you inside?! You want a thick square of caramel so it doesn't melt into the cookie.
Fourth, French salt. The only thing better than finding caramel, is finding salted caramel. You can also use Kosher salt but you want a coarse salt or flaky salt.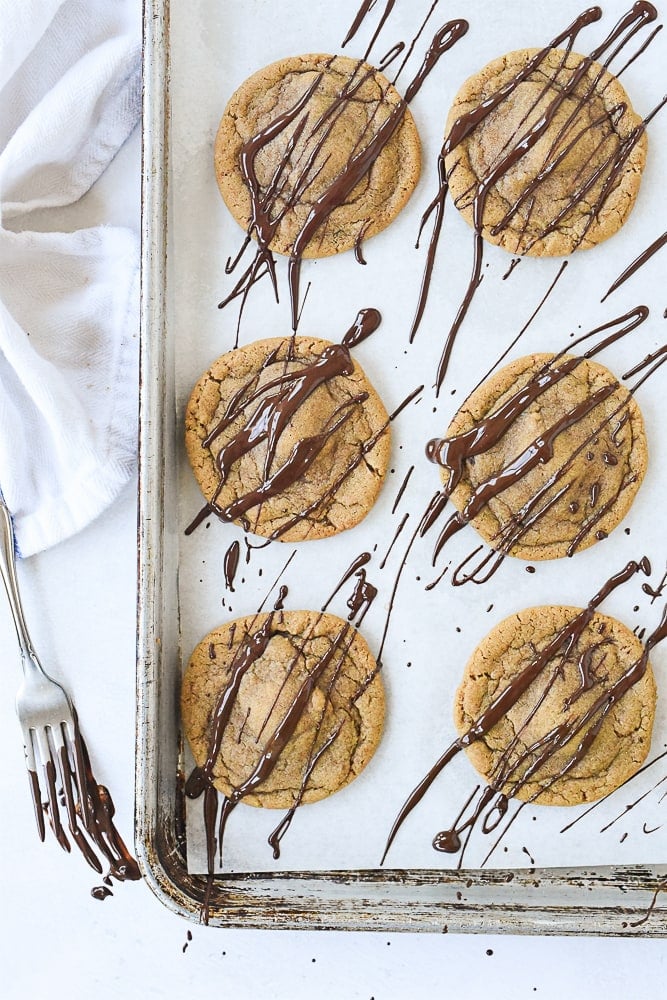 How to Make Salted Caramel Brown Sugar Cookies
Mix up your cookie dough, don't over mix. Mix until just combined.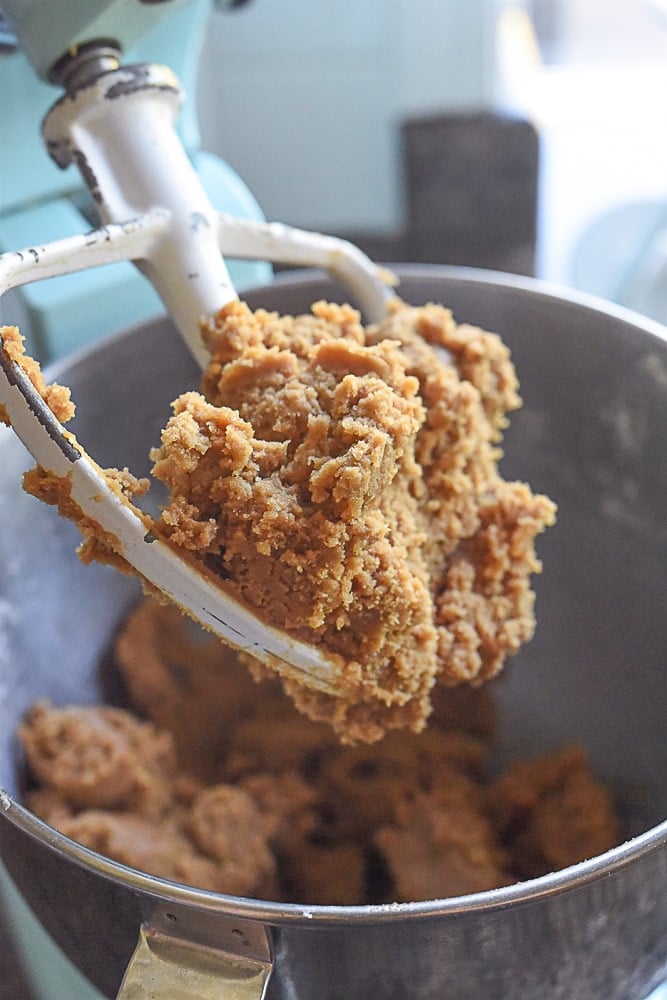 Take 1 Tablespoon of dough and flatten it and top with a caramel square. Sprinkle with salt.
Add another tablespoon of dough on top and enclose the piece of caramel and salt and roll into a ball (sorry didn't get a photo of this). It will look just like a ball of cookie dough, make sure no caramel is showing. You don't want all the caramel leaking out as the cookie bakes. You may end up with a bit of caramel coming out the bottom of the cookie but that is fine.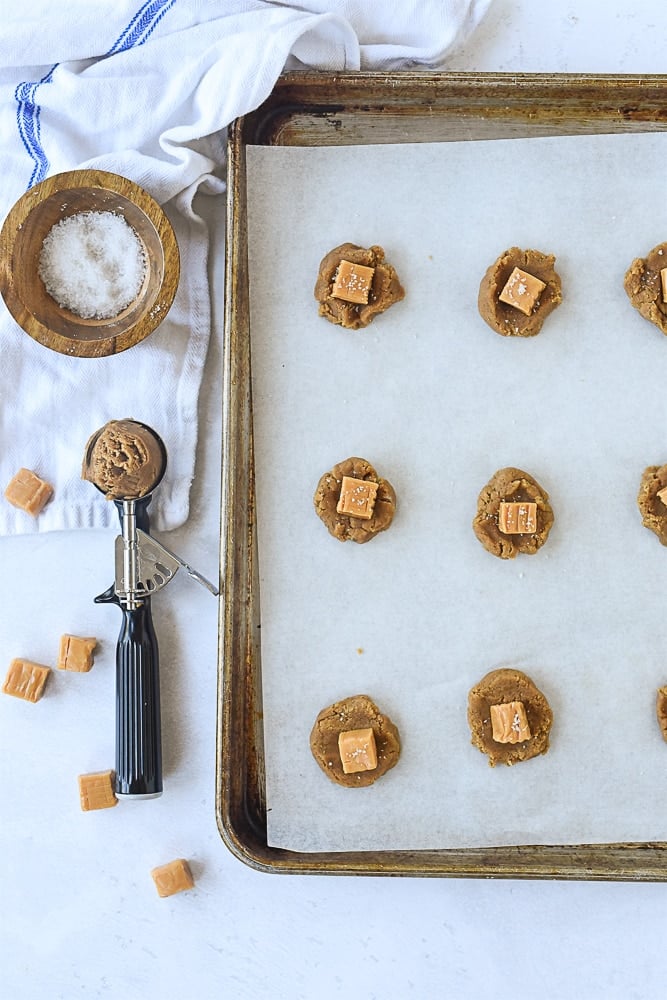 Bake according to the directions below and allow cookies to cool for a few minutes.
This last and final step is worth the time and effort. Melt some dark chocolate. I like using dark chocolate because these cookies are really sweet and the dark chocolate helps offset some of that sweetness. Drizzle the cookies with the melted chocolate.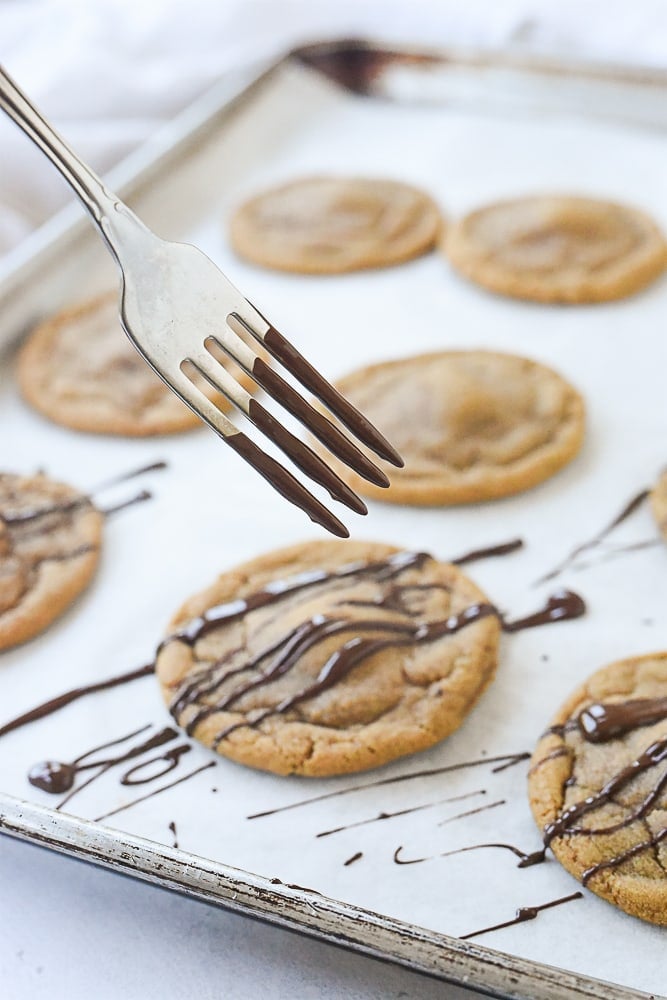 Allow the chocolate to set up or not before eating. I love eating them while they are still slightly warm so that the caramel is nice and gooey. They are also delicious after they cool!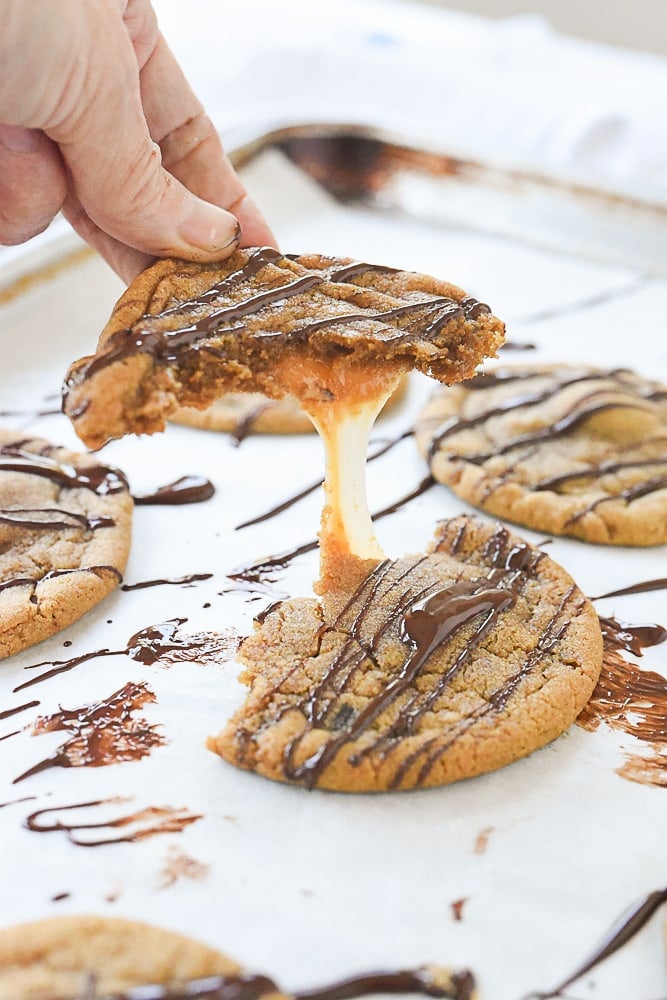 Some of my other favorite cookie recipes include:
For all of my other favorite kitchen products and tools visit my Amazon Store.
Did you know I wrote a cookbook? Check out the Holiday Slow Cooker Cookbook for 100 delicious recipes.
Salted Caramel Brown Sugar Cookie Recipe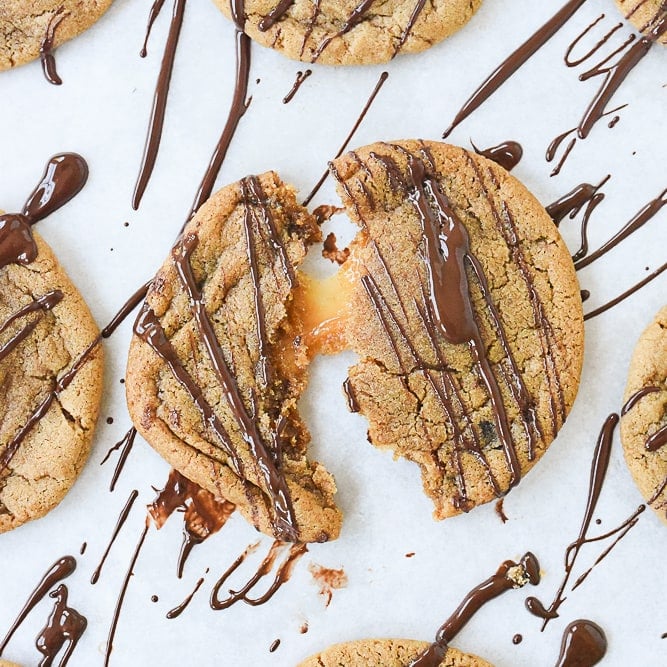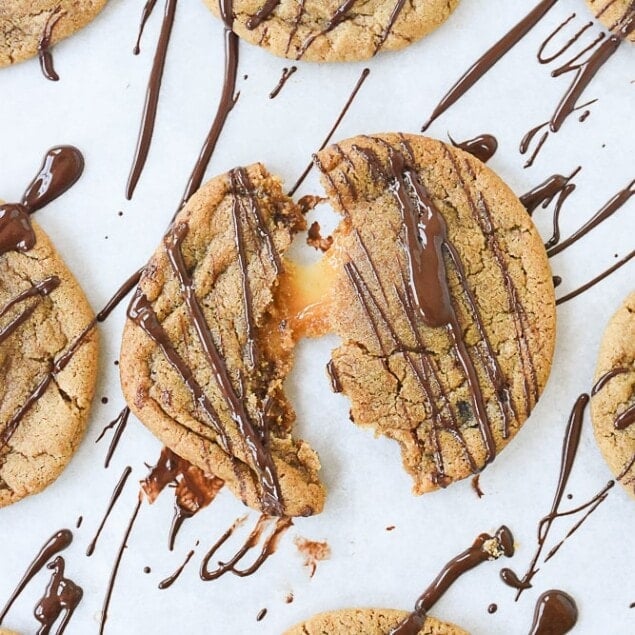 Salted Caramel Brown Sugar Cookies
Salted Caramel Brown Sugar Cookies are soft, chewy and full of amazing flavor.  Thanks to brown butter, caramel, salt and a chocolate drizzle you can't go wrong.
Ingredients
14 Tbsp butter divided
1 3/4 cups dark brown sugar packed
2 cups all purpose flour plus 2 Tbsp
1/2 tsp baking soda
1/4 tsp baking powder
1/2 tsp salt
1 egg
1 egg yolk
1 Tbsp vanilla
24 Kraft Caramels
1 Tbsp coarse salt kosher salt
1/4 cup dark chocolate chips melted
Instructions
Melt 10 Tbsp butter in a pan, cook until butter starts to foam and turn golden brown.

Remove butter from heat and add in remaining butter. Allow butter to cool for 15 -20 minutes.

Preheat oven to 350 degrees F. Line cookie sheet with parchment paper

Pour cooled butter into bowl of stand mixer. Add in brown sugar. Mix to combine.

Add in egg, egg yolk, and vanilla. Mix to incorporate.

Add in flour, baking soda, baking powder and 1/2 tsp salt. Mix until combined, don't over mix.

Form cookies by taking a tablespoon of dough and flattening it into a circle. Place on prepared baking sheet and add a caramel on top, add a sprinkle of salt.

Place another tablespoon of dough on top of the caramel and cover caramel, roll into a ball. Caramel should be totally covered.

Bake for 12-14 minutes until cookies are just starting to brown around the edges, just beginning to set.

Cool cookies for 10 minutes and then drizzle with melted chocolate.
Nutrition Facts:
Calories: 213kcal (11%) Carbohydrates: 33g (11%) Protein: 2g (4%) Fat: 9g (14%) Saturated Fat: 5g (31%) Cholesterol: 33mg (11%) Sodium: 459mg (20%) Potassium: 76mg (2%) Fiber: 1g (4%) Sugar: 23g (26%) Vitamin A: 232IU (5%) Vitamin C: 1mg (1%) Calcium: 41mg (4%) Iron: 1mg (6%)
* Disclaimer: All nutrition information are estimates only. Read full disclosure here.