The addition of brown butter to these Brown Butter Rice Krispie Treats takes them to a whole new level! Just a couple extra minutes of efforts makes for huge flavor.
Rice Krispie treats are a favorite at our house and we love playing around with all kinds of flavor combinations. These Cookies and Cream Rice Krispie Treats are always a hit. Cinnamon Rice Krispie Treats are dressed up with not only cinnamon but toffee bits and a chocolate drizzle. Adding malted milk balls into these Malted Milk Ball Treats is always a happy surprise!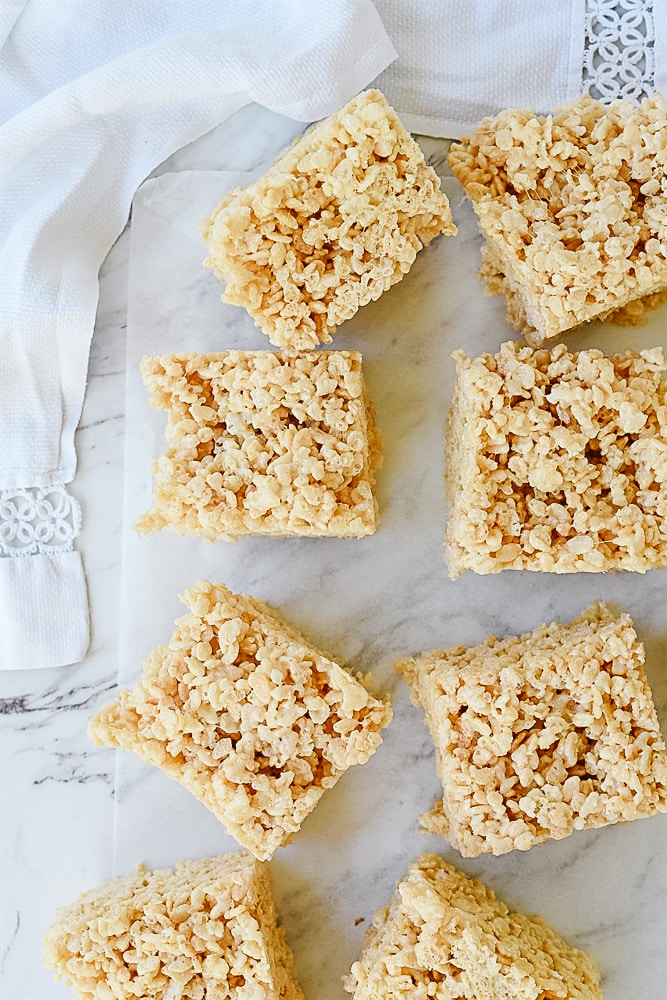 Once you taste one of these brown butter rice krispie treats you will never be able to settle for a regular rice krispie treat again. With just a couple minutes more you can turn a classic treat into something amazing.
What is Brown Butter?
We like to call brown butter liquid gold at our house. It is the magic ingredient in these rice krispie treats. I have a whole post on how to make brown butter that you can check out for an easy to follow tutorial.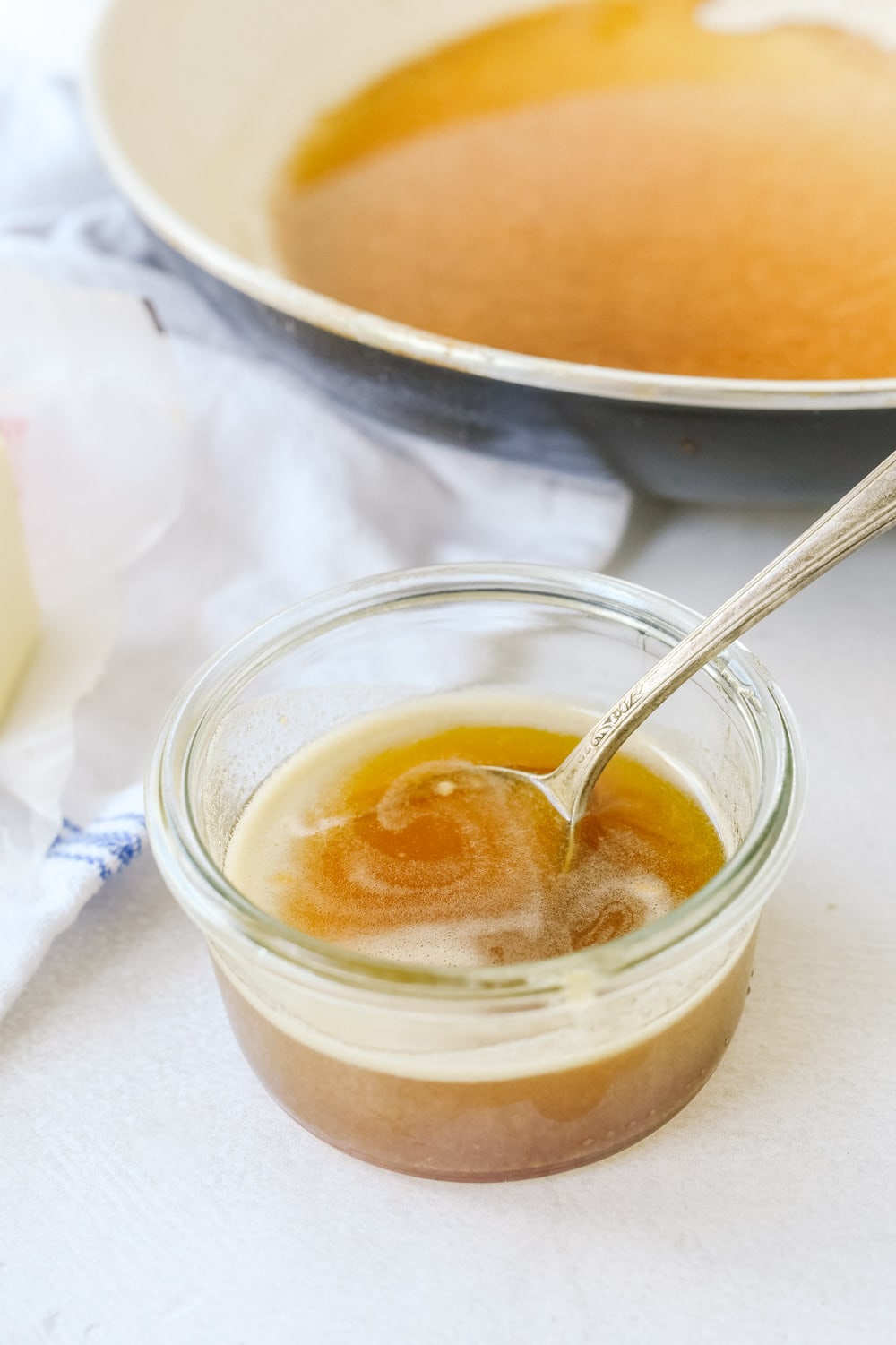 Ingredients
Marshmallows. You can use full size marshmallows or mini marshmallows but I almost always use the mini because I find they melt easier and more evenly. I use an entire 16 oz. bag of marshmallows.
Rice Krispies. My cereal to marshmallow ratio is different than you will find for the classic rice krispie treat recipe on the cereal box. Using more marshmallow makes for a softer and gooey treat!!
Brown Butter. Be sure and follow the tutorial here and don't skip this part, it gives the treats amazing flavor.
Flaky Salt. Use a good quality salt, not a table salt. This is my favorite French fleur de sel that I use all the time. You can also use a Kosher salt or any flaky sea salt. Half of the salt is added into the marshmallow mixture and the other half is reserved to sprinkle on top.
Vanilla.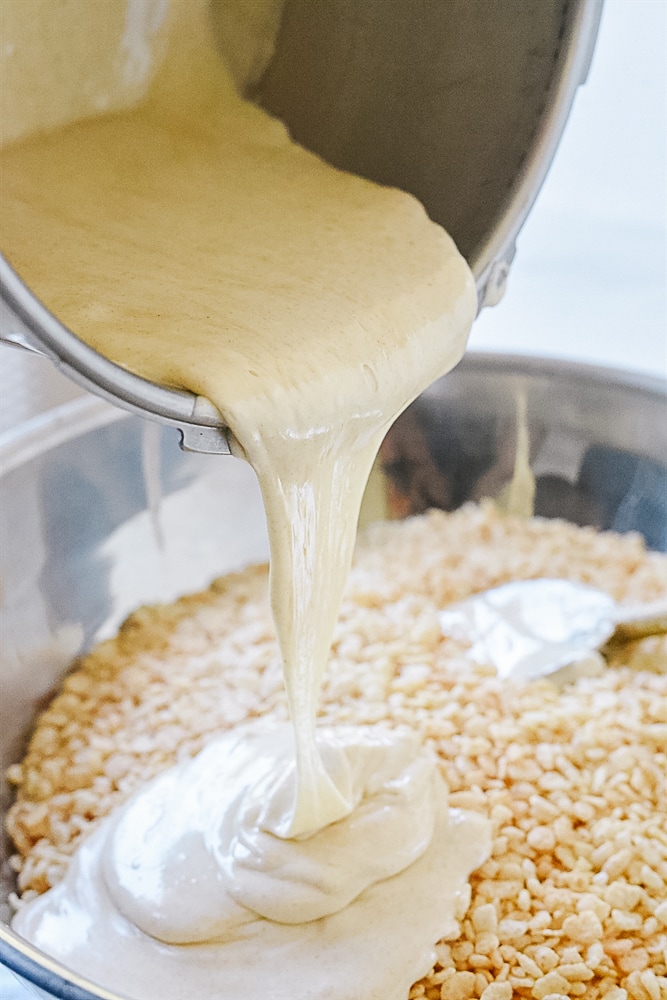 How to the best ever Rice Krispie Treats
After making brown butter add in marshmallows and stir until marshmallows are melted.  Use a heavy bottom pan so you don't burn the mixture.  Stir constantly.
Add the marshmallow mixture into the cereal in a large bowl and stir until the cereal is totally coated. 
Press the mixture into a buttered or parchment lined 9 x 13 pan. If you want a thinner treat, use a larger pan.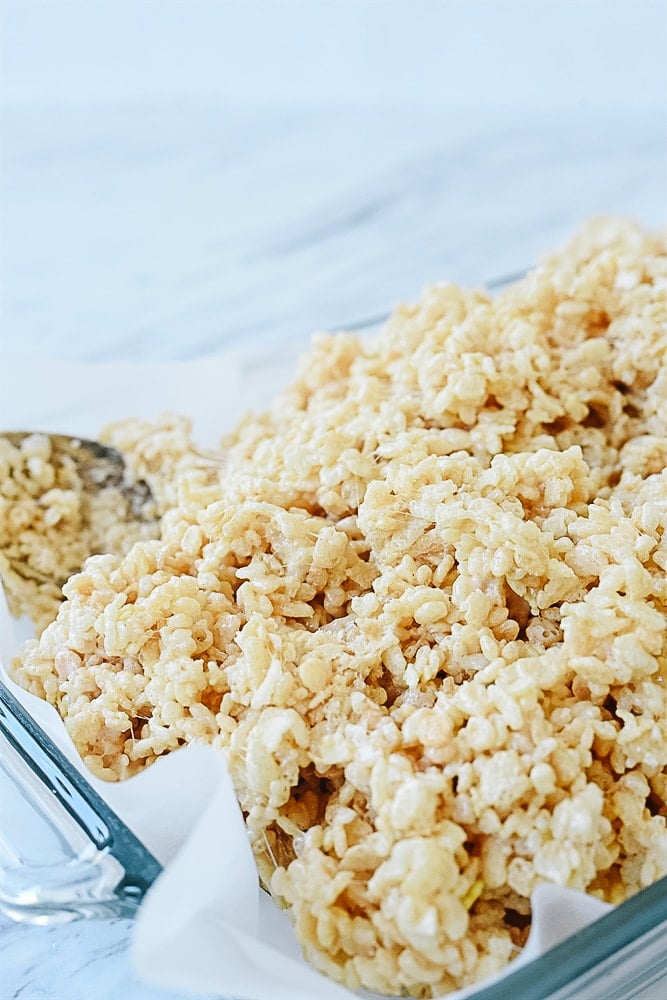 Loosely press the mixture into the pan.  I like my treats light and airy so I don't push the cereal mixture down too much, just gently to even it out.
While the treats are still warm, sprinkle with the remaining half of the salt and then allow the treats to cool and set up before removing from the pan.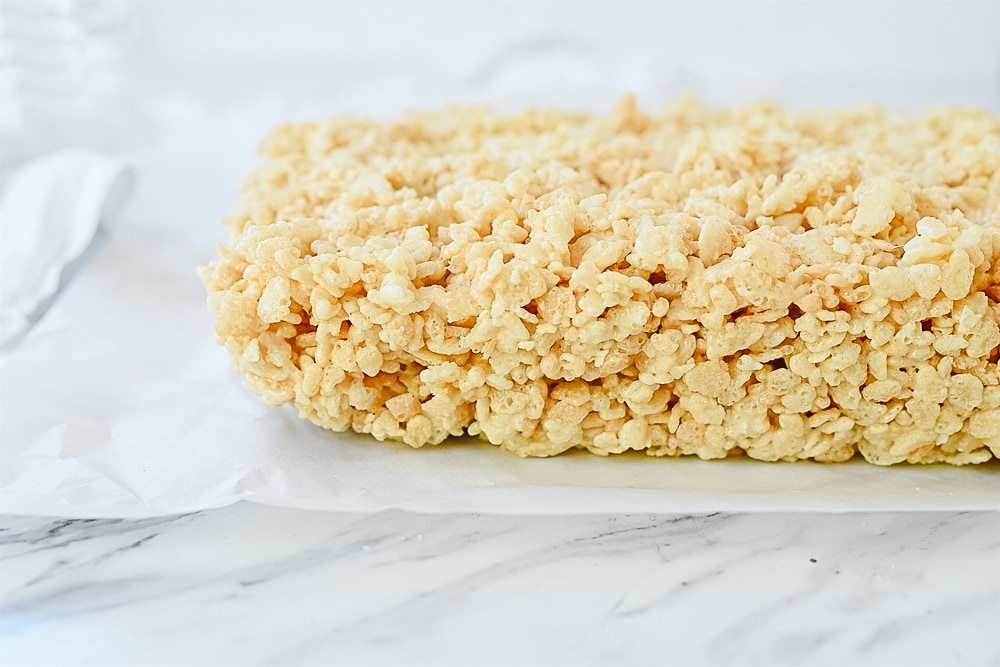 Cut the treats into any size square you like, I like mine big!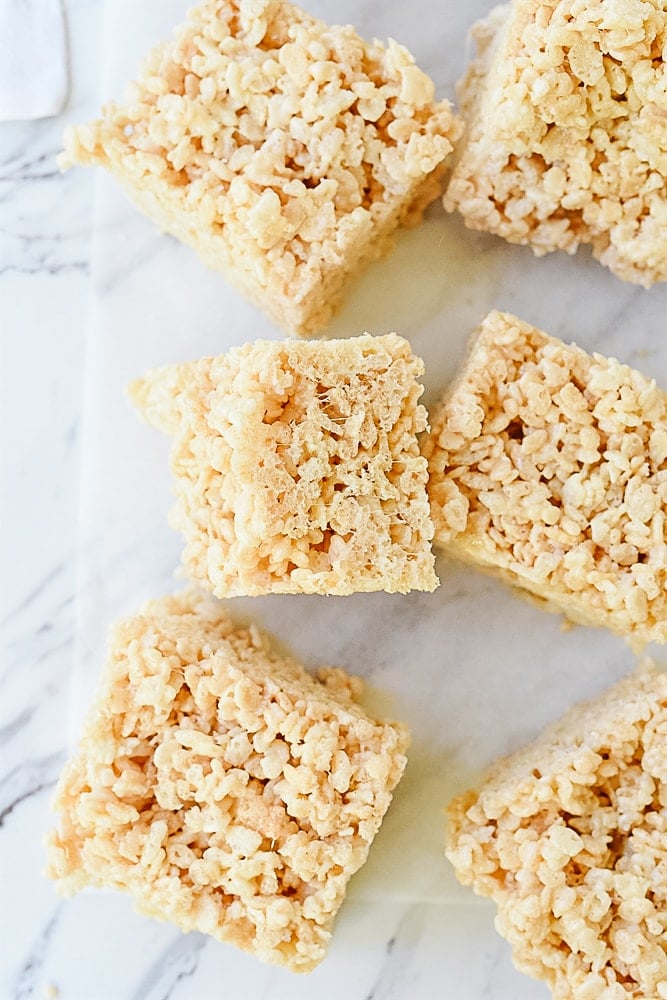 The flavor of these are amazing. I love watching someone take a bite and then try to figure out what is different about these treats. They usually guess the salt but have a hard time identifying the brown butter. It is the secret ingredient to some of the best Rice Krispie treats you will ever have!!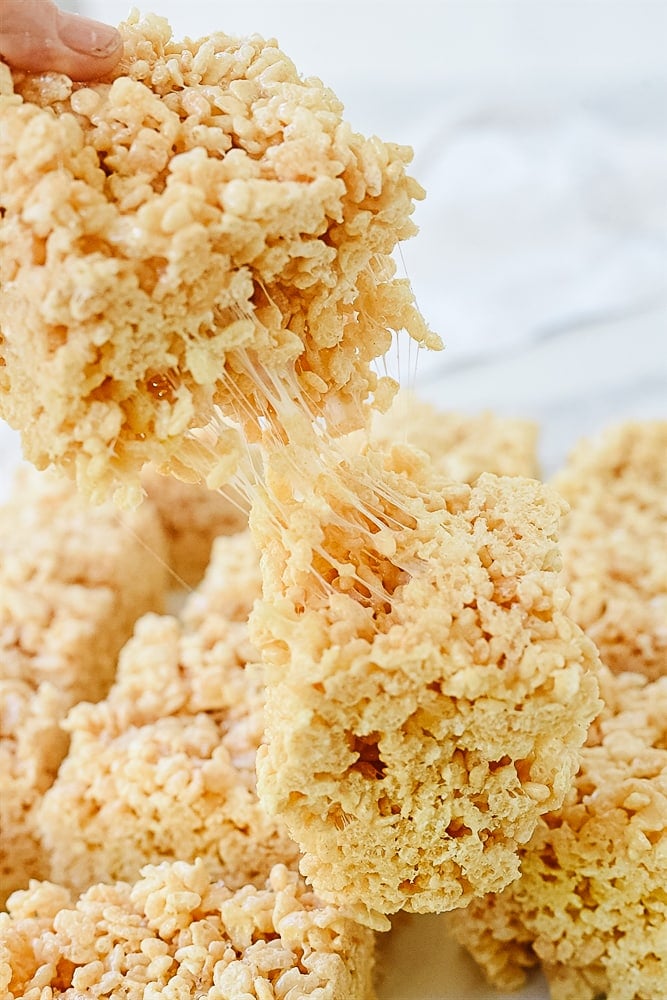 How to Freeze Rice Krispie Treats
These treats freeze really well. You can cut them into squares and wrap each square individually in plastic wrap and then put the squares together in an airtight container or ziploc bag.
That way you can easily pull one out at a time and enjoy them.
If you know you are going to be serving all of them at the same time, I will just layer them between pieces of wax paper or parchment paper in an airtight container.
They will keep for up to six months in the freezer. Just let stand at room temperature for 30-40 minutes before serving
Some other favorite recipes to make with brown butter:
For all of my other favorite kitchen products and tools visit my Amazon Store.
Did you know I wrote a cookbook? Check out the Holiday Slow Cooker Cookbook for 100 delicious recipes.
Brown Butter Rice Krispie Treat Recipe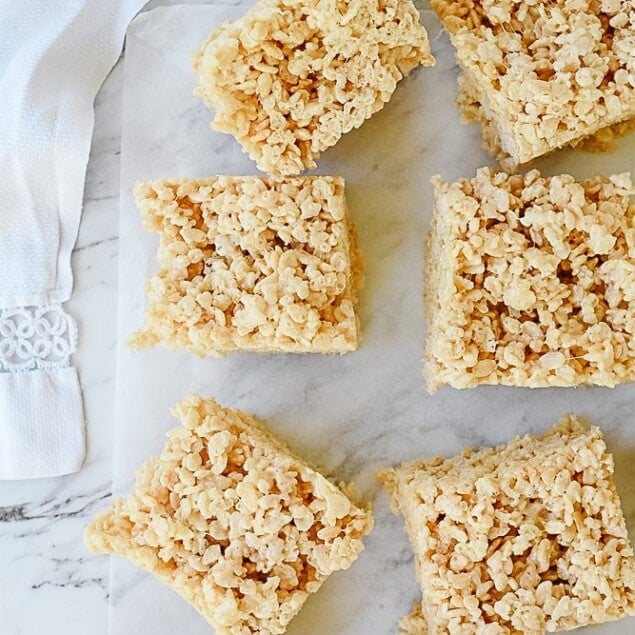 Brown Butter Rice Krispie Treats
The addition of brown butter to these Brown Butter Rice Krispie Treats takes them to a whole new level! Just a couple extra minutes of efforts makes for huge flavor.
Ingredients
1/2 Cup butter
1 tsp vanilla
1 tsp flaky sea salt divided
16 oz. mini marshmallows
12 oz Rice Krispie cereal
Instructions
In a heavy bottom pan, melt butter and stir until it begins to foam and turn golden brown. Stir constantly. It can go from browned to burned very quickly.

Add in marshmallows and stir until marshmallows melt. Add in half of the salt and vanilla.

Put cereal in a large bowl. Pour marshmallow mixture over the top and stir to combine and totally coat cereal.

Place mixture into a greased or parchment lined 9 x 13 pan. Lightly push into pan.

Sprinkle with remaining salt and allow to cool and set up.

Cut into squares to serve.
Nutrition Facts:
Calories: 148kcal (7%) Carbohydrates: 27g (9%) Protein: 1g (2%) Fat: 4g (6%) Saturated Fat: 3g (19%) Cholesterol: 10mg (3%) Sodium: 220mg (10%) Potassium: 18mg (1%) Fiber: 1g (4%) Sugar: 12g (13%) Vitamin A: 1061IU (21%) Vitamin C: 9mg (11%) Calcium: 2mg Iron: 4mg (22%)
* Disclaimer: All nutrition information are estimates only. Read full disclosure here.