Pie season is here and this Cast Iron Skillet Apple Pie is a fun variation on a classic.  Cinnamon sugar coated apples sandwiched between two layers of flaky pastry crust and baked in a cast iron skillet.
I love cooking in my cast iron pan.  It is perfect for biscuits, the perfect steak and you can find my tips for cooking and taking care of your cast iron here.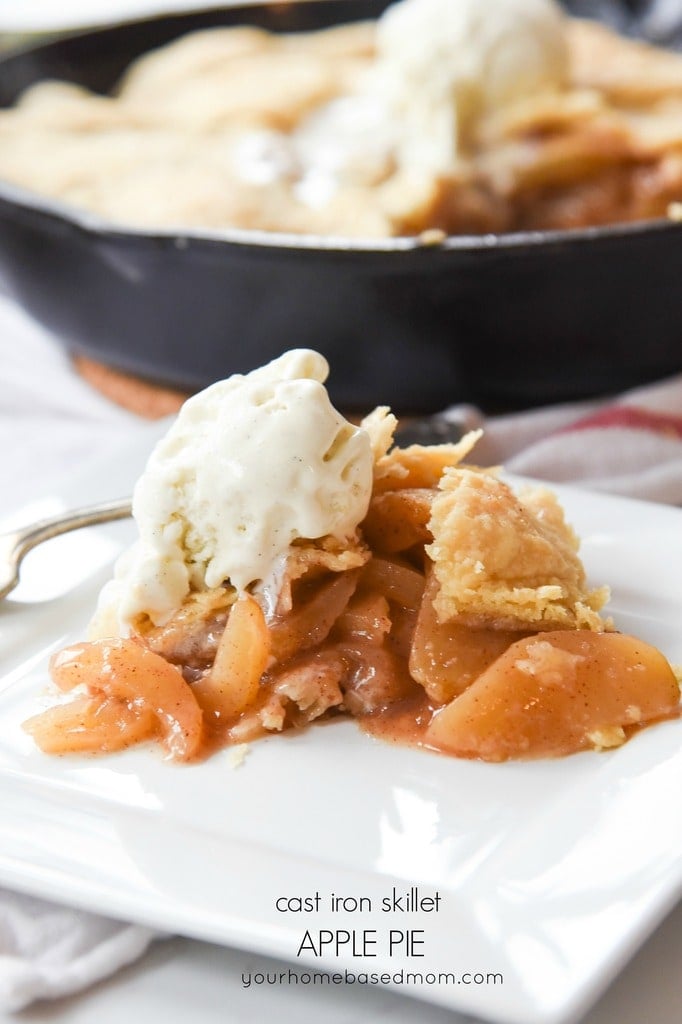 I'm a pie girl.  A slice of warm pie with a scoop of ice cream will always be my first pick for dessert (it must have ice cream though).  One of my favorite things about Thanksgiving is pie.  Lots of and lots of pie.  We always have quite an assortment of different pies but no matter what, there must always be an apple pie.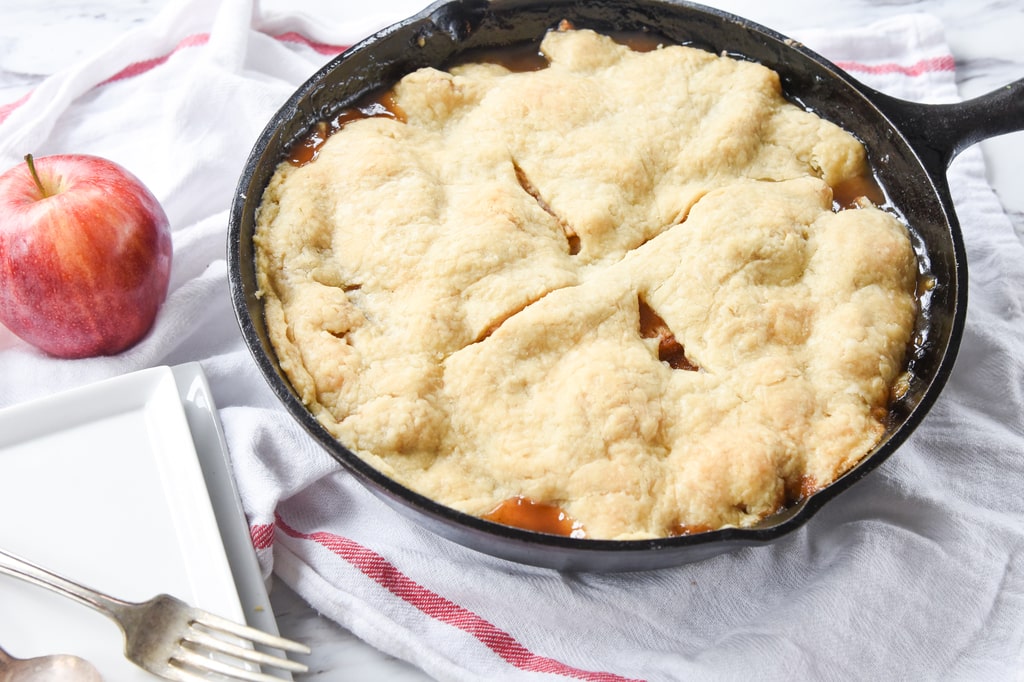 This year we are going to change it up a bit and make the apple pie in a cast iron skillet.  I love, love my cast iron skillets and have quite a collection of them.  I don't know what it is but I truly believe that things taste better when they are cooked in a well seasoned cast iron skillet and this apple pie is no exception.  The ingredients are everything you will find in an apple pie with just one special trick.  The pie starts with a layer of butter and brown sugar on the bottom!!
How to Make a Skillet Apple Pie
You start by melting the butter and brown sugar in the cast iron pan, in the oven.  After it is melted, I place a layer of pastry crust over the mixture.  Then, I baked it for about 10 minutes so that the layer of pastry wouldn't get mushy when I added the apples.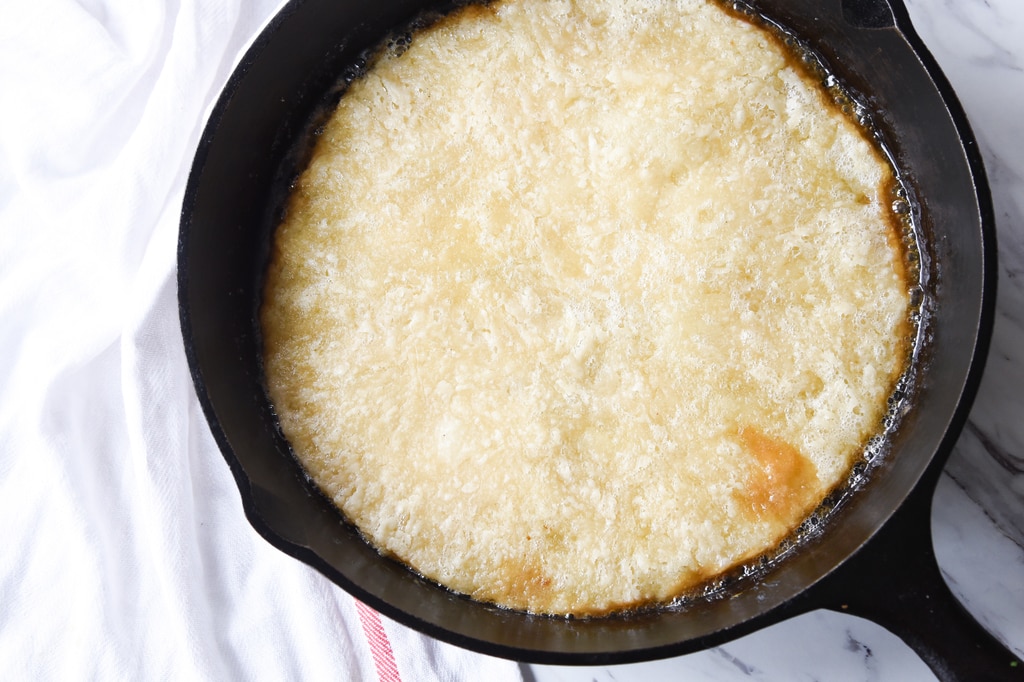 Nexy, I piled the apples coated with cinnamon sugar into the pan.  Traditionally you use granny smith apples, and they are delicious.  But this time I used a honey crisp apple.  I cut my apple slices about 1/4″ thick.  You don't want them too thin where they get overly mushy when they bake. But you don't want them too thick either because then they will be crunchy.  I use a lot of apples because I want it mounding over the top of the pan.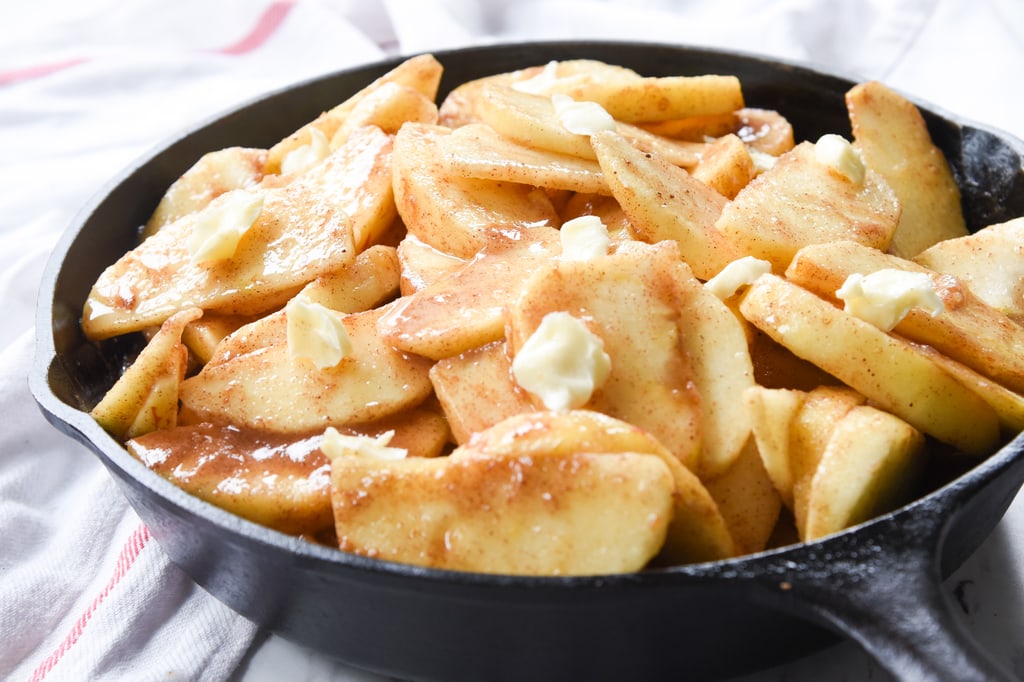 After adding some little dabs of butter, I covered it with another layer of pastry.  Put a few slits into the pastry so that the steam can escape.  It's o.k. if some of the juices escape too.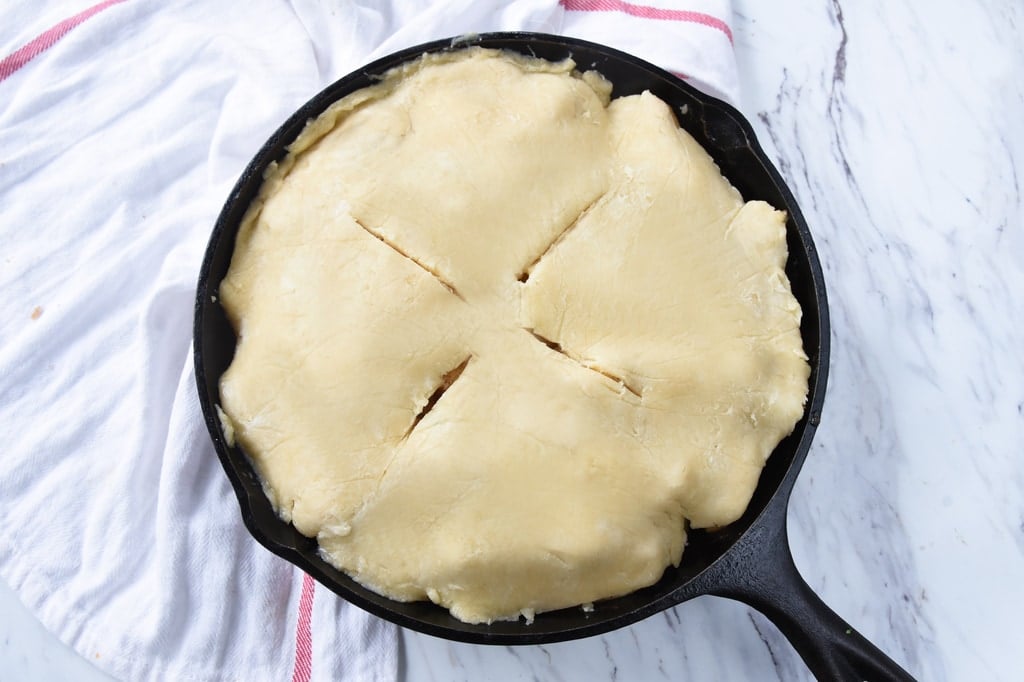 Bake until the apples are hot and bubbly and the crust is golden brown.  Let the pie cool a bit and then dig in!  Of course you must, must add ice cream.  One of the benefits of a cast iron skillet is you can eat right out of the pan!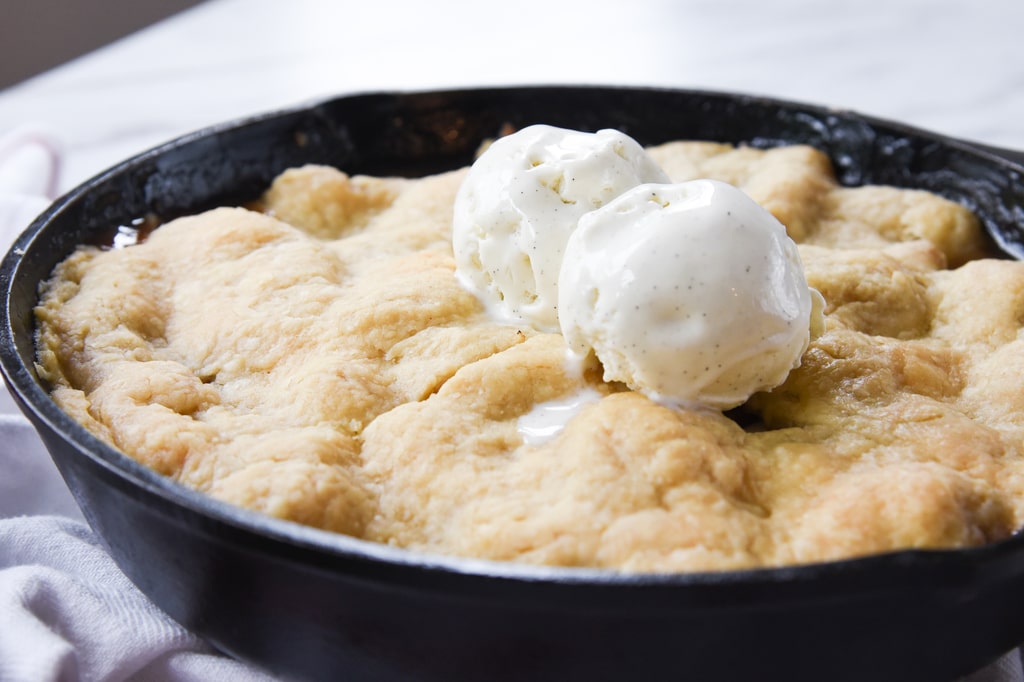 I used my Perfect Pie Crust recipe but you could always buy store made pie crust, if you must.  Homemade is so much better though and it really doesn't take that long to make.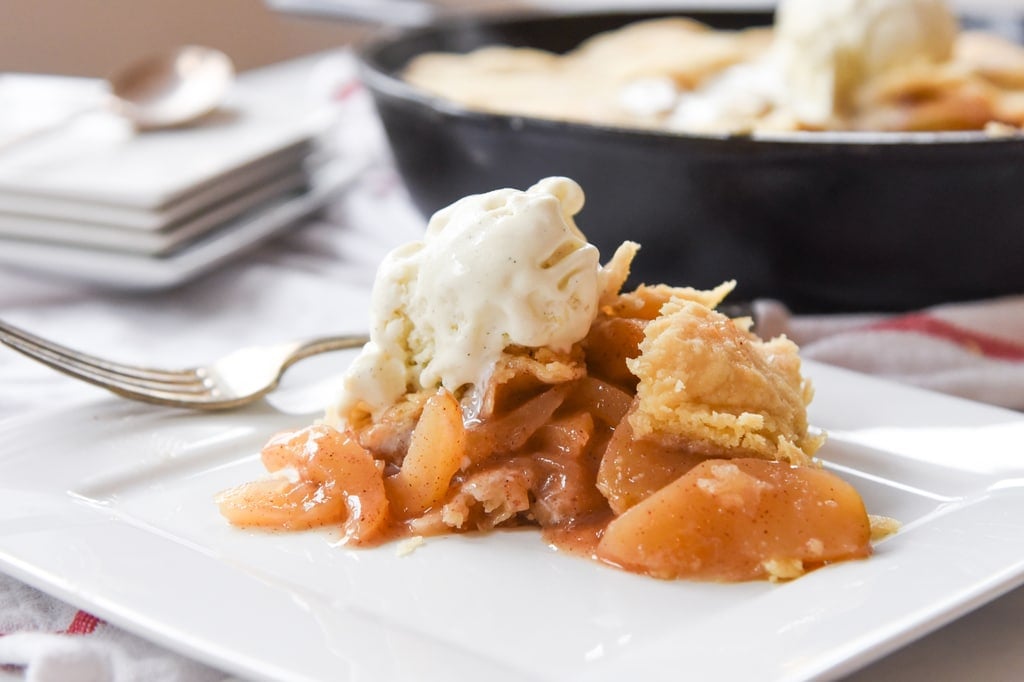 For all of my other favorite kitchen products and tools visit my Amazon Store. 
Did you know I wrote a cookbook?  Check out the Holiday Slow Cooker Cookbook for 100 delicious recipes.
Check out more of my favorite pie recipes:
Cast Iron Skillet Apple Pie Recipe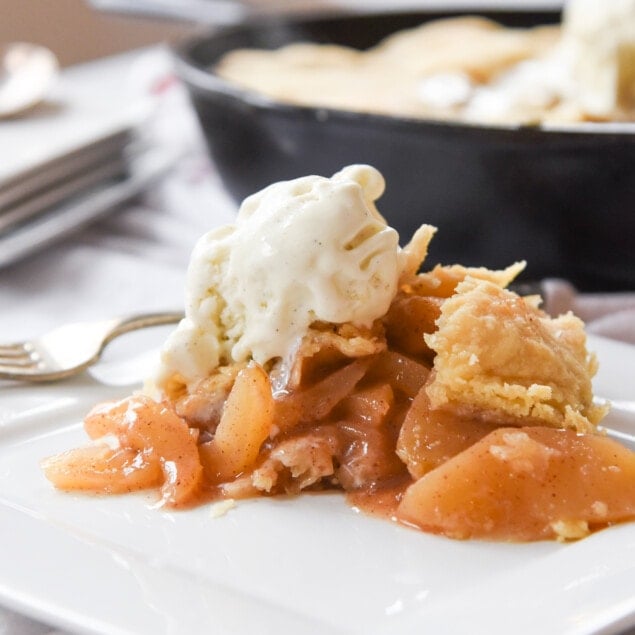 Cast Iron Skillet Apple Pie
Pie season is here and this Cast Iron Skillet Apple Pie is a fun variation on a classic. Cinnamon sugar coated apples sandwiched between two layers of flaky pastry crust and baked in a cast iron skillet.
Ingredients
1/2 cup butter
3/4 cup brown sugar
4-5 Honey Crisp apples cored, peeled and sliced
2 10" pie crusts
1 cup sugar
2 tsp cinnamon
1/2 tsp nutmeg
2 Tbsp flour
1 Tbsp butter
Instructions
Preheat oven to 350 degrees F

Place butter in 10" cast iron skillet and place in oven. Melt butter.

Remove skillet and add brown sugar to butter, stir until brown sugar melts. Return to oven for a few minutes if necessary.

Place one pie crust on top of the melted butter/brown sugar mixture. Return to oven and bake for 10 minutes.

Mix together sugar, cinnamon, nutmeg and flour.

Place sliced apples in a large bowl and sprinkle with cinnamon sugar mixture.

Add apples to skillet and dot with butter.

Place second pie crust on top. Cut 3-4 slits in pie crust to allow for steam to escape.

Bake for 30-40 minutes or until apples are tender and pie crust is golden brown.

Allow pie to cool for a bit and serve warm with ice cream.
Nutrition Facts:
Calories: 540kcal (27%) Carbohydrates: 80g (27%) Protein: 3g (6%) Fat: 24g (37%) Saturated Fat: 11g (69%) Cholesterol: 34mg (11%) Sodium: 294mg (13%) Potassium: 166mg (5%) Fiber: 3g (13%) Sugar: 54g (60%) Vitamin A: 450IU (9%) Vitamin C: 4.2mg (5%) Calcium: 41mg (4%) Iron: 1.5mg (8%)
* Disclaimer: All nutrition information are estimates only. Read full disclosure here.