Making homemade whipped cream is a life skill everyone should have!  It is easy and only takes 3 ingredients.  And it tastes so much better than anything you can buy in a can!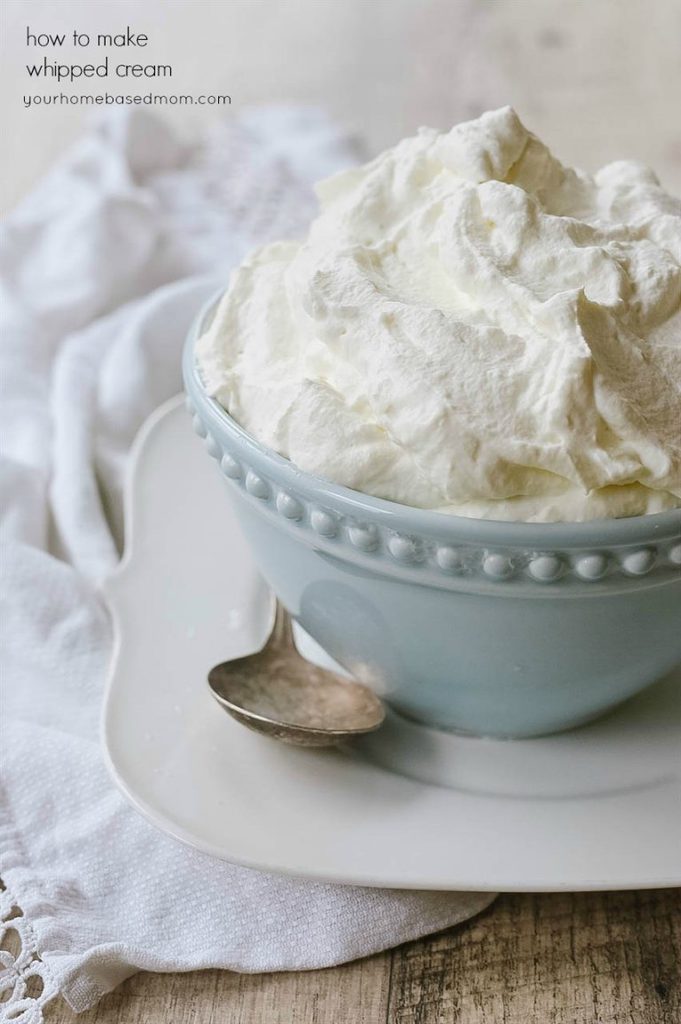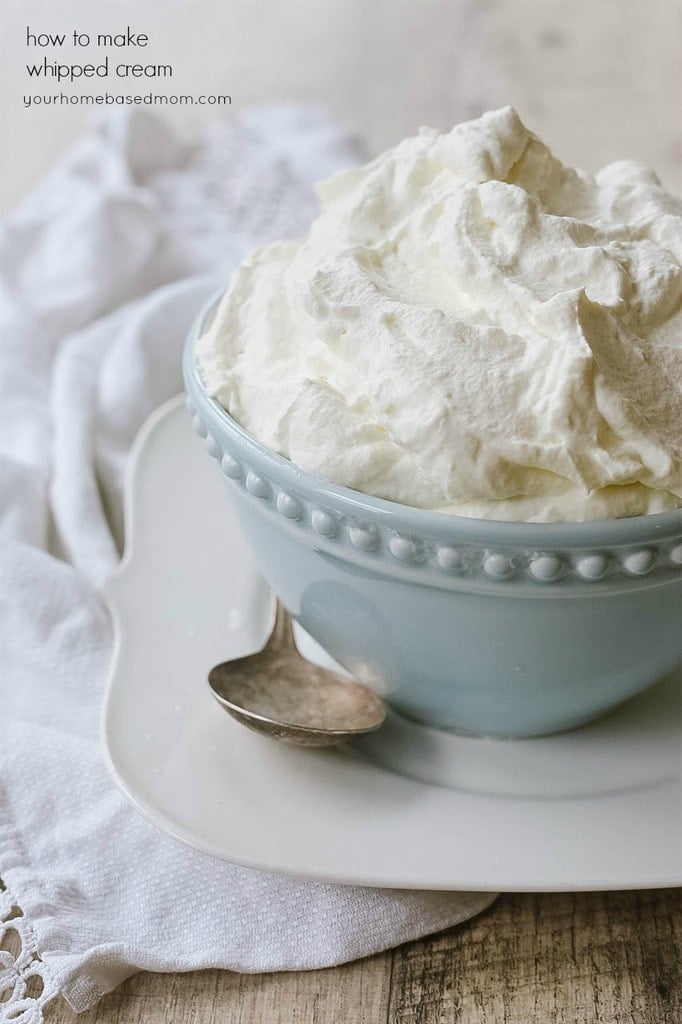 Homemade Whipped Cream
Making your own cream is simple and it tastes SO MUCH better than the stuff that comes out of the can. Once you start making your own homemade version you will never go back to the canned stuff. I love using it on pies and cakes, topping off my hot chocolate with it and serving it with fresh berries. And I'm not opposed to just eating it by the spoonful!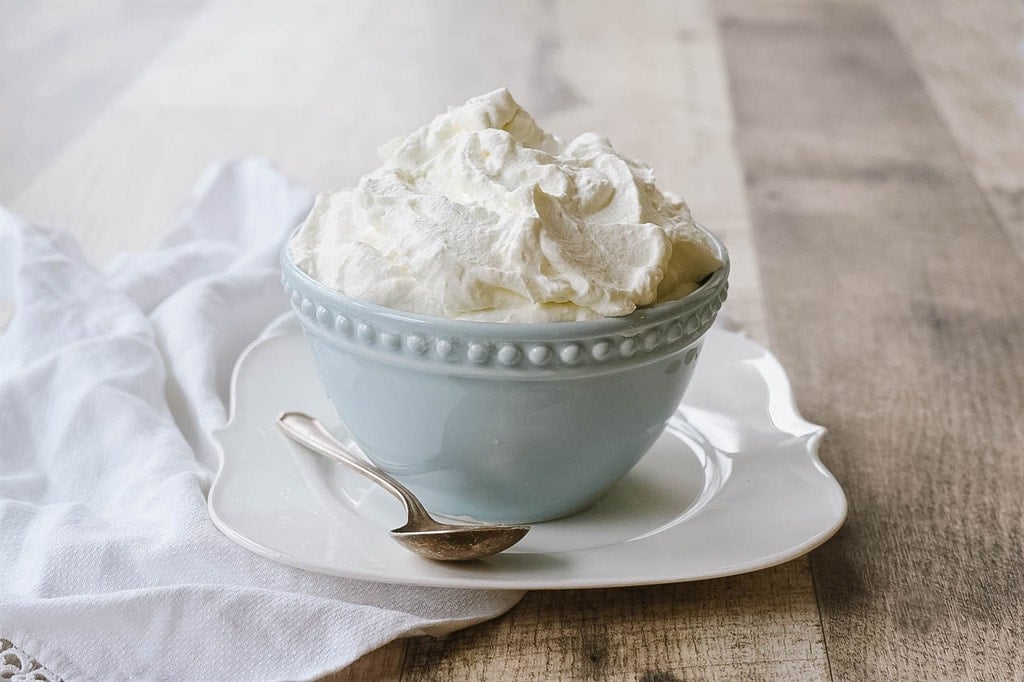 What Kind Of Cream Should I Use?
I prefer using heavy cream. It has a higher milk fat content than regular whipping cream so it makes for a thicker whipped cream.
Sweetened Whipping Cream Ingredients
Heavy Whipping Cream
Sugar. I use powdered sugar but you can also use regular sugar if you prefer. You can make your cream as sweet as you want, depending on the amount of sugar you add. I usually use 2 Tbsp per pint and that makes it just slightly sweet. You can also use maple syrup or honey to sweetened it if you prefer.
Vanilla Extract. You can also change up your extract and add in peppermint, orange or any other flavor for flavoring. A teaspoon of cinnamon makes for a delicious cinnamon cream too.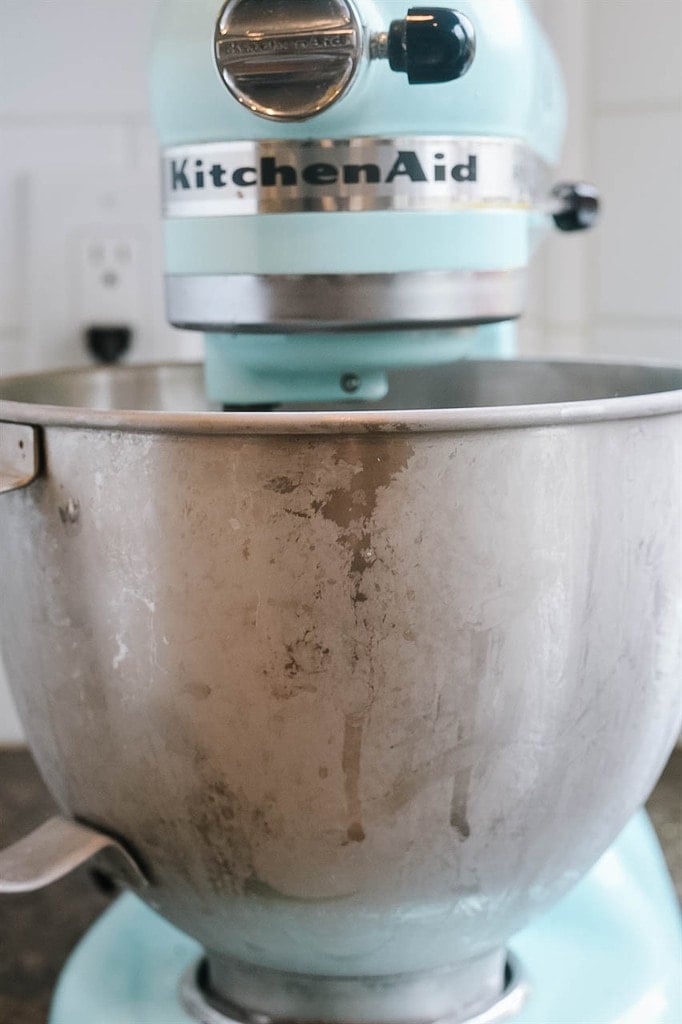 How to Make Homemade Whipped Cream
Equipment options. I like to use my Kitchen Aid stand mixer to make whip my cream but it will work just as well with a hand mixer, I find it just takes a little more time and you can even whip it by hand, just be prepared to be patient.
Chill your equipment. I always chill my mixer bowl and beaters in my freezer for about 10-15 minutes first. If you don't have room, use your refrigerator for 20 minutes.
How much whipping cream do I need? Your cream will double in size so if you need 2 cups of cream whipped, use 1 cup of heavy whipping cream.
Add in your ingredients. Everything can be added into the bowl at the same time and then beat to your desired thickness and texture.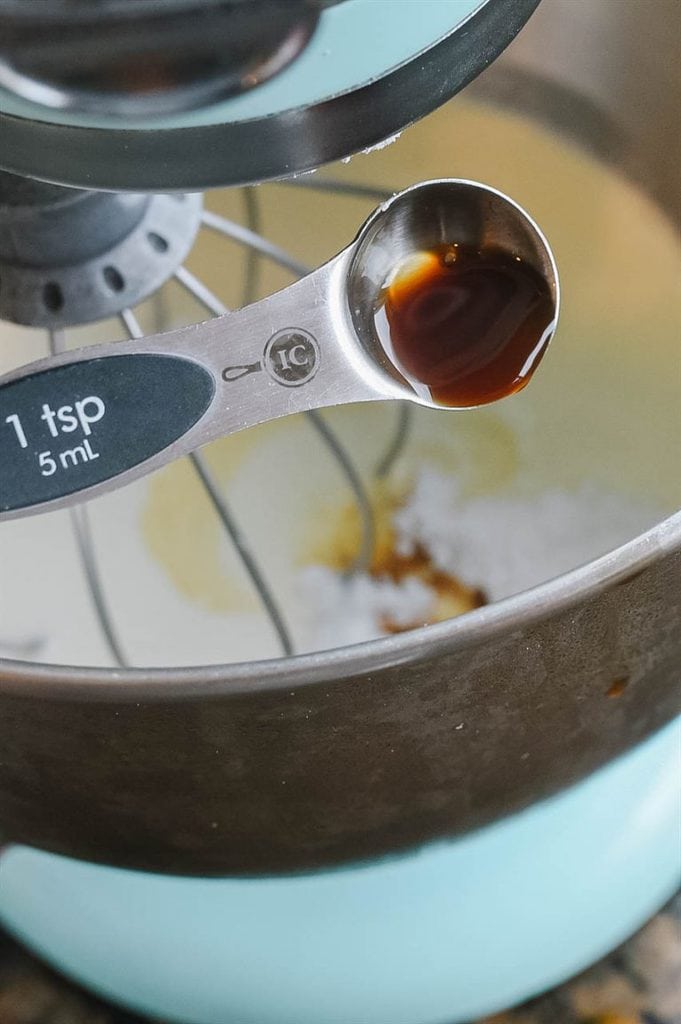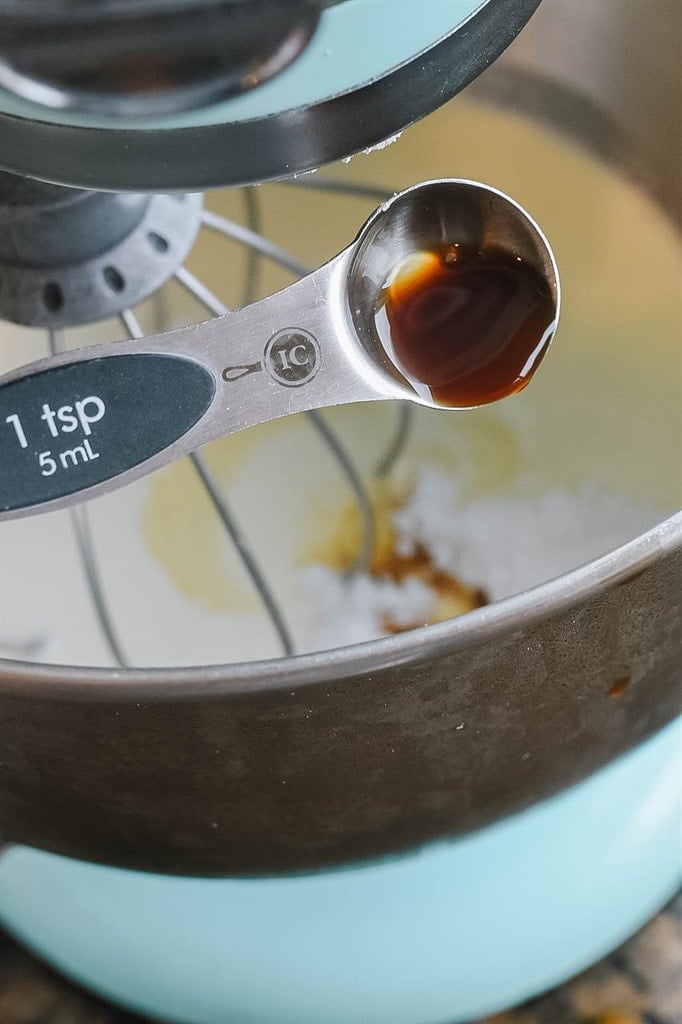 How long do I whip my cream?
That pretty much depends on how you are going to use your cream once it is whipped There are basically three stages of whipped cream, soft peak, medium peak and stiff peaks.
Soft Peaks – soft peaks will resemble softened ice cream. The cream will easily fall off the end of the beater and is a perfect choice if you are topping a hot drink or folding it into something.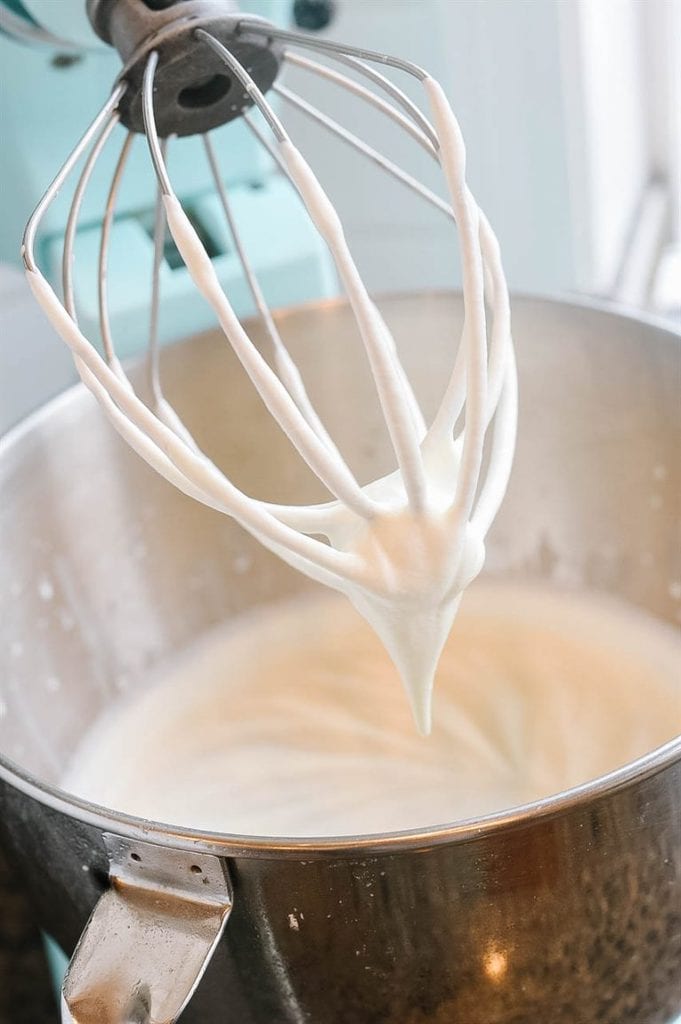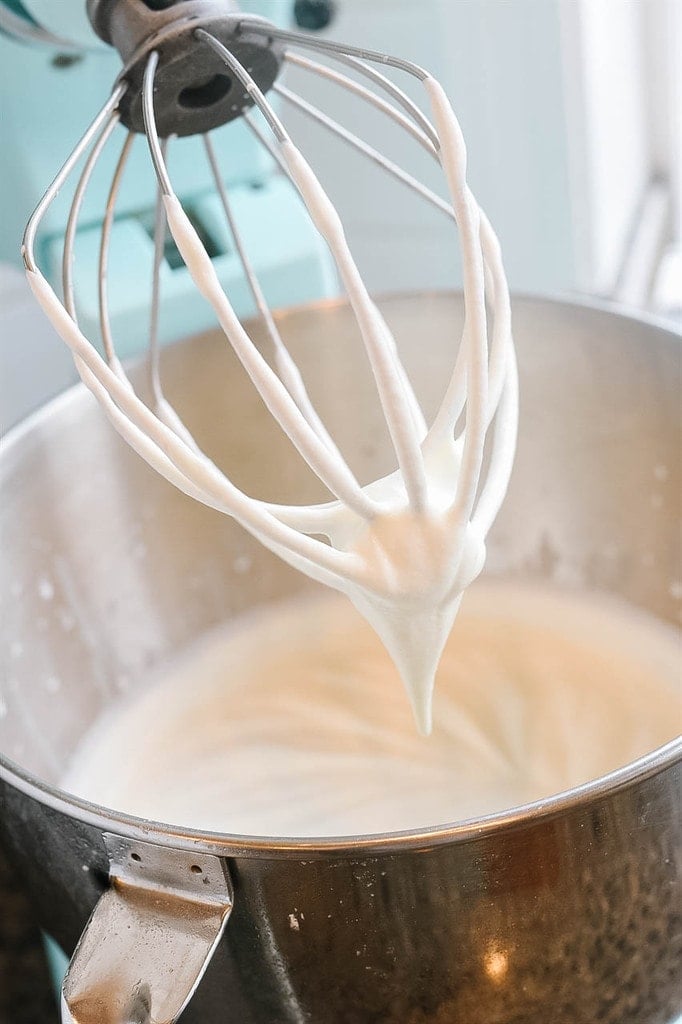 Medium Peaks – this is perfect for topping a piece of pie or cake. It has some swirls in it but is still soft yet stable.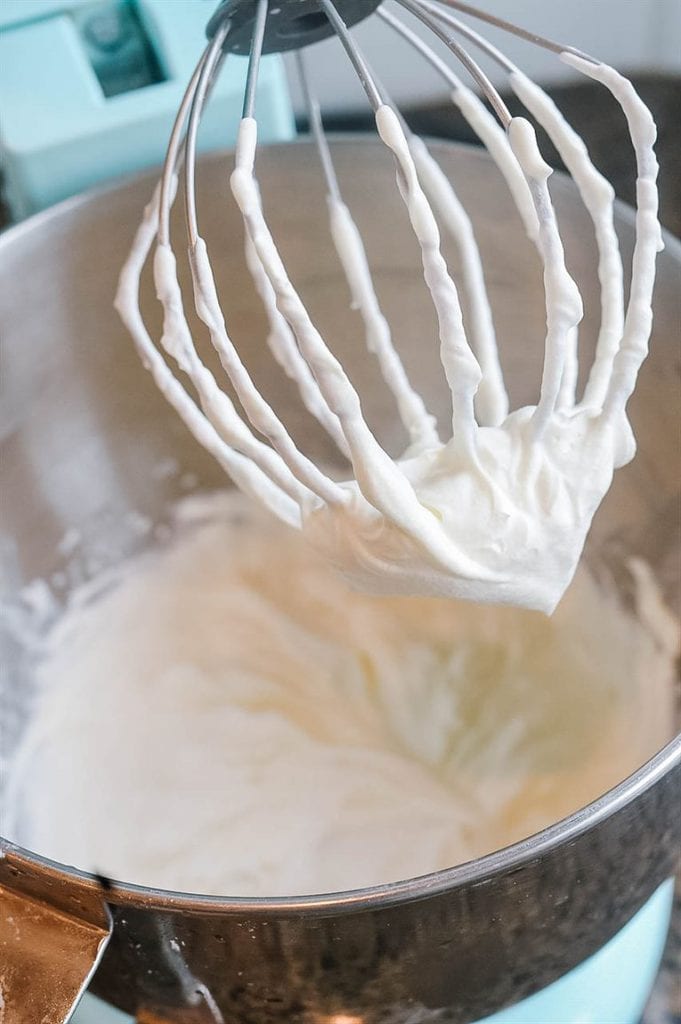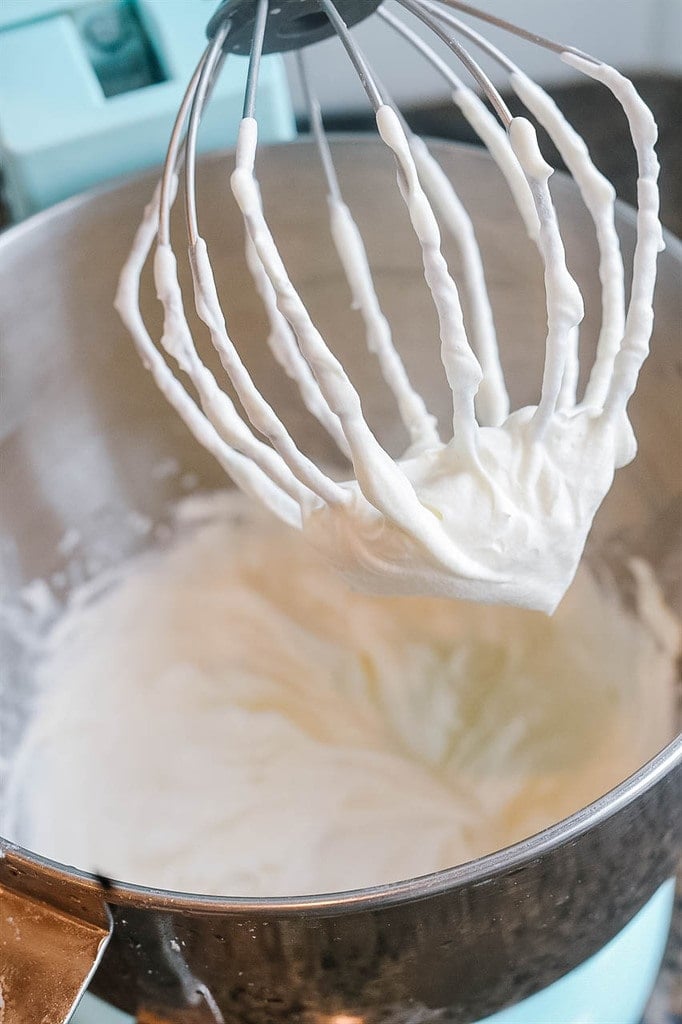 Firm Peaks – this is how I beat my cream when I am going to need it to hold it's shape for a while, maybe I won't be using it right away or I'm going to need to keep it refrigerated for a while. The whipped cream will have definite folds in it with a rippled texture. You can also use this to frost a cake with. Don't take it beyond the firm peak or you might end up with butter!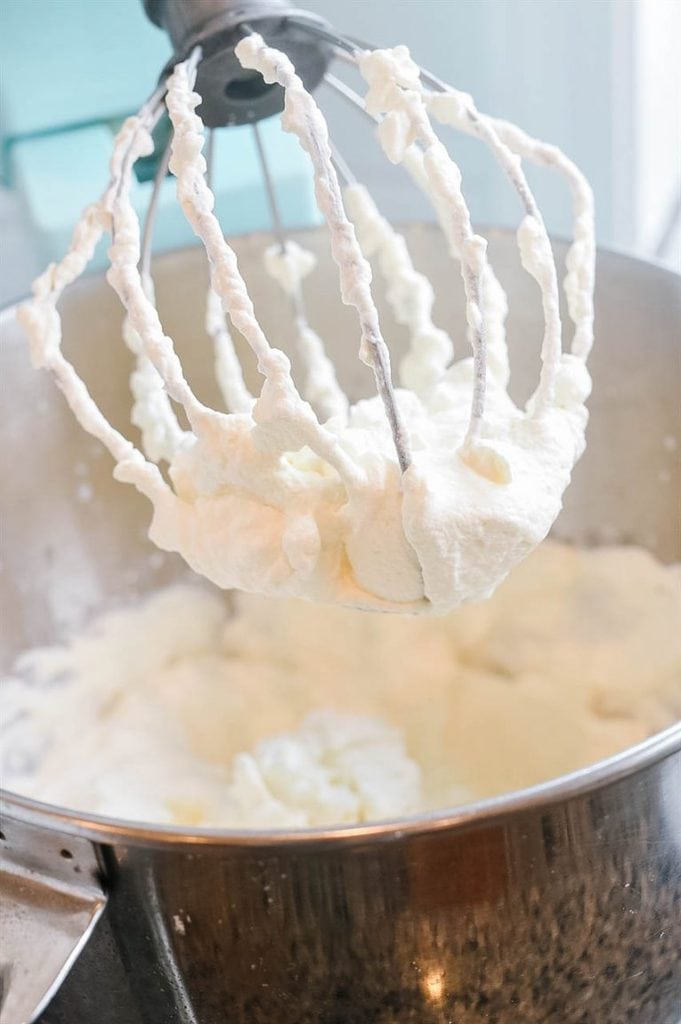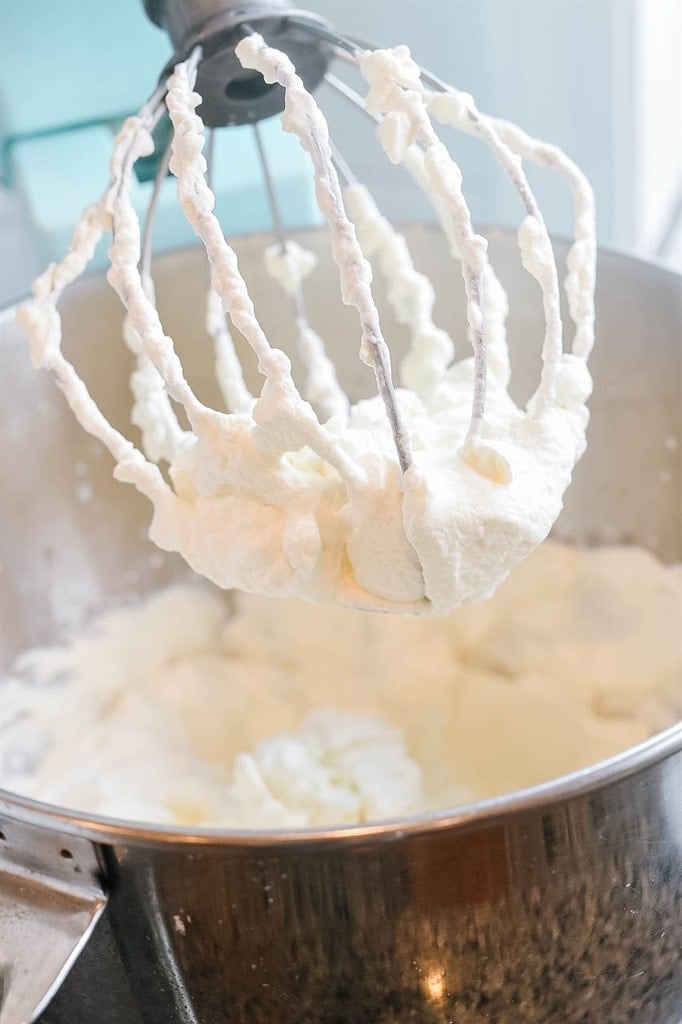 However you whip it, it's easy quick and delicious!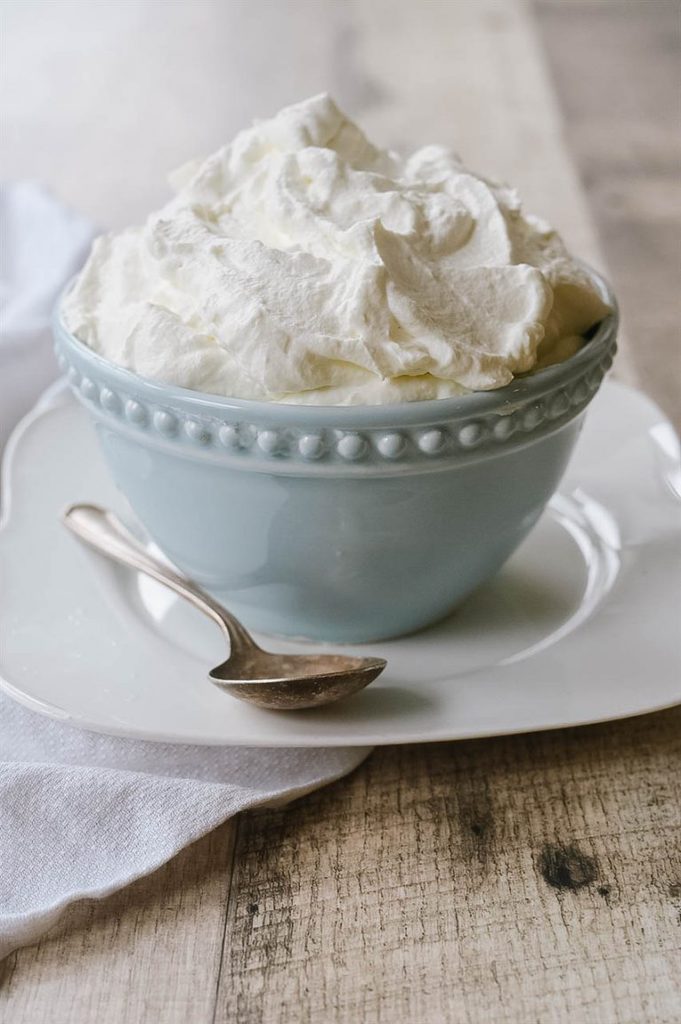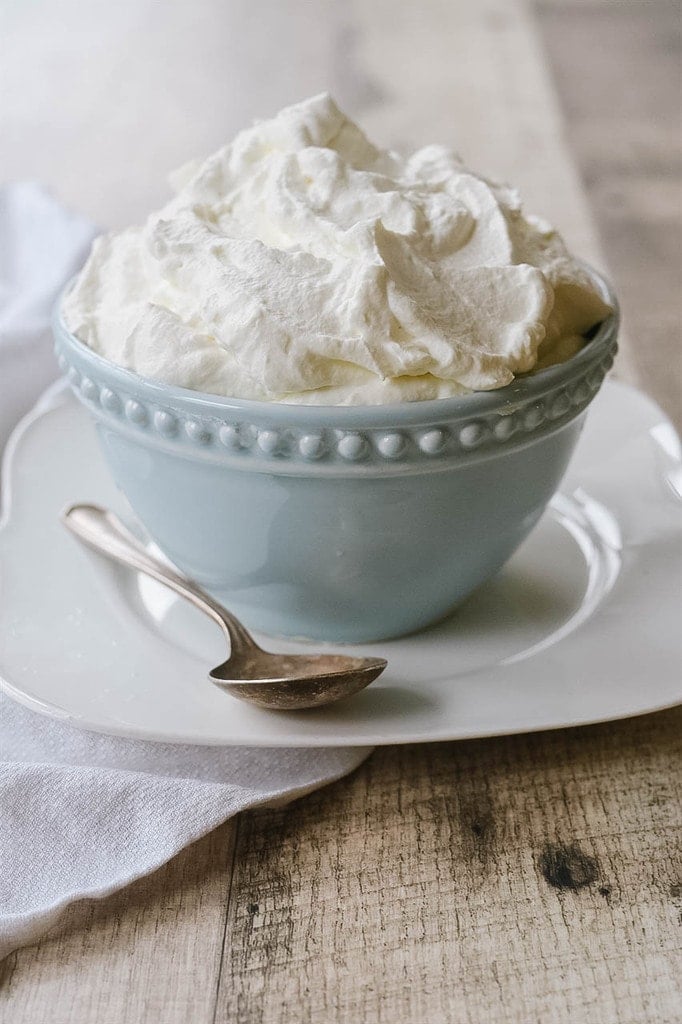 Frequently Asked Questions
Can I freeze whipped cream?
Whipped cream freezes well.
-Place the whipped cream in a freezer bag.
-Squeeze out the excess air.
-Be sure to label and date the bag.
-Lay flat in the freezer. Freeze for 1-2 months.
You can also freeze it in individual servings
-Place dollops or spoonfuls of whipped cream onto a parchment lined baking sheet.
-Freeze for 20-30 minutes or until frozen through.
-Remove and place into a plastic freezer bag, remove excess air.
-Return to the freezer. Store for 1-2 months.

Recipes that use Whipped Cream
For more delicious recipes try these: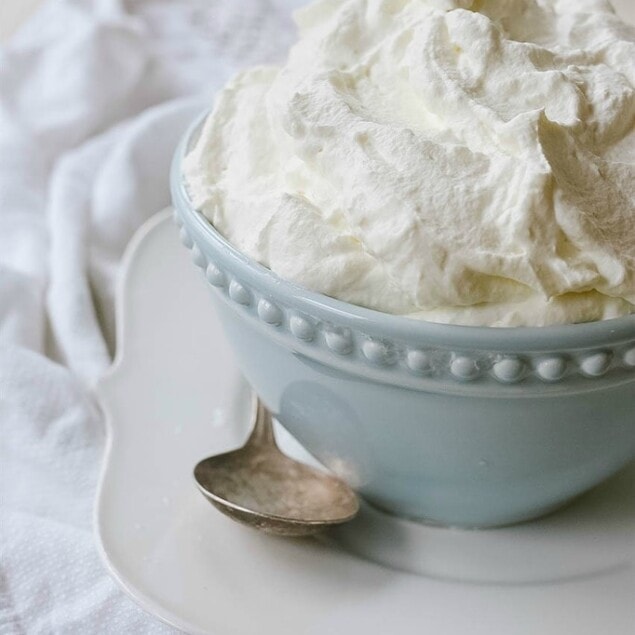 Homemade Whipped Cream
Making homemade whipped cream is a life skill everyone should have! It only requires three ingredients and you have delicious, lightly sweetened, homemade whipped cream ready for all your whipped cream needs!
Ingredients
2 cups Heavy Whipping Cream
1 tsp vanilla
2 tsp powdered sugar
Instructions
Combine ingredients in a chilled mixing bowl, using chilled beaters.

Beat ingredients together until desired consistency. Serve immediately or refrigerate.
Nutrition Facts:
Calories: 139kcal (7%) Carbohydrates: 1g Fat: 14g (22%) Saturated Fat: 9g (56%) Cholesterol: 54mg (18%) Sodium: 15mg (1%) Potassium: 29mg (1%) Vitamin A: 585IU (12%) Vitamin C: 0.2mg Calcium: 26mg (3%)
* Disclaimer: All nutrition information are estimates only. Read full disclosure here.