This banana cream pie starts with a creamy banana infused pudding which is layered with fresh bananas and topped with sweetened whipped cream and sliced almonds.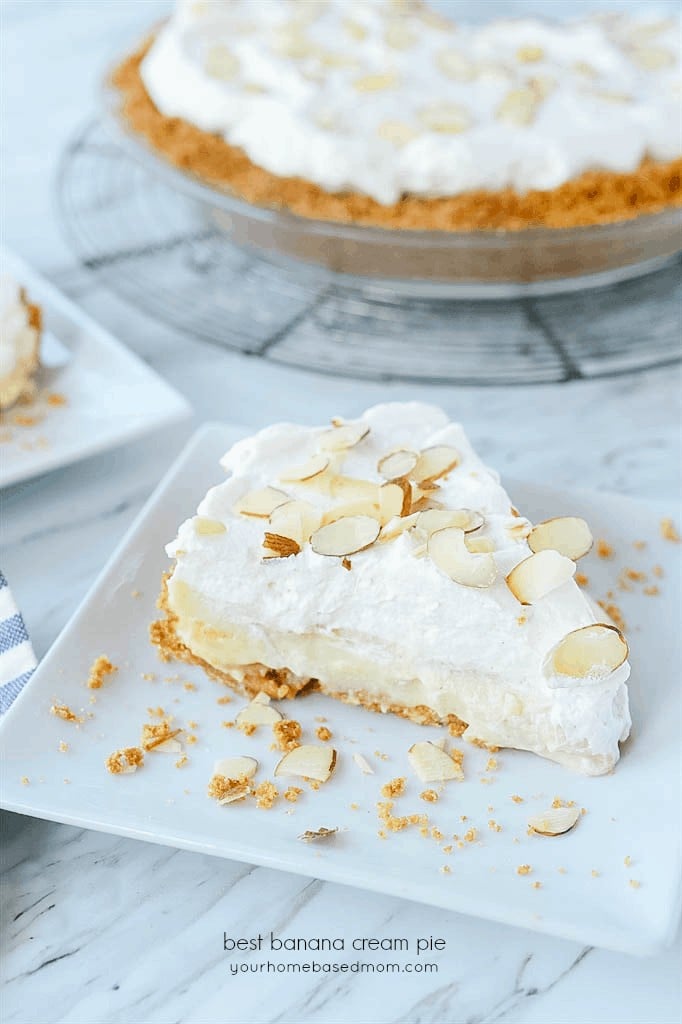 Tomorrow is National Pi Day! Pi Day is an annual celebration of the mathematical constant ?. Pi Day is observed on March 14 since 3, 1, and 4 are the first three significant digits of ?. Put let me tell you, we shouldn't have to have a holiday to eat pie!
Christmas, Thanksgiving, Easter and National Pi Day are all good reasons to eat pie. But after you taste this Banana Cream Pie you are going to declare every day a holiday just so you can enjoy a slice!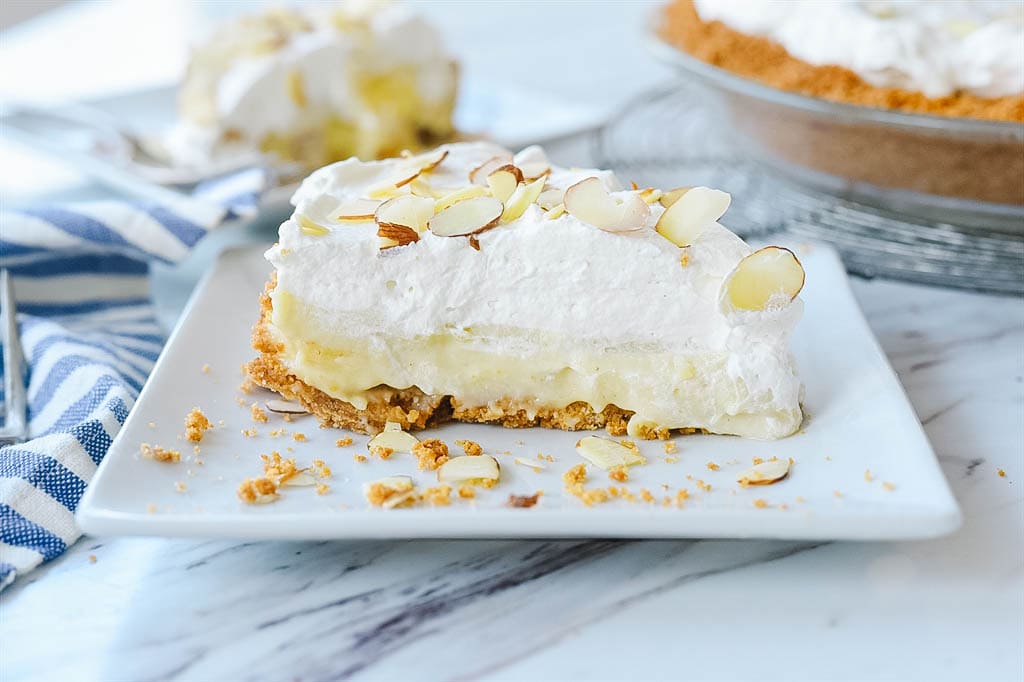 Many banana cream pies use banana pudding which I think has a really artificial banana flavor, like those banana flavored taffy candies. I happen to like those banana flavored taffy candies but for my pie, I prefer a more real banana flavor. Making a pudding from scratch is easy. And this pudding has just the right banana flavor when you infuse the milk with real bananas!
Instructions
A good pie always begins with a good crust. You can use a pastry crust for this banana cream pie but I prefer a graham cracker crust.
Infuse your milk with fresh bananas by adding sliced bananas into your milk and bringing it to a boil. After boiling for the milk and bananas for 30 seconds, remove it from the heat, cover the pan and allow it to sit for 40 minutes so that the flavors can really meld together.
I like to use half and half but you can also use whole milk. Half and half is equal amounts whole milk and equal amounts whipping cream.
Add your infused milk to your sugar, egg yolks and cornstarch and stir over medium heat until thickened and refrigerate to cool.
I always cover the surface of the pudding with plastic wrap, so that the plastic is touching the surface of the pudding. This prevents a "skin" from forming.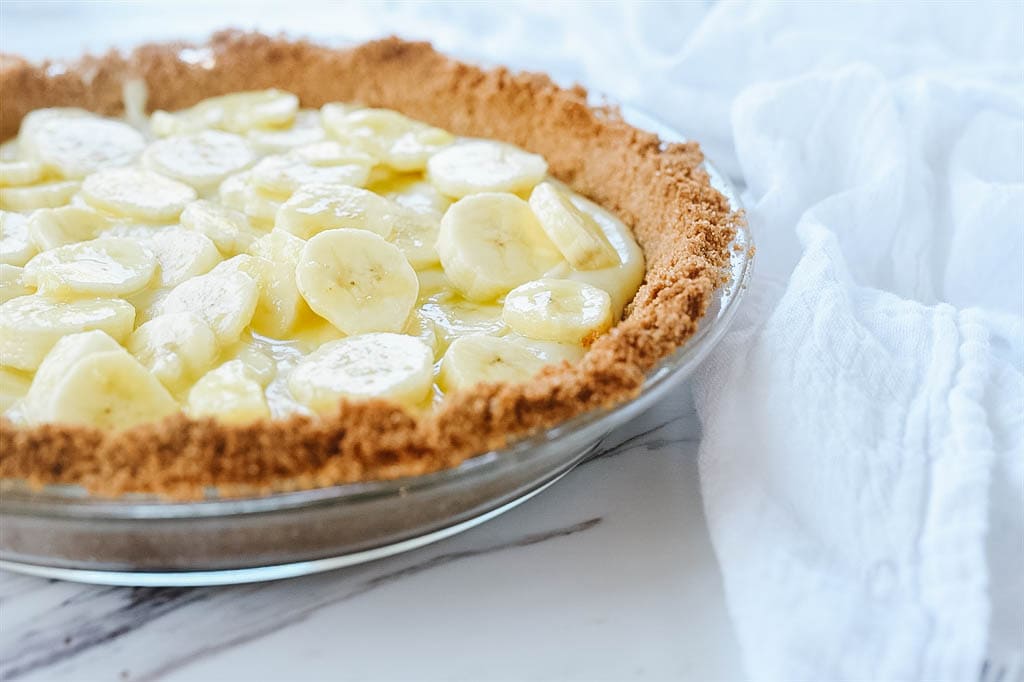 Put half of the banana pudding in the bottom of your pie crust, add a layer of sliced bananas and then add the remaining pudding. I like to dip my sliced bananas into orange juice to prevent them from turning brown in the pie.
Top the pie with a cup of sweetened whipping cream and a sprinkling of sliced almonds.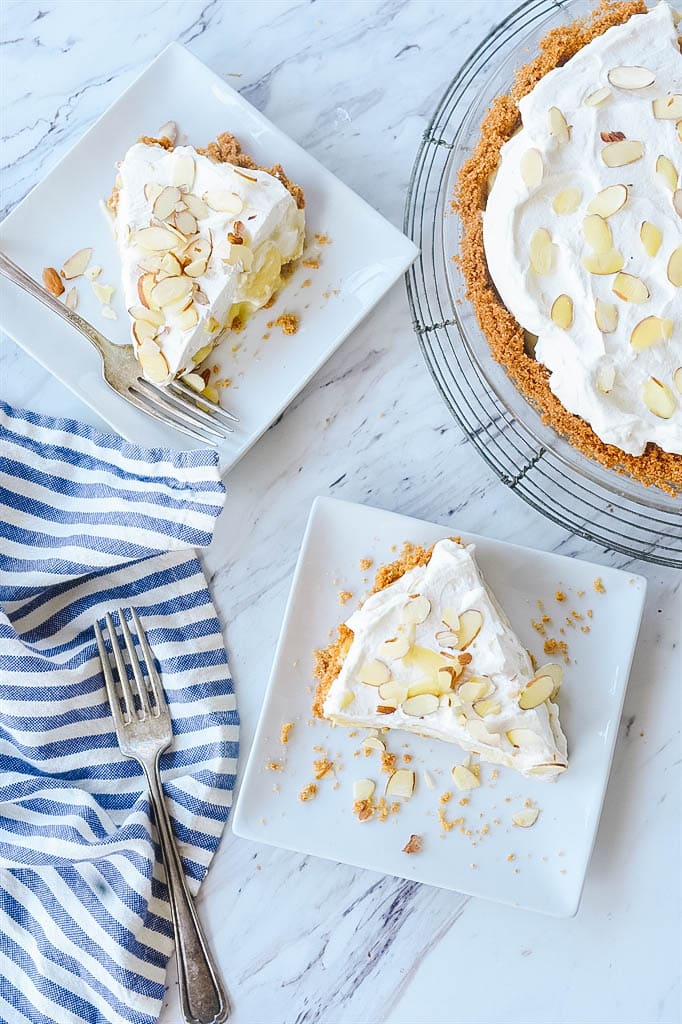 Chill to allow the pie to firm up a bit and keep refrigerated until ready to serve. Then just slice and enjoy! The almonds can get a little soft in the refrigerator so I usually add them as a last minute garnish before serving.
Banana Cream pie would be a perfect addition to your Easter menu along with this coconut cream pie and my favorite lemon angel pie!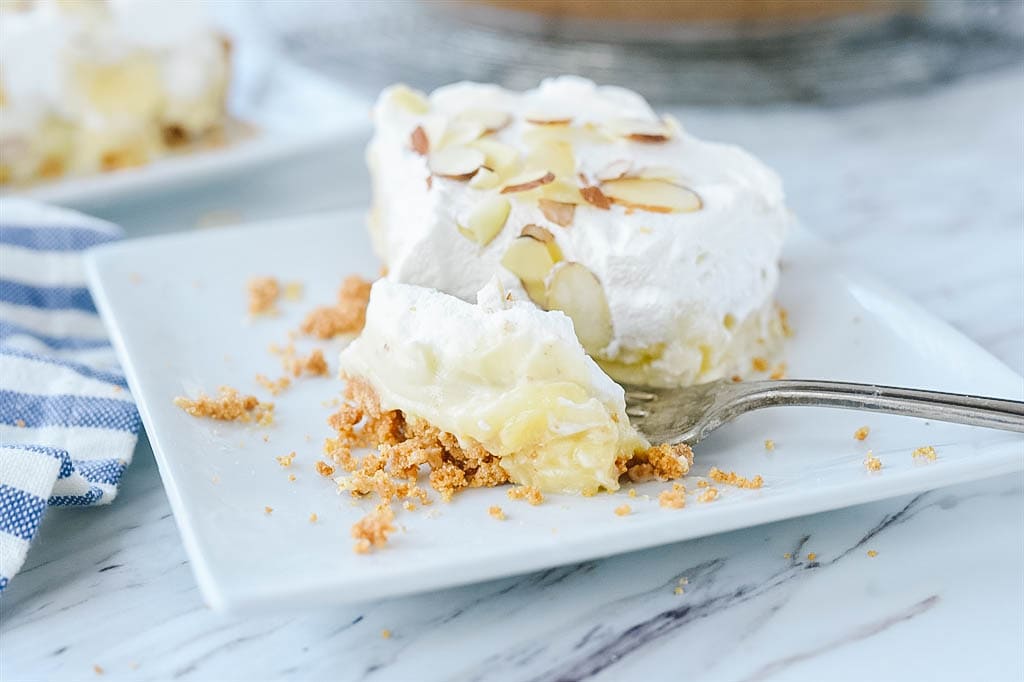 Banana Cream Pie Recipe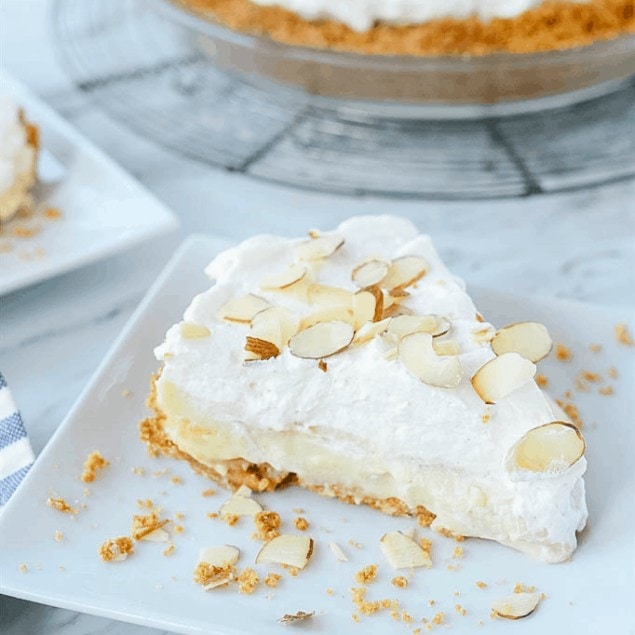 Banana Cream Pie
This banana cream pie starts with a creamy banana infused pudding which is layered with fresh bananas and topped with sweetened whipped cream and sliced almonds.
Ingredients
4 bananas
3 Tbsp butter
2 cups half and half
3/4 cup sugar
1/4 tsp salt
3 egg yolks slightly beaten
3 Tbsp cornstarch
2 tsp vanilla
1 9 inch baked pie crust pastry or graham cracker
1 cup whipping cream whipped
2 tsp sugar
1 tsp vanilla.
1/4 cup sliced almonds
Instructions
Slice two bananas into 1/2 inch pieces and place in a pan with 1 Tbsp butter. Cook over medium heat until bananas are softened, just a few minutes. Add half and half into pan and bring to a boil. Boil for 30 seconds and then remove from heat, cover and allow to sit for about 30 minutes. Strain out bananas.

Mix together sugar, salt and egg yolks in a medium saucepan. Mix in cornstarch. Add banana infused milk and stir until smooth. Cook over medium heat for about 3-4 minutes until a pudding consistency forms. Stir often.

Remove from heat and add in 2 Tbsp butter and vanilla. Stir to combine. Cover pudding with plastic wrap, place wrap directly against surface of pudding. Put in refrigerator and cool for about an hour.

Add half of pudding mixture to bottom of baked pie crust, Add 2 sliced bananas, (sliced about 1/4″ thick) to top of pudding. Add remaining pudding on top

Put whipping cream, 2 tsp sugar and vanilla into a bowl and whip until soft peaks form. Spread over the top of the filled pie dish. Sprinkle with sliced almonds.Refrigerate until ready to serve.
Nutrition Facts:
Calories: 478kcal (24%) Carbohydrates: 51g (17%) Protein: 4g (8%) Fat: 28g (43%) Saturated Fat: 16g (100%) Cholesterol: 74mg (25%) Sodium: 250mg (11%) Potassium: 336mg (10%) Fiber: 2g (8%) Sugar: 27g (30%) Vitamin A: 820IU (16%) Vitamin C: 5.9mg (7%) Calcium: 92mg (9%) Iron: 0.8mg (4%)
* Disclaimer: All nutrition information are estimates only. Read full disclosure here.
Need some help figuring out what's for dinner tonight?
Come join our Facebook Group! Join hundreds of others who love sharing dinner time ideas. You don't want to miss out on the fun!

You'll find lots of ideas for dinner from all our awesome members and you can share your ideas too! Join the Family Dinner Table today.