A delicious bowl of fresh berries and cream where the berries are served over a lovely orange infused whipped cream.  A light and delicious dessert.

Why You'll Love This Recipe!
Fresh berries are one of my favorite things about living in the Pacific Northwest.  But lucky for all of us fresh berries are available year round and when I've had enough of the grey, rainy days of winter I like to pretend it is summer again and enjoy some berries and cream.  It definitely tastes like summer in a bowl. 
It's easy! I love the ease of the dessert and the simplicity of it too.  A bowl of ripe, sweet, berries on top of a light, lovely orange infused whipped cream!
It's the perfect dessert to serve after a heavy meal.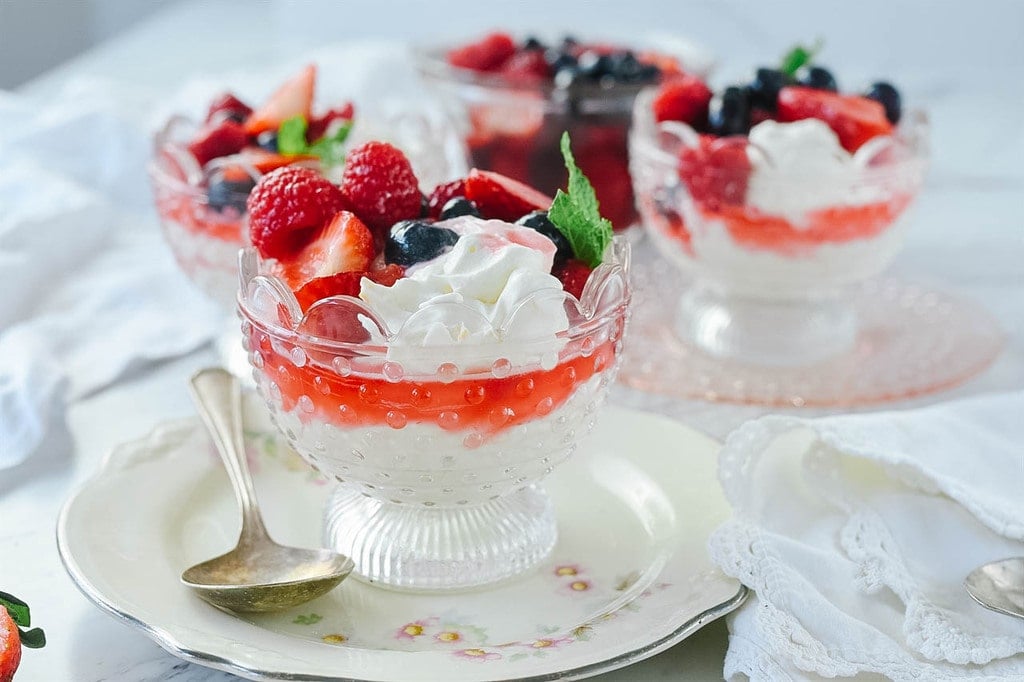 Ingredients Needed
Fresh berries. I used a combination of strawberries, raspberries and blueberries
Sugar
Fresh orange juice
Heavy whipping cream
How to Make Berries and Cream
Use fresh berries. Start with about 1 cup each of blueberries, raspberries and strawberries or your berries of choice. I slice the strawberries.
Macerate the berries. I know that's an awkward word. What does macerate mean? It basically means letting your berries soak in juice and sugar. Place the berries in a bowl and cover with sugar and fresh orange juice. Stir to combine. Let the berries sit for an hour or so. This allows the berries to give off their natural juices and creates a sweet delicious syrup. You do not need to refrigerate the berries while doing this.
Make a simple syrup. While the berries are marcerating make a simple orange syrup that will be folded into the whipped cream. (see below for directions)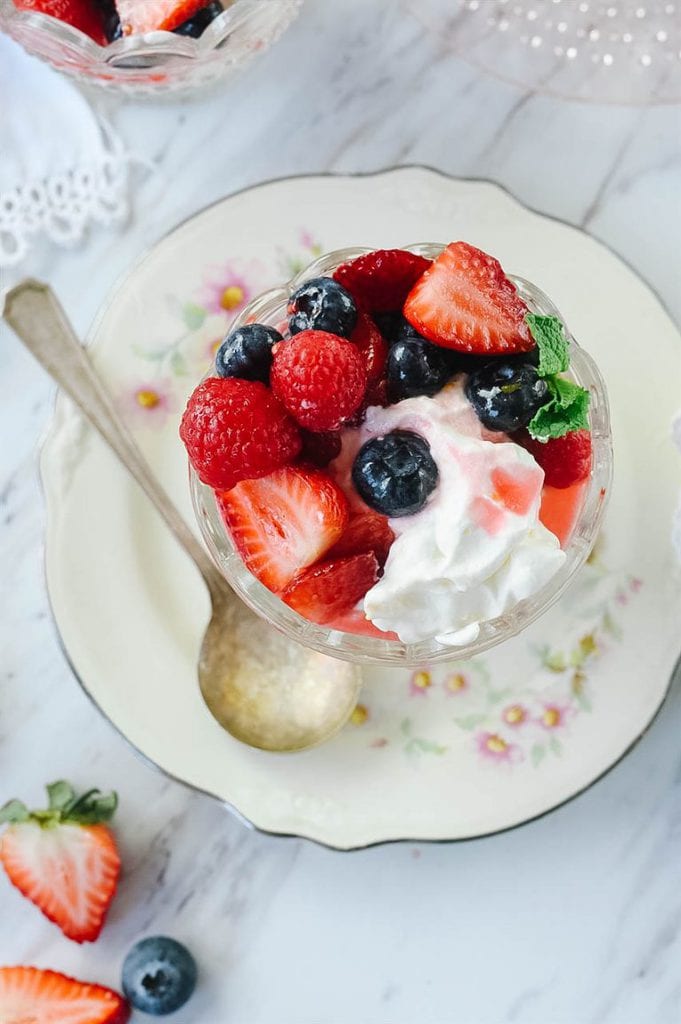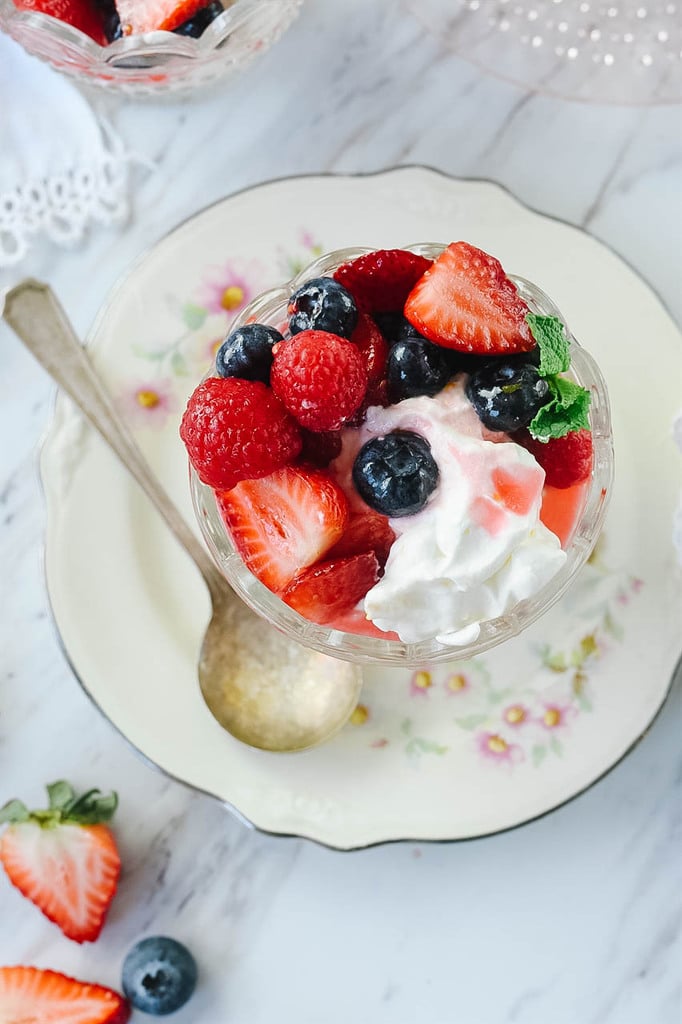 How to make a Simple Syrup
Combine sugar, orange juice and orange zest. 
Place in a small sauce pan and stir to dissolve sugar over medium heat. 
Allow mixture to simmer for about 10 minutes so that syrup begins to thicken.
Cool syrup before adding it to the whipped cream.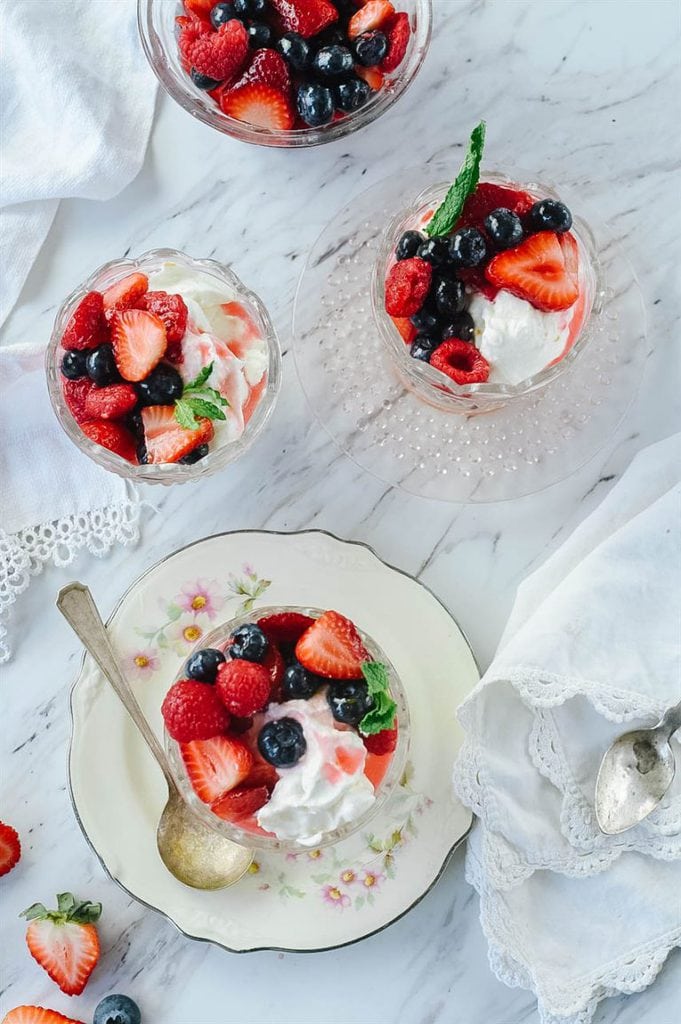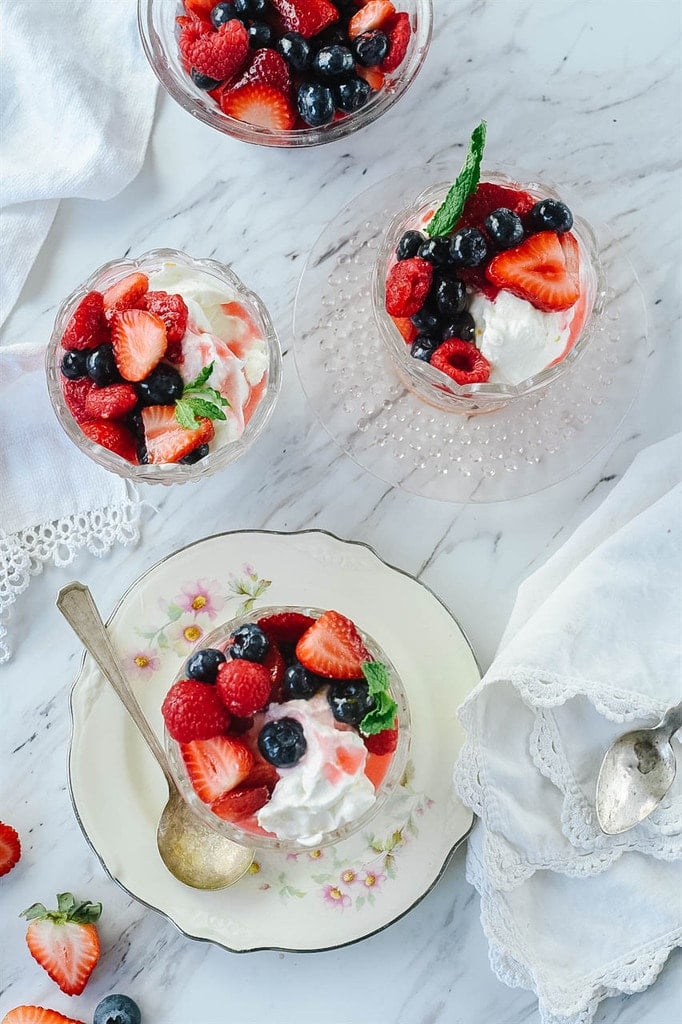 How to Serve
Serve with homemade whipped cream. Follow the directions here.
Leave the sugar and vanilla out from the whipped cream recipe for this recipe since you will be sweetening it with the orange simple syrup.  If you are not an orange fan, just serve this with regular sweetened whipped cream.  But let me tell you, the orange cream is just amazing!   
Place the orange cream in a pretty dish and then spoon the berries and juice over the whipped cream. Don't tell anyone but I ate two bowls of it the night we had it!!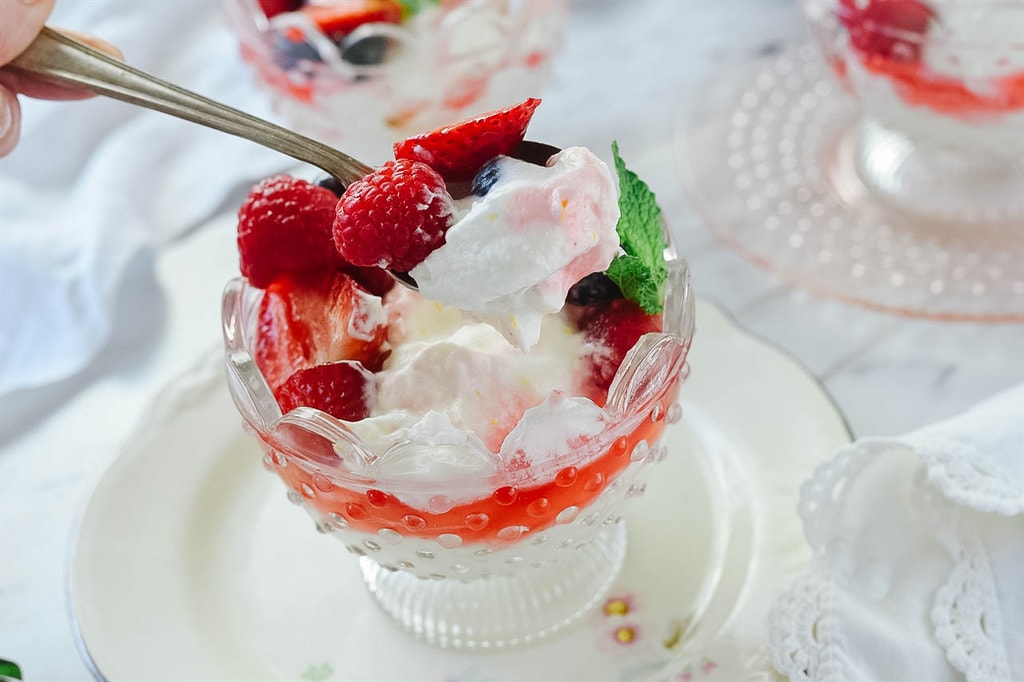 If you liked this dessert you may like:
Be sure and follow me over on You Tube for weekly cooking demos.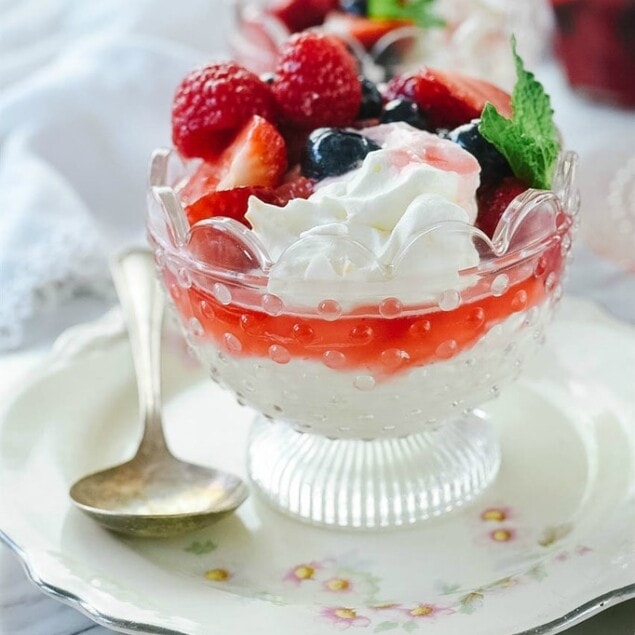 Berries and Cream
A delicious bowl of fresh berries and cream where the berries are served over a lovely orange infused whipped cream. A light and delicious dessert.
Ingredients
1 cup strawberries sliced
1 cup raspberries
1 cup blueberries
1/2 C sugar
1/2 C fresh orange juice
2 C heavy whipping cream
Instructions
Combine the sugar, orange juice and rind(if using) into a small pan

Heat and bring to a boil, stirring until the sugar dissolves

Simmer for about 10 minutes without stirring

Cool syrup

Whip cream to medium peaks

Fold orange syrup into whip cream

Serve over berries

If just making regular cream, add 1 tsp vanilla and 2-3 Tbsp powdered sugar (more to taste if wanted) and whip until soft peaks form
Nutrition Facts:
Calories: 284kcal (14%) Carbohydrates: 21g (7%) Protein: 1g (2%) Fat: 22g (34%) Saturated Fat: 13g (81%) Cholesterol: 81mg (27%) Sodium: 23mg (1%) Potassium: 140mg (4%) Fiber: 1g (4%) Sugar: 17g (19%) Vitamin A: 915IU (18%) Vitamin C: 24.4mg (30%) Calcium: 47mg (5%) Iron: 0.3mg (2%)
* Disclaimer: All nutrition information are estimates only. Read full disclosure here.
Originally posted July 28, 2011