Grilled Chicken with Yogurt Sauce is the perfect way to kick off the grilling season.
Grilled  Chicken was our first al fresco dining meal of the season!  I thought summer was almost here.  We enjoyed a few days of temperatures in the high seventies,  we uncovered the BBQ and dined on the back patio!  It was heaven and then the rain and hail came!  And it was big hail!  Pretty much the coldest and rainest Mother's Day weekend ever.  The garden is green though thanks to all the rain we've had and the Iris are blooming, I'm trying to remain positive here!!
We kicked off Mother's Day weekend with our first trip of the year to the Farmer's Market.  We may have been in raincoats, rain boots and with umbrellas in hand but we were there!  We are true Oregonians after all!!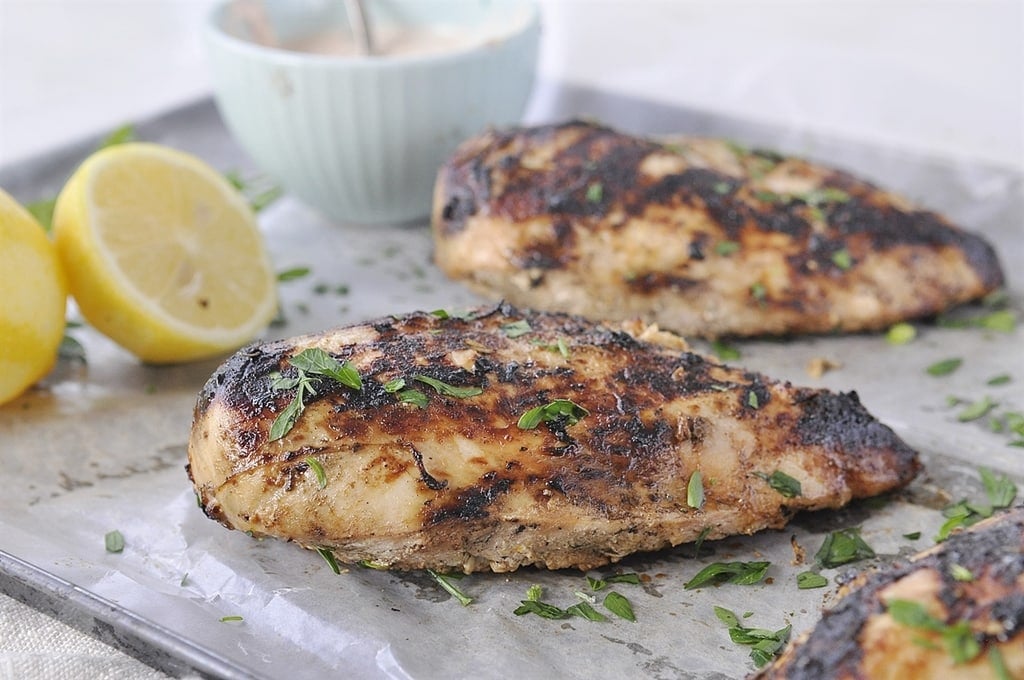 And in Oregon we grill in the rain too so whether you are enjoying sunshine or rain you're going to want to try this Grilled Chicken with Yogurt Sauce.  This chicken has some great flavor and some tang to it thanks to the lemon juice and yogurt.    I marinaded the chicken in a mixture of yogurt, lemon juice, garlic, smoked paprika and rosemary for several hours.  Try to do it for at least 3 hours if possible.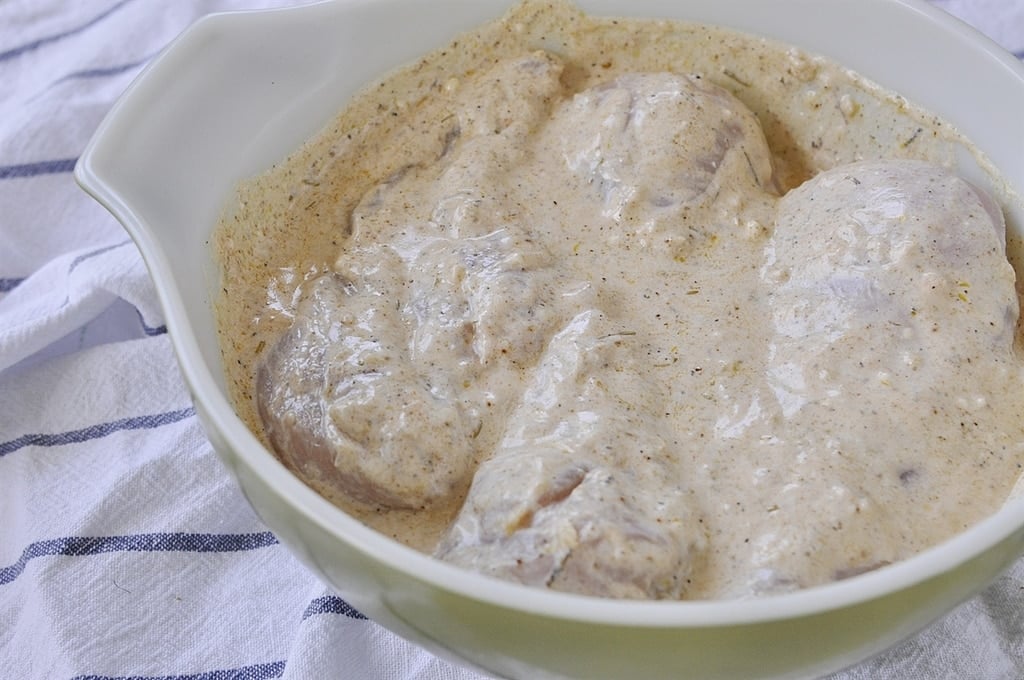 Then heat up your grill and grill over medium high heat until chicken is browned and cooked through, about 20-30 minutes. Turn several times.  Your internal temperature should be 165 degrees F.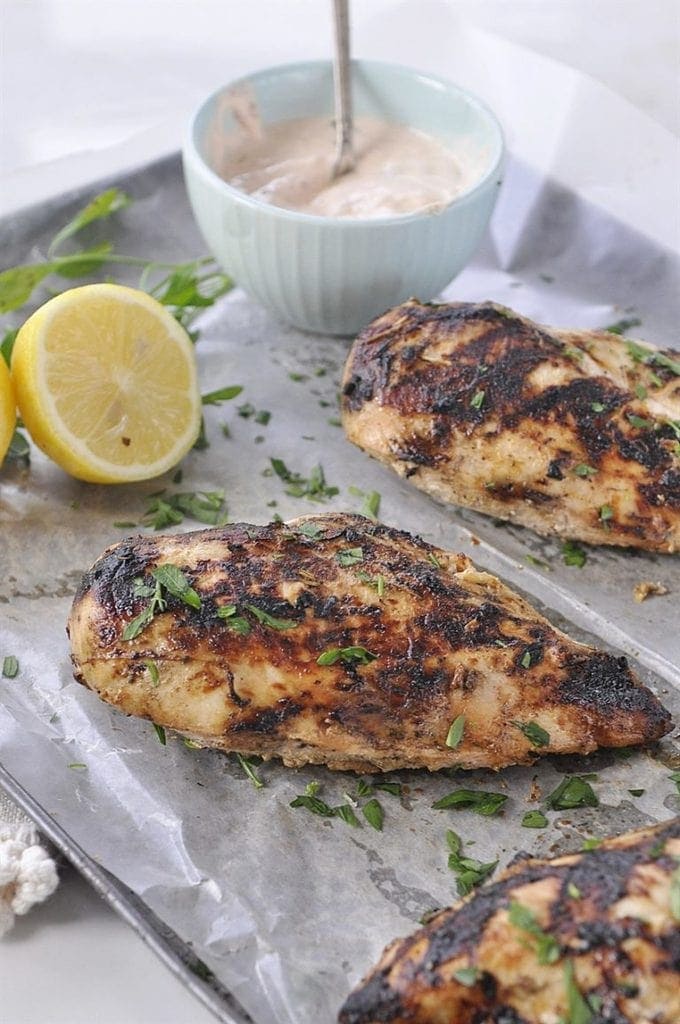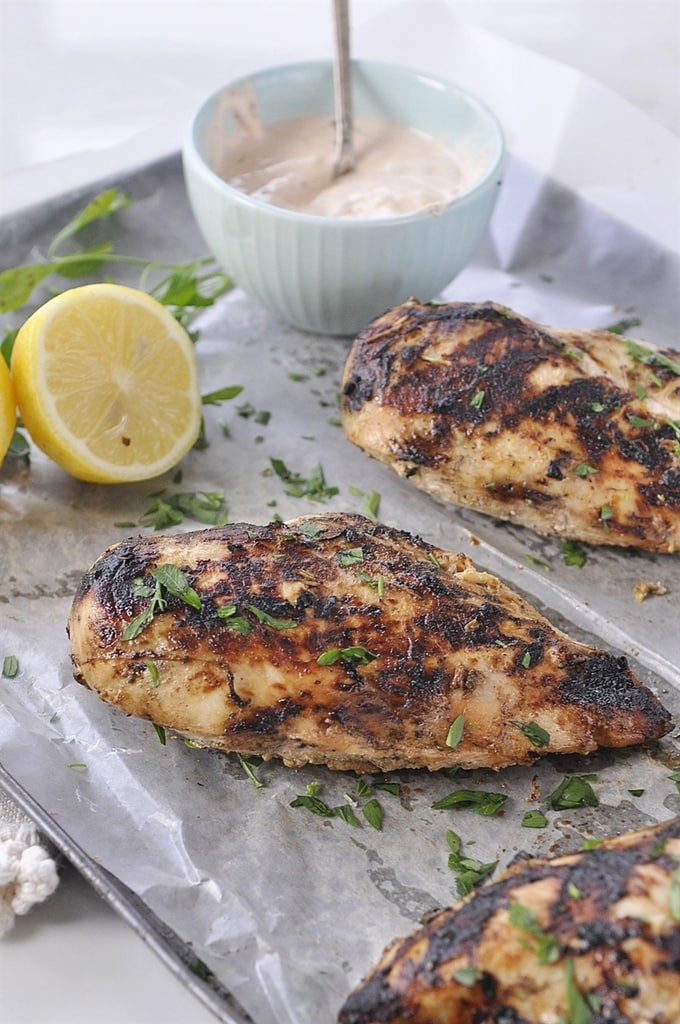 While the chicken is cooking mix up the yogurt sauce with Greek yogurt, more lemon juice, chili garlic sauce, cumin and salt and pepper.  I like to garnish the chicken with some fresh parsley and then slice it and drizzle the yogurt sauce all over the top!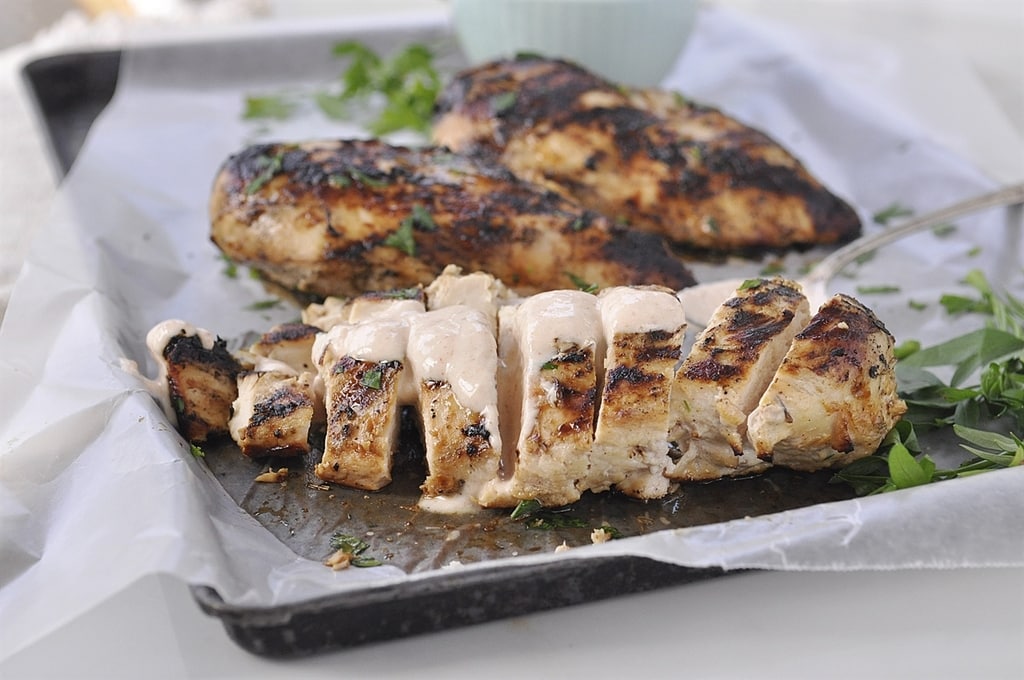 We love to combine this with some roasted vegetables done on the grill or in the oven and some yummy potatoes.  It's a easy and delicious go to meal for summertime or anytime.
Some other delicious meals to make on the grill: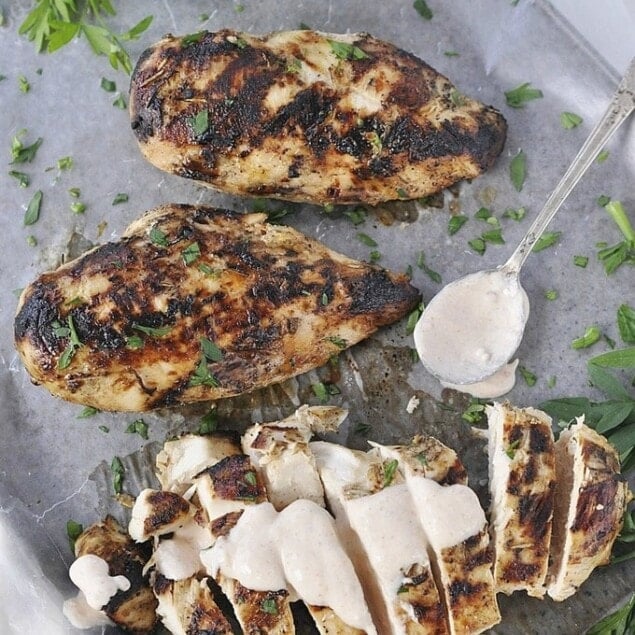 Grilled Lemon Chicken with Yogurt Sauce
Ingredients
4 boneless skinless chicken breasts
Chicken Marinade
1/2 cup plain Greek yogurt
1 Tbsp lemon juice
1 Tbsp lemon zest
1 Tbsp olive oil
3 tsp garlic minced
1 Tbsp smoked paprika
1 tsp dried rosemary
1 tsp salt
1 tsp pepper
Yogurt Sauce
1/2 cup plain Greek yogurt
1 Tbsp lemon juice
1 tsp chili garlic sauce
1/2 tsp cumin
1/2 tsp salt
Instructions
Mix together chicken marinade ingredients and pour over chicken. Cover chicken and refrigerate for at least 2-3 hours.

Heat grill to medium high heat.

Grill chicken on preheated grill, turning several times during process until chicken is cooked through and internal temperature reaches 165 degrees F.

Mix together yogurt sauce and keep refrigerated untilr eady to use. Serve over chicken