This is a sponsored post written by me on behalf of Albertsons. All opinions are 100% mine.
With this small batch cheesecake recipe you are able to enjoy a favorite dessert in small batch form but with the same big taste as a full size cheesecake.
Some of our other favorite small batch desserts include these Small Batch Lemon Bars, Small Batch Brownies and Chocolate Lava Cake for Two.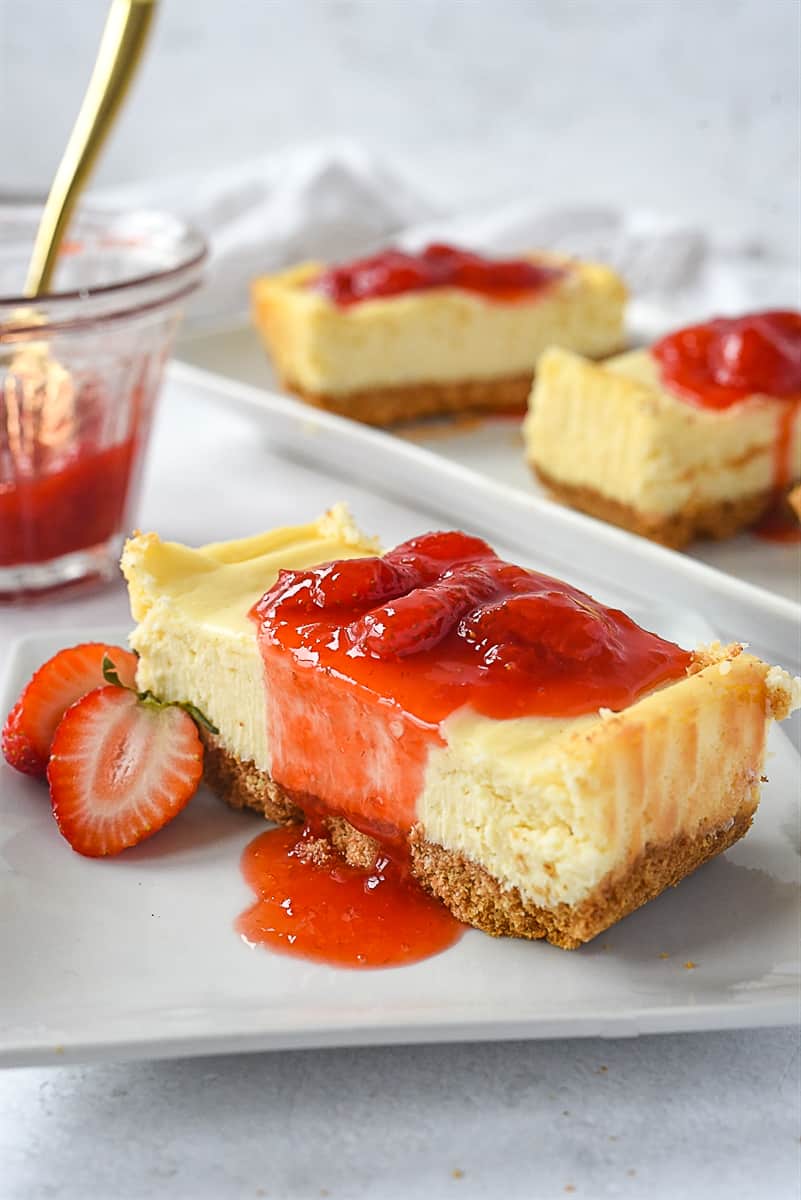 One of our favorite desserts is cheesecake, but an entire cheesecake is way too much for our reduced size family. Using a 9 x 5 baking dish to make a small batch cheesecake is the perfect amount. Two slices for us and two slices to share. With Valentine's Day around the corner this is the perfect dessert to share with someone you love.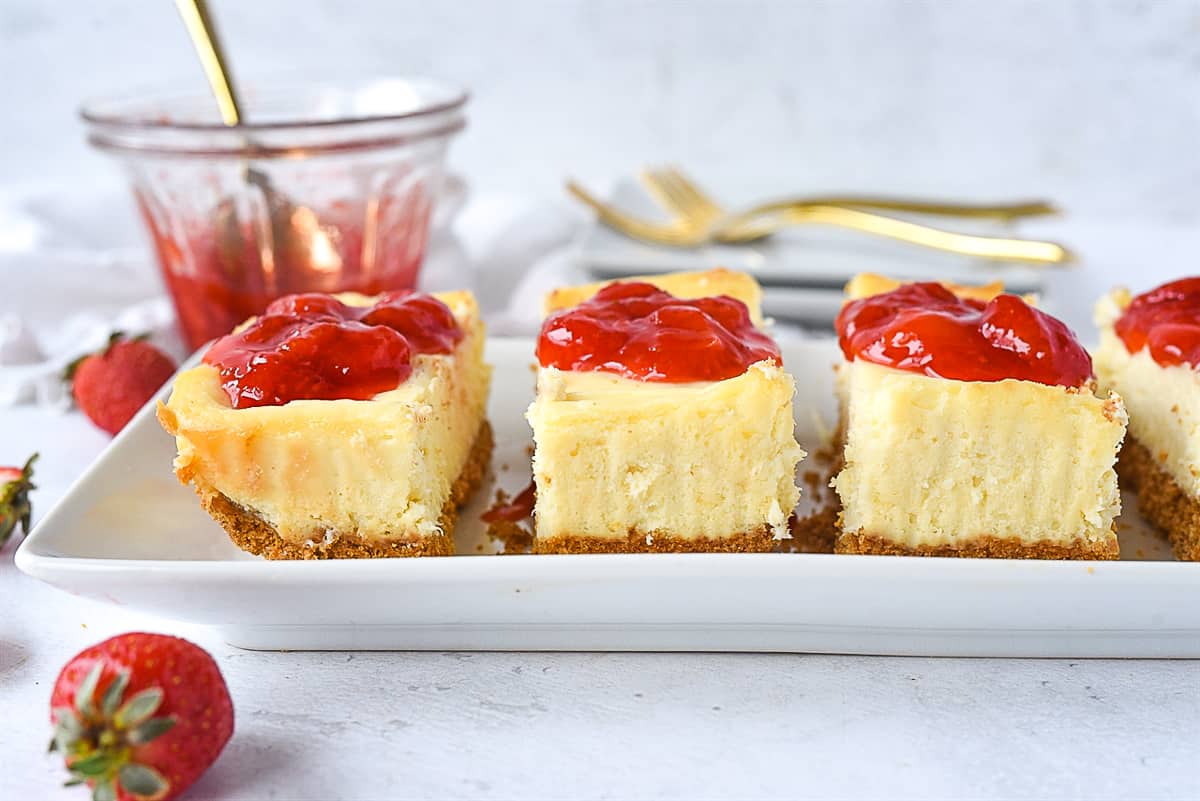 To create my cheesecake for two I headed to my neighborhood Albertsons to pick up my ingredients. I love using their Signature SELECT™, Open Nature® and O Organics® in my baking.
Since I planned on gifting some of the cheesecake I wanted to add some flowers to the gift since it was Valentines Day. While I was at Albertsons I visited the floral department and picked up a beautiful debi lilly design™ rose bouquet. There were many pretty things to choose from, not just beautiful floral bouquets, but also candles and lovely different containers and vases.
It is the perfect place to pick up everything you need for your celebrations of love.
I purchased a bouquet of red roses with the plan to divide the bouquet into smaller, individual bouquets and deliver those with the cheesecake I am sharing.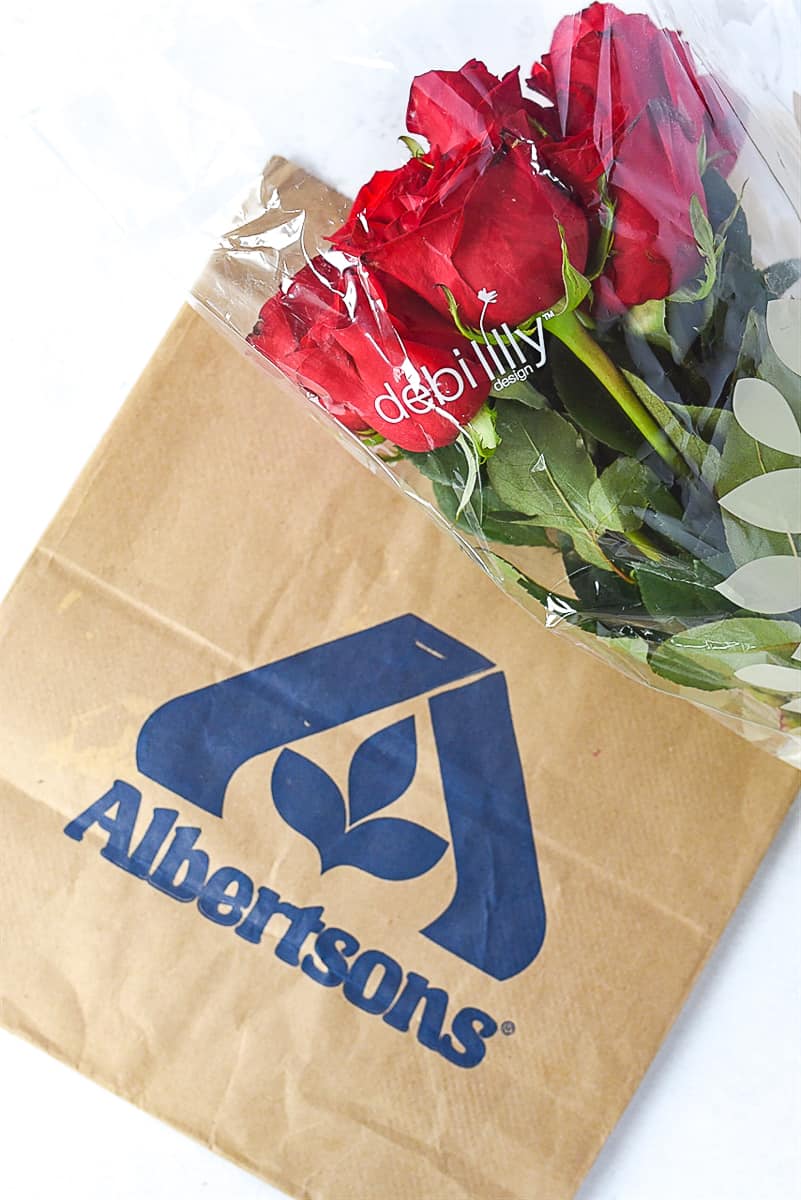 We have several older widows (age 94 and 98) that we love and often deliver goodies to. A slice of cheesecake with a small bouquet of roses is perfect.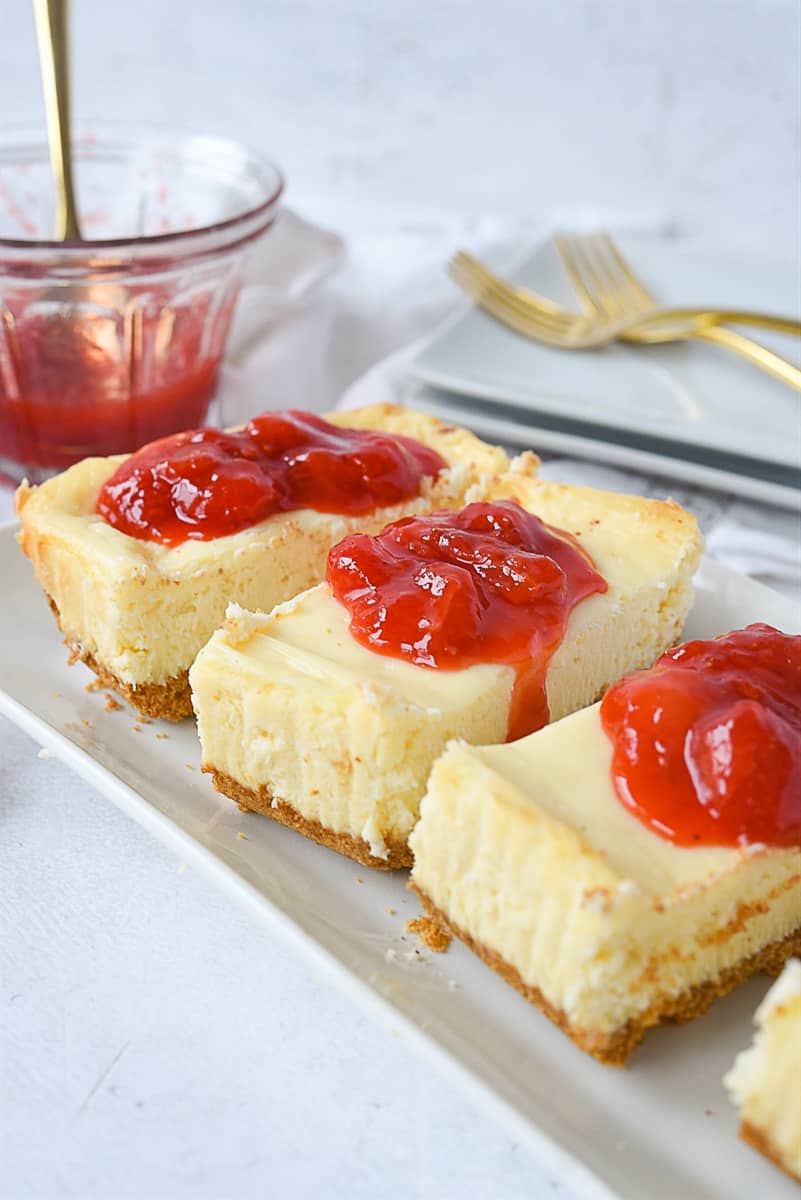 Cheesecake for Two Ingredients
Cream Cheese Be sure your cream cheese is room temperature so that it will cream easier and more smoothly. Use 2 8 oz. bricks of cream cheese.
Egg. A room temperature egg is best so that your ingredients combine better and smoother.
Granulated sugar
Vanilla
Lemon Use fresh squeezed lemon juice and lemon zest for the best flavor.
Graham Cracker Crust. A graham cracker crust is my favorite but you could also use vanilla wafers, oatmeal cookies, or ginger cookies to make the crust. I add in a little sugar and use melted butter to bind it together.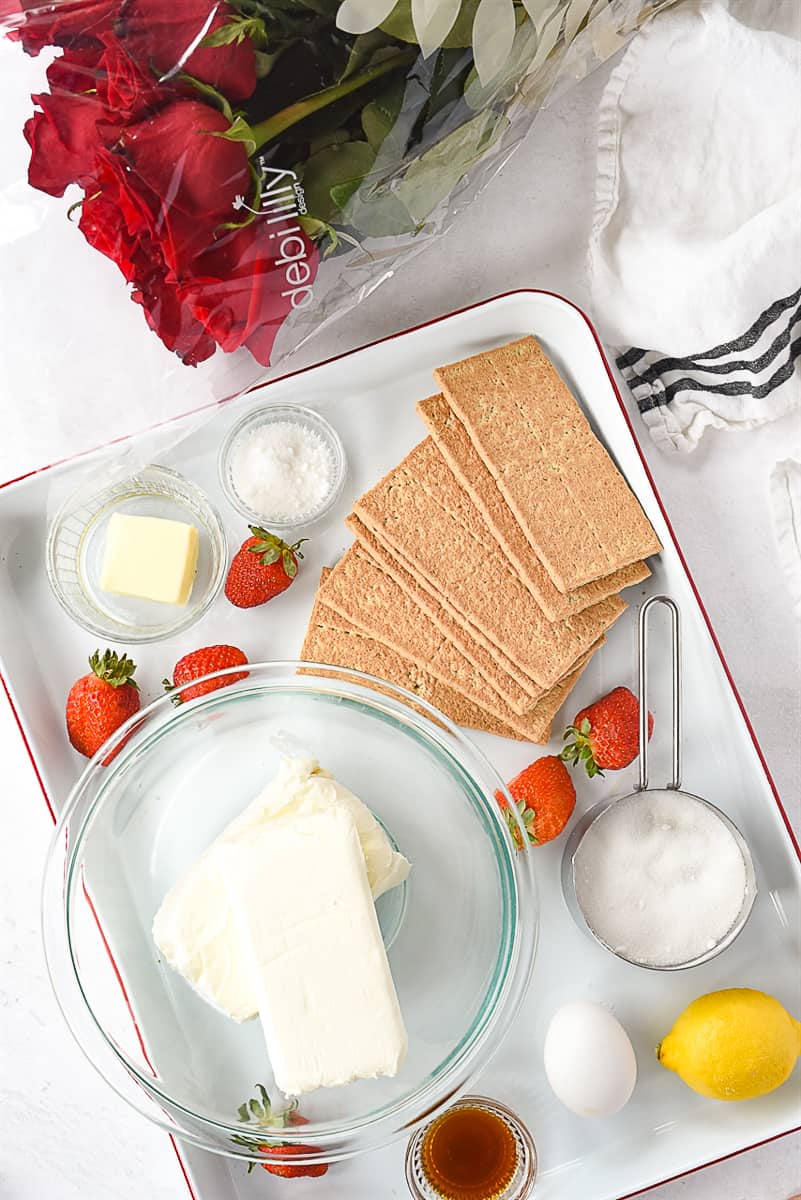 Cheesecake in a Rectangular Pan
I like to use a 9 x 5 inch loaf pan for my cheesecake but if you want a round cheesecake, use a 6 inch springform pan. The baking time might be slightly different.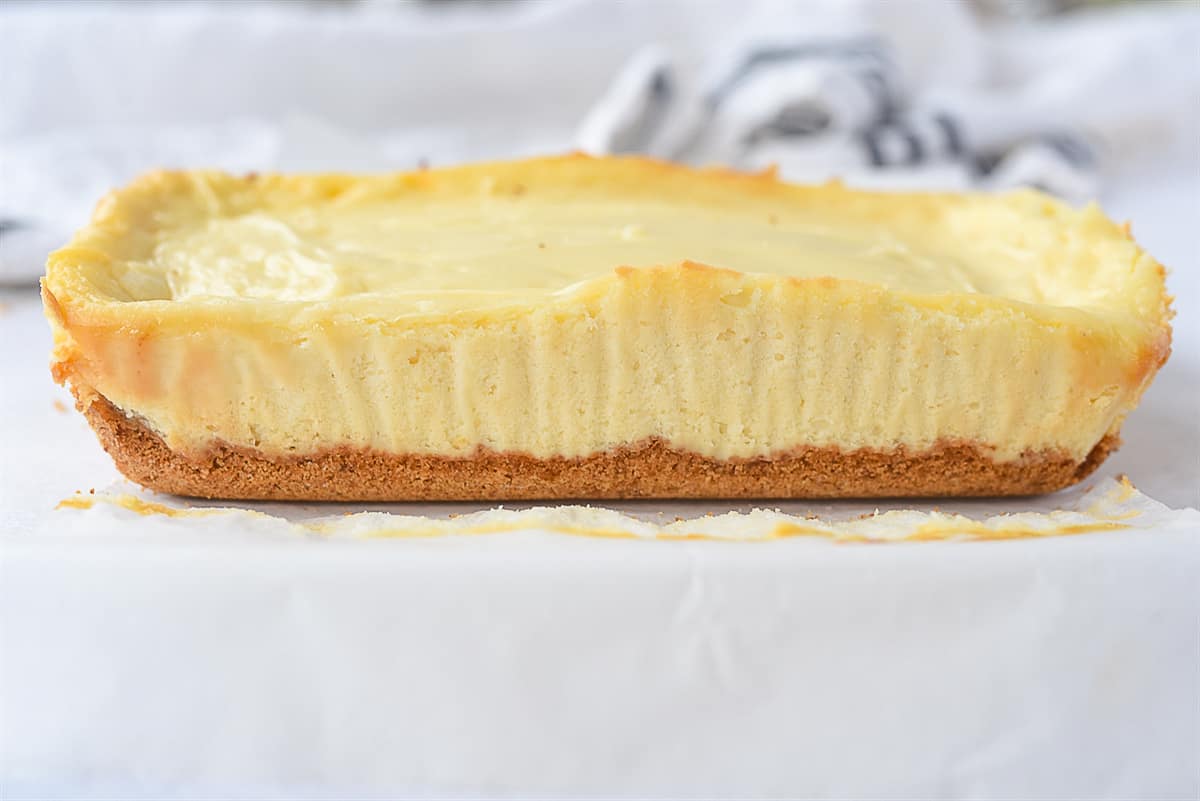 How to Make graham cracker crust for a cheesecake
Start with graham cracker crumbs. You can often find graham cracker crumbs in the baking aisle but I usually make my own using my food processor. You need 1 cup of crumbs and that is about 7 full graham cracker sheets. For a full tutorial on how to make a graham cracker crust go here.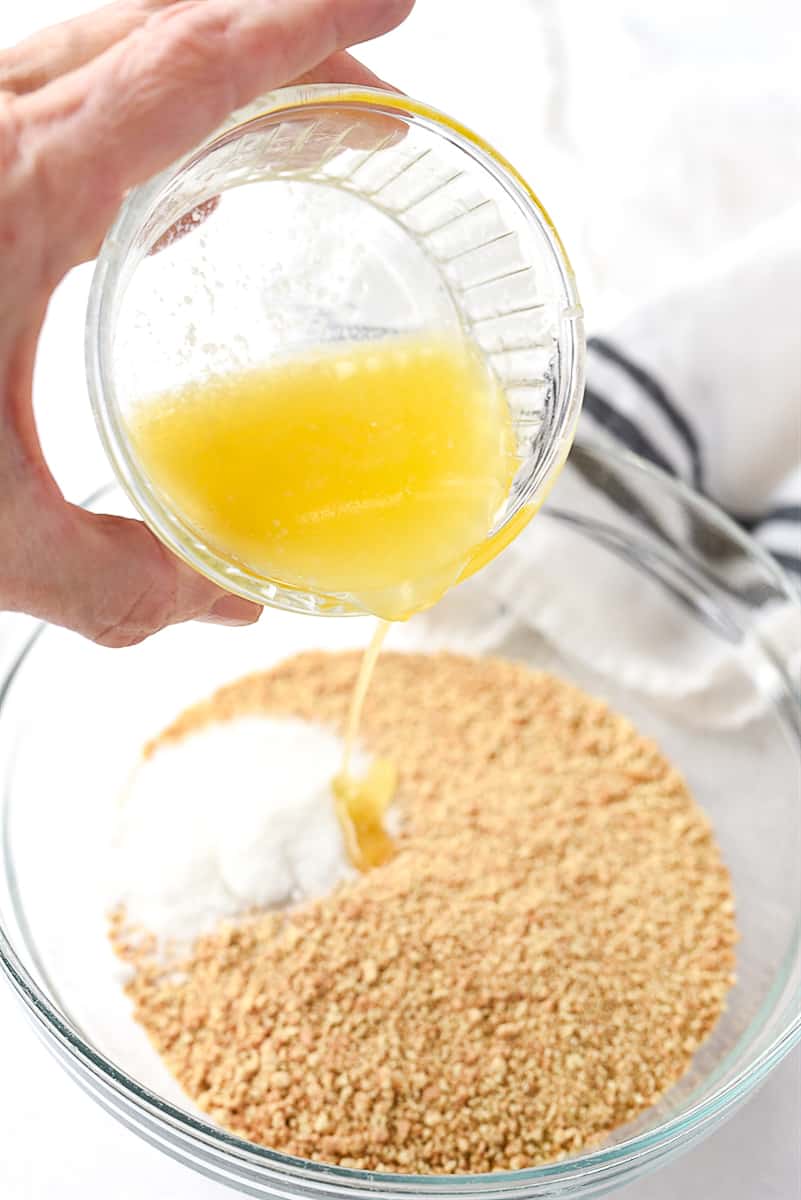 Add in your sugar and melted butter and stir until it is the texture of damp sand.
Line your 9 x 5″ loaf pan with parchment paper (makes removal easier) and press crumbs into bottom of pan in an even layer.
Bake at 325 degrees F for 20-25 minutes or until lightly golden brown.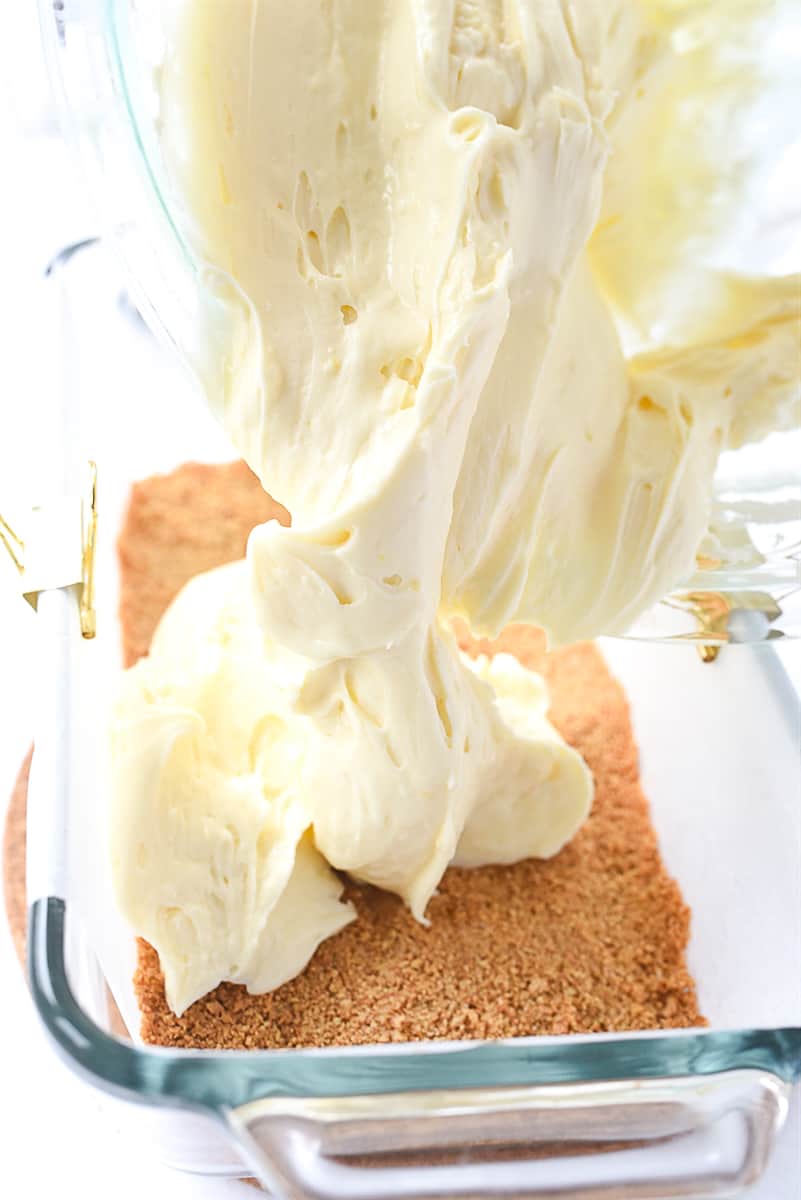 How to Make A Small Batch Cheesecake
When making cheesecake it is always best to use room temperature ingredients. Your ingredients will incorporate better and you will get a smoother texture.
Cream together your cream cheese and sugar until smooth.
Then add in your egg, vanilla, lemon juice and zest. Mix to combine.
Pour mixture into a parchment lined 9 x 5 loaf pan and spread to an even layer.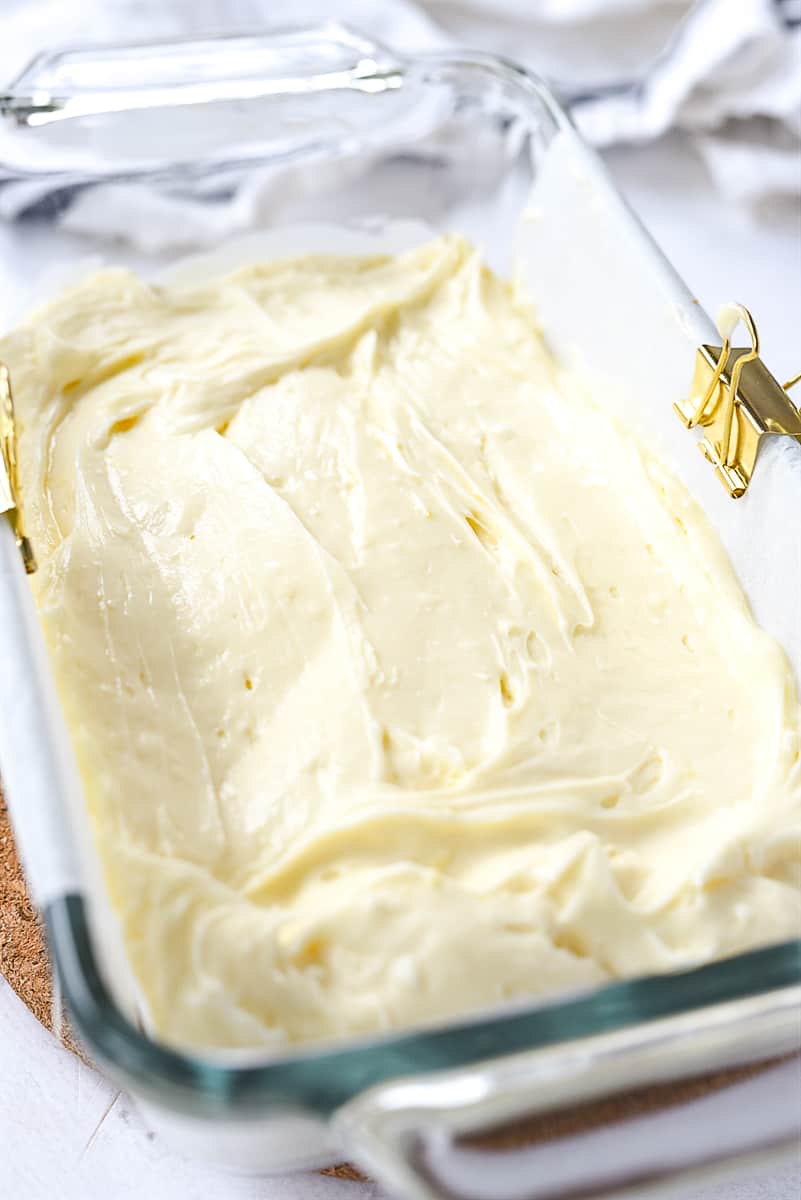 Bake at 350 degrees F for 35-45 minutes until set and lightly golden brown on the edges. The top will not be sticky.
Allow to cool and then refrigerate for at least 3-4 hours or overnight.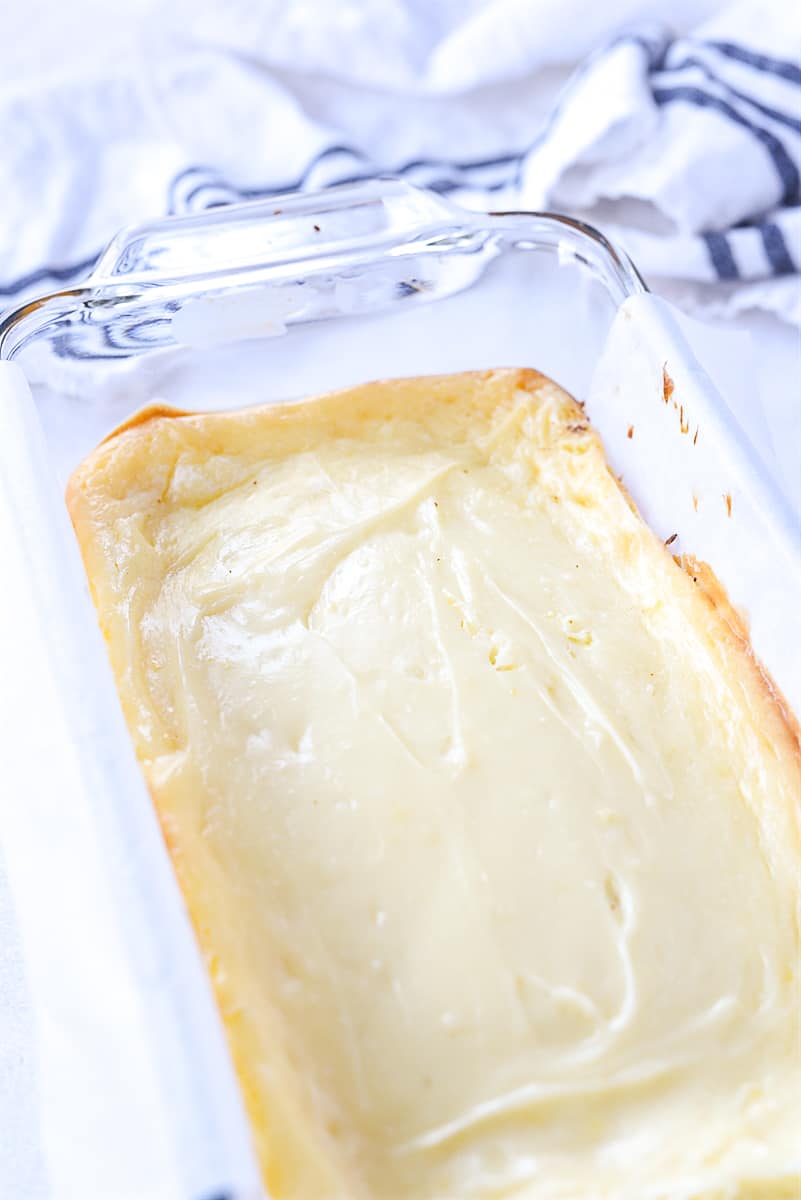 After the cheesecake is cooled and chilled it is ready to slice and enjoy. I sliced ours into four pieces but you could slice it into fewer or more depending on how many people you are sharing it with.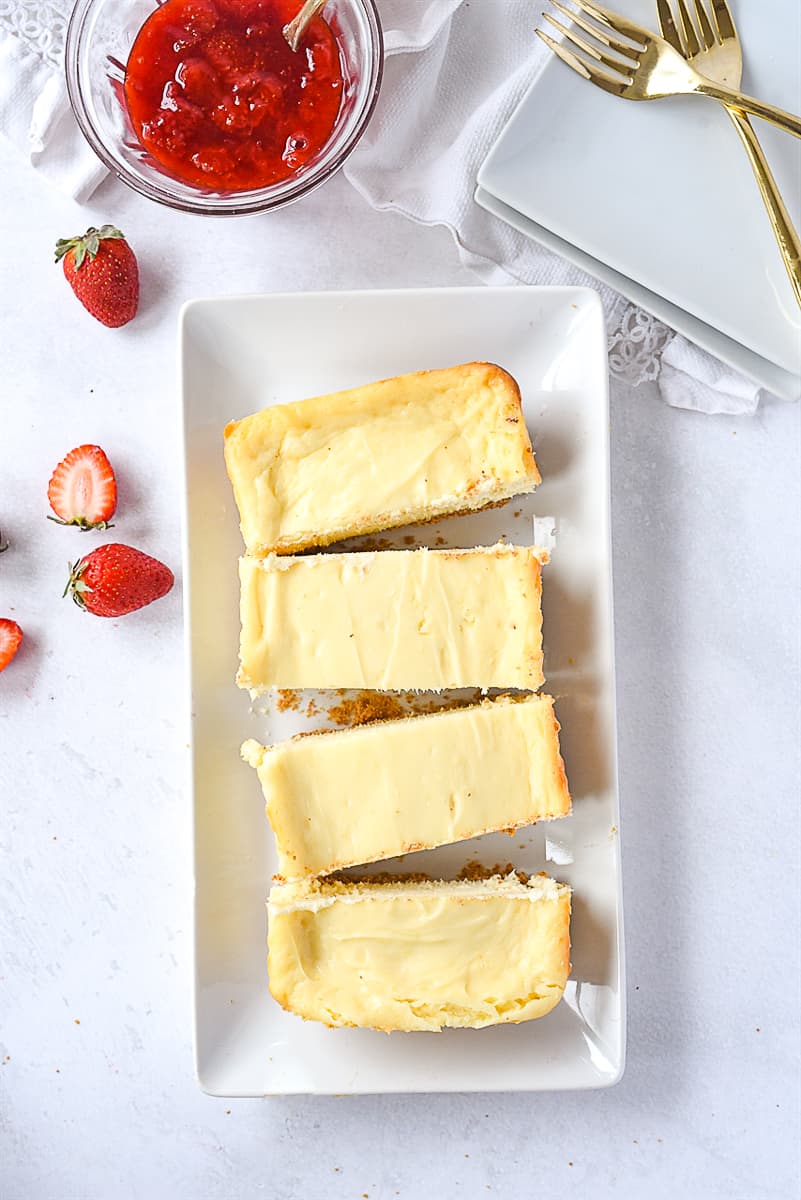 What to serve on Top of Cheesecake.
Strawberry Sauce. I like to serve the cheesecake with a fresh strawberry sauce using this recipe. You could make the topping with any fruit such as raspberries or blueberries.
Chocolate. A drizzle of store bought chocolate syrup is easy and delicious.
Lemon Curd. A dollop of lemon curd is amazing and is easy to make using this recipe
Crushed cookies. I love using Oreos or a mint cookie.
Plain. This cheesecake is so good it really doesn't need anything on top!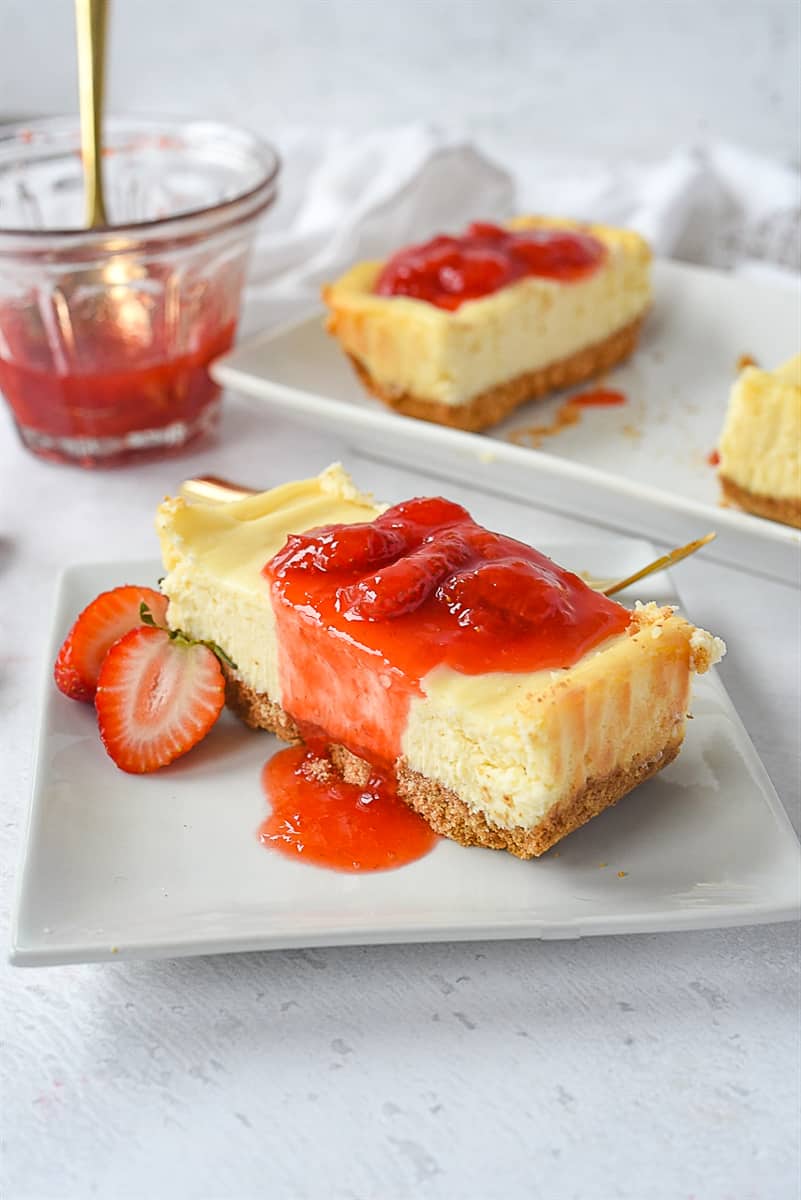 While my cheesecake was chilling I took my floral bouquet and divided it into to three smaller bouquets, two to give away and one for me. I used some small mason jars I had on hand and added some ribbon.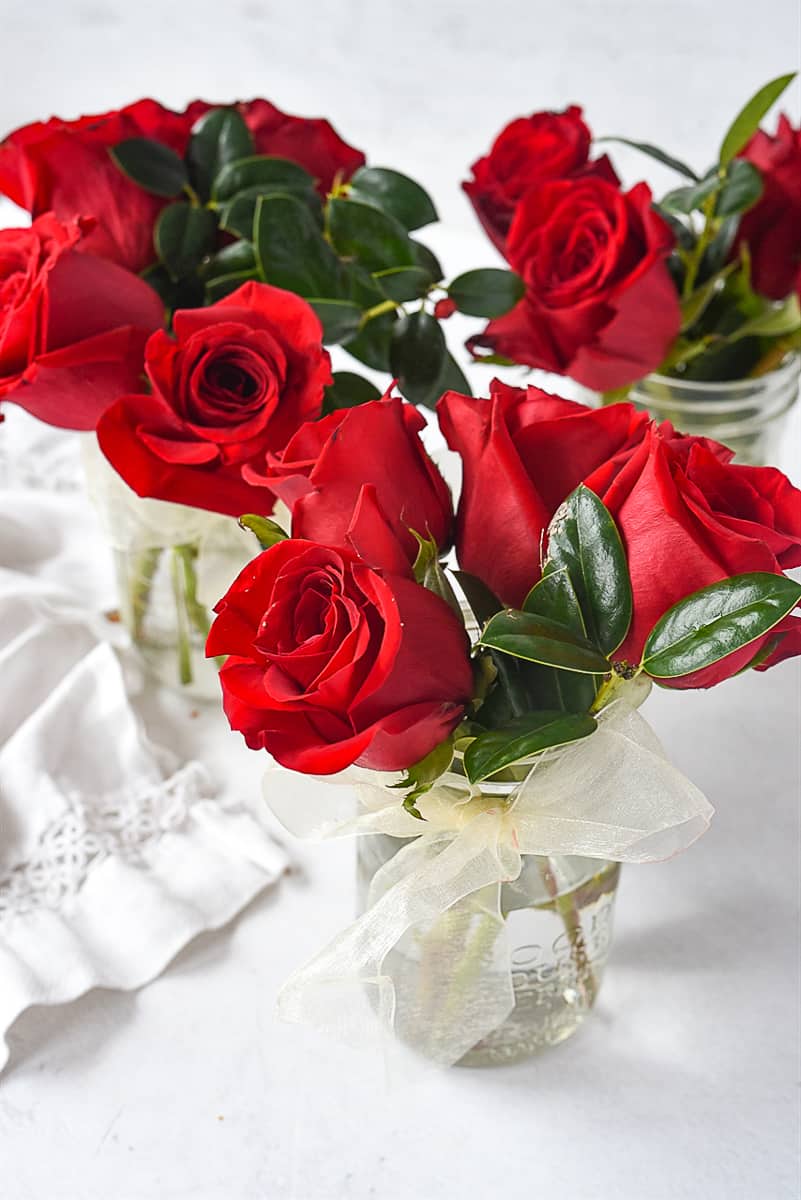 Our cheesecake and flowers were ready to be delivered to their doorsteps. A delicious and easy way to brighten someone's day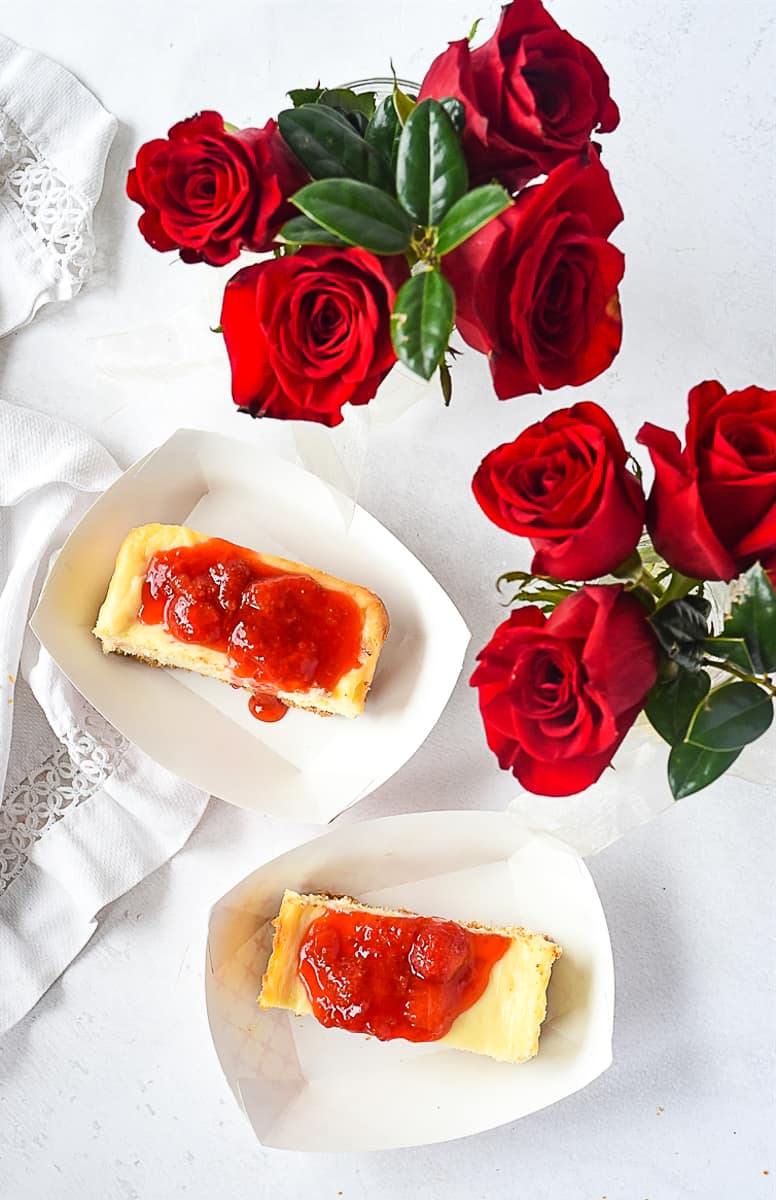 I was able to do one stop shopping for my ingredients and flowers at Albertsons, you can also find debi lilly design™ flower bouquets at the Albertsons Companies family of stores, including Albertsons, Safeway, ACME Markets, Jewel-Osco, Vons, Randalls, Shaw's Supermarket, Star Market, Tom Thumb and Vons.
Small Batch Cheesecake Recipe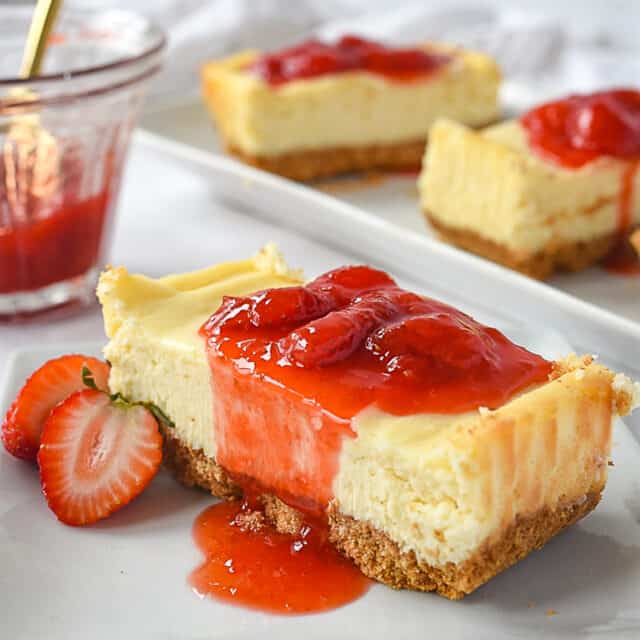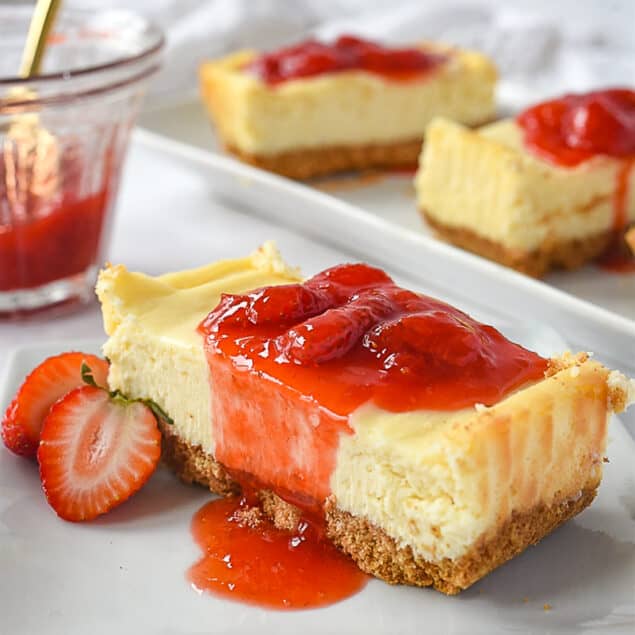 Small Batch Cheesecake
With this small batch cheesecake recipe you are able to enjoy a favorite dessert in small batch form but with the same big taste as a full size cheesecake.
Ingredients
Graham Cracker Crust
1 cup graham cracker crumbs 2
2 Tbsp butter melted
1 Tbsp sugar
Cheesecake Filling
2 8 oz. cream cheese
3/4 cup sugar
1 egg
1 tsp lemon zest
1 tsp lemon juice
1 tsp vanilla
Instructions
Graham Cracker Crust
Preheat oven to 325 degrees F

Mix together crushed graham cracker crumbs, sugar and melted butter.

Stir to form a damp sand consistency.

Press into the bottom of a parchment paper lined 9 x 5 loaf pan into an even layer.

Bake for 20 minutes or until edges are lightly golden brown.
Cheesecake Filling
Preheat oven to 350 degrees F

Beat cream cheese until smooth.

Add in egg, sugar, lemon zest, juice and vanilla.

Beat until well combined.

Pour onto graham cracker crust.

Bake for 35-45 minutes or until cheesecake is set.

Cool at room temperature until completely cool and then refrigerate for at least 4 hours or overnight to allow it to set up.

Serve plain or with desired topping.
Nutrition Facts:
Calories: 317kcal (16%) Carbohydrates: 57g (19%) Protein: 3g (6%) Fat: 9g (14%) Saturated Fat: 4g (25%) Trans Fat: 1g Cholesterol: 57mg (19%) Sodium: 206mg (9%) Potassium: 59mg (2%) Fiber: 1g (4%) Sugar: 45g (50%) Vitamin A: 241IU (5%) Vitamin C: 1mg (1%) Calcium: 26mg (3%) Iron: 1mg (6%)
* Disclaimer: All nutrition information are estimates only. Read full disclosure here.