Crock Pot Hot Chocolate is definitely my favorite hot beverage.  Making it and keeping it warm in the crock pot makes it easy and delicious and the perfect way to feed a crowd.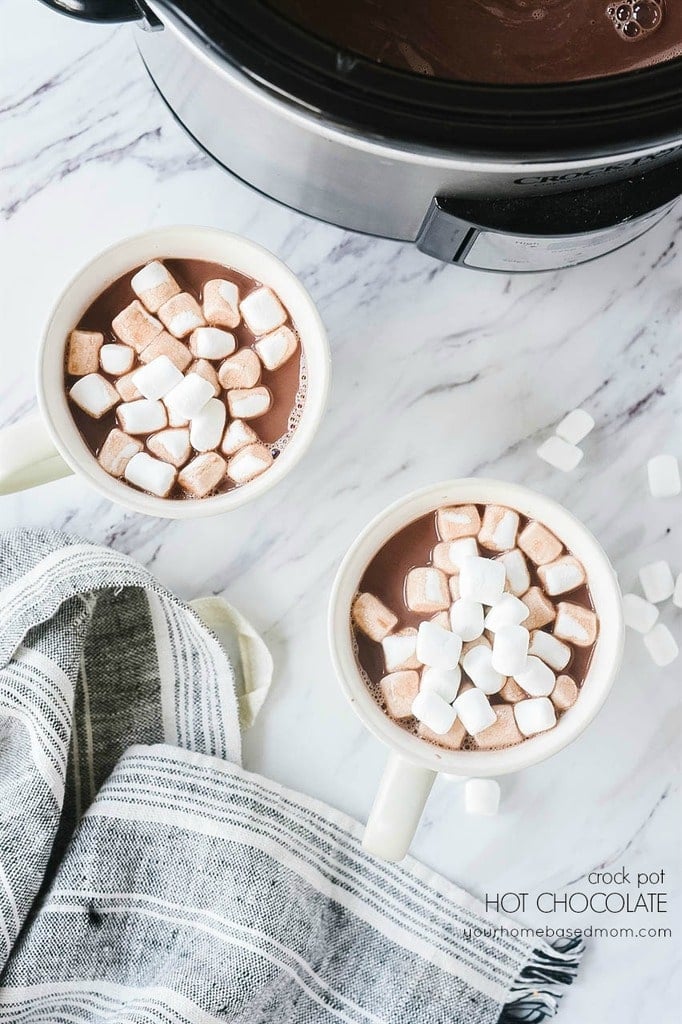 I am a little particular about how I like my hot chocolate.  It must be sweet.  I'm not a bit fan of the bittersweet hot chocolate or using super fancy European chocolates. Regular old baking cocoa is what I prefer.  Also, I don't like my hot chocolate super thick, like the European sipping chocolates, except if I'm in Europe!  Today I am sharing with you my go to crock pot hot chocolate recipe and the one that gets rave reviews every time I serve it.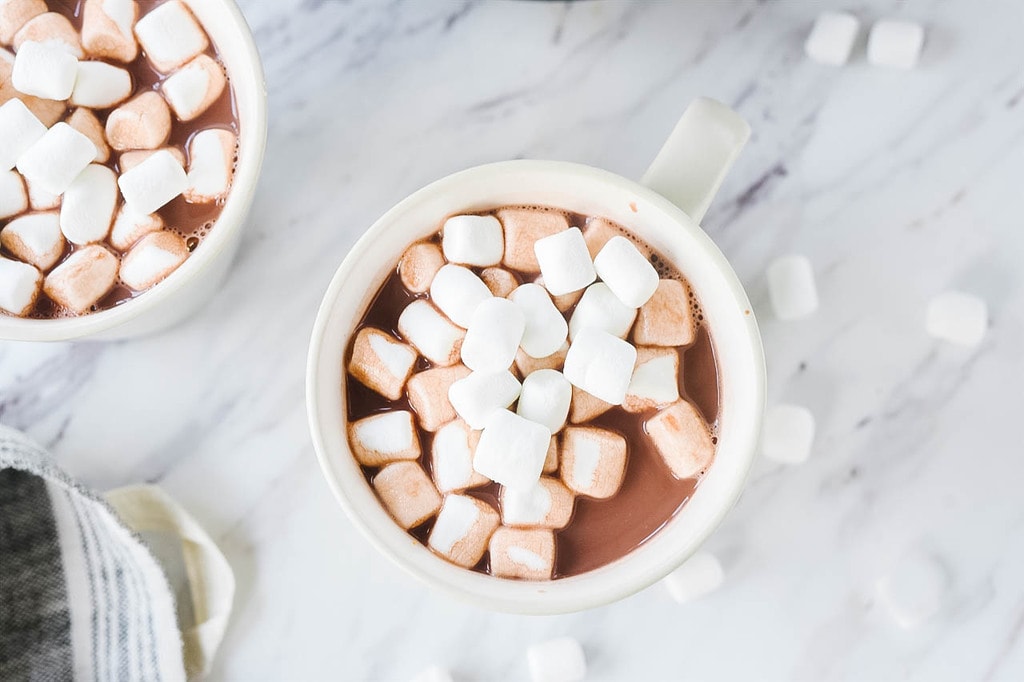 We often serve hot chocolate at parties during the holiday season.  It is a required beverage at our annual Breakfast with Santa.  I often set up a hot chocolate bar and let everyone add their favorite flavorings and toppings.  Making and serving the hot chocolate in the crock pot is the perfect way to make sure everyone's hot chocolate is nice and warm!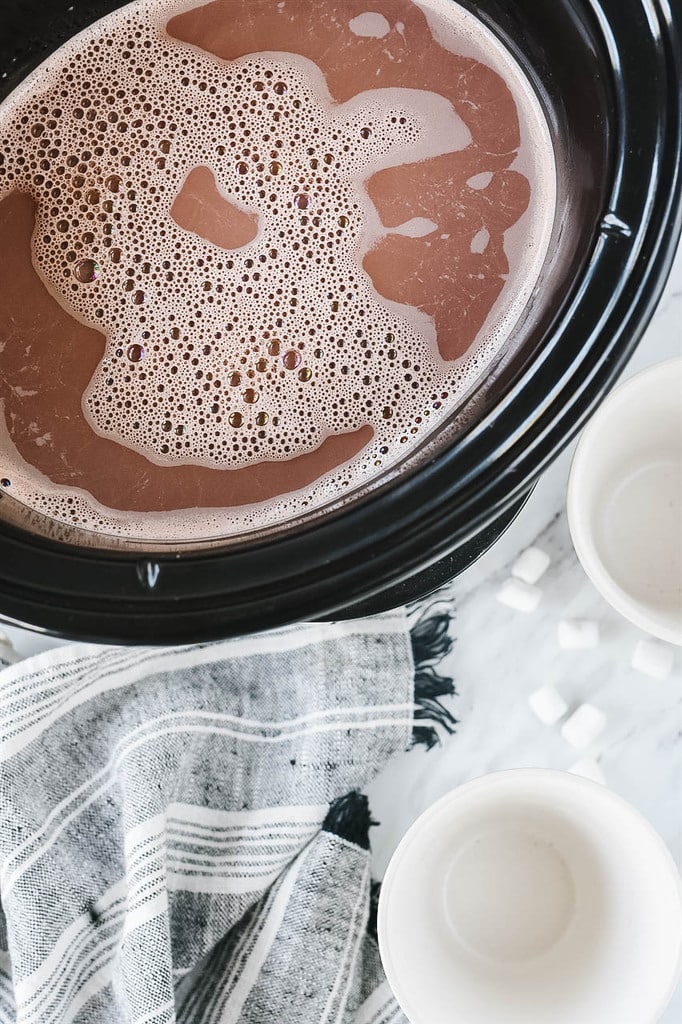 You can mix up the hot chocolate several hours before your party, put it in the crock pot and just let the crock pot keep it warm for you. You won't have to worry about it again until you are ready to serve it.
How do you make hot chocolate in the crock pot?
It's simple.  Just mix all your ingredients together, pour them into the crock pot and set it on high for one hour and then turn to low or warm while serving.
I always use whole milk.  Not 2% and certainly not 1%.  Whole milk gives you a rich and creamy hot chocolate.
Add in a teaspoon or two of vanilla before serving.  It's my secret ingredient! I can't tell you how many times I've been asked what is in my hot chocolate that makes it so yummy, vanilla is the key!
The final tip is to add mini marshmallows and whipped cream, yes both!  Kids love finding those marshmallows hiding underneath their whipped cream. It's even better with chocolate sprinkles on top.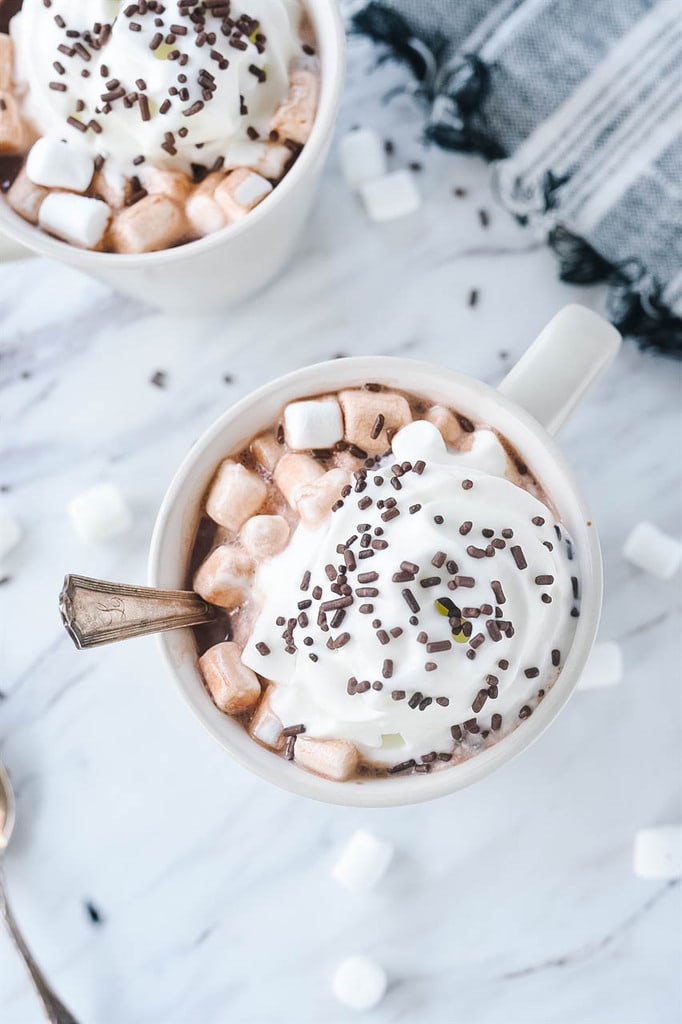 After you make this crock pot hot chocolate you'll never go back to using the stuff that comes in a packet or a can from the store.  This is so easy and so much more delicious.  Often, I add in another secret ingredient, malted milk powder.  It's like drinking a warm chocolate malt.  It's so delicious!  If you are a malt lover give it a try.  I have a recipe for Crock Pot Malted Hot Chocolate in my Holiday Slow Cooker Cookbook.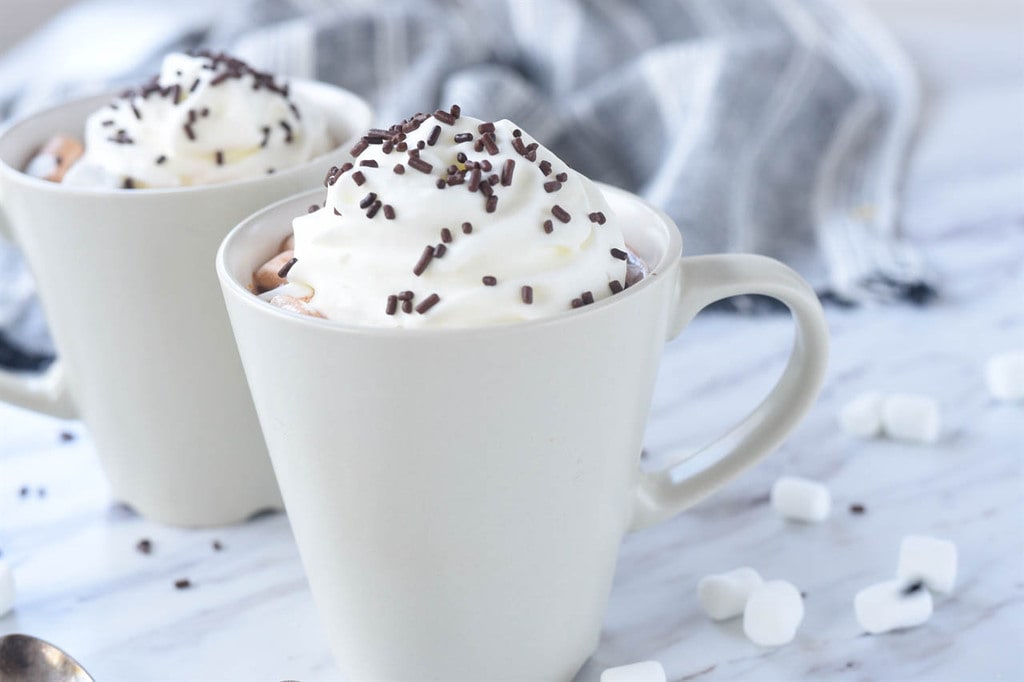 The next time you have a rainy or snowy cold winter's day.  Put on a pot of hot chocolate, put on a good movie, turn on the fire, grab a blanket and enjoy!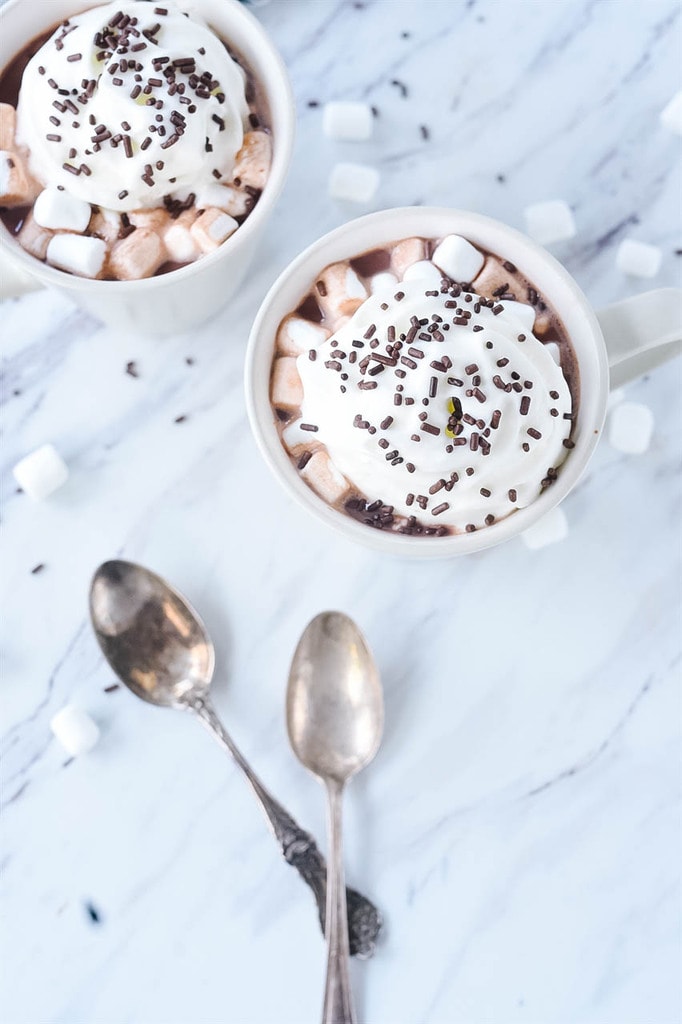 Make sure to check out these hot chocolate recipes:
For all of my other favorite kitchen products and tools visit my Amazon Store.
Crock Pot Hot Chocolate Recipe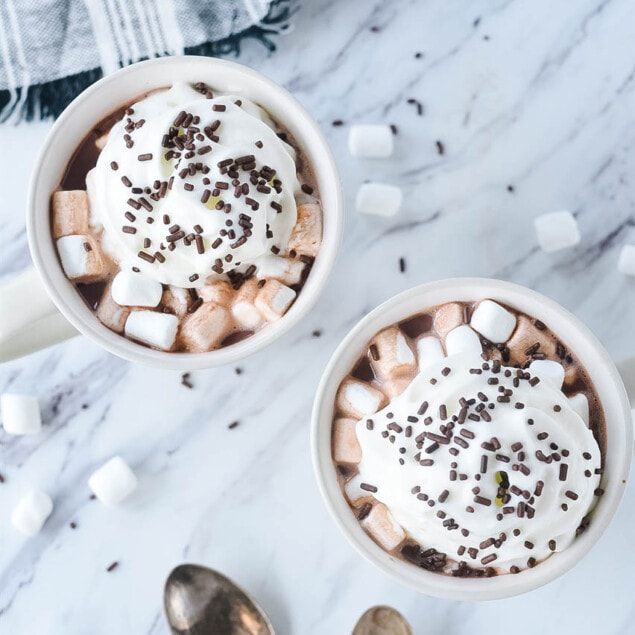 Crock Pot Hot Chocolate
Crock Pot Hot Chocolate is my favorite hot beverage. Make it and keep it warm in the crock pot makes it delicious and the perfect way to feed a crowd.
Ingredients
2/3 cup unsweetened cocoa
2/3 cup hot water
1 cup granulated sugar
pinch of salt
2 tsp vanilla
4 cups whole milk
1 cup malted milk powder optional
Instructions
In a 4 quart slow cooker, mix the cocoa and hot water together and stir until smooth. This helps prevent the cocoa from becoming lumpy.

Add the sugar, salt, vanilla and milk (optional malted milk powder) and stir to combine.

Heat on high for one hour and then turn down to low or warm while serving.
Nutrition Facts:
Calories: 257kcal (13%) Carbohydrates: 46g (15%) Protein: 7g (14%) Fat: 6g (9%) Saturated Fat: 3g (19%) Cholesterol: 15mg (5%) Sodium: 118mg (5%) Potassium: 388mg (11%) Fiber: 2g (8%) Sugar: 38g (42%) Vitamin A: 235IU (5%) Vitamin C: 0.4mg Calcium: 194mg (19%) Iron: 1.1mg (6%)
* Disclaimer: All nutrition information are estimates only. Read full disclosure here.