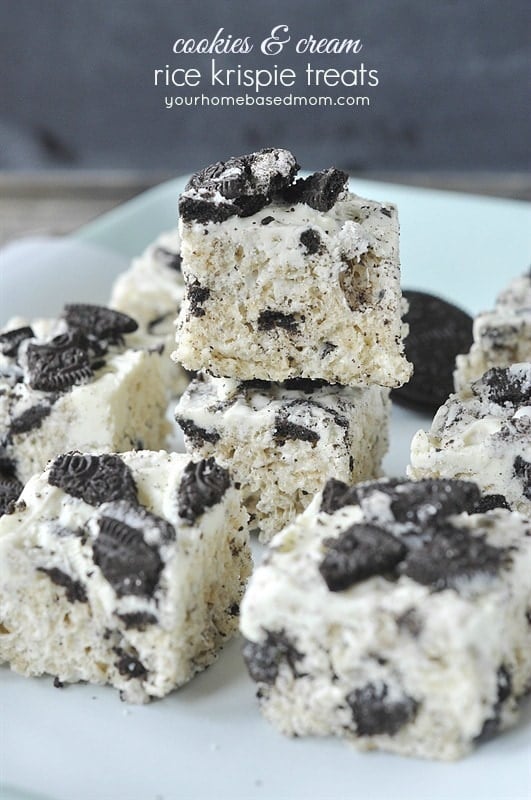 This post was originally created for a fun series my friend Stephanie over at Somewhat Simple but together.  If you haven't checked out all the fun posts, each starting with a letter of the alphabet hop on over there after you read my post of course! I think she is up to the letter N this week!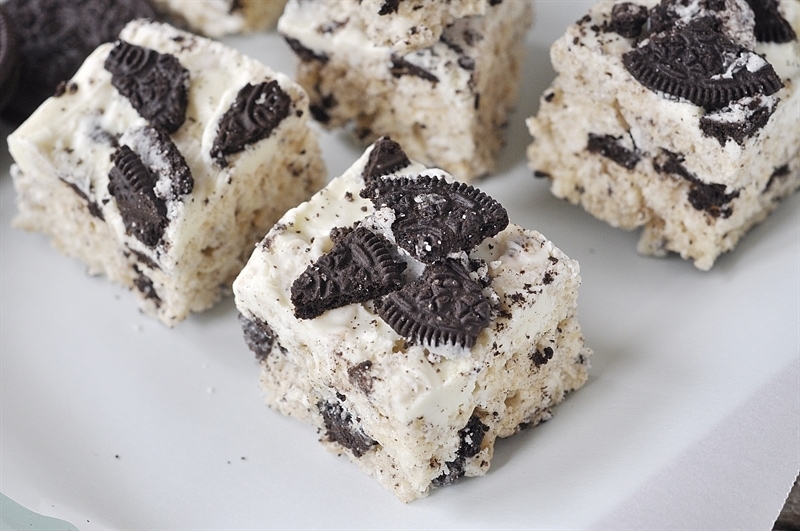 I chose the letter C .  The first thing that came to mind was the song "C is for cookie, that's good enough for me," that Cookie Monster loves to sing.  So I decided that if it was good enough for the Cookie Monster, it was good enough for me.  Of course chocolate also starts with C so I decided to combine cookie, chocolate and throw in cream for good measure and because it starts with C and make Chocolate Cookies & Cream Rice Krispie Treats!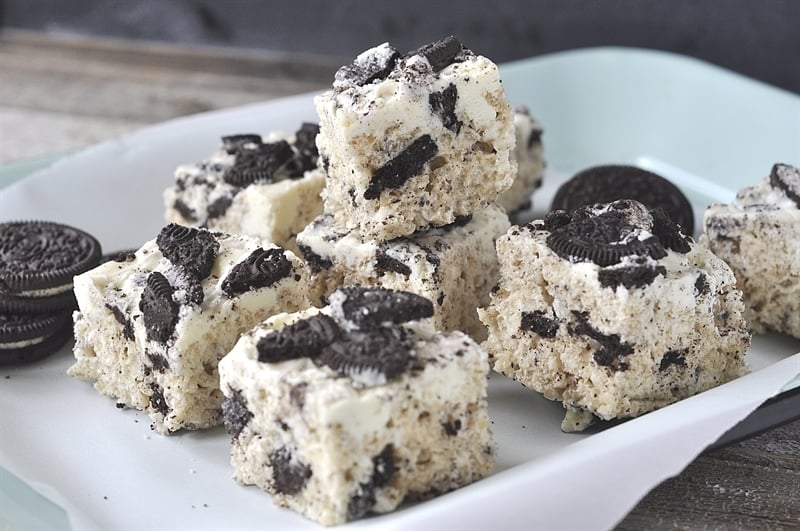 I love rice krispie treats but I make mine a little different than the recipe on the box.  I like my rice krispie treats nice and gooey so I throw in extra butter and marshmallows.  This time I also added in some melted white chocolate and chocolate sandwich cookies too!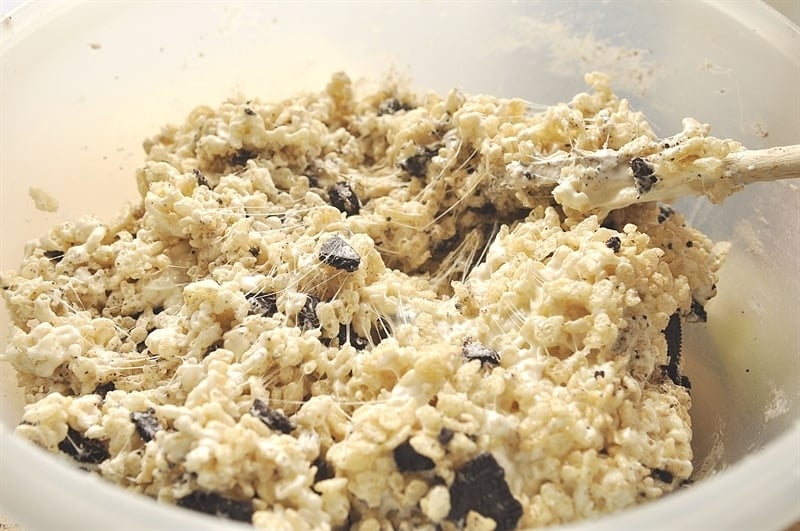 I then put them into the 9 x 13 pan and added more white chocolate and chocolate sandwich cookie goodness on top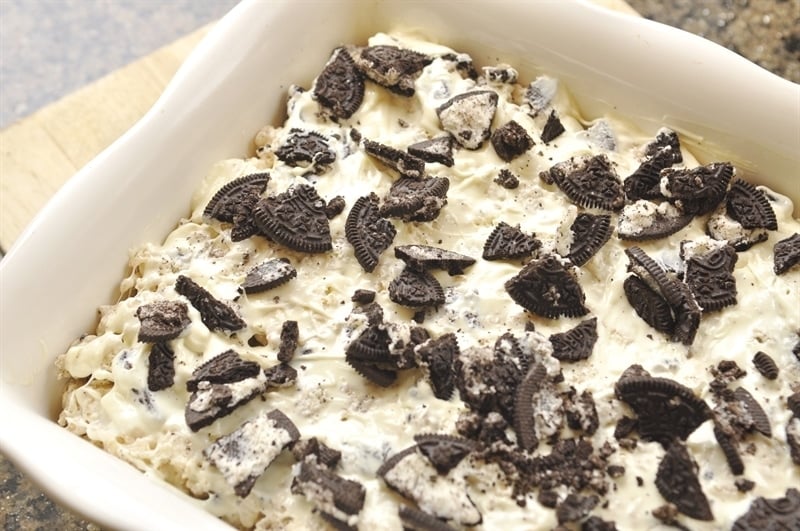 .
I first served these at a dessert potluck and they were one of the first things to disappear from the table! It's a fun way to dress up a family favorite.
Today C is for Cookies & Cream Rice Krispie Treats!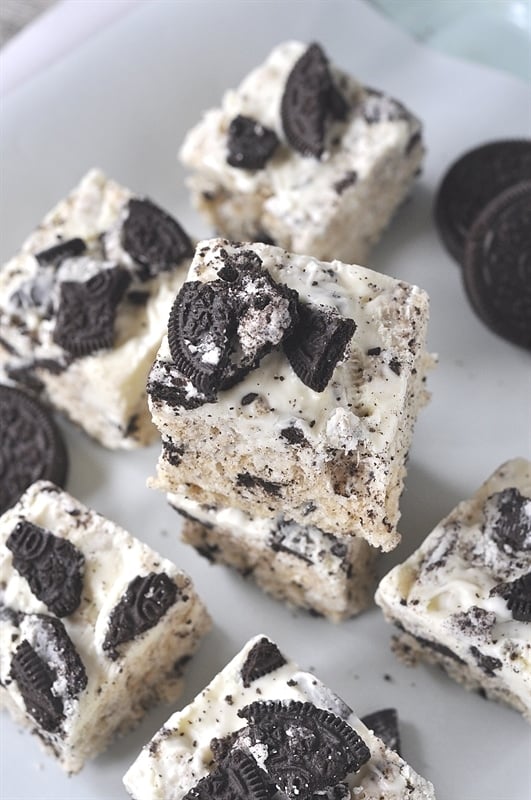 For some other yummy treats that start with the letter C check out these:
Chocolate Chip Oatmeal Cookies – Cookies & Cream Ice Cream – The Best Chocolate Cake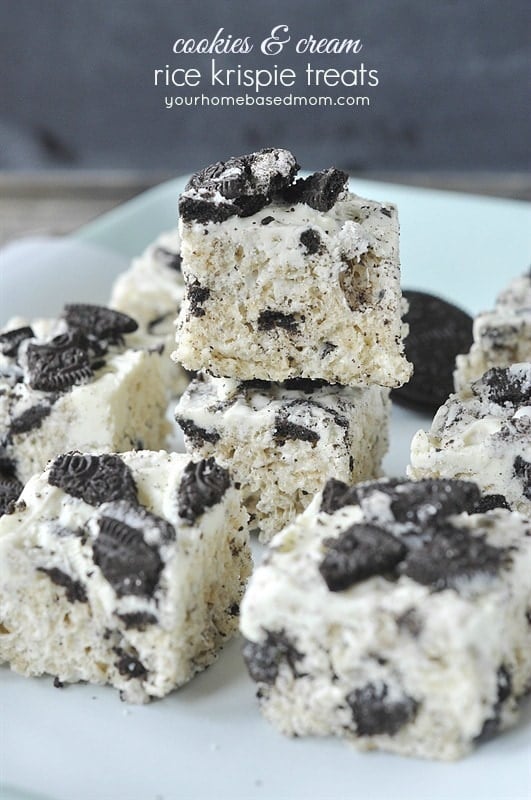 Cookies & Cream Rice Krispie Treats
Ingredients
1

full bag of marshmallows

I used mini but you can also use the large

1

cube of butter

1/2 C

7

C

rice krispies

2 1/2

C

chocolate sandwich cookies

broken into small pieces, divided

1 1/3

C

white chocolate chips

melted

1/2

C

white chocolate chips or melts for top of bars
Instructions
In a heavy pan melt butter over medium heat.

Add in marshmallows and 1 1/3 C of white chocolate chips and stir until melted

Stir in cereal and 2 C of broken cookies.

Put into a greased 9x13 pan.

Melt 1/2 C white chocolate chips and spread over top.

Sprinkle with remaining cookie.

Cool to room temperature and serve.
 I'm Leigh Anne and food, family and friends are three of my favorite things. I am the mother of four young adults, a new mother in law and am still trying to adjust to life as an empty nester along with my husband of over 30 years. I love throwing parties, burying my head in a book and digging in the dirt in my garden. My husband would tell you I love making messes in the kitchen and craft room and finding junk (treasures) at Goodwill. I believe that life is beautiful and it is up to us to find and create that beauty. I love sharing my journey to finding the pretty and delicious in life over at Your Homebased Mom. You can also visit me on Facebook, Pinterest, Twitter orInstagram.
Stay Updated!
Need more recipes and creative ideas? Sign up and get a FREE copy of my ebook! Do you think your friends would love this too? Please share my blog with them. Thanks!