School's back and this Fall Snack Board is full of apple and caramel goodness.  It's the perfect way to welcome the kiddos home from school or to welcome your guests to any fall holiday parties you may be hosting or attending.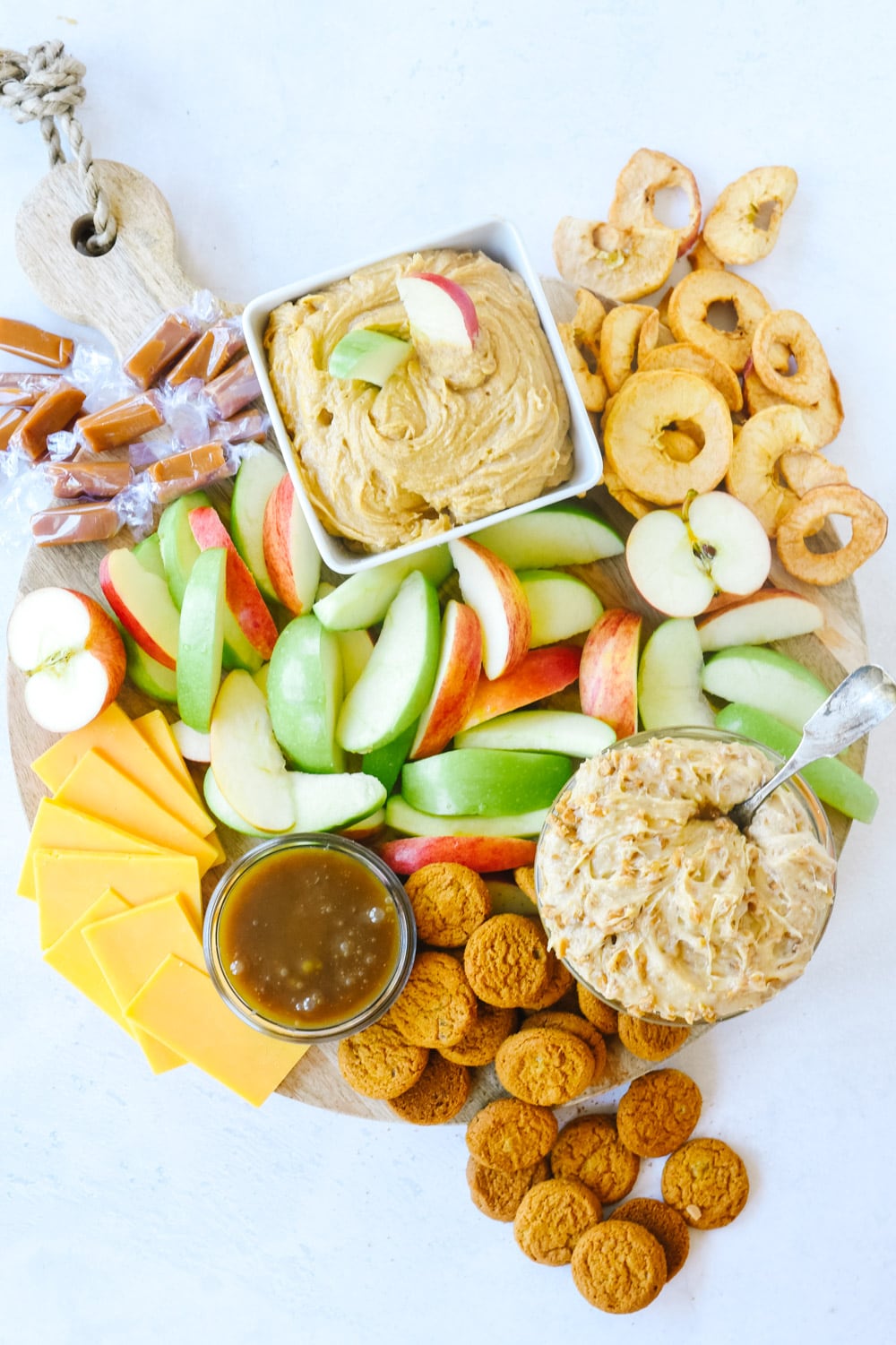 Putting a snack board together is easy and fun.  I love a good snack board and my favorite thing to do is pick a theme. For fall I thought the perfect theme would be apples!  So I started with a selection of different apples, different colors, both sweet and tart. I used fresh apples but also some dried apples which adds a fun texture to the board.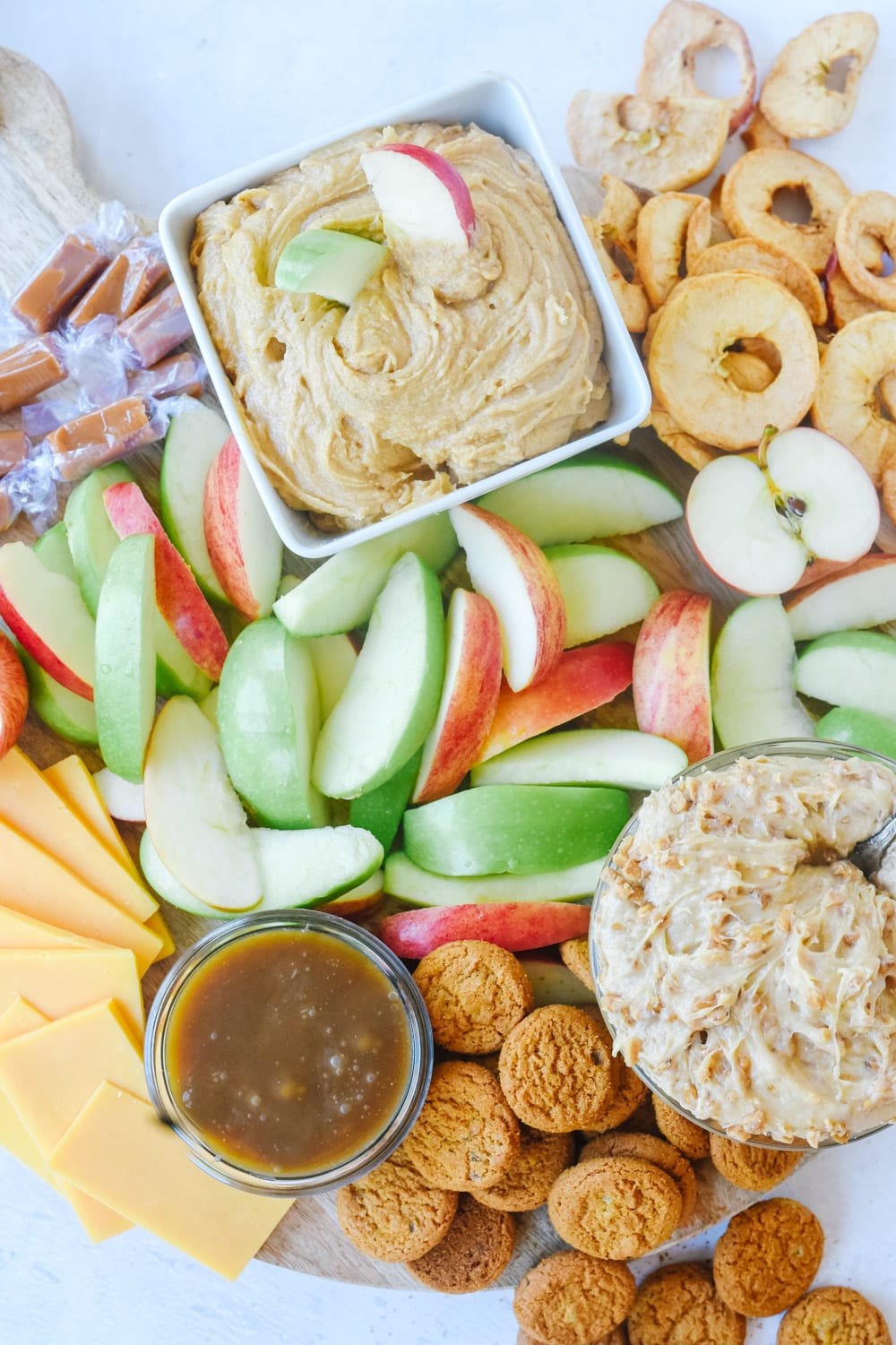 Some of my favorite things to pair with apples are caramel, peanut butter and cheese so I included all of those on the fall snack board tool in different dips.
How to Make a Fall Snack Board
The first step is to choose your board.   I used a round cutting board I had, any size will do, just make sure it is big enough for all your ingredients.  I also have used cookie sheets or other large flat, shallow pans you may have on hand.  I've even been known to lay down a piece of parchment paper of the table and just put all the ingredients on that.
Assemble your ingredients.  For this Fall Snack Board I used caramel sauce, apple toffee tip, peanut butter dip as well as a selection of apple slices, dried apple slices, cheese slices, ginger snap cookies and candy caramels.
Start with the biggest items first.  For this board that was my dipping sauces.  I placed those on the snack board first. For this snack board I used apple toffee dip, peanut butter dip and caramel sauce.
Fill in with everything else.  Don't be stingy.  A good snack board is a full snack board.  I even let the ingredients fall off of the board onto the table. I always like using a combination of sweet and savory ingredients.
How to Keep Apple Slices from Turning Brown
You're going to thank me for this tip.  Most people will tell you to put lemon juice on the apple slices but I have found that this doesn't really work.  What I recommend is to fill a bowl with some cool water, add in a teaspoon or two of salt and then submerge your sliced apples into the water for a few minutes.  Remove and pat dry.  Your apples will stay fresh and pretty for several days!  I promise!  And the salt doesn't affect the taste of the apple at all.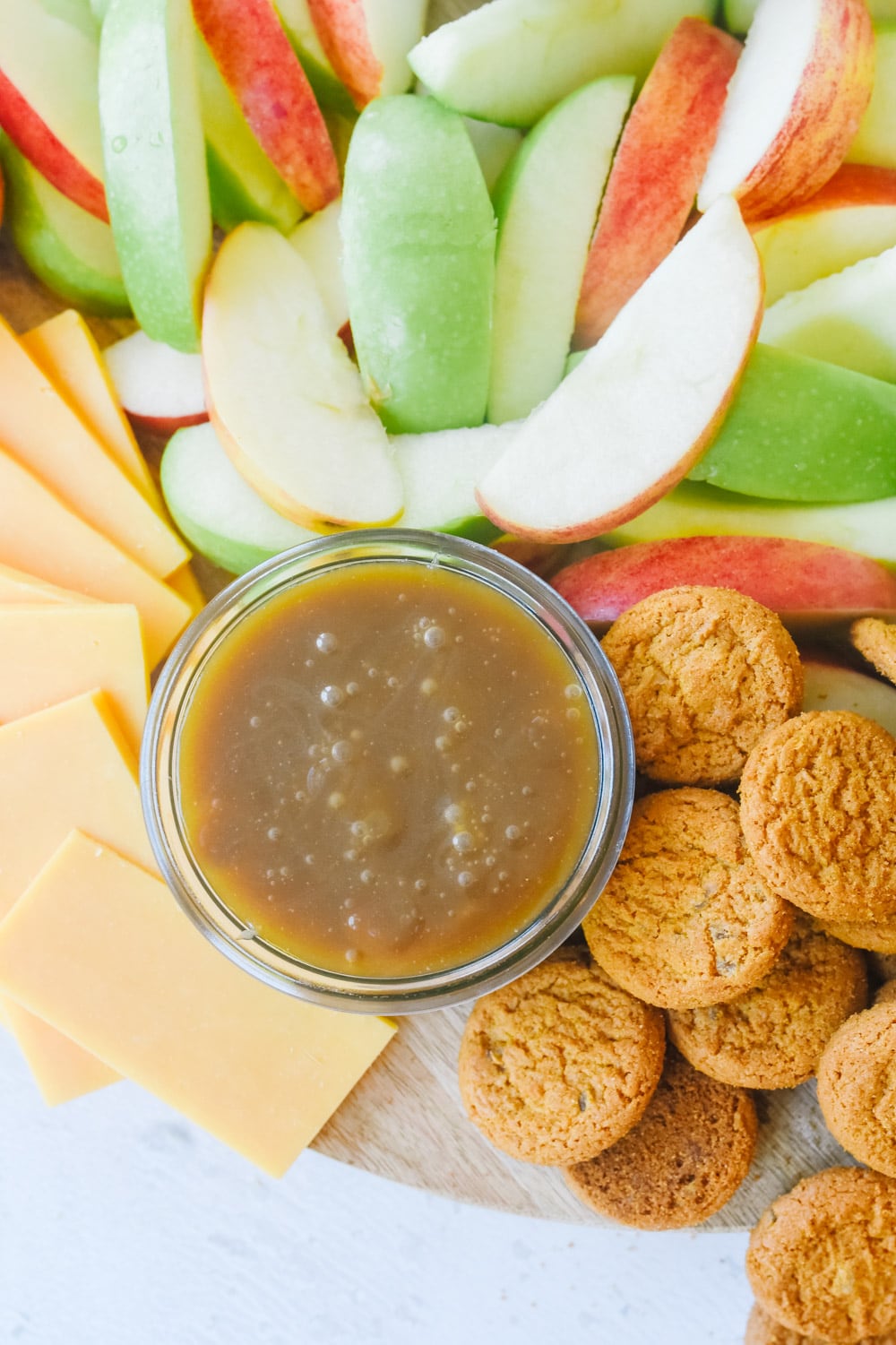 Welcome fall with a fun and delicious Fall Snack Board.  You won't be able to stop dipping!!
Dips used on this Fall snack board: apple toffee dip, peanut butter dip and caramel sauce.
For some other snack board inspiration check out these posts:
How to Make the Perfect Relish Tray
Check out more delicious dinner ideas on my Facebook page and follow me on Instagram.