When you have two different people, who don't know each other, give you the same recipe, within a few days of each other, that is a pretty good indication that it's going to be good.
Jennie, one of my lovely blog readers emailed me with a recipe for Grape Salad.  Another friend told me about the same recipet a few days later.  My old tired brain can not remember who that friend is though so if it was you please let me know and THANK YOU!
We had a potluck dinner to go to the week Jennie sent me the recipe so I decided to take the Grape Salad.   I think potlucks are a perfect opportunity to try new recipes.  If it doesn't turn out you just slip it on the table and no one has to know who brought it 🙂
Now I must admit. I use the term salad loosely.  It is really more like dessert but since there is fruit in it I guess it can be called a salad!
Hidden underneath all those yummy pecans and masses of brown sugar are some red grapes which are covered in cream cheese and more sugar!
The sweetness of the sugar and the crunch of the grapes is a wonderful combination.
This salad(dessert) quickly disappeared at the potluck and I was licking the plate as I carried it home.
What's your favorit potluck dish?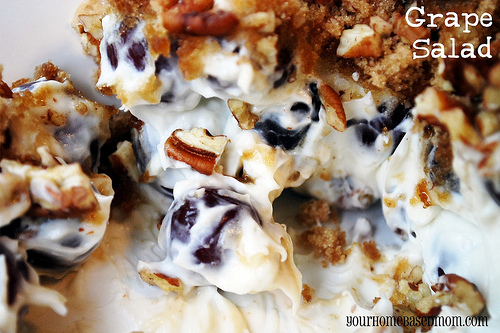 Grape Salad
Ingredients
4 lb red grapes
8 oz cream cheese
1/2 C sugar
1 tsp vanilla
8 oz sour cream
Instructions
Take stems off grapes and wash and dry them

Set aside

Mix cream cheese, sugar, vanilla and sour cream

Fold in grapes and lay them out on a platter, (that is better than a bowl)

Sprinkle the top with 1 cup of brown sugar and chopped pecans. I think I used about a cup