Brown Butter Maple Roasted Brussels Sprouts are a delicious way to eat your vegetables!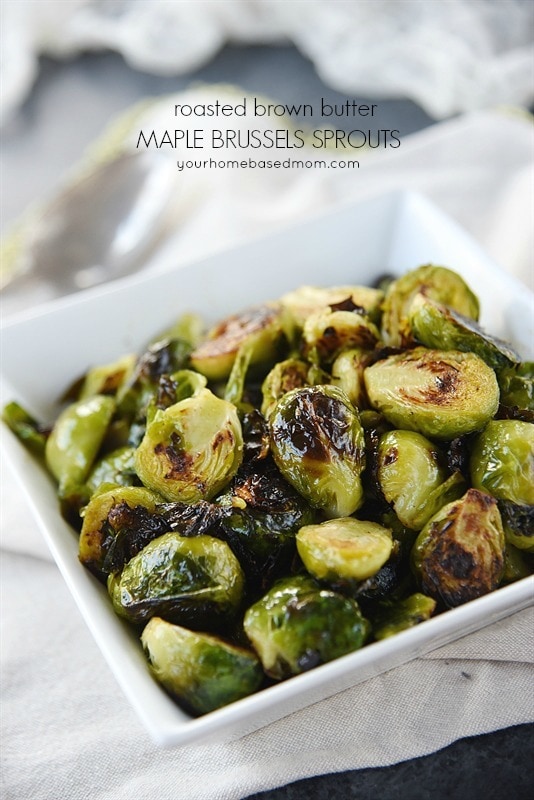 So does anyone else think it is strange that brussels sprouts is spelled brussels instead of brussel? I am always spelling it wrong! When I did a little research I discovered that they may have originated in Brussels, Belgium, thus the reason for both words with an S at the end. You learn something new every day!
I know brussels sprouts are usually low on the list of popular vegetables because they were low on my list, almost at the bottom until I actually tasted one cooked properly. I think the only way to cook brussels sprouts is to roast them. One of my favorite ways to enjoy roasted brussels sprouts is Teriyaki Glazed Brussels Sprouts and then Lemon Roasted Brussels Sprouts are amazing too.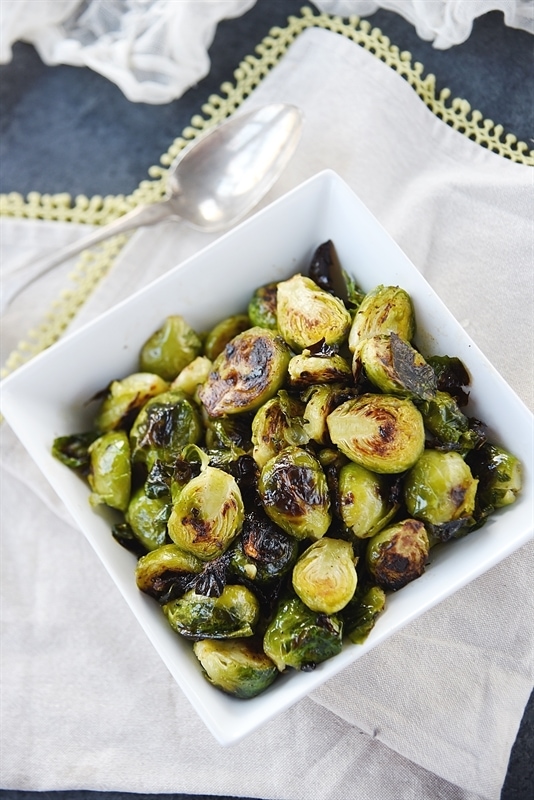 The flavor combination of browned butter and maple syrup in today's recipe is a perfect combination. The sweet and savory combination is definitely a winner.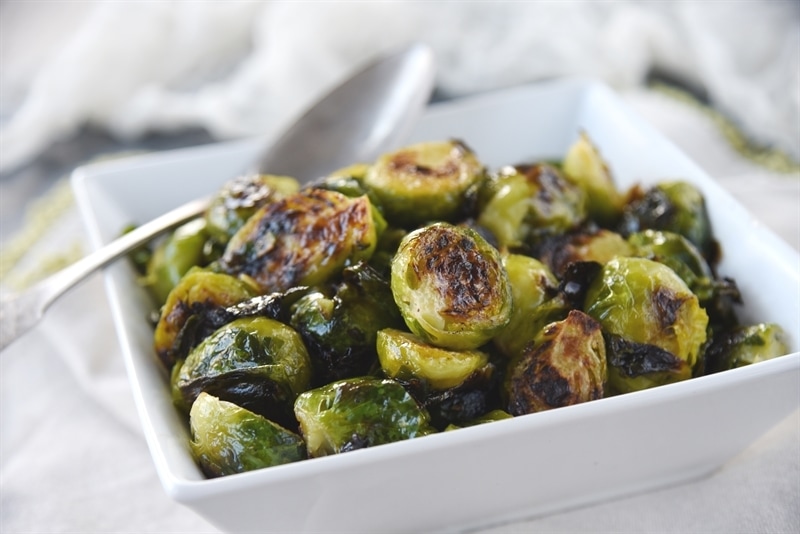 I think roasting the brussels sprouts with a little olive oil on a baking sheet at high heat is the best and easiest way to cook them and you run the risk of overcooking them. Overcooking them can cause them to turn gray and the taste becomes rather strong so this may be one of the reasons they are so low on people's list, but cooked right they are delicious!
After roasting them until they are just fork tender, remove them from the oven and coat with a brown butter/maple syrup combo and enjoy! I think roasted brussels sprouts are always best eaten right out of the oven. And they are an excellent sources of Vitamin C and K and also contain some B vitamins too!
Find a detailed tutorial on how to brown butter here.
For some other delicious ways to prepare brussels sprouts be sure and check out Southwestern Brussels Sprouts from Cookin Canuk, Brussels Sprouts Salad with Hazelnuts, Parmesan and Pomegranate Molasses Vinaigrette from A Beautiful Plate and Easy Brussels Sprouts Gratin from Kalyn's Kitchen.


Printable Recipe for Roasted Brown Butter Brussels Sprouts
Roasted Brown Butter Maple Brussels Sprouts
Ingredients
2 Tbsp olive oil
1 lb. brussels sprouts remove ends and cut in half (or quartered if really large)
1/4 tsp salt
1/8 tsp freshly ground black pepper
3 Tbsp butter
2 Tbsp pure maple syrup
Instructions
Preheat oven to 425 degrees.

Coat brussels sprouts with 1 Tbsp olive oil, salt and pepper.

Drizzle remaining olive oil on baking sheet.

Put oil coated baking sheet into hot oven for 5 minutes.

Pour sprouts onto hot baking sheet and roast for 15 minutes, until fork tender.

A dark crust will form on them. Flip a few times during the roasting process.

In a saucepan, melt butter and cook until it begins to foam and turn a light golden brown. Watch carefully.

Remove from heat and add in the maple syrup, stir to combine.

Put roasted brussels sprouts in a bowl and drizzle with maple butter and stir to coat.

Serve immediately.
Tips & Notes:
recipe adapted from From Choosing Sides: Holidays to Every Day