Salted Caramel Butter Bars have a rich buttery shortbread crust topped with creamy caramel and sprinkled with salt!  Pretty much melt in your mouth buttery goodness.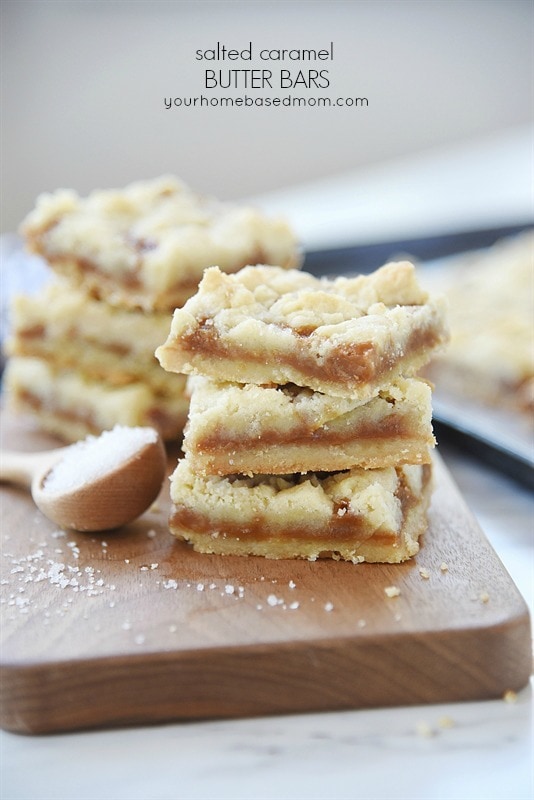 One of the things on my list to bring home from my recent trip to France was some French salt or Fleur de Sel.  If you haven't ever tried fleur de sel before, you must.  I brought home  a few containers and was then on the hunt on how to use it.  I knew it had to be salted caramel something.  I love the combination of salt with caramel.
I was digging through my piles of recipes that seem to accumulate all over my house and I came across a recipe for Salted Caramel Butter Bars – three of my favorite things, salt, caramel and butter.  And boy do these bars have butter.  Yes, the recipe is correct.  The recipe calls for 1 lb. of butter.  They are called butter bars for a reason!!  So please, no emails asking me if the recipe is correct.  You can of course email me and tell me how wonderful they were after you make them or make some and share them with me!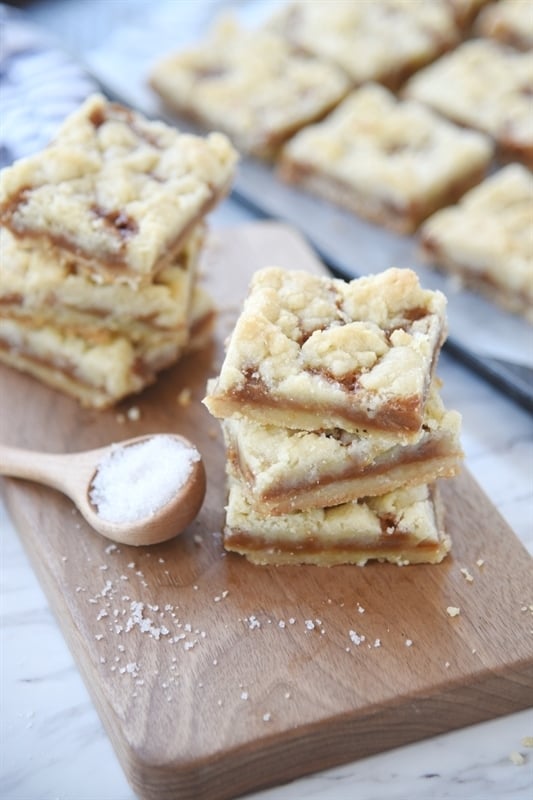 I'm not sure who my friend got the recipe from but from what I can tell, it originally came from this cookbook.  
The original recipe called for those little individually wrapped caramel squares but I used the Kraft Caramel Bits which I think are just about the best thing ever.  No more unwrapping individual caramels!!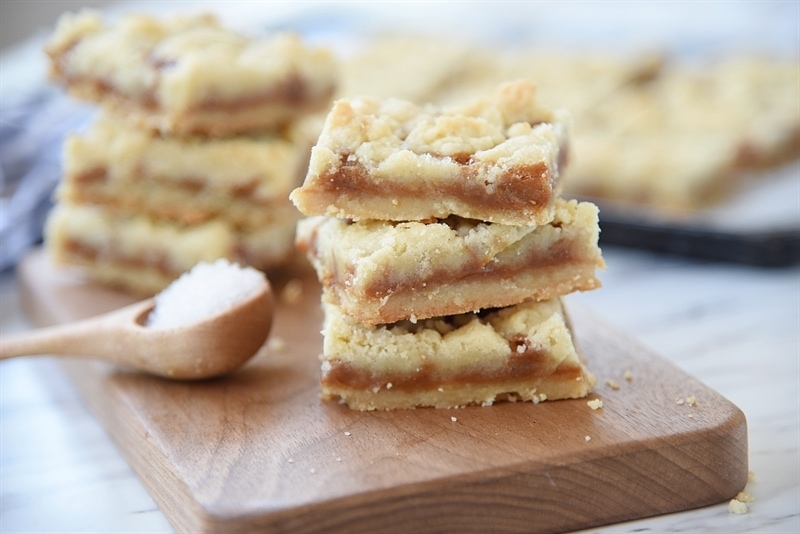 A couple of words of advice. One,  get yourself some good salt.  Do not use the stuff that comes out of the blue container with the little girl with the umbrella.  A coarse salt is best and since you all can't hop on over to France to buy some you can find the same salt I brought home with me right here on Amazon!  It's a little bit more expensive than what I paid for but there is no plane ticket required.  And besides being amazing salt, it comes in a super cute container.   Don't skimp on the salt.  It adds amazing flavor to the butter bars.
Two,  decide right now who you are going to share these salted caramel butter bars with.  Because, if you don't, you'll eat them all yourself and that could be a good thing or a bad thing!!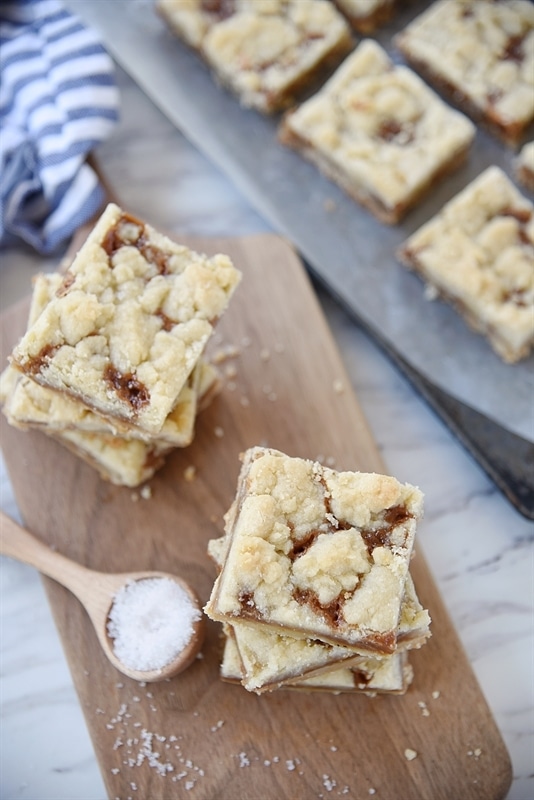 So be warned, these things are amazing and addictive and you are going to want to eat the whole pan but be nice, share with someone you love.
Some other salted caramel favorites:
Salted Caramel Cheesecake Bars
Salted Caramel Chocolate Chip Cookies
Salted Caramel Butter Bars Recipe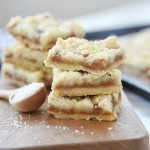 Print
Salted Caramel Butter Bars
Salted Caramel Butter Bars have a rich buttery shortbread crust topped with creamy caramel and sprinkled with salt! Pretty much melt in your mouth buttery goodness.
Total Time
1
hour
10
minutes
Ingredients
1

lb.

salted butter

softened

3/4

cup

granulated sugar

1 1/2

cups

powdered sugar

1

T

vanilla

4

cups

flour
Caramel Filling
1

bag

12 oz. caramel bits

1/3

cup

heavy whipping cream

1/2

tsp

vanilla

2

tsp

coarse salt

fleur de sel
Instructions
Preheat oven to 325 Degrees. Spray a 9 x 13 baking pan with cooking spray.

Beat together the butter and sugars until light and fluffy, 2-3 minutes.

Add in vanilla and mix to combine.

Add in the flour and beat on low until dough forms.

Press half the dough into the bottom of pan, evenly. Refrigerate remaining dough.

Bake for 18-20 minutes or until edges just begin to turn golden brown.

While dough is baking begin the filling.

Place caramel bits, whipping cream and vanilla in a saucepan. Heat over medium heat and stir until completely melted.

Pour caramel filling evenly over baked crust.

Crumble refrigerated dough evenly over the caramel.

Sprinkle with salt.

Bake for 25-30 minutes or until the toppiong is firm and beginning to turn golden brown on the edges.

Cool and cut into squares.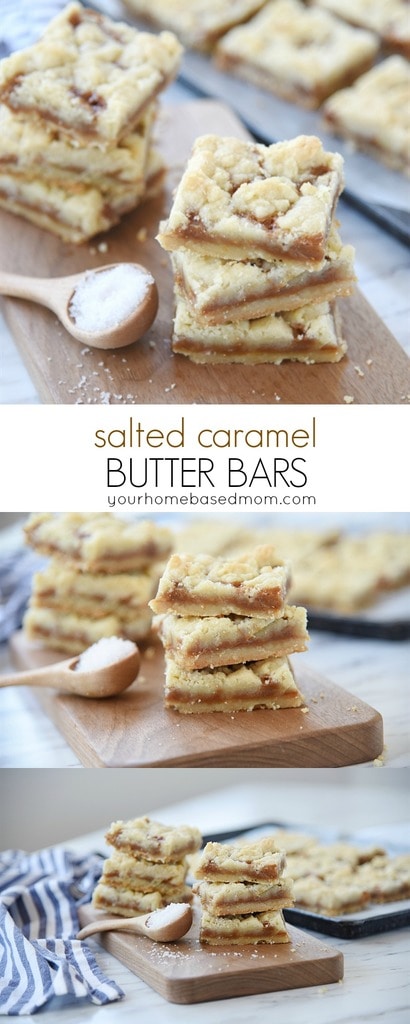 Get my Weekly Menu Plan for FREE!
Receive my FREE "What's for Dinner?" Meal Planning Course, a copy of my FREE ebook that includes my most popular recipes and my FREE weekly Meal Plan.