Fruit Slush is a delicious and quick way to cool off on a hot summer day.
One of my childhood memories is going to visit my mom's friend Vera Jean.  My mom was an only child and Vera Jean was like a sister to her.  After we moved away from California, whenever we returned to visit, we visited Vera Jean.  And whenever we visited Vera Jean she always served us a yummy fruity, slushie drink.  I always remembered that and now one of my favorite things to keep in my freezer in the summer are fruit slush cubes.
It is an easy and delicious way to always have something cool to drink in the summer.  I  have made these fruit slush cubes for years and they are definitely a family favorite.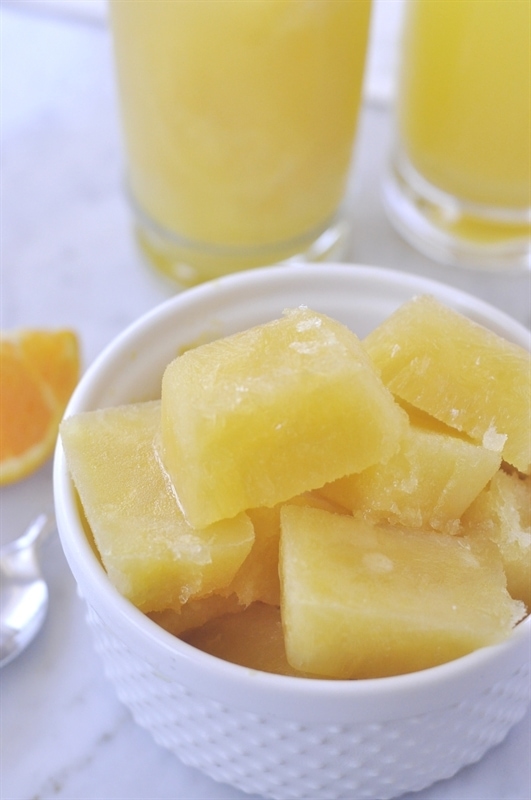 Fruit Slush is a combination of sugar, water, lemon juice, orange juice and pineapple juice.  I just pour the juice combination into ice cube trays and freeze.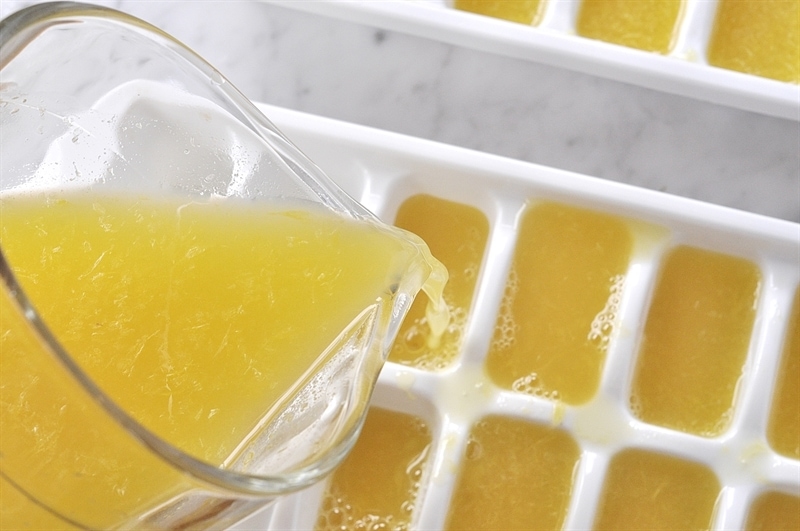 Now I realize a lot of people no longer have ice cube trays because of their built in ice cube makers but no worries.  If you don't have ice cube trays just pour it into a 9 x 13 pan and then cut it into cubes.  I actually keep ice cube trays I purchased at Goodwill on hand just for fruit slush!  After they are frozen just pop them out and store them in a zip lock bag.  They are ready to pull out at a moments notice, whenever you need a cool, slushy drink.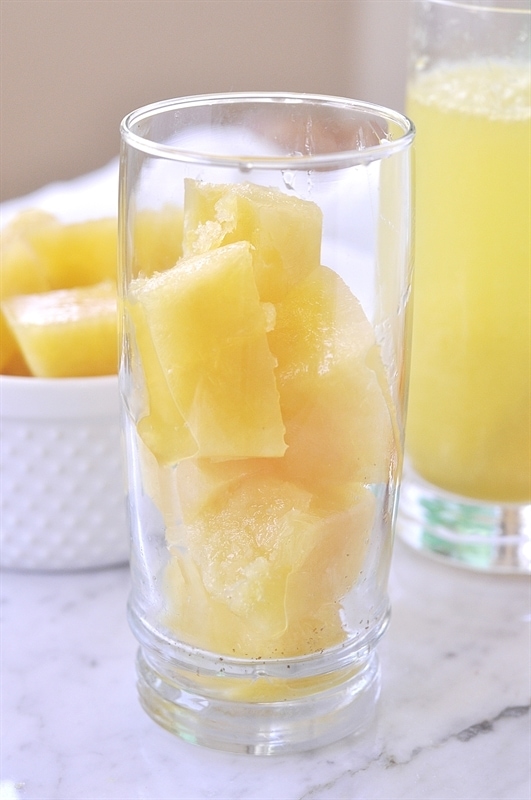 Just place your fruit slush cubes into your glass and pour some lemon lime soda over the top.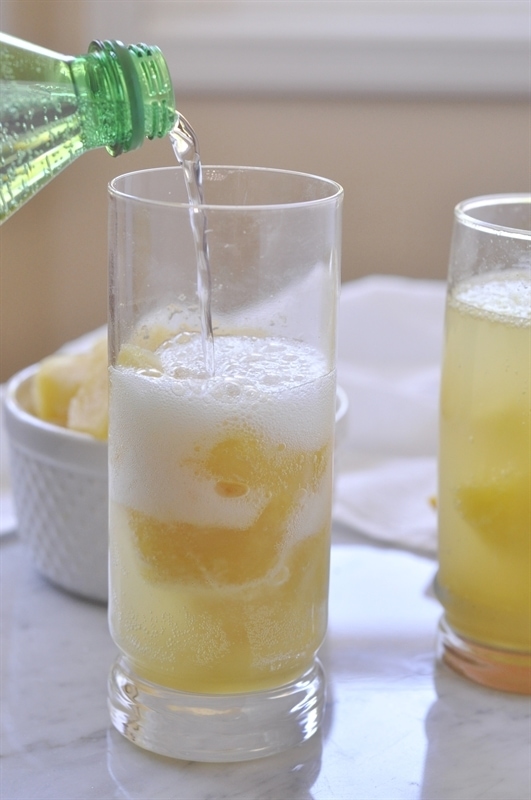 Then let it get slushy.  Use your spoon to smoosh up the cubes a bit to hurry along the process.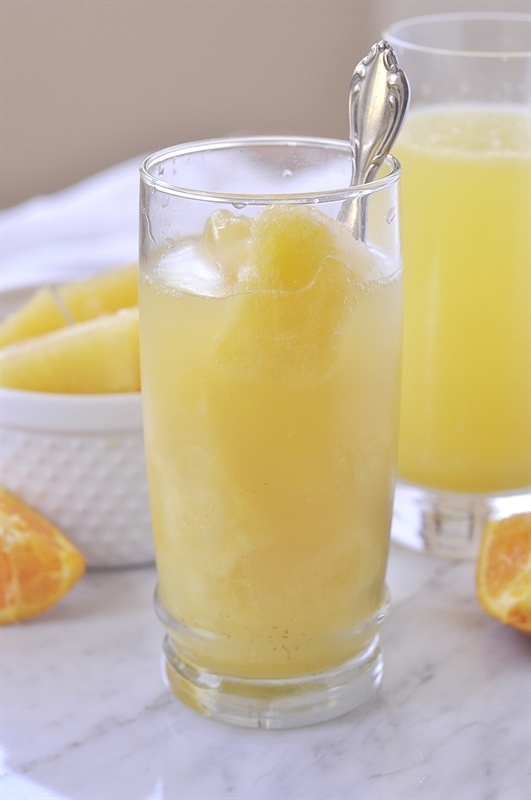 Now just sit back, relax and enjoy a frosty summer treat!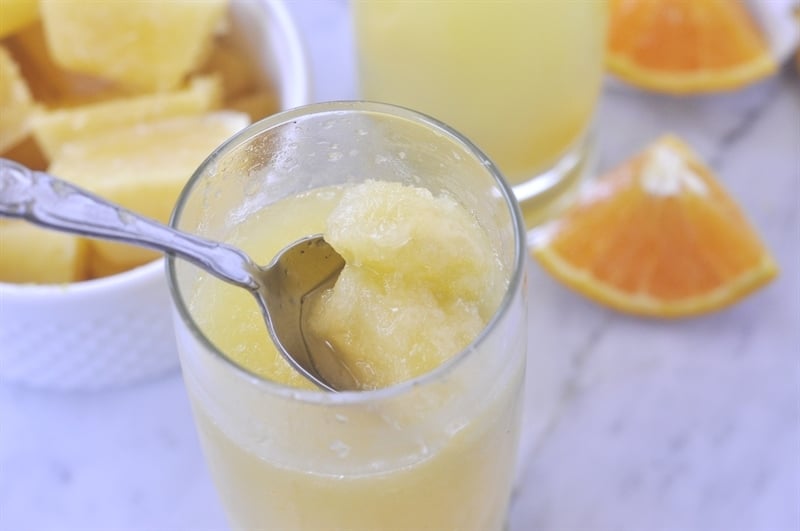 This recipe was originally shared at Thirty Handmade Days.
For more refreshing summer treats be sure to check out:
Chick fil a Copycat Frosted Lemonade – Frosted Freckled Lemonade – Caramel Corn Milkshake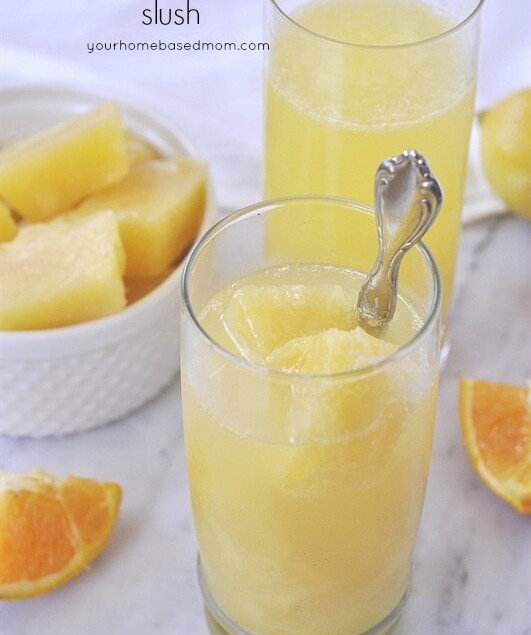 Fruit Slush
Ingredients
4 C sugar
4 C water
1 6 ozs. can frozen orange juice concentrate do not add water
1/2 C lemon juice
1 46 oz. can pineapple juice
Instructions
Combine sugar and water in a saucepan. Heat until sugar is dissolved.

Add juices.

Fill 6 or 7 ice cube trays with mixture.

Freeze until firm.

Remove cubes from trays and store in freezer bags.

Use within 6 months

Place cubes in glass and add lemon lime soda.

Let stand a few minutes and stir to turn to slush.