This Pound Cake has a moist and tender texture and the flavor is off the charts thanks to brown butter and vanilla. We dressed it up by grilling it, adding lemon curd and a topping of fresh whipped cream and berries.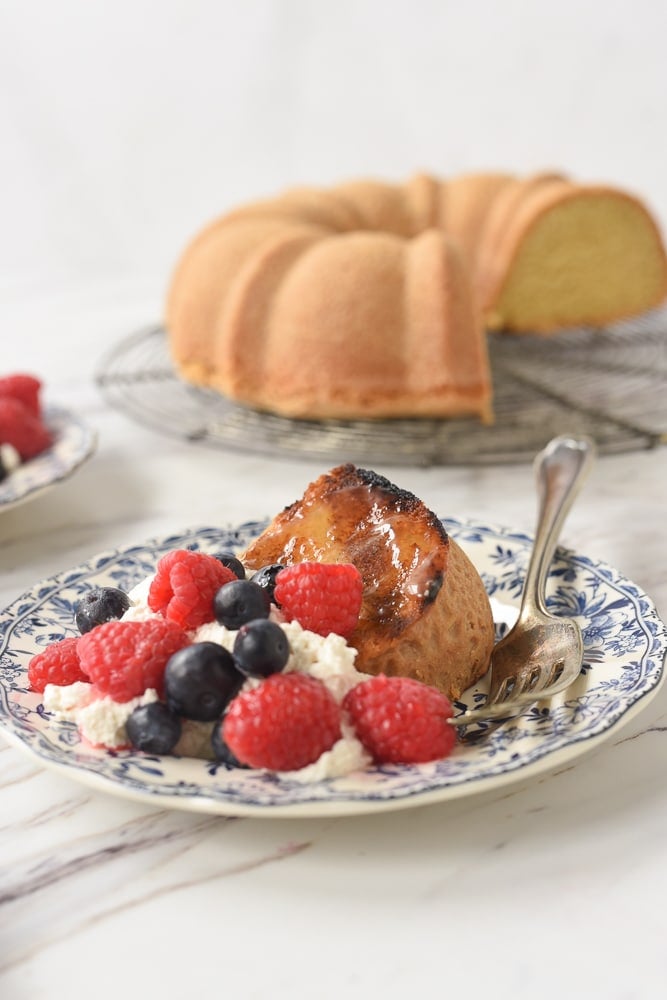 Can I just say today's recipe is pretty amazing!
Several months ago we had dinner at a local Portland restaurant. I don't usually order dessert when we go out but this time I couldn't resist. One of the items on the menu was for grilled pound cake. I was just too intrigued by the idea of grilling pound cake to not order it.
Well, I am glad I tried it because it was delicious! Heating the cake on the grill gave it a nice crisp coating that was so yummy. I couldn't wait to give the grilled pound cake idea a try at home.
This pound cake recipe definitely stands on it's own, even without the grilling. Thanks to the use of brown butter in the batter it has amazing flavor. I am a huge browned butter fan. I've used it in everything from cakes, to cookies, frosting and over pasta.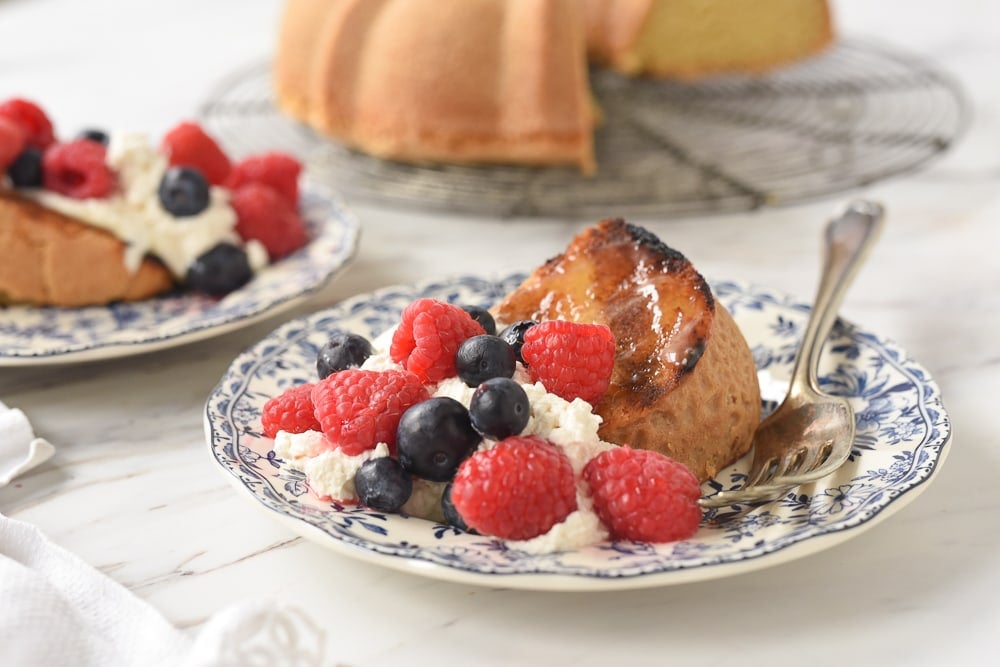 Brown Butter Pound Cake
Thanks to brown butter, this cake is has a deep delicious flavor. Be sure and use a good quality butter and vanilla for the best taste and texture. Browning butter is easy to do. Just heat up the butter until it starts to get foamy and turn golden brown. Be sure and watch it close because it can go from golden brown to burned in a matter of seconds!
Find a detailed tutorial on how to make brown butter here.

Cold Oven Pound Cake
This pound cake uses an old fashioned baking method called a "cold oven method." I had never heard of it before but I bet my grandmother has! You don't preheat your oven. You place the cake into a cold oven and start it, preheating the oven with the cake in it. This method produces a moist and tender cake, it really makes a difference in the texture.
The Pound Cake recipe has been around since the mid 1800's and was called a pound cake because the original recipe called for a pound of b utter, flour, eggs and sugar.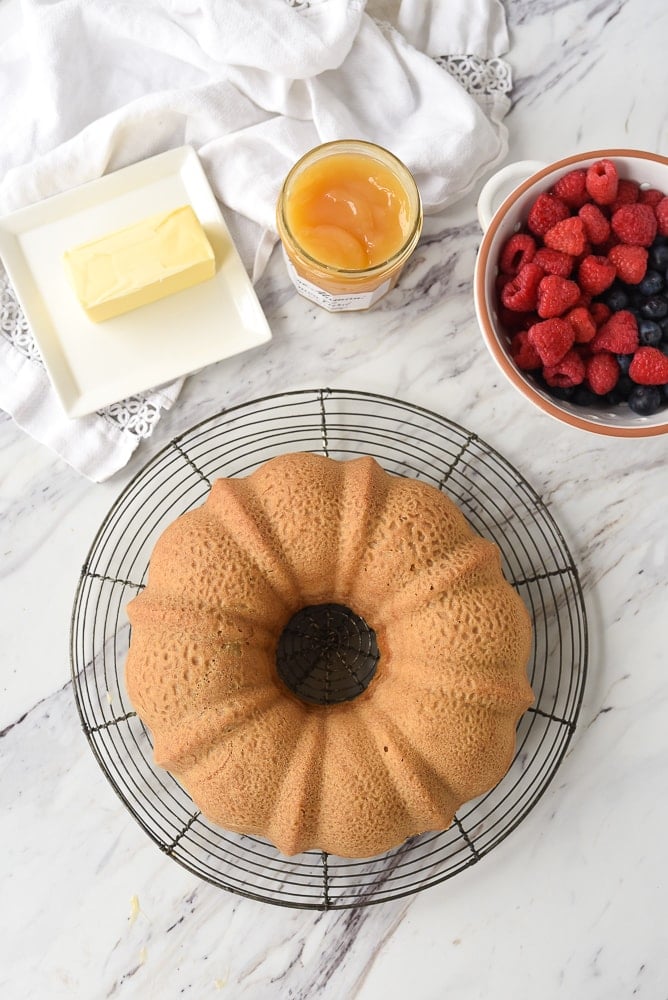 How to Easily Remove A Bundt Cake from the Pan
The trickiest part of this whole recipe can be removing the cake from the bundt pan. Believe me, I've had plenty of my own "bundt cake disasters" but after discovering this amazing trick I've never had a disaster since. The trick is Baker's Joy! Just spray your bundt pan with it, add a light dusting of flour and your cake comes out perfectly every time!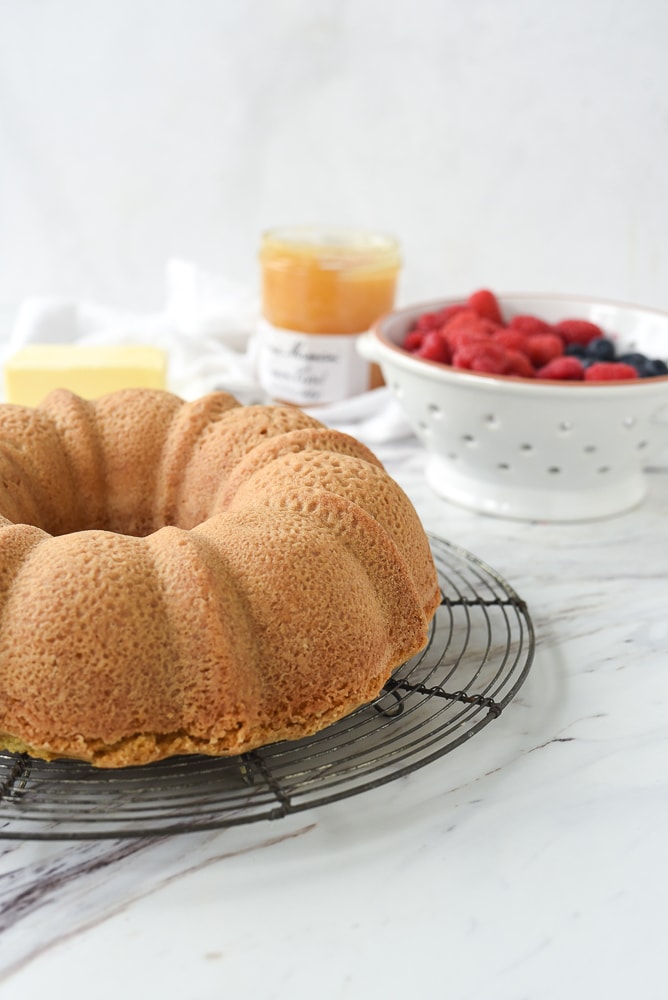 How To Grill a Pound Cake
After removing the cake from the pan and allowing it cool, you are ready to grill it.
Slice the cake pieces about one inch thick but you can make them as big as you like.
Spread a thin layer of butter on each side of the cake slices.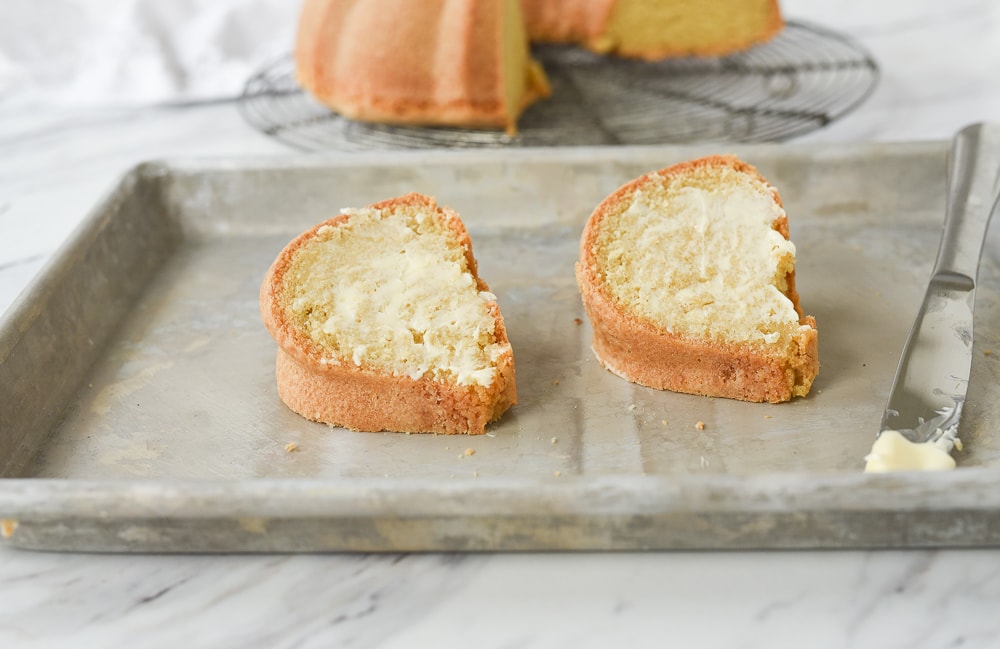 I use a gas grill but any kind will do.
Place the cake onto the grill and grill for a few minutes on each side until the butter melts into the cake and you get those nice golden brown grill marks. If you don't have a grill you could do it under your broiler to get that crispy topping.
Add a layer of lemon curd to each slice while they are still warm. The curd will absorb right into the cake thanks to the heat. Yum!! You can use store bought lemon curd but if you want to make your own, this recipe is great!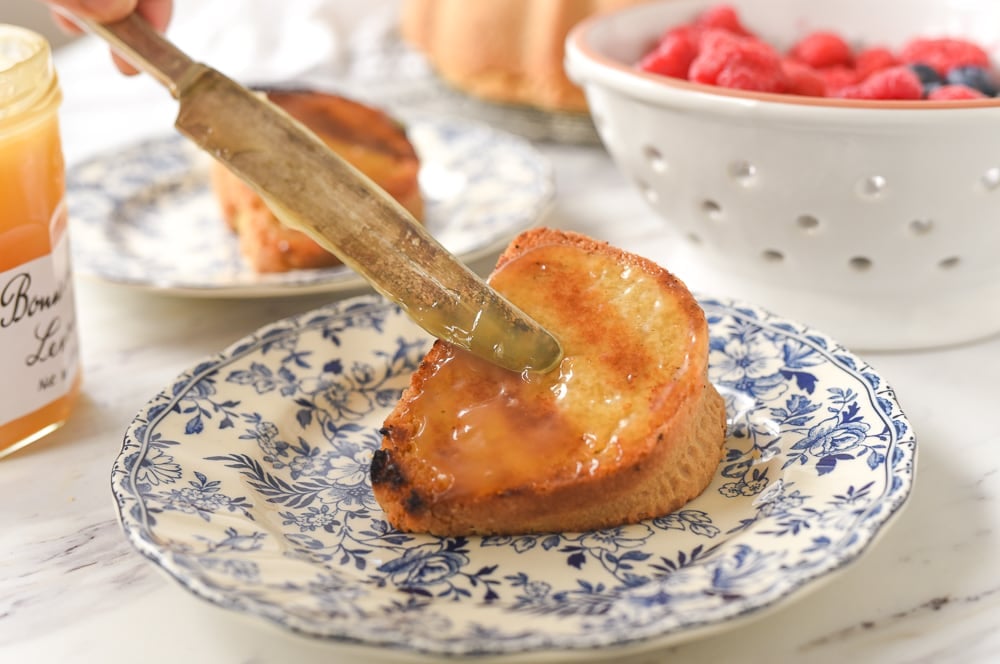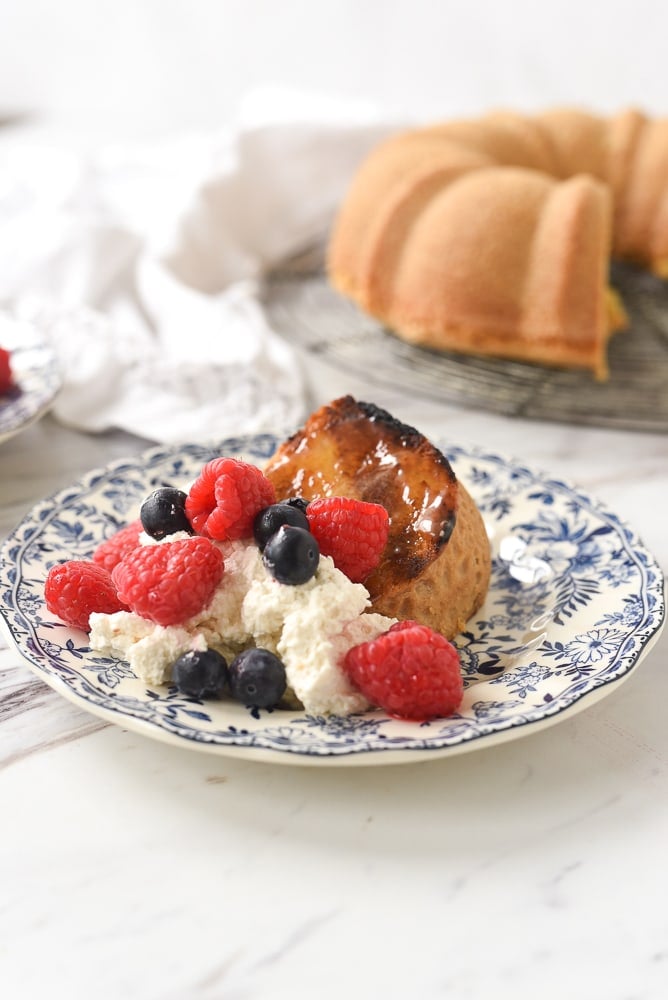 Add some fresh berries. I used raspberries and blueberries but any combination would be great. You can add an additional drizzle of lemon curd if you like.
The combination of flavors and texture is pretty much perfection!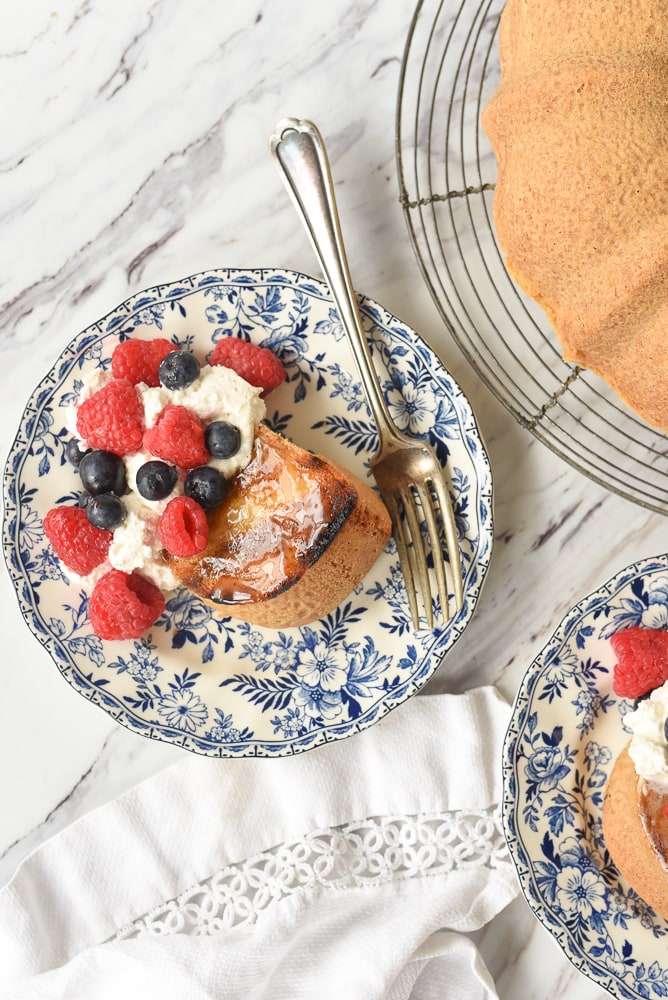 How to Store Pound Cake?
Pound cake does not need to be refrigerated but should be kept airtight and will last for 3-4 days. You can also keep it in the refrigerator, just bring it back to room temperature before serving. Pound cake also freezes well. Just thaw for a few hours and bring it back to room temperature.
But don't take my word for it, please try this for yourself. It's a fun dessert to serve at your next BBQ.
Some of our other favorite grilling recipes include:
Teriyaki Marinade for Shiskabob
For all of my other favorite kitchen products and tools visit my Amazon Store.
Did you know I wrote a cookbook? Check out the Holiday Slow Cooker Cookbook for 100 delicious recipes.
Pound Cake Recipe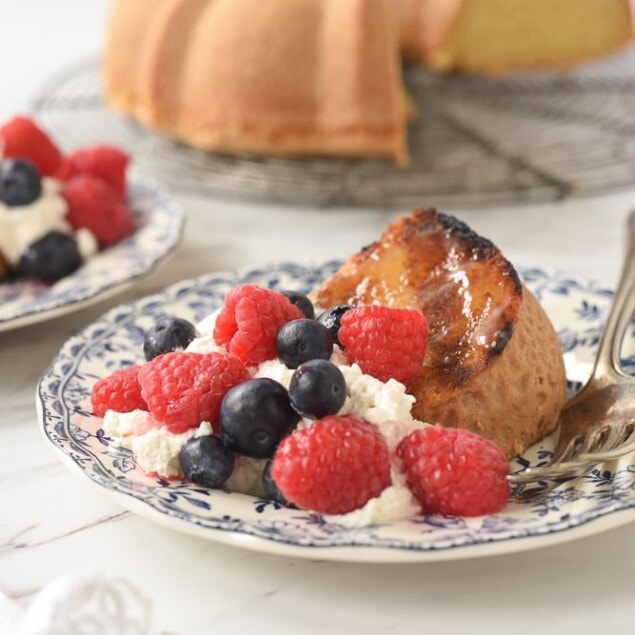 Pound Cake
This Pound Cake has a moist and tender texture and the flavor is off the charts thanks to brown butter and vanilla. We dressed it up by grilling it, adding lemon curd and a topping of fresh whipped cream and berries.
Ingredients
1 cup butter 2 sticks
2 cups sugar
5 large eggs
2-1/2 cups all-purpose flour
1/2 tsp baking powder
1/4 tsp salt
2 tsps vanilla extract*
1 cup whipping cream additional needed for topping
3 cups berries
lemon curd
butter to spread on cake prior to grilling
Instructions
Heat the butter in a saucepan over medium heat until it foams and turns golden brown (5 to 10 minutes). Set aside and cool. Don't let it solidify.

Add butter and sugar to the bowl of an electric mixer and beat 3 minutes.

Add eggs, one at a time, beating well after each addition.

Combine flour, baking powder and salt in a small bowl.

With mixer set at low speed, alternately add flour mixture and cream to butter mixture, beginning and ending with flour.

Stir in vanilla.

Pour batter into a tube or Bundt pan coated with non-stick vegetable spray and dusted with flour.

Place in a cold oven and set the temperature to 325°F; bake for 65-75 minutes, or until a wooden pick inserted into center of cake comes out clean. Remove from oven and cool in pan on a wire rack for 20 minutes; remove cake from pan to wire rack and cool completely.

Cut slices of cake and spread both sides with butter.

Grill until golden grill marks appear

Cover with a thin layer of lemon curd

Top with whipped cream, berries and a drizzle of lemon curd
Nutrition Facts:
Serving: 16g Calories: 487kcal (24%) Carbohydrates: 47g (16%) Protein: 4g (8%) Fat: 32g (49%) Saturated Fat: 19g (119%) Cholesterol: 163mg (54%) Sodium: 225mg (10%) Potassium: 112mg (3%) Fiber: 1g (4%) Sugar: 36g (40%) Vitamin A: 1175IU (24%) Vitamin C: 1.2mg (1%) Calcium: 54mg (5%) Iron: 0.9mg (5%)
* Disclaimer: All nutrition information are estimates only. Read full disclosure here.
Originally shared June 30, 2013