These Brown Butter Cookies are amazing. The brown butter in the frosting is the perfect way to dress up a sugar cookie and give it a deeper and richer flavor.
Other favorite recipes with brown butter try this Pasta Sauce, a delicious brown butter Cake, Chocolate Chip Cookies and Biscuits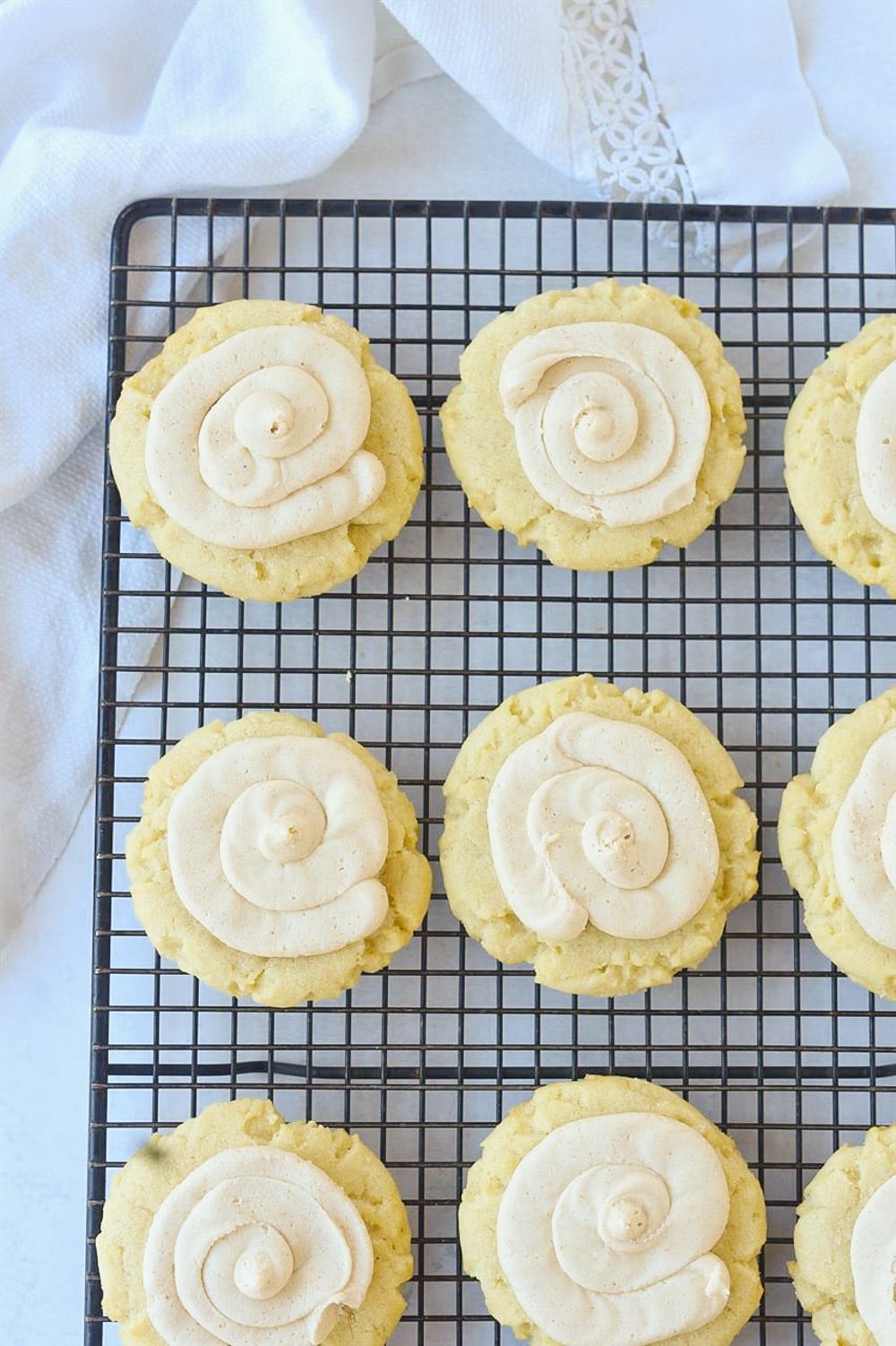 I am a sucker for anything with browned butter in its title or its list of ingredients. I have been on a bit of a brown butter kick this fall. You can find my post on and tips for making brown butter here.
Brown butter can transform your recipes and give your baked goods amazing flavor. You an use it in all kinds of recipes from pasta, vegetables, baked goods to sauces. It adds a depth of flavor and a subtle nuttiness to food that is delicious!
Brown Butter Cookie Recipe
The cookie part is basically a nice soft sugar cookie. I found that like a lot of sugar cookies this one was actually softer and just as good the second day. I don't know about the third day because we ate them all before then.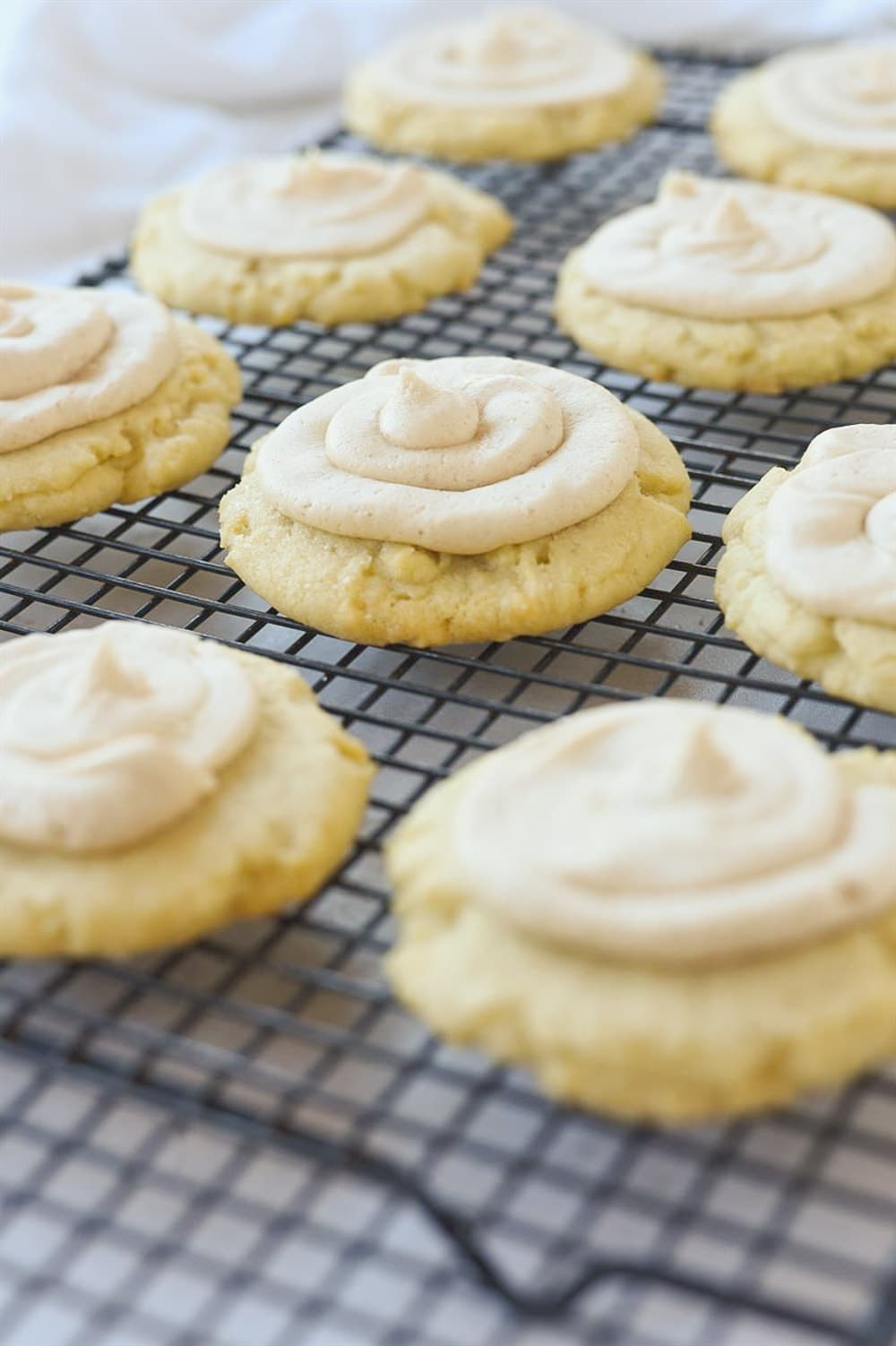 How to Make Brown Butter Sugar Cookies
Chill your dough. It only needs to chill for about an hour to help it firm up a bit.
Form dough into round balls. I like to use my favorite cookie scoop for this to make sure I get nice even sized cookies.
Dip the bottom of a glass into sugar, get it wet first so the sugar sticks.
Use the sugared bottom of the glass to press down on your ball of dough to flatten the cookie.
Bake the cookies on a parchment covered baking sheet at 350 degrees F for 8-10 minutes or just until the edges begin to turn golden brown.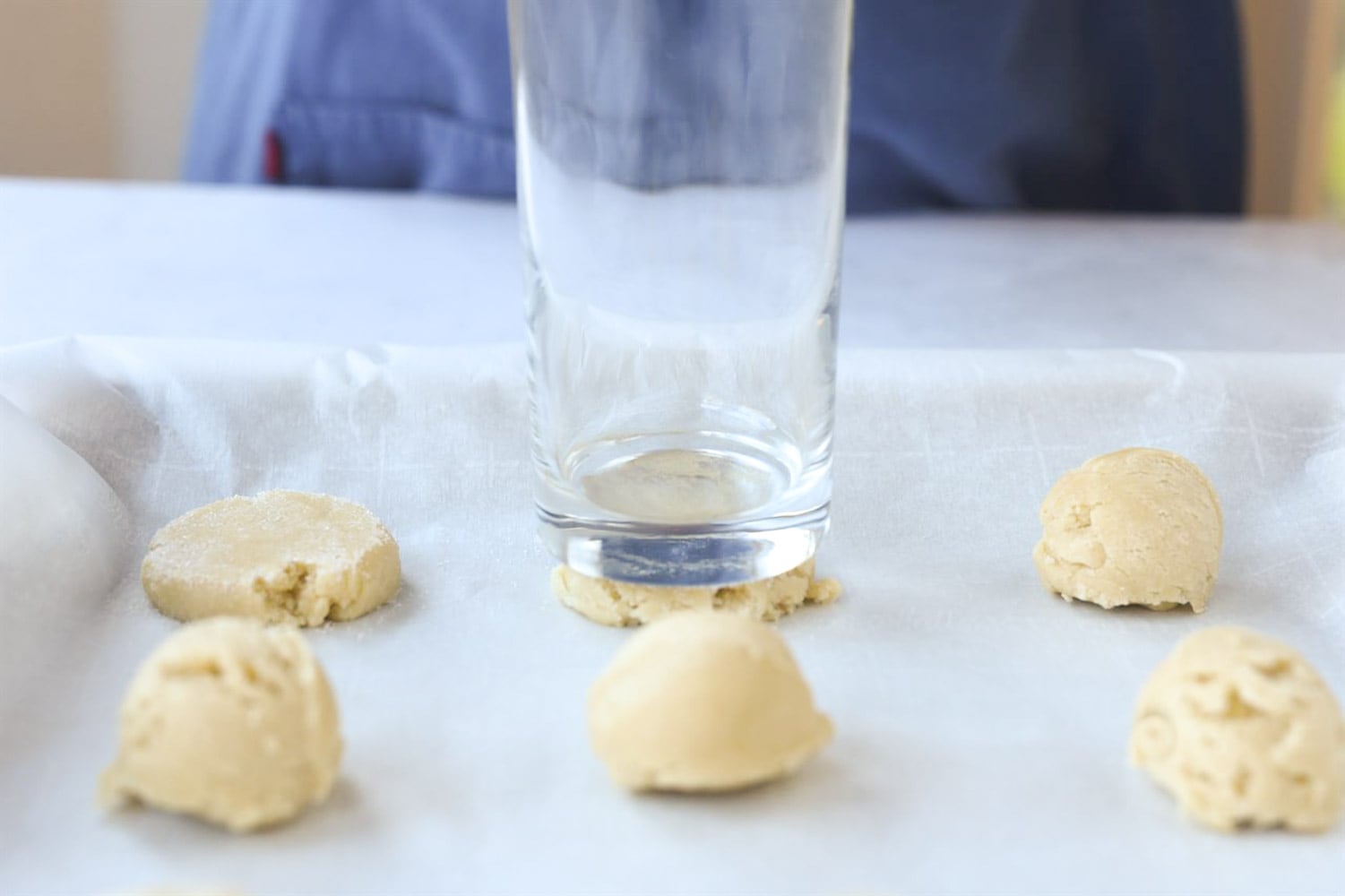 Brown Butter Frosting
But what makes this cookie so good and what caused me to eat way too many of them is the browned butter frosting!
Find a detailed tutorial on how to brown butter frosting here.
If you are a frosting fan like I am (that's why we eat cake right?) You are going to want to pile the frosting onto these cookies. I actually got out my cake decorating tips and piped it right on! Not only do you get more frosting that way but it looks prettier. I just used one of my big round tips.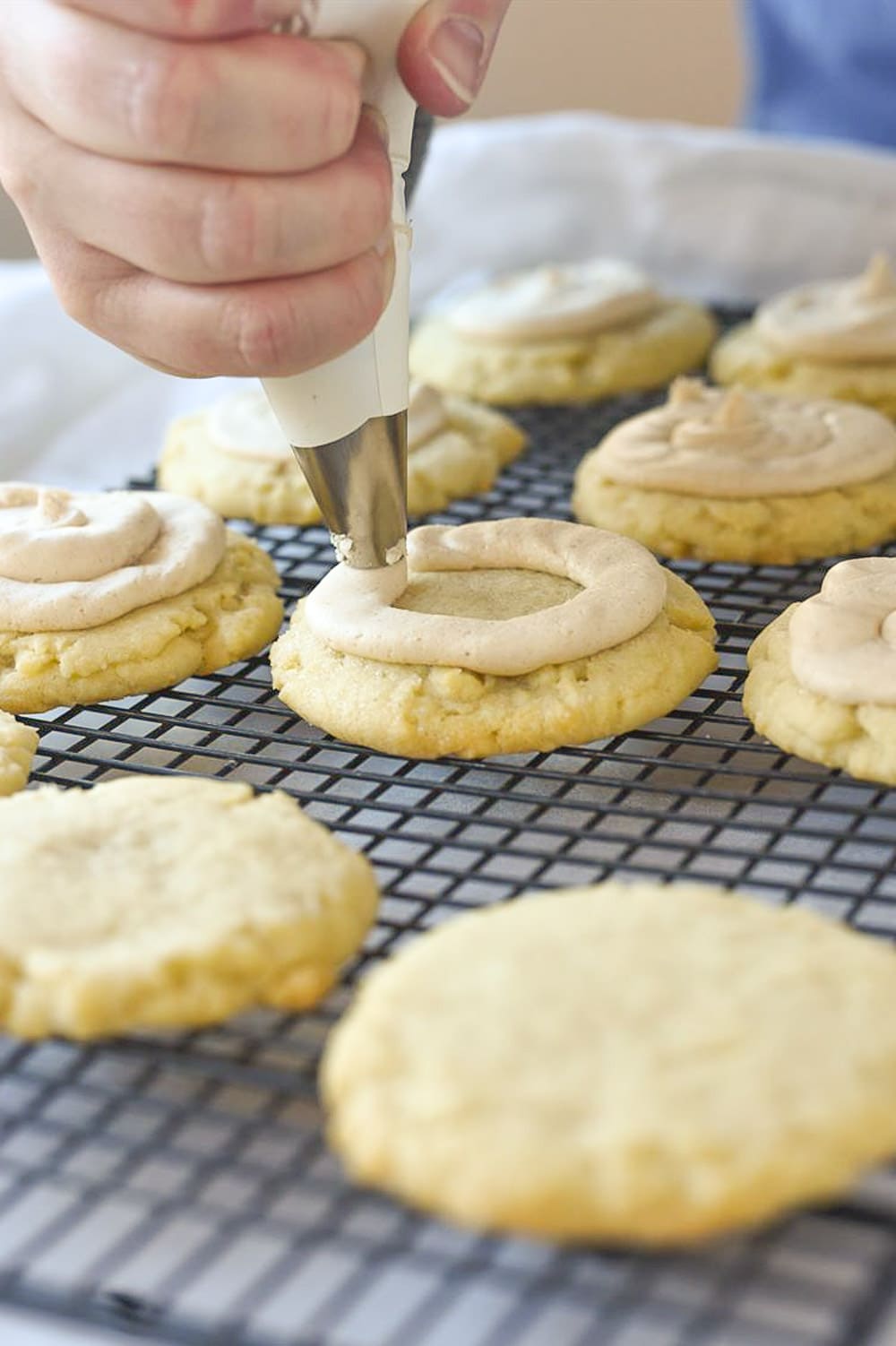 How To Store Brown Butter Cookies?
When stored in an airtight container they will last 3-4 days. They do not need to be refrigerated. I find the cookies actually taste better the second day. They can also be frozen for 2-3 months. For details on freezing cookies check out this post.
For all of my other favorite kitchen products and tools visit my Amazon Store. 
Did you know I wrote a cookbook? Check out the Holiday Slow Cooker Cookbook for 100 delicious recipes
Browned Butter Cookie Recipe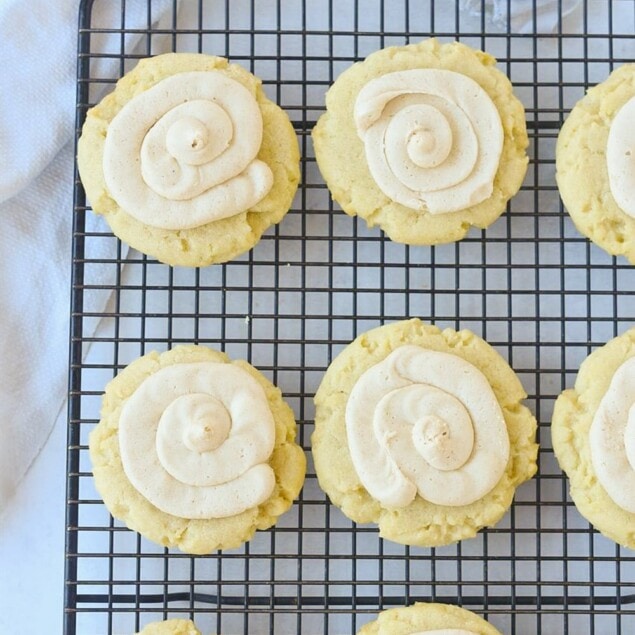 Browned Butter Cookies
These Brown Butter Cookies are amazing. The brown butter in the frosting is the perfect way to dress up a sugar cookie and give it a deeper and richer flavor.
Ingredients
1 cup butter softened
1 cup sugar
3 egg yolks
pinch of salt
1 1/2 tsp baking soda
1 1/2 tsp vanilla
2 1/3 cup flour
Browned Butter Frosting
1/2 cup butter
4 cup powdered sugar
1 tsp vanilla
1/2 cup heavy cream or 1/2 and 1/2
Instructions
Browned Butter Cookies:
Mix butter and sugar together in a bowl

Add in egg yolks, salt, soda and vanilla

Stir in flour and mix until combined

Chill dough on a cookie sheet for about 1 hour in the refrigerator

Form dough into one inch balls

Dip the bottom of a drinking glass into sugar and then press the ball of dough flat (about 1/4 inch) Bake cookies on an ungreased cookie at 350 degrees for 8-10 minutes or until lightly golden

Allow to cool on cookie sheet for a minute and then remove to a cooling rack
Browned Butter Frosting:
In a small pan brown butter over medium heat, watch closely

It will foam up and then begin to turn golden brown, flecks will appear at the bottom of the pan.

Stir often to make sure it browns evenly

Remove from heat and cool slightly

Add in powdered sugar, vanilla and cream

Beat in mixer on medium high until it has a creamy texture

Frost cooled cookies
Nutrition Facts:
Calories: 264kcal (13%) Carbohydrates: 38g (13%) Protein: 2g (4%) Fat: 12g (18%) Saturated Fat: 8g (50%) Cholesterol: 55mg (18%) Sodium: 172mg (7%) Potassium: 18mg (1%) Fiber: 1g (4%) Sugar: 28g (31%) Vitamin A: 387IU (8%) Calcium: 8mg (1%) Iron: 1mg (6%)
* Disclaimer: All nutrition information are estimates only. Read full disclosure here.
Originally posted January 28, 2011