These are not your regular chocolate chip cookies. Brown Butter Chocolate Chip Cookies have two special ingredients that give them a deep, rich flavor and will make you say "Wow!"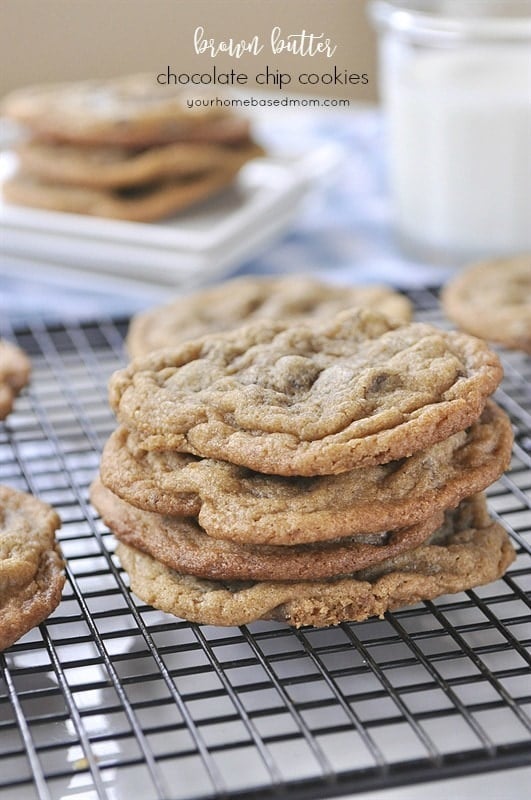 If you have read my blog for any period of time, you know how I feel about chocolate chip cookies.  I love them and I am constantly trying new recipes although only a select few actually make it to the blog.  You can rest assured if I post a chocolate chip cookie recipe, it's a good one.
So how many chocolate chip cookies does one person really need. Probably just one as long as it is the Best Chocolate Chip Cookie recipe but that being said there is always room for one more chocolate chip cookie recipe! At least at our house there is. Variety is the spice of life!!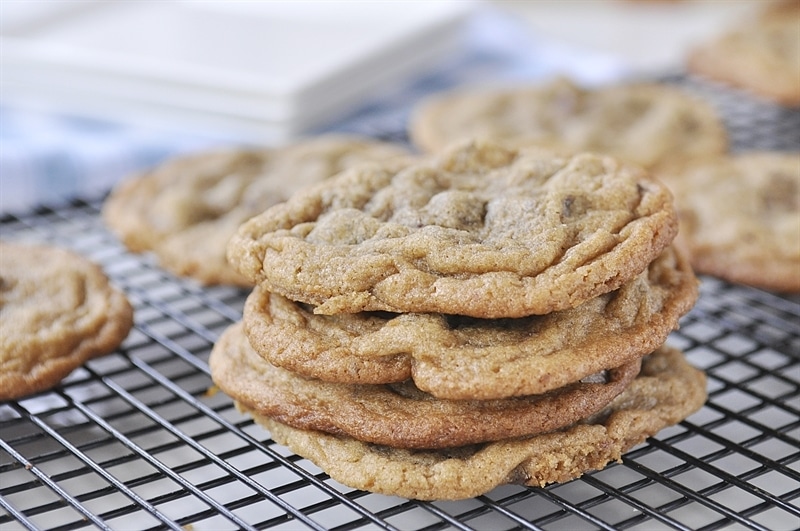 Brown Butter Chocolate Chip Cookies
This recipe has two special ingredients that sets it apart and makes it different than your average joe chocolate chip cookie recipe. The ingredients are brown butter and dark brown sugar. I am a huge fan of brown butter and the amazing flavor and richness it adds to a recipe. These Browned Butter cookies are one of my favorites when it comes to non-chocolate chip cookies. I also love to add brown butter into frosting and this Blueberry Buttermilk Coffee Cake with Brown Butter Glaze is amazing too.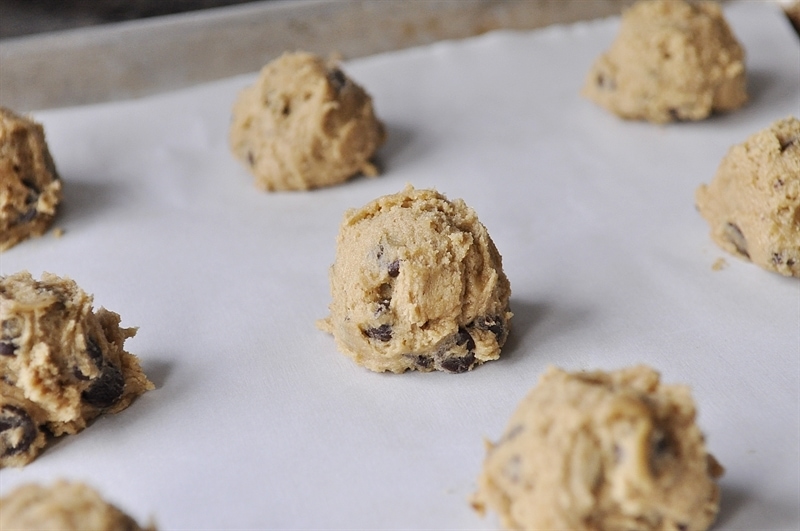 How to Make Brown Butter
Find a full tutorial on how to make brown butter here.
To make brown butter just put your butter into a skillet over medium high heat until melted.
Continue cooking, stirring often until the butter turns golden brown. It will foam up and will get a nutty aroma.
For this recipe, after the butter is browned, you add in some additional butter after it is removed from the heat and just stir it until it melts. You want the brown butter golden, not dark brown.
Watch it carefully and stir often because it can become burned butter pretty quickly.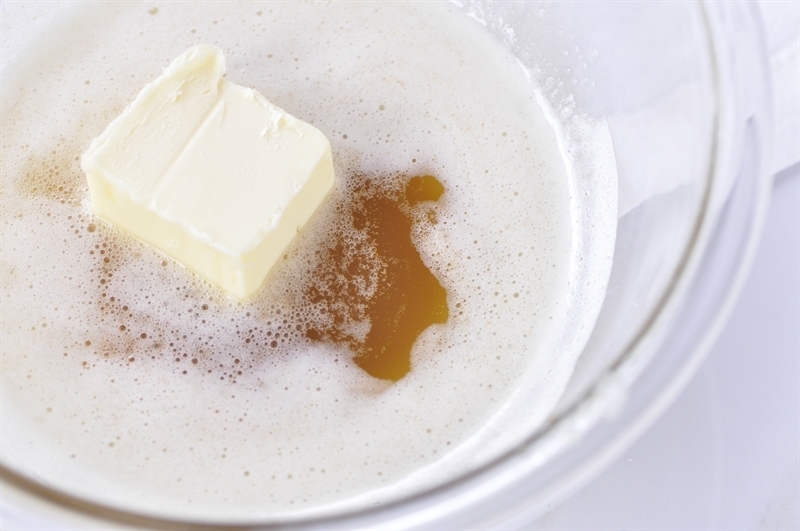 This recipe also has some unique directions for combining the butter with the sugar and egg. The mixing instructions really help the sugar to incorporate and give the cookie a nice texture.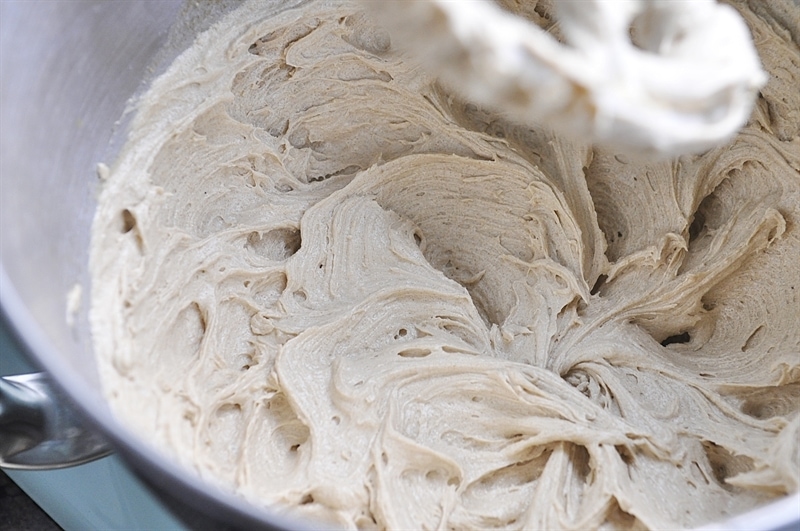 Besides the flavor of these cookies I love the texture. You want to bake them until the edges are golden brown and beginning to set but the center of the cookie is still soft. This gives you a cookie that is crispy on the edges and nice and chewy in the middle – just what a chocolate chip cookie should be in my book.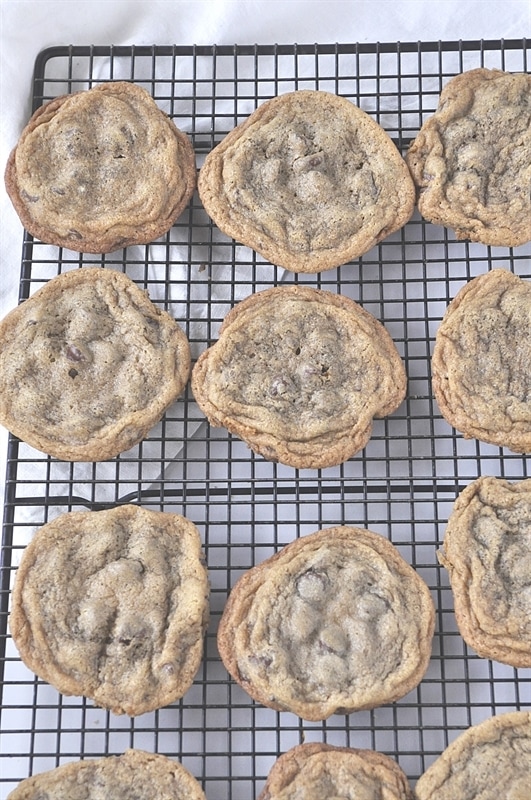 Pretty much the only thing left to do is grab a nice glass of cold milk and a cookie or two, or three….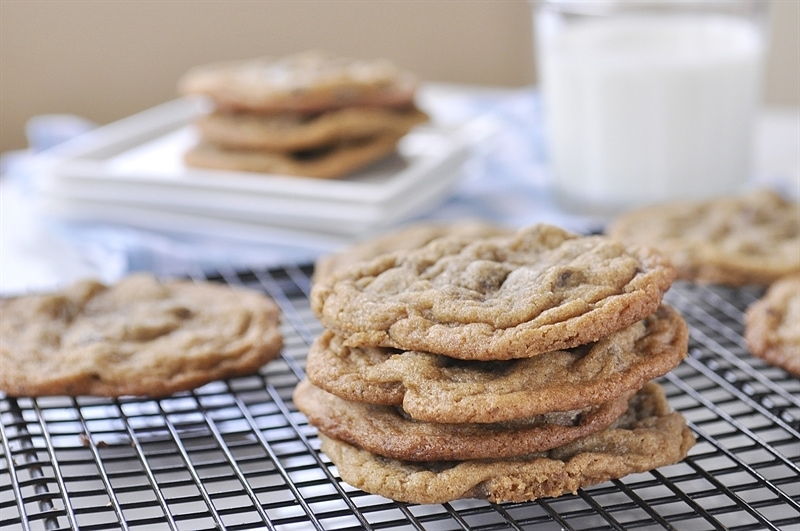 For all of my other favorite kitchen products and tools visit my Amazon Store.
Did you know I wrote a cookbook? Check out the Holiday Slow Cooker Cookbook for 100 delicious recipes.
Brown Butter Chocolate Chip Cookie Recipe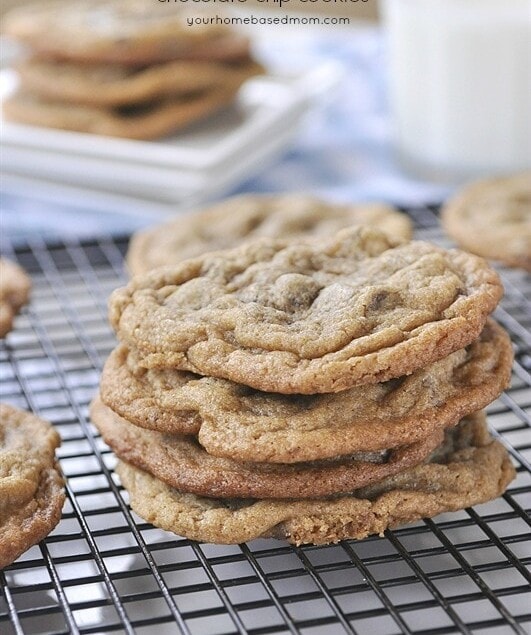 Brown Butter Chocolate Chip Cookies
Chocolate chip cookies with a delicious, deep flavor of brown butter.
Ingredients
1 3/4 C all purpose flour
1/2 tsp baking soda
14 Tbsp butter divided
1/2 C granulated sugar
3/4 C packed dark brown sugar
1 tsp salt
2 tsp vanilla extract
1 large egg
1 large egg yolk
1 1/2 C semi sweet chocolate chips
Instructions
Preheat oven to 375 degrees F.

Cover baking sheets with parchment paper.

Melt 10 Tbsp butter in a skillet over medium high heat until melted. Continue cooking and stirring the butter until it turns dark golden brown and has a nutty aroma. About 1-3 minutes.

Remove from heat and put into mixer bowl. Add in remaining 4 Tbsp butter and stir until melted.

Add in sugars, salt and vanilla and stir to incorporate.

Add egg and egg yolk and stir until smooth, about 30 seconds.

Let mixture stand for 3 minutes, then beat for 30 seconds.

Repeat process of resting and mixing 2 more times until mixture is thick, smooth and shiny.

Stir in flour and baking soda and mix until combined.

Stir in chocolate chips.

Scoop dough into balls and place on baking sheet.

Bake for 8-10 minutes until cookies are golden brown and still puffy, edges will have begun to set but center will be soft.

Cool cookies on rack.
Nutrition Facts:
Calories: 118kcal (6%) Carbohydrates: 11g (4%) Protein: 1g (2%) Fat: 8g (12%) Saturated Fat: 5g (31%) Cholesterol: 17mg (6%) Sodium: 124mg (5%) Potassium: 52mg (1%) Fiber: 1g (4%) Sugar: 6g (7%) Vitamin A: 148IU (3%) Calcium: 8mg (1%) Iron: 1mg (6%)
* Disclaimer: All nutrition information are estimates only. Read full disclosure here.
Recipe from Cooks Illustrated.