Brown Butter Pasta is so decadent and flavorful that you will be surprised how easy it is to pull together. The combination of garlic, spinach, tomato, hazelnuts and brown butter sauce is unforgettable. The perfect meatless dinner option.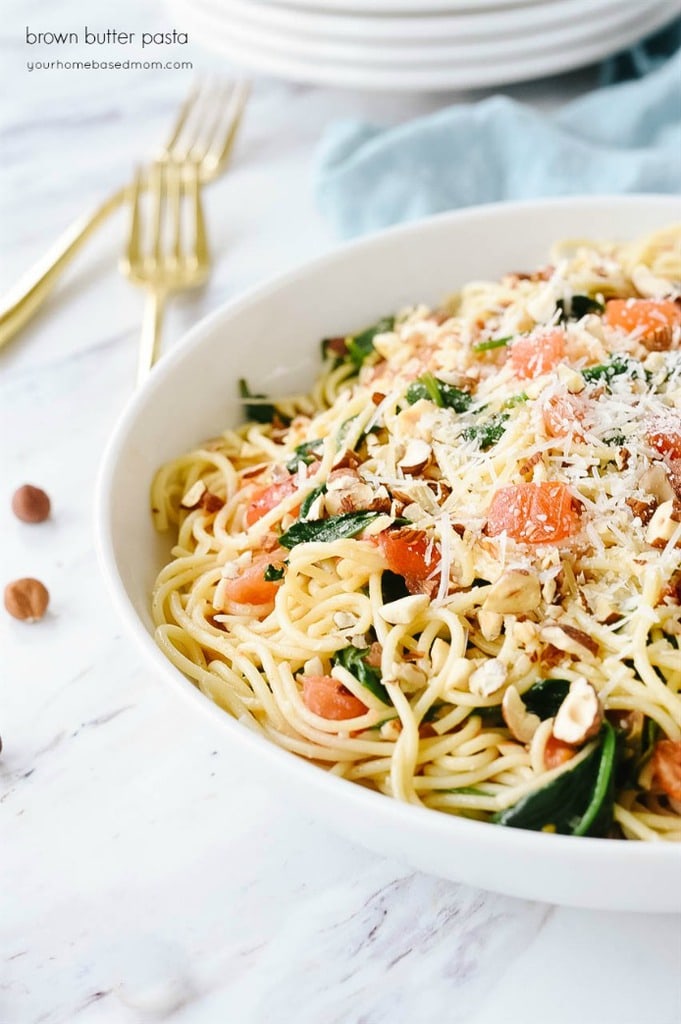 I have always been one of those moms that usually fixes a big dinner on Sunday, but this Sunday I just wasn't in the mood. It had been a busy week and I hadn't planned very well. I had to make due with what I had in the house, so I got a bit creative.
Then I remembered this yummy brown butter pasta dish I had had at a local restaurant several years ago that used a brown butter sauce, tomatoes, hazelnuts, garlic and spinach so I decided to recreate that for our dinner.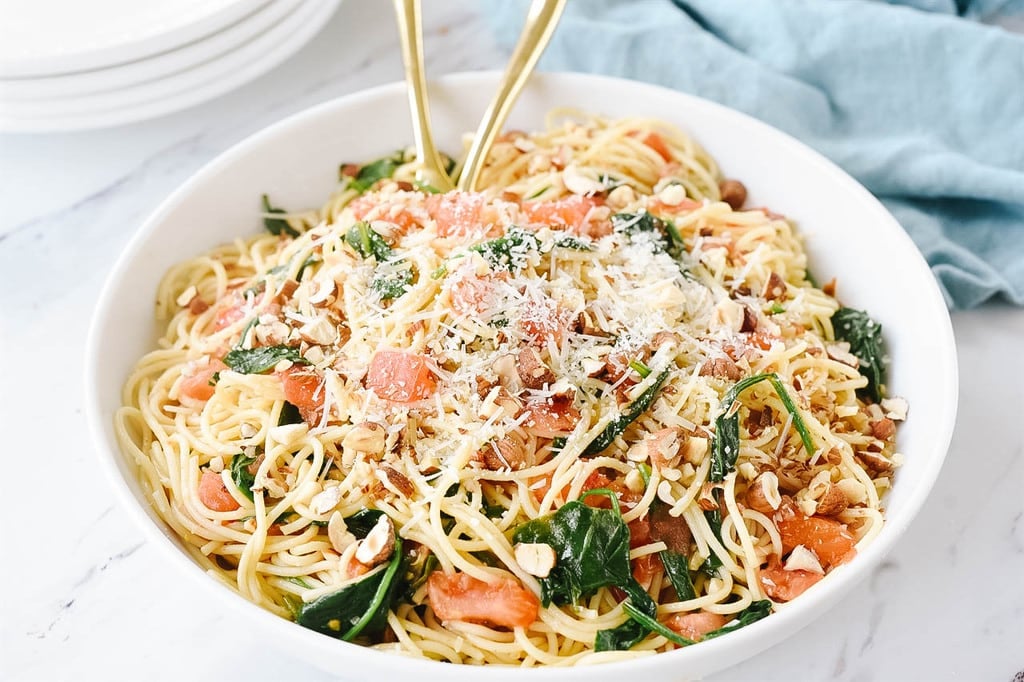 Because I am an Oregonian I had some toasted hazelnuts in my pantry. Hazelnuts are the State nut for Oregon. Does your state have an official nut?? My hazelnuts came from the bulk section of Winco but you can usually find them in the baking aisle too. If you can't find hazelnuts, walnuts. make a great substitute.
How to Brown Butter
You can find a detailed tutorial on how to brown butter here.
When browning butter, heat it over medium heat. I like to use a light colored pan so that you can see the change in color more easily. (Even though I used a dark pan in the photo!) It can go from browned to burnt quickly so keep a close eye on it. Stir it constantly until it starts to turn golden brown and then remove it from the heat.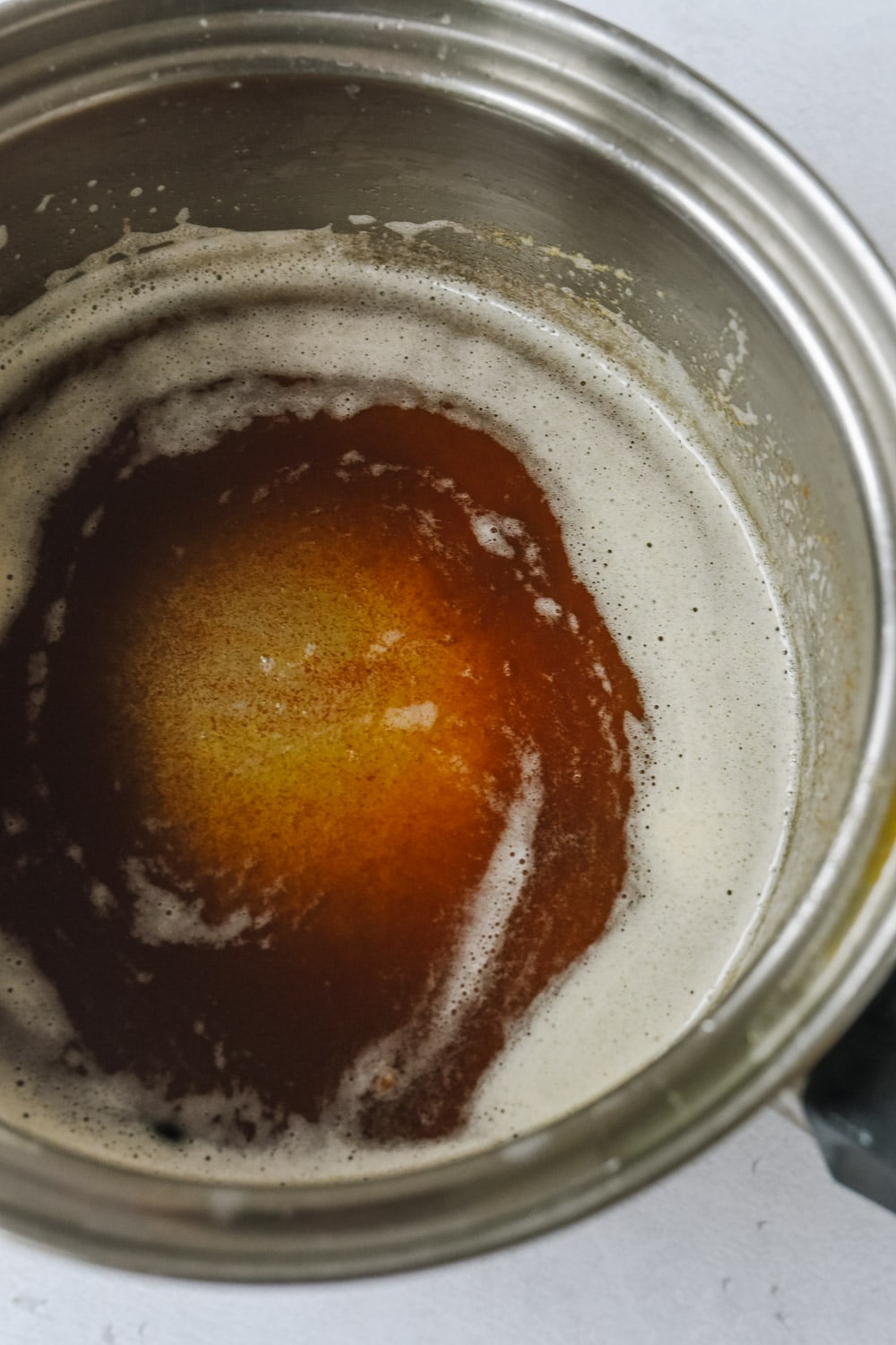 The butter will get really foamy and then start turning brown. Don't worry if there is sediment in the bottom of the pan that is fine, you can strain it off if you want but I just always add it in.
After it is browned I pour it into a bowl so that it doesn't continue to cook in the hot pan.
Brown butter will get a yummy nutty smell to it as it turns golden brown.
Brown butter can be made ahead of time and then refrigerated until you are ready to use it.
After making the brown butter, I then sauted some garlic in some olive oil and added in two handfuls of fresh spinach. As soon as it starts to wilt, add in the chopped fresh tomato. Then add in the precooked pasta, the nuts and the browned butter and stir.

The pasta is then topped off with some freshly grated Parmesan cheese and dinner is ready.  Dinner doesn't get much easier or more delicious than this!
Another quick tip: I often will precook my pasta the night before or morning of so it is ready to go. Just cook it al dente (still a little firm) and then put it in a strainer and run water over it to remove the starch. Then put it into a zip loc bag and refrigerate it. When you are ready to use it, put it back in the strainer and run some warm water over it and it's ready to eat! Just add it into your browned butter sauce.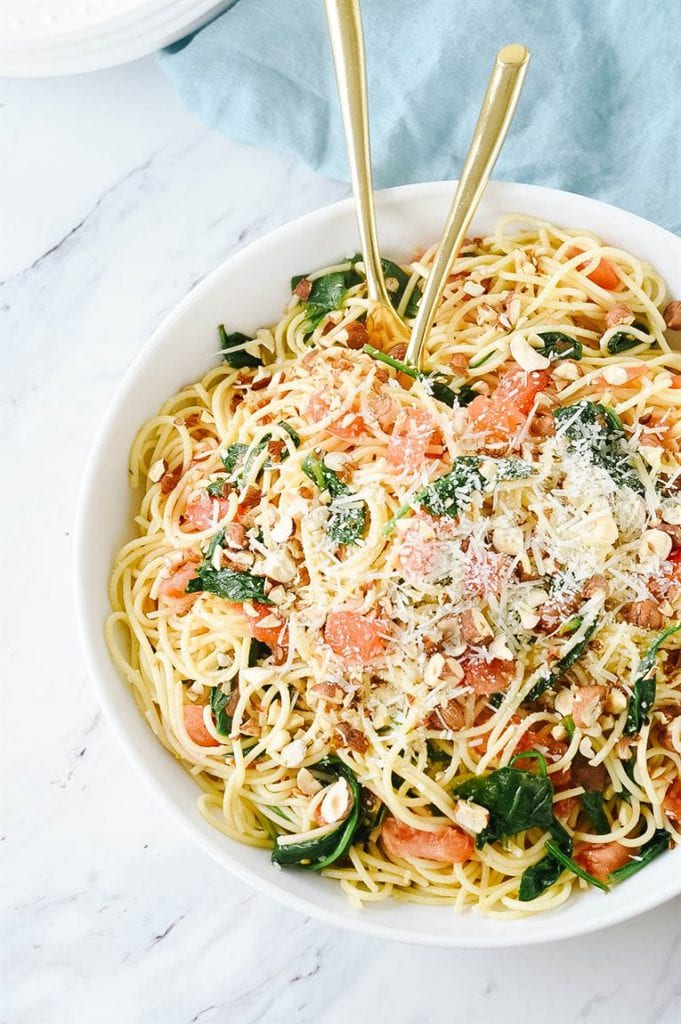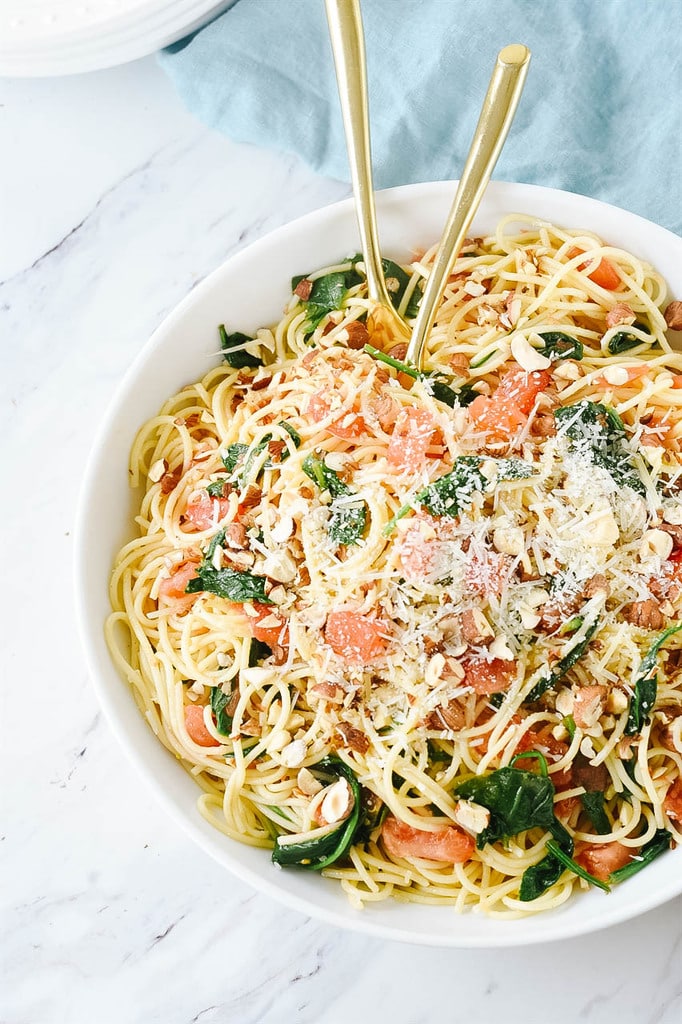 I love the flavor of browned butter on just about anything but it is especially delicious on pasta. A nice change too from a traditional red or alfredo sauce. Not bad for a last minute, throw together kind of dinner. So what are you making for dinner tonight?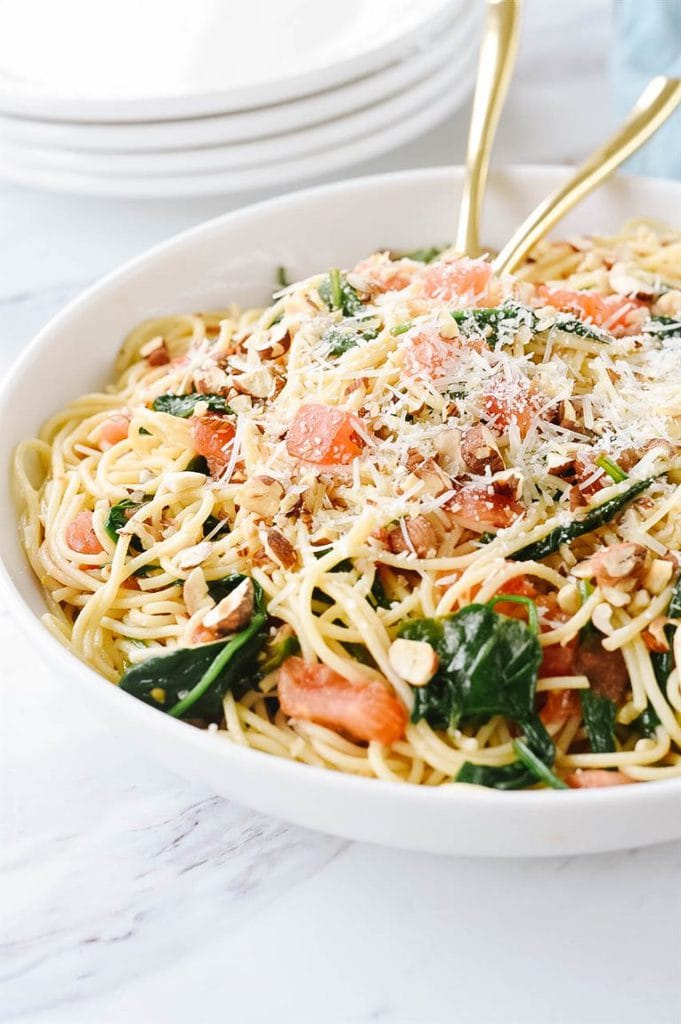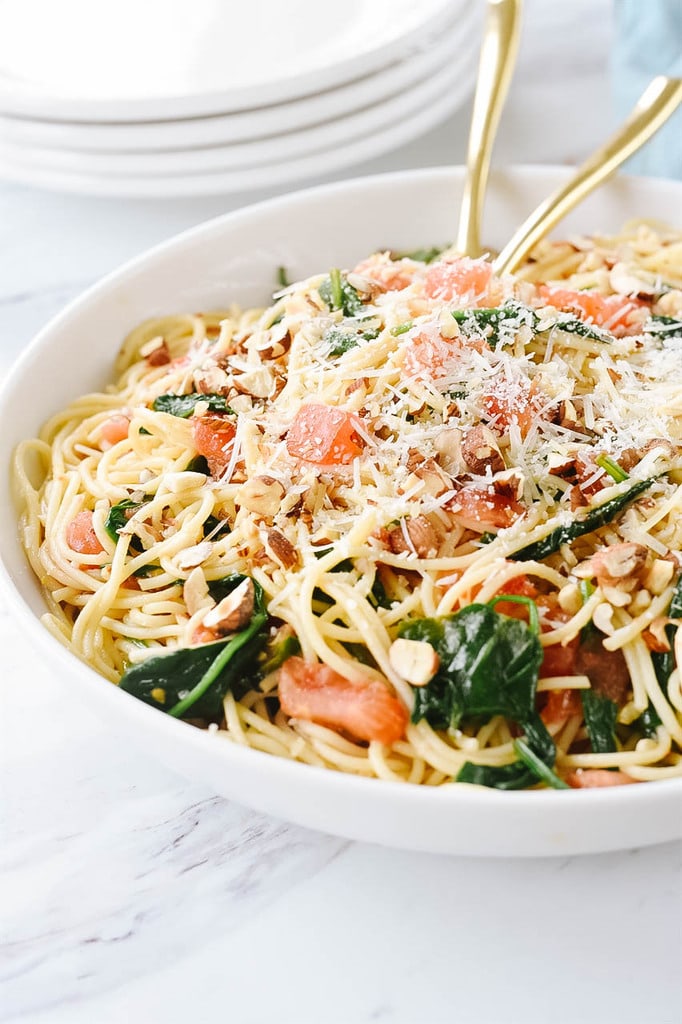 Some other ways I like to use brown butter.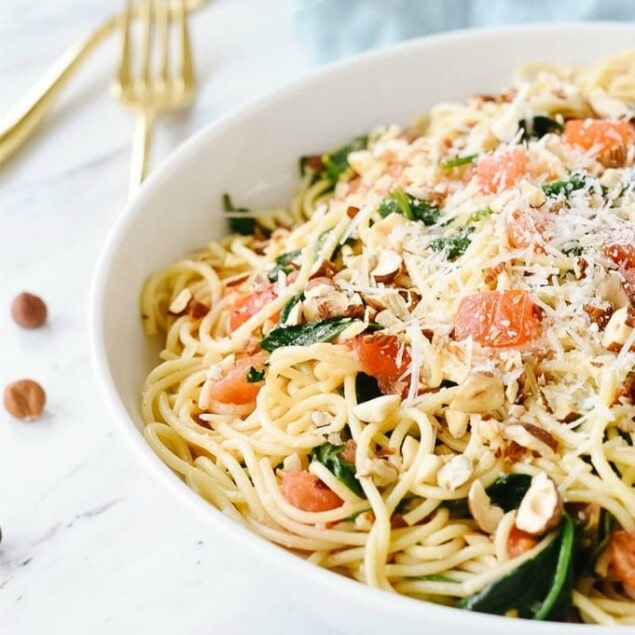 Brown Butter Pasta Recipe
The combination of garlic, spinach, tomato, hazelnuts and brown butter sauce is unforgettable. The perfect meatless dinner option.

Ingredients
1/2 C butter
2 handfuls of baby spinach
1 clove garlic minced
1 C chopped tomatoes
1/2 C Parmesan cheese grated
1/2 C hazelnuts toasted and chopped
8 oz. pasta cooked
1 tsp olive oil
salt and pepper
Instructions
Brown the butter in a pan, watch closely so it doesn't burn. Should be golden and smell wonderful. Remove from heat and set aside.

Add olive oil to pan and saute garlic.

Add spinach. Cook just until it starts to wilt.

Add in tomatoes and cook for 2-3 minutes.

Add cooked pasta and and browned butter to pan. Toss to distribute evenly.

Sprinkle with hazelnuts and cheese.

Salt and pepper to taste
Nutrition Facts:
Serving: 4g Calories: 579kcal (29%) Carbohydrates: 48g (16%) Protein: 15g (30%) Fat: 37g (57%) Saturated Fat: 17g (106%) Cholesterol: 69mg (23%) Sodium: 498mg (22%) Potassium: 394mg (11%) Fiber: 4g (17%) Sugar: 3g (3%) Vitamin A: 1580IU (32%) Vitamin C: 8.8mg (11%) Calcium: 210mg (21%) Iron: 2.3mg (13%)
* Disclaimer: All nutrition information are estimates only. Read full disclosure here.
Originally posted Oct. 3, 2012