Spice up your typical spaghetti dinner with this easy and delicious baked spaghetti.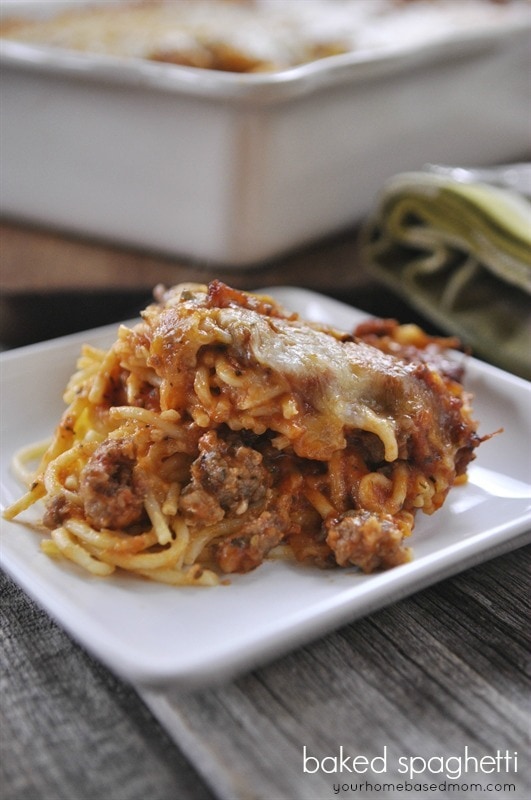 Spaghetti is one of my favorite childhood food memories.  It was one of my mom's go to meals when we were growing up.  Today's recipe is a fun twist on my favorite homemade Spaghetti and Meat Sauce.  Instead of the usual ground beef, I spice it up with some ground Italian sausage.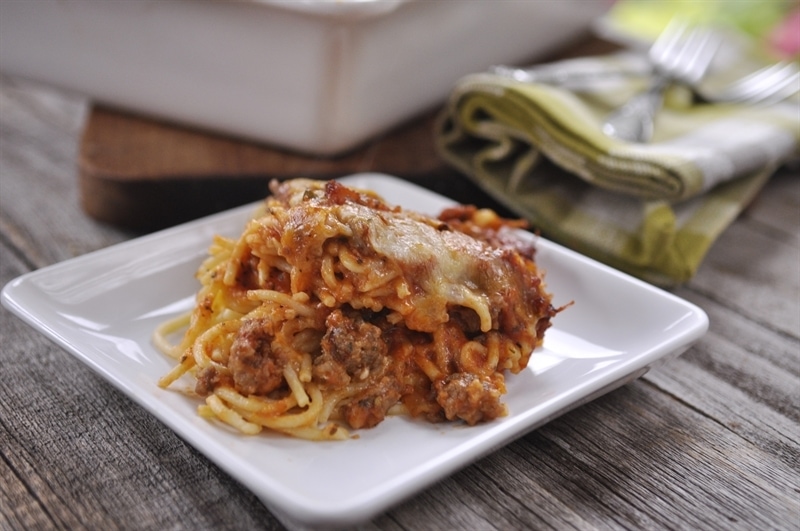 Baked spaghetti is easy, delicious and fun to eat.  The process is simple and can easily be done ahead of time and refrigerated to make dinner time easier.  It is layered with spaghetti noodles, cheese and meat sauce.  This recipe does use small curd cottage cheese and I have to tell you I am NOT a fan of cottage cheese, but I promise you will never know there is cottage cheese in this!
How to make Baked Spaghetti
First, using the recipe below, make the meat sauce.  Once finished, cook your spaghetti noodles to an al dente stage.  Not too soft.  You don't want them getting mushy when you bake them in the oven.
Once the noodles are cooked, layer half of the noodles in the bottom of a greased pan.  Then layer in half of the meat sauce mixture.  Followed by all of the cottage cheese and half of the shredded cheese.  Then do the same thing all over again.  Layer in the remaining noodles, followed by the meat sauce and topping it off with the remainder of the grated cheese.
At this point you can put it in the refrigerator to bake later in the evening or even the next day.  Or put it right in the oven.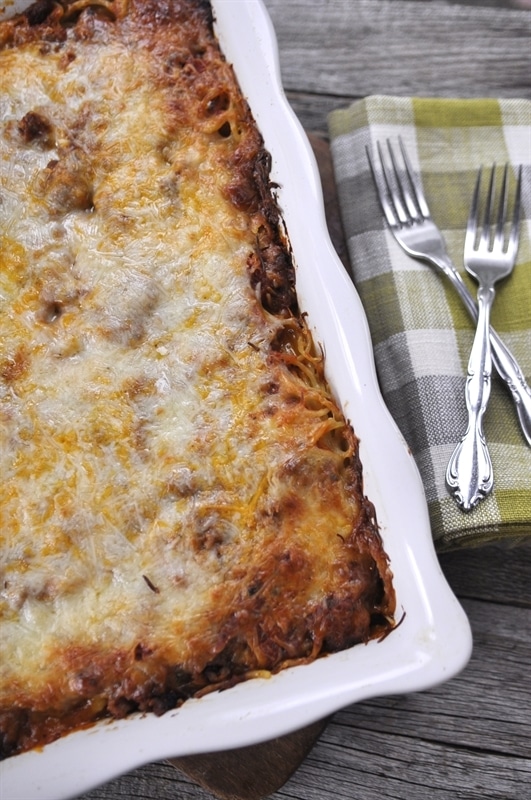 I bake it covered with foil for part of the time and then remove it near the end so the cheese can crisp up  (my favorite part!)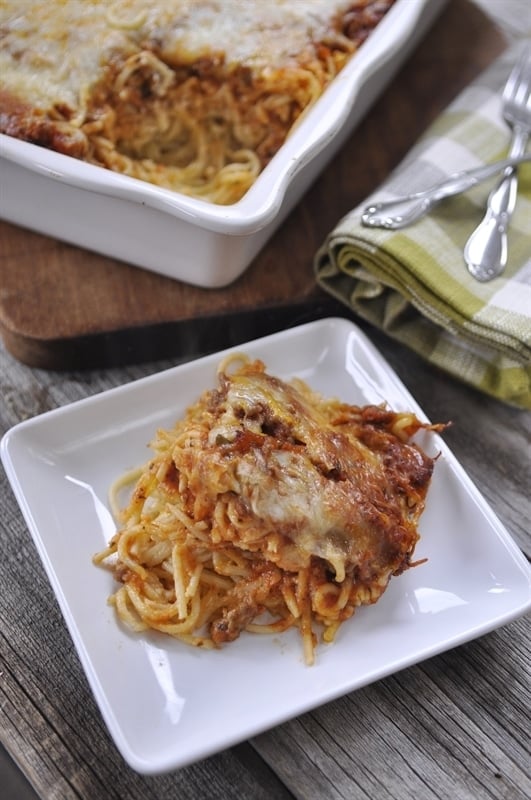 You can use a big spoon to serve it or cut it into pieces with a knife and scoop it out with a spatula.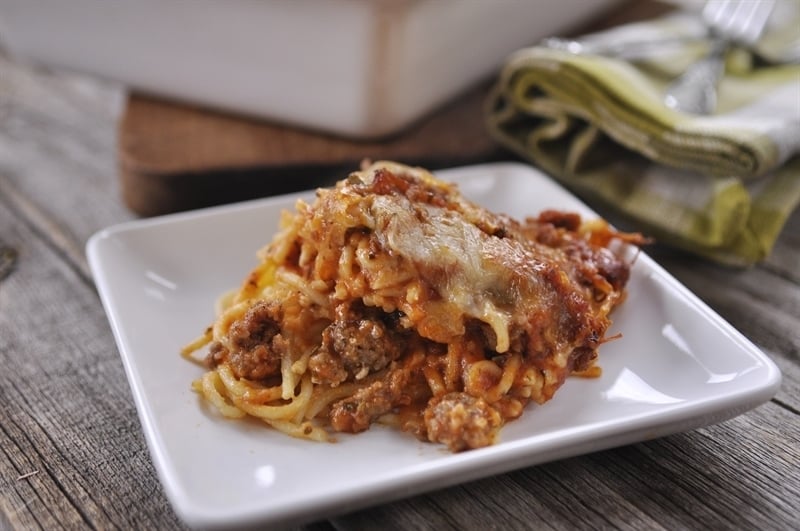 And the final step?  Serve and enjoy!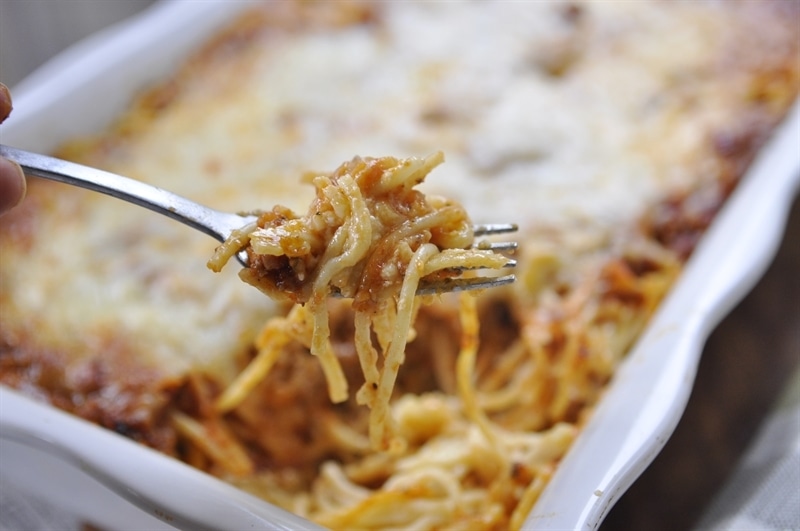 Baked Spaghetti Recipe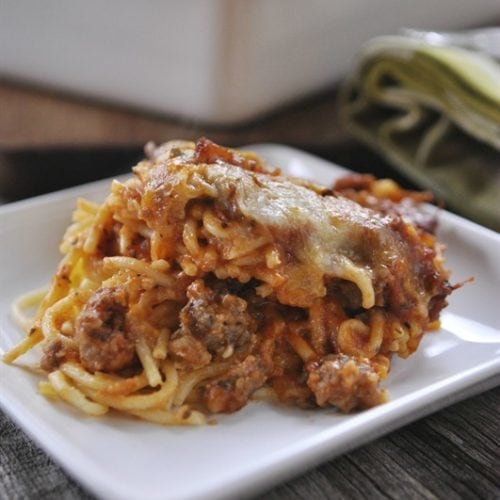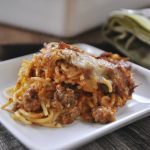 Print
Baked Spaghetti
Ingredients
1

lb.

spaghetti noodles

1

lb.

mild Italian sausage

1

C

onion

chopped

1

jar

32 oz. of your favorite meatless spaghetti sauce or homemade version

1/2

tsp

seasoned salt

1

tsp

sugar

1/3

C

grated Parmesan cheese

2

eggs

4

Tbsp.

butter

melted

1

C

small curd cottage cheese

2

C

shredded mozzarella cheese

2

C

Italian blend shredded cheese

I used Monterey Jack and Colby

1

tsp

basil

1/2

tsp

oregano

1

tsp

parsley
Instructions
Preheat oven to 350 degrees

Grease a 9 x 13 pan

Cook spaghetti in boiling water until al dente.

In a large pan cook sausage and onion until meat is browned and onion is soft. Drain

Stir in spaghetti sauce and seasoned salt and sugar if you'd like sauce a bit sweeter like I do.. If using a store bought sauce I like to add some extra spice - add in basil, oregano and parsley.

Mix together eggs, Parmesan cheese and butter in a bowl.

Mix in spaghetti noodles and stir to coat.

Place half of noodles in bottom of baking dish

Top with cottage cheese and half of the other two cheeses.

Top that with half of meat sauce.

Place remaining noodles on top.

Top with remaining meat sauce.

Top with remaining cheese.

Cover with foil and bake for 35 minutes.

Remove foil and continue to bake until cheese is melted and golden brown. About 20 minutes
Get my Weekly Menu Plan for FREE!
Receive my FREE "What's for Dinner?" Meal Planning Course, a copy of my FREE ebook that includes my most popular recipes and my FREE weekly Meal Plan.