Brown Butter Cake is moist and full of amazing flavor and takes your cake baking to the next level thanks to the browned butter.
I love brown butter in and on just about everything including this Brown Butter Pasta, Easy Brown Butter Ravioli, Brown Butter Chocolate Chip Cookies.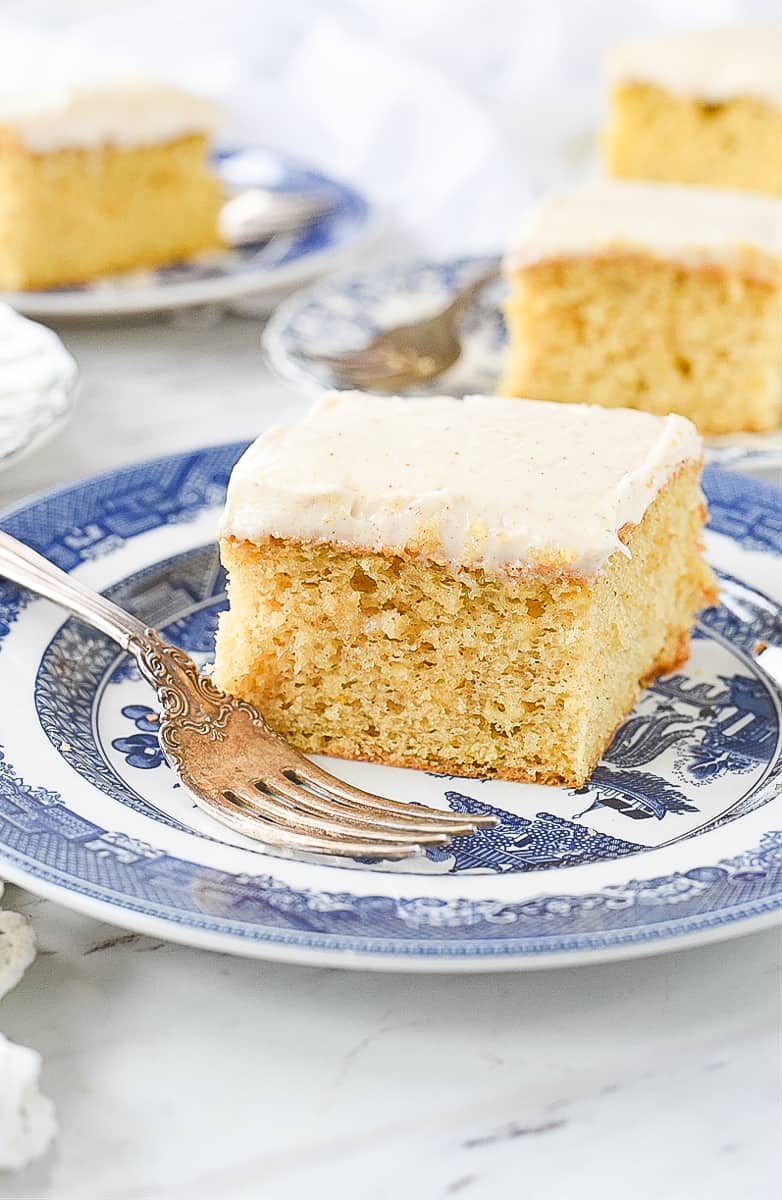 This brown butter cake has amazing flavor. The cake is light and tender and the frosting is creamy and rich. A perfect combo. The secret ingredient to the cake and the frosting is browned butter. As far as I am concerned, the only thing that tastes better than butter, is browned butter!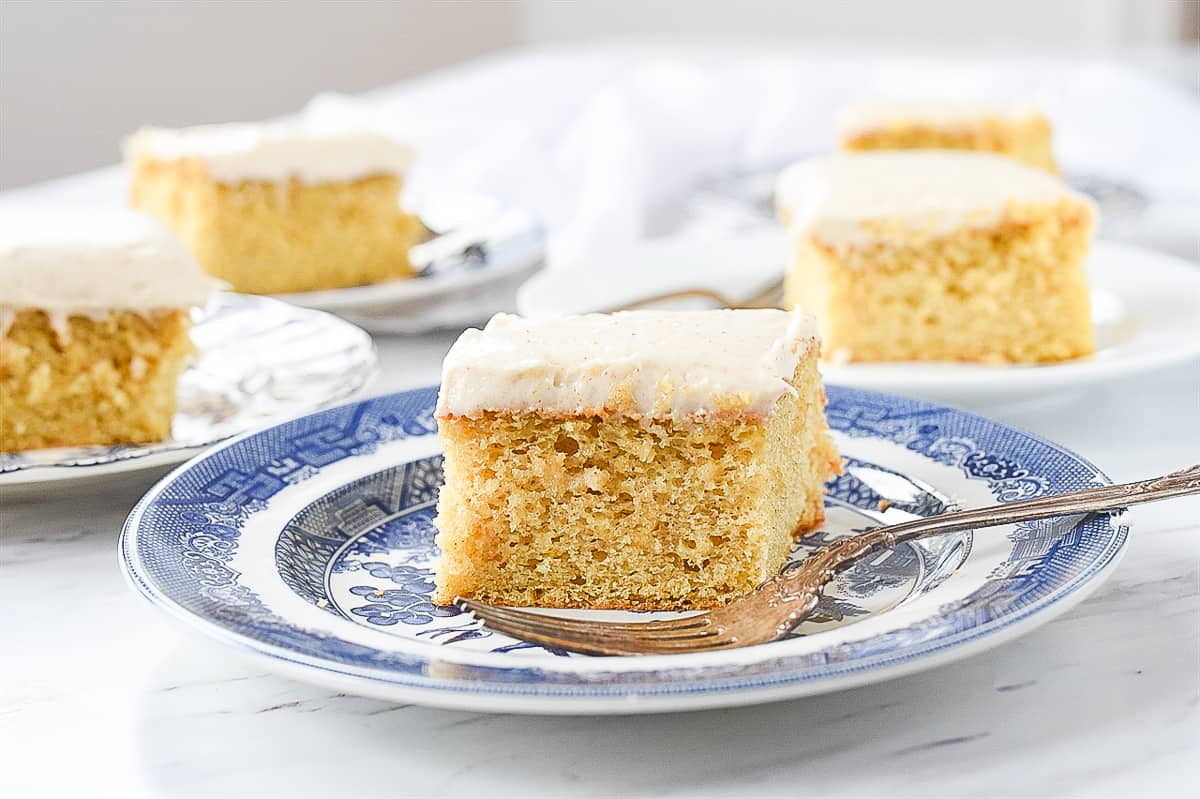 What is Brown Butter?
Brown butter is butter that is cooked until the fat and milk solids in the butter separate and the milk solids turn brown. This process happens pretty fast and you can easily burn it and end up with black or burnt butter! Be sure and keep an eye on it.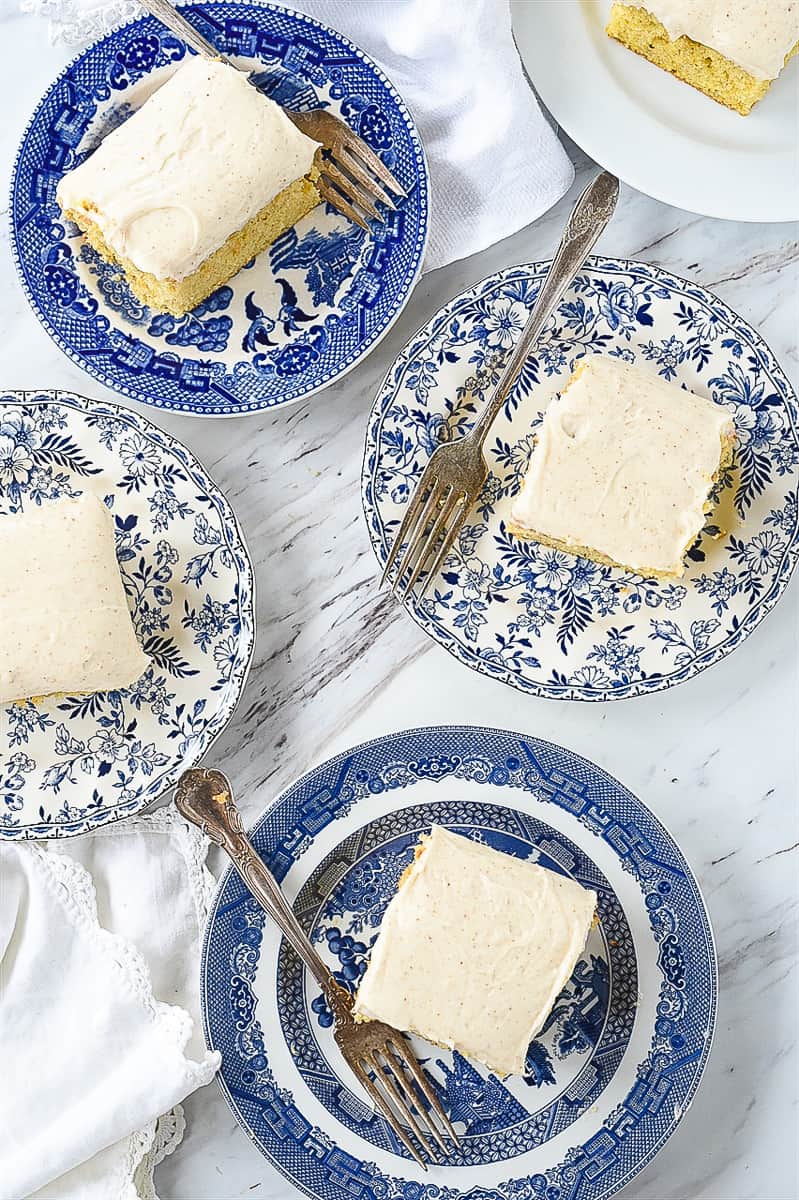 You can find a detailed tutorial on how to make brown butter here.
How to Make Brown Butter
Place butter into a saucepan over medium heat. Stir constantly. The butter will melt, get foamy and bubble and then start to turn golden brown. Remove the pan from the heat as soon as it just starts to turn golden brown, if you don't you will have burned butter cake! It can go from browned to burned in a few seconds.
You will be dividing the browned butter into equal portions between the cake and the frosting.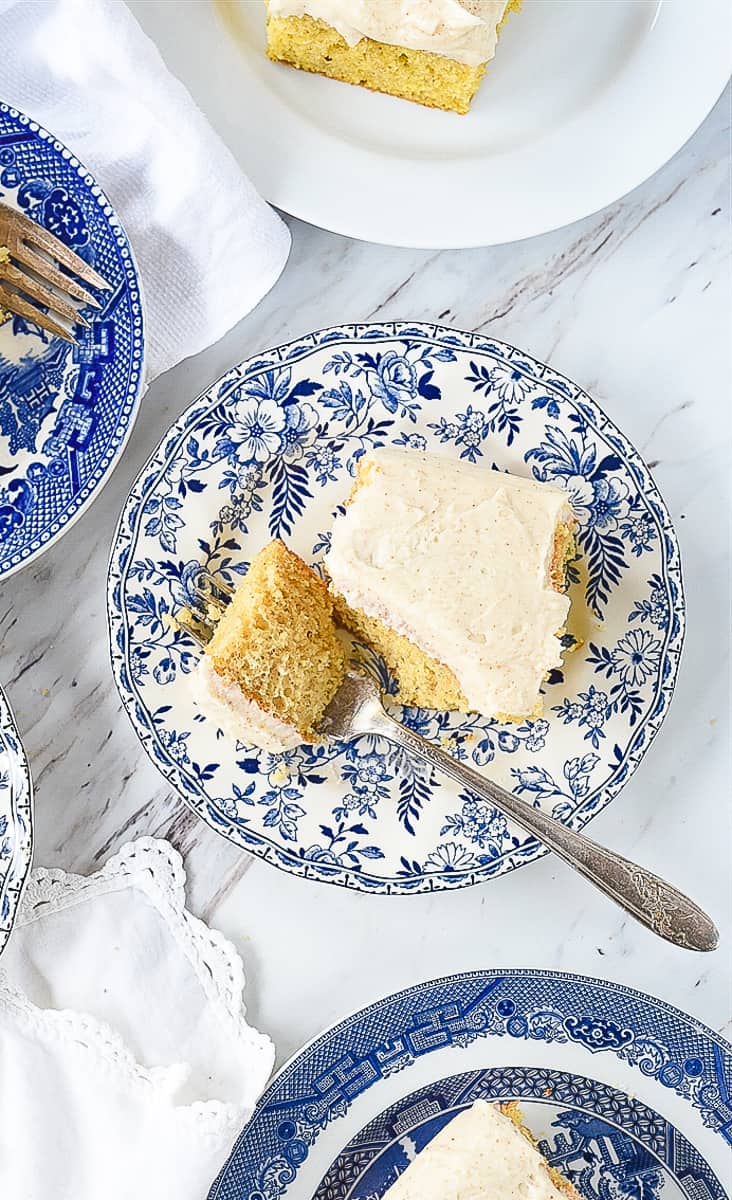 How to Make Brown Butter Cake
This cake starts with a yellow cake mix. Do not add in the ingredients on the back of the cake mix box. Instead, add in browned butter, water, eggs and cinnamon listed below. It will give you a lovely light and tender cake.
Bake the cake in a greased 9 x 13 pan. Bake at 350 degrees F for about 30 minutes or until a toothpick comes out clean.
The frosting also has browned butter in it which makes it the best part of the cake as far I'm concerned. Don't get me wrong, the cake is delicious but the frosting is amazing!!
Be sure the brown butter is cooled before adding it in with the other frosting ingredients.
Allow the cake to cool completely before frosting.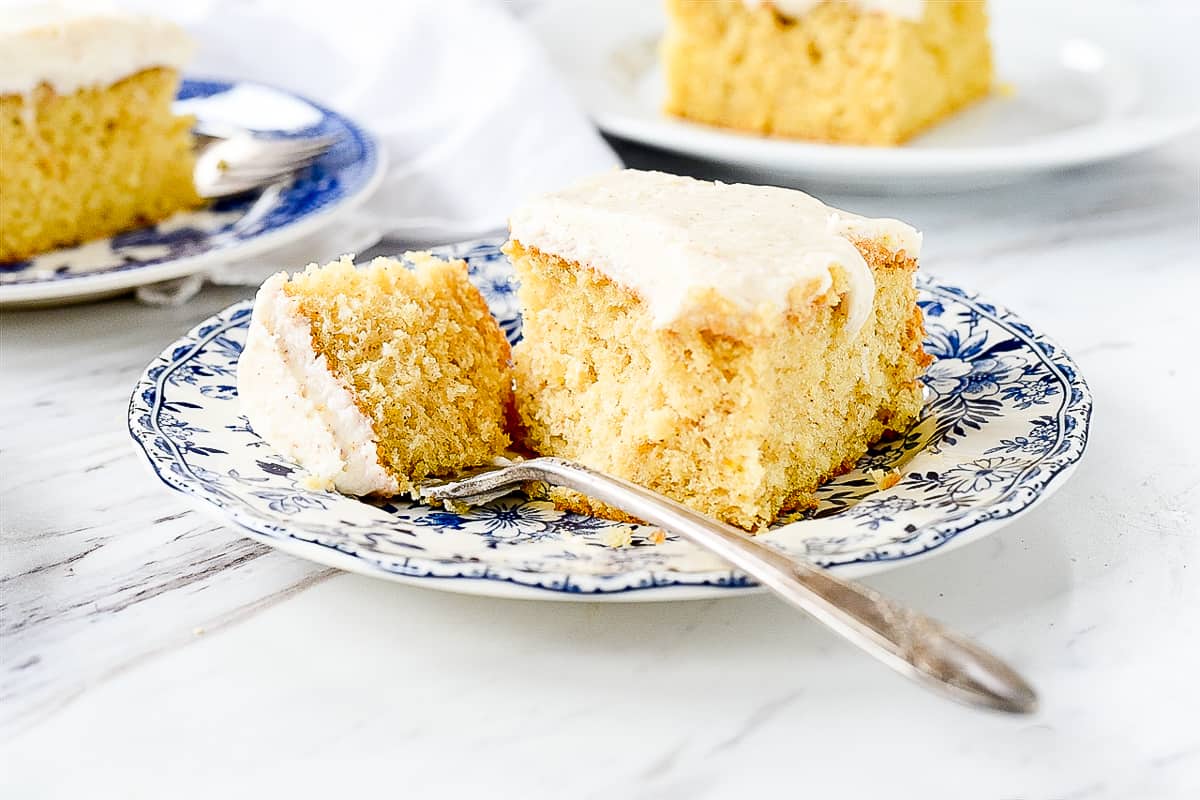 Brown Butter Frosting
Use the full brown butter frosting tutorial and recipe found here for making the most amazing brown butter frosting ever. This is the best part of the cake for me!
Tips for Better Cake
Bring your chilled ingredients (such as butter, eggs and milk) to room temperature. There is an actual scientific reason for this. Warm ingredients mix together easier and quicker which prevents you from overmixing things. In this case since we are melting the butter it does not need to be at room temperature but bring your eggs to room temperature.
Mix ingredients together just until you don't see any more dry ingredients. Use a spatula to scrape down the sides of your bowl to finding anything that might be hiding.
I always set my timer for five minutes before the stated recipe time. This helps avoid overbaked cake. Insert a toothpick to make sure cake is cooked through. The cake will also be dry to the touch and bounce bake when you touch it.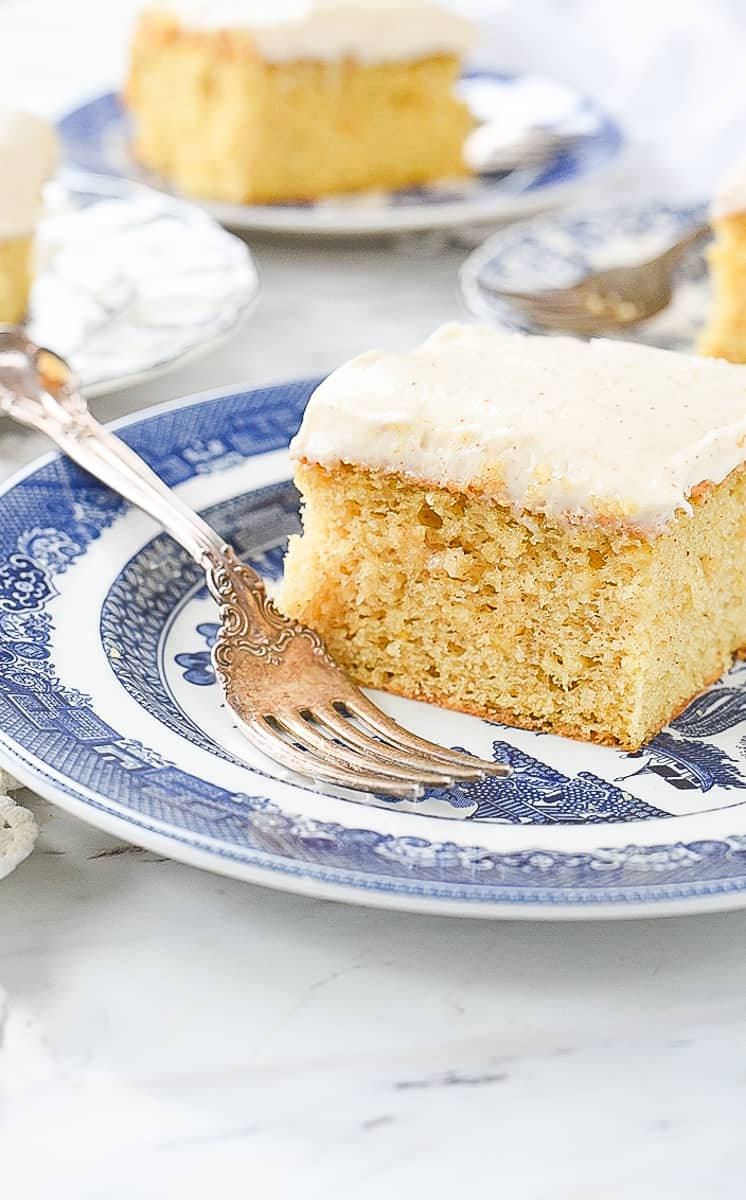 For all of my other favorite kitchen products and tools visit my Amazon Store.
Did you know I wrote a cookbook? Check out the Holiday Slow Cooker Cookbook for 100 delicious recipes
Brown Butter Cake Recipe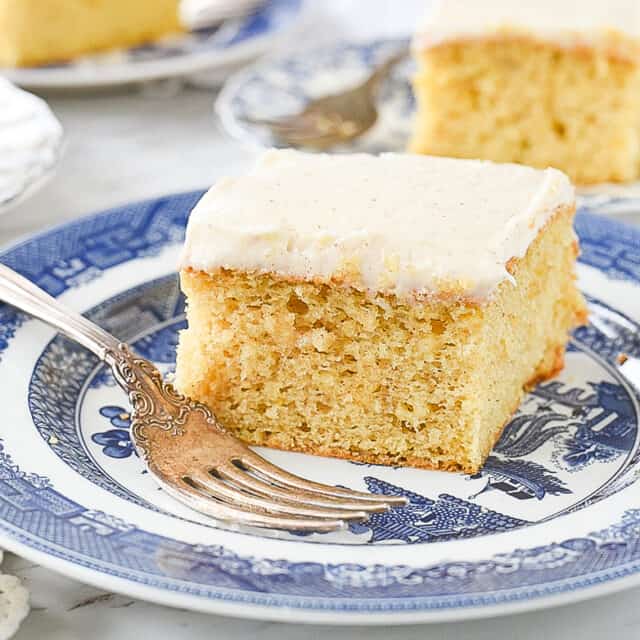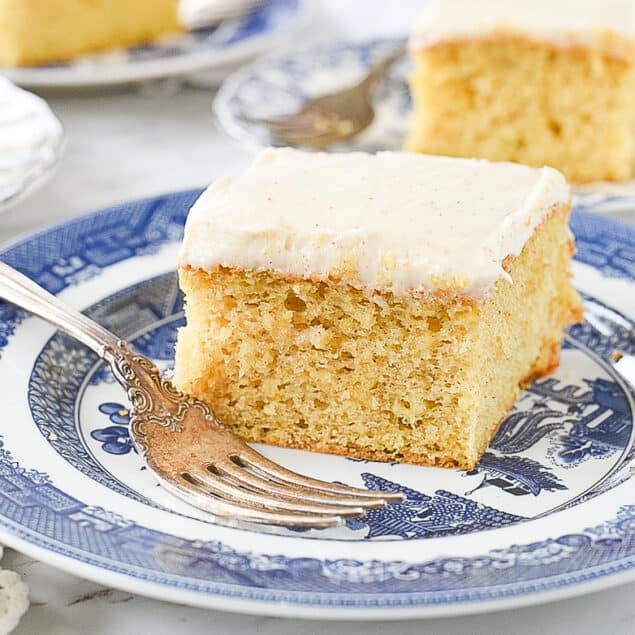 Brown Butter Cake
Brown Butter Cake is moist and full of amazing flavor thanks to the browned butter.
Ingredients
Cake
1/2 cup butter browned
1 box yellow cake mix
1 cup water
4 eggs
1 tsp ground cinnamon
Frosting
4 cups powdered sugar
2 tsp vanilla
1/3 cup whipping cream
1/2 cup butter browned
Instructions
Heat oven to 350.

Melt butter in saucepan over medium heat

Continue cooking, stirring constantly and watching closely, until butter JUST starts to turn golden (5-8 minutes)

Butter will be foamy and bubble

Immediately remove from heat and cool for 15 minutes

Combine 1/2 C browned butter and all remaining cake ingredients in large bowl Set aside remaining browned butter for frosting.

Beat at low speed 30 seconds. Increase speed to medium; beat, scraping bowl occasionally until well mixed – about 2 minutes

Pour batter into greased 9×13 pan and bake for 30-35 minutes or until a toothpick comes out clean Cool completely

Combine remaining browned butter, powdered sugar and vanilla in small bowl

Beat at medium speed gradually adding enough milk for desired spreading consistency

Frost cooled cake
Nutrition Facts:
Calories: 357kcal (18%) Carbohydrates: 57g (19%) Protein: 2g (4%) Fat: 13g (20%) Saturated Fat: 8g (50%) Cholesterol: 71mg (24%) Sodium: 355mg (15%) Potassium: 38mg (1%) Sugar: 43g (48%) Vitamin A: 420IU (8%) Calcium: 84mg (8%) Iron: 0.9mg (5%)
* Disclaimer: All nutrition information are estimates only. Read full disclosure here.
Originally posted April 13, 2010
Need some help figuring out what's for dinner tonight?
Come join our Facebook Group! Join hundreds of others who love sharing dinner time ideas. You don't want to miss out on the fun!

You'll find lots of ideas for dinner from all our awesome members and you can share your ideas too! Join the Family Dinner Table today.