Toffee bits and toasted almonds combined with a browned butter icing make these Toffee Almond Cookies are a total winner. Just watch them disappear.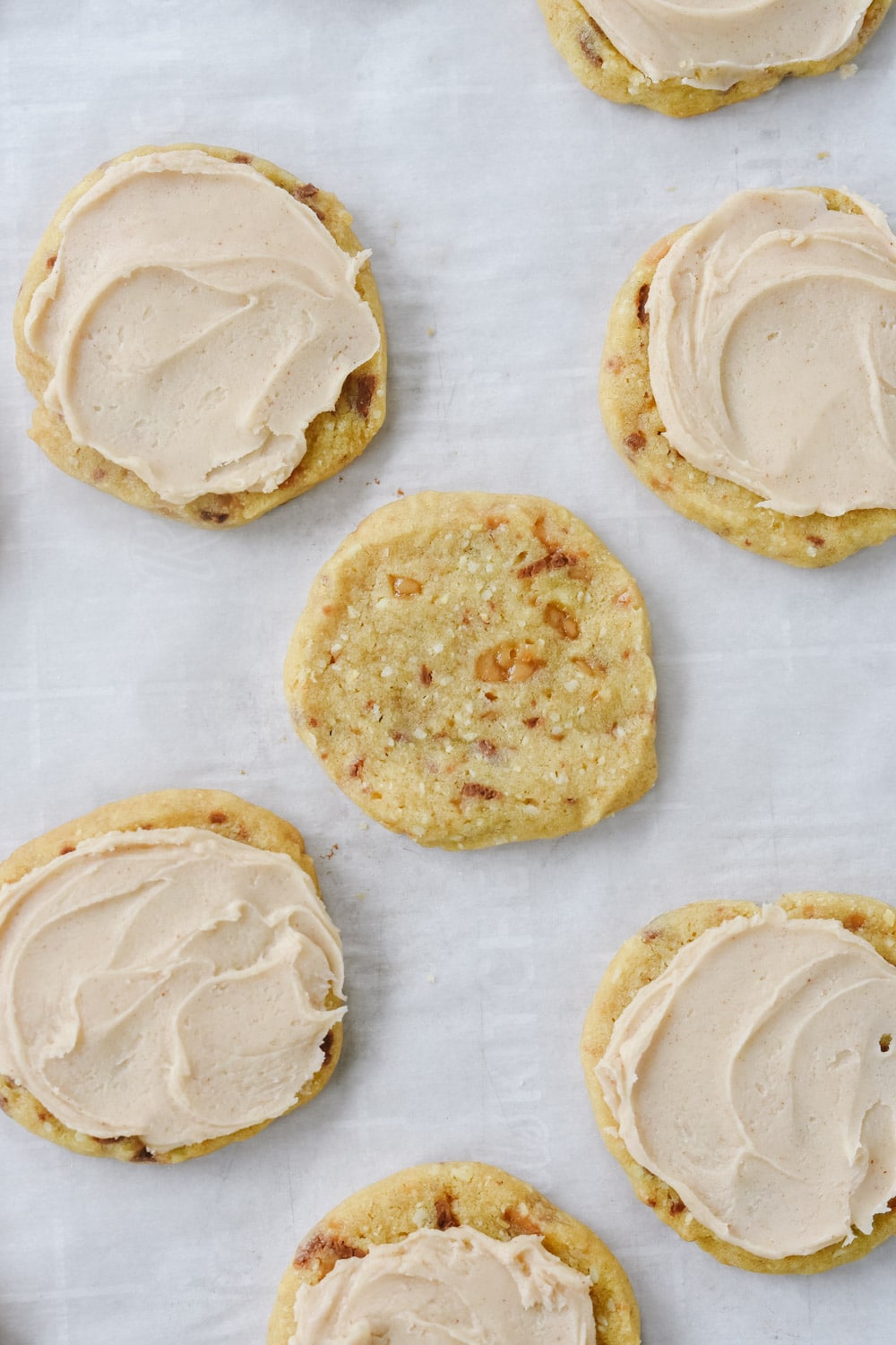 This Toffee Almond Cookie can stand all on it's own, without the browned butter icing, and it's a delicious cookie. But, in my opinion, the browned butter icing takes it to a whole new level!!
To be honest, I am not a big fan of nuts in my baked goods. I love nuts, just not in my baked goods. That was until I made this cookie. The toasted almonds add some great flavor and I love the texture they give the cookie. Be sure and toast the nuts, the flavor and texture adds so much to the cookie.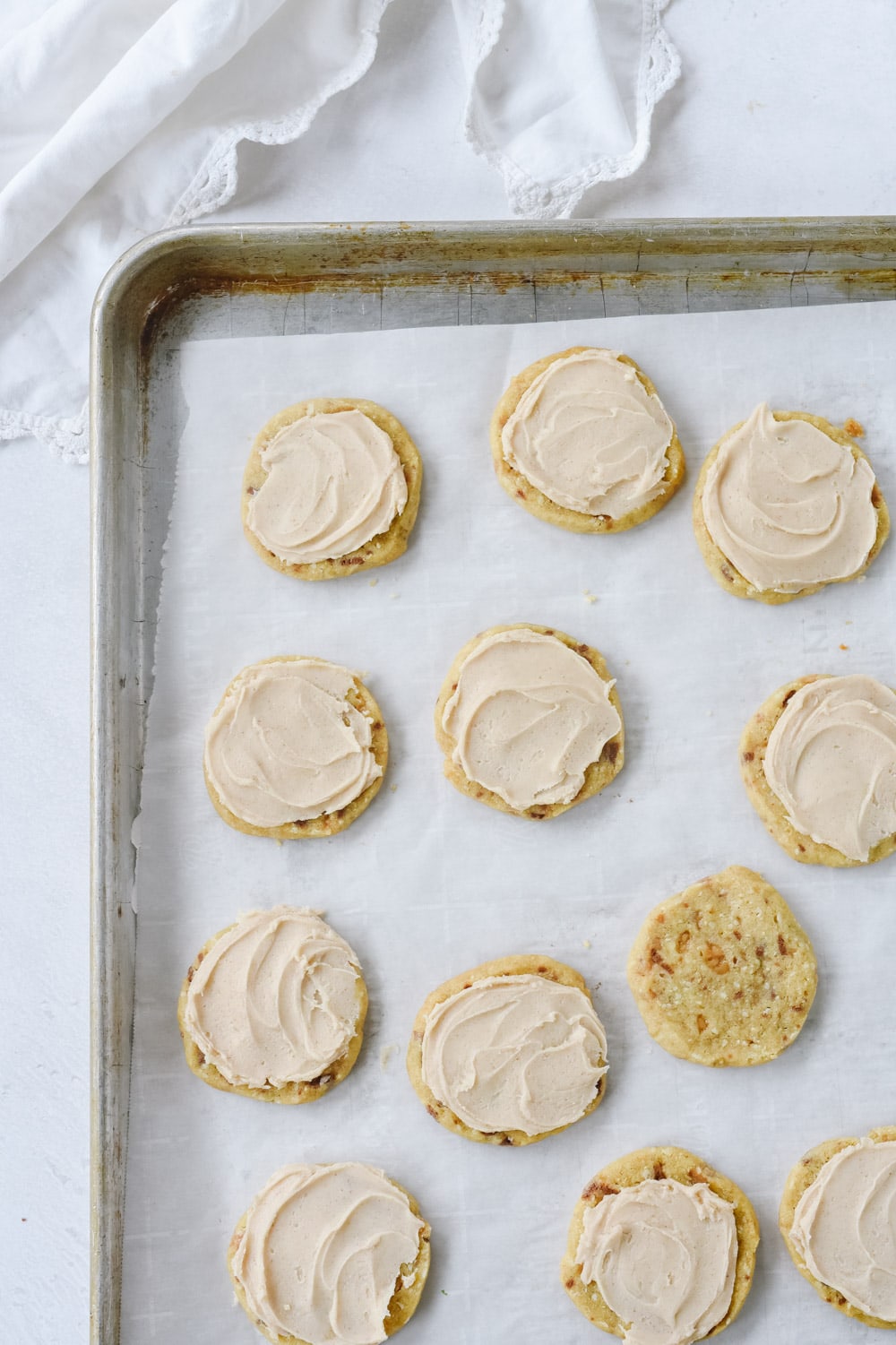 Toasted Almonds
Toasting almonds can be done several different ways, but my favorite way to do it is on the stove top, in a frying pan.
Heat your frying pan over medium heat. You do not need to add in any oil.
Add a single layer of nuts to the pan once it is hot.
Stir frequently until they turn a golden brown and you can smell them. Watch them closely
As soon as they are done, remove them from the pan onto a plate or baking sheet to cool. They will continue to cook if you leave them in the frying pan.
Toasting nuts makes them more flavorful and makes them more fragrant.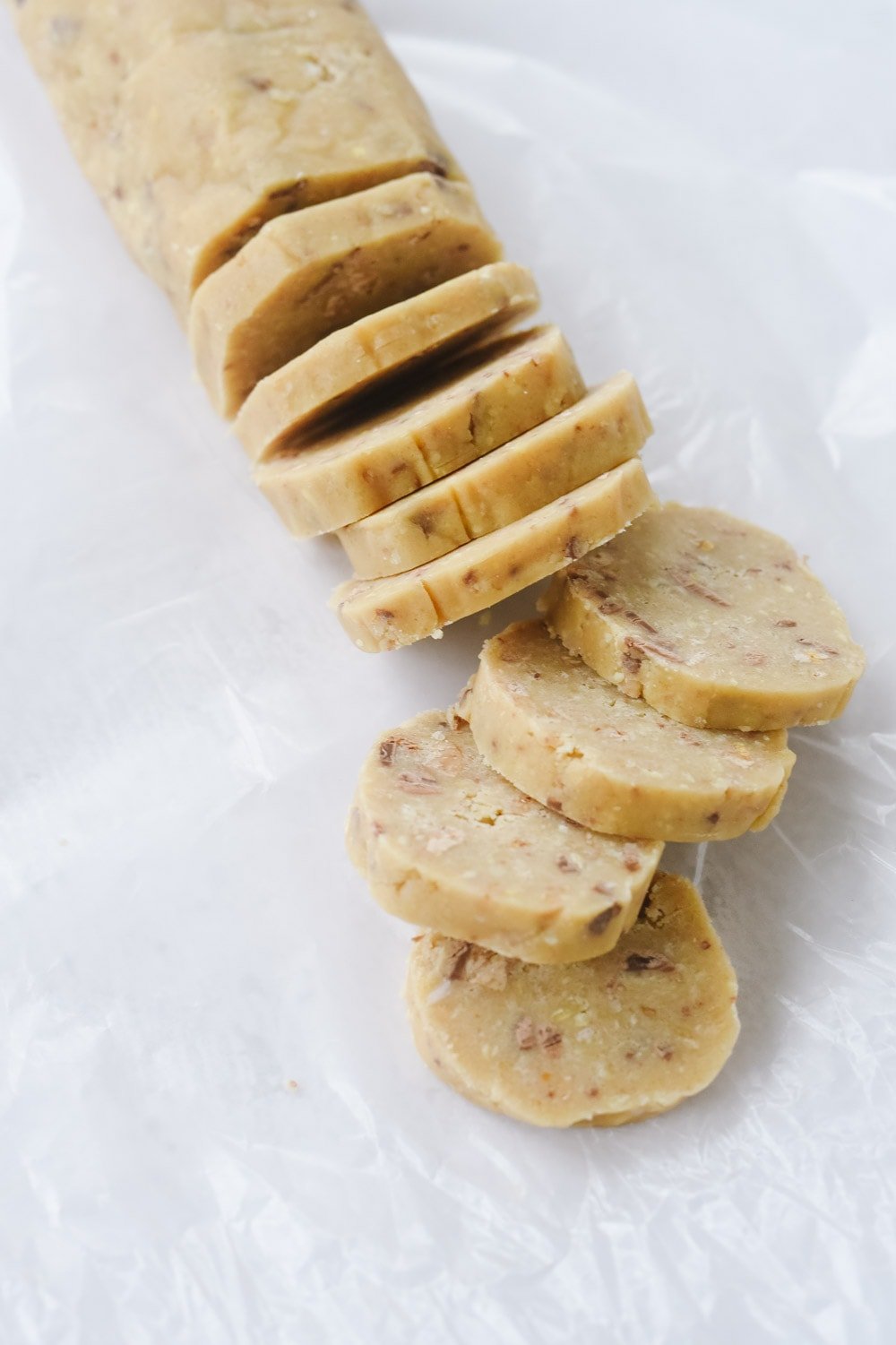 How to Make Toffee Almond Cookies
After your almonds are toasted and cooled you are going to chop them up. I use my mini food processor for this. I like them ground up nice and fine. If you prefer larger pieces of nuts in your cookies, give them a rough chop with a knife. Add the nuts into your cookie dough along with the toffee bits.
Divide your cookie dough in half and form each half into a log. Wrap the log in plastic wrap or wax paper and refrigerate for about six hours or one hour in the freezer.
Slice your dough into about 1/4 inch slices place on a parchment covered baking sheet.
Bake at 375 degrees F for about 7-8 minutes or until edges begin turning golden brown.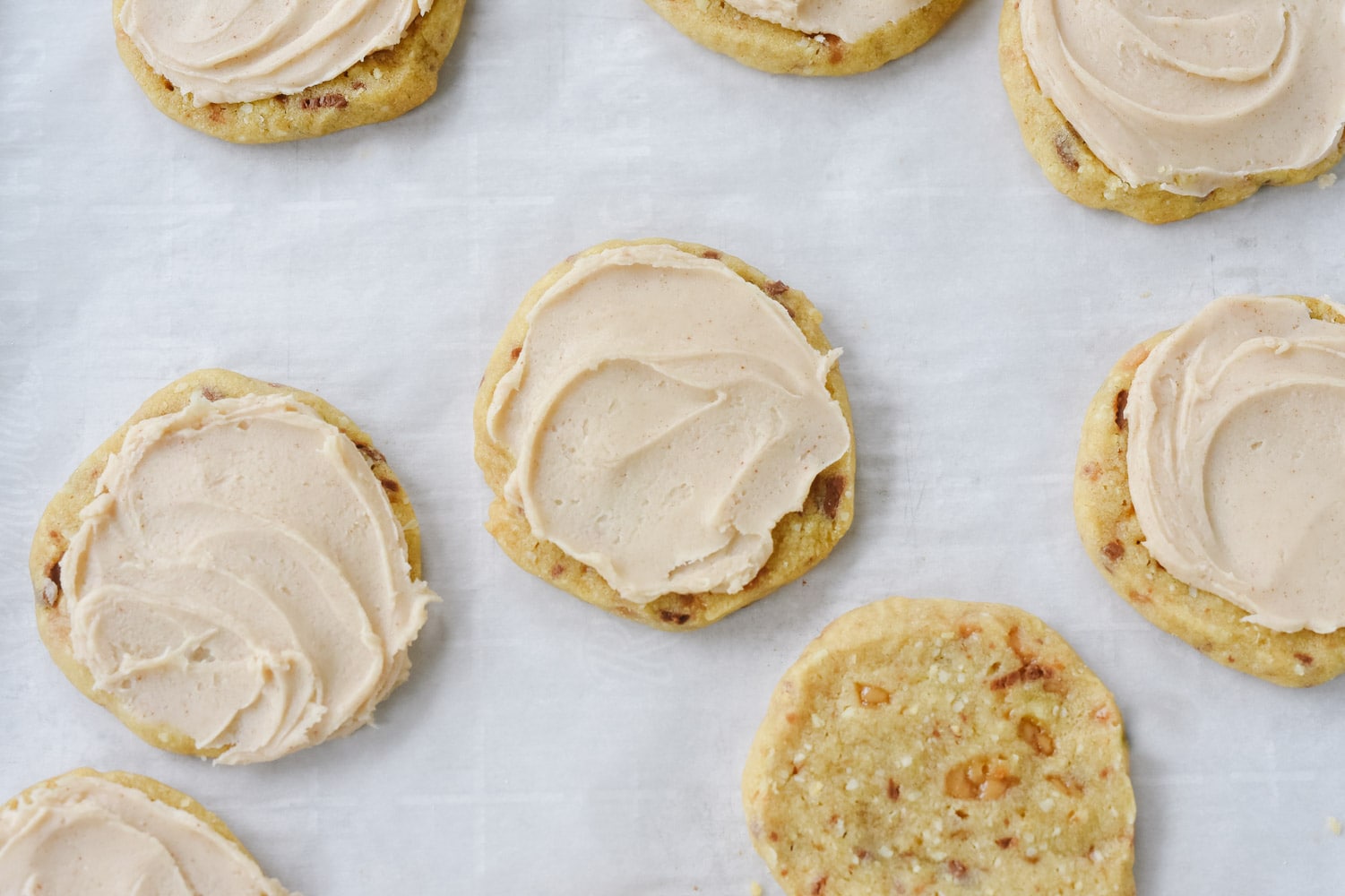 Browned Butter
I love adding browned butter to all kinds of things, I am a total fan of the rich nutty flavor. Sometimes I even add it into recipes that don't call for it. Some of my favorite browned butter recipes are: Brown Butter Pasta, Brown Butter Cake and Brown Butter Chocolate Chip Cookies.
Making brown butter is a simple process but you do have to watch it carefully. Browned butter can go to burnt butter in a matter of seconds!. Find a full how to make brown butter tutorial here.
Place your butter into a sauce pan over medium heat.
Allow butter to melt, stirring occasionally.
Once butter is melted stir consistently until butter begins to foam up.
Brown specks will begin to appear and it will begin to smell nutty.
As soon as the butter begins to turn a golden brown, remove it from the heat.
The milk solids in the butter cook faster and you will see them form at the bottom of the pan. When you pour the butter out of the pan, try and leave the sediment that formed at the bottom in the pan. It won't hurt if a little of it gets into your frosting or whatever you are making.
Once the butter has cooled you can add it into your frosting mixture. See directions for making Brown Butter Frosting here.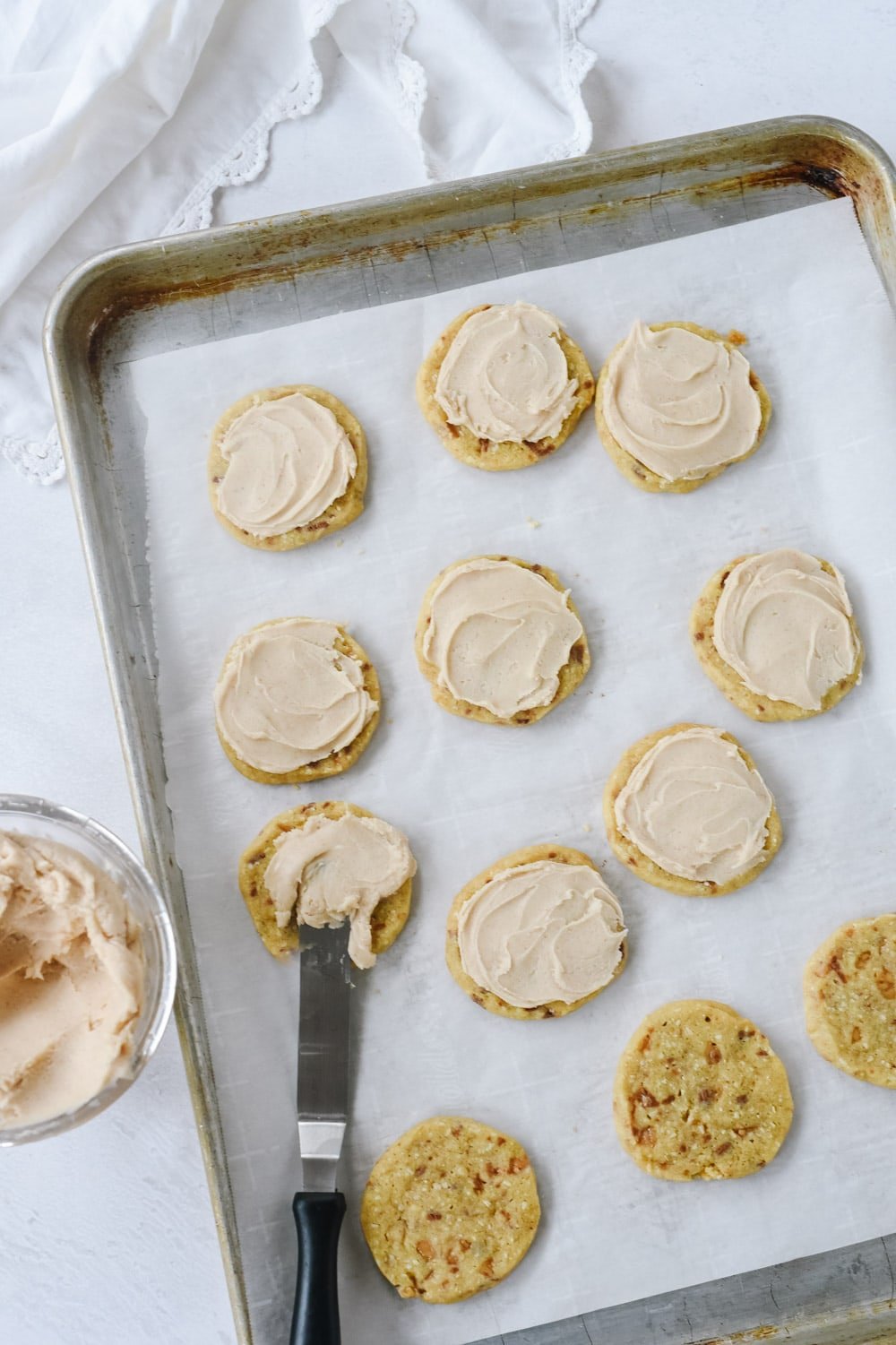 This cookie has so much amazing flavor and texture going on. You are going to love the combination of the toasted nuts with the sweetness of the toffee topped with the nutty flavor of browned butter.
Check out more of my best cookie recipes:
Toffee Almond Cookie Recipe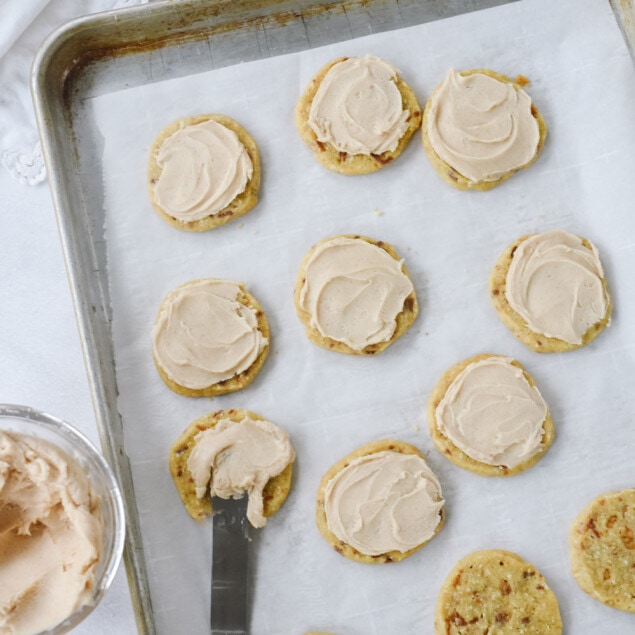 Toffee Almond Cookies
Toffee bits and toasted almonds combined with a browned butter icing make this Toffee Almond Cookie a total winner.  Just watch them disappear.


Ingredients
1 cup butter softened
1 cup brown sugar packed
1/4 cup sugar
1/2 tsp baking soda
1/4 tsp salt
1 egg
1 tsp vanilla
2 1/2 cup flour
1 cup toffee pieces
3/4 cup almonds toasted and ground
Brown Butter icing
4 Tbsp butter
3 cups powdered sugar
2 tsp vanilla
1-2 Tbsp milk
Instructions
In your mixer beat butter for 30 seconds.

Add brown sugar and granulated sugar, salt and baking soda.

Beat until combined, add in egg and vanilla.

Add in flour, toffee bits and ground almonds.

Divide dough in half. Shape into a 10 inch long roll and wrap in plastic wrap. Refrigerate for 6 hours (or 1 hour in the freezer). The dough needs to be firm enough to slice.

Preheat oven to 375 degrees.

Cut rolls into 1/4 inch slices and place on ungreased cookie sheet.

Bake 7-8 minutes or until edges are firm and light brown. Cool on rack.
Browned Butter Icing:
In a small pan melt 4 Tbsp. butter over medium heat until the butter turns light brown.

Stir frequently.

Remove from heat and add in 3 cups powdered sugar and 2 tsp vanilla.

Add enough milk (1-2 Tbsp) to make the icing spreading consistency.
To Toast Nuts:
To Toast in the oven: Heat oven to 300 degrees and spread nuts out in a single layer on a cookie sheet. Bake for 10-15 minutes or until they begin to turn golden brown.

To Toast on the stove top: Place them in a frying pan over medium heat in a single layer and stir until they begin to turn golden brown. Remove from pan and cool on a plate.

Grind them in your food processor or blender.
Tips & Notes:
Chill the dough:  Place it in the refrigerator for about six hours, wrapped in plastic wrap or wax paper but if you are rushed for time, you can place the dough in the freezer for one hour. Parchment Paper:  I always using parchment paper on my baking sheets. Nuts:  I like my nuts chopped fine so I used a food processor but if you like larger pieces, just give them a rough chop with a knife. Toffee Bits:  I like the toffee bits that come covered in chocolate but you can also used the ones without chocolate.
Nutrition Facts:
Calories: 213kcal (11%) Carbohydrates: 29g (10%) Protein: 2g (4%) Fat: 10g (15%) Saturated Fat: 6g (38%) Cholesterol: 28mg (9%) Sodium: 103mg (4%) Potassium: 45mg (1%) Fiber: 1g (4%) Sugar: 21g (23%) Vitamin A: 279IU (6%) Calcium: 20mg (2%) Iron: 1mg (6%)
* Disclaimer: All nutrition information are estimates only. Read full disclosure here.