Sharing all the tips on how to freeze cookies so you can have a delicious homemade cookie anytime!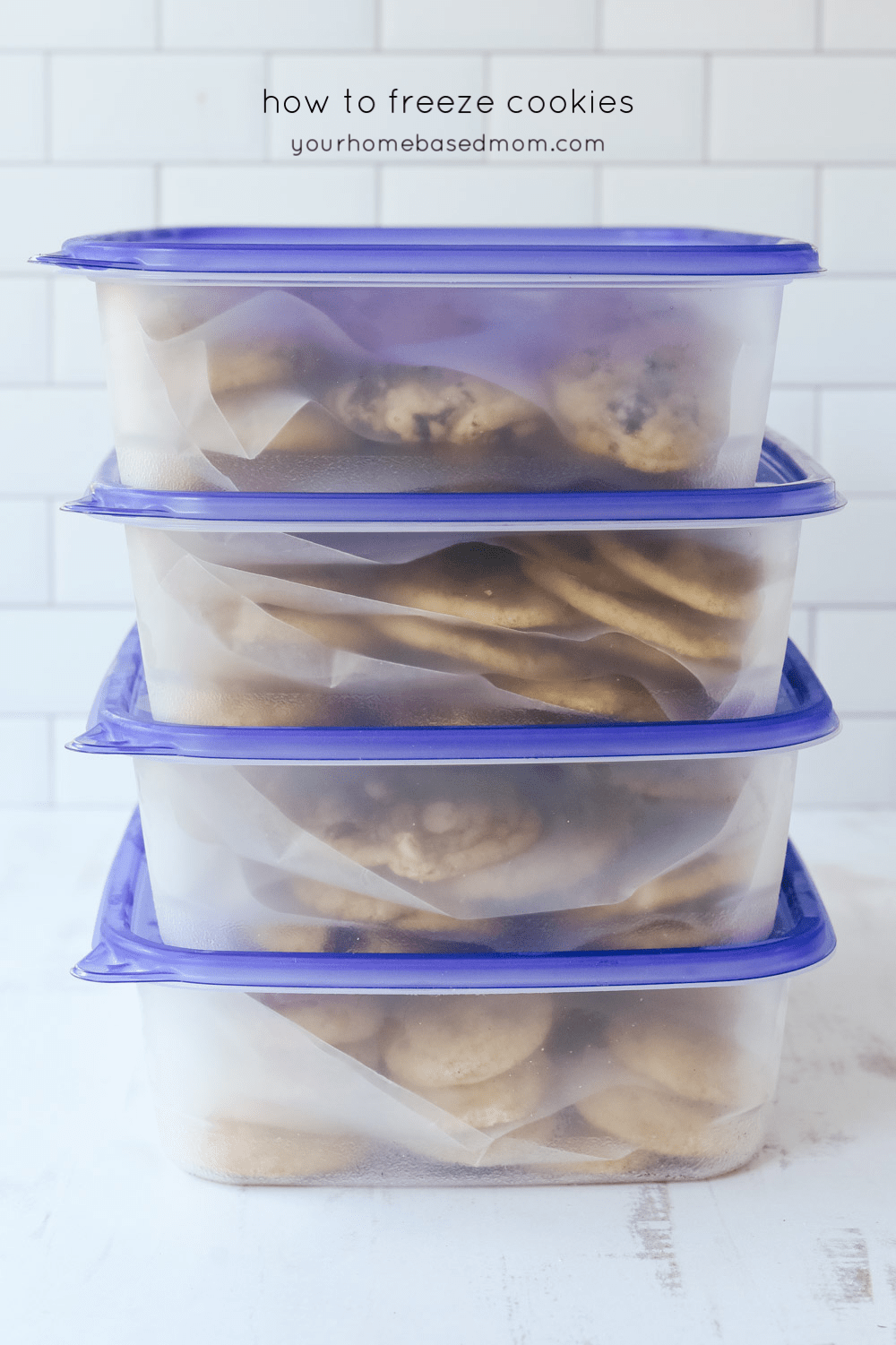 I have a friend whose son is getting married this summer and they are having a cookie bar as part of the reception.  Such a fun idea!  It reminded of when we did the Smart Cookie Graduation Party for my daughter.  I volunteered to help make cookies for the event but the timing was such that I would be out of town for the two weeks before the wedding and arriving back just hours before the reception.  So, basically I didn't have time to bake cookies right before the event.  I thought about freezing cookie dough but I still wouldn't have time to bake them all before the reception.
So, I decided to bake the cookies now and freeze them for later!
Freezing cookies is easy and they taste great after you thaw them.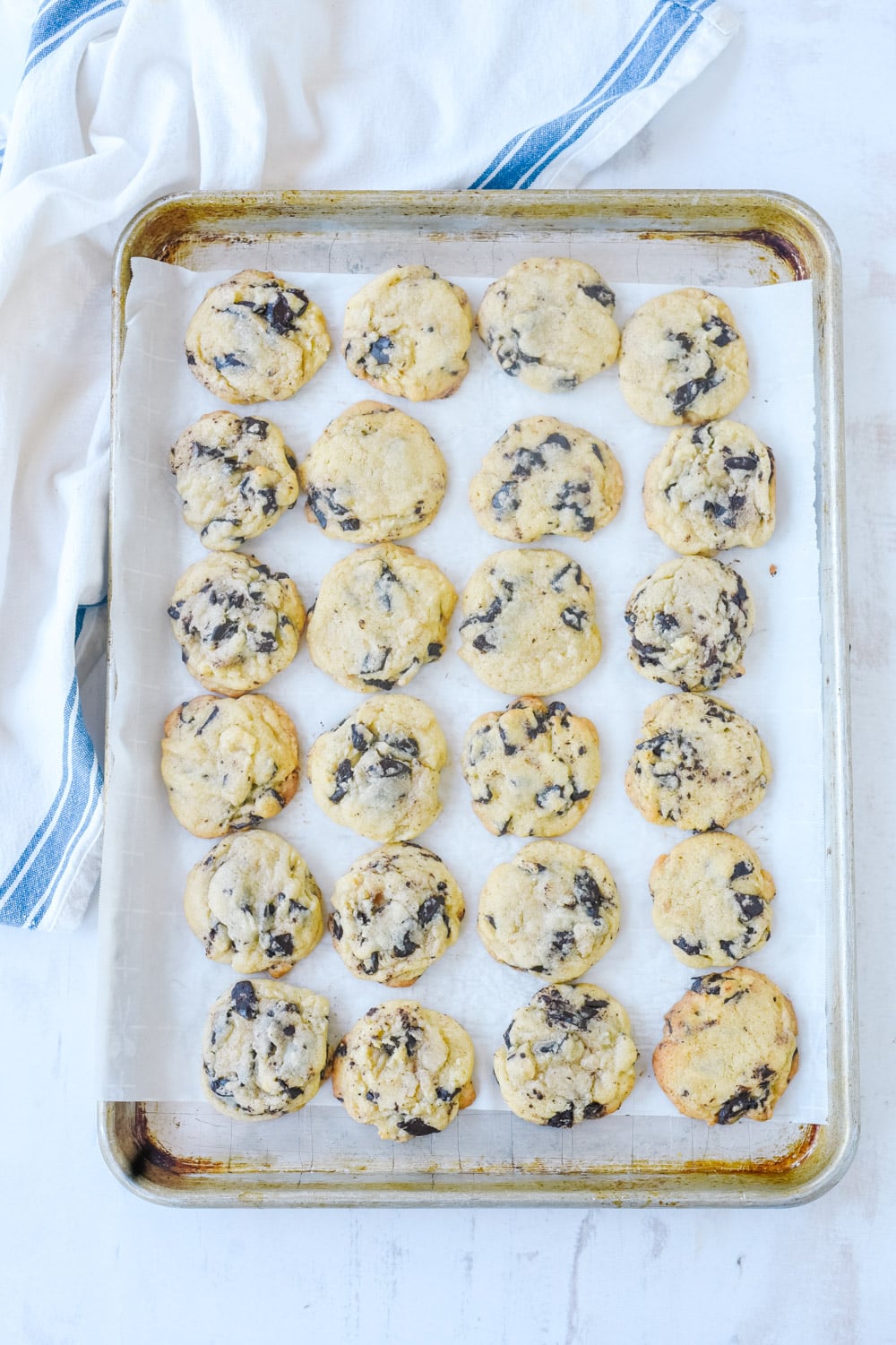 Freezing Cookies
Cool cookies completely after baking.  Allow the cookies to cool on a cooling rack.
Freeze cookies individually first.  I line my cookies up on a baking sheet in a single layer, don't overlap.  Lay some wax paper or parchment paper over the top and you can add another layer or two on one baking sheet.
Place in freezer until cookie is frozen solid.  This will probably only take an hour or so, depending on the cookie.  Don't forget and leave them in the freezer uncovered for too long or they will develop freezer burn.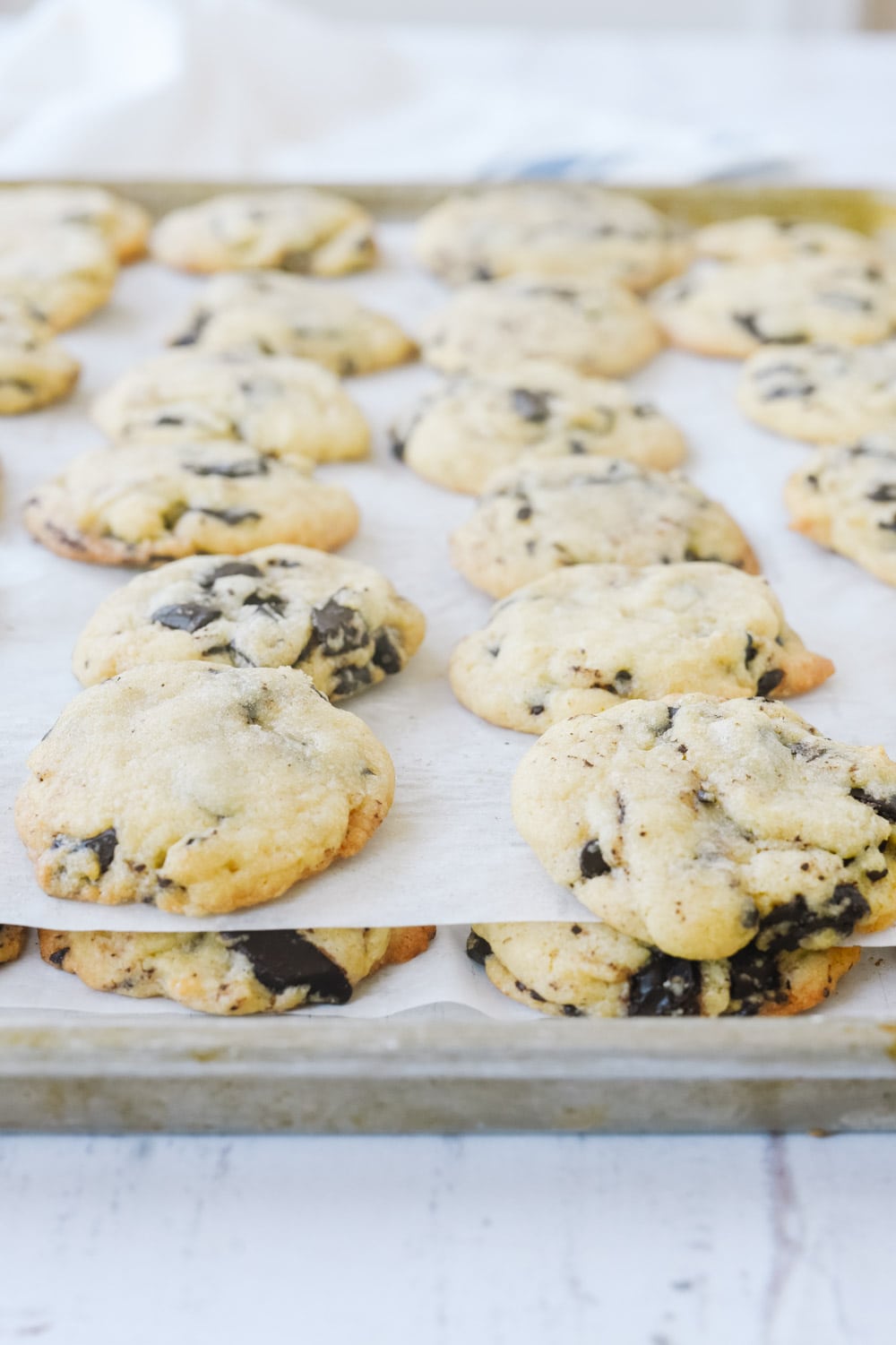 Place cookies in an airtight container.  After they are frozen solid, layer them in an airtight container.  I like to use these plastic containers with a lid.  I put wax paper in between the layers and place the cookies in a single layer.  Use a more shallow container and only have 3-4 layers of cookies.   This helps prevent breakage.  You can also use a freezer zippered bag but I find you tend to get more breakage because the cookies can move around more.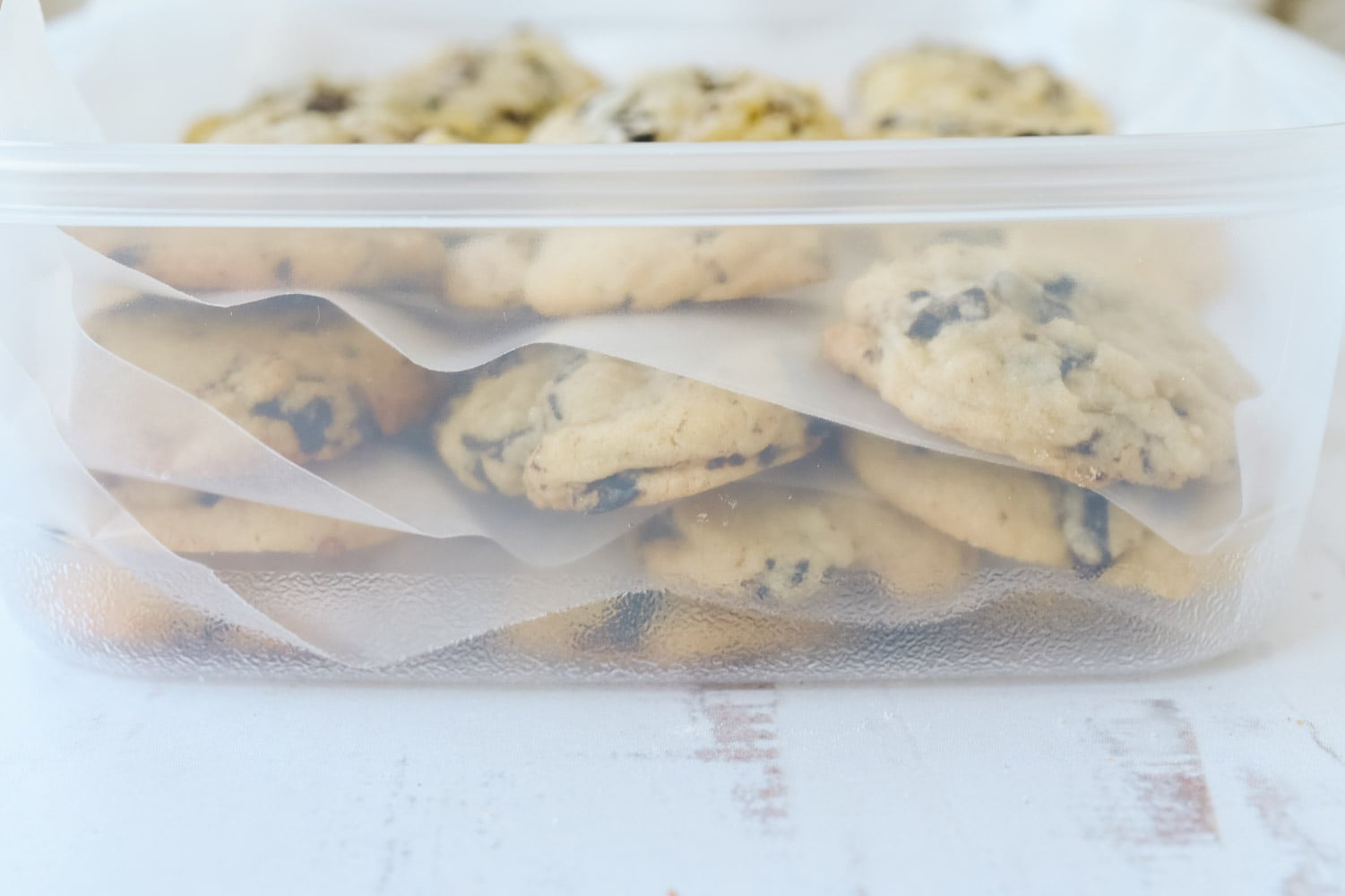 Place the airtight container in the freezer.  If you are freezing bar cookies, freeze the entire slab of cookie and cut them into bars after freezing.  If you are using a freezer bag to freeze your cookies, be sure and lay the cookies flat in the freezer.
How Long Will Frozen Cookies Last?
When stored in an airtight container cookies will stay fresh in the freezer for up to 3 months.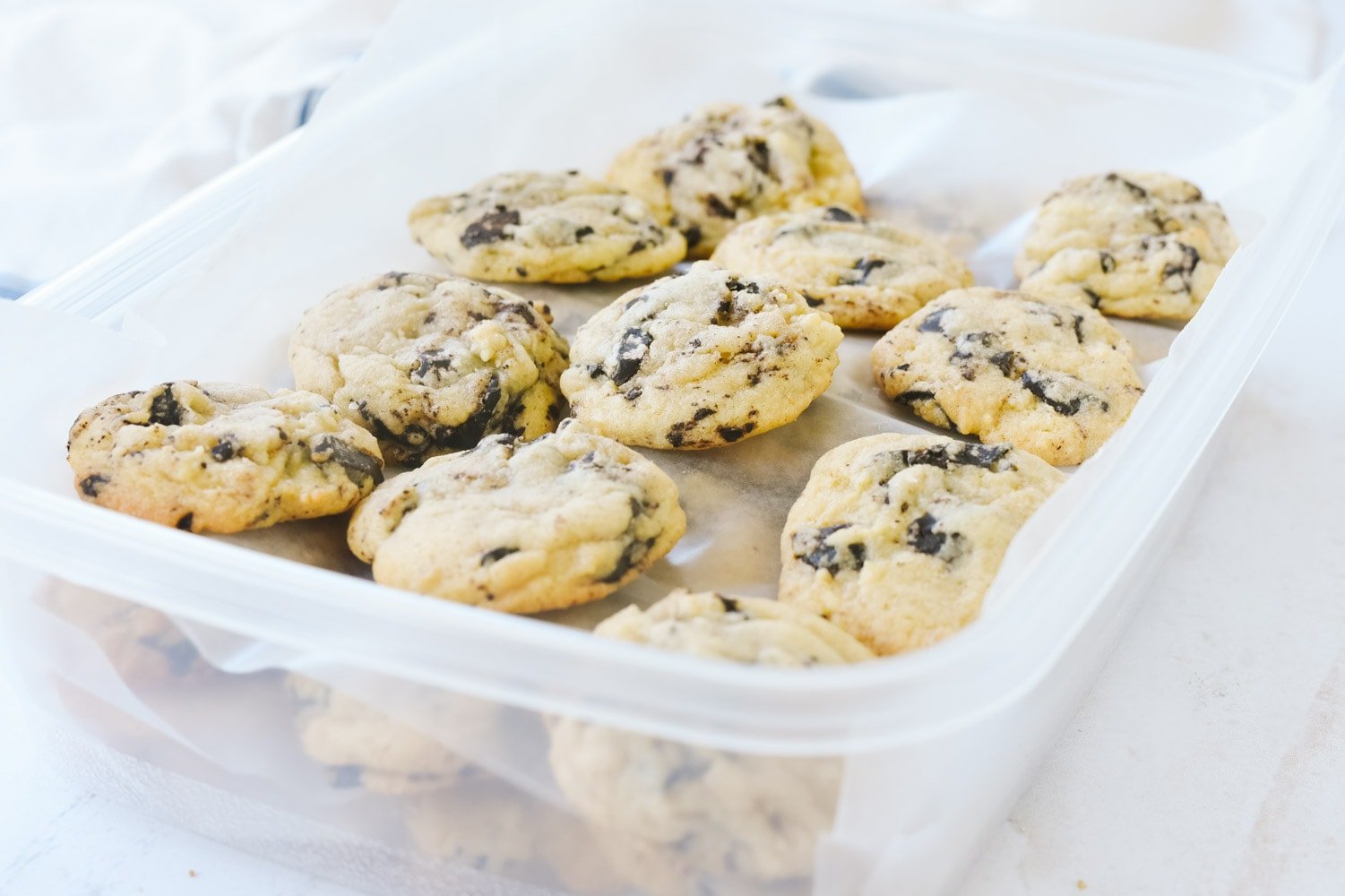 How To Reheat Cookies?
To thaw baked cookies, remove them from the containers and let them sit at room temperature.  If you leave them in the container, condensation will form and the cookies will get soggy.
You can reheat cookies by putting them in a 275°F oven and check on them after 5-10 minutes.
Which Cookies Freeze Well?
Bar cookies are a great choice if you know you want to freeze them for later.  They always freeze well.  Some of my favorites are Raspberry Oatmeal Bars,  Chocolate Chip Toffee Bars and Salted Caramel Revel Bars.
Drop cookies such as  Chocolate Chip, Peanut Butter and Oatmeal are also good choices.  Sugar cookies freeze well but I like to wait until I am going to serve them to frost them.
Biscotti is also another cookie that freezes really well.
Avoid tender or fragile cookies that break or crumble easily.