Lemon Pork Tenderloin is full of amazing flavor, marinated in lemon and herbs. It is easy to do on the grill but can also be done in the oven.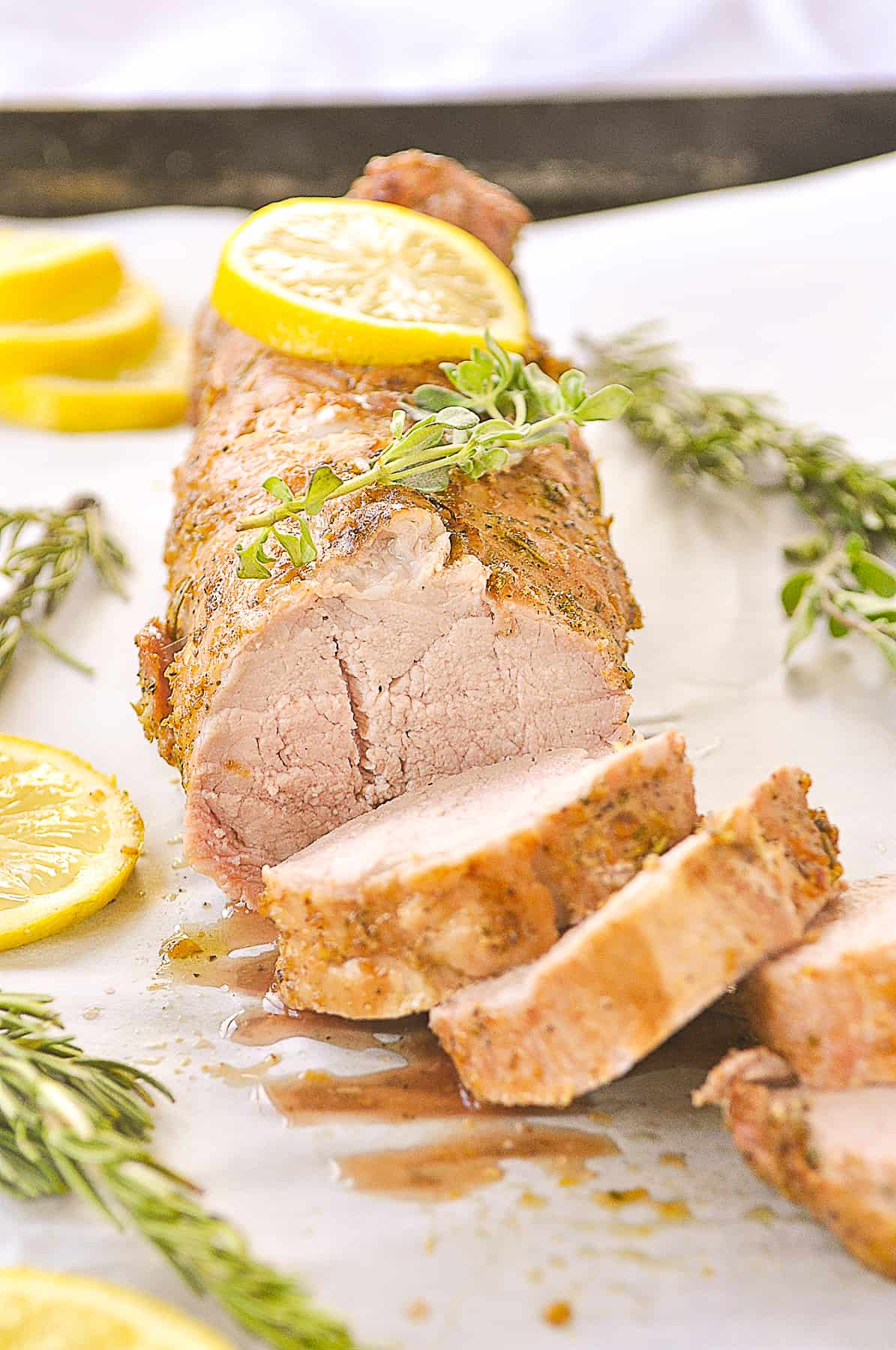 Why You'll Love This Recipe!
Today's recipe for lemon pork tenderloin was actually sent to me by my married sons He has ended up being quite the cook and he has mad grilling skills. He made this dish one Sunday and sent me some photos via SnapChat. It looked both pretty and delicious so I knew I had to try it.
The pork is marinated for 2-8 hours so it is a great make a head recipe.
It can be made on the grill, a smoker or in the oven.
It's delicious, the flavor combination of the herbs and lemon is light and lovely.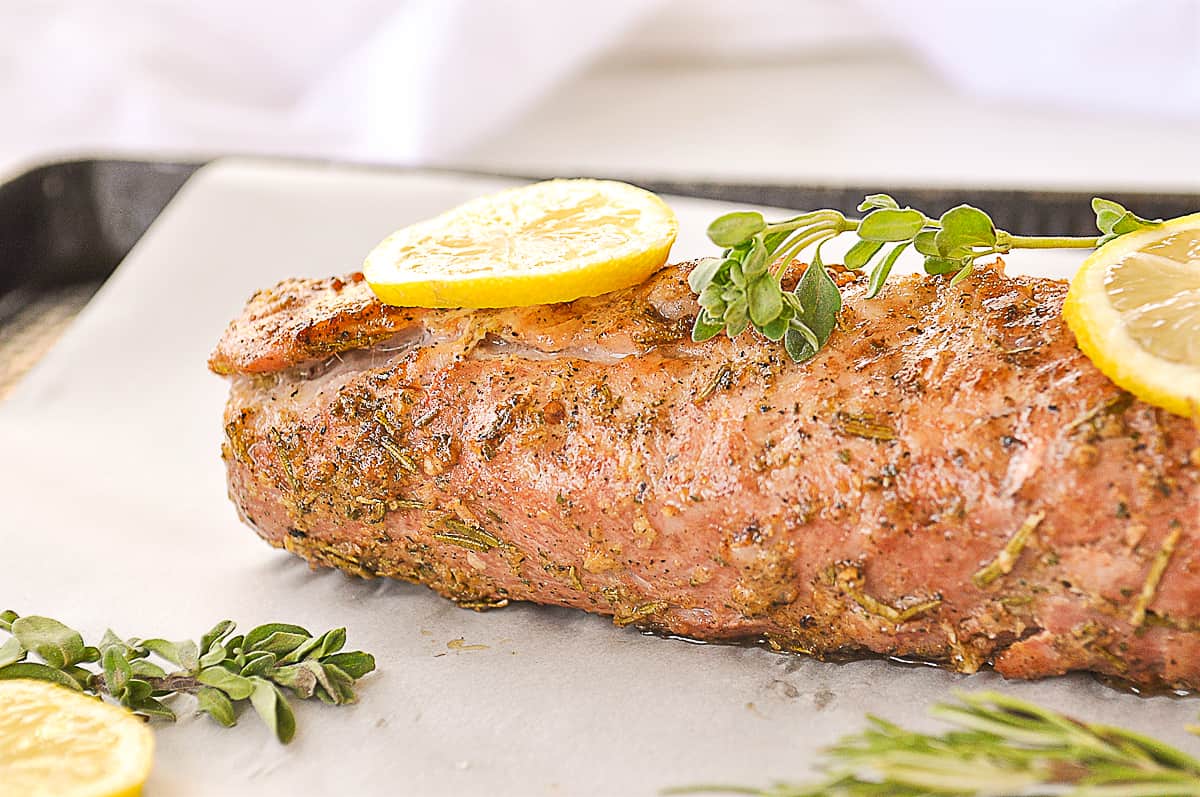 What is Pork Tenderloin?
It is one of the leanest and most tender cuts of pork. Pork tenderloin is my favorite cut of pork although it is more expensive. The tenderloin comes from the muscle that runs along the backbone.
We do pork tenderloin a lot at our house because it is so easy to do and makes such a nice tender and moist cut of meat. I buy the tenderloins that come vacuum packed and weigh about 1.2 – 1.5 lbs. each.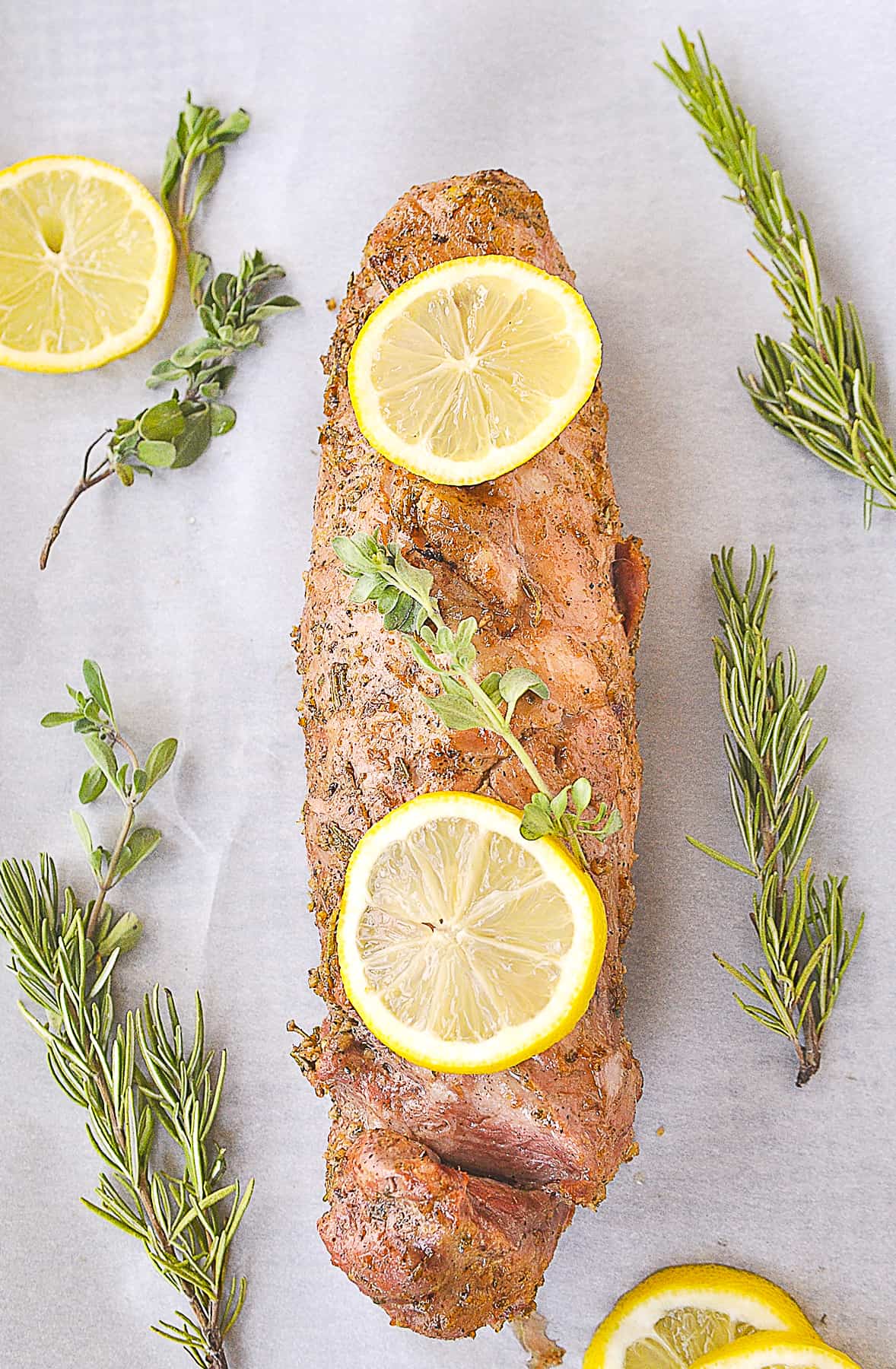 Ingredients Needed
Pork tenderloins
Garlic cloves
Lemons
Fresh herbs, marjoram, rosemary or thyme
Soy sauce
Sea salt
Pepper, fresh ground
Red pepper flakes
Olive oil
How to Make Lemon Pork Tenderloin
Marinate the pork 2-8 hours before you are going to cook it.
Pork Marinade
Combine marinade ingredients in a food processor and pulse to combine.
Place tenderloin onto a piece of plastic wrap and cover or place in a zipper plastic bag with marinate in the refrigerator.
Refrigerate 2-8 hours.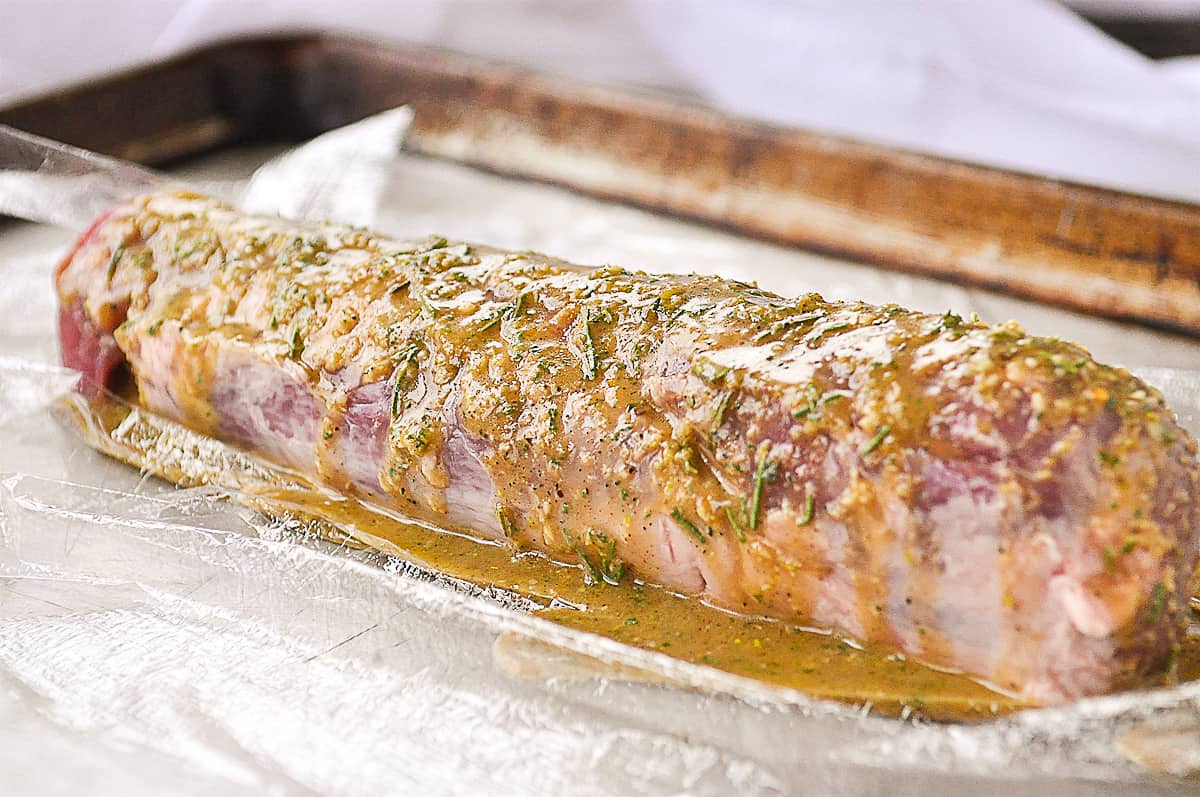 Heat grill, smoker or oven to 400 degrees F.
Cook on one side for about 15 minutes and then turn.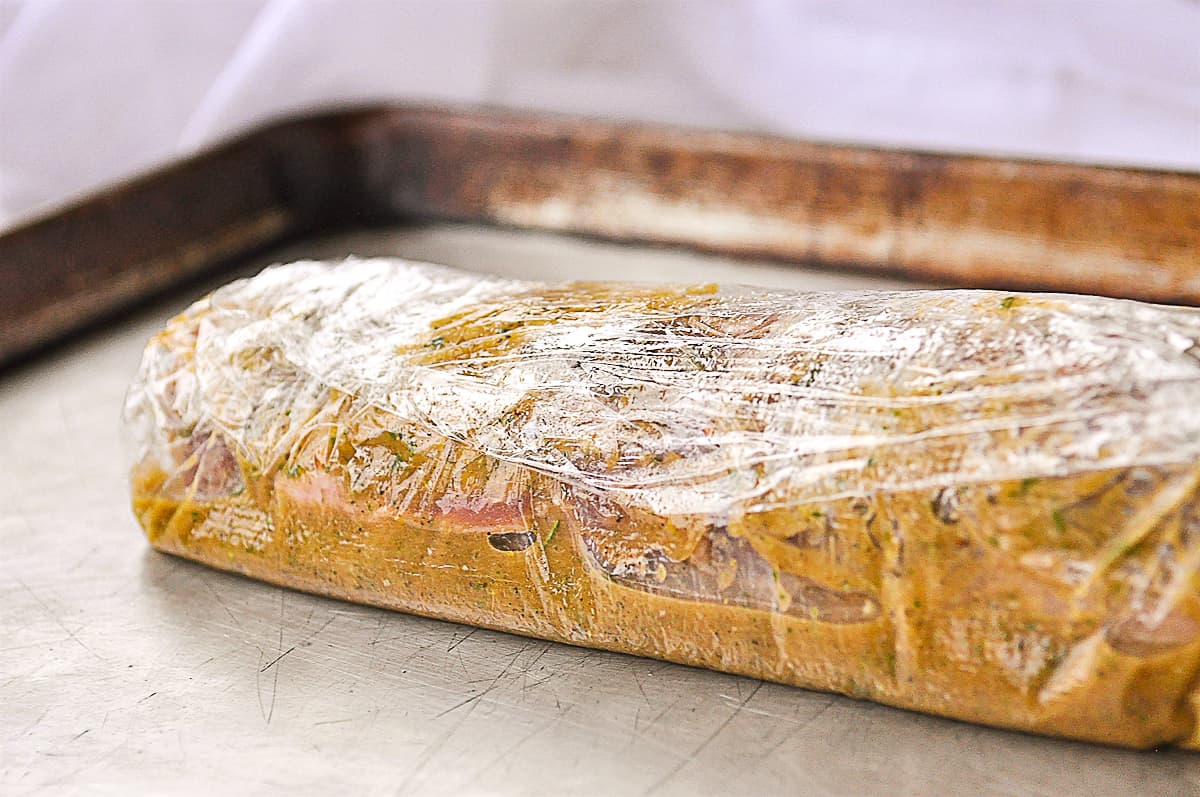 Cook until your meat reaches an internal temperature of 145 degrees F and let it rest for five minutes.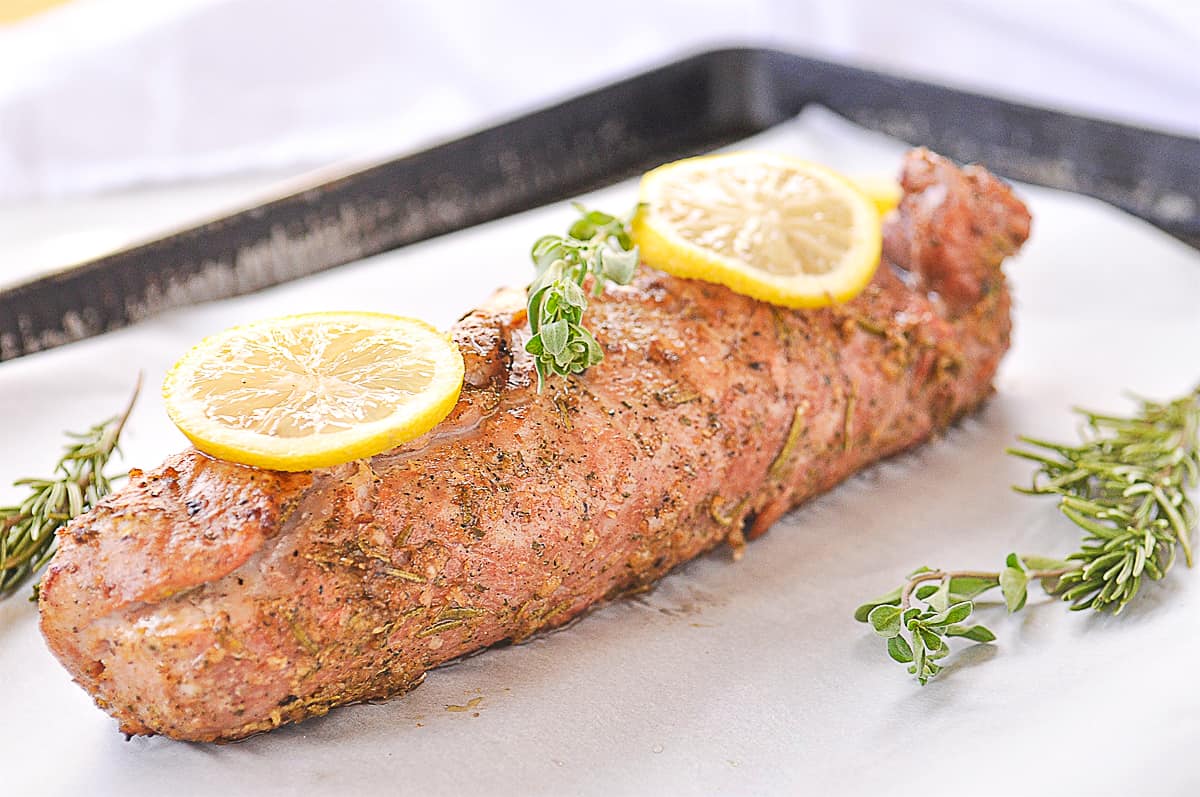 Garnish with some additional herbs and fresh lemon slices.
Pair Lemon Pork Tenderloin with: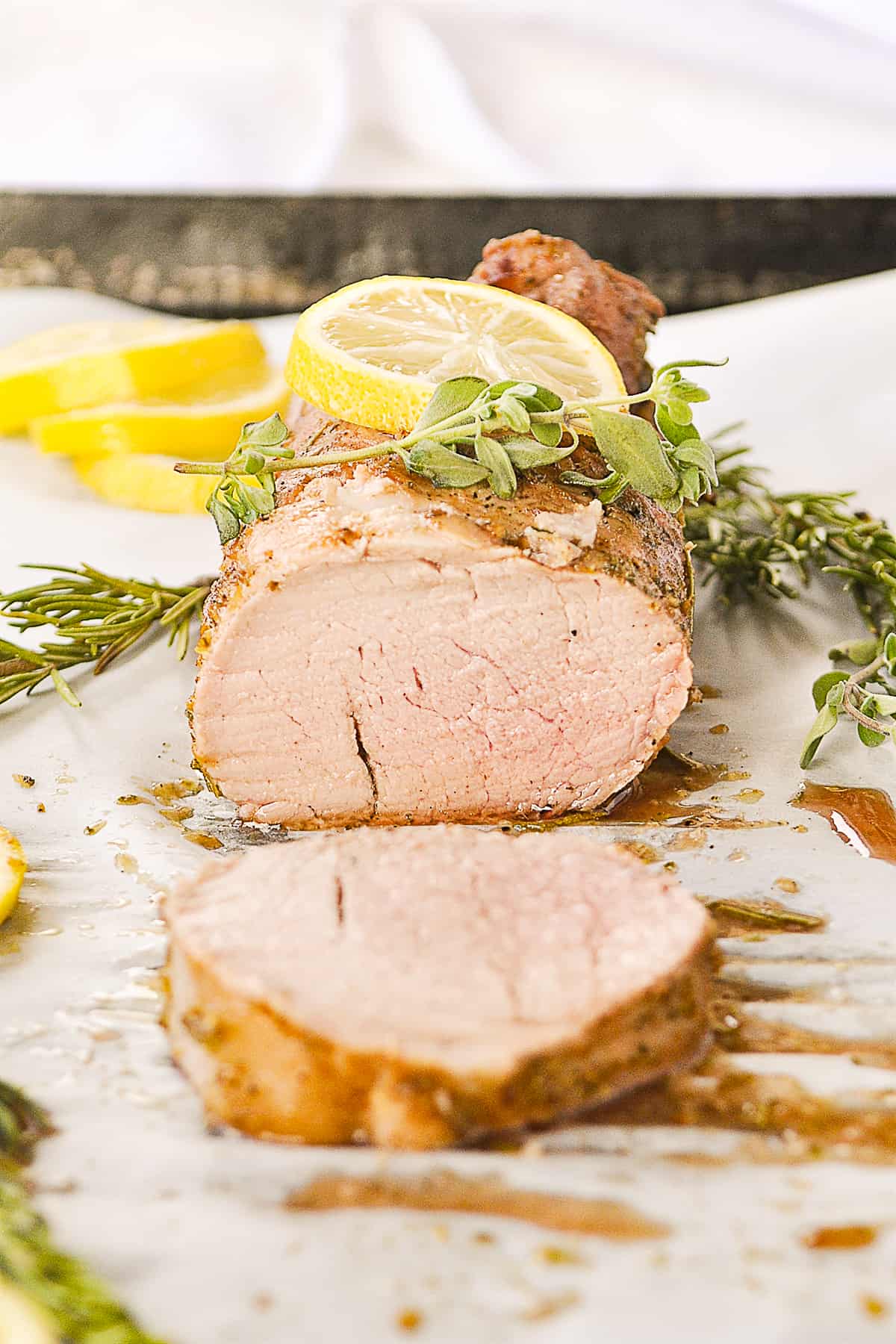 Frequently Asked Questions
How many people will one pork tenderloin serve?
By slicing it about 1/2 – 3/4″ thick you can serve 4-5 people from one tenderloin depending on how hungry they are!
What is the difference between pork loin and pork tenderloin?
A pork tenderloin is a long, narrow, boneless cut of meat and a pork loin is wider and flatter, and can be a boneless or bone-in cut of meat. As it's name indicates, the tenderloin is a more tender cut of meat.
Both cuts are lean but their shape and thickness are different so cooking times are going to vary if you substitute one for the other. The pork tenderloin will cook much faster than the pork loin.
What temperature is lemon pork tenderloin done at?
The National Pork Board recommends cooking pork to 145 degrees F with a five minute rest. Be sure and use a meat thermometer to check temperature.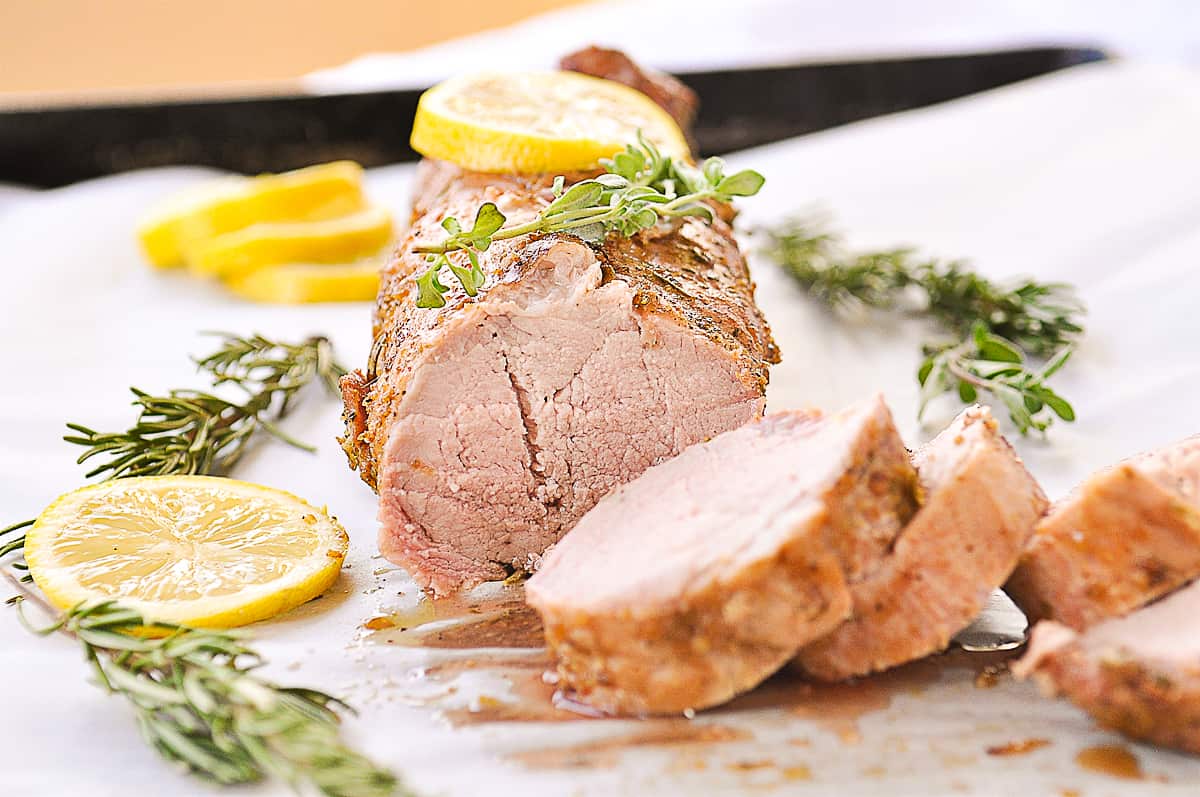 Try these other delicious pork recipes:
Be sure and follow me over on You Tube for weekly cooking demos.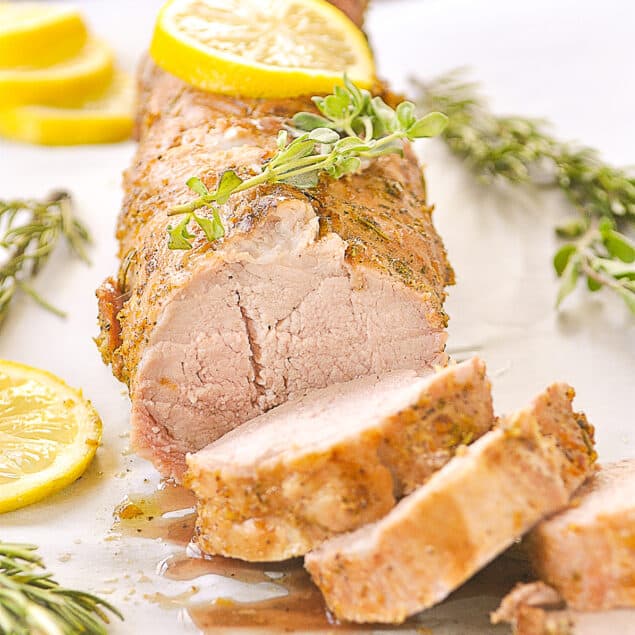 Lemon Pork Tenderloin
Lemon Pork Tenderloin is full of amazing flavor, marinated in lemon and herbs. It is easy to do on the grill but can also be done in the oven.
Ingredients
2 – 1 lb. pork tenderloins
6 garlic cloves peeled
Lemon juice of 1/2 a lemon and zest use remaining lemon for garnish
2 sprigs of fresh marjoram strip leaves
1 sprig of fresh rosemary strip leaves
1 Tbsp soy sauce
2 tsp sea salt
1 1/2 tsp fresh ground pepper
1 pinch red pepper flakes
1/4 cup olive oil
additional herbs for garnish
Instructions
Trim pork of any large pieces of fat.

In the bowl of a mini-food processor or a blender jar, combine the garlic, lemon juice and zest, majoram, rosemary, soy sauce, salt, pepper, and red pepper flakes.

Pulse until the garlic and herbs are finely chopped. Slowly drizzle in the olive oil while the machine is running until a loose paste forms.

Rub the garlic paste over both tenderloins, covering all surface

Cover the pork tightly with plastic wrap and refrigerate for 2-8 hours before grilling

When ready to cook, start the Traeger grill on Smoke with the lid open until the fire is established (4 to 5 minutes). Set the temperature to 400F and preheat, lid closed, for 10 to 15 minutes or preheat grill or oven to 400 degrees

Arrange the tenderloins directly on the grill grate at an angle to the bars. Roast for 15 minutes.

Using tongs, turn the tenderloins and continue to roast until the internal temperature in the thickest part of the meat registers at least 145F. At that temperature, the pork will be slightly pink inside. If you prefer your pork more well done, roast it until it reaches 160F.

Let the meat rest for 5 minutes before carving into slices. Shingle the slices attractively on a platter, garnish with the lemon slices and remaining herb sprigs, and serve.
Nutrition Facts:
Calories: 432kcal (22%) Carbohydrates: 2g (1%) Protein: 57g (114%) Fat: 20g (31%) Saturated Fat: 5g (31%) Trans Fat: 1g Cholesterol: 177mg (59%) Sodium: 1180mg (51%) Potassium: 1105mg (32%) Fiber: 1g (4%) Sugar: 1g (1%) Vitamin A: 48IU (1%) Vitamin C: 1mg (1%) Calcium: 35mg (4%) Iron: 3mg (17%)
* Disclaimer: All nutrition information are estimates only. Read full disclosure here.