Creamy Coleslaw is the Perfect Summer Side Dish
I am a coleslaw convert.  It's not that I disliked coleslaw.  I just tended to ignore it.  Whenever it made an appearance at a picnic or a potluck I just passed it by thinking – cabbage, it's a bowl full of cabbage!  Well, I had a life changing creamy coleslaw event not too long ago and it looked like this: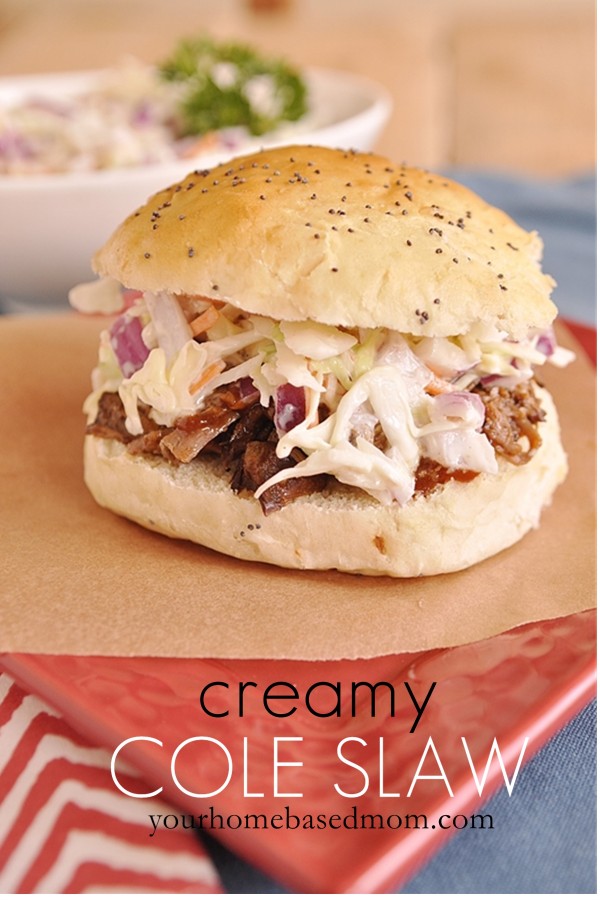 Creamy coleslaw on top of  Crockpot BBQ Beef on homemade hamburger buns.  O.K., so maybe not life changing, but delicious.  And I have changed my mind about coleslaw.  I don't know who thought of it first, who thought of adding coleslaw to BBQ beef ??  But it was pretty much a brilliant move.
I love the cool, creamy, crunch texture that this coleslaw recipe adds to the warm, smoky flavor of the BBQ beef.
It can be a little messy to eat but so worth the mess and the effort.  This coleslaw recipe can, of course, be used as a side dish as well.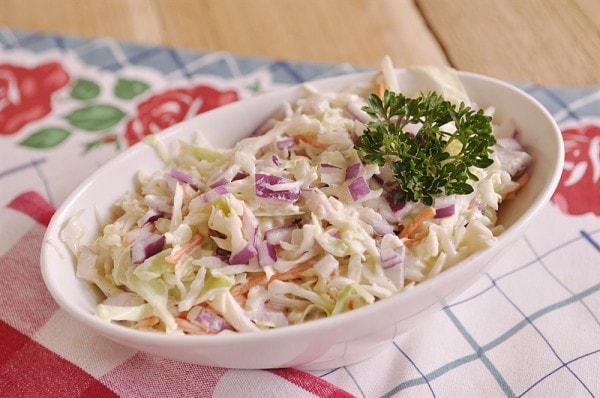 But when given the option, add it to your BBQ sandwich. You won't be sorry!
To make the dish quick and easy creamy coleslaw recipe, I used a pre package coleslaw mix that is available in your produce section.  Of course, you could always chop up your own cabbage using a combination of green and red.  Throw in some grated carrot for some extra crunch and color.
I love adding red onions in too.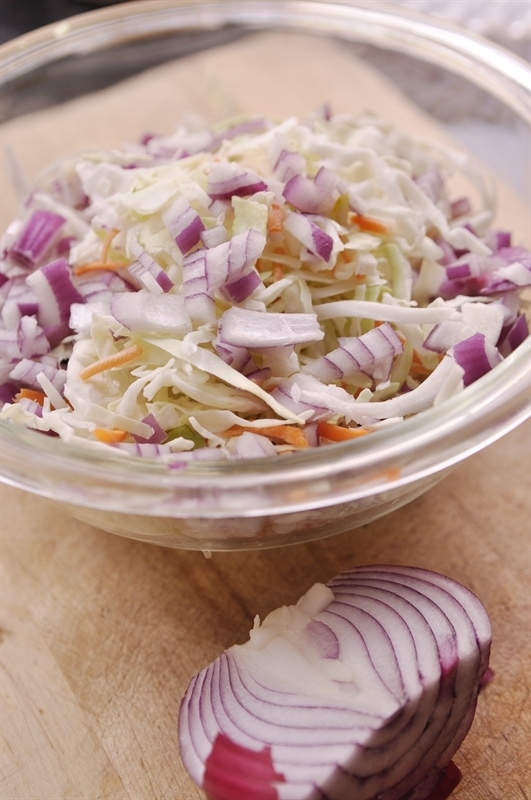 The dressing is a combination of mayo, white balsamic vinegar, dijon mustard, sugar, Worcestershire sauce and celery seed.  Lots of yummy flavors there.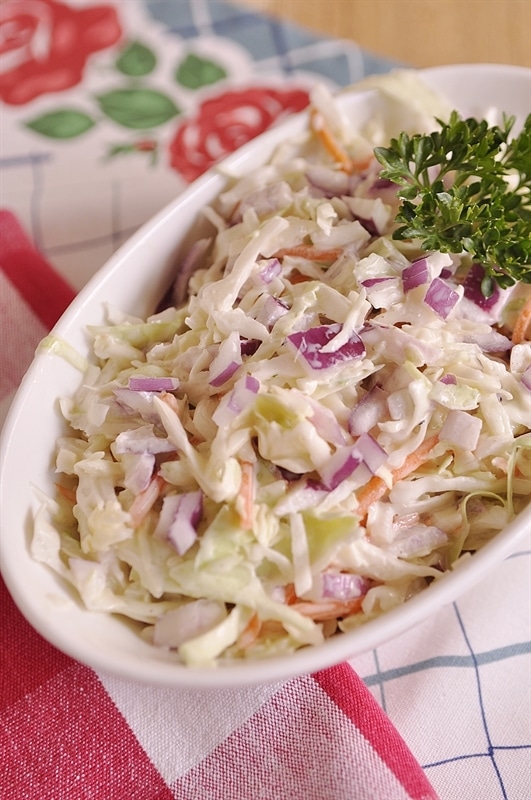 For some other yummy salad recipes, check out these:
House Salad with Lemon Dressing
Creamy Coleslaw Recipe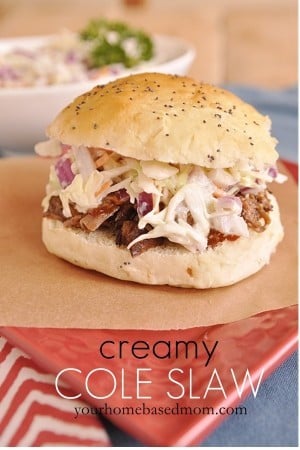 Creamy Coleslaw
Ingredients
1/2 head of cabbage shredded or 1 bag of pre shredded cabbage (16 oz.)
1 clove garlic minced
1/2 small red onion sliced thin
3 Tbsp white balsamic veibnar
1 Tbsp Dijon mustard
1 Tbsp stone ground mustard
2 Tbsp mayonnaise
1 1/2 Tbsp sugar
1 tsp salt
1 Tbsp Worcestershire Sauce
1/4 tsp celery seed
Instructions
Mix all ingredients together

Pour over shredded cabbage.

Refrigerate for at least one hour.