Create a restaurant style Smash Burger at home in minutes and for a lot less money. You are going to love the crispy brown crust that forms as the burger cooks so quickly.
For more delicious burger recipes try this Juicy Lucy Burger, Copycat In N Out Burger, and Teriyaki Burger.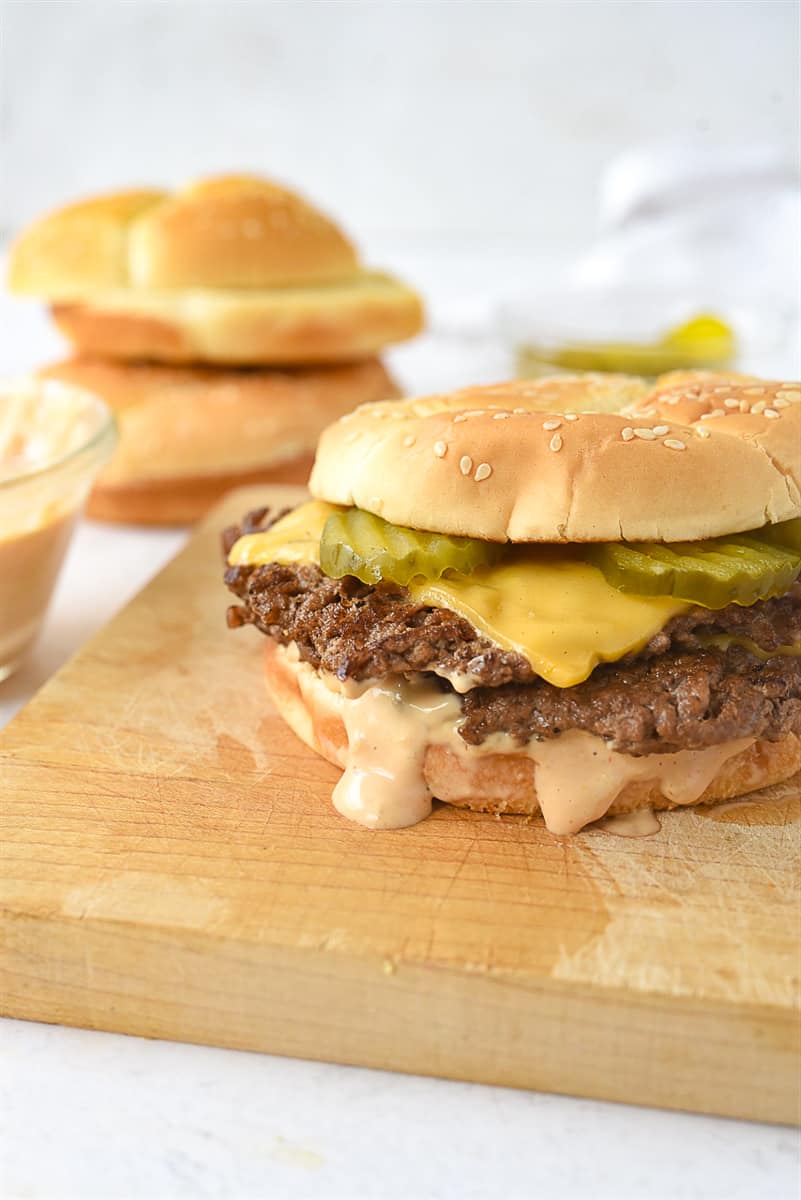 Homemade Smash Burger Recipe
I've had this Smash Burger on repeat this summer. It is so quick to make that it's the perfect last minute dinner idea. It's been hot here in Portland so I love cooking it outside on the grill and not heating up my house.
Fortunately my husband love sit too since it's been making a frequent appearance!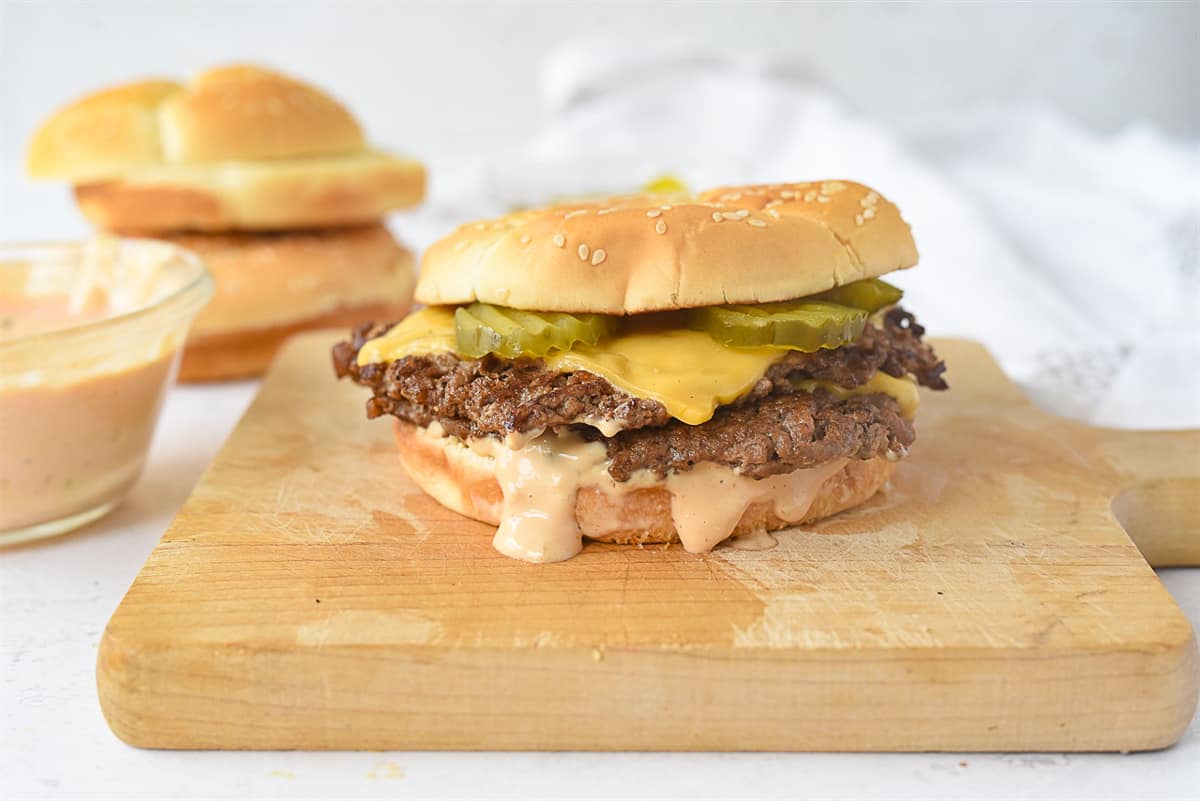 What is a Smash Burger?
It's a thin burger cooked on a griddle. The burger gets lots of flavor from the browned bits that develop during the quick cooking process. Those browned bits form a delicious crust with a wonderful texture.
The smash burger was made popular by the Smashburger, hamburger chain. It gets it's name from the technique of smashing the hamburger on the grill with a large spatula or bacon press.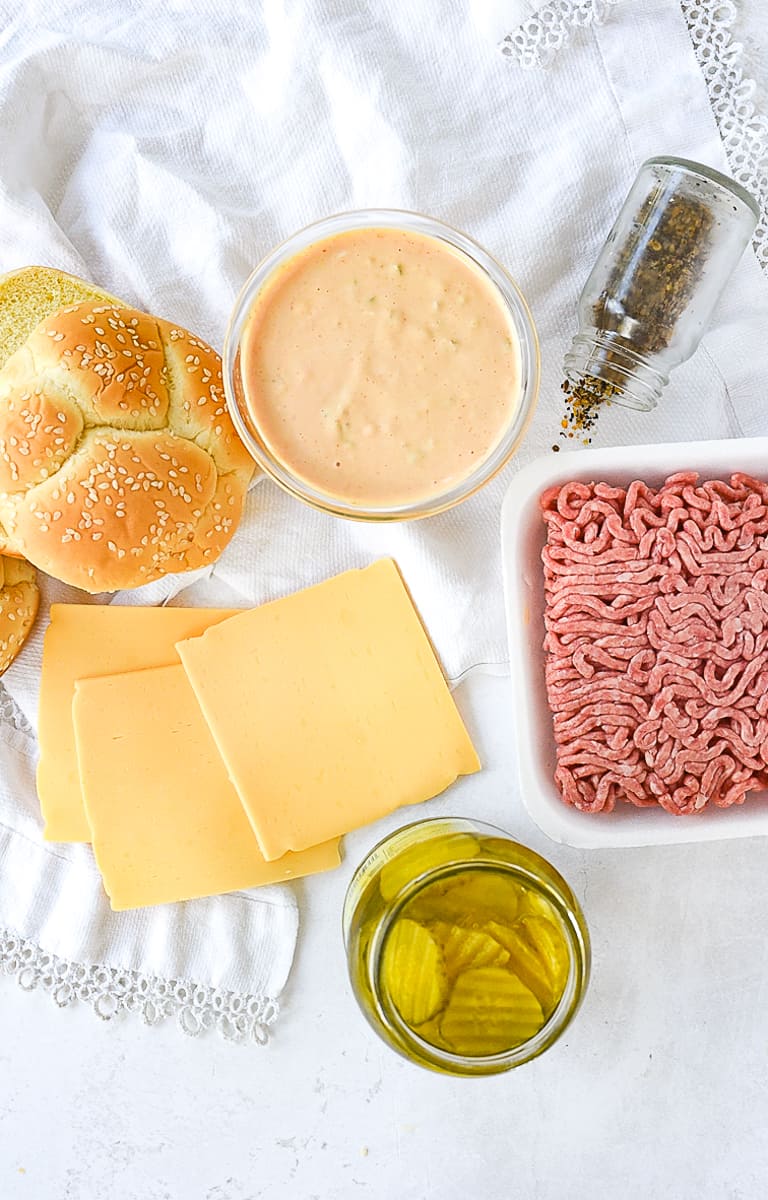 Ingredients for a Smash Burger
Ground Beef. I use an 80/20 meant to fat ratio. One pound makes four burgers.
Seasoning. Use your favorite beef seasoning. I like Montreal Steak Seasoning.
Hamburger Buns. Butter and toast your buns before cooking burgers so they are ready as soon as the burgers are.
Hamburger Sauce. Find our favorite recipe here.
Pickles. We like dill pickles.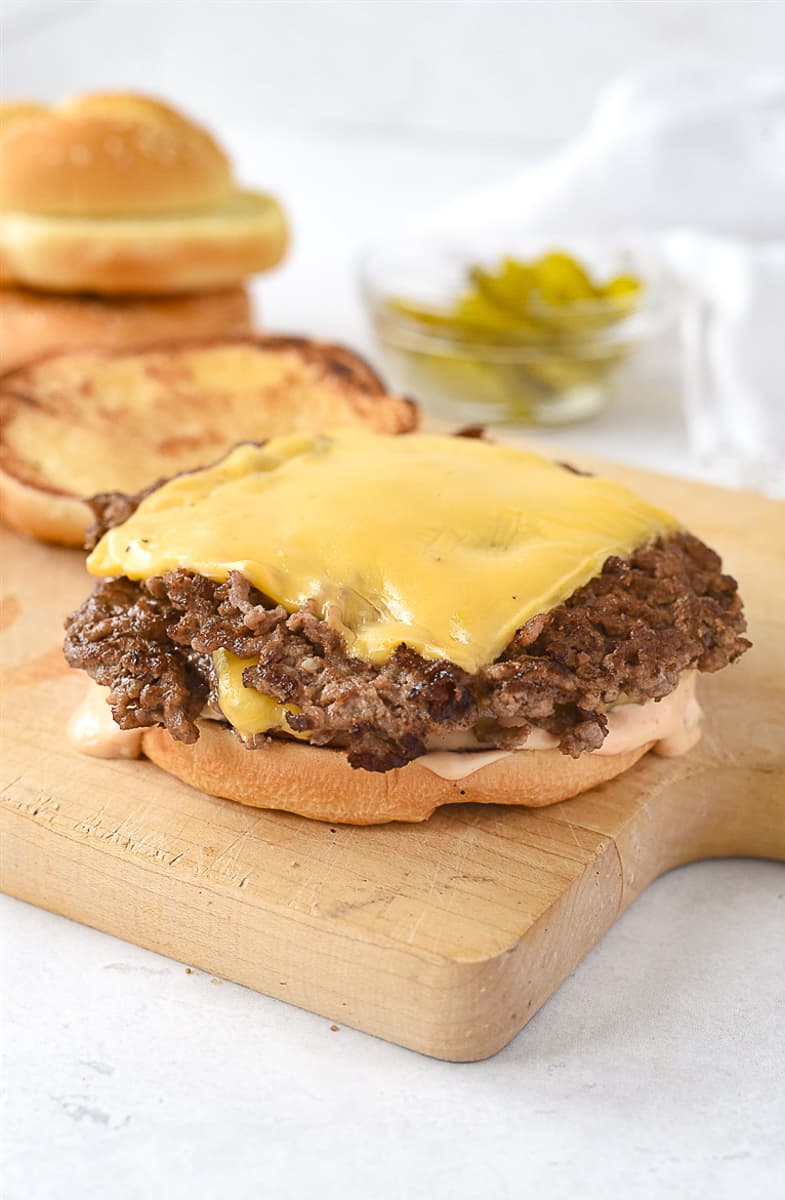 How to Make a Smash Burger
Be prepared! A Smash Burger cooks fast so be sure you have all your other ingredients ready. I always butter and toast my buns first so they are ready when the burger is. Also have your cheese ready and sliced.
Form hamburger into four loosely shaped balls. Fresh ground beef will have more flavor than frozen meat.
Heat Griddle. You want your griddle hot, about 375 degrees F. I like to put my cast iron griddle on my outdoor grill but you can also do it on your stovetop but I find it sets my smoke alarm off frequently! If you don't have a griddle you can also use a cast iron pan.
Place the balls of meat onto a hot griddle.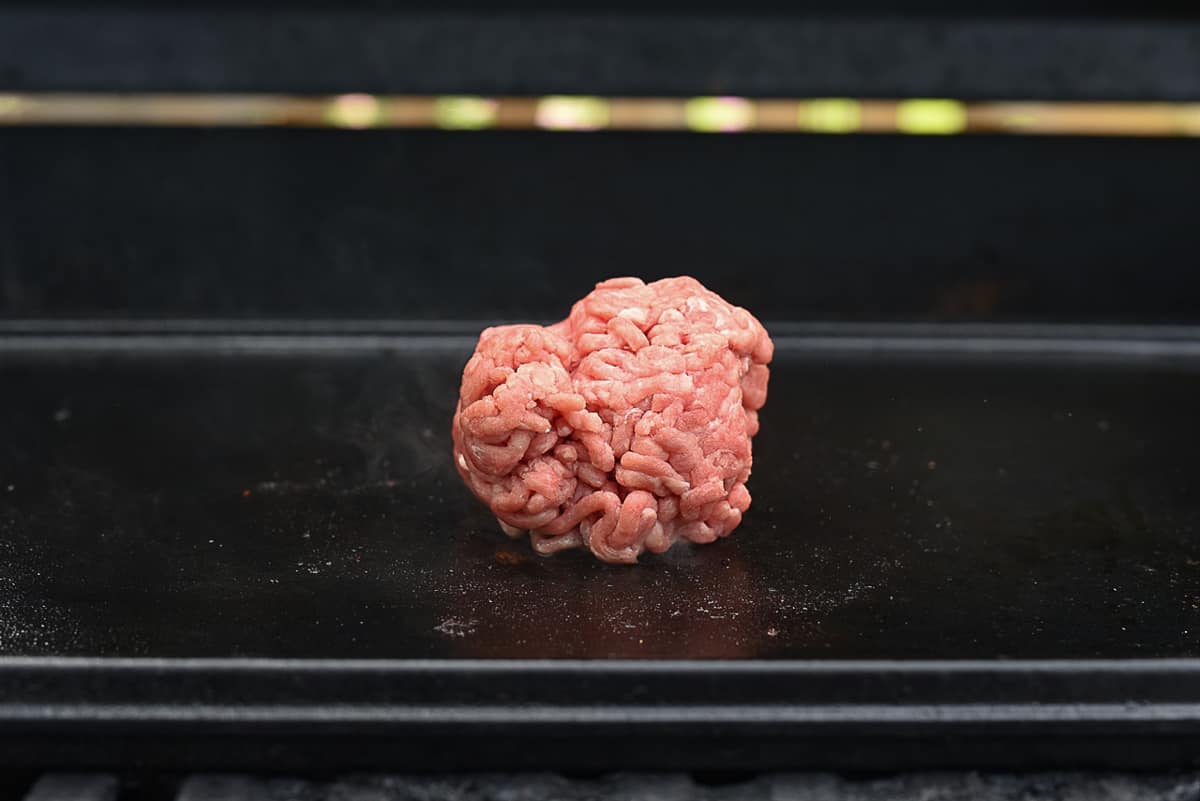 After placing hamburger on hot griddle place a piece of parchment paper over the top and then smash. The parchment paper keeps the meat from sticking to the spatula.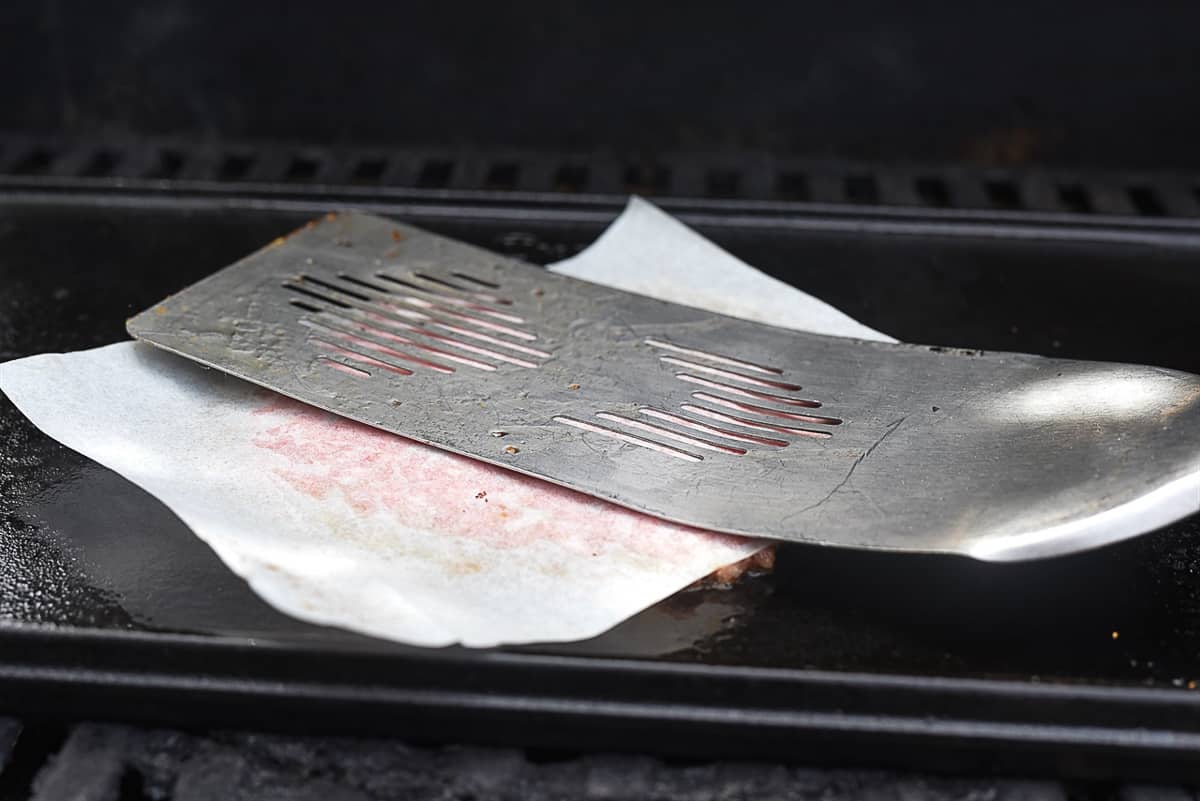 Add seasoning generously.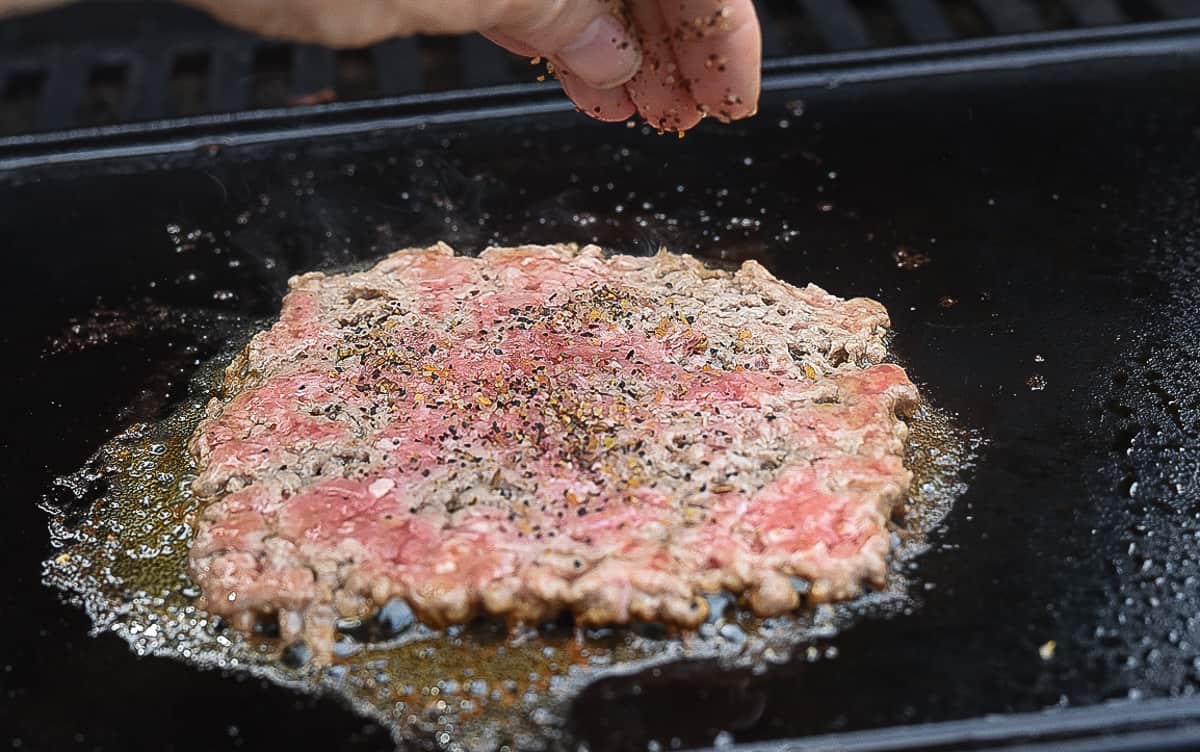 Cook for 2-3 minutes, the burger cooks fast. The edges of the burger will be lacy and may even have some holes in it, this is what creates the crispy edges that are a trademark of the Smash Burger.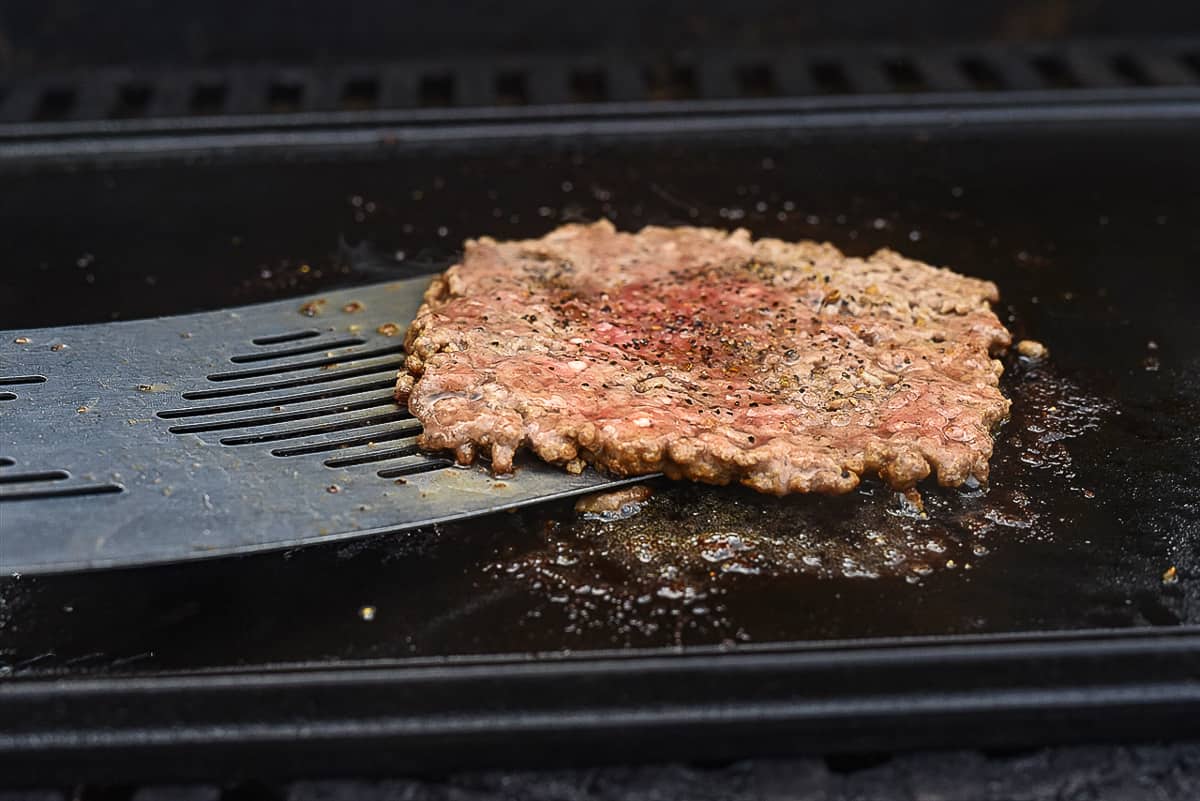 Flip the burger by using a metal spatula to "scrap" the burger up and flip. You want to get all that crusty goodness that is forming on the other side of the burger as it cooks.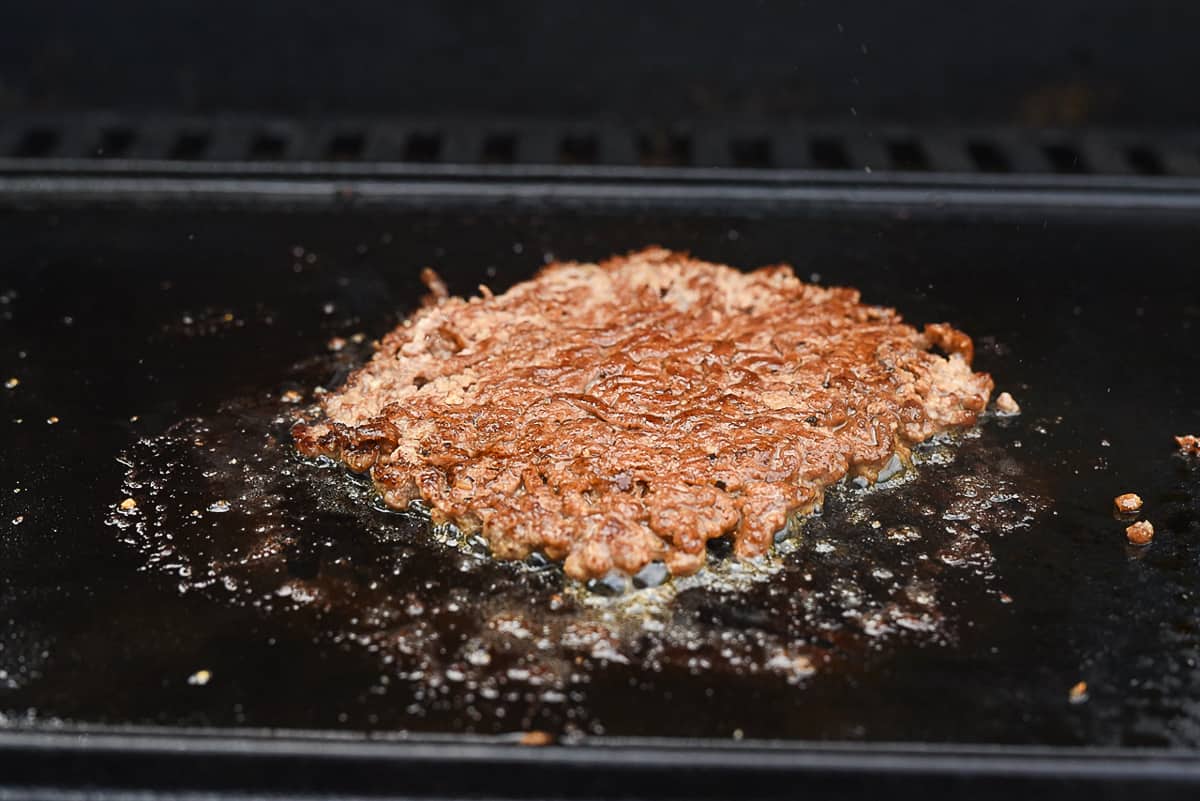 The second side will cook even quicker, about one minute.
Add cheese immediately after flipping.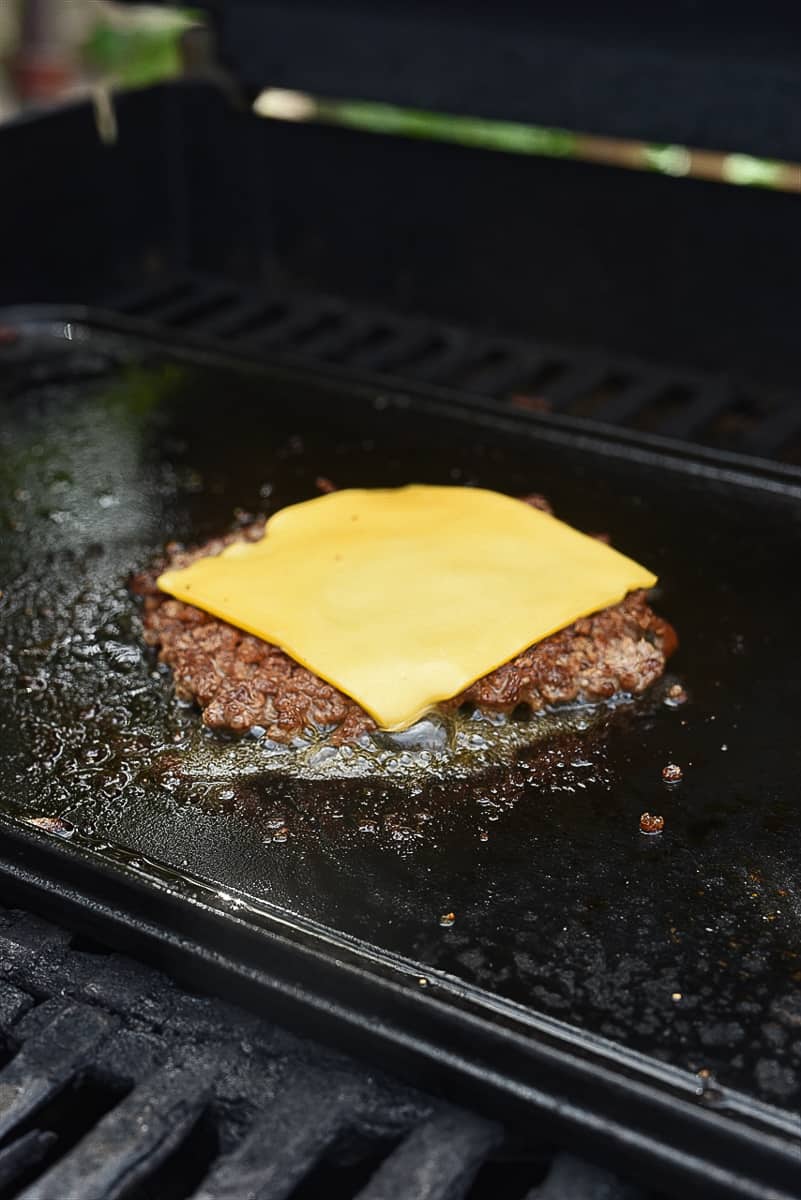 What To Put on a Smash Burger
Cheese. I use American Cheese on my Smash Burger because it melts quickly and smoothly.
Hamburger Sauce. You can find our favorite hamburger sauce recipe here. You can also just add ketchup or mustard if you are a fan. Put the sauce onto the bottom of the bun, then add the burger.
Pickles. My husband loves dill pickles on his but I'm not a pickle fan.
Double Patty. My husband likes two hamburger patties for his Smash Burger.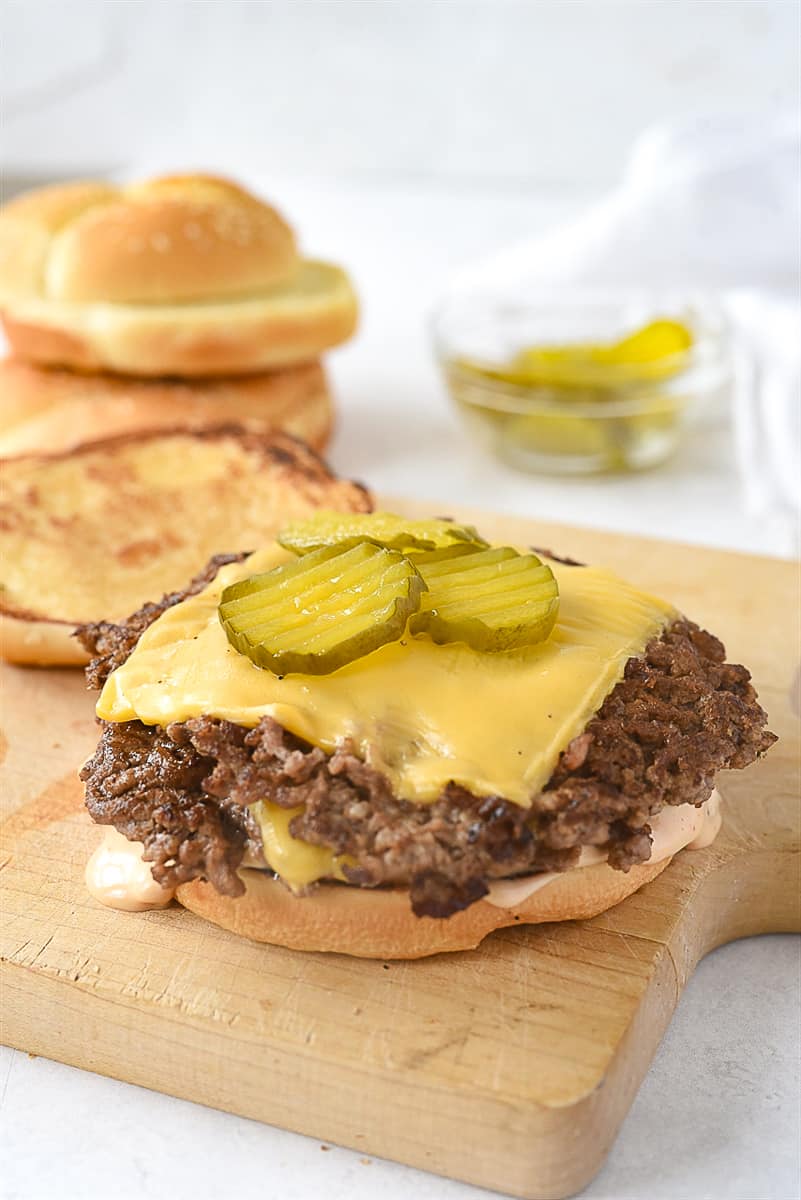 What to Serve with A Smash Burger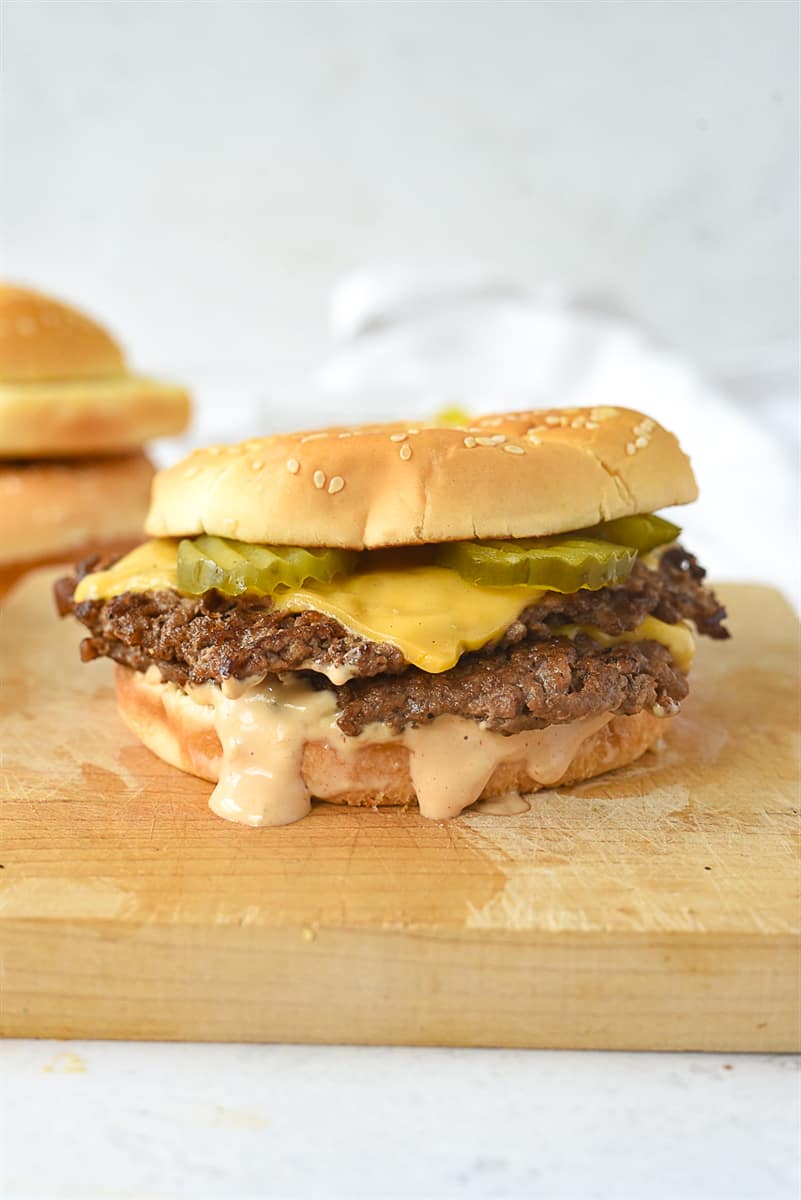 Be sure and follow me over on You Tube for weekly cooking demos.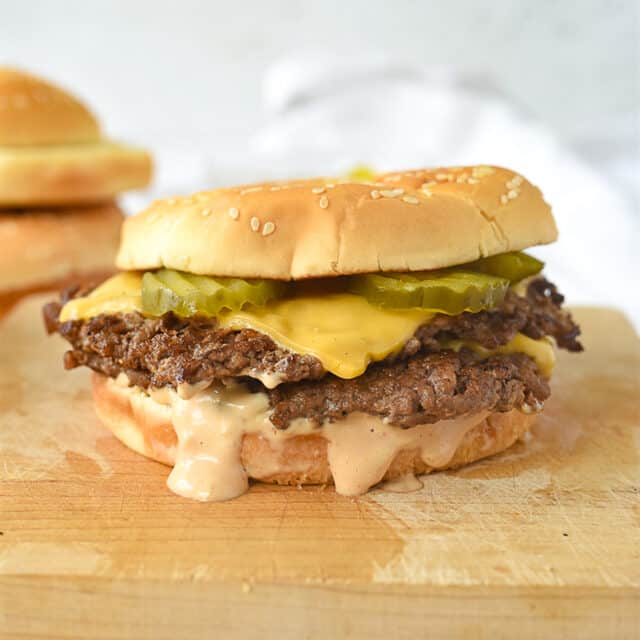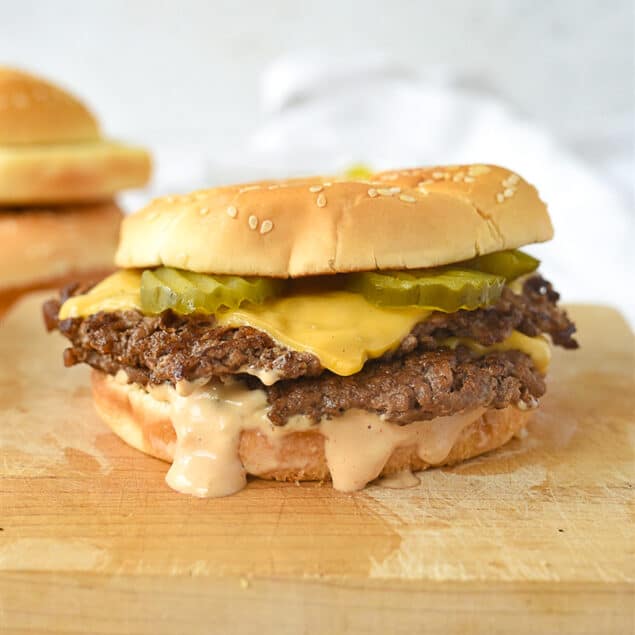 Smash Burger
Create a restaurant style Smash Burger at home in minutes and for a lot less money. You are going to love the crispy brown crust that forms as the burger cooks so quickly.
Ingredients
1 lb. ground hamburger 80/20
seasoning salt
4 slices American Cheese
4 buns buttered
Instructions
Divide hamburger into four pieces and form into loosely formed balls.

Heat griddle to 375 degrees F.

Place ball of hamburger on hot griddle.

Cover with a piece of parchment paper and press down with a large spatula or bacon press.

Get the patty as thin as you can.

Sprinkle with seasoning. Cook for 2-3 minutes.

Flip with spatula making sure to scrap up the crusty skin that has formed on the underneath side.

Cover with slice of cheese.

Cook for 1-2 more minutes.

Place on toasted bun with desired condiments.
Nutrition Facts:
Calories: 539kcal (27%) Carbohydrates: 33g (11%) Protein: 29g (58%) Fat: 32g (49%) Saturated Fat: 12g (75%) Polyunsaturated Fat: 1g Monounsaturated Fat: 12g Trans Fat: 2g Cholesterol: 102mg (34%) Sodium: 719mg (31%) Potassium: 334mg (10%) Fiber: 1g (4%) Sugar: 5g (6%) Vitamin A: 198IU (4%) Calcium: 246mg (25%) Iron: 13mg (72%)
* Disclaimer: All nutrition information are estimates only. Read full disclosure here.