This Hamburger Soup is the perfect weeknight dinner idea.  It comes together in no time and makes a delicious family dinner!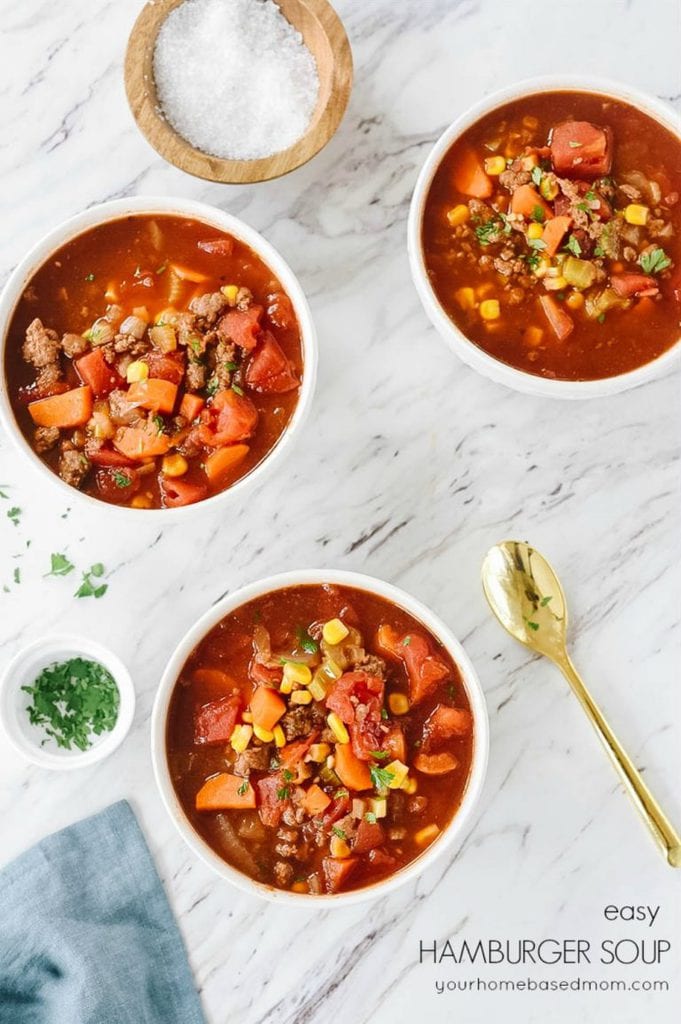 I've been a soup kind of girl since the beginning.
When I was two years old there were only two foods that I would eat.  Raw, cold  hot dogs (I am a little embarrassed to admit this) and Campbell's vegetable soup.  The only thing was I liked the soup straight out of the can, no water added and cold!
Now you may wonder what would possess a mother to give her child a raw hot dog and soup straight out of the can?  I'm not sure and my mother doesn't remember either  but I guess when you are desperate to get your child to eat you will try about anything. Any time a young mom expresses concern about what her child will or won't eat I always reassure them, as long as they are healthy, you are fine.  I turned out o.k.!
I am happy to say that I have outgrown that soup phase and now enjoy my soup warm and most of the time homemade, not out of the can.  Although I must admit there are some days that nothing sounds or taste better than a bowl of Campbell's tomato soup and a grilled cheese sandwich – definite comfort food for me.
One of the very first  homemade soups I think I ever had was hamburger soup.  My mom mentioned on the phone to me the other day that she had made a pot of hamburger soup and how good it tasted.  I had forgotten all about hamburger soup.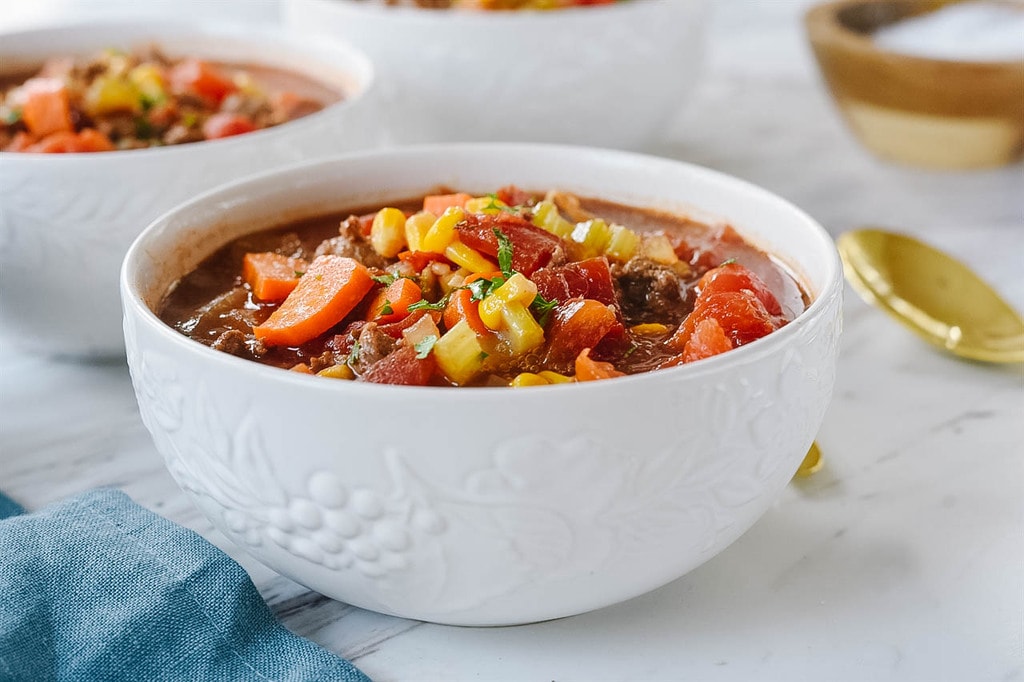 My mom has no idea where she got the recipe from .  It is an old one, handwritten on an index card.  Since it's been a bit cold and rainy here in the beautiful Northwest I decided it was definitely a soup kind of day.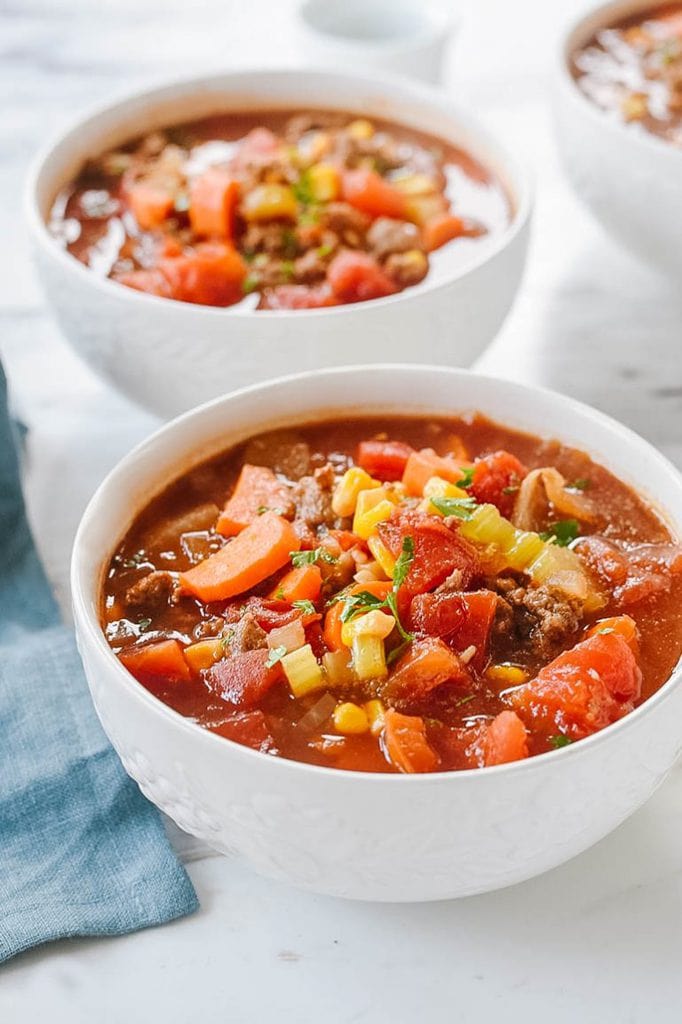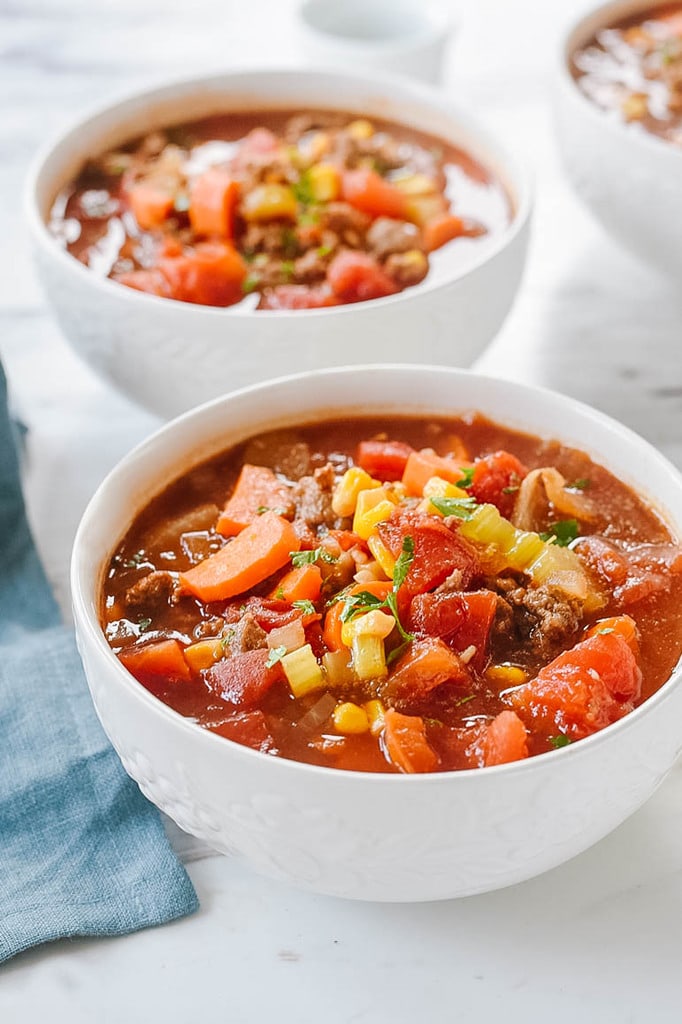 I really don't like calling it Hamburger Soup because the name doesn't sound as appetizing as the soup really is!  The name just makes it sound so boring and simple.  Hamburger Soup is an easy and quick soup to put together and the perfect weeknight dinner solution.  You really can make dinner in about 20 minutes if you don't let it simmer.  The simmer does help meld the flavors together but it is still delicious without the hour or so of simmering.
How to Make Hamburger Soup
Brown up some hamburger, add in some freshly chopped onion, celery and carrot and then open a few cans of tomatoes, tomato sauce, a little ketchup and a few seasonings.  The recipe also calls for some frozen corn but you can also use canned corn.  Simple but the flavor is wonderful!
The recipe made enough for about 3 meals for our reduced size family so the leftovers got put into a ziploc baggie and saved for another rainy day.  The soup thickens up a bit so just add in some more beef broth before you serve it again and it will stretch even further!
Some of my other favorite soups:
For all of my other favorite kitchen products and tools visit my Amazon Store.
Hamburger Soup Recipe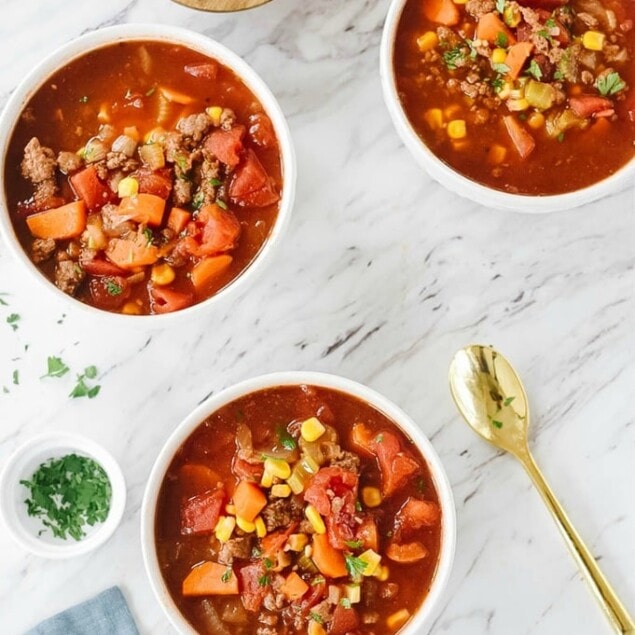 Hamburger Soup
This Hamburger Soup is the perfect weeknight dinner idea. It comes together in no time and makes a delicious family dinner!
Ingredients
1 lb ground beef cooked and drained
2 tsp. garlic minced
1 C carrots chopped
1 C celery chopped
1 C onions chopped
6 cups beef broth
15 oz can tomato sauce
32 oz can diced tomatoes
1 tsp salt
10 oz frozen corn kernels
1 tsp dried basil
4 Tbsp ketchup
Instructions
Brown hamburger with garlic

Combine all ingredients in a large stockpot

Bring to boil

Reduce heat and simmer 1-1/2 hours
Nutrition Facts:
Calories: 335kcal (17%) Carbohydrates: 29g (10%) Protein: 20g (40%) Fat: 16g (25%) Saturated Fat: 6g (38%) Cholesterol: 53mg (18%) Sodium: 2053mg (89%) Potassium: 1184mg (34%) Fiber: 5g (21%) Sugar: 11g (12%) Vitamin A: 4180IU (84%) Vitamin C: 27.1mg (33%) Calcium: 113mg (11%) Iron: 4.7mg (26%)
* Disclaimer: All nutrition information are estimates only. Read full disclosure here.
Need some help figuring out what's for dinner tonight?
Come join our Facebook Group!  Join hundreds of others who love sharing dinner time ideas.  You don't want to miss out on the fun!

You'll find lots of ideas for dinner from all our awesome members and you can share your ideas too!  Join the Family Dinner Table today.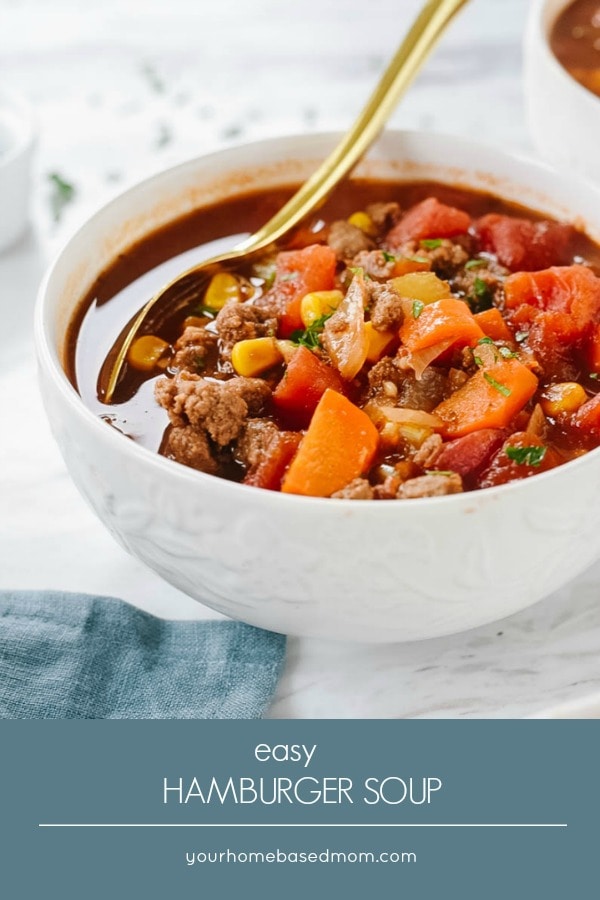 Originally posted February 21, 2011