There is nothing better than a bowl of Fresh Tomato Soup made with vine ripened tomatoes.  And you won't believe how easy it is to make a batch for yourself.  Serve it with your favorite grilled cheese sandwich for a dinner everyone will enjoy.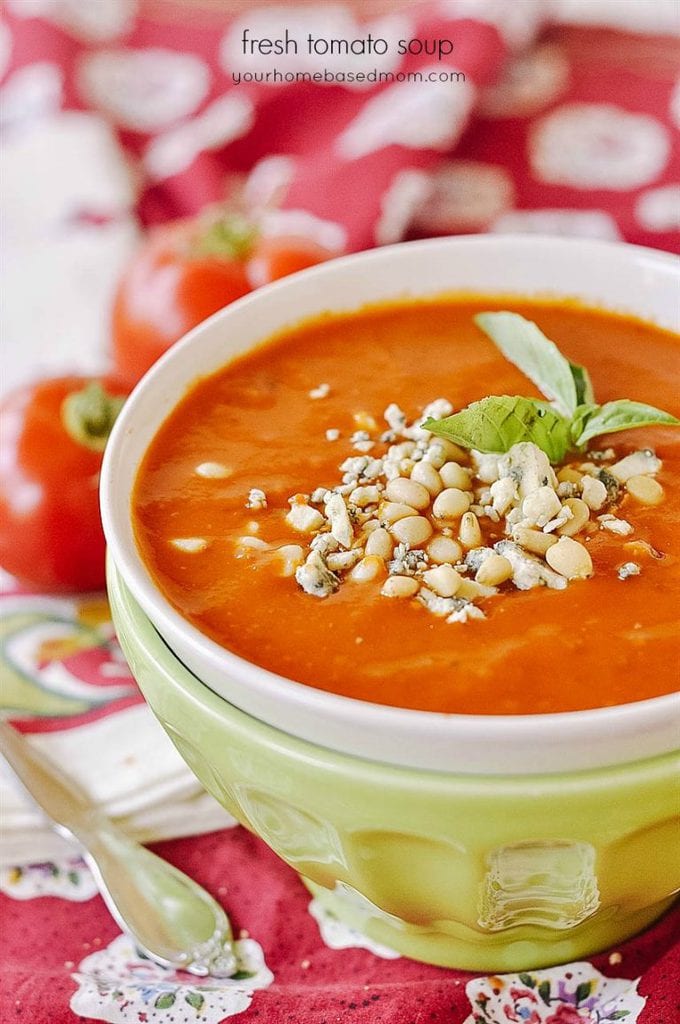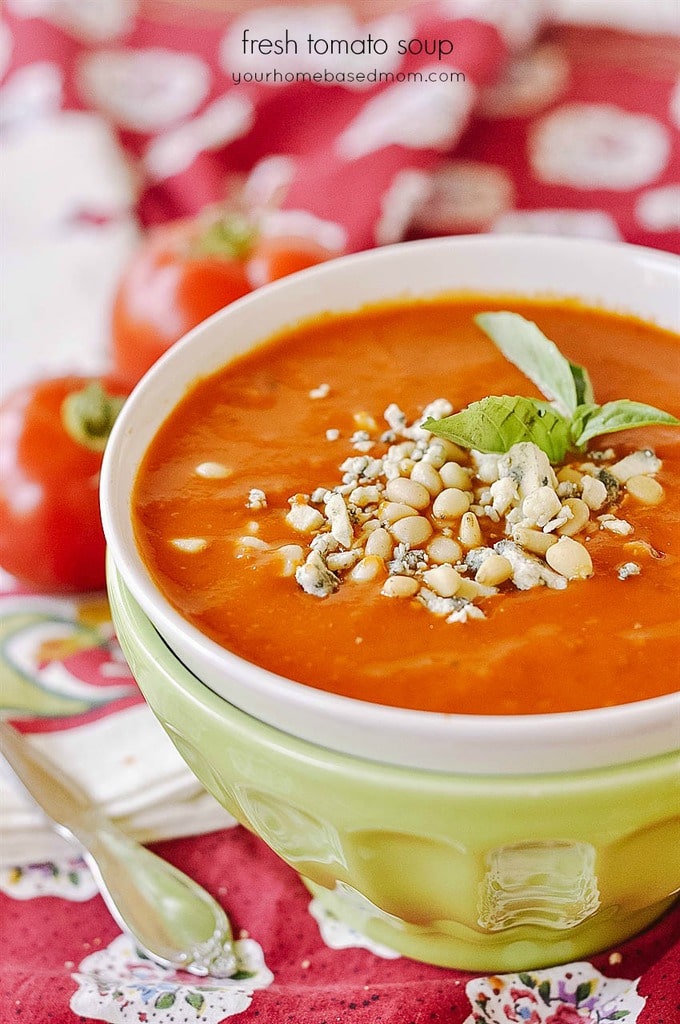 When the tomatoes in my garden come in, this recipe from Fresh Tomato Soup is always one of the first things on the menu.  This recipe was inspired from Tessa's favorite soup at the Stephanie Inn.  If you are ever in Cannon Beach Oregon, you should check out the Inn and the tomato soup!
I love being able to walk out into my backyard, into my own garden, and pick some of the foods I will use in my dinner – fresh tomatoes, parsley, basil. etc.  If you don't have room for a garden, at least get a container and plant some of your own herbs.  Herbs, freshly cut make a big difference in the flavor of a dish and they are so easy to grow in a container. I love the smell of the herbs on my hands after I cut them.
How to Peel Tomatoes
For this soup, if you have a high powered blender such as a Vitamix or a Blendtec you really don't need to peel the tomatoes.  If you just have a regular blender you may want to peel them unless you like a lot of texture in your soup.
Here is how I like to peel my tomatoes to get them ready for the soup.
You will need: a pot of boiling water, a bowl of cool water and two more bowls for the skins and the skinned tomatoes.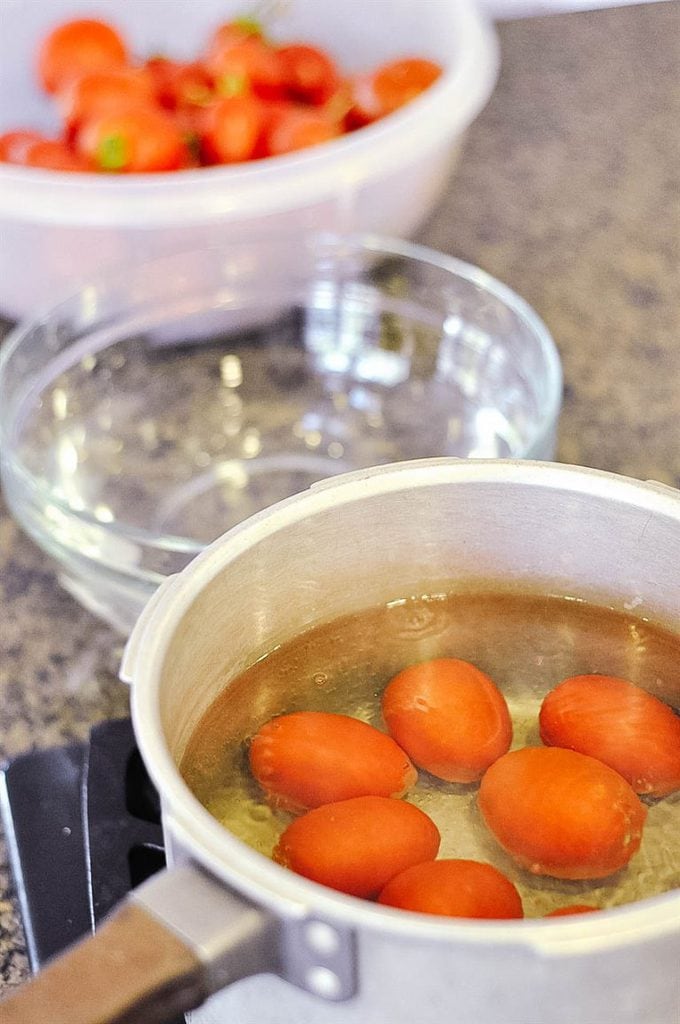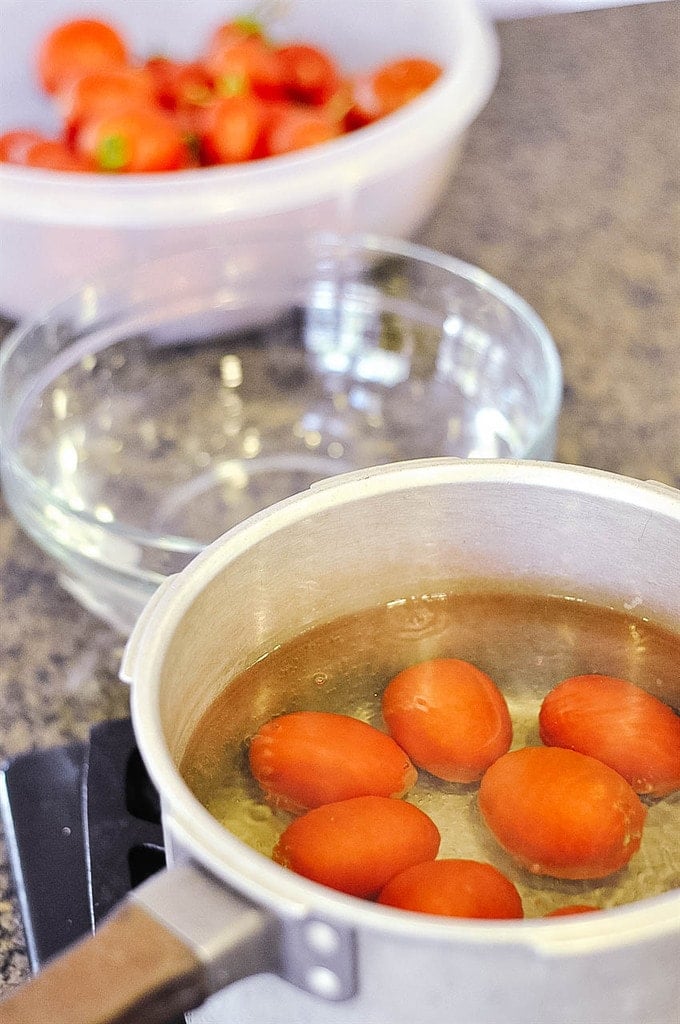 Place the tomatoes in a pot of boiling water  until the skins begin to crack. Remove them to the bowl of cool water. If you let them cook too long they will get mushy.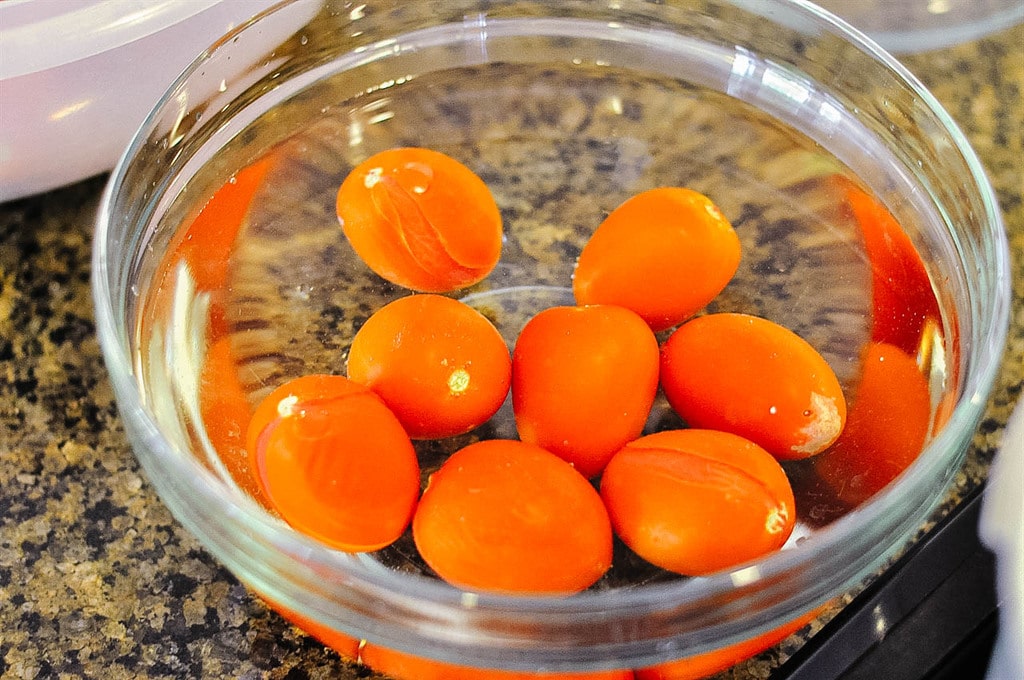 The skins will pull right off.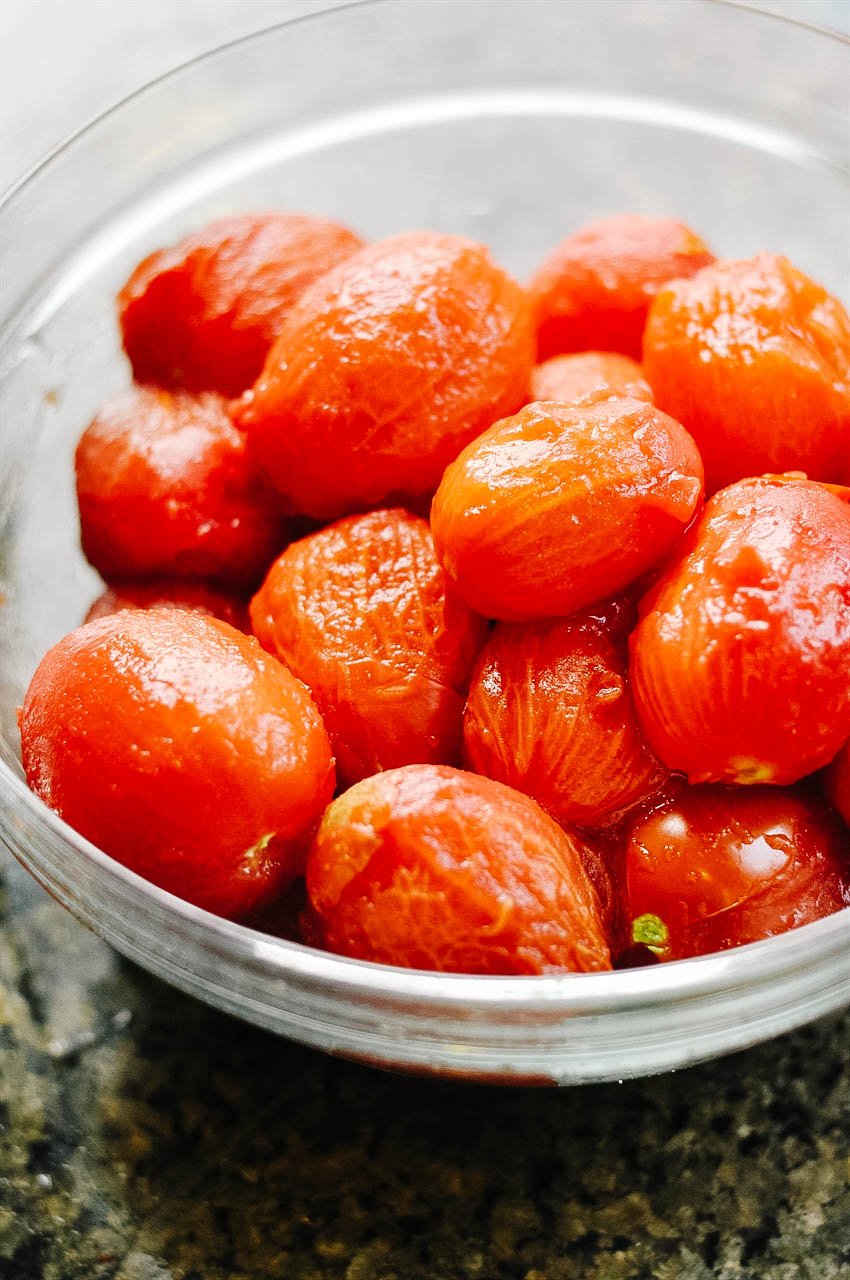 Chop the tomatoes.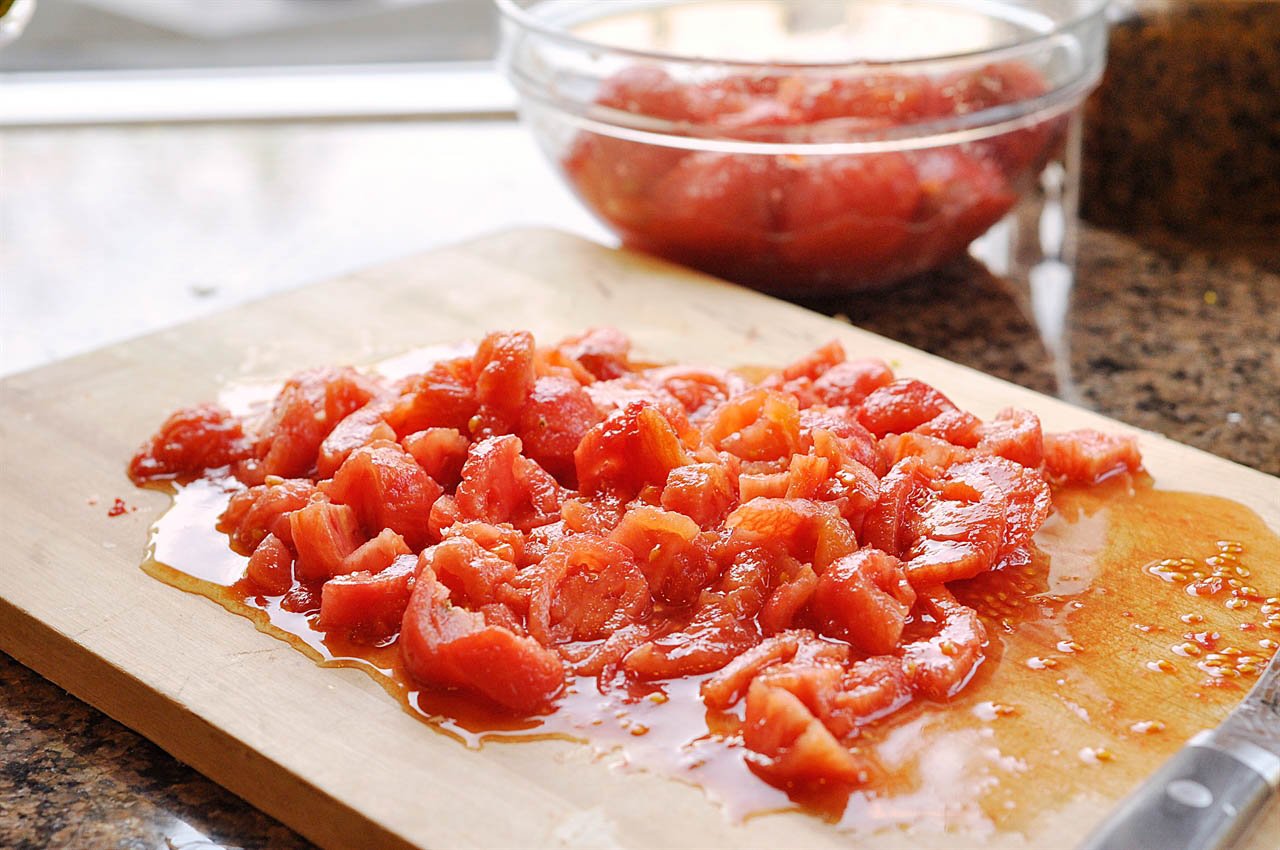 Again you can skip  the chopping part if you have a Vitamix or a Blentec. Just throw the tomatoes in and blend them up!
How To Make Tomato Soup
Add the diced shallots and garlic to the olive oil and saute until soft.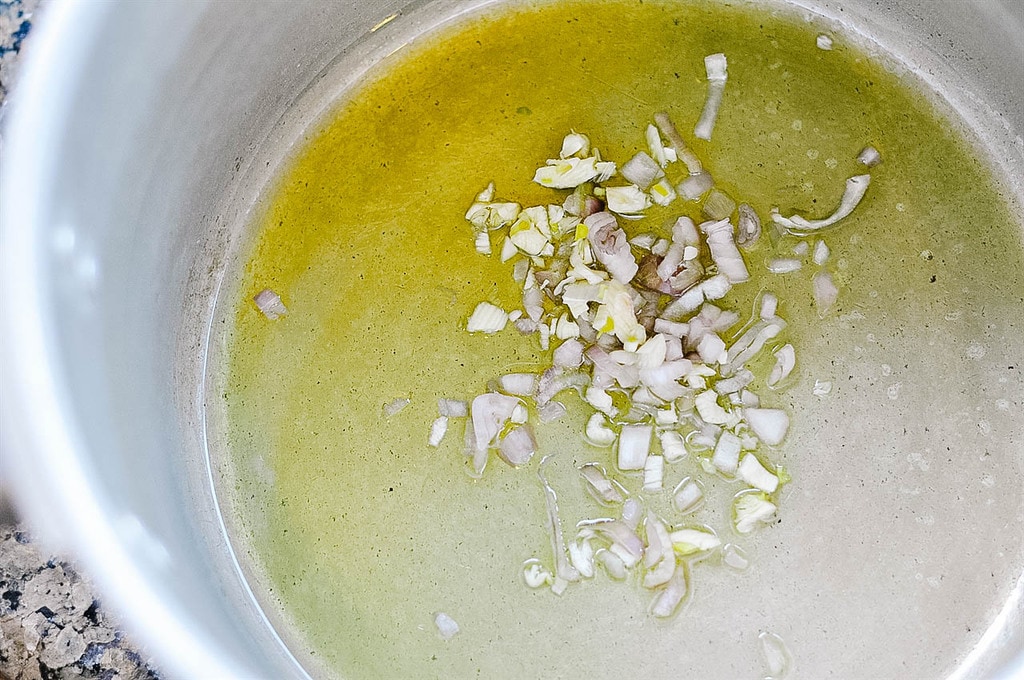 Add in the tomatoes, tomato juice and chopped parsley. Simmer for about 20 minutes and then add in green onion and basil and simmer for another 10 minutes.
Then I put the soup back in the Vitamix or Blendtec to puree it until desired smoothness. DO NOT put hot soup into a regular blender – it will explode. Believe me I know! You will either need to wait until the soup has cooled and then blend or use an immersion hand blender to blend it.  If you do use a Vitamix be careful not to overfill. You will need to do it in two batches. The Vitamix in the picture below is too full!  Guess what happens when it is too full! You end up with soup all over your wall. You can ask me, because I know.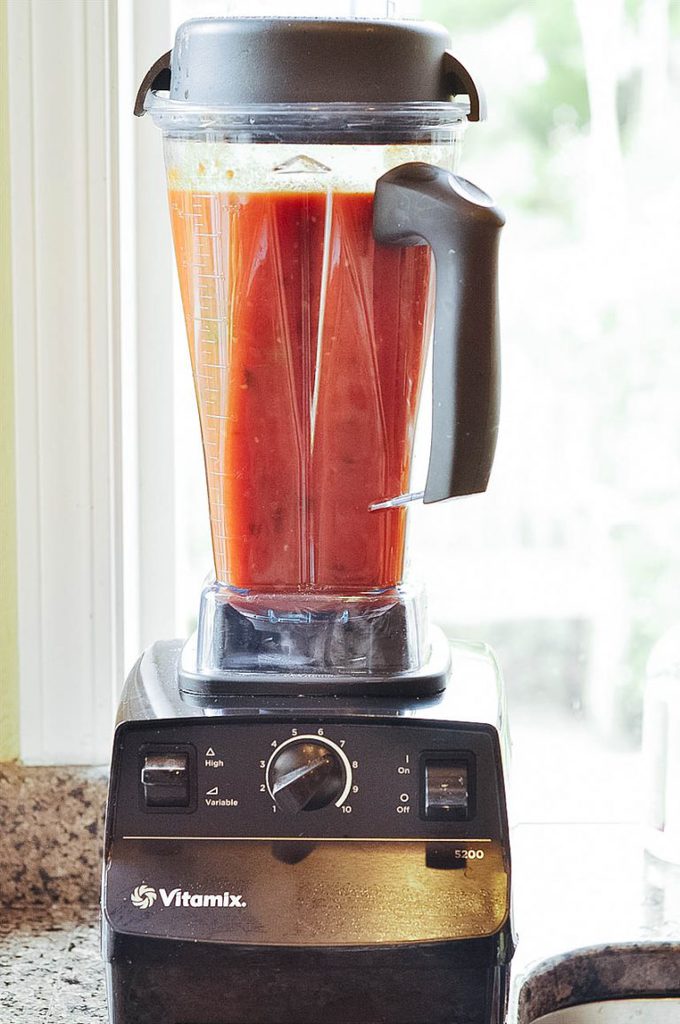 Put the soup back into the saucepan and add in the cream and reheat.  The cream is optional. The soup is delicious with it or without it.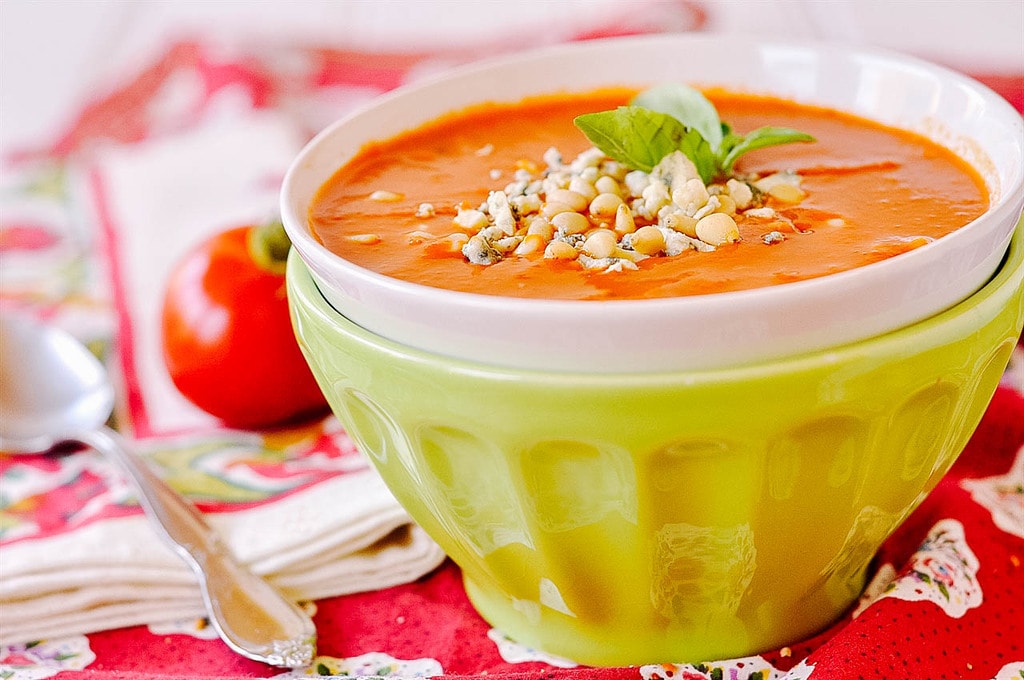 I love to top the soup with some Gorgonzola cheese or Parmesan cheese and pine nuts for a little bit more grown up version of tomato soup.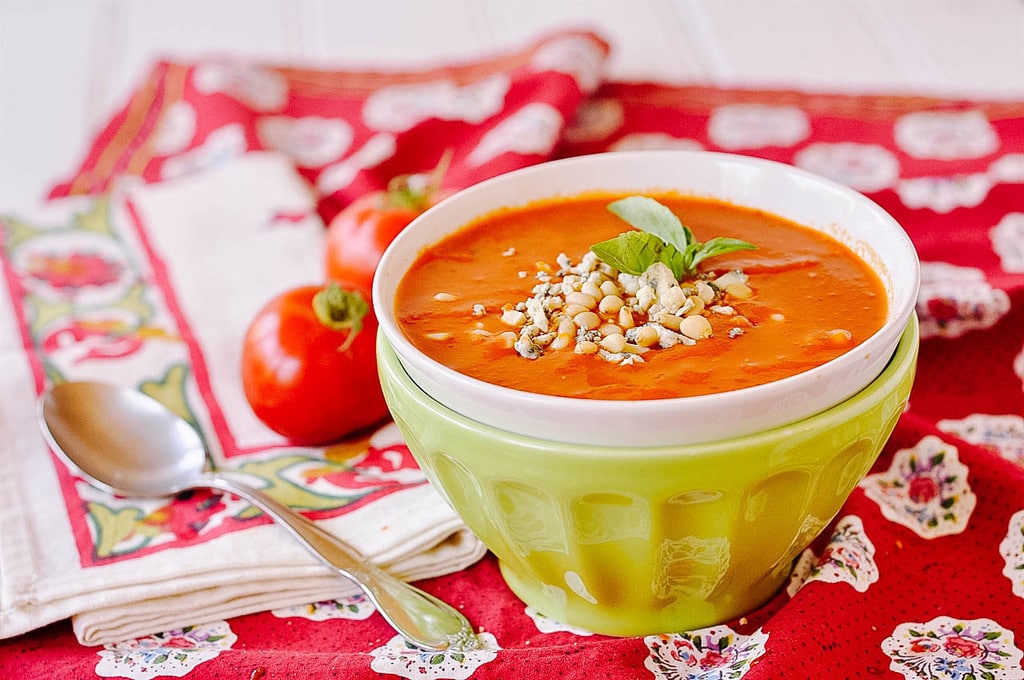 This childhood classic is always a favorite – who can resist a bowl of homemade tomato soup.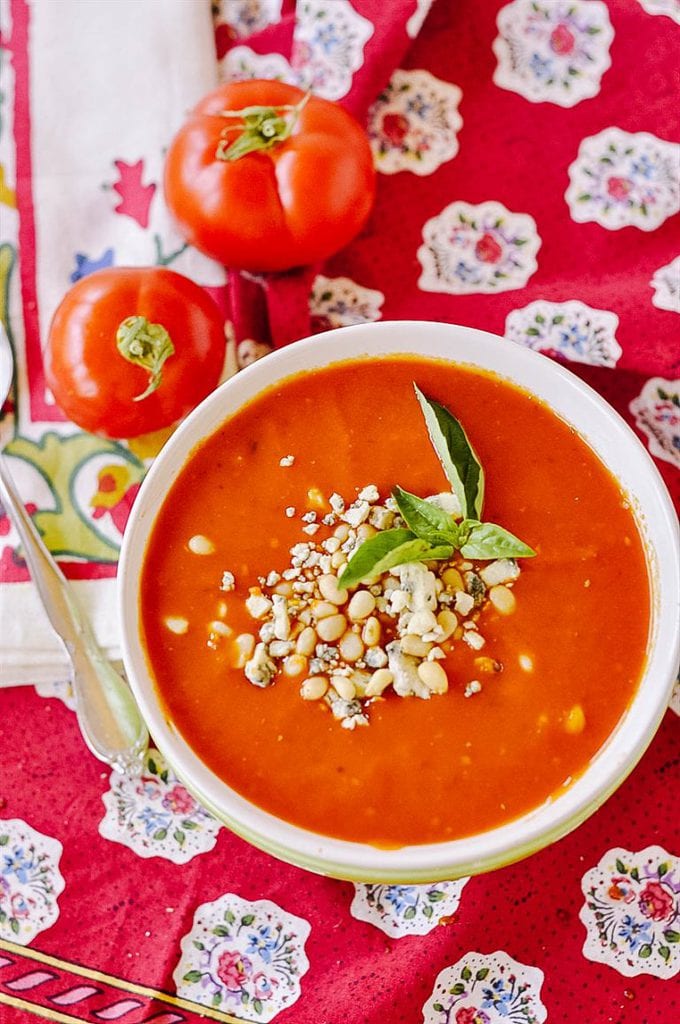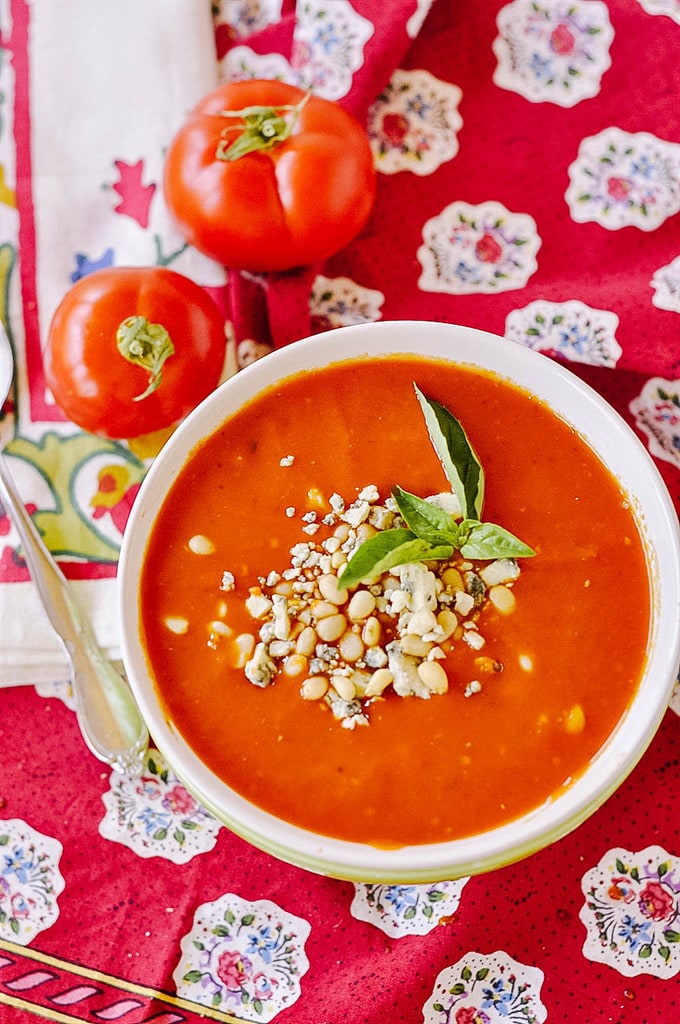 So as the tomato season comes to an end – enjoy this yummy soup.
Other favorite soups:
Fresh Tomato Soup Recipe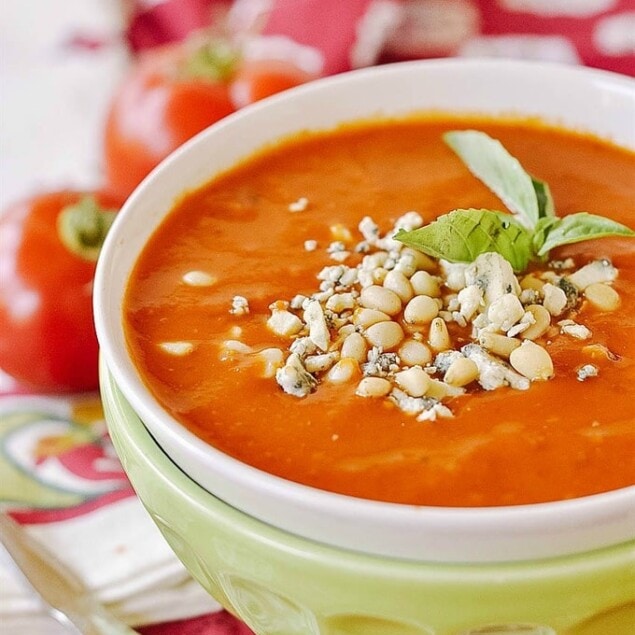 Fresh Tomato Soup
Delicious tomato soup made with fresh tomatoes! So easy and delicious, you will wonder why you ever ate tomato soup from a can!
Ingredients
1/4 C olive oil
1 garlic clove minced
1 shallots minced
4 C of vine-ripened tomatoes diced
1/4 C chopped fresh flat leaf parsley
4 C tomato juice
1/4 C chopped fresh basil
1/2 C sliced green onions
1/2 C cream
salt and pepper to taste
Instructions
Heat the olive oil in a heavy pan over medium heat.

Stir in the garlic and shallots. Cover and cook for about 8 minutes or until the shallots are tender and opaque.

Stir in the diced tomatoes, parsley and tomato juice. Simmer the soup for about 20 minutes, stirring occasionally

Add the basil and green onions, and simmer for about 10 minutes.

Puree the soup in a food processor or blender (let it cool first to avoid an explosion!)

Pour the pureed soup back into the pan. Add the heavy cream and season to taste with salt and pepper.

Garnish with Gorgonzola cheese and pine nuts.
Nutrition Facts:
Calories: 150kcal (8%) Carbohydrates: 9g (3%) Protein: 2g (4%) Fat: 12g (18%) Saturated Fat: 4g (25%) Cholesterol: 20mg (7%) Sodium: 24mg (1%) Potassium: 504mg (14%) Fiber: 1g (4%) Sugar: 6g (7%) Vitamin A: 1645IU (33%) Vitamin C: 36.6mg (44%) Calcium: 38mg (4%) Iron: 1mg (6%)
* Disclaimer: All nutrition information are estimates only. Read full disclosure here.
Need some help figuring out what's for dinner tonight?
Come join our Facebook Group!  Join hundreds of others who love sharing dinner time ideas.  You don't want to miss out on the fun!

You'll find lots of ideas for dinner from all our awesome members and you can share your ideas too!  Join the Family Dinner Table today.