The perfect 4th of July Appetizer is a patriotic charcuterie board. Gather together your favorite red and blue fruits and add meat and cheese.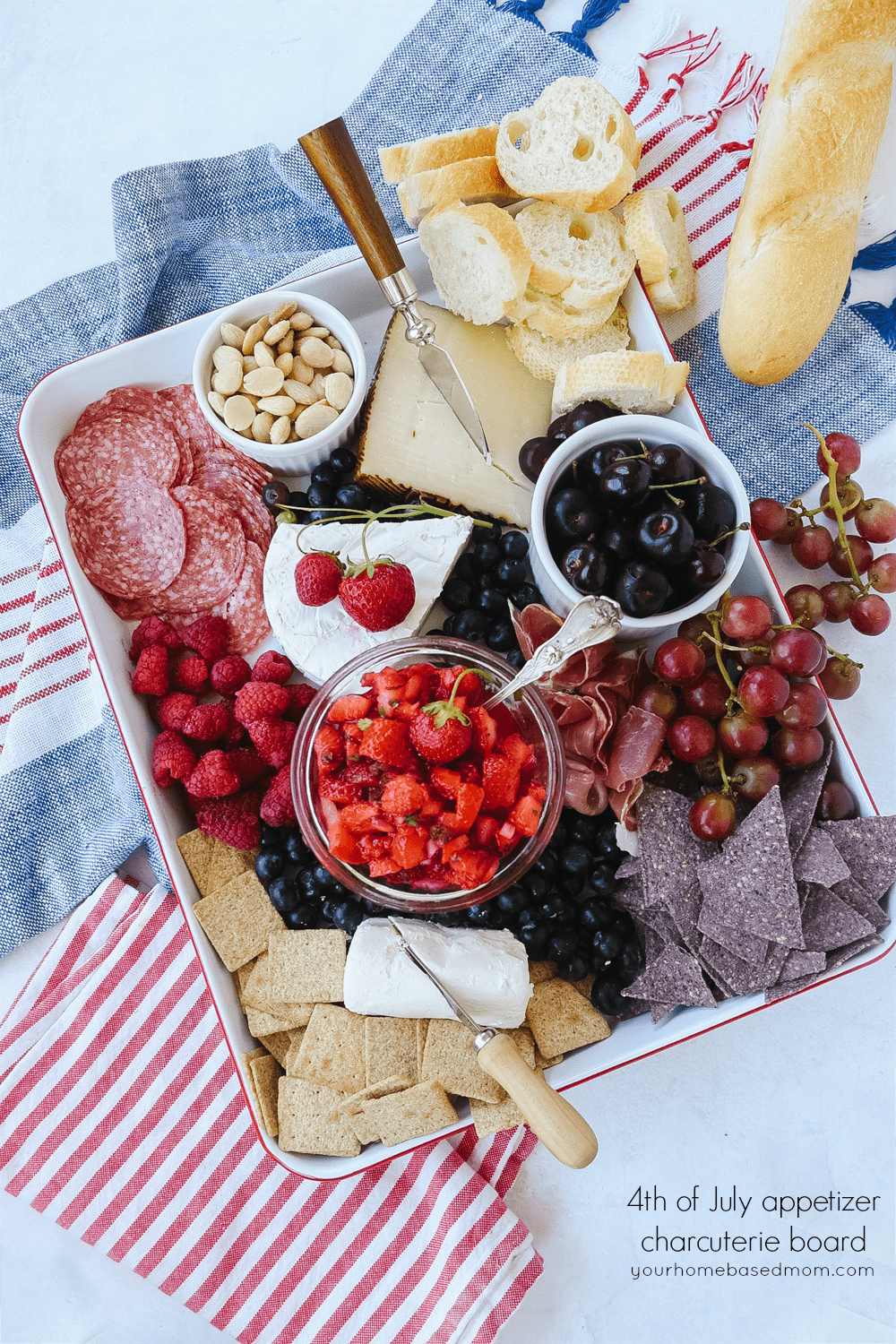 Next to Christmas, my favorite holiday is the 4th of July! I love the opportunity to celebrate our amazing country but I also love a good red, white and blue color scheme. Not only do I like to decorate with it and wear it but I love to match my food to the color scheme. A patriotic charcuterie board is the perfect way to do that! It will be the hit of your party and not only will your guests love eating it but it will be a festive and colorful addition to your table.
How to make a Patriotic Charcuterie Board
Pick an appropriate board.
You don't have to use a board made specifically for charctuerie, although there are lots of lovely ones out there. You can use a wooden cutting board you already have in your cupboard. I have used a cookie sheet, a large piece of tile leftover from a remodel and a plate. For my 4th of July appetizer I used a white enamel pan with a red edge to add to the color scheme.
Start your board with your meats and cheeses.
They are the backbone and centerpiece of any good charcuterie board.
Select your cheeses.
Use a mixture of soft and hard cheeses. For this board I used Manchego Cheese,  Double Cream Brie and a soft goat cheese.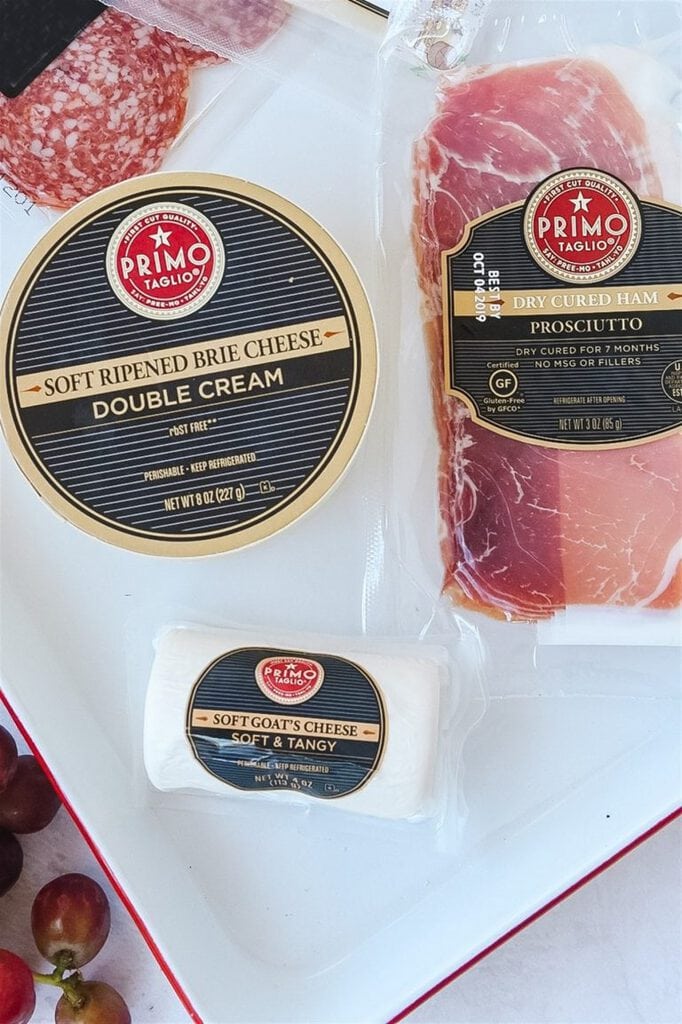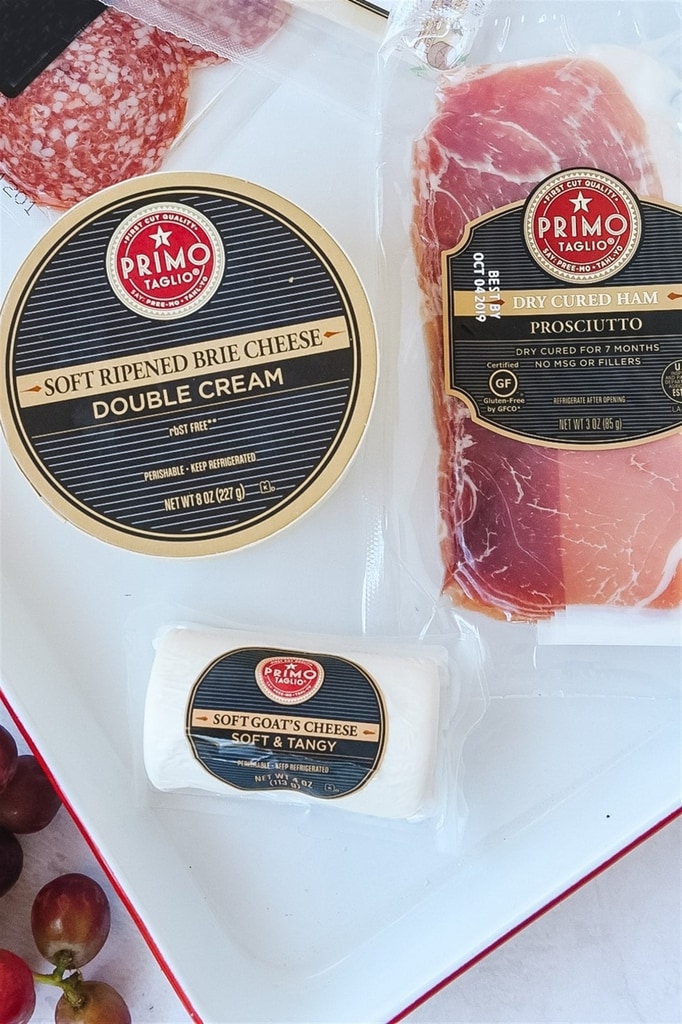 Select your meats.
Charcuterie is a French word for meat. Two of my favorite meats to use on a cheeseboard are salami and prosciutto.  But you can also use turkey, roast beef or any other thinly sliced meat.
Provide acombination of sweet and savory items
Since this is a 4th of July appetizer, I used an assortment of red and blue fruits for the sweet. Red grapes, cherries, raspberries, blueberries and some delicious strawberry salsa worked perfectly. An addition of some chocolate is always a good idea too! For my savory items I always include some kind of nut, marcona almonds are one of my favorites but almonds, cashews, hazelnuts, and pistachios are great too.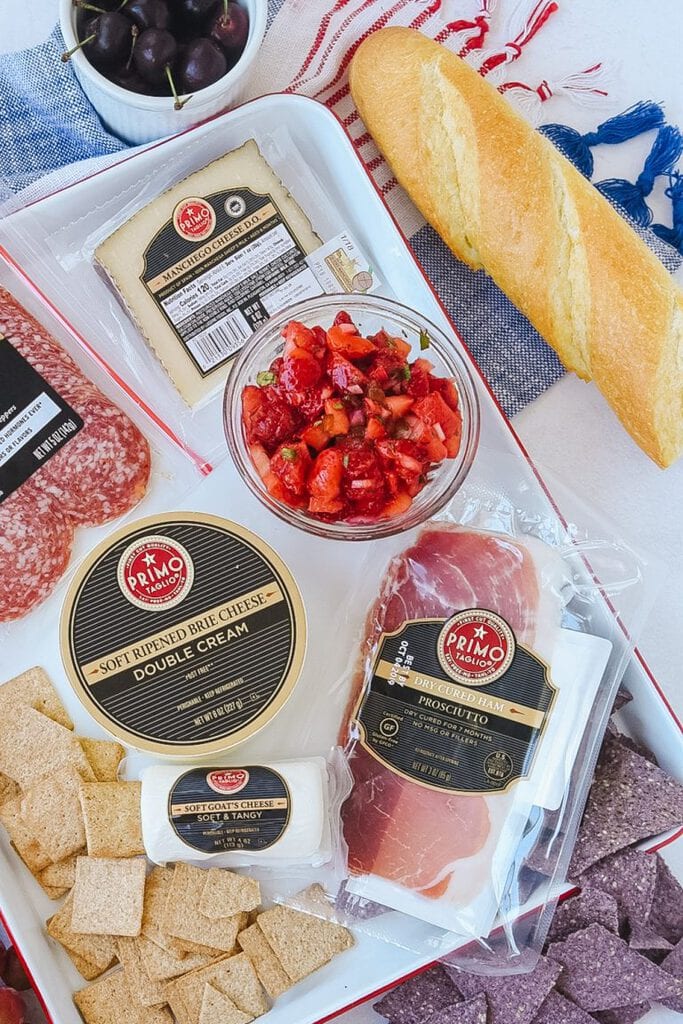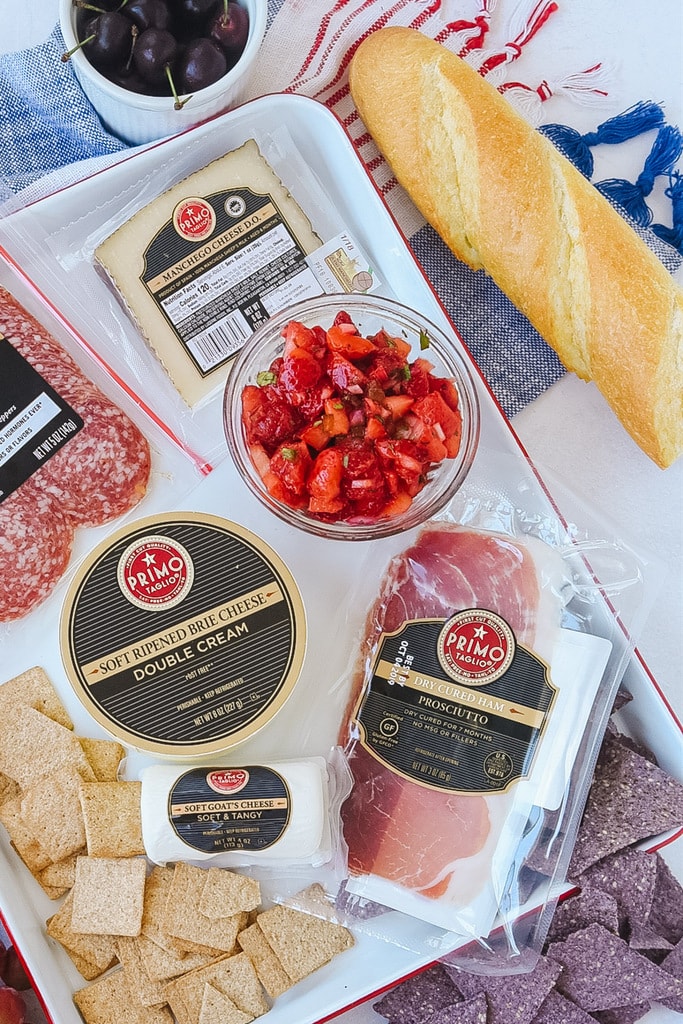 Something to dip into.
I like to include something like a hummus or salsa that people can dip their cracker into or add a spoonful of with their meat and cheese.  To go with the red, white and blue theme, I used a bowl of my yummy Strawberry salsa.
Add a variety of breads, crackers and chips.
Of course, you need something to put that meat and cheese on so I always fill in around everything else with sliced baguette, crackers and chips. Use a variety of shapes and colors for interest. Blue corn chips worked great with my color scheme and were perfect for dipping into the strawberry salsa.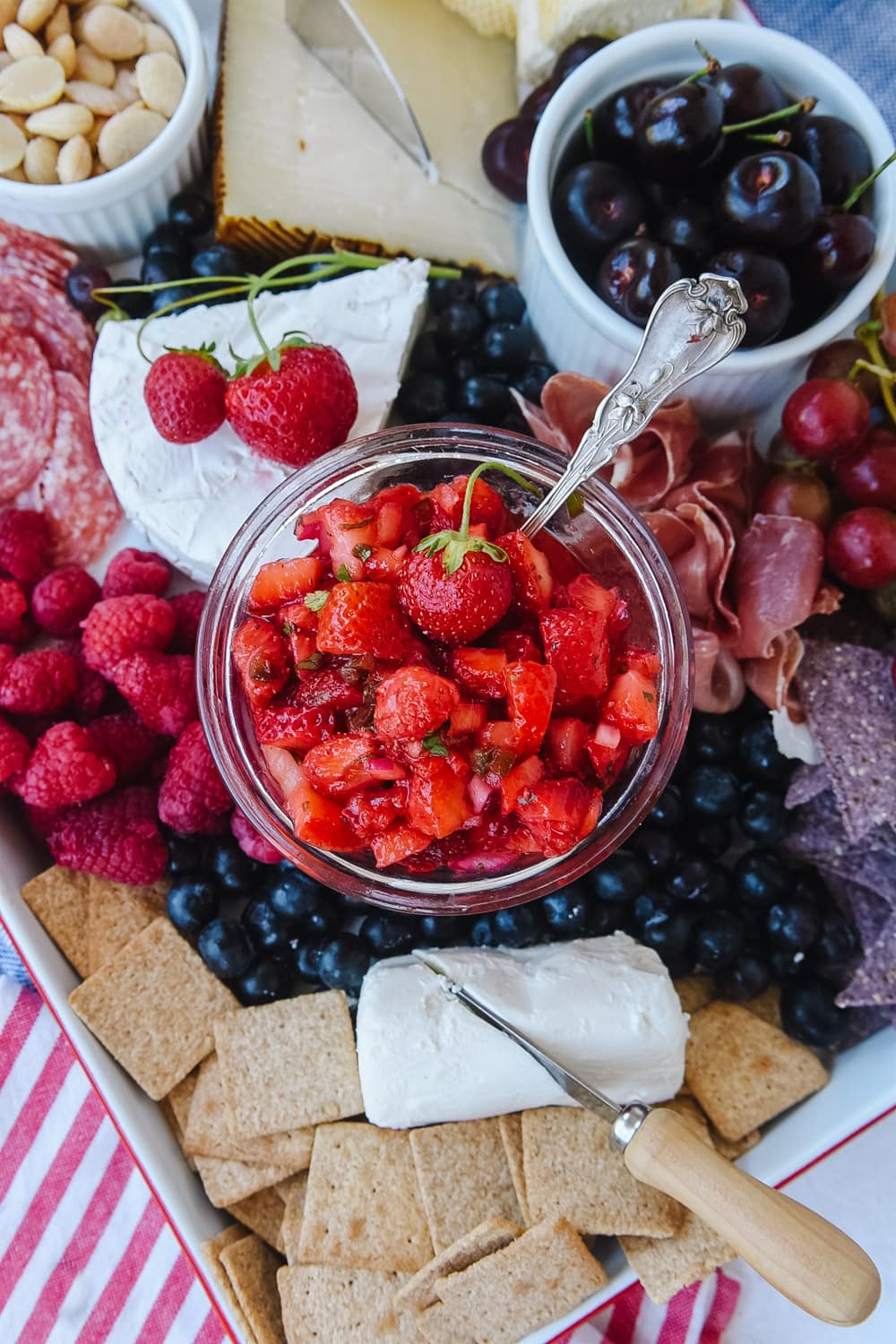 How much meat and cheese do I need?
I suggest 3 different cheeses when you are serving 4-6 people. If you are serving more add an additional cheese for every 2-3 people.
I use 2 meats for 4-6 people adding in an additional meat for every 2-3 additional people.
Plan on 2 oz. of meat and 2 oz. of cheese per person.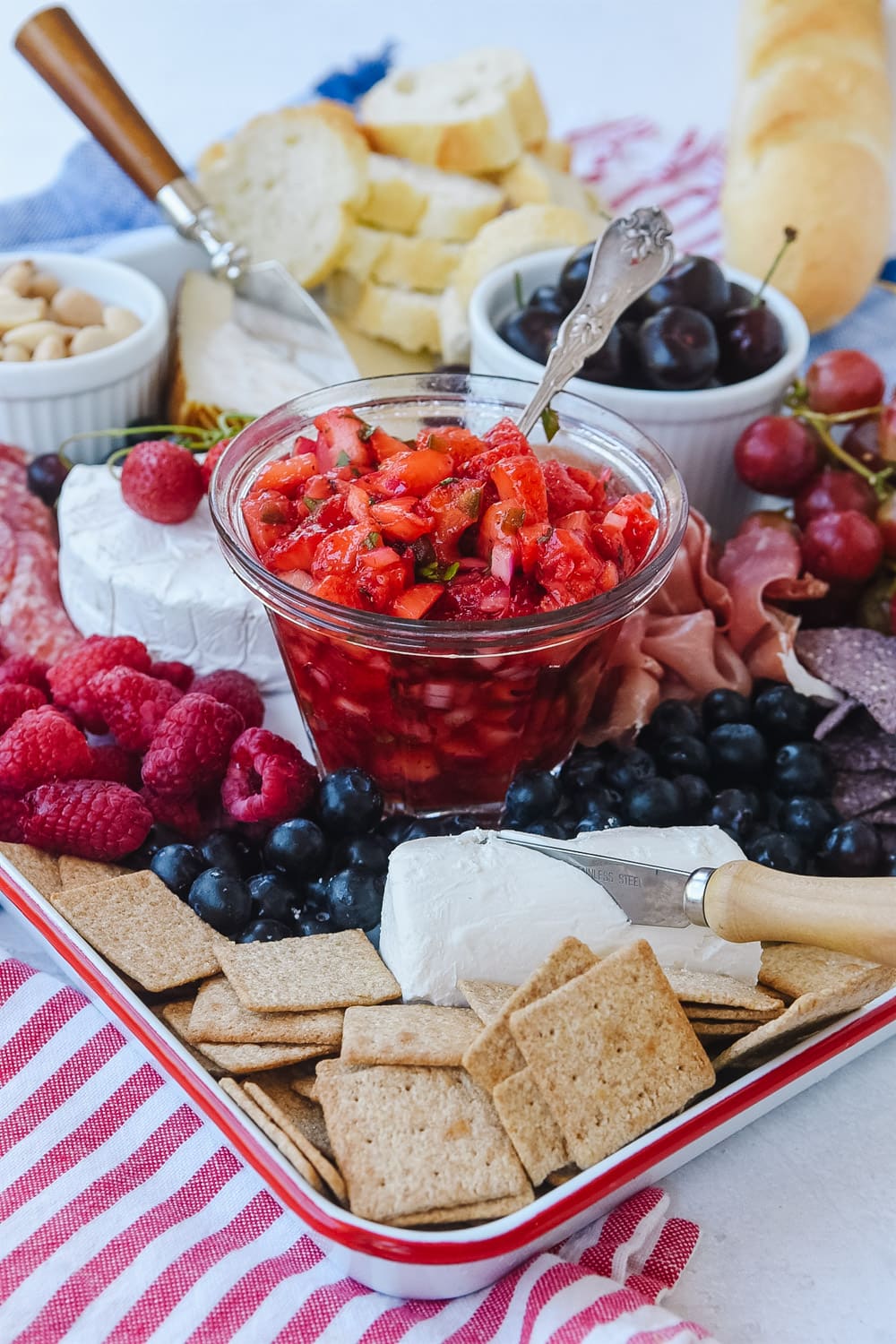 Variety is the key to a good cheeseboard. A variety of flavors, textures and shapes make it not only visually pleasing but delicious too.
A patriotic cheeseboard or charcuterie board is a fun way to dress up your holiday celebration. I love the effect it has on people as they gather around, enjoying all the yumminess but also visiting and sharing conversation. It is the perfect gathering place for your party.
Check out these other fun snack board ideas: