Hummus Snacks are the perfect healthy snack. Top your hummus with all kinds of fun and delicious toppings for a healthier snack!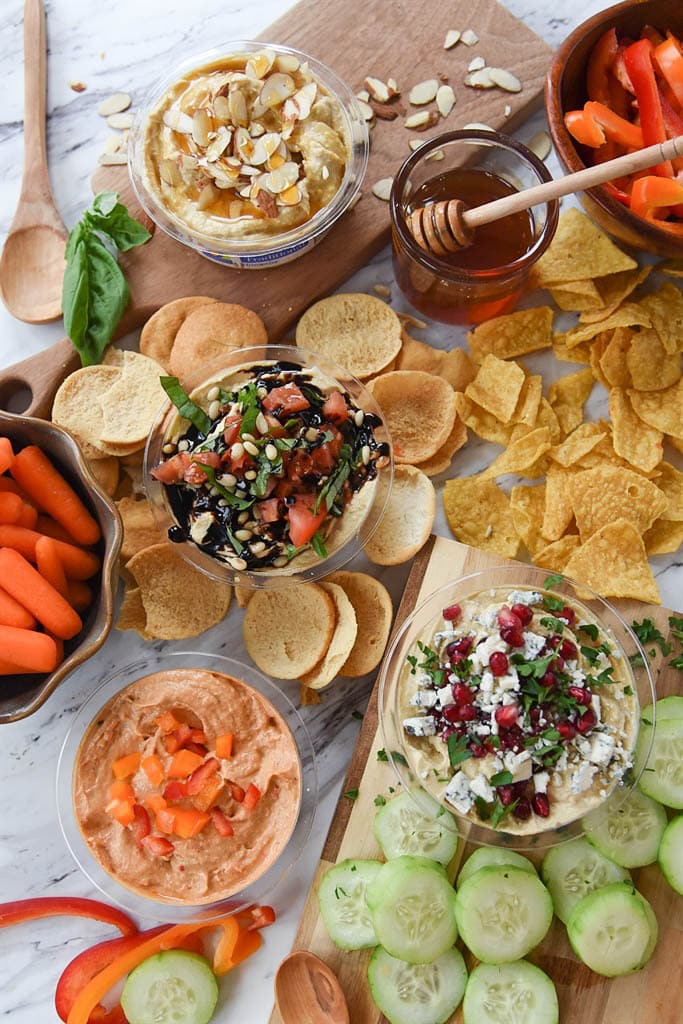 Why You'll Love This!
Like many of you, I have set a goal to eat better this year. Preparing healthy meals isn't that difficult but healthy snack ideas are another matter. I have found that with a little bit preparation and planning, snack time can be healthy too. Hummus snacks are easy, healthy and delicious!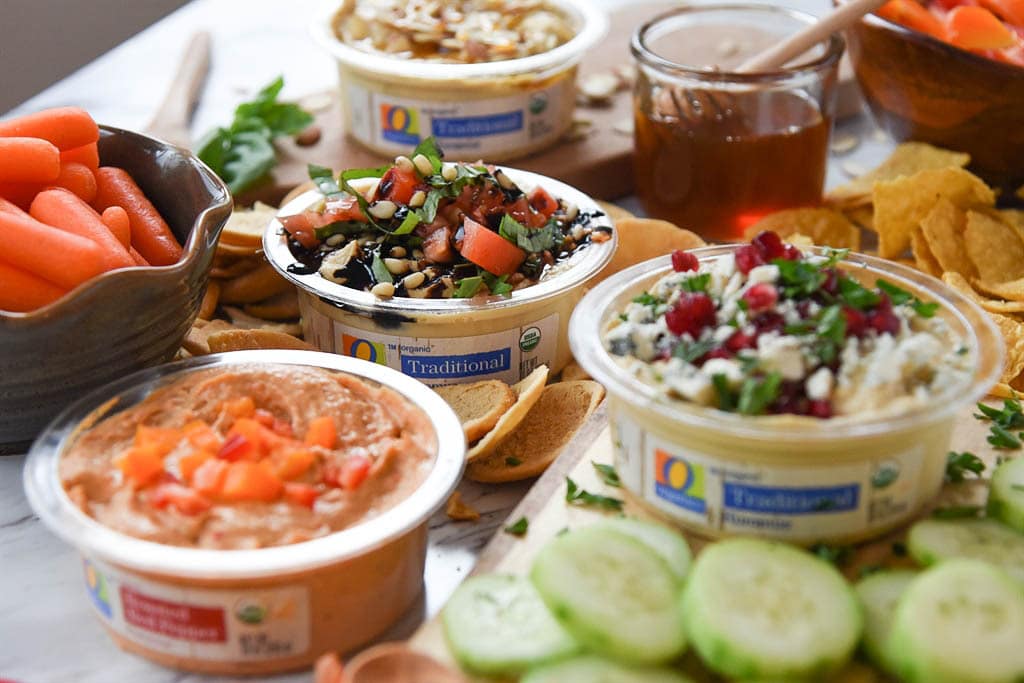 Healthy Hummus Snacks
Hummus is one of my favorite snacks. Sometimes I buy it from the store and sometimes I make my own at home. One of my favorite things to do though is dress up store bought hummus for a quick and easy snack.  Adding a few delicious and colorful toppings to the hummus not only makes it look prettier but it tastes even better!  I love the traditional hummus as well as red pepper hummus.  I like to pick up some guacamole too and dress it up a bit.
If you prefer to make your own hummus, check out my homemade hummus recipe.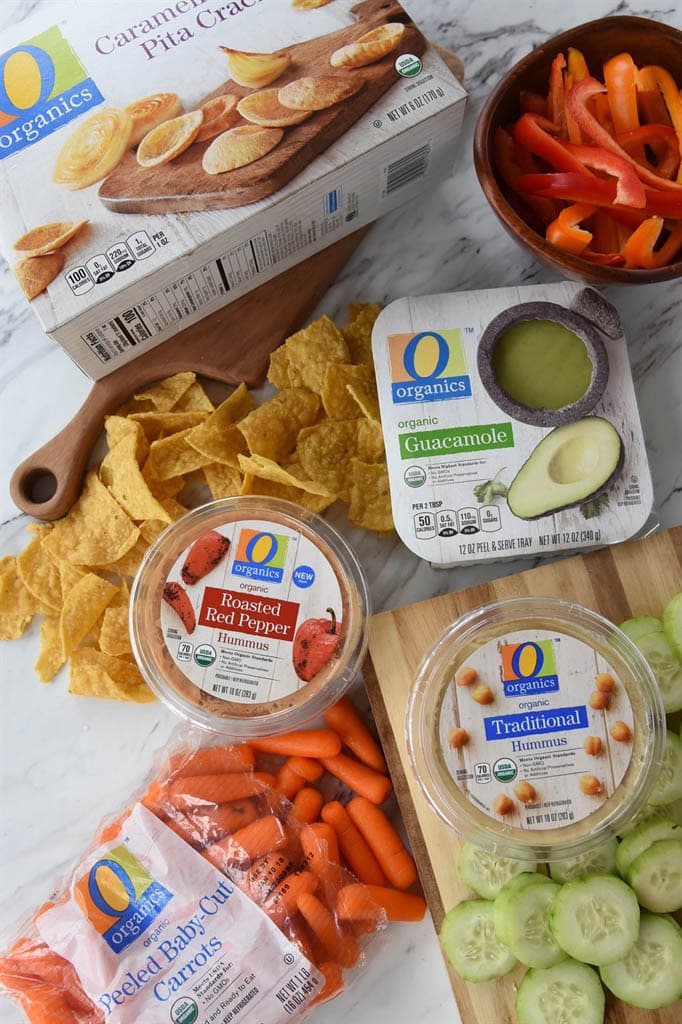 Hummus Flavor Variations
The possibilities are only as limited as your imagination! I've come up with some fun combinations that I really love.
Hummus with Honey and Almonds
My favorite, and the easiest, is to top the hummus with some sliced almonds and drizzle honey over the top. Yum!! I love the sweet and savory combo.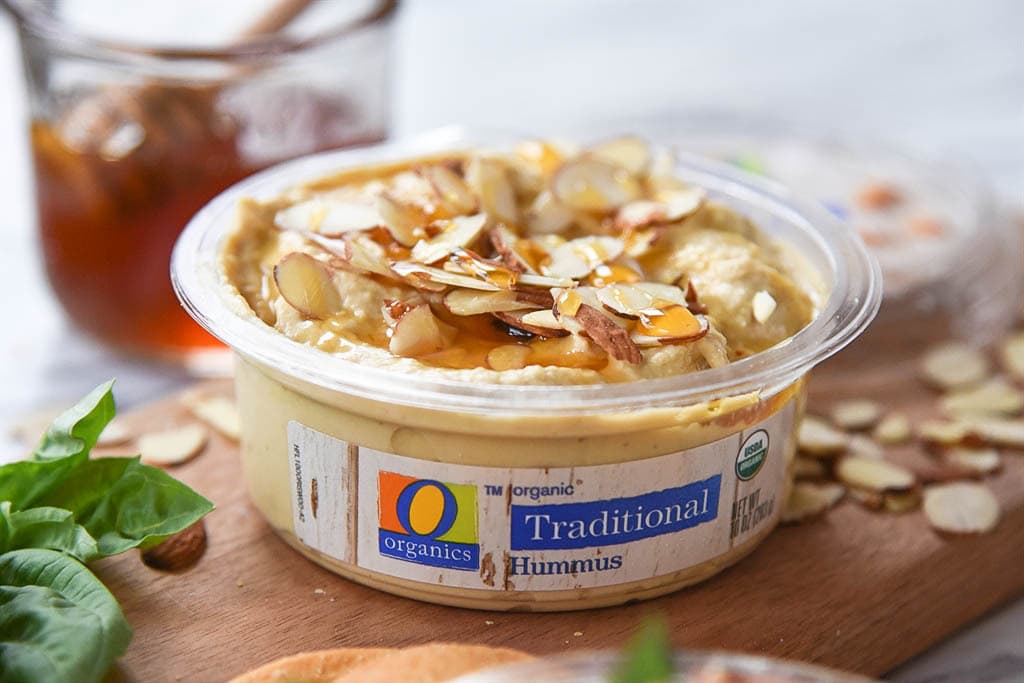 Sometimes I just look and see what I have in my refrigerator that would make a great hummus snacks topper.
Basil, Pine Nut and Balsamic Hummus
Another favorite is to chop up a tomato, some fresh basil, pine nuts and a drizzle of balsamic glaze.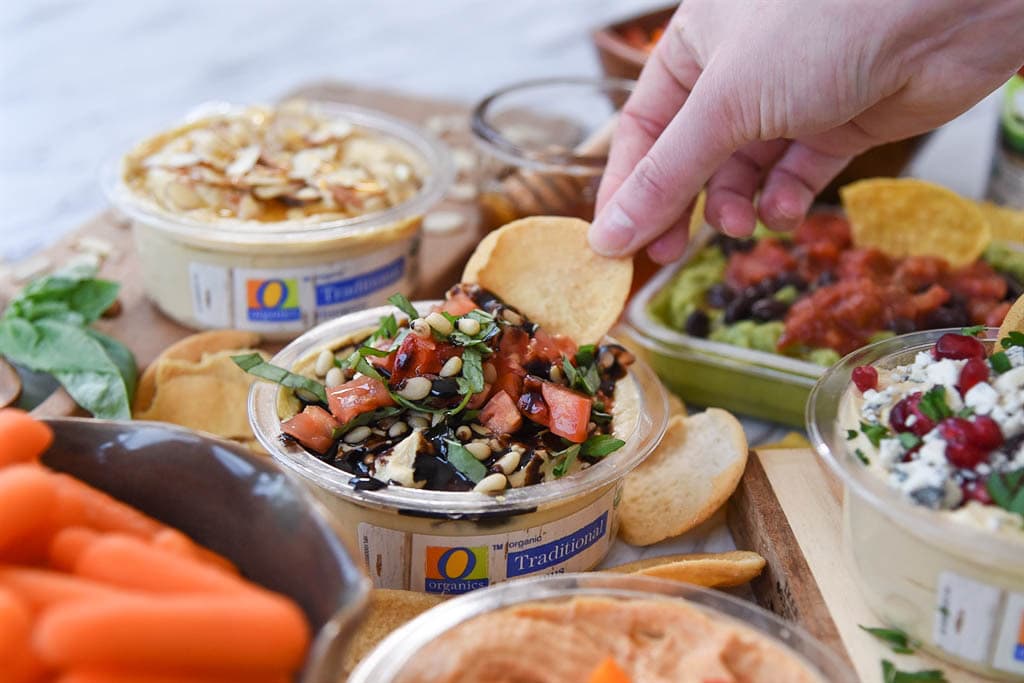 Pomegranate and Feta Hummus
Another fun combination is pomegranate seeds, Feta or Gorgonzola and a sprinkle of parsley.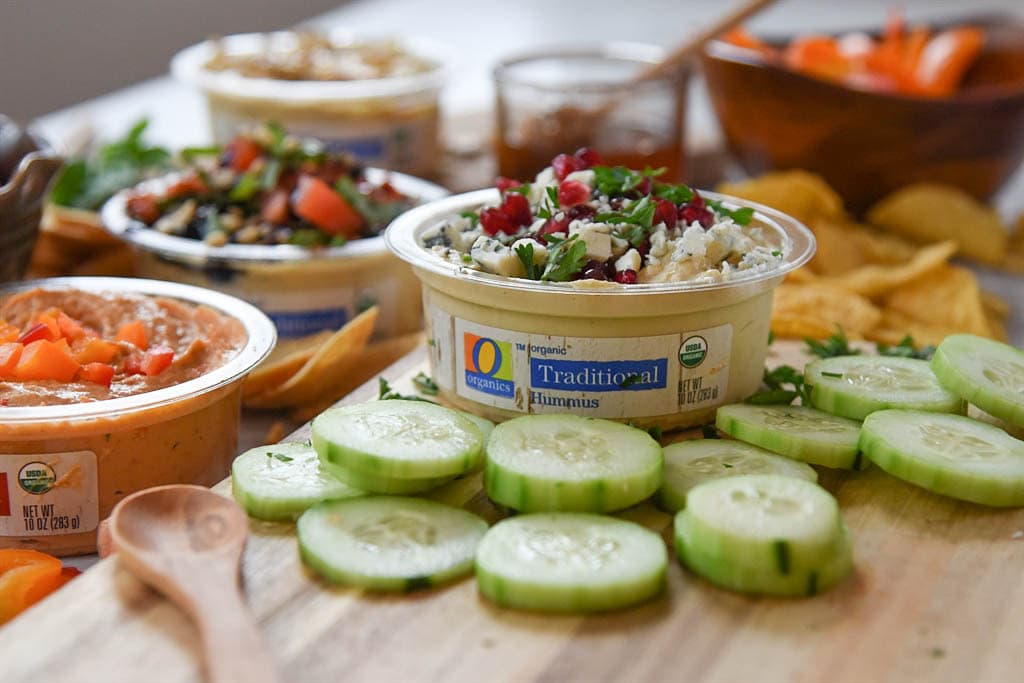 Red Pepper Hummus
Another simple hummus snacks is to add some chopped fresh peppers to the top of the Roasted Red Pepper Hummus. A little extra color and crunch!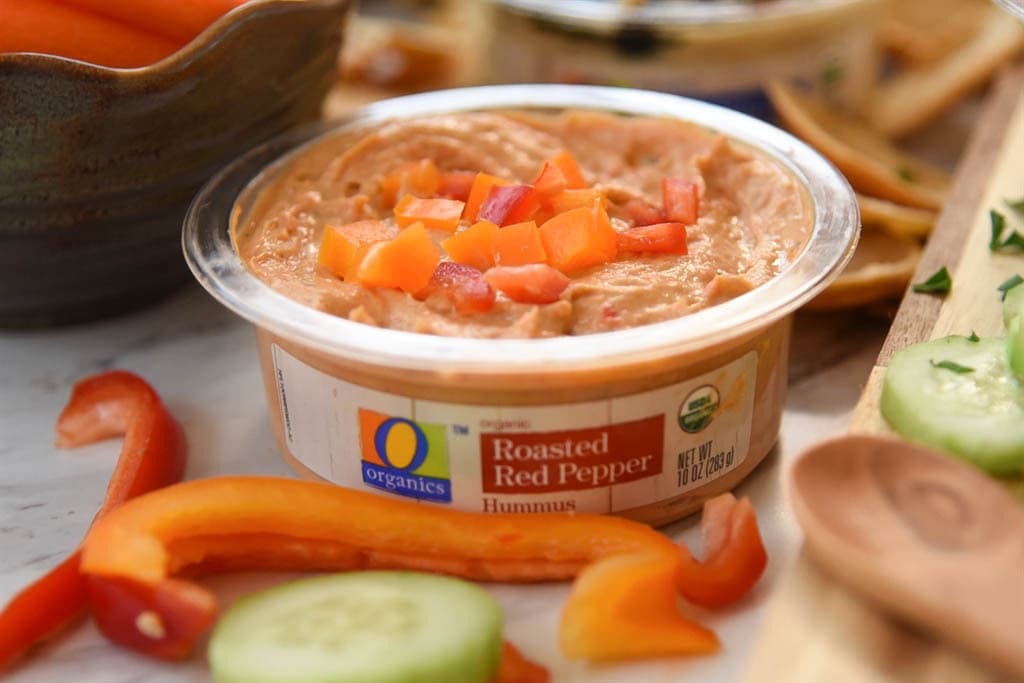 For the guacamole I just add some black beans, salsa and chips! This is my favorite homemade guacamole recipe.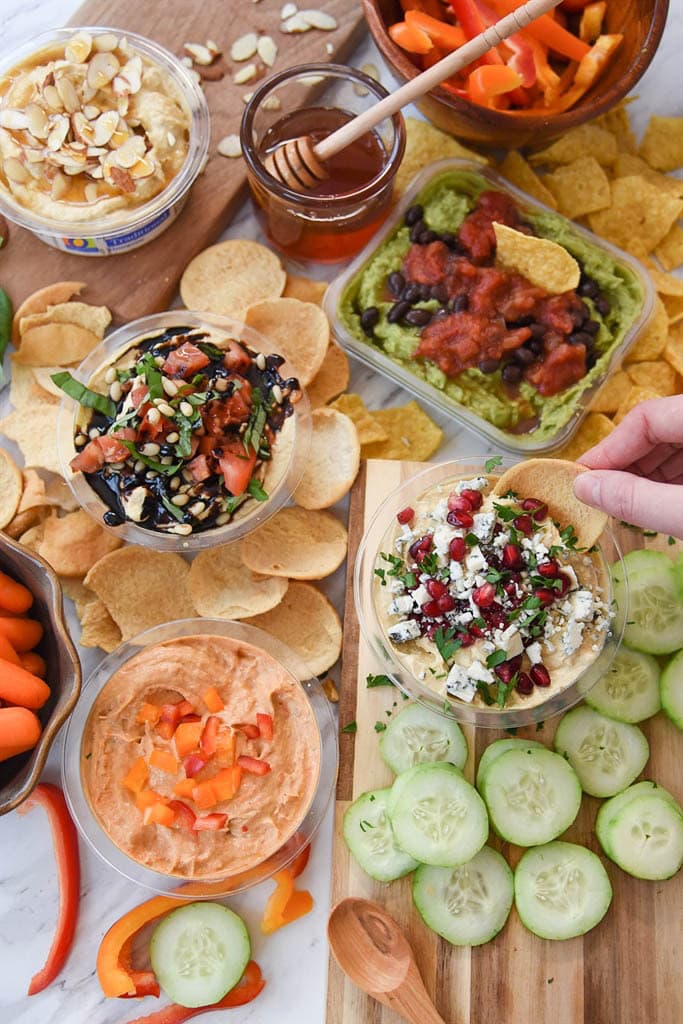 What to Serve With Hummus
Baby Carrots
Cucumbers
Bell Peppers
Celery
Apples
Pears
Avocados
Cherry Tomatoes
Radishes
Olives
Tortilla Chips
Bagel Chips
Pretzels
Pita Chips or Bread
Multi Grain Crackers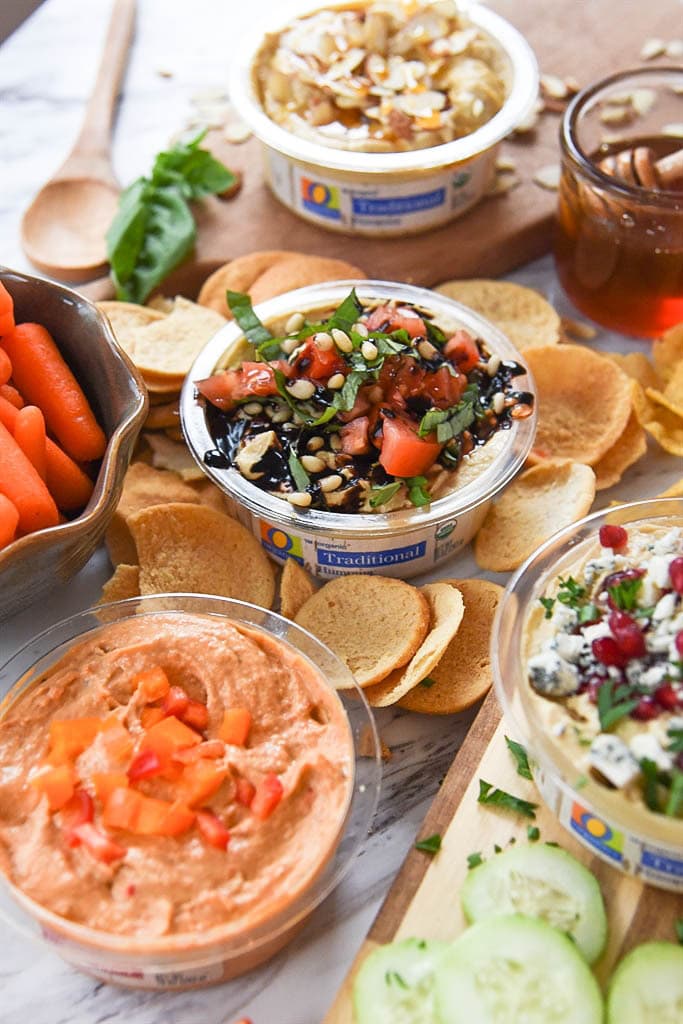 Frequently Asked Questions
What does hummus taste like?
Hummus has a creamy texture that is similar to a light bean dip or a cream cheese dip. It is made from chickpeas, also known as garbanzo beans. It has a slight garlic flavor and usually has a bit of lemon juice in it to get it a bright flavor.
How long can hummus go unrefrigerated?
The FDA recommends that it sit at room temperature for no longer than four hours.
How long will hummus last in the refrigerator?
After opening, hummus will last about a week. Store bought hummus will last longer than homemade hummus which lasts about 3-5 days refrigerated.
Check out these other fun Snack Board Ideas:
Be sure and follow me over on You Tube for weekly cooking demos.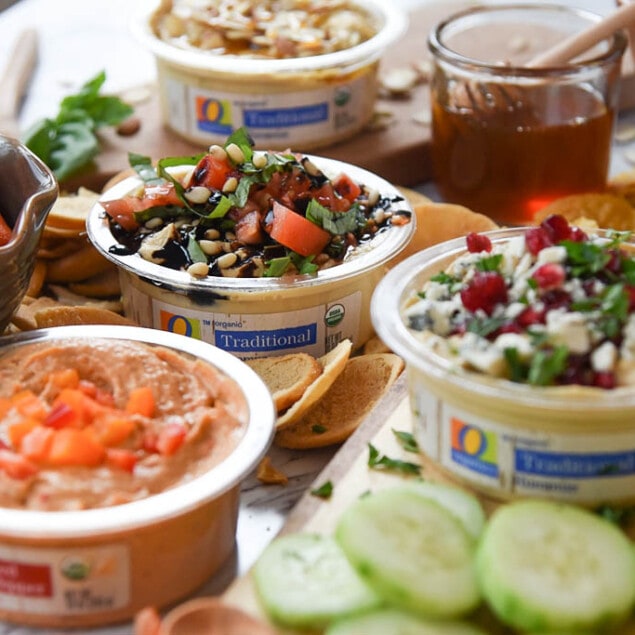 Hummus Snacks
Healthy Hummus Snack Ideas are the perfect way to kick off the new year.  It's an easy way to reach that goal of healthier snacking!
Ingredients
Italian Hummus
1 tomato chopped
3 leaves basil sliced
2 tbsp pine nuts
1 tbsp blasamic glaze
Mediterranean Hummus
2 tbsp Feta or Gorgonzola Cheese
2 tbsp Pomegranate seeds
fresh parsley
Guacamole Toppers
8 oz guacamole
2 tbsp salsa
2 tbsp black beans
tortilla chips
Instructions
Top hummus or guacamole with desired toppings, eat, and enjoy!
Tips & Notes:
After opening, hummus will last about a week. Store bought hummus will last longer than homemade hummus which lasts about 3-5 days refrigerated. Hummus can sit at room temperature for up to four hours.
Nutrition Facts:
Calories: 60kcal (3%) Carbohydrates: 4g (1%) Protein: 1g (2%) Fat: 4g (6%) Sodium: 71mg (3%) Potassium: 144mg (4%) Fiber: 2g (8%) Vitamin A: 105IU (2%) Vitamin C: 2.6mg (3%) Calcium: 9mg (1%) Iron: 0.6mg (3%)
* Disclaimer: All nutrition information are estimates only. Read full disclosure here.