This wedding grazing table is not only stunning but is full of delicious hummus, crackers, veggies, fruit and cheese. It is easy to put together, it's economical and your guests are going to love it!  It is the perfect way to celebrate your wedding day or any special occasion.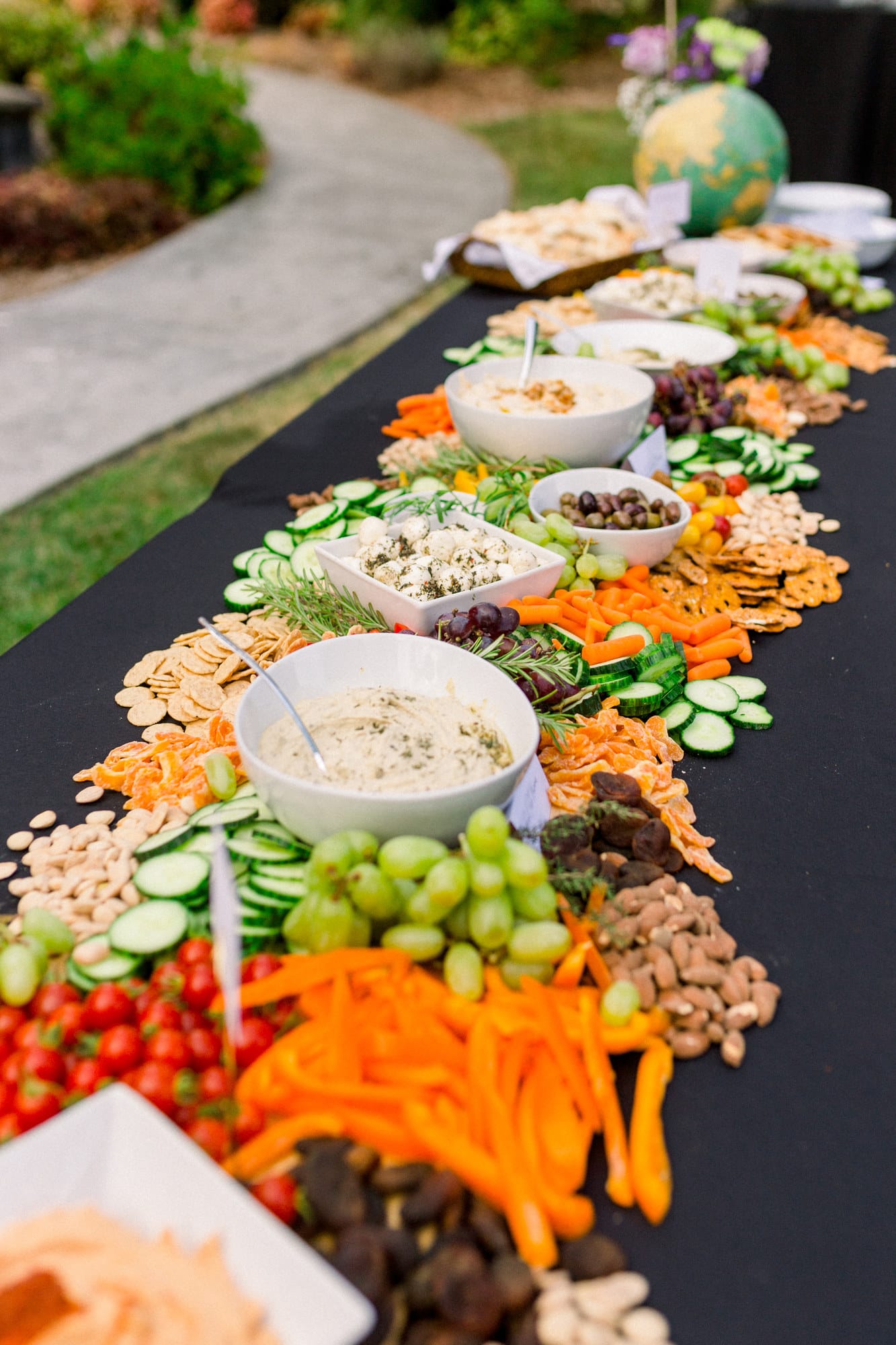 What is a Grazing Table?
It is the newest and hottest trend in the wedding and catering world.  You will find grazing tables taking over Pinterest.
A grazing table is basically a huge charcuterie board that fills the entire table or in my case, two tables!!
I put this grazing table together for a friend's son's wedding and it was definitely the hit of the evening.  The guests loved it and they spent the evening gathered around it, visiting, talking and eating!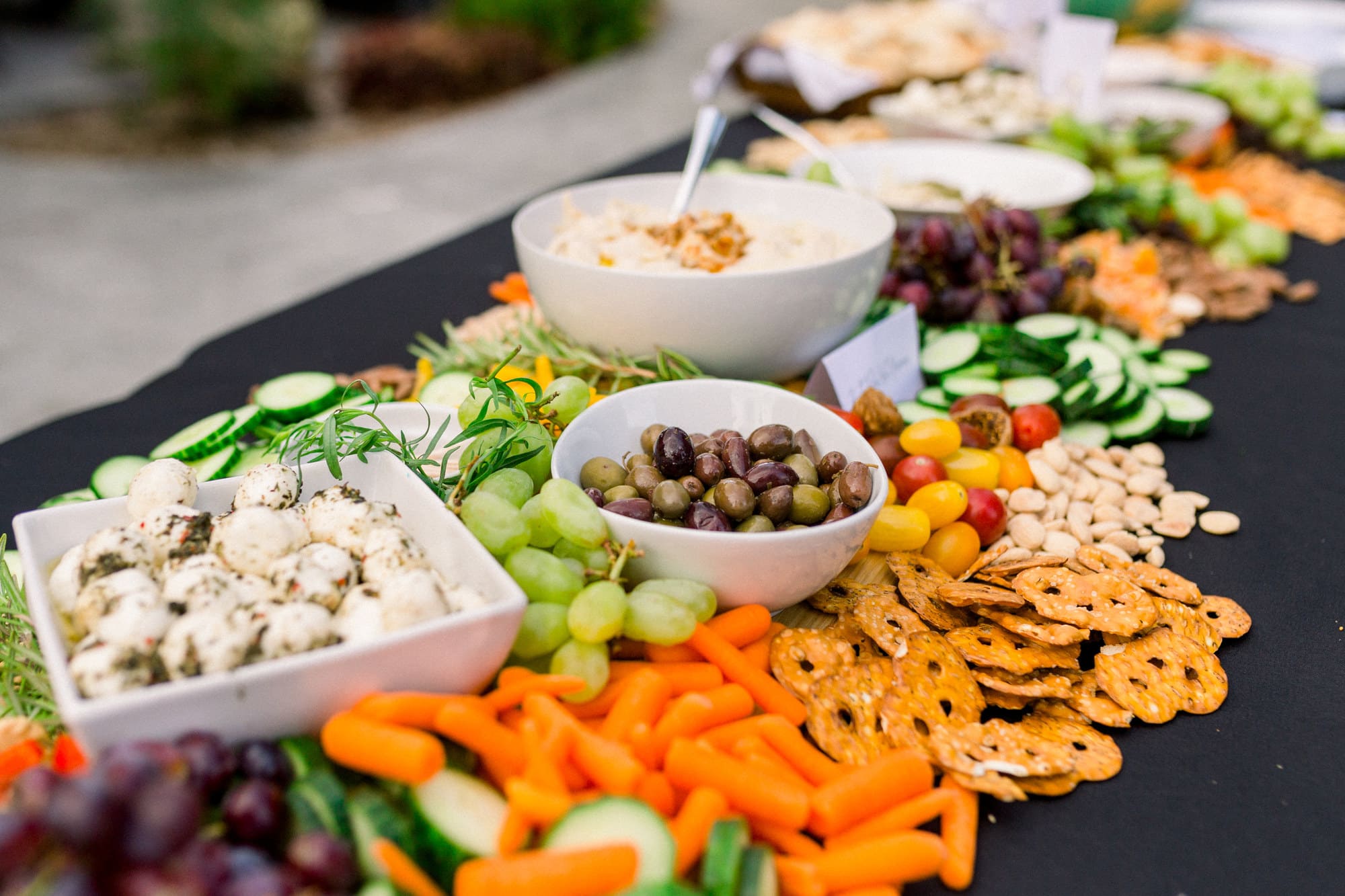 How Do You Put Together a Grazing Table?
For this wedding, we were planning on feeding 200 people.  We used two eight foot tables that we put end to end and covered with floor length black table clothes.  It may look like the food is set directly on the table but there are actually IKEA cutting boards underneath all the food.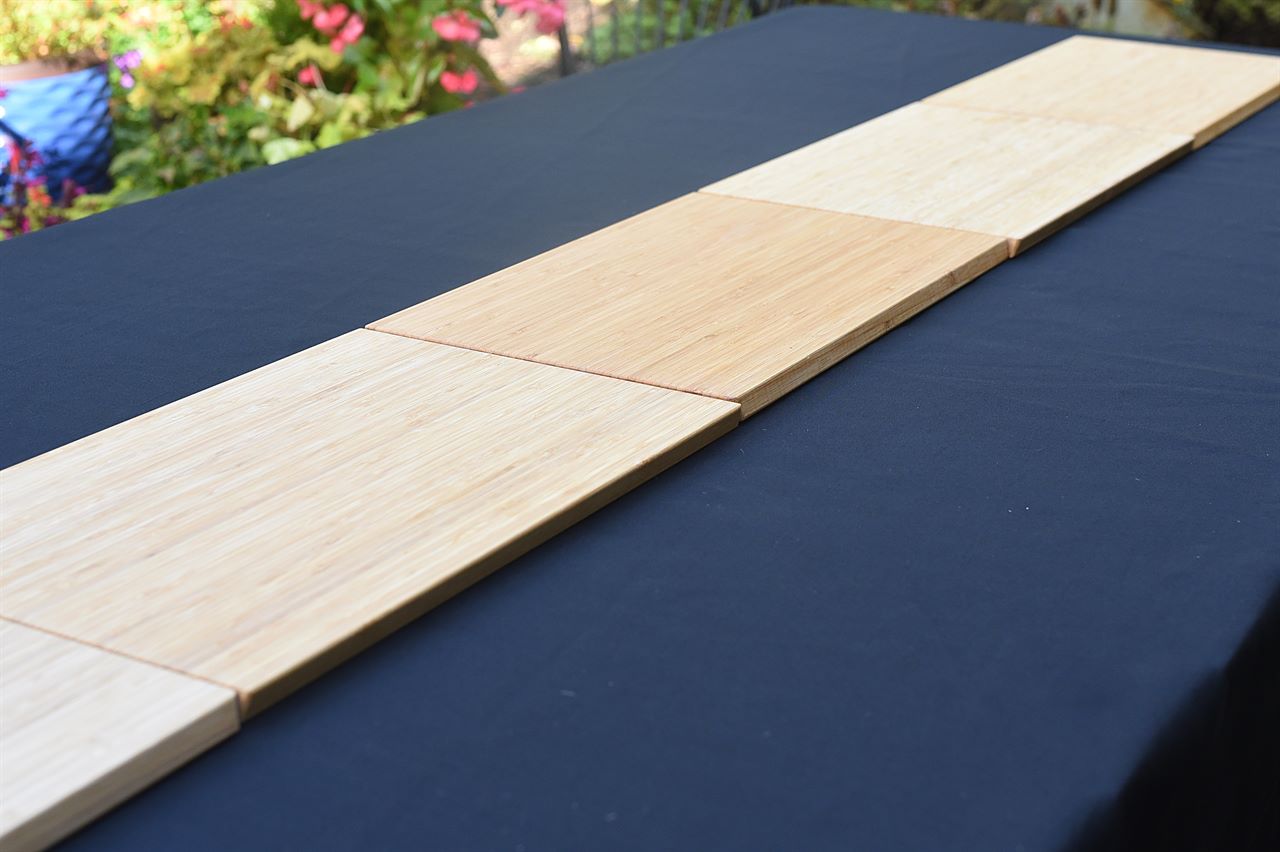 After placing the cutting boards on the table, we added the bowls of hummus, olives and marinated cheese.  We then  just starting adding in all the other ingredients, making sure that they were evenly spaced down the table and that similar colors (orange carrots and orange peppers) weren't placed next to each other.
I had a couple of people helping me do this and we quickly did it in about fifteen minutes before the party started.  We then added in the signage for the hummus.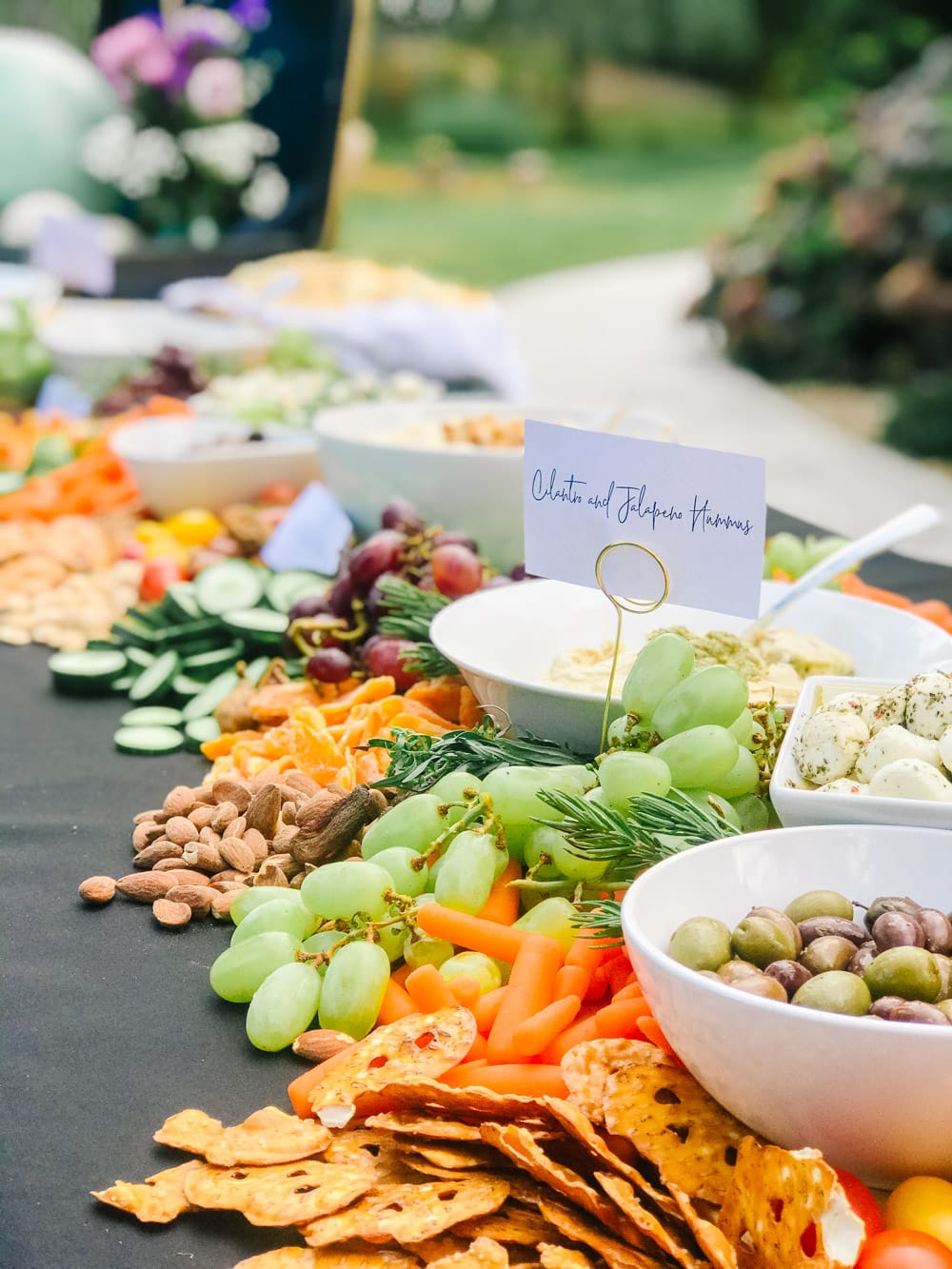 Tips for Putting a Grazing Table Together
Consider your weather and location.
This wedding reception was held outdoors, in August, so we needed to think about how the food would do in the heat.  We decided to go with a hummus themed board because it holds up well in the heat and doesn't need to be kept cold.  We also decided not to use cheese, other than the marinated mozzarella balls because nothing looks worse than warm cheese.
After posting photos on Instagram of the grazing table, the number one question I received was, "Were flies a problem?"  To avoid a problem with flies, we didn't do any meat.  Flies love meat!  We went with hummus, crackers, fruit, olives, nuts and veggies.  We did have the occasional fly but it really wasn't much of a problem.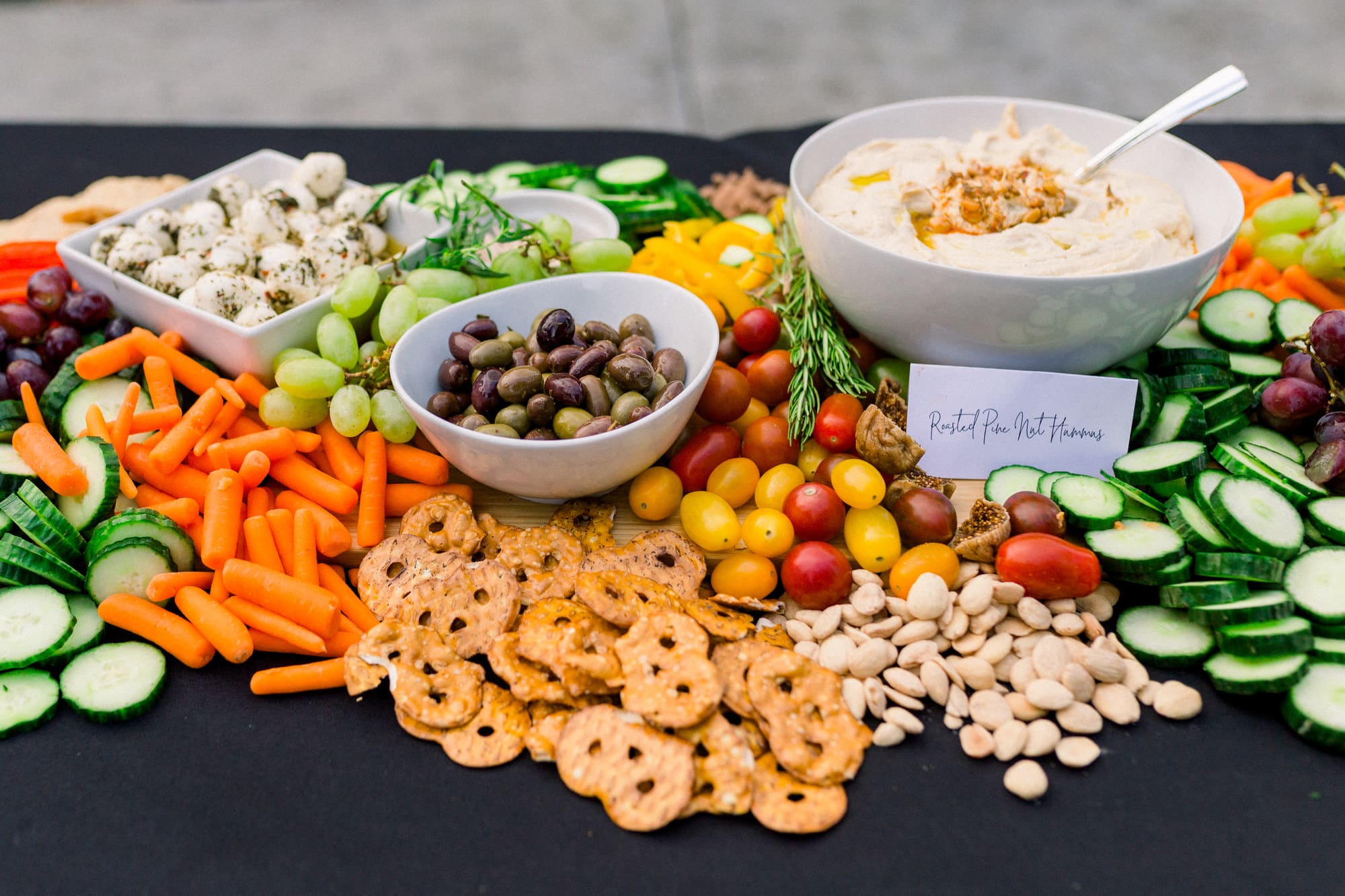 Have a variety of flavors and textures.
Hummus – We had seven different kinds of hummus – tomato basil, roasted red pepper, cilantro and jalapeno, chocolate (all from Trader Joes) and Roasted Pine Nut Hummus and Basil Pesto Hummus (from Costco) along with a plain hummus from a local restaurant.  We planned on about 1/4 – 1/3  cup of hummus per person.
Veggies – cucumbers, cherry tomatoes, carrots, red and yellow peppers
Nuts – roasted almonds and marcona almonds
Dried fruit – figs, tangerines and apricots
Fruit  – different colored grapes
Crackers – we used a variety of crackers and pretzels.  We also had a bowl of gluten free crackers available.
Misc. – olives and marinated mozzarella cheese balls.  We also garnished the table with fresh herbs, tucking them in here and there as a finishing touch.
Total cost for the grazing table was under $300.00.
Using white bowls for all the hummus gave the table a cohesive look. When adding food to the table, don't leave any "white space"  Fill the table up,  a grazing table always looks better with an abundance of food, be generous and load up the table!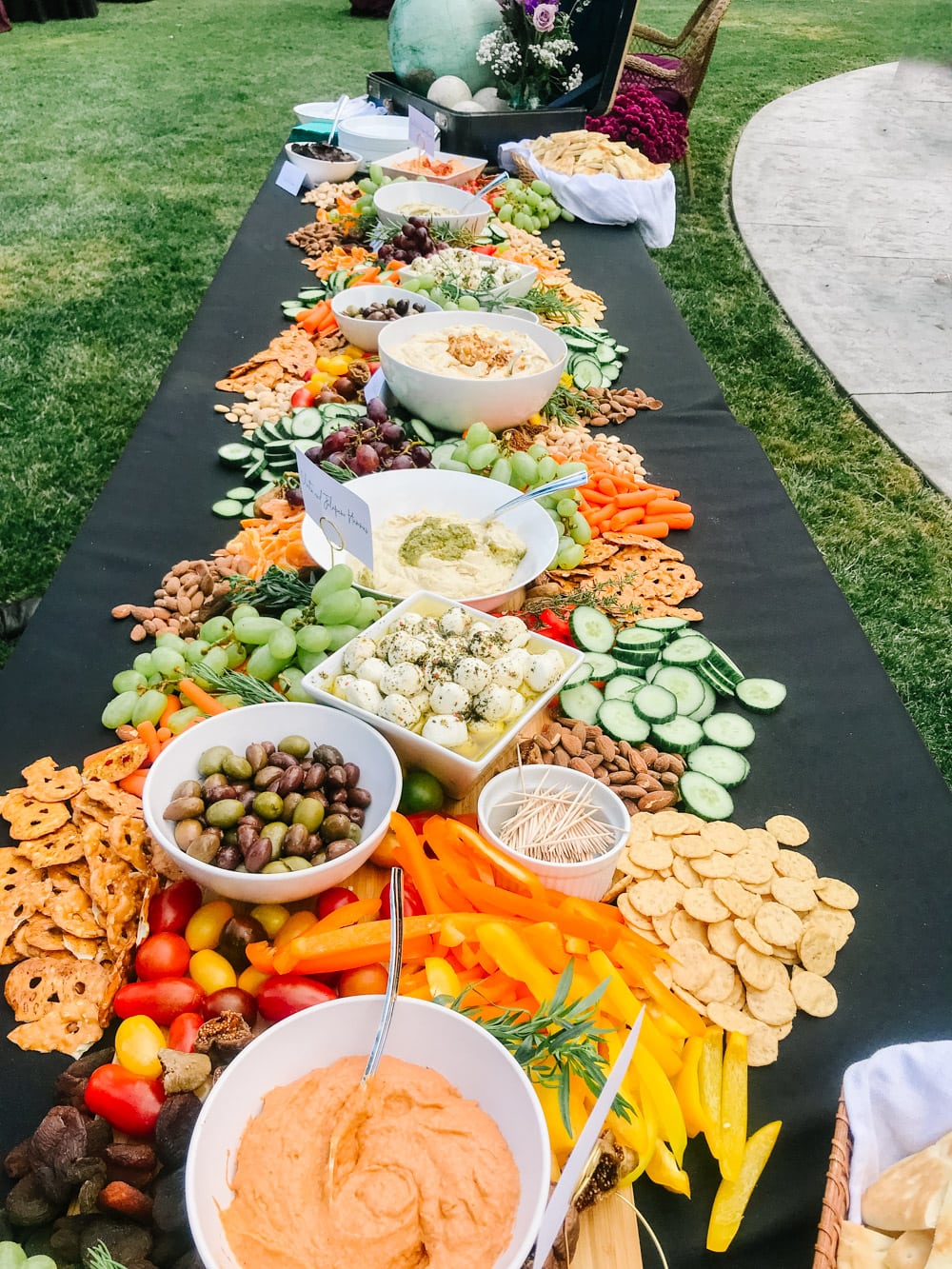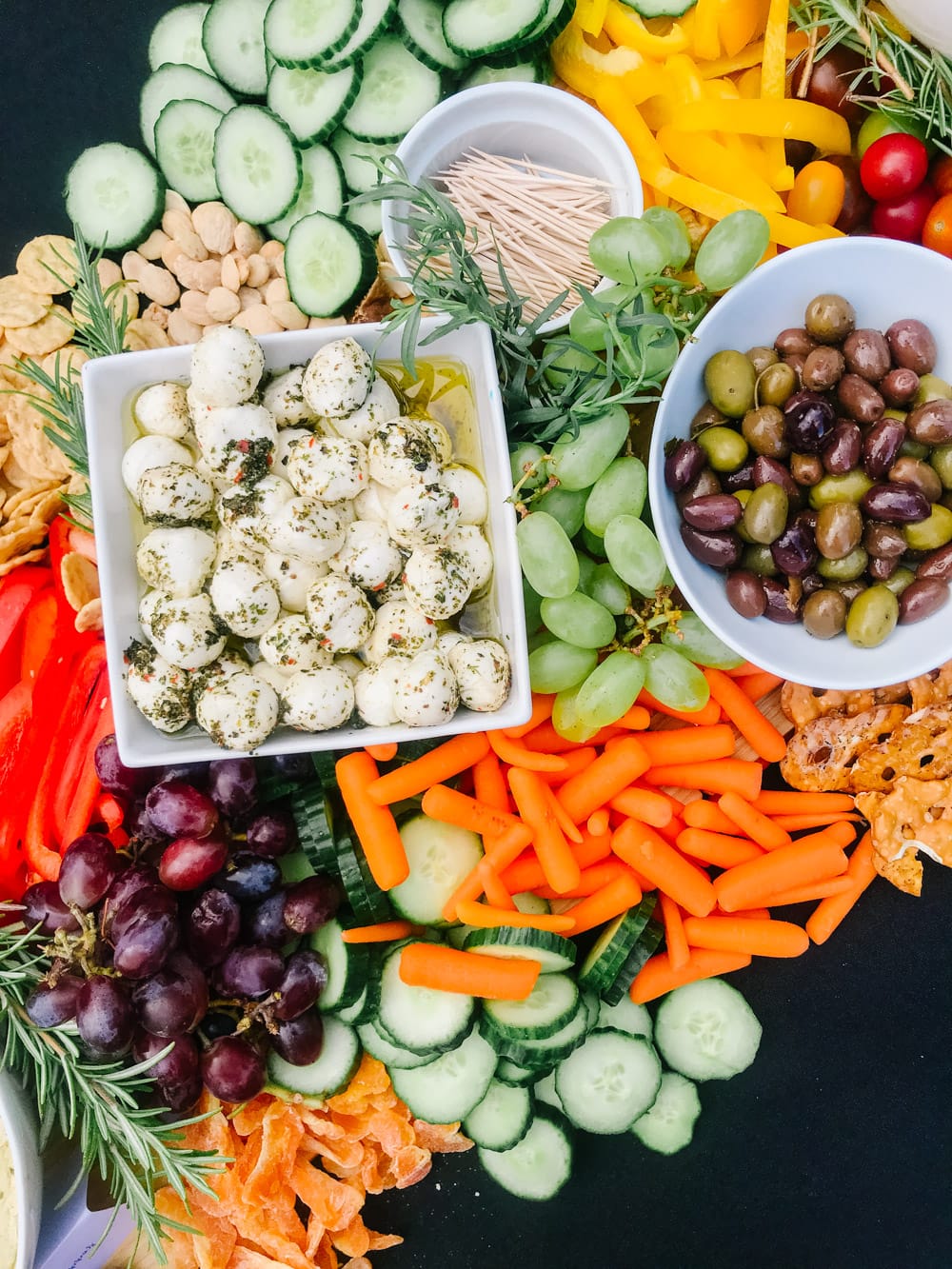 Benefits of a grazing table
Food prepared in advance – the hummus was all store bought but could easily be made ahead of time at home a day or two before.  All the veggies, fruit etc. were washed, cut up the day before and kept in the refrigerator.
Easy to put together  – we literally placed all the food onto the table in about 15 minutes, just before the party began.
Guests will love it – it was fun listening to all the oohs and ahhs.  The guests loved hanging out around the grazing table, visiting and eating all evening.
Quick and easy clean up – Any leftover food can easily and quickly be put away into zippered plastic bags.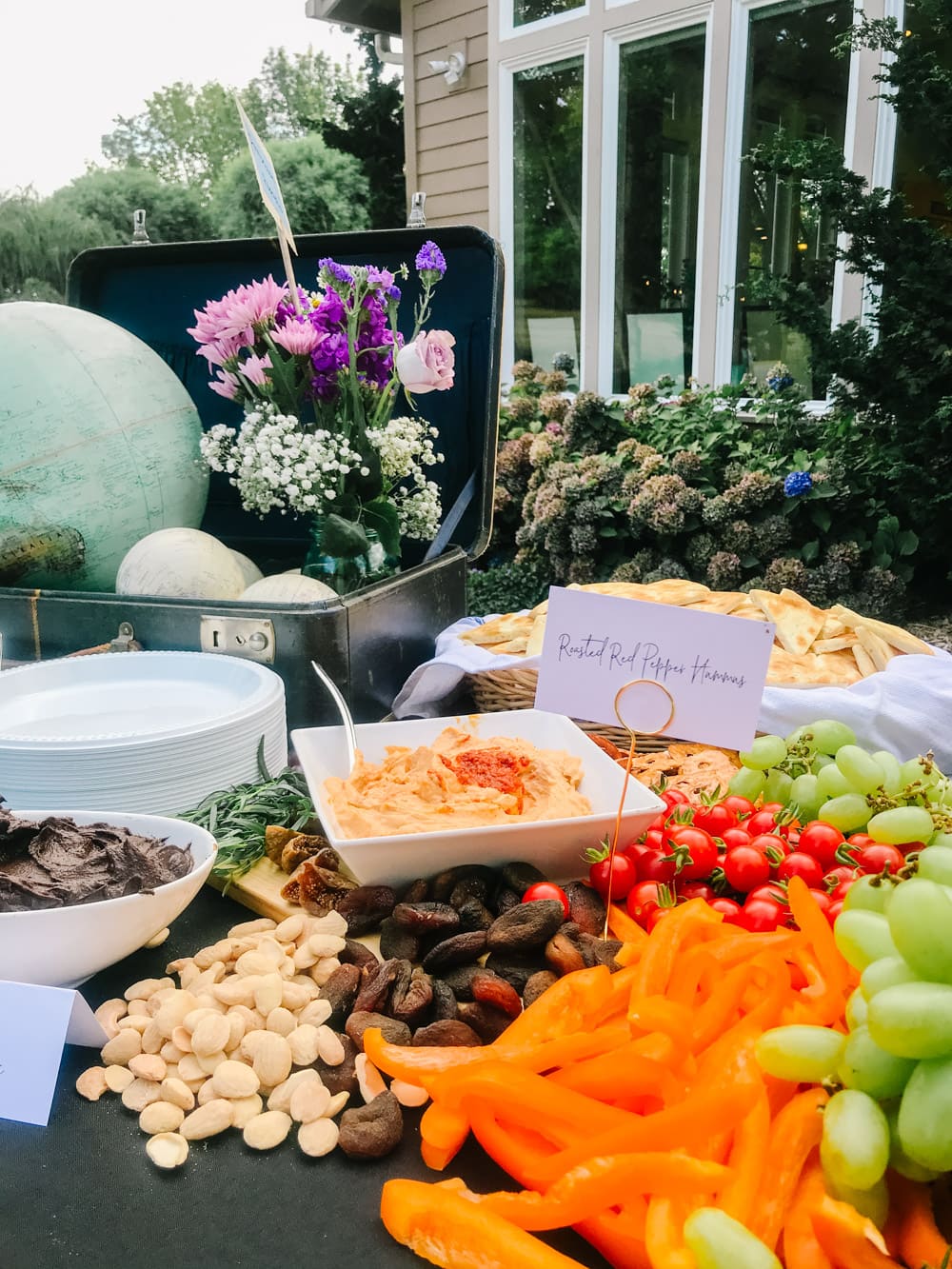 For other fun wedding ideas check out these posts:
For a Hummus Board on a smaller scale, check out this post.
This wedding had a fun travel theme so we also added some globes and old suitcases to the grazing table.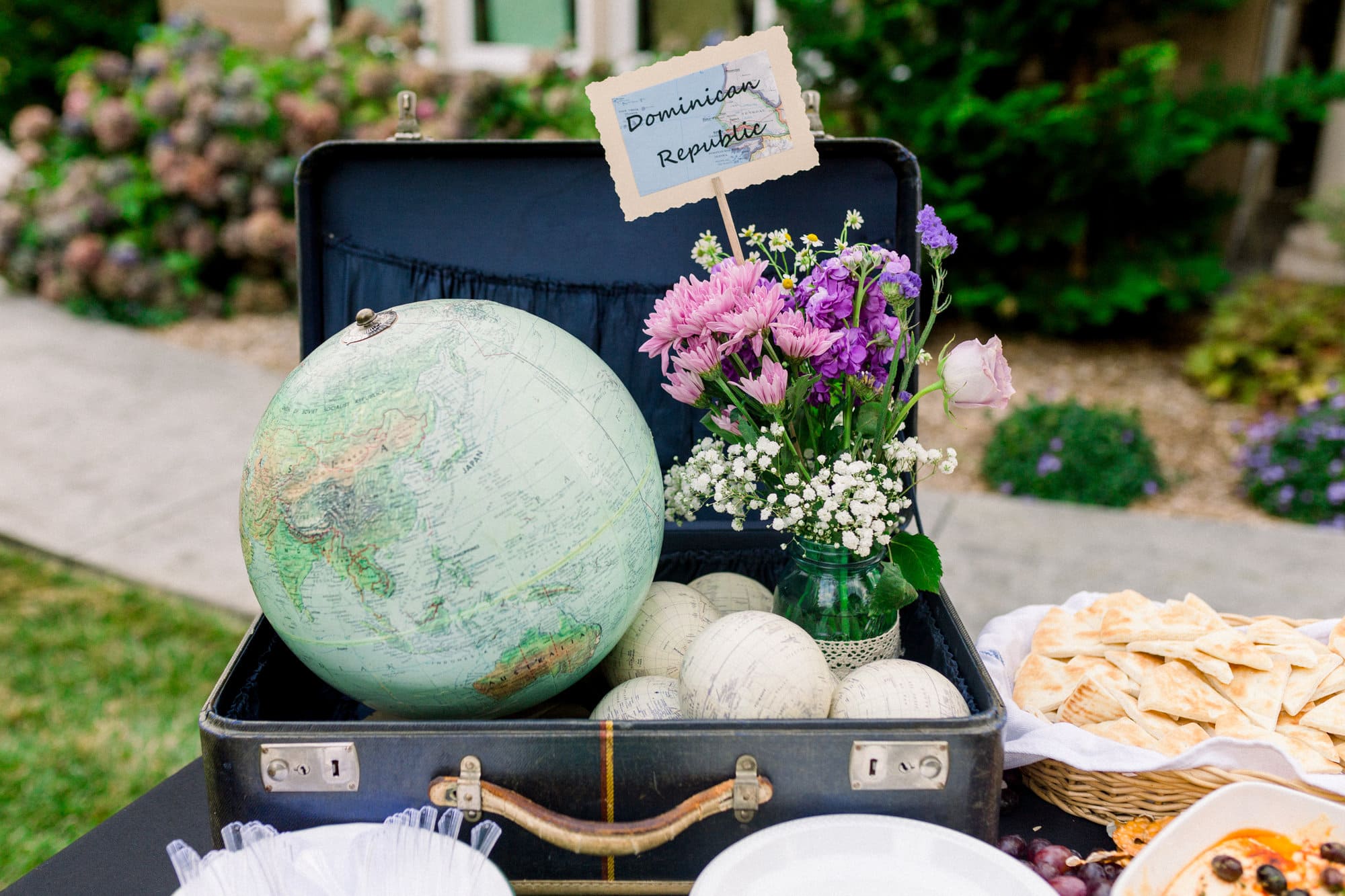 The bride and groom love Rice Krispie treats and Oreo's – how cute was this wedding cake!!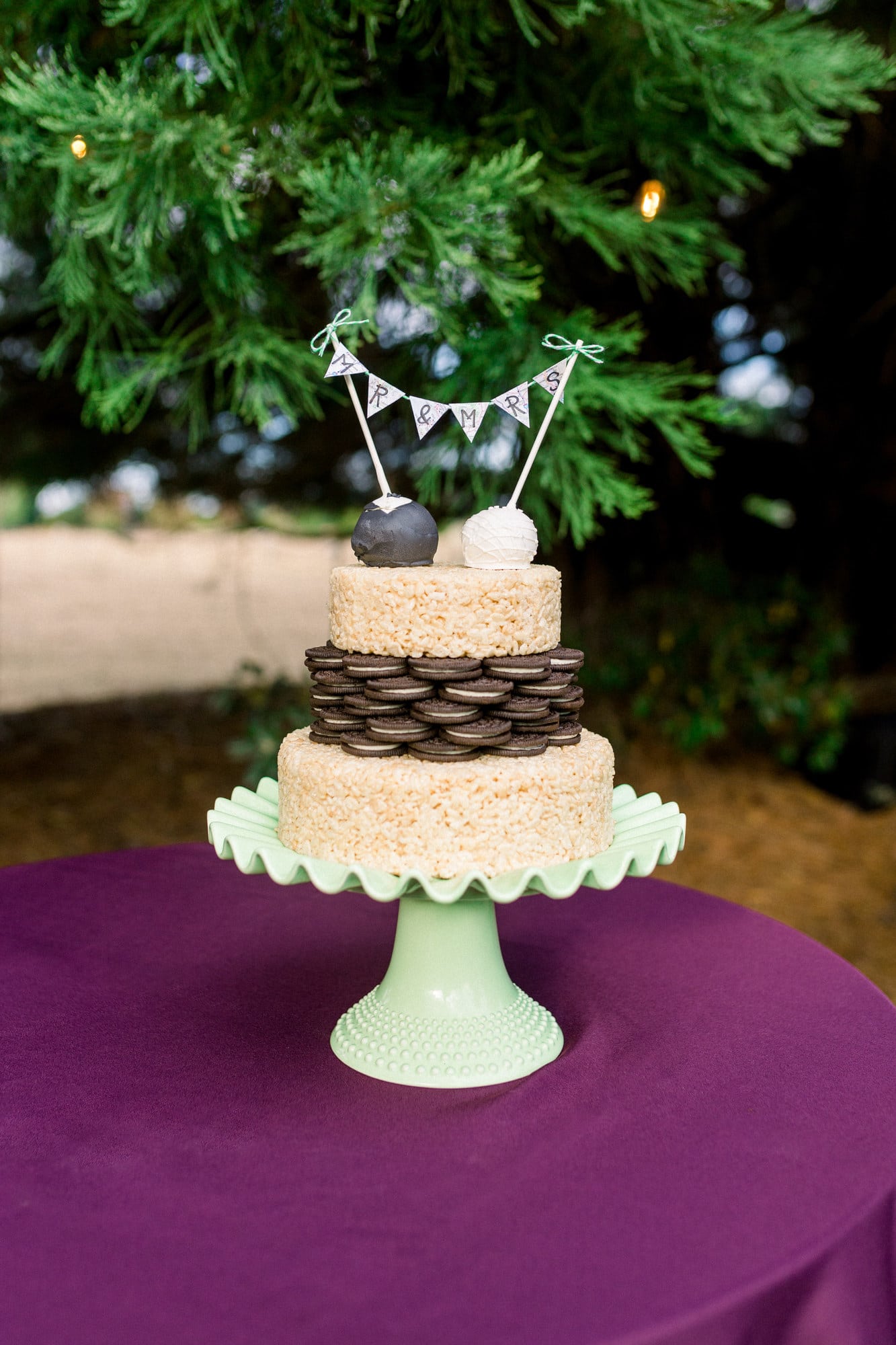 There was also a dessert bar with all different flavored Rice Krispie treats and Oreo truffles.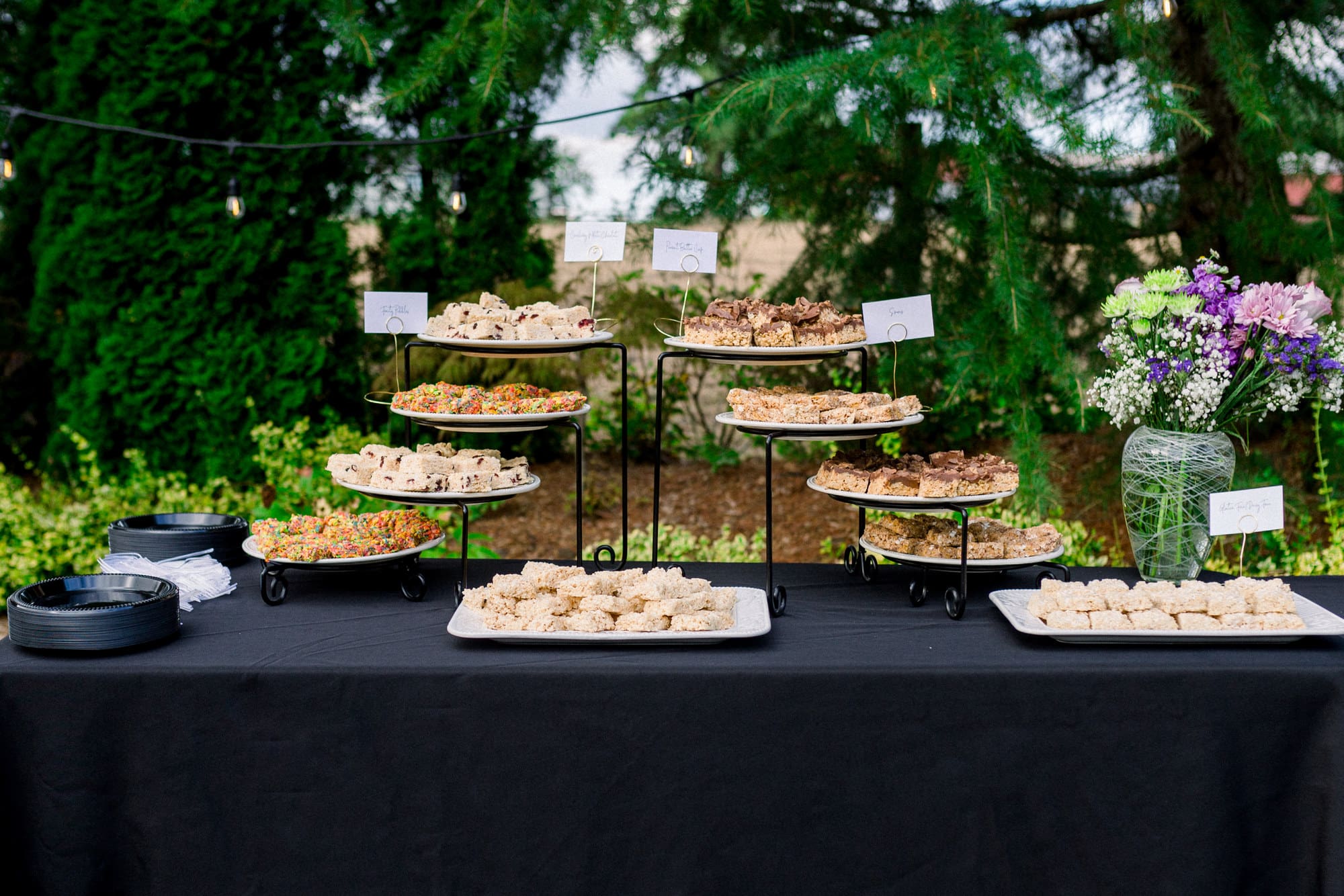 For all of my other favorite kitchen products and tools visit my Amazon Store. 
Did you know I wrote a cookbook?  Check out the Holiday Slow Cooker Cookbook for 100 delicious recipes
If you've tried this or any other recipe on Your Homebased Mom, then don't forget to rate the recipe and let me know how it went in the comments below, I love hearing from you!
You can also FOLLOW ME on FACEBOOK, INSTAGRAM and PINTEREST to see more delicious food, party ideas and travel tips and what I'm up to on a daily basis!