Hummus is a delicious and healthy snack that is so easy to make at home you will never buy store bought hummus again!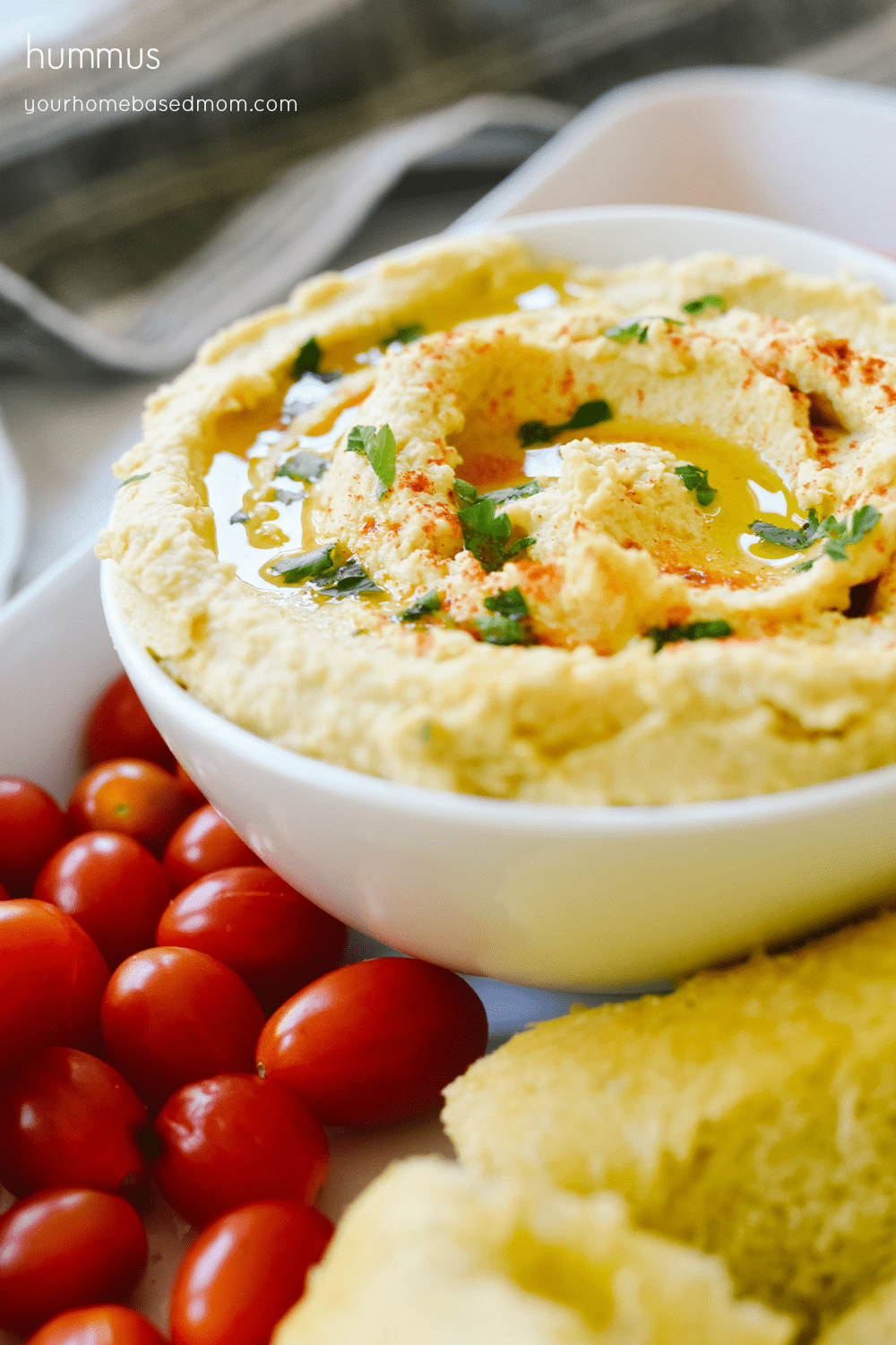 This recipe for hummus was one of the first recipes I shared here on the blog in the first couple years of blogging.  This was back in the good old days when I had children at home.  I remember, it was finals week at the high school which meant that there were half days of school all week and a kitchen table covered in books!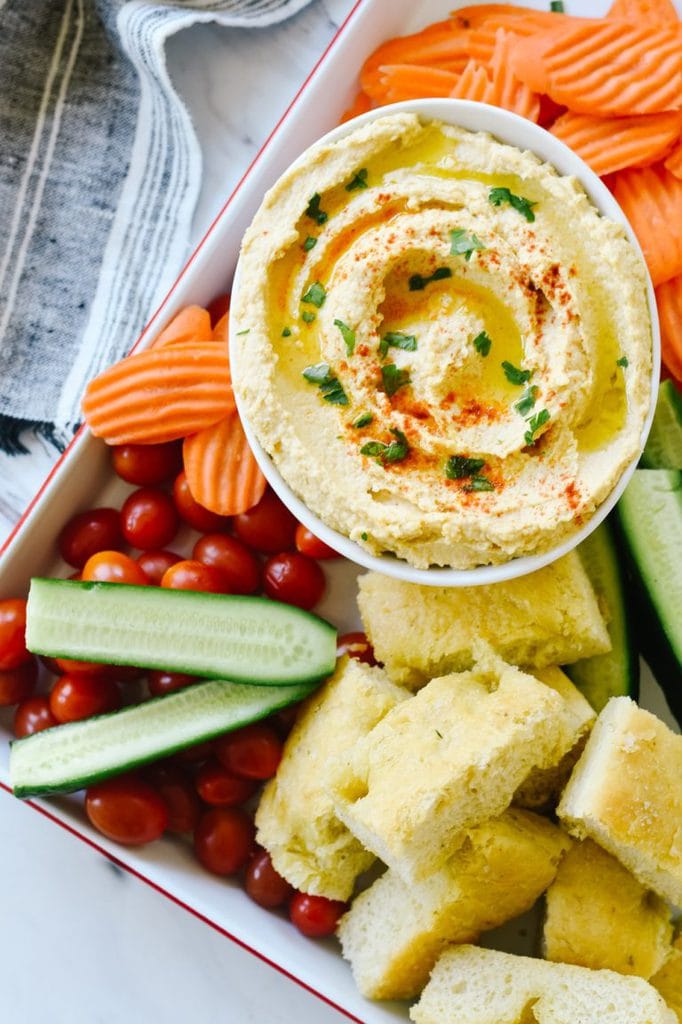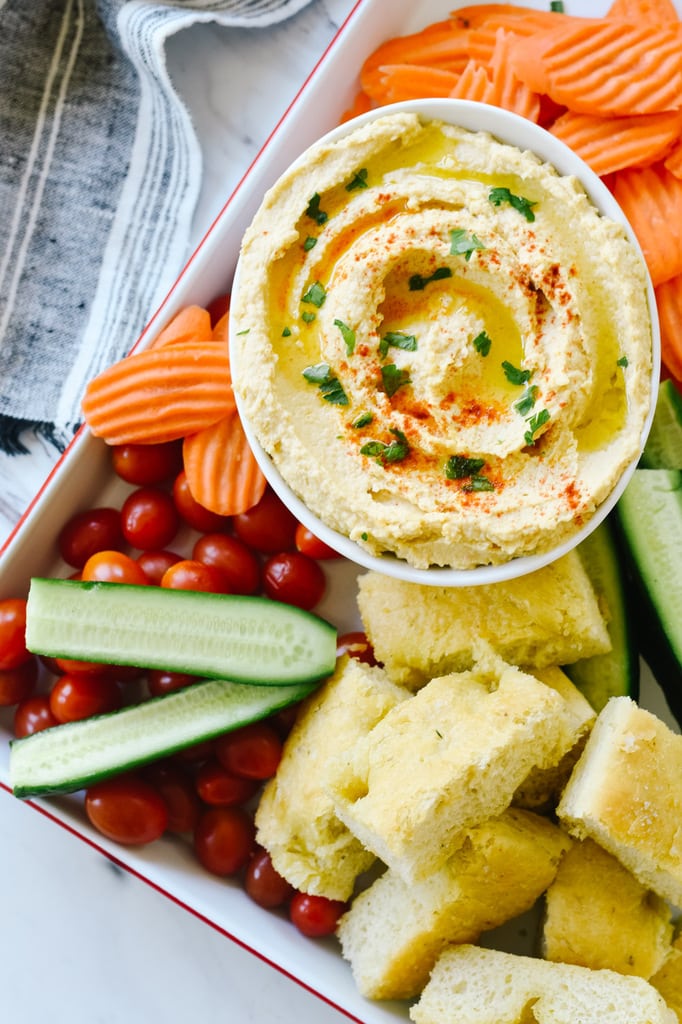 Tessa had a group of friends over  to study so I figured I better make them a healthy snack, something that would help all those brain cells work a littler harder! , I found this recipe for hummus on the very first blog I ever visited, it was just someone's personal family blog but it introduced me to the world of blogging. This was in the early days of blogs and no one really knew what they were.  I was intrigued with the idea of a blog so I went out and bought myself Blogging for Dummies (for real!)  And the next week I had a blog and look where it got me!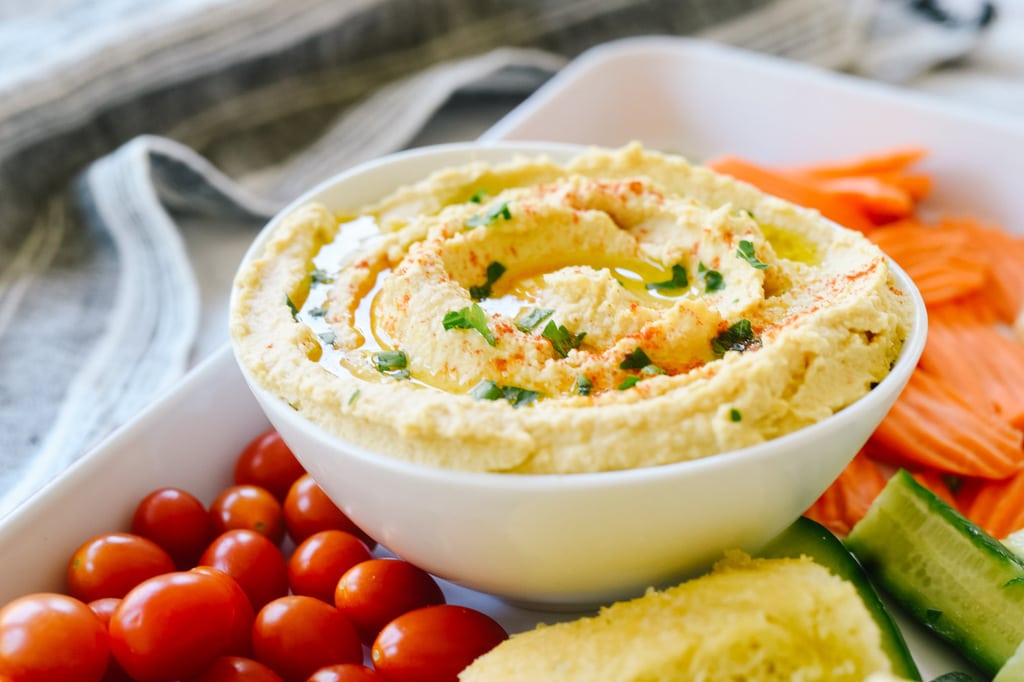 What is Hummus?
Hummus is a Middle Eastern dip made from cooked garbanzo beans and tahini which is sesame seed paste.  Hummus is also a healthy treat!  It is full of nutrients, protein, dietary fiber, and heart-healthy omega fatty acids.  And it is also delicious.  Homemade hummus is so easy and so much better than store bought hummus.
How Do You Make Hummus?
It is quick and easy to make in the food processor.
Just add all the ingredients, garbanzo beans, tahini, garlic, lemon juice and some seasonings into the food processor and pulse it until your desired consistency.
Be sure and save some of the liquid you drain from the garbanzo beans to add into the hummus if you want it thinner and smoother.  I like mine with a little texture.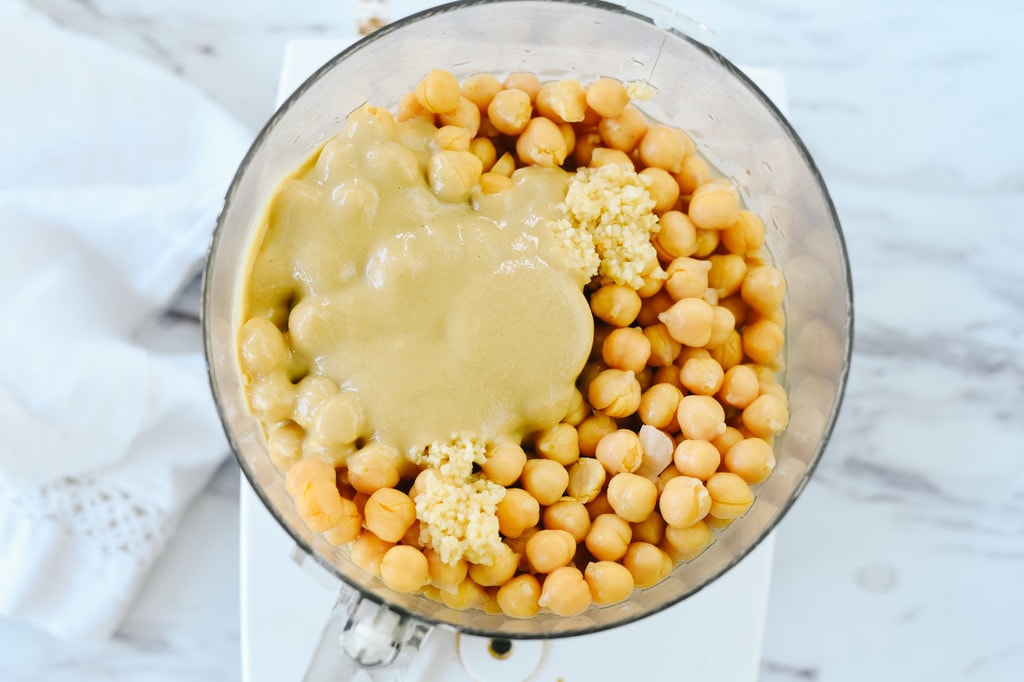 Serve your hummus with a variety of raw veggies.  It is great with carrots, tomatoes, and cucumbers.  And don't forget some focaccia bread and crackers. Drizzle the top of the hummus with some olive oil, a sprinkle of paprika and some chopped parsley.  This ads some nice color.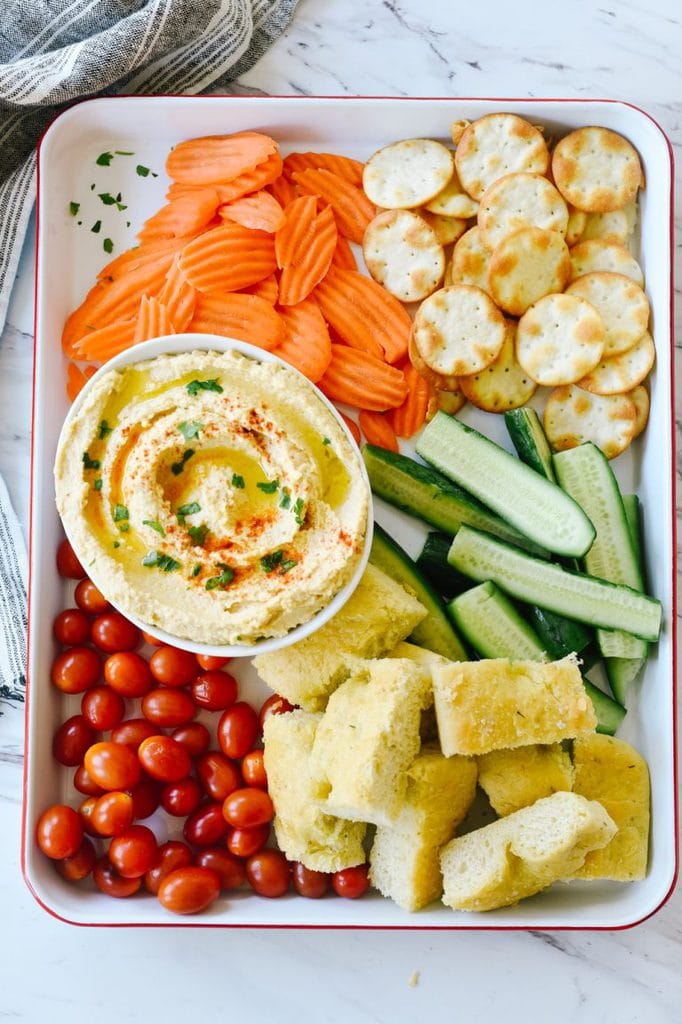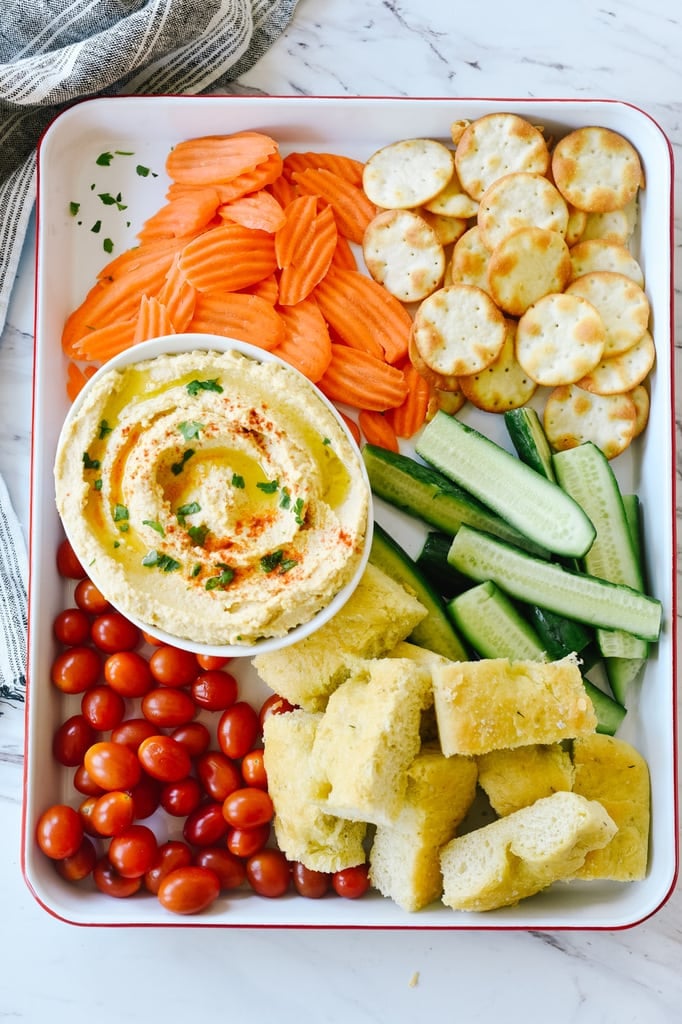 Other favorite snack ideas:
For all of my other favorite kitchen products and tools visit my Amazon Store.
Did you know I wrote a cookbook?  Check out the Holiday Slow Cooker Cookbook for 100 delicious recipes
Hummus Recipe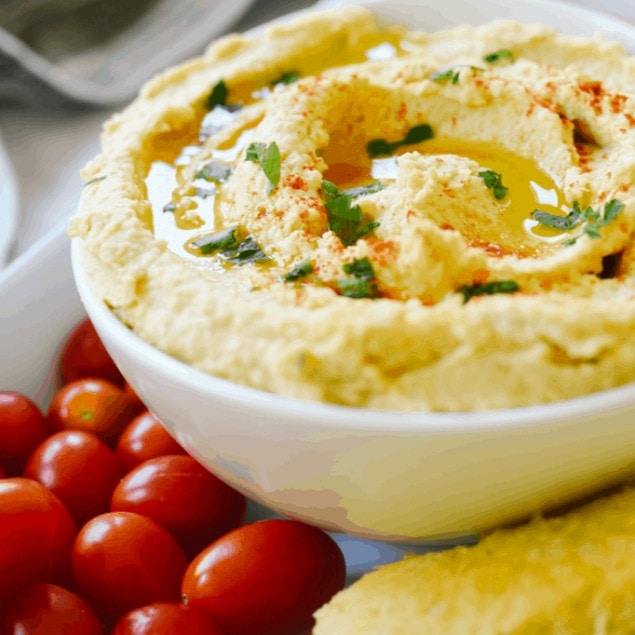 Hummus
Hummus is a delicious and healthy snack that is so easy to make at home you will never buy store bought hummus again!
Ingredients
1 C lukewarm water 90°F to 100°F
2 1/4- ounce package dry yeast or two 0.6-ounce packages fresh yeast crumbled
2 1/2 C about all purpose flour
2 tablespoons extra-virgin olive oil
1 tsp coarse sea salt
I also add a tsp or more of dried rosemary or Italian seasoning
Hummus
4 garlic cloves
2 cans canned chickpeas drained, liquid reserved
1 1/2 teaspoons kosher salt
1/3 cups tahini sesame paste Should be able to find this in the ethnic section of your grocery store.
6 tablespoons freshly squeezed lemon juice
2 tablespoons water or liquid from the chickpeas
8 dashes hot sauce optional
Instructions
Pour 1 cup lukewarm water into small bowl; sprinkle with yeast and add 1 tsp sugar.

Let stand until yeast mixture becomes spongy.

Add yeast mixture to 2 cups flour, salt and 2 Tbs oil in the bowl of your electric mixer fitted with the dough hook and mix.

Add more flour as needed.

Remove dough from mixer and knead by hand for a bit.

Coat bowl with oil.

Add dough; turn to coat.

Cover bowl with plastic wrap.

Let stand in warm draft-free area until doubled, about 1 hour 15 minutes.

Brush baking sheet with 1 tablespoon oil.

Punch down dough.

Turn out onto floured work surface and shape into 11-inch round.

Transfer dough to prepared tart pan or baking sheet.

Cover loosely with plastic.

Let rise until dough is almost doubled, about 30 minutes.

Preheat oven to 400°F.

Press fingertips into dough, creating indentations.

Brush with remaining 2 tablespoons oil.

Sprinkle with salt (if desired).

Bake until golden, about 20-25 minutes.

Cool bread in pan on rack 10 minutes.

Remove bread from pan; cool completely.
Hummus
Turn on the food processor fitted with the steel blade and drop the garlic down the feed tube; process until it's minced.

Add the rest of the ingredients to the food processor and process until the hummus is coarsely pureed.

Taste, for seasoning, and serve chilled or at room temperature.
Nutrition Facts:
Calories: 194kcal (10%) Carbohydrates: 18g (6%) Protein: 7g (14%) Fat: 11g (17%) Saturated Fat: 1g (6%) Sodium: 1047mg (46%) Potassium: 226mg (6%) Fiber: 5g (21%) Vitamin A: 25IU (1%) Vitamin C: 5.4mg (7%) Calcium: 56mg (6%) Iron: 1.9mg (11%)
* Disclaimer: All nutrition information are estimates only. Read full disclosure here.
Originally posted January 21, 2009
Need some help figuring out what's for dinner tonight?
Come join our Facebook Group!  Join hundreds of others who love sharing dinner time ideas.  You don't want to miss out on the fun!

You'll find lots of ideas for dinner from all our awesome members and you can share your ideas too!  Join the Family Dinner Table today.