Mango Salsa is the perfect combination of a little heat and a little sweet  It's pretty and delicious!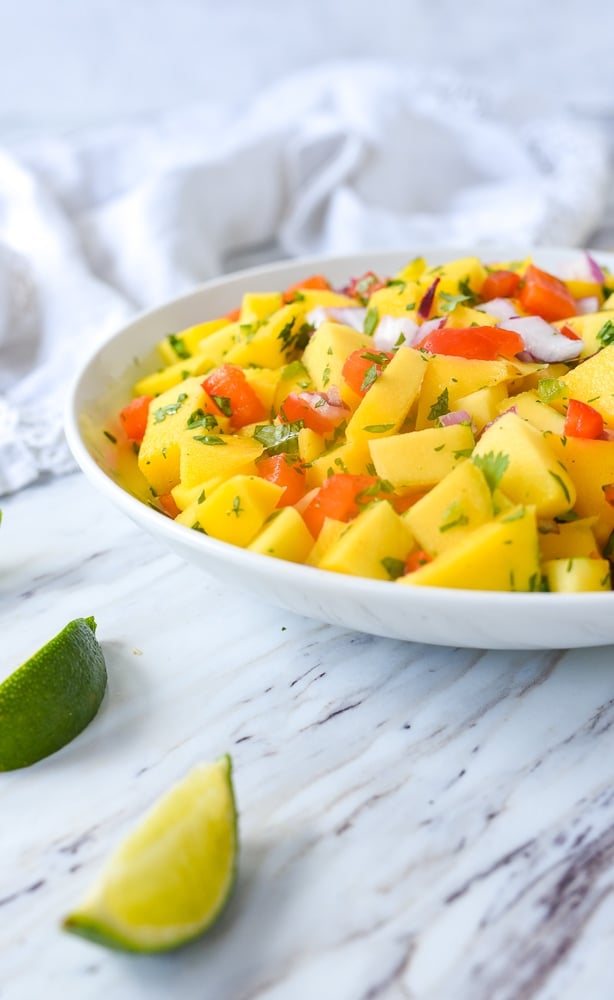 Best Mango Salsa
We are huge Mexican food fans at our house. We usually judge a Mexican restaurant by their chips and salsa. If we don't like their chips and salsa then sorry but we're not coming back. In our book they totally set the tone for a good meal of Mexican food. We like our salsa with just a little bit of heat. Not so much that you are steaming from the ears!
Mango Salsa Ingredients
Of course, you need to start with a nice ripe mango. If you have never worked with a mango before I'd recommend checking out some videos on You Tube that will show you the best way to cut one up!
The salsa also contains other standard salsa ingredients – tomatoes, red onion, green onion, lime, cilantro, jalapeno pepper and more sweetness in the pineapple.
How to Make Mango Salsa
Cut up and combine all your ingredients and then allow the salsa to sit in the refrigerator for a while so that the flavors can all meld together – such goodness. You are then ready to grab those chips and start dipping away! This salsa is also delicious served as a condiment with chicken or fish.
This salsa would also be delicious served with chicken or fish.  Come back tomorrow to see what I served it with.