This marinaded salmon is delicious. And I thought I didn't like salmon!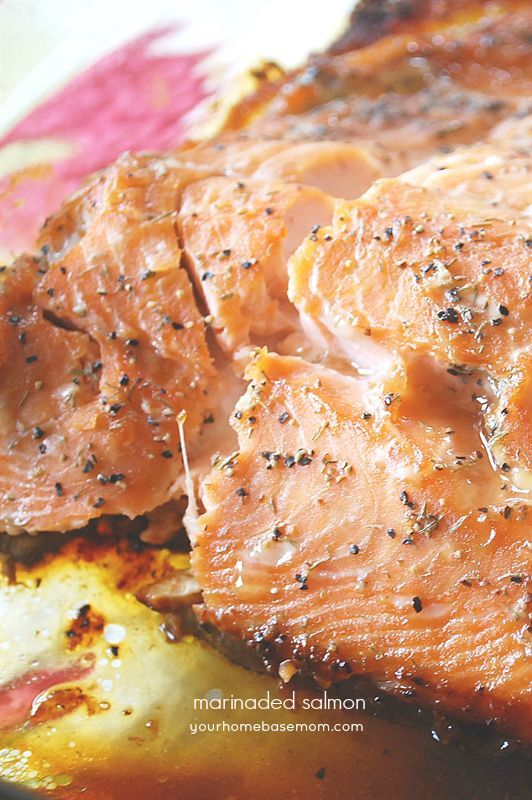 The other day I answered the phone and it was my son Logan. This is not unusual as we pretty much talk every day. What can I say – the boy loves his mother!
What was unusual was his question.
"Mom, where can I buy gin?"
Now this question may not be that unusual for some 25 year old men but for my returned Mormon missionary son who just graduated from BYU and lives in Provo, Utah – this was an unusual question!
First of all – I don't even know if you can buy gin in Provo???
When I asked him why he wanted to buy gin he informed me he was making the salmon marinade recipe I had sent him and it called for gin. I had forgotten about that when I sent it to him.
I had goggled what to use as a substitute for gin and the answer was apple juice – so that is what I used.
Back to the recipe. I am not much of a seafood eater. I can handle shrimp and a nice light white fish but usually salmon is way out of my comfort zone. So when my friend Karen asked if we would like a piece of the very fresh salmon her husband had just caught I told her that I'm sure Jim would love it.
Karen generously shared with us and along with the salmon she gave us their favorite salmon recipe.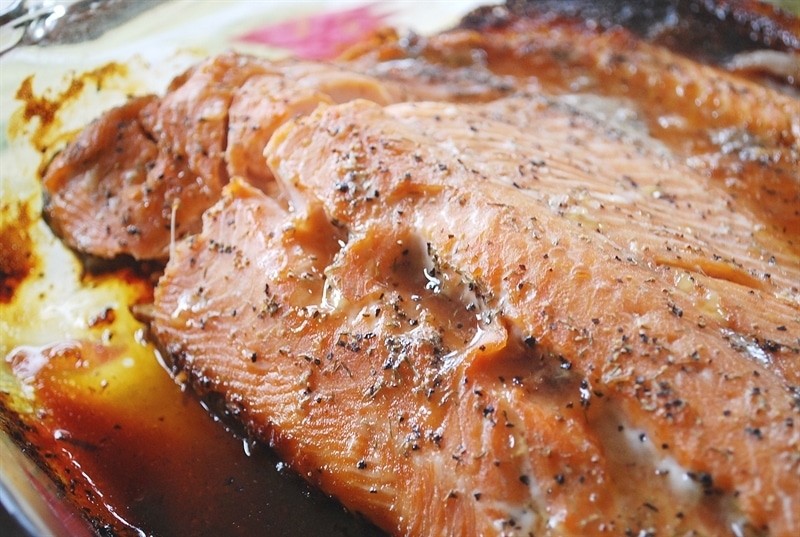 That weekend we were invited to a potluck BBQ and I knew that Jim would never eat all of it himself so I decided to fix it to take to the party. Now I wish I hadn't!
Now remember, I don't like salmon, but I LOVED this salmon. Several people at the party told me it was the BEST salmon they had ever eaten. Now I am sure part of it was the fact that it was incredibly fresh but the marinade was divine too!
Logan also got rave reviews from his dinner guests and impressed the girls they were cooking for so I think it is a keeper!!  I guess I now like salmon!
The sauce that is served with it is a condiment or dipping sauce.  I did not put it on top of the salmon, just served it as a side dish with it.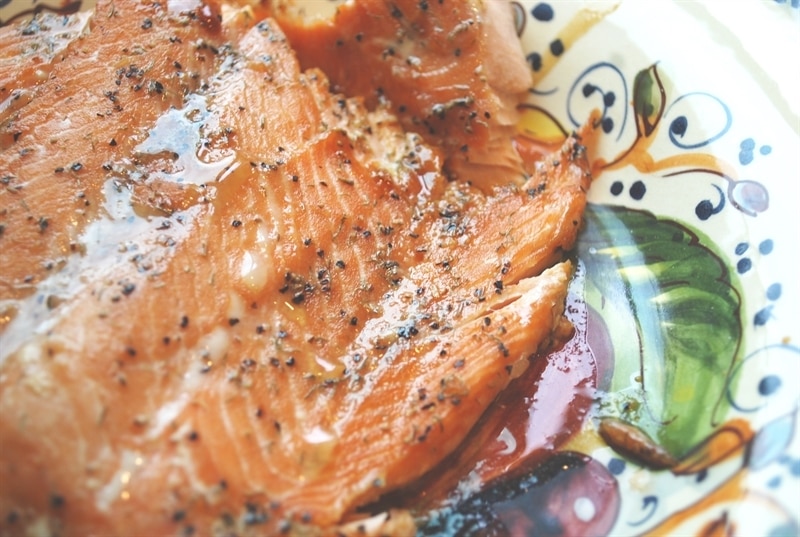 Thanks to Karen and her sweet hubby for not only sharing their salmon but their recipe too!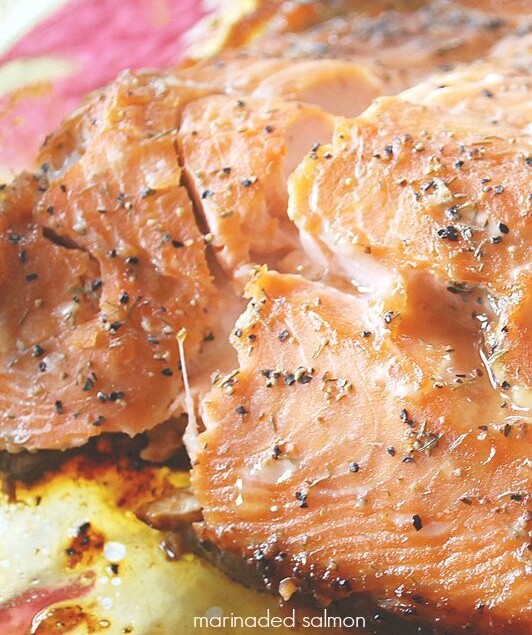 Marinated Salmon and Sauce
Fresh salmon marinated in a honey mustard sauce.
Total :
4
hours
30
minutes
Ingredients
2 lb salmon with skin on
6 T brown Sugar
1 T salt
1 tsp black pepper
2 T Gin or apple juice
¼ bunch fresh chopped dill - I used dry - about 1 tsp.
1 tsp crushed juniper berries optional - left these out
Sauce:
2 T brown sugar
¼ c Dijon mustard
1 T juice from marinade
½ lemon juice only
¼ bunch fresh chopped dill
¼ c Vegetable oil
Tabasco sauce to taste
5 T Whipped whipping cream
Instructions
Place salmon skin side down in baking dish

Mix ingredients in bowl and spread evenly over fish

Marinate minimum of 4 hrs.

Pour off excess juices and reserve for sauce

Pre-heat oven to 400 and bake 15-20 min maximum
Sauce:
Mix brown sugar and Dijon mustard in a bowl

Slowly mix in veg. oil.

Add remaining ingredients saving whipped cream for last

For additional recipes for Baked Salmon Steaks I found this great resource
Nutrition Facts:
Calories: 567kcal (28%) Carbohydrates: 26g (9%) Protein: 46g (92%) Fat: 29g (45%) Saturated Fat: 13g (81%) Cholesterol: 125mg (42%) Sodium: 2028mg (88%) Potassium: 1175mg (34%) Fiber: 1g (4%) Sugar: 24g (27%) Vitamin A: 91IU (2%) Vitamin C: 7mg (8%) Calcium: 60mg (6%) Iron: 2mg (11%)
* Disclaimer: All nutrition information are estimates only. Read full disclosure here.