If you like a little heat and a bit of a kick you're going to love this firecracker shrimp!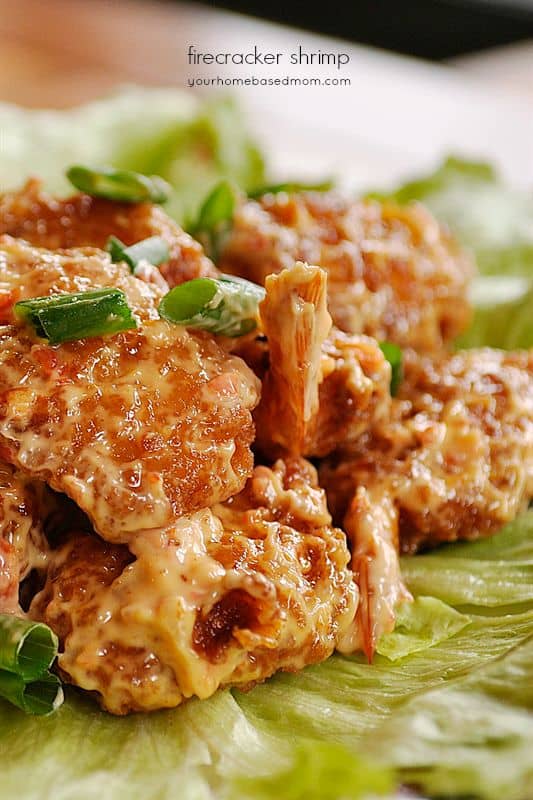 Today's recipe has been a frequent visitor at our house on Christmas Eve and New Year's Eve for the last several years.  It is delicious and it is also a total man pleaser.  They love it!  But so do the girls.
It's a bit spicy so if you like a little heat, you'll love it.
Firecracker Shrimp!
I take the easy route with this recipe and use frozen Panko breaded Shrimp from Costco.
It's easy and it's good but if you don't have a Costco near you or can't find something similar at your local grocery you can bread your own shrimp.  It's just a bit more work a little messier but totally doable – I've done it.  I'll include the recipe for the Panko breading below too.
This year's box of shrimp only came with directions to bake it – not fry.  I followed the baking directions but when I added the secret sauce to it the breading started following off the shrimp.  It still tasted great, just not too pretty.
So the second time I made them I let the shrimp thaw in the frig and then I fried them in oil – at about 300 degrees and they turned out perfect.  A nice crispy, brown exterior that stayed on when I mixed them in the sauce!

After I cooked up this batch Cali decided she was going to eat the whole thing herself!

But I think she ended up sharing a few with her siblings.  Good girl!
Got any big plans for your New Year's Eve.  I think ours will be homemade pizza and root beer floats with some family games.  Pretty quiet around here!
Happy New Year!
Up next – my word of the year and a fun new way to display it!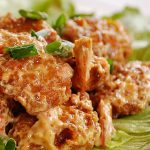 Print
Firecracker Shrimp
Ingredients
Secret Sauce:
1/2

C

mayo

2-4

tsp

chili garlic sauce

depending on the amount of heat you like I used 4!

1 1/2

tsp

sugar

1/2

tsp

white wine vinegar

1

pkg panko breaded frozen shrimp

vegetable oil for frying
Garnish:
Lettuce leaves and chopped green onion
To make your own Panko Breaded Shrimp:
1

C

panko bread crumbs

2

egg white

1

tsp

garlic powder
Instructions
Mix together sauce ingredients and refrigerate until ready to use
To make your own Panko Breaded Shrimp:
Heat vegetable oil in pan to about 350 degrees

Mix together bread crumbs and garlic powder

Dip unpeeled shrimp in egg white mixture

Dip in panko crumbs mixture

Place in hot oil and cook until browned on both sides and cooked through

If using frozen, pre-breaded shrimp thaw in the refrigerator and then cook in hot oil until coating is brown and crispy, making sure inside is cooked too

After shrimp is cooked place in a bowl and pour special sauce over the top

Gently fold together

Place shrimp on a plate covered with lettuce leaves and sprinkle on green onion
Get my Weekly Menu Plan for FREE!
Receive my FREE "What's for Dinner?" Meal Planning Course, a copy of my FREE ebook that includes my most popular recipes and my FREE weekly Meal Plan.