Our family's version of the Low Country Boil is a little different than the traditional way. We love doing ours on the grill for more amazing flavor!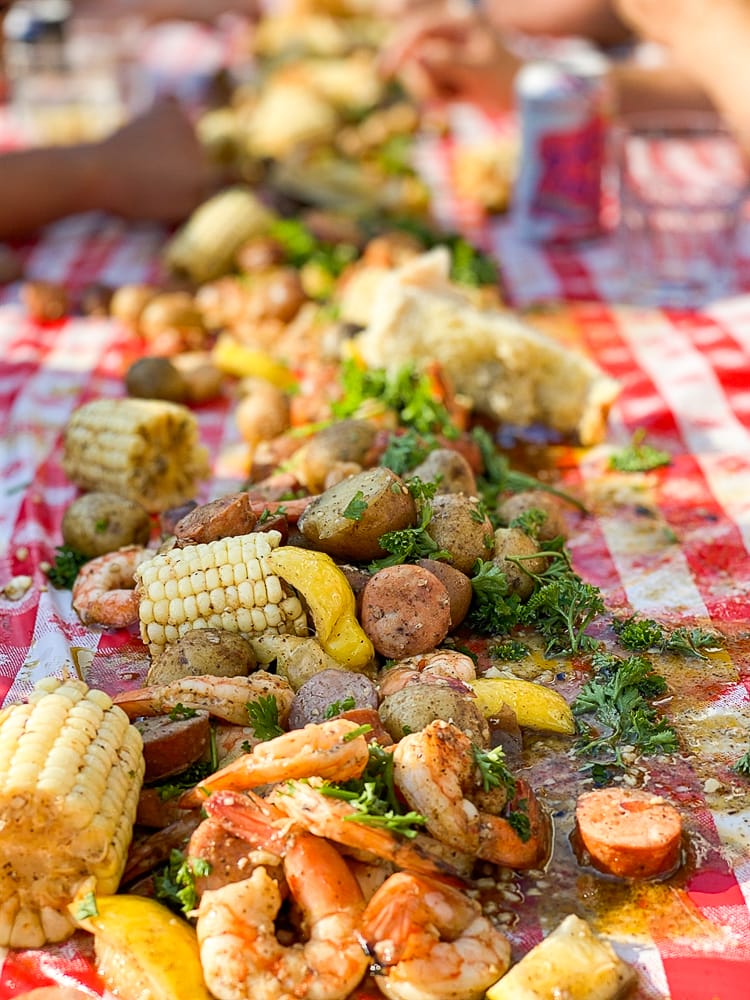 Why We Love This Recipe!
Each summer our family spends a week together at our beach home, we call it "the beach week." It is my favorite week of the year, one of the few times each year that I have my entire family under one roof! All you empty nesters will totally understand that feeling.
One of the perks of having adult children that can cook is that we share in the meal preparation and cooking for the week. Several years ago my son offered to put on a Low Country Boil for one of the meals and it has become a Beach Week tradition ever since.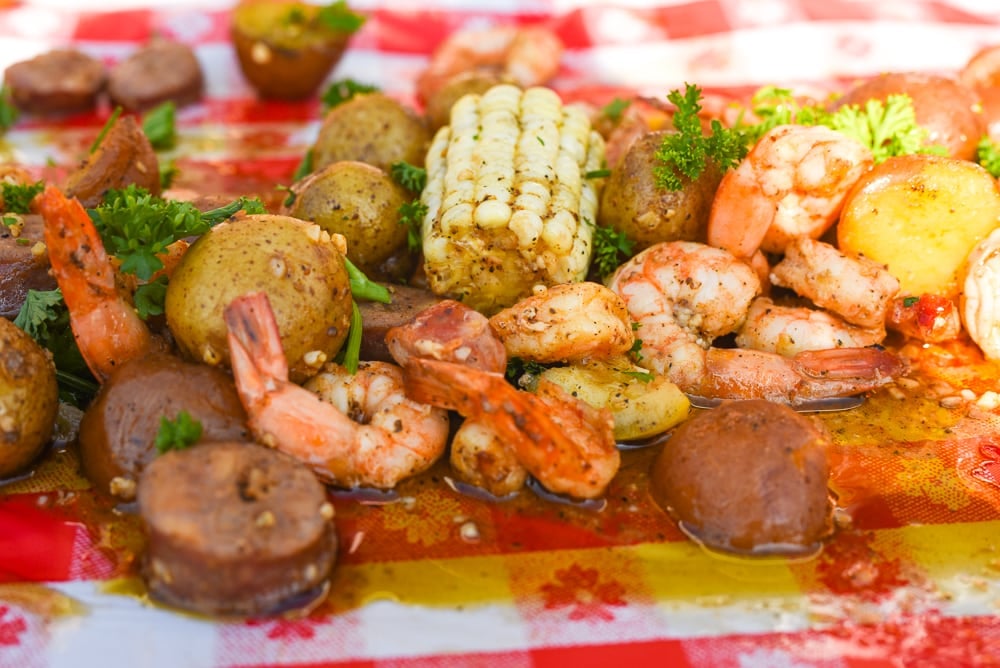 What is Low Country Boil?
A Low Country Boil is traditionally a one pot meal that was done as a way to feed a lot of people. The boil originated in the coastal region of the United States but also have roots that go back to the slave trade and the Gullah people. It was the perfect way to feed a large group of people quickly with what food you had available. Today, it is the perfect thing to make for a family reunion, holiday or get together.
Traditionally the meal is made with a combination of shrimp, sausage, corn and potatoes. It is an entire meal in one pot or in our case, one grill. The boil is usually done by placing all the ingredients into a big pot of boiling water and boiling until cooked. We prefer to cook ours on the grill for better flavor and who has one pot big enough to hold enough food to feed a crowd??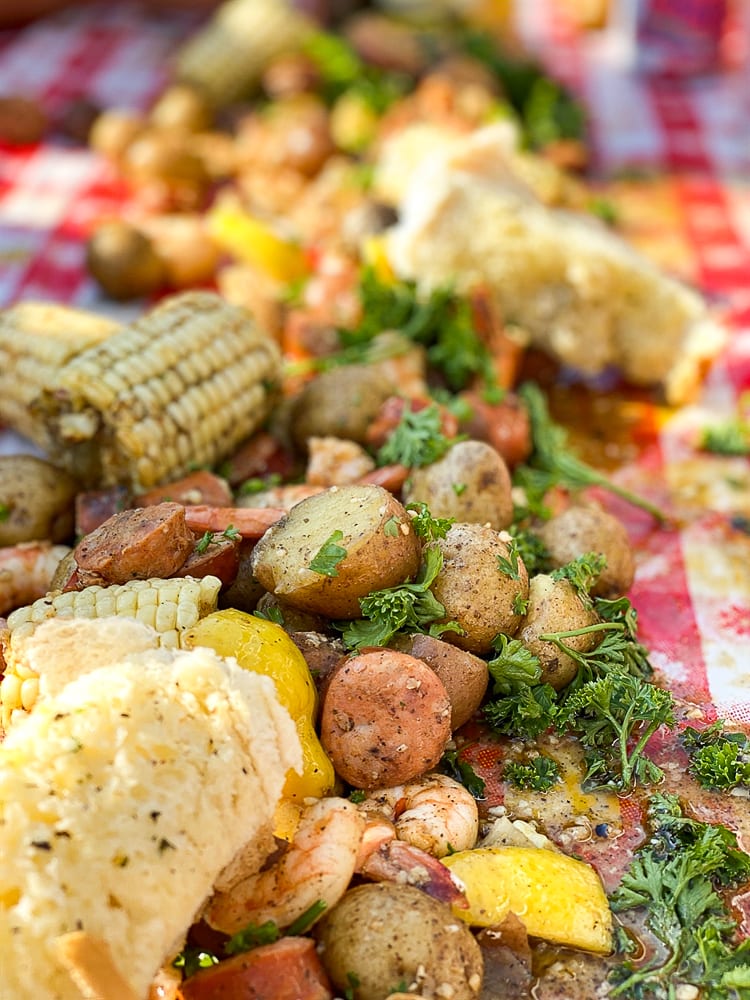 What You Need to Make Low Country Boil
Begin by placing all your ingredients into separate bowls and form an assembly line.

Sausage. The boil is traditionally made with Andouille sausage which is Cajun and pretty spicy. We use it along with either hot dogs or another non spicy sausage such as kielbasa, especially if we are feeding children. Cut the sausage up into bite size pieces. You can usually tell the difference between the two sausages by the color, the Andouille sausage will be more red in color, especially after it is cooked. We use any leftover sausage the next morning with some eggs for breakfast.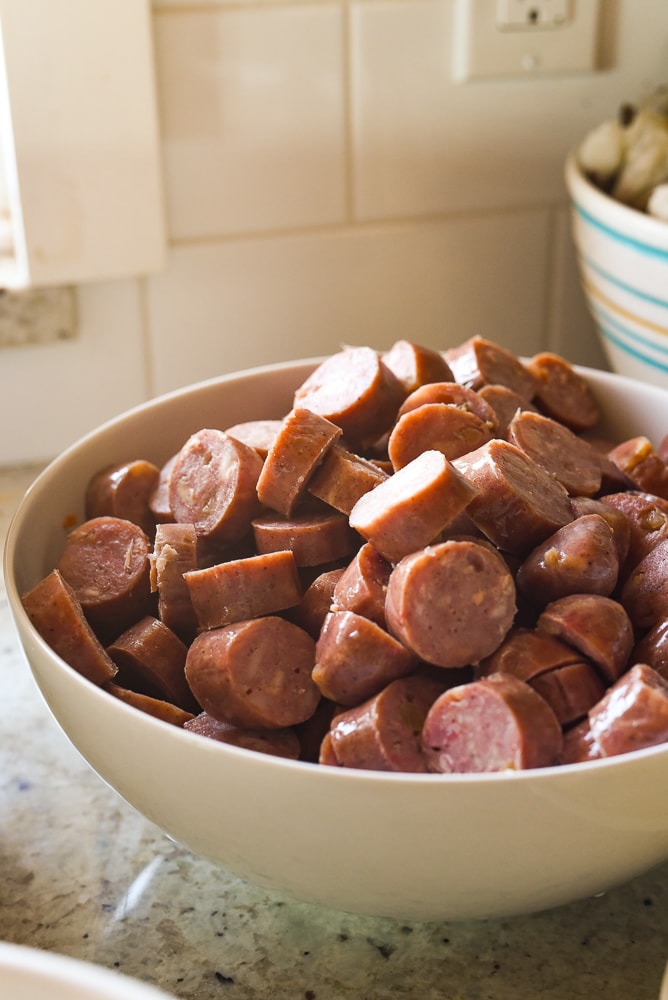 Sseafood. We buy raw, deveined frozen shrimp from Costco. We have shrimp lovers in our family so we plan on a lot of shrimp. I bought the 21-25 size shrimp and used about 4 lbs to feed 10 people. We did have some shrimp leftover but that is not a bad thing! We made tacos out of it the next day.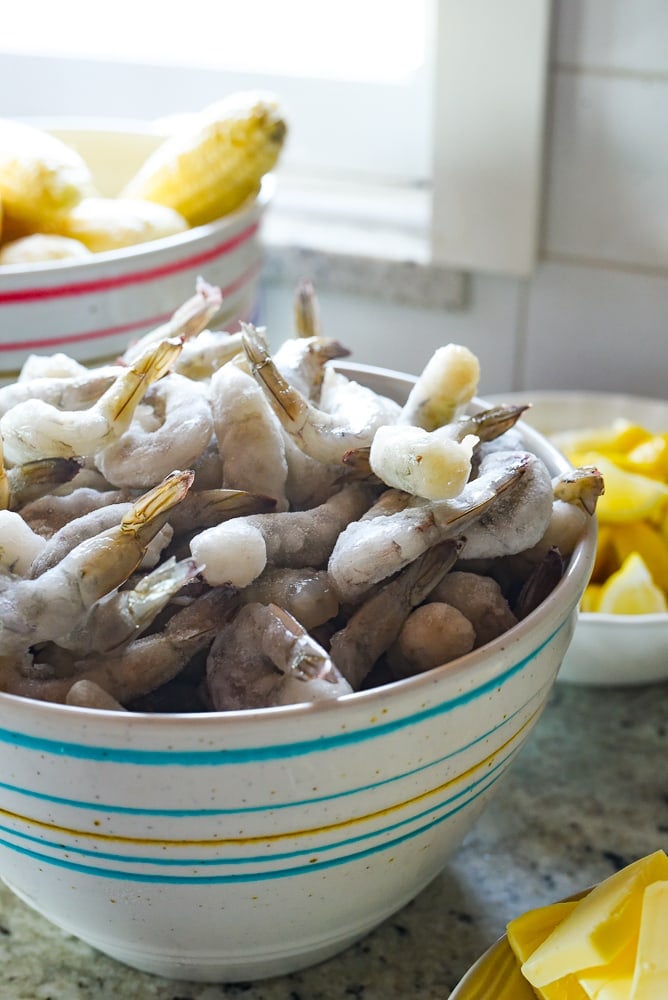 Potatoes. We used 5 lbs. of small red potatoes. Boil the potatoes ahead of time until they are fork tender. After boiling I cut the bigger potatoes in half, you want everything bite size and I wish I had cut all of them in half. When they are cut in half, they have more surface area to absorb the delicious spices and juices. Any left over potatoes can also be used for breakfast the next morning. You can prepare and boil the potatoes earlier in the day and cover and refrigerate them until ready to use.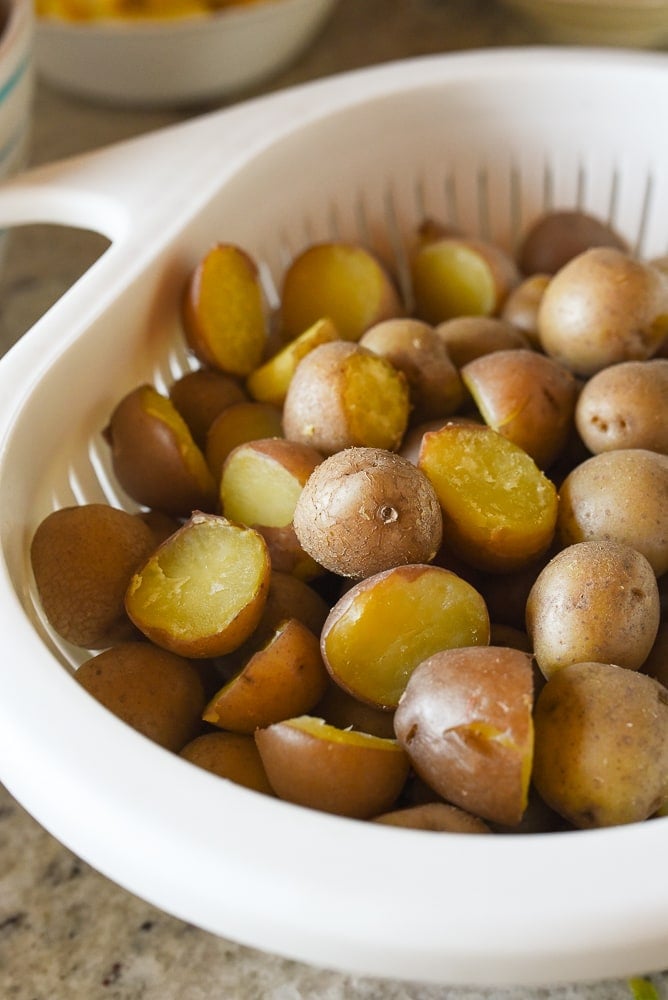 Corn on the Cob. Husk the corn and cut each ear into 2-3 pieces. We also flash steam the corn so that it cooks quicker. This can be done earlier in the day if needed. We plan on 1 – 1 1/2 ears of corn per person.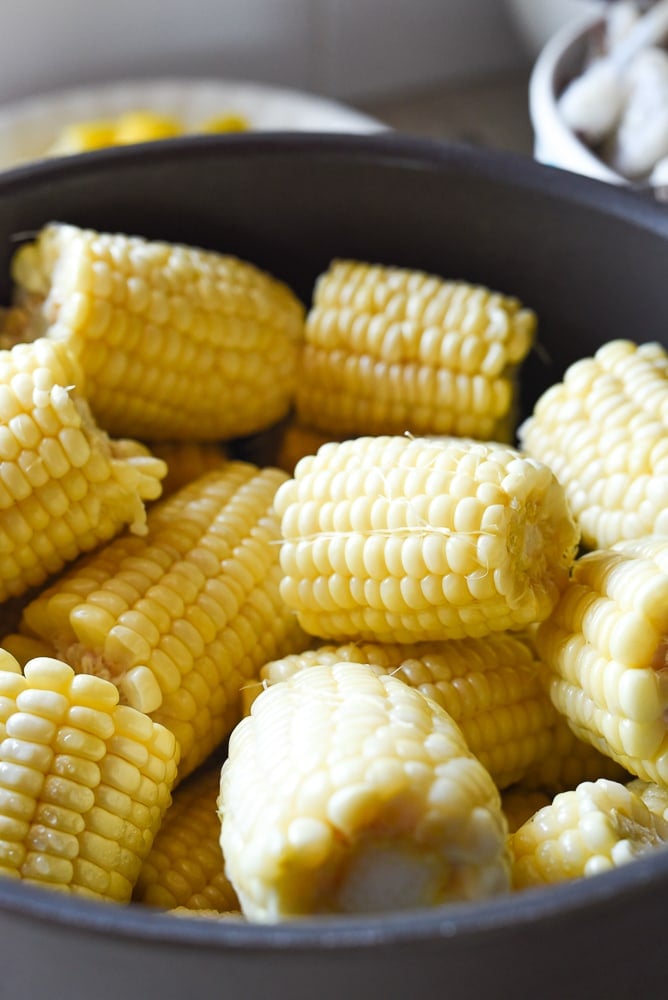 Tips from Leigh Anne
Place a plate in the bottom of pan. Add about 1/2 inch of water.
Put corn into the pan, cut into pieces, it can be piled on one another.
Cover and bring water to a boil. Once water comes to a boil, reduce heat and steam the corn for about 10 minutes or until water has almost evaporated.
Steaming the corn before cooking the boil assures that everything will be evenly cooked.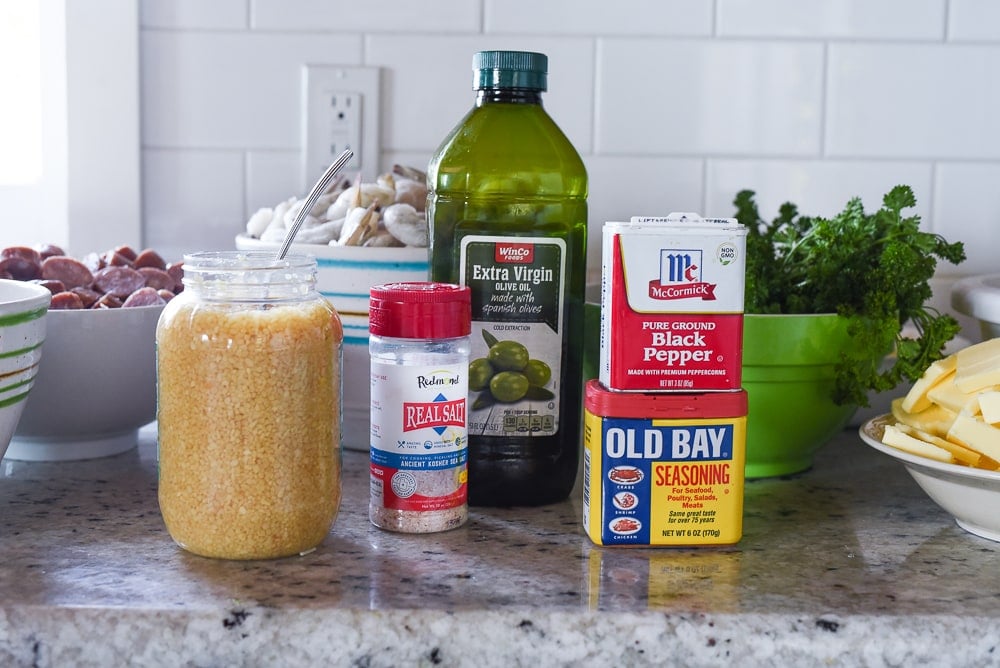 Seasonings. You will need minced garlic, salt, pepper, olive oil and Old Bay Seasoning or some type of cajun seasoning.
The Old Bay Seasoning is the secret ingredient so don't leave it out. It is what gives everything such amazing flavor. I don't have specific measurements on the seasonings, we just eye ball it. Per packet we used a couple tablespoons of garlic and olive oil, along with a teaspoon of salt and about a half teaspoon of pepper and 2 tablespoons or so of Old Bay.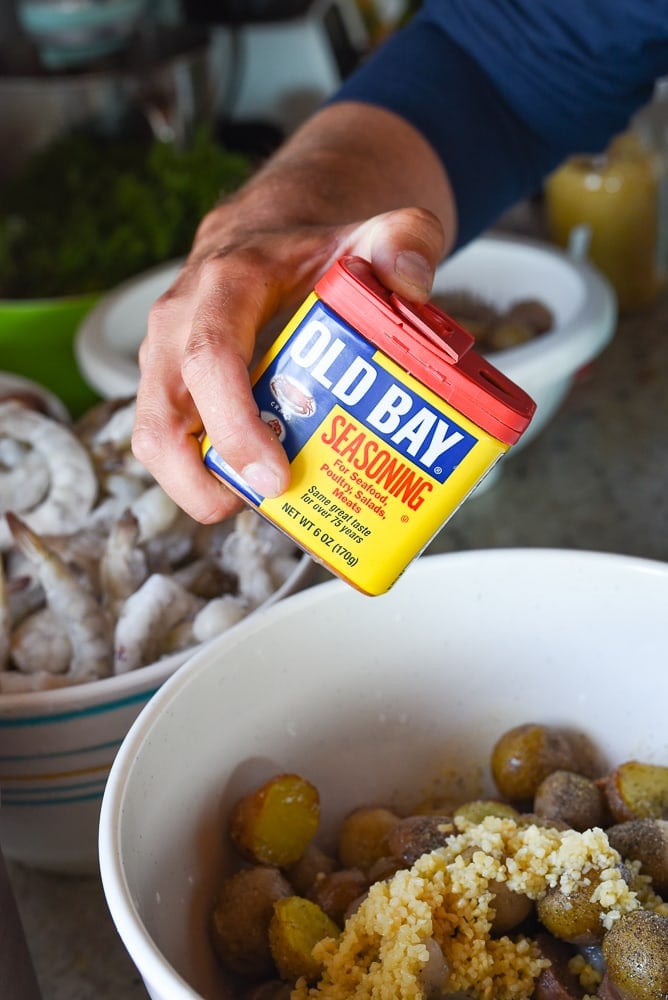 Lemon Wedges and Butter. Cut lemon into wedges, we add in 3-4 lemon wedges per packet. Cut butter into tablespoons and use four per packet..
Fresh Parsley. The parlsey is mainly used as a garnish at the end after you place it on the table. Chop it up.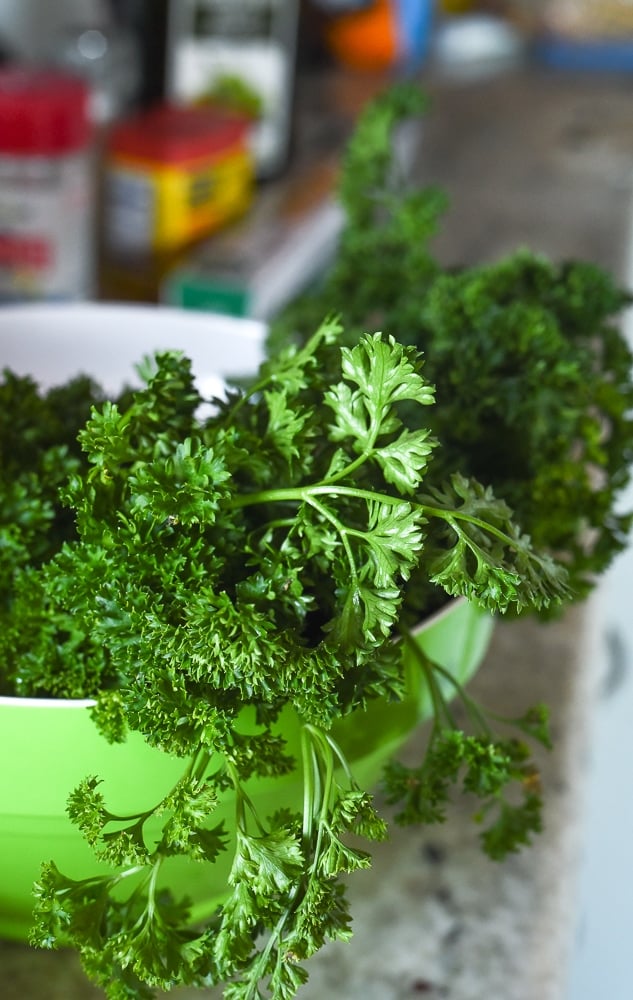 How To Make Low Country Shrimp Boil Recipe
After assembling all your ingredients you are ready to assemble your packets. We use extra heavy aluminum foil and make the packets large enough to feed 2-3 people. Lay out two pieces of overlapping foil onto the counter.
Grab another large bowl and start adding in the ingredients for one packet. We grab a couple handfuls of sausage, shrimp and corn.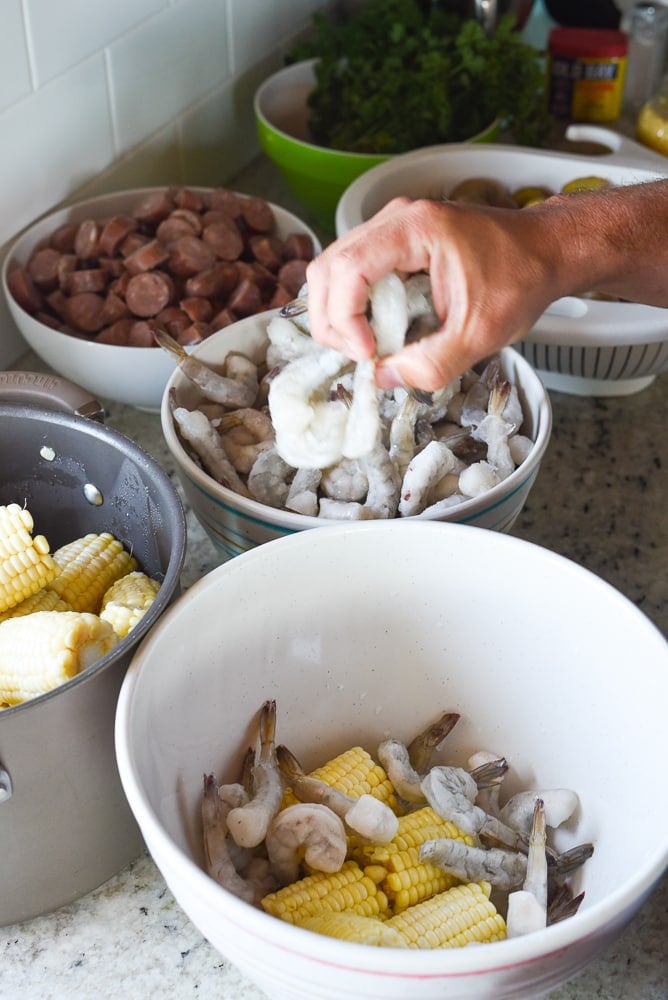 Add in a few tablespoons of olive oil and minced garlic cloves. Sprinkle with salt, pepper and Old Bay seasoning.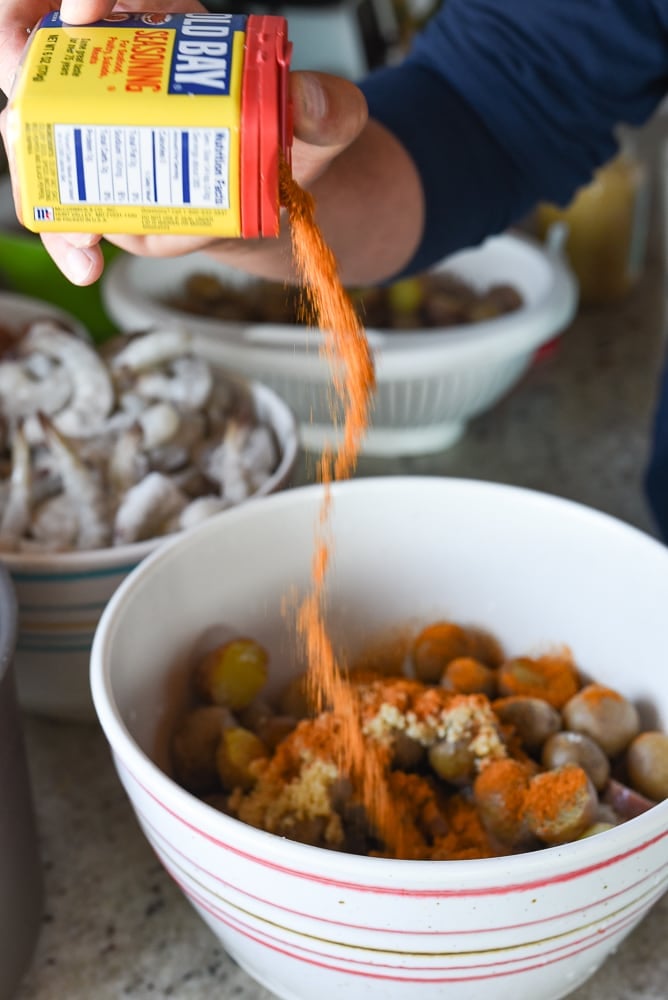 Use a wooden spoon or your clean hands to mix all the ingredients together.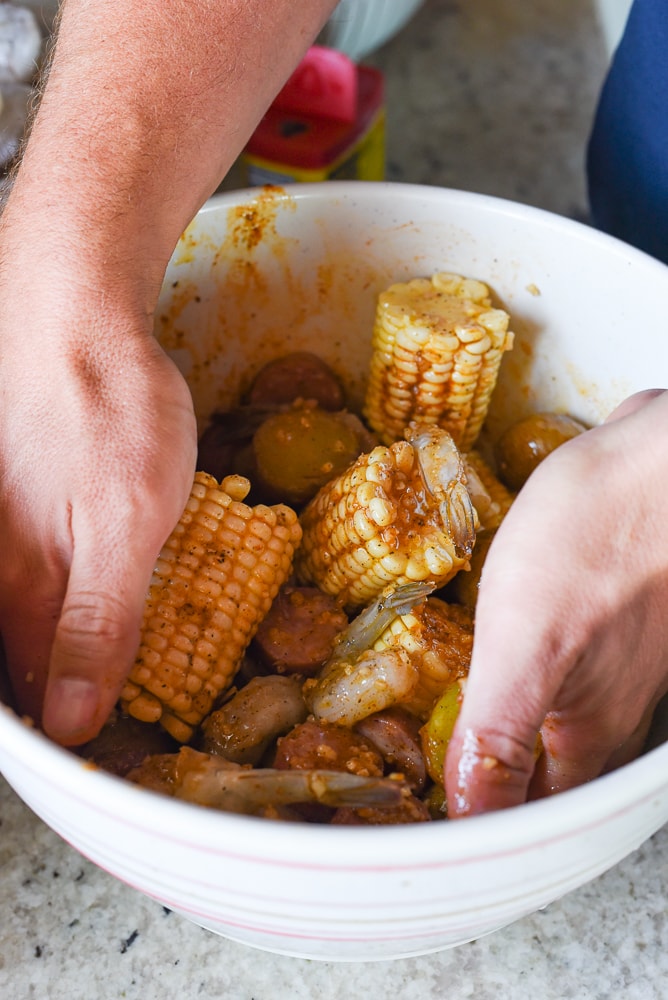 Pour ingredients onto prepared foil.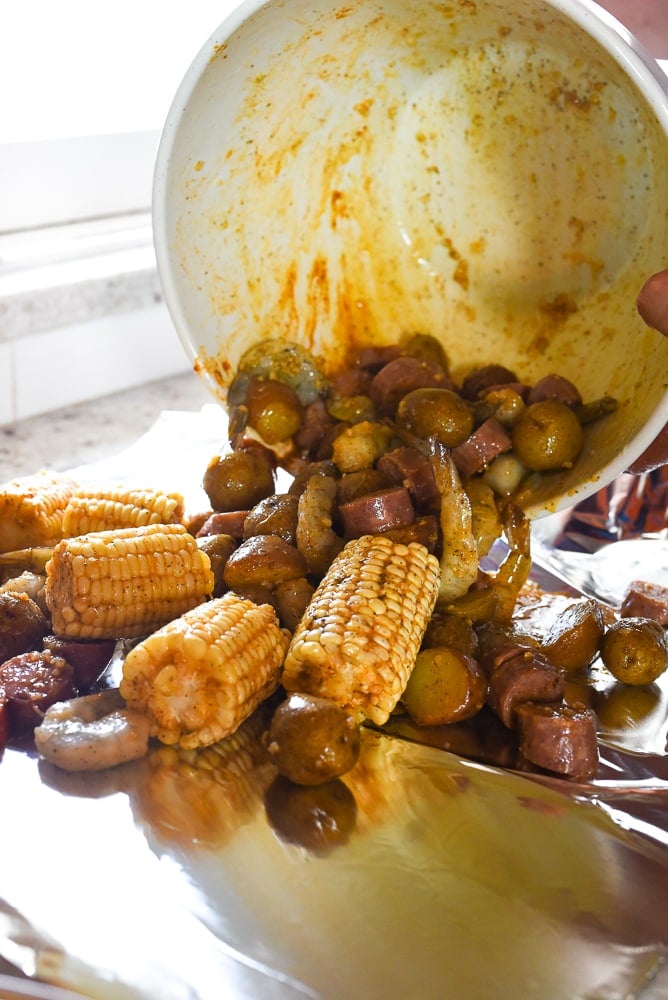 Add 3-4 lemon wedges and about 4 Tablespoons of butter.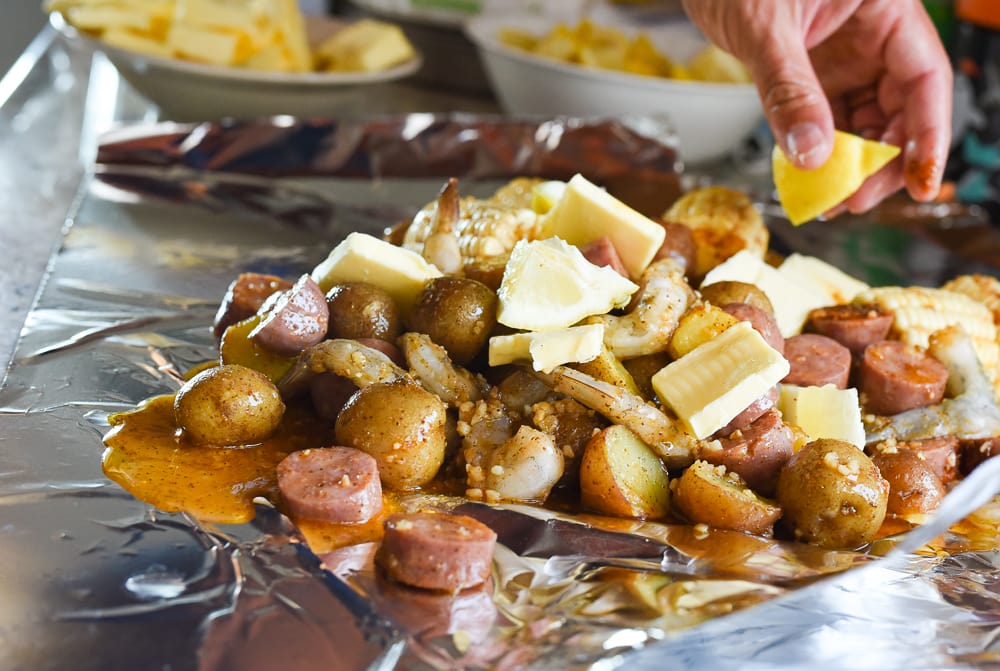 Wrap up in foil, be sure it is tight so the juices don't run out (a little always runs out). Then take a third piece of foil and wrap around the outside of the packet. The packets can be made ahead of time if needed.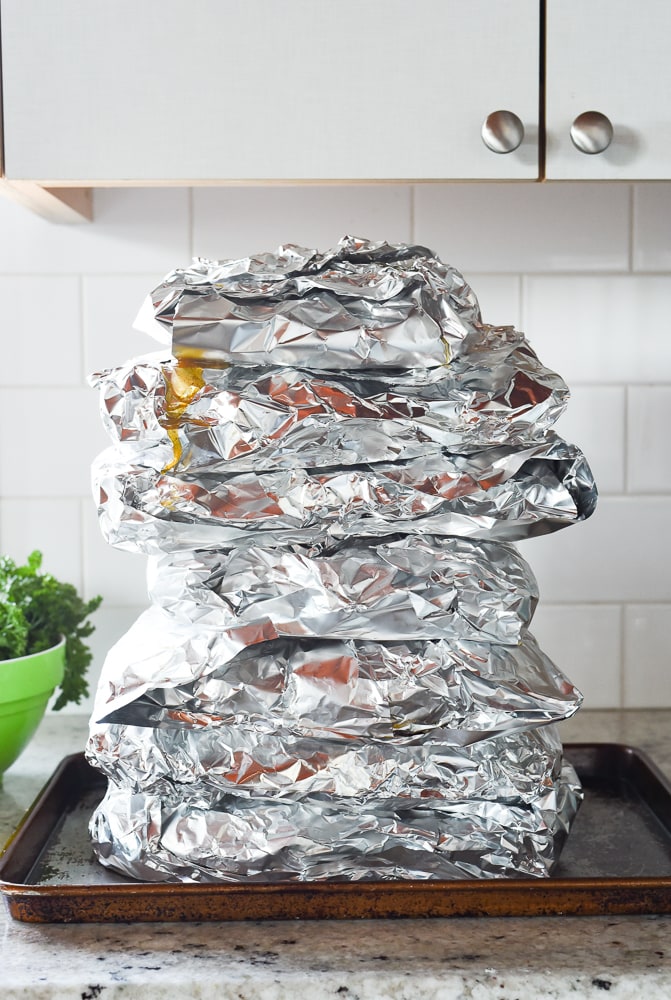 How to Cook Low Country Boil on a Grill
The packets are now ready for the grill. We cooked ours on a gas grill but it can also be done on a charcoal grill. You will want a medium hot grill. Place the packets on the grill and cook for about 5-6 minutes per side or until the shrimp is cooked through. Don't worry if some of the liquid leaks out, you may also get a few flames!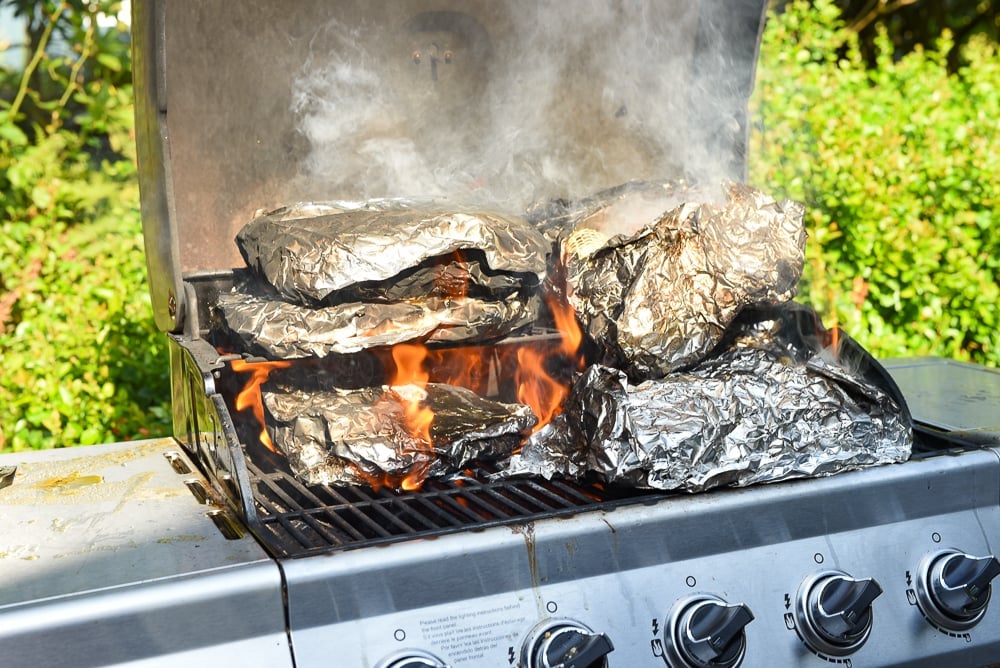 Be careful as you open your packets. They are hot and there is steam inside. We pour all the contents of the packets into a couple of large bowls.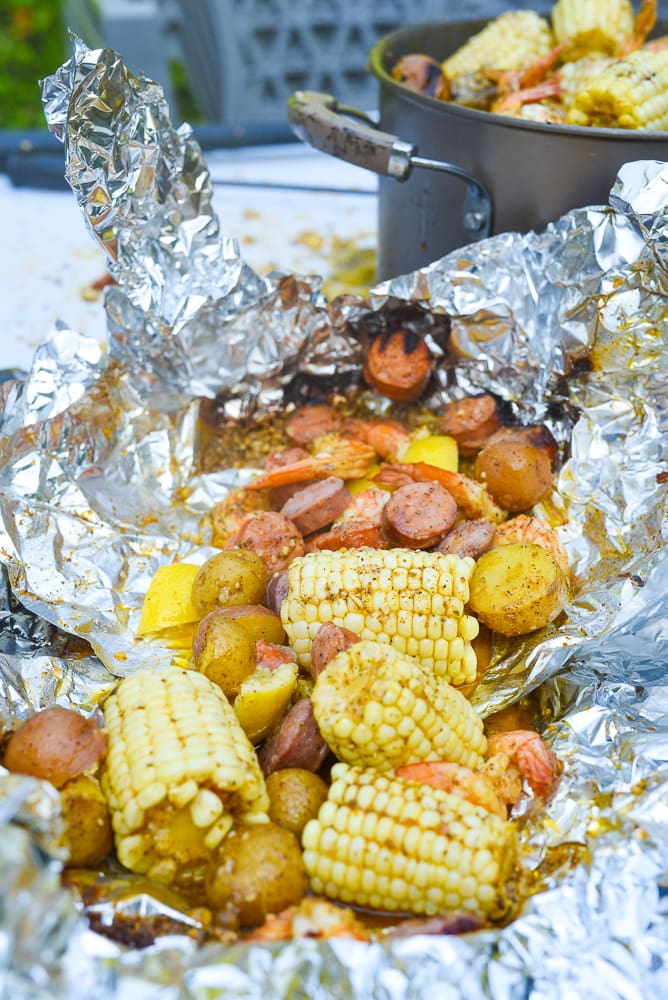 Half of the fun of the Low Country Boil is eating it right off the table with your hands. It's a little messy but so fun and the kids will love it. I cover the table with some brown butcher paper and some plastic table covering and then we just pour it all down the middle of the picnic table.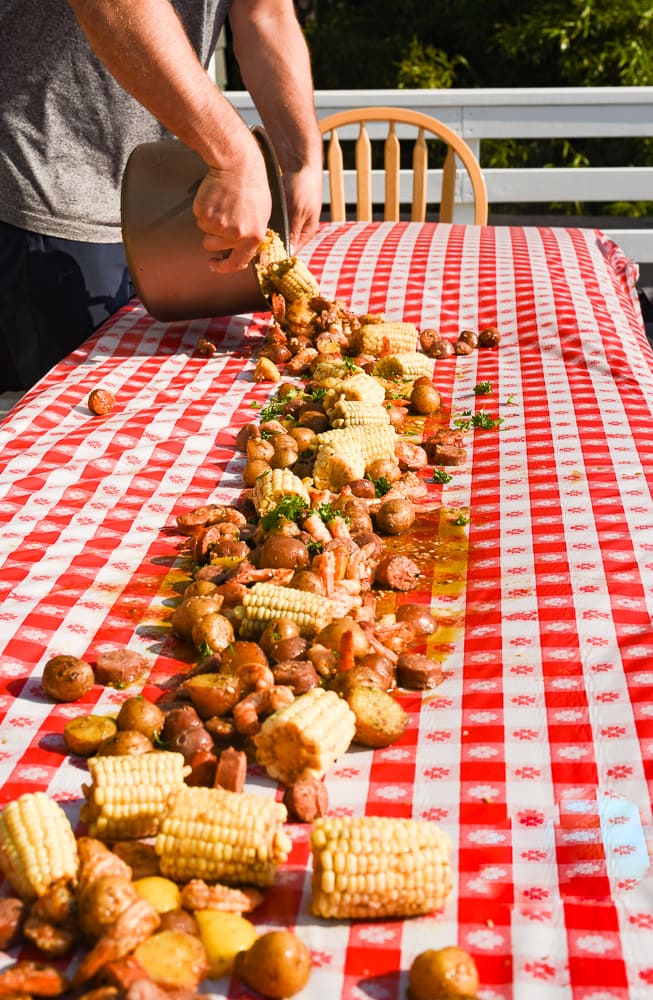 Garnish the food with the chopped green parsley. We also like to add slices of garlic bread, we place them right on top of the other ingredients.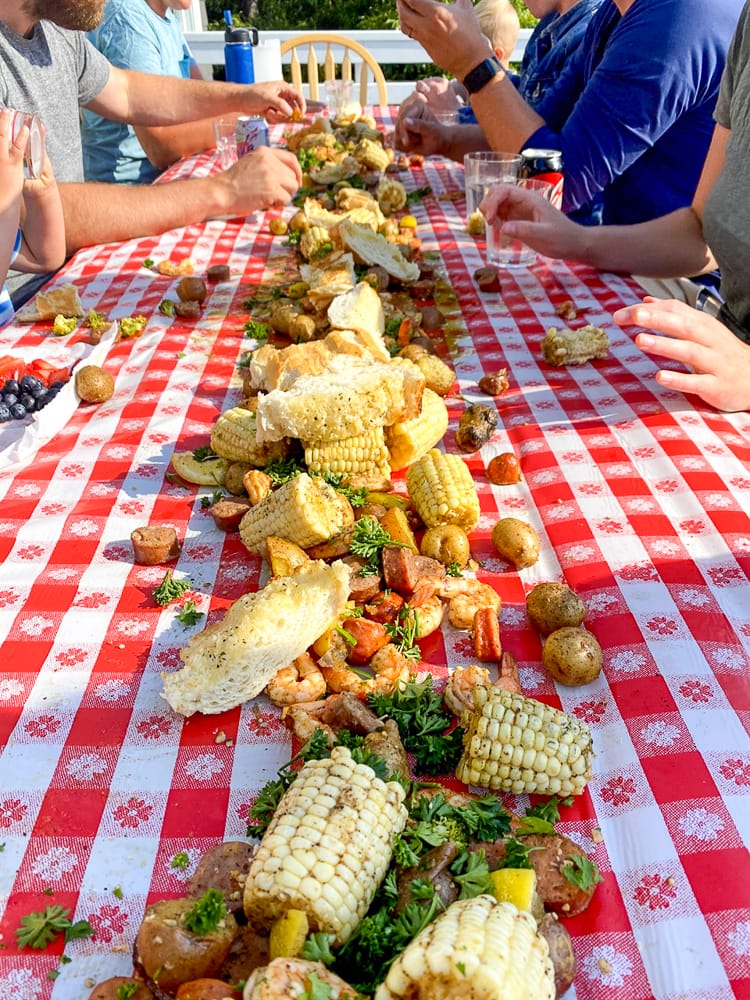 And then we just dig in!! We like to have a contest to see who can eat the most shrimp! Clean up is easy. Just roll up the paper and the left over juices and shrimp tails and throw it away. And like I mentioned above, any of the leftovers can be used up the next day in an egg scramble or tacos!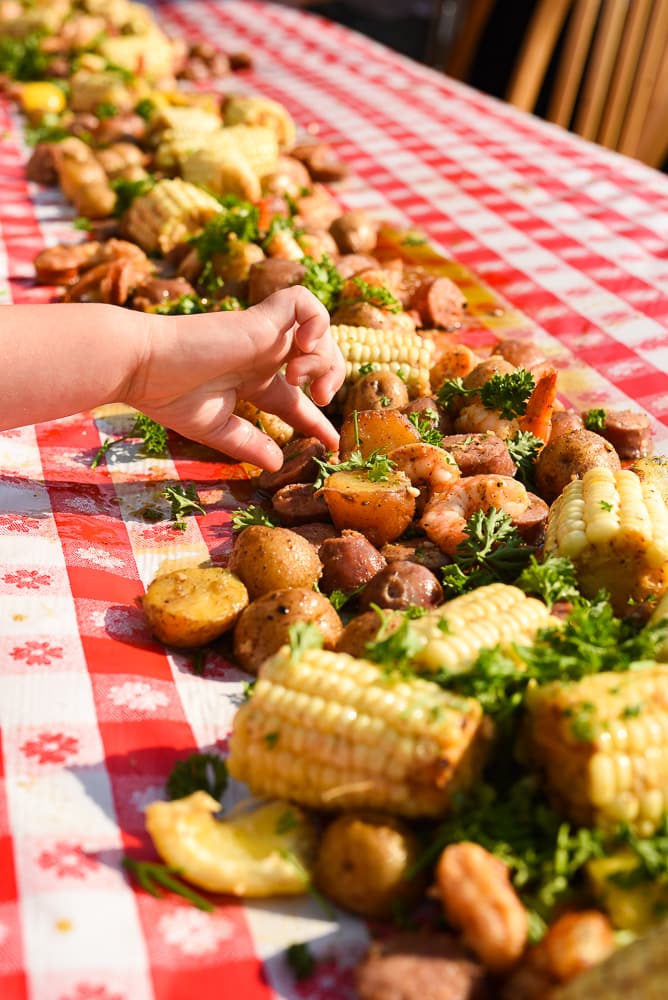 More meals to serve at the beach:
Be sure and follow me over on You Tube for weekly cooking demos.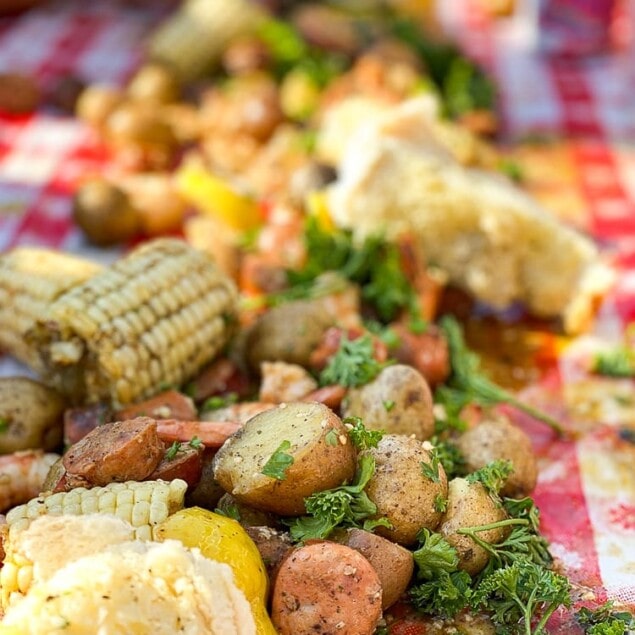 Low Country Boil (on the grill)
Low Country Boil made a little different than the traditional way. We love doing ours on the grill for a more amazing flavor!
Ingredients
4 lbs raw shrimp
2.5 lbs. sausage andouille or other sausage
5 lbs red potatoes small
10 ears corn husked and cut into 3 pieces, flash steamed (see above for directions)
1/2 cup garlic minced
1 cup olive oil
16 Tbsp. Old Bay Seasoning 1-2 tablespoons per packet
6 tsp salt 1 tsp per packet
3 tsp pepper 1/2 tsp per packet
4 lemons cut into 8 wedges each
1 1/2 cups butter cut into tablespoon size pieces
parsley chopped for garnish
garlic bread sliced
Instructions
Place corn, sausage, potatoes and shrimp into seperate bowls.

In a bowl place a handful of sausage, potatoes, shrimp and 4-5 years of corn.

Drizzle with a couple tablespoons of olive oil.

Add in 2-3 Tablespoons of minced garlic.

Sprinkle with 1-2 Tablespoons of Old Bay Seasoning.

Add in about a teaspoon of salt and half a teaspoon of pepper

Mix to combine. Pour contents of bowl onto two pieces of overlapping heavy duty foil .

Add 4 tablespoons butter and 4 lemon wedges.

Close foil package tightly and cover with an additional piece of foil.

This quantity will make 6-7 packets depending on size.

Heat grill to a medium high heat and place as many packets as you can on the grill. Cook for 5-6 minutes each side.

Empty contents of packets into a large bowl and then pour down the middle of the table.

Garnish with fresh parsley and add slices of garlic bread if desired.
Nutrition Facts:
Calories: 1015kcal (51%) Carbohydrates: 49g (16%) Protein: 52g (104%) Fat: 70g (108%) Saturated Fat: 26g (163%) Cholesterol: 510mg (170%) Sodium: 3183mg (138%) Potassium: 1436mg (41%) Fiber: 7g (29%) Sugar: 4g (4%) Vitamin A: 1320IU (26%) Vitamin C: 46mg (56%) Calcium: 472mg (47%) Iron: 13mg (72%)
* Disclaimer: All nutrition information are estimates only. Read full disclosure here.