Create a fun back to school treat using store bought donuts. An apple donut or a donut that looks like a ruler are the perfect way to celebrate.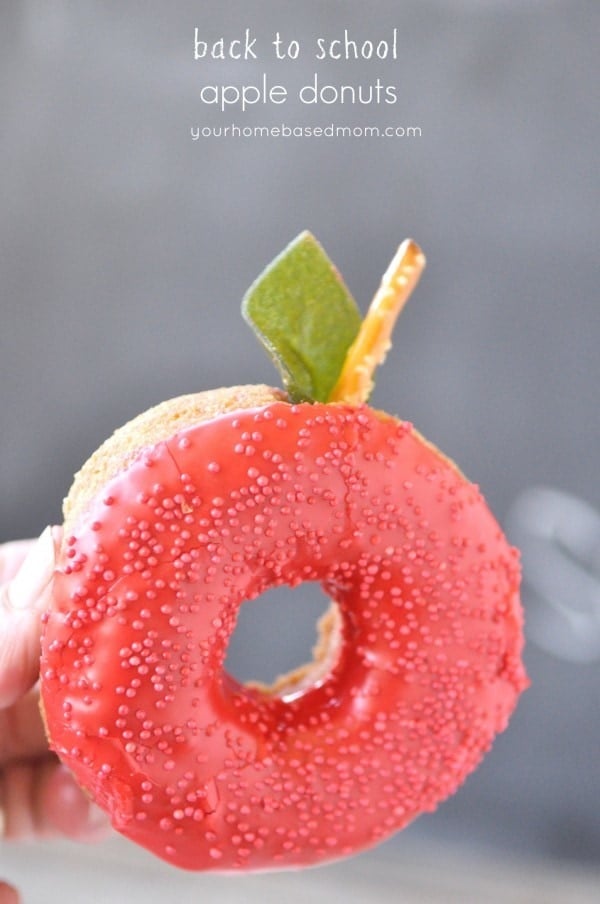 This year may be the last first day of school that we ever have. Our baby will start her senior year of college. We've had a lot of first days of school at our house. It's been about twenty five first days of school if my math is right. So unless someone decides to go back for a graduate degree (we have two of those already) we may be done with back to school.
The first day of school is just not the same when your kids are off at college and there are definitely things I miss about the start of a new school year, shopping for that first day of school outfit and new school supplies. Although, I have been known to buy a new box of crayons just for me. I miss baking chocolate chip cookies on the first day of school and I miss hanging up the school bus banner in front of the house and taking first day of school photos. One thing I won't miss is that college tuition or the cost of college textbooks!
So instead of celebrating with my own kids I'm going to have to cheer on the neighbor kids on their first day of school and what better way to do that than with a donut!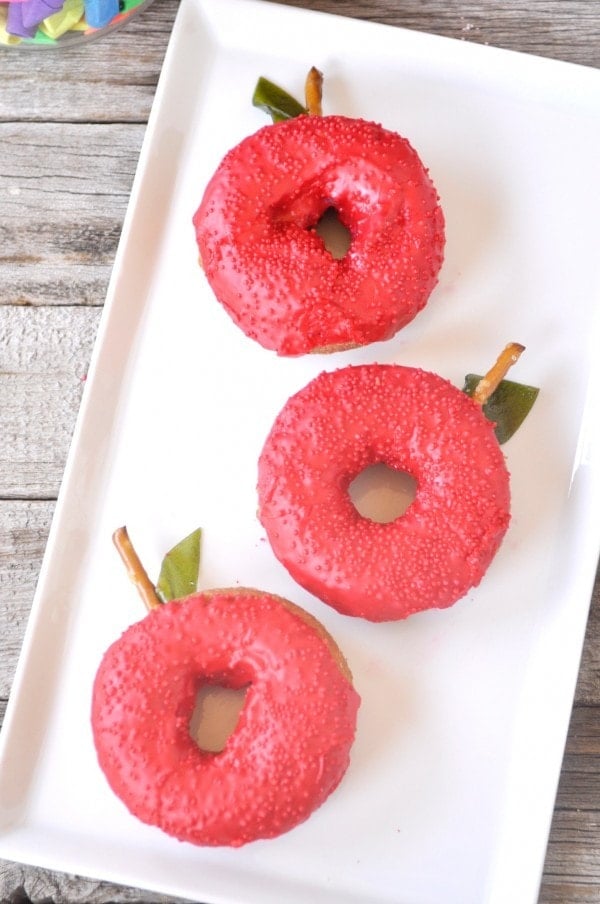 What's not to love about a donut? Especially a donut that looks like an apple or a ruler?
Apple Shaped Donuts
Purchase some cake donuts at your local donut shop.
Mix up a glaze using powdered sugar, milk and a bit of vanilla extract. It then added in red food coloring.
Dip your donuts into the glaze. Please excuse the red food dye that is all over my hands! I'm a messy cook.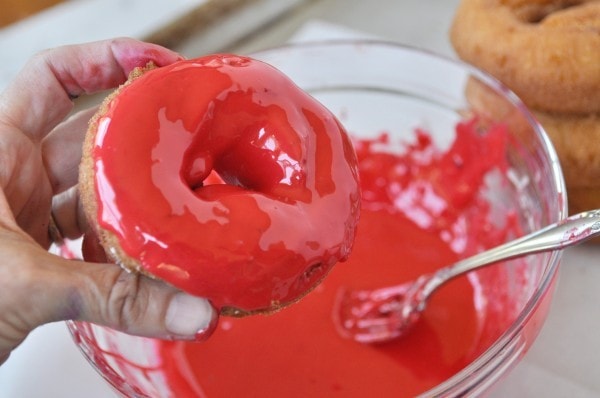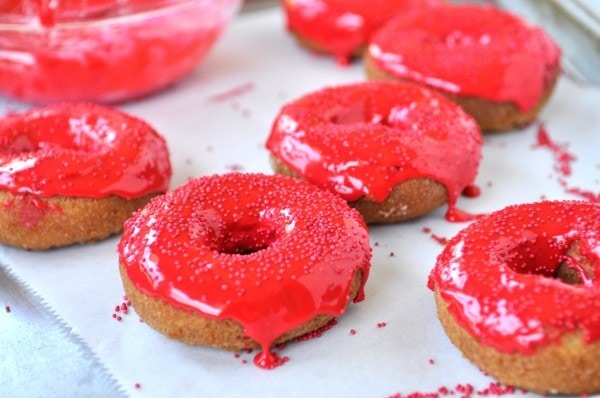 Insert part of a pretzel stick into the top of the donut to make the stem of the apple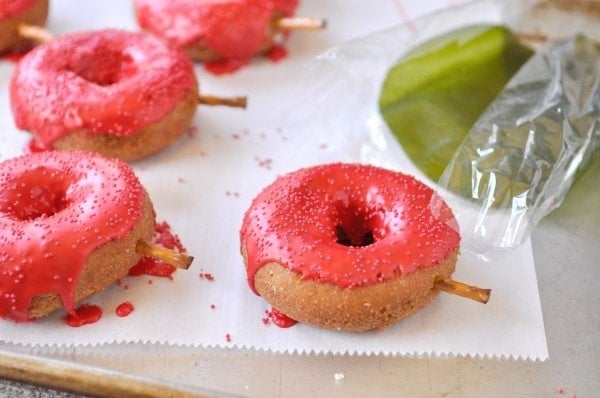 Create a leaf out of green fruit leather. I just cut out a leaf shape and pinched it together at the bottom of my fingers.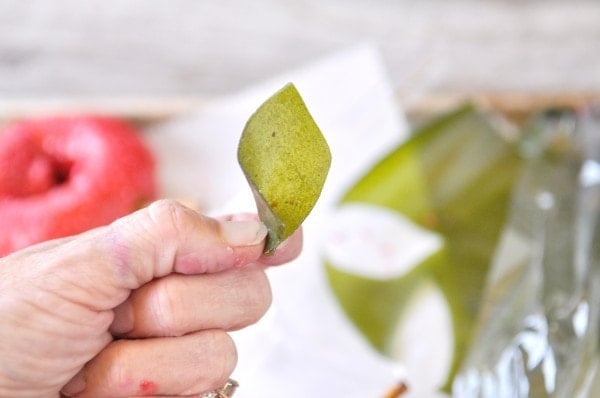 Stick the pretzel stem through the leaf and into the donut.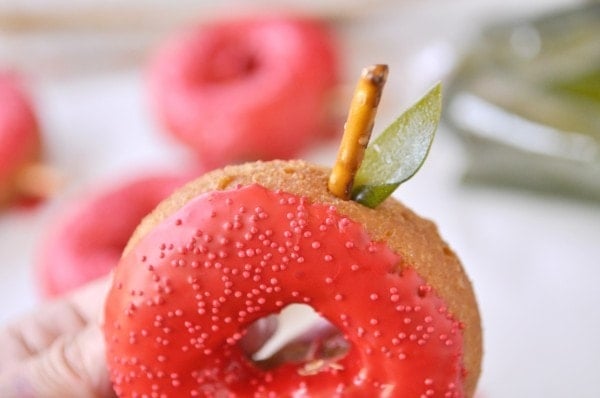 Cutest apple ever! Take your teacher an apple donut on the first day of school and you will totally rule!
A batch of apple donuts would make a perfect treat for Teacher Appreciation Week too.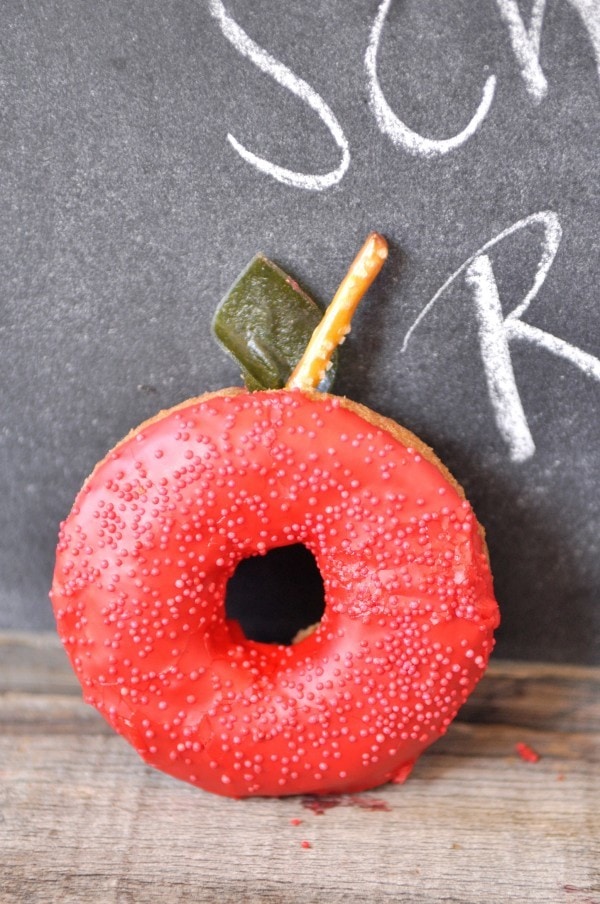 And don't forget an apple a day keeps the doctor away! That works for apple donuts too, right??
Ruler Shaped Donuts
Maple Bars. Purchase maple bars from your neighborhood donut shop.
Black Frosting. I purchased it from my local craft store already made, in the tube! All I had to do was add my own decorating tip. You want a small round one.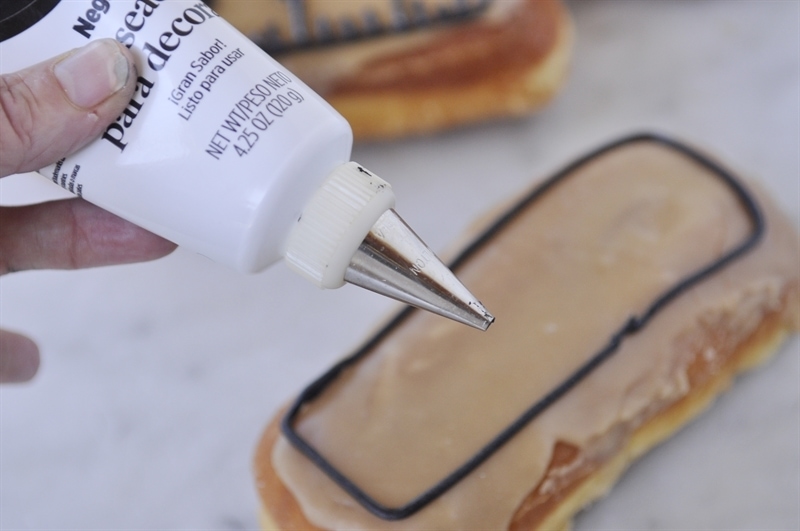 Draw an outline with the black icing around the maple bar. Add in your little ruler marks and numbers and you have a ruler donut!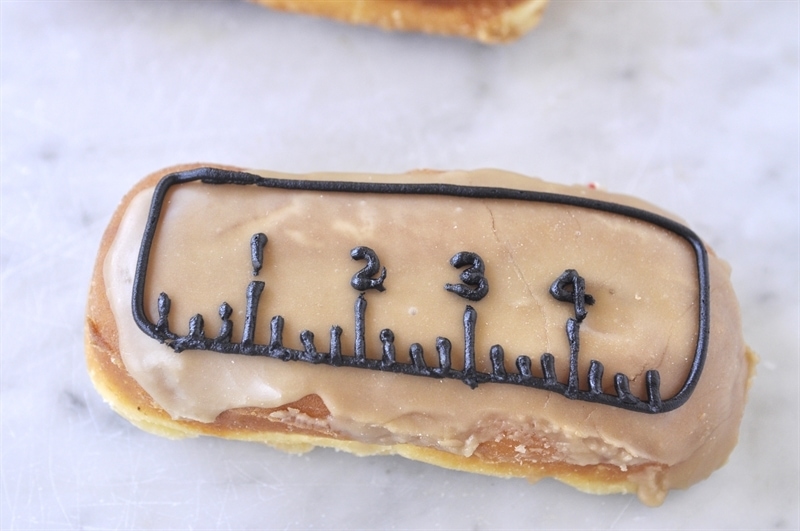 Everyone loves a donut and what's not to love about a ruler donut!
Maple Bars always seem to be the first things to disappear at our house and I think they will disappear ever faster now!!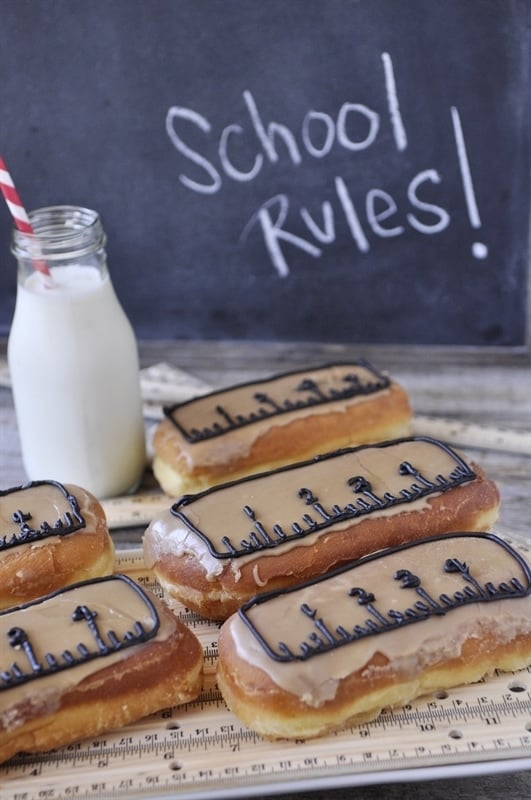 For all my other favorite kitchen products and tools visit my Amazon Store.
Did you know I wrote a cookbook? Check out the Holiday Slow Cooker Cookbook for 100 delicious recipes.
Be sure and follow me over on You Tube for weekly cooking demos.
Back to School Apple Donuts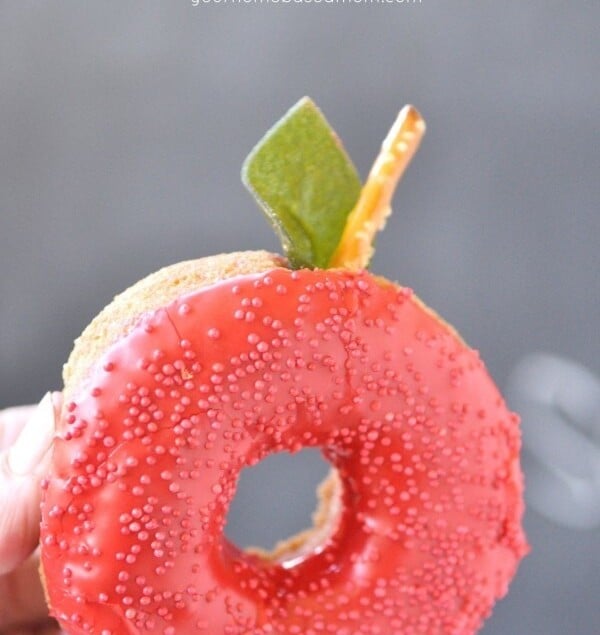 Back to School Apple Donuts
Create a fun back to school treat using store bought donuts. An apple donut or a donut that looks like a ruler are the perfect way to celebrate.
Ingredients
Donut Glaze
2 cups powdered sugar
1 tsp vanilla
red food coloring
red sprinkles
12 cake donuts
12 pretzel sticks
green fruit leather
Instructions
Add enough milk to powdered sugar to make a good dipping consistency, about 1-2 Tbsp.

Add in red food coloring

Dip in front side of donut.

Lay on waxed paper

Add Sprinkles

Allow glaze to dry

Cut fruit leather to shape of leave and attach to donut with pretzel stick stem
Nutrition Facts:
Calories: 81kcal (4%) Carbohydrates: 20g (7%) Protein: 1g (2%) Fat: 1g (2%) Saturated Fat: 1g (6%) Polyunsaturated Fat: 1g Monounsaturated Fat: 1g Sodium: 7mg Potassium: 2mg Fiber: 1g (4%) Sugar: 20g (22%) Calcium: 1mg Iron: 1mg (6%)
* Disclaimer: All nutrition information are estimates only. Read full disclosure here.