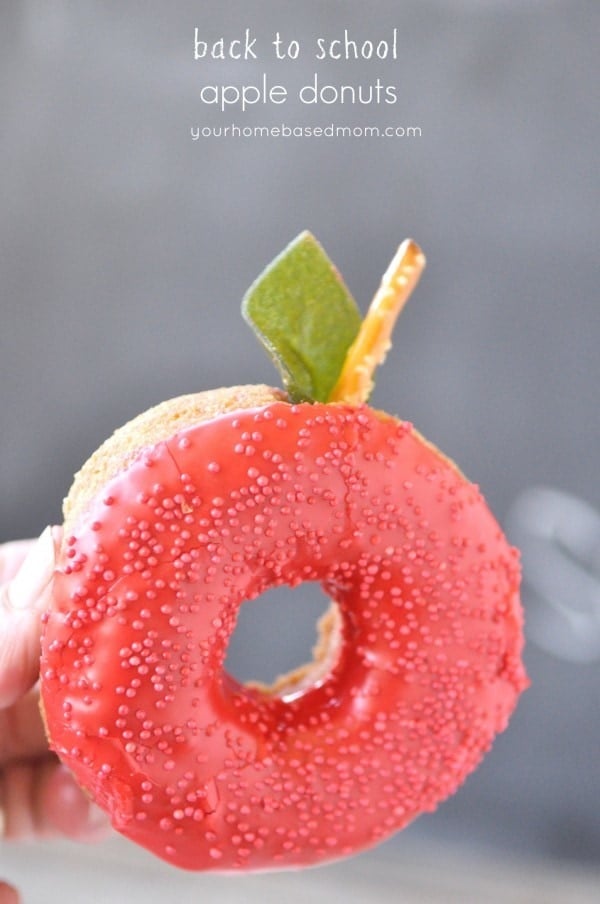 This year may be the last first day of school that we ever have.  Our baby will start her senior year of college.  We've had a lot of first days of school at our house. It's been about twenty five first days of school if my math is right.  So unless someone decides to go back for a graduate degree (we have two of those already) we may be done with back to school.
The first day of school is just not the same when they are off at college and there are definitely things I  miss about the start of a new school year.  I miss shopping for that first day of school outfit and new school supplies although I have been known to buy a new box of crayons just for me.  I miss baking chocolate chip cookies on the first day of school for that after school snack.  I miss hanging up the school bus banner in front of the house and taking first day of school photos.  One thing I won't miss is that college tuition or  the cost of college textbooks!
I'm just going to have to keep celebrating the first day of school with my neighbor kids by hosting a back to school breakfast each year. Donuts are always a big hit at a first day of school breakfast.
What's not to love about a donut?  Especially a donut that looks like an apple.
Apples are good for your right?  So if it looks like an apple does that make it healthy??  One of my girls is allergic to apples but not to apple donuts!
When I was at my local donut shop to pick up my maple bars for my donut rulers I shared yesterday I noticed the cake donuts and got to thinking that they might make cute little apple donuts so I picked up a few of those too.
To turn the cake donuts into apple donuts I mixed up a little glaze using powdered sugar, milk and a bit of vanilla extract.  It then added in red food coloring.
Just dip your donuts into the glaze.  Please excuse the red food dye that is all over my hands!  I'm a messy cook.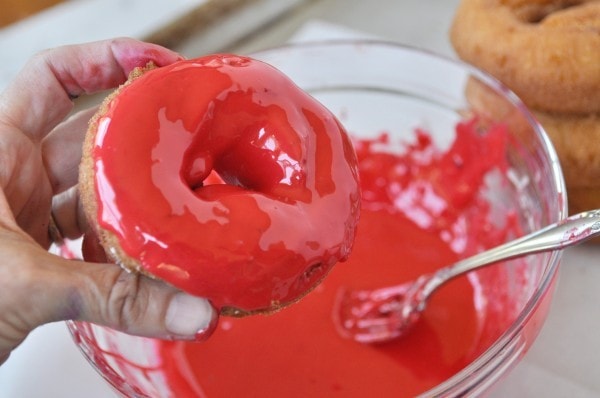 Then since sprinkles make everything better, I added some red sprinkles.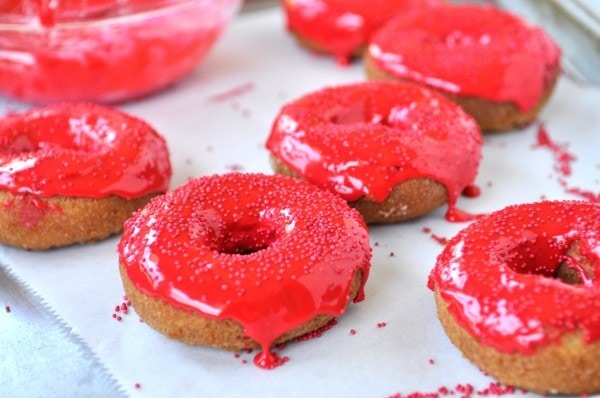 I used a pretzel stick to make the stem of the apple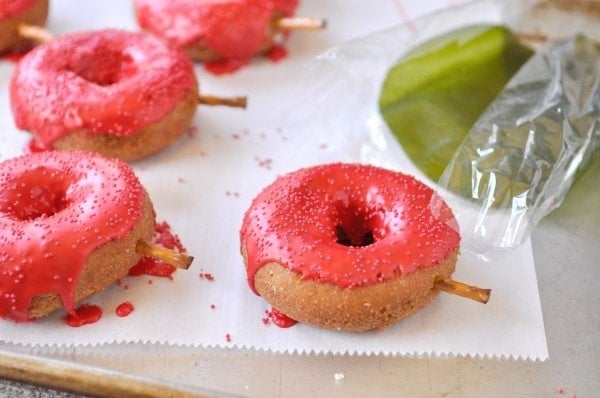 The final touch was to create a leaf out of green fruit leather.  I just cut out a leaf shape and pinched it together at the bottom of my fingers. Again, excuse those red stained fingers!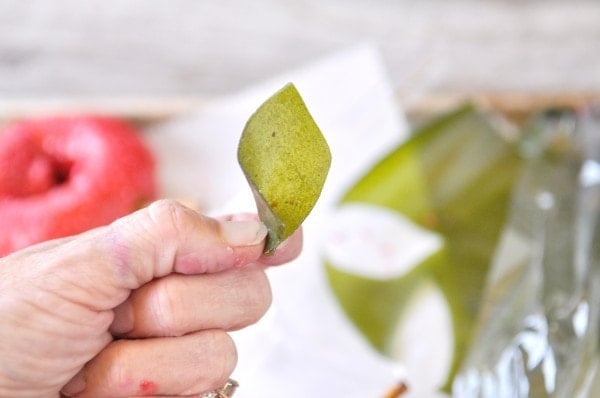 Then just stick the pretzel stem through the leaf and into the donut.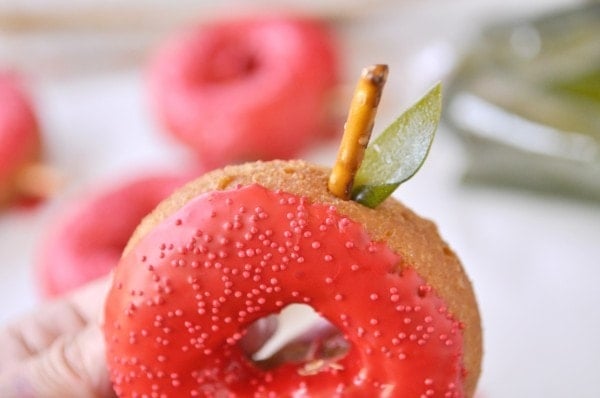 Cutest apple ever!  Take your teacher an apple donut on the first day of school and you will totally rule!  Student of the year!!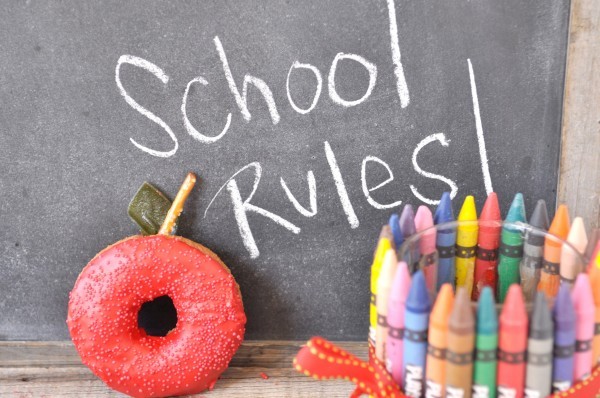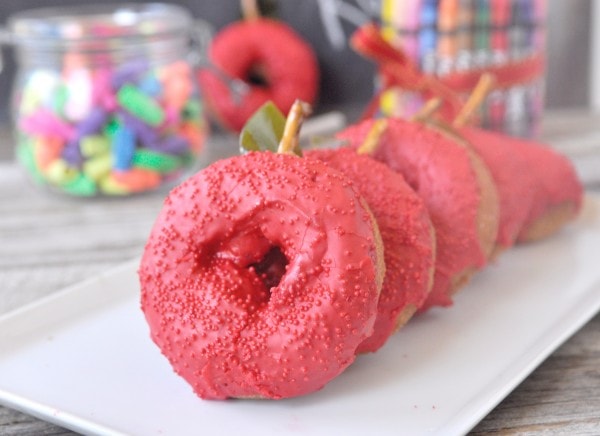 A batch of apple donuts would make a perfect treat for Teacher Appreciation Week too.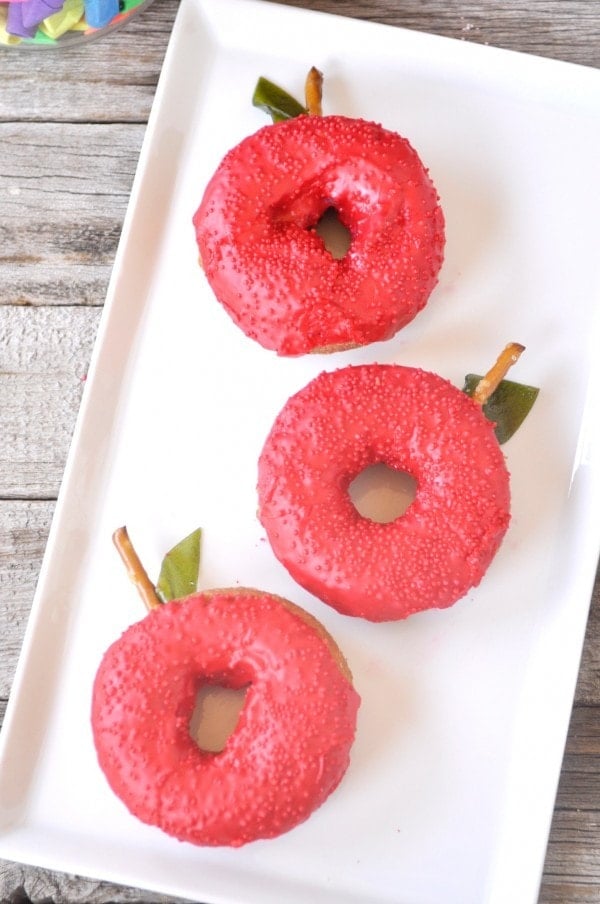 And don't forget an apple a day keeps the doctor away!  That works for apple donuts too, right??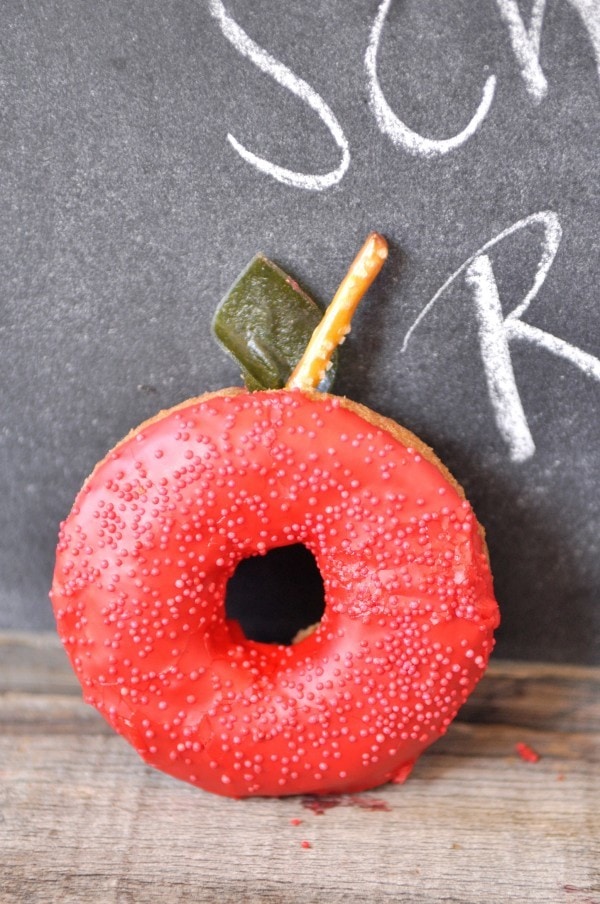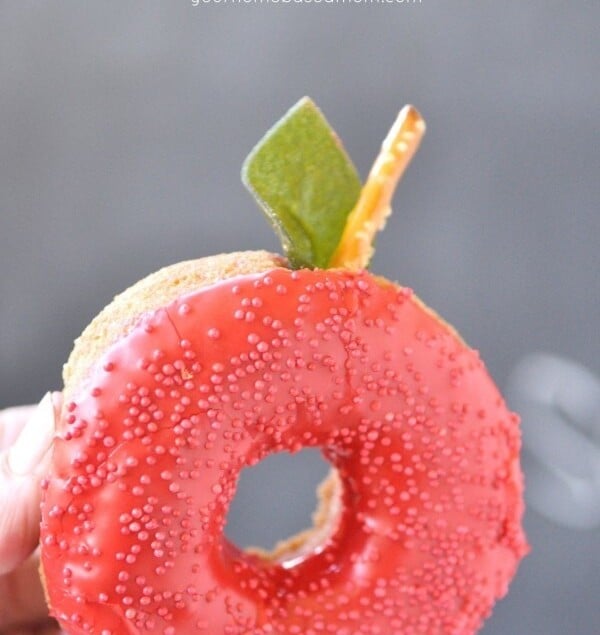 Back to School Apple Donuts
Ingredients
Donut Glaze
2 C powdered sugar
1 tsp vanilla
red food coloring
red sprinkles
10-12 cake donuts
pretzel sticks
green fruit leather
Instructions
Add enough milk to powdered sugar to make a good dipping consistency.

I started with 1-2 Tbsp.

Add in red food coloring

Dip in front side of donut.

Lay on waxed paper

Add Sprinkles

Allow glaze to dry

Cut fruit leather to shape of leave and attach to donut with pretzel stick stem
Check out these other fun back to school ideas: