This Chocolate Meringue Torte is light and lovely!
Welcome to Sweet Week here on the blog!
In preparation for Valentine's Day I am going to be sharing some recipes that would be perfect for your sweetie!
Of course they will all involve sugar and many of them will also have chocolate!  So get that sweet tooth ready for a sweet week!
Don't be afraid of today's recipe.  It involves meringue.  I know meringue scares a lot of people away but if I can make a good meringue here in damp Oregon you can make one.  It really is easier than you think.
I am a huge meringue fan.  Put a few layers of chocolate whip cream between the layers of meringue, top it with strawberries and you have heaven.
This dessert needs to be made a head of time which can be a real bonus if you are planning a special Valentine meal.  One less thing to worry about at the last minute.  It needs to be frozen prior to serving.
Meringue is basically egg whites and sugar beaten until stiff and a little cream of tarter added in.
This recipe calls for some chopped pecans to be folded in after a stiff peak forms.
Cover a cookie sheet with parchment paper and then find a bowl that measures about 8 inches across.  Use a pencil to trace the shape onto the paper – you will need two.
Divide the meringue into the two circles.
And then spread the meringue to fill the circles.
Bake the meringue at 275 degrees for 45 minutes and then just turn your oven off.  Let it sit in the oven for another 45 minutes (don't be tempted to open the door.)  You can even let it sit in there over night.
The meringue is then layered with two lovely layers of whip cream mixed with chocolate syrup and vanilla.
Be gentle as you layer the cream with the meringue because the meringue is fragile.
Next place it in the freezer and freeze for at least 6 hours.
Remove from the freezer for about 10 minutes before serving to make it a little easier to cut.
Garnish it with strawberries and chocolate hearts! (Tutorial for chocolate hearts coming tomorrow)
Raspberries would also make a lovely garnish or even just some chopped pecans or any combination!
I used a serrated bread knife to cut through the meringue.  Use a good knife so you don't destroy it trying to cut it!
So slice yourself a piece and one for your sweetie and enjoy!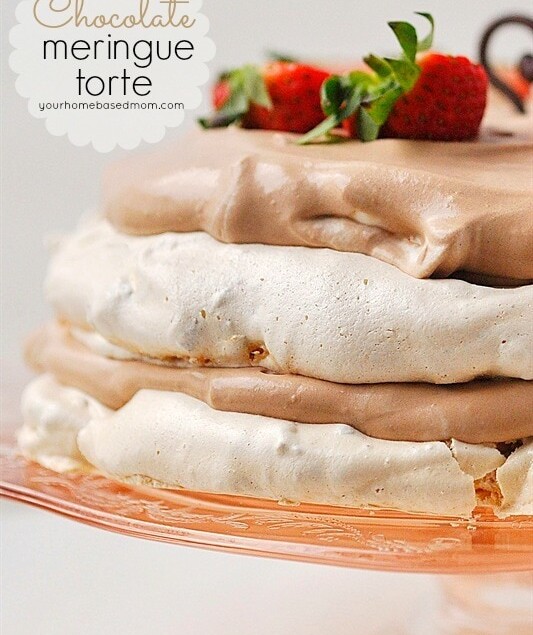 Chocolate Meringue Torte
Ingredients
4 large egg whites
3/4 tsp cream of tartar
1 C sugar
1/2 C pecans chopped
2 C whipping cream
1 C chocolate syrup
2 tsp vanilla
strawberries
chocolate hearts
Instructions
Preheat oven to 275 degrees

In your mixer bowl, beat egg whites until foamy

Add in cream of tartar and beat until a soft peak is formed

Then gradually add in sugar, a little at a time and continue to beat until a stiff peak forms

Gently fold in the pecans

Cover 2 baking sheets with parchment paper

Draw a circle onto the parchment paper using a bowl or plate that measures 8-9 inches

Divide meringue in half and fill each circle

Try to get it as even as possible

Bake for 45 minutes

Turn off oven and let it sit in the oven for another 45 minutes or over night

Do not open the door

Meringues need to be cool before adding the whipped cream mixture

In a mixing bowl beat cream until stiff

Fold in chocolate syrup and vanilla

Spread half of the whipped cream mixture over one meringue and then layer second meringue on top and top with remaining whip cream mixture

Freeze for at least 6 hours

Garnish with strawberries and chocolate hearts or chocolate shavings before serving

Allow to sit at room temperature for about 10 minutes before cutting.Use a sharp knife to cut
Recipe adapted from Portland Palate