Instant Pot Cafe Rio Pork is one of my favorite meals made with the speed and ease of an instant pot.  I've made this recipe in the crock pot for years and it is just as delicious in the instant pot!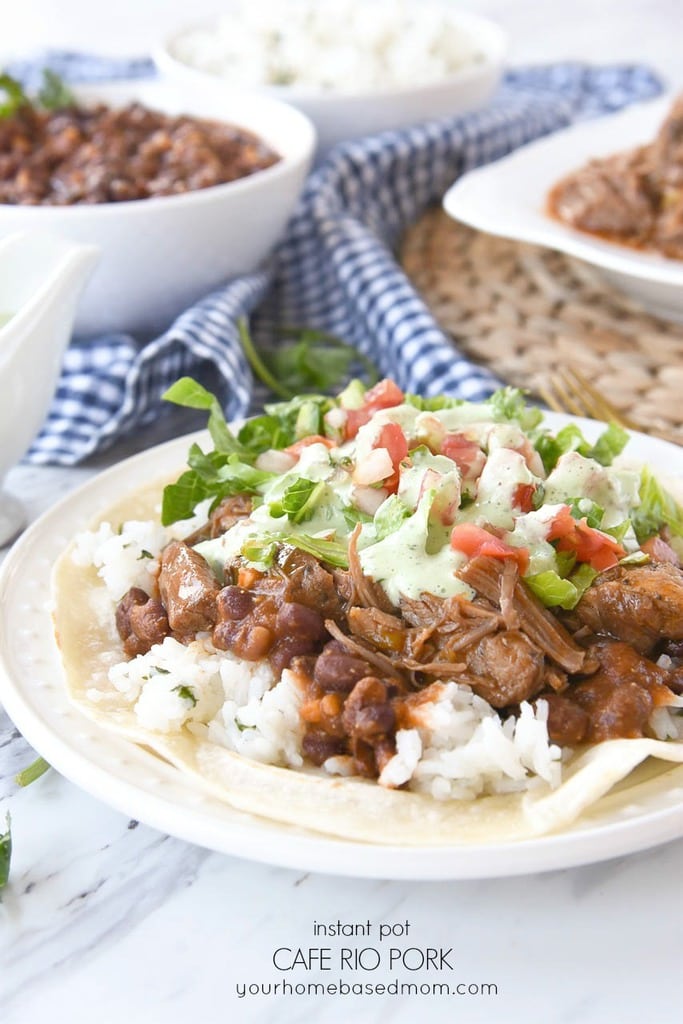 Every visit I make to Utah must include at least one trip to Cafe Rio. I go to Utah often to visit family but not nearly enough to take care of my Cafe Rio Pork craving. Years ago, I decided that I needed to be able to make it at home in between trips to Utah.
I usually make it in the crock pot. You can find my recipe for Crock Pot Cafe Rio Pork here. I figured if it worked in the slow cooker it would work in the Instant Pot too. It's even quicker and easier to make in the Instant Pot!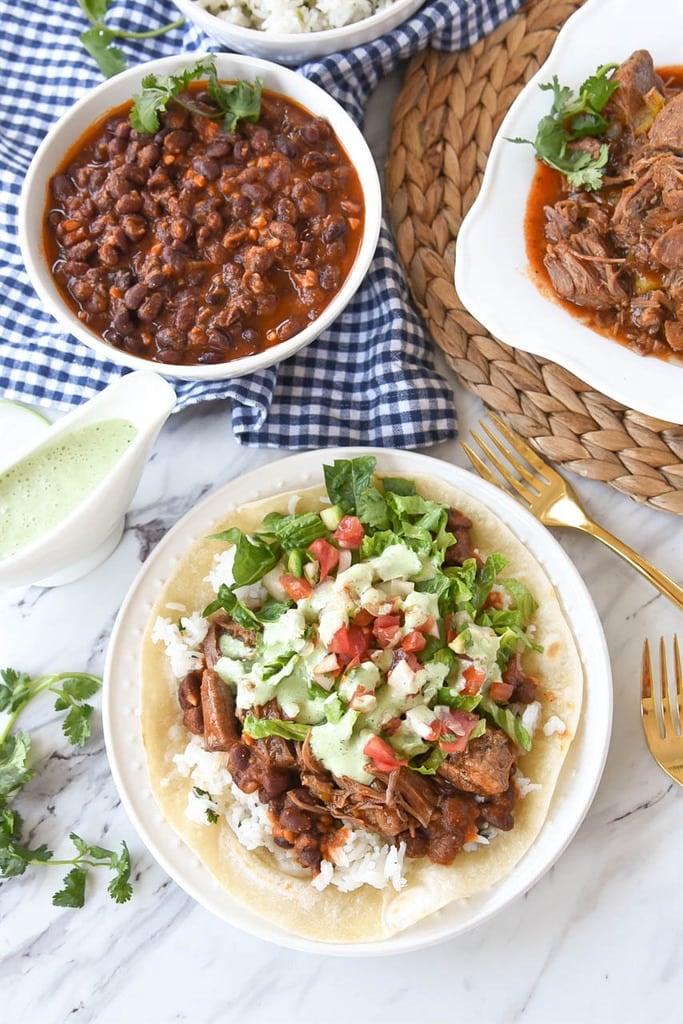 How to Make Instant Pot Cafe Rio Pork
The Instant Pot cooks differently than the slow cooker, so I changed the recipe up a bit. I did not marinate the pork as I do before putting it in the slow cooker. Because the Instant Pot creates a lot more liquid I decided to just season the meat and cook it in the Instant Pot and add in the majority of the liquid sauce after the meat was done cooking. It worked great. I also found that if you make it the day ahead of time the sauce will automatically thicken on it's own. If you are eating it the same day, you may find you need to thicken the sauce a bit after adding in, it just depends on how soupy you like it. Thickening it is easy with a little cornstarch and water with the Instant Pot on sauté.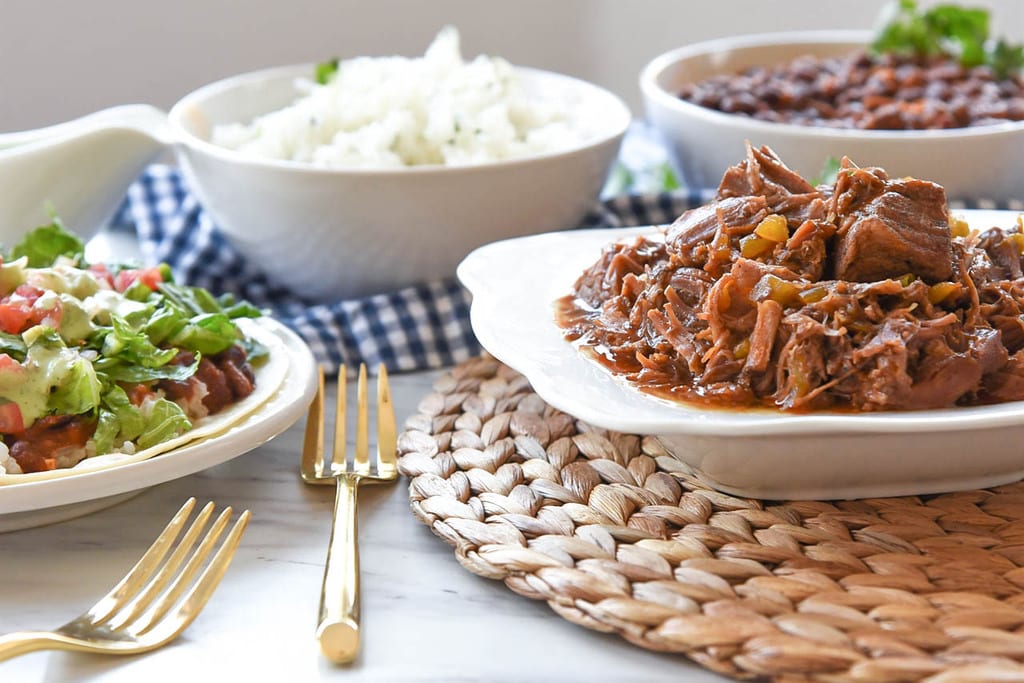 After seasoning the meat, you can saute it for a few minutes in the Instant Pot to brown it, but I usually skip that step. Just add the meat and the water into the pot and start it cooking. Cook on high pressure for 30 minutes with a 30 minute natural release. I cut the meat into 1-2 inch size squares and then I don't shred it after it is done cooking. By the time I've added the sauce and stirred it a while, the pieces almost shred themselves. I don't like the meat overly shredded, which happens if you shred it first and then add the sauce.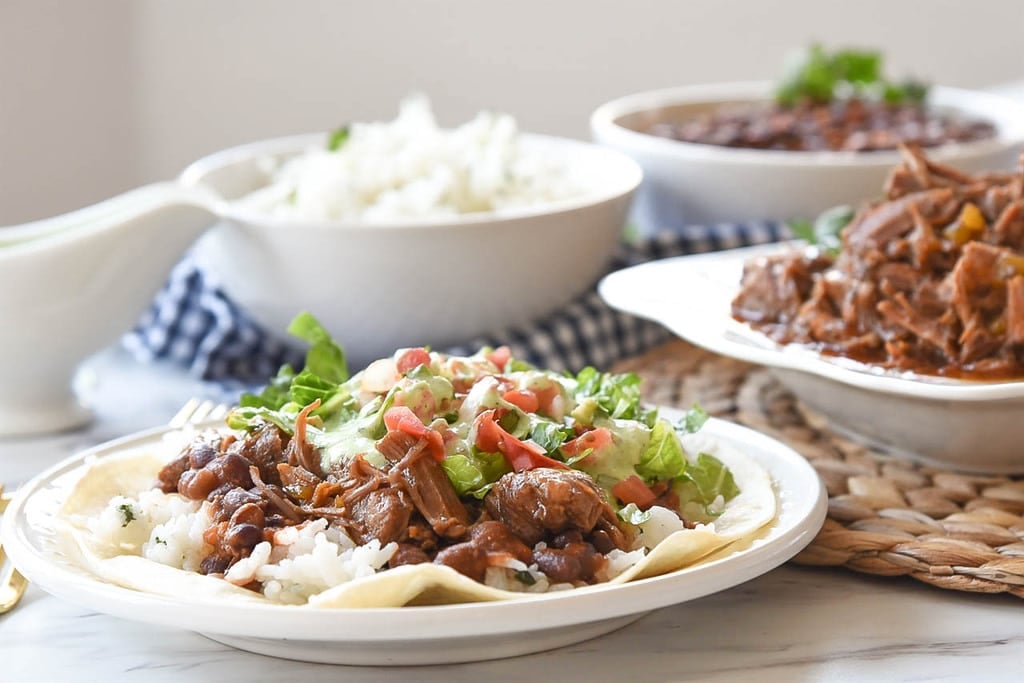 Our favorite way to serve it is as a salad but it works great in burritos, tacos and enchiladas too.  I usually make a batch of lime cilantro rice, black beans and tomatillo dressing.  You can find the directions for my crock pot version of cafe rio pork here.  Usually I am not a big fan of leftovers, but this is one leftover I can eat over and over again!
Check out more easy Instant Pot Recipes: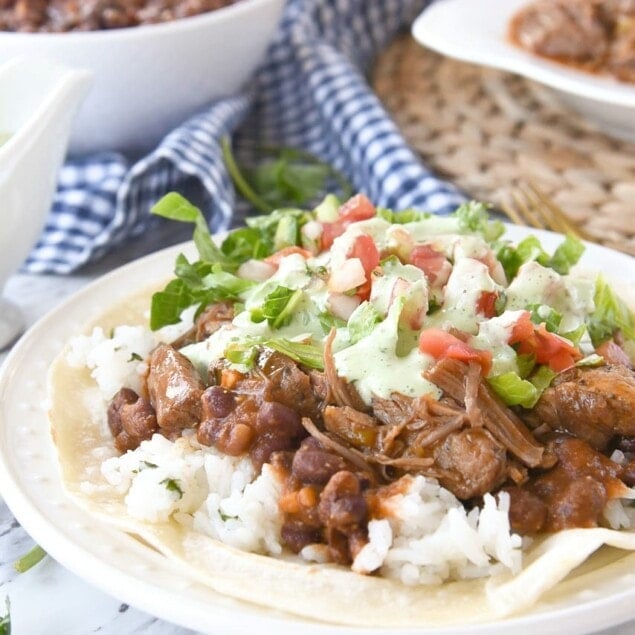 Instant Pot Cafe Rio Pork
Delicious instant pot sweet pork just like you would get at Cafe Rio!
Ingredients
2 lbs. boneless pork carnitas, shoulder, picnic or butt roast etc.
1/2 cup Coke (not diet)
1/2 cup brown sugar
1 1/2 cups red enchilada sauce
4 oz. diced green chilies
1 cup water
Seasoning Mixture
1 Tbsp chili powder
1/2 Tbsp cumin
1 tsp garlic powder
1/2 tsp basil
1/2 tsp oregano
1 tsp onion powder
1 tsp salt
1/2 tsp pepper
1 Tbsp cornstarch optional
1 Tbsp water optional
Instructions
Mix together seasoning mixture. Cut pork into 1-2 Inch pieces and place in a zippered plastic bag.

Add seasoning to pork and shake to coat.

Place meat in Instant Pot. Add in 1 cup water, being careful not wash off the seasoning.

Cook on high pressure for 30 minutes and do a 30 minute natural release.

Drain any excess liquid.

Mix together Coke, brown sugar, enchilada sauce and green chilies and pour over meat. Turn on saute and stir until sauce thickens. If it doesn't thicken enough add in the cornstarch/water mixture and stir.

Serve with rice and black beans.
Nutrition Facts:
Calories: 387kcal (19%) Carbohydrates: 21g (7%) Protein: 20g (40%) Fat: 24g (37%) Saturated Fat: 8g (50%) Cholesterol: 81mg (27%) Sodium: 769mg (33%) Potassium: 401mg (11%) Fiber: 1g (4%) Sugar: 18g (20%) Vitamin A: 620IU (12%) Vitamin C: 3.1mg (4%) Calcium: 38mg (4%) Iron: 1.9mg (11%)
* Disclaimer: All nutrition information are estimates only. Read full disclosure here.