Moist, tender and flavorful, this Instant Pot Shredded Beef Taco meat is quick, easy and delicious! It can be used in tacos, enchiladas, taquitos, burritos, etc.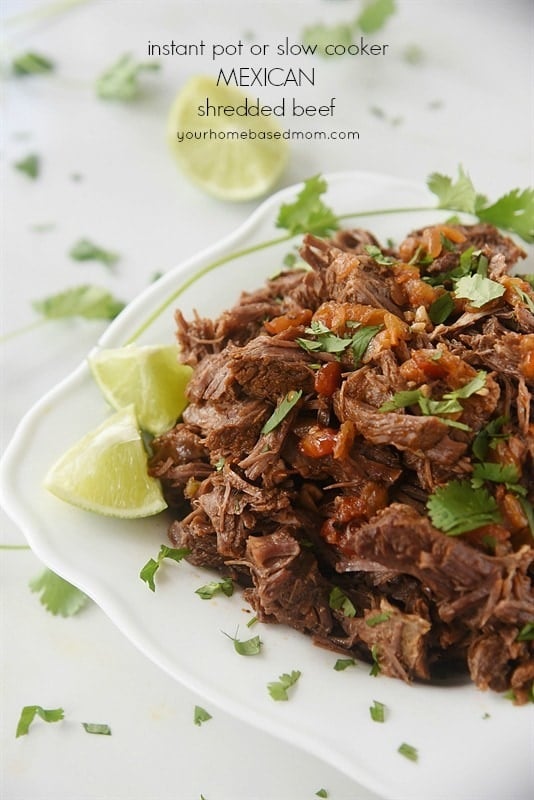 Instant Pot vs. Crock Pot
I've been asked whether I think the Instant Pot is replacing the slow cooker and my answer is NO! I love both of them and I think there is a place for them both in the kitchen. Although the end result is pretty much the same, delicious food, they serve different purposes and provide a different way for getting that delicious end result.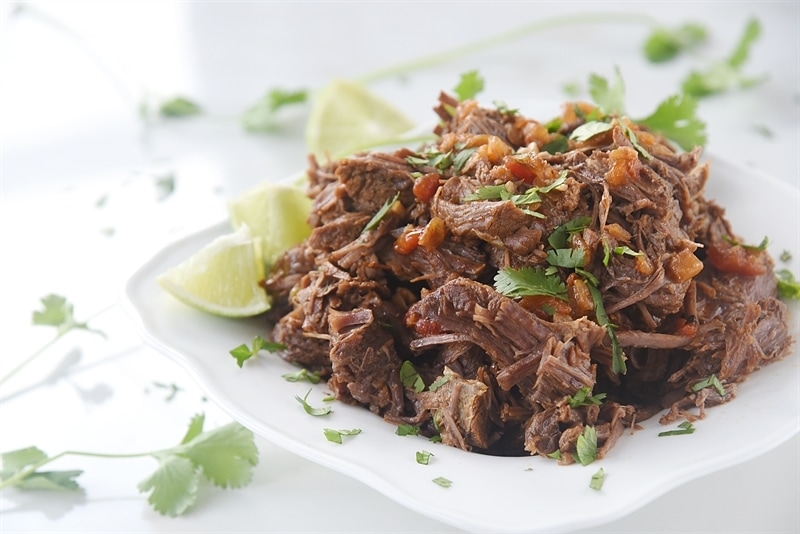 I use my slow cooker when I want to get dinner started early in the day so that when I walk in the door later that day, dinner is ready and waiting for me. The Instant Pot can make the same delicious recipe (one that normally takes 6-8 hours) and do it in under an hour but you need to be available an hour before you want to eat to get it in the pot and cooking.
So your schedule for the day would depend on which piece of equipment you use. The Instant Pot has a slow cooker function but I haven't used it and I'm hearing that it is not the Instant Pot's best feature. I still use my favorite slow cooker.
What Kind of Meat Should I Use?
For Instant Pot Shredded Beef Tacos, I use a chuck roast but you can also use a top blade roast or shoulder roast. You want a boneless roast.
Ingredients You'll Need
Beef. (See above)
Seasoning. Salt, chili powder, garlic, cumin, Mexican Oregano
Salsa. Use your favorite brand of salsa or picante sauce. You can use fresh or canned.
Beef Broth
Oil. I use olive oil but you can also use vegetable oil. It is used for browning the meat.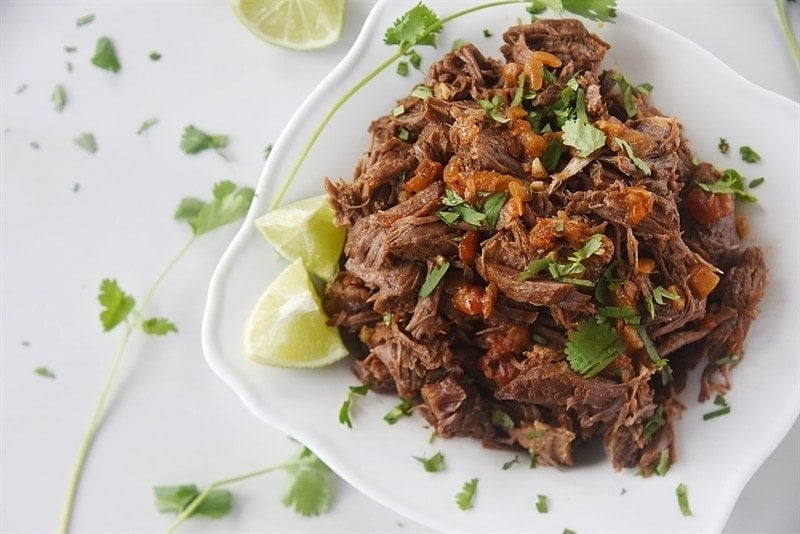 How to Make Instant Pot Shredded Beef Tacos
Meat. Cut your meat up into 2 inch pieces to help it cook quicker and more evenly.
Season the meat with chili powder and salt.
Add oil to the Instant Pot and turn to saute. Allow the oil to heat up.
Brown the meat in the hot oil in the Instant Pot. Add in onions and saute them too.
Cook. Add in remaining ingredients, add your lid and set your Instant Pot to the meat setting for 35 minutes. Do a natural release. Unlock lid and shred.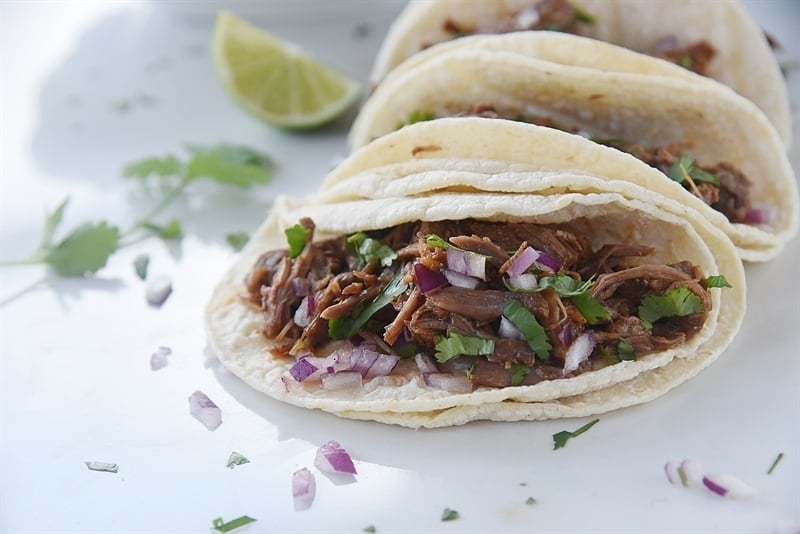 Frequently Asked Questions
How long does it REALLY take to cook in an Instant Pot?
When cooking in the Instant Pot you must all take into account the time it takes for the Instant Pot to come to pressure, the actually cooking time and then the release time. For this recipe, the total cooking time is about 55 minutes.
What is Picante Sauce?
Picante sauce is a jarred salsa that is smoother in texture than fresh salsa. Either will work for this recipe.
Is an Instant Pot the same thing as a pressure cooker.
An Instant Pot is an electric pressure cooker. A pressure cooker is used on the stove top and can also be used for this recipe.
Tips from Leigh Anne
Slow Cooker Method: If you want to cook this in the slow cooker I recommend using an actual slow cooker, not the slow cooker feature on the Instant Pot.
This is the Instant Pot that I use.
I own three of these slow cookers.
Check out more of my favorite Instant Pot and Crock Pot recipes: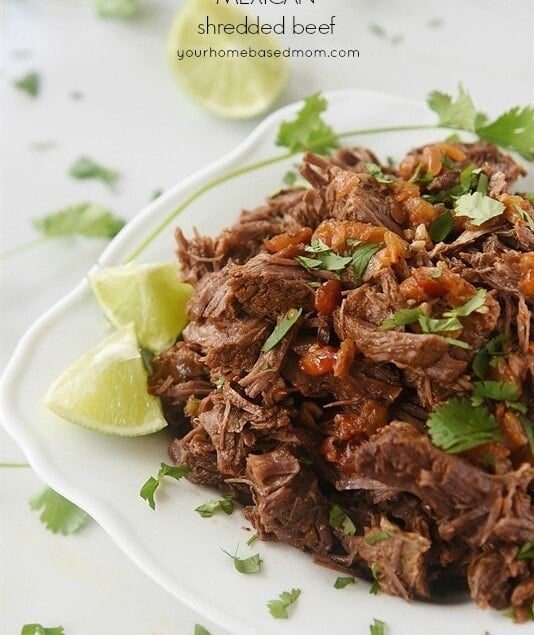 Instant Pot Shredded Beef Tacos
The beauty of this Mexican Shredded Beef is it can be done in the Instant Pot or the slow cooker and either way it's delicious!
Ingredients
3-4 lb. chuck roast cut into 2 inch pieces
1 Tbsp chili powder
1 1/2 tsp sea salt
1 Tbsp olive oil
1 cup onion diced
2 Tbsp tomato paste
6 garlic cloves diced
1 tsp cumin
1 tsp oregano
1/2 cup picante sauce salsa
1 cup beef broth
cilantro for garnish
limes to squeeze over top
Instructions
In a bowl, combine cubed meat with chili powder and salt. Toss to coat.

Press the "Saute" button on the Instant Pot and add the olive oil.

Add in onions and saute until softened.

Add in tomato paste, garlic, cumin and Mexican oregano. Stir for about a minute.

Add in seasoned meat.

Pour in salsa and beef broth

Cover and lock the lid.

Press "Keep Warm/Cancel" on the Instant Pot and then press the "Meat/Stew" button to switch it to the pressure cooking mode. Set cook time to 35 minutes.

Let the pressure release naturally.

Unlock lid and remove meat. Shred with two forks. Use leftover liquid as a gravy if desired

Add any additional salt and pepper if needed.

Top with chopped cilantro and a squeeze of fresh lime juice.
Tips & Notes:
Slow Cooker Instructions. Brown meat before placing in slow cooker Place meat and all ingredients except cilantro and limes  into slow cooker. Cook 4-5 hours on high or 6-7 on low in slow cooker
Nutrition Facts:
Calories: 231kcal (12%) Carbohydrates: 3g (1%) Protein: 22g (44%) Fat: 14g (22%) Saturated Fat: 5g (31%) Cholesterol: 78mg (26%) Sodium: 566mg (25%) Potassium: 486mg (14%) Sugar: 1g (1%) Vitamin A: 305IU (6%) Vitamin C: 2.2mg (3%) Calcium: 36mg (4%) Iron: 2.8mg (16%)
* Disclaimer: All nutrition information are estimates only. Read full disclosure here.