Strawberry Spinach Salad with poppy seed dressing is a classic salad recipe that everyone will love.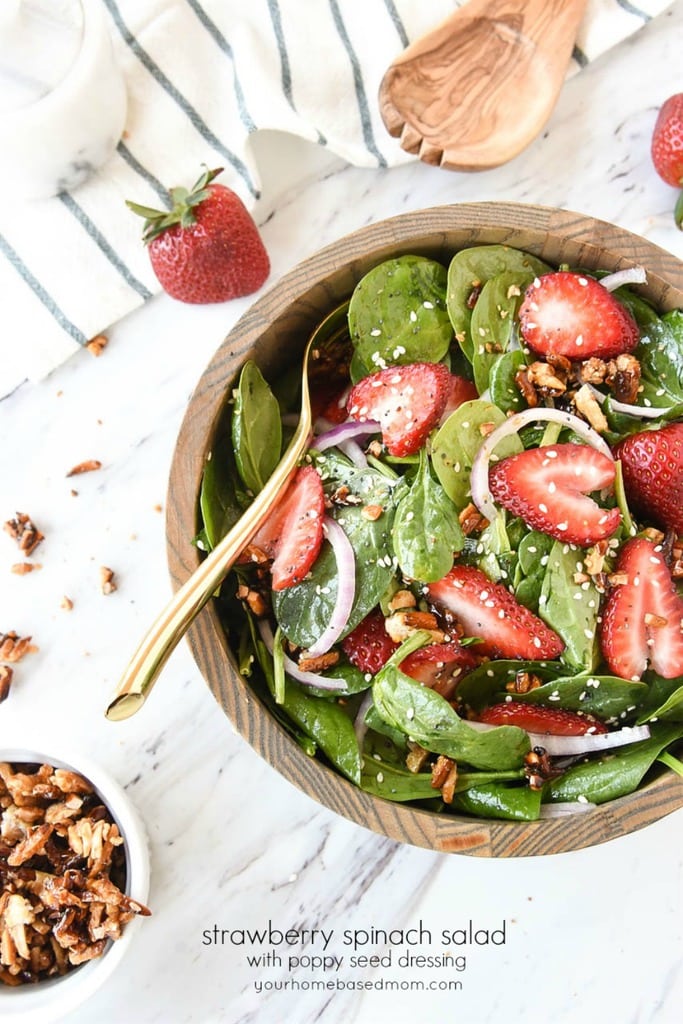 Today is one of those "I think everyone probably has it" recipes. At least everyone has a version of this strawberry spinach salad, but there is probably a reason for that. Because it is so good! So I had to share my recipe with you. If you don't yet have a strawberry spinach salad recipe or a poppy seed dressing recipe that you love, you will now! And if you already do have a favorite, I promise this one is worth a try.
I have been making this Strawberry Spinach Salad recipe for years. My friend Laurie brought it to a potluck and I knew I had to have the recipe. It was delicious.
I served it last Easter  and will be serving it again this year.  It has become a staple on our Easter dinner menu, but is great all spring and summer long.  Actually anytime you can find good strawberries.
I love the poppy seed dressing from this recipe. It is made not only with poppy seeds but sesame seeds as well. It is one of those staples that I keep in my refrigerator.
The addition of some sliced strawberries, red onion and sugared almonds dress it up and make it look oh so pretty. The salad is light, fresh and lots of great flavor.
How to make sugared nuts:
In case you have never sugared nuts I have a little tutorial for you. I use either slivered or sliced almonds, both work great.
Combine a 1/2 cup of nuts along with 1/4 cup of sugar in a small frying pan.
Turn the heat onto medium and stir. It will take a few minutes for anything to happen. First it will look like this….
The sugar will begin to clump up around the nuts.
And then before you know it the sugar will have totally melted and the nuts will be coated and brown. Be careful because it can go from nothing to burned pretty fast. Be sure and stir continuously.
I spread the nuts out onto a slightly greased plate for them to cool and dry. You will need to break them apart a bit before adding them to the salad.
They add the perfect crunch and sweetness to any salad.
Originally posted April, 2011
Some of my other favorite salads:
My favorite kitchen items I used to make this Strawberry Spinach Salad:
PYREX BOWLS – I love my Pyrex bowls and actually own a couple of sets. Perfect for mixing or serving.
PASTA/SALAD BOWLS – these pretty white bowls work for pasta, salad or soup.
For all of my other favorite kitchen products and tools visit my Amazon Store.
Strawberry Spinach Salad Recipe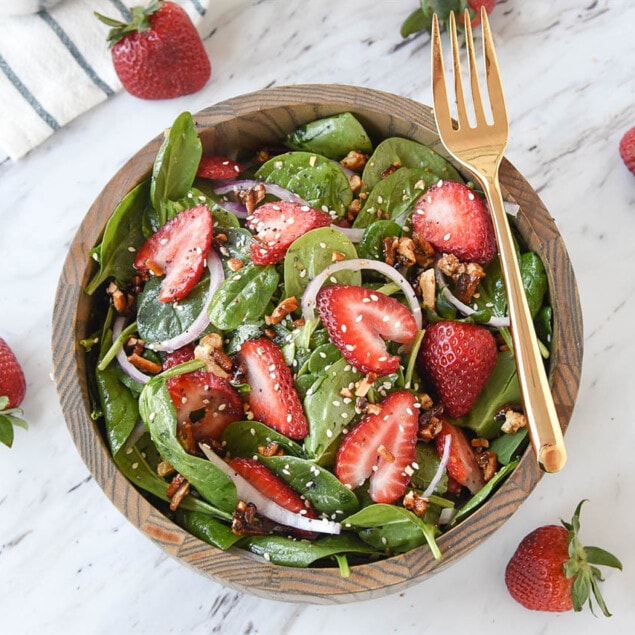 Strawberry Spinach Salad with Poppy Seed Dressing
Strawberry Spinach Salad with poppy seed dressing is a classic salad recipe that everyone will love.
Ingredients
spinach salad
Baby Spinach
1 Red onion chopped (as much as you like)
6 Strawberries sliced
1/2 c Sugared nuts 1/2 C nuts to 1/4 sugar
Poppy Seed Dressing
Poppy Seed Dressing
1/2 cup canola oil
1/4 cupq apple cider vinegar
1/3 cup sugar
2 Tbsp sesame seeds
1 Tbsp poppy seeds
1 1/2 tsp dried minced onion
1/4 tsp Worcestershire sauce
1/4 tsp paprika
Instructions
Salad:

Combine spinach and dressing and top with strawberries, nuts and red onion.
Poppy Seed Dressing:
Mix together ingredients well and pour over spinach
Nutrition Facts:
Calories: 213kcal (11%) Carbohydrates: 37g (12%) Protein: 2g (4%) Fat: 6g (9%) Sodium: 11mg Potassium: 95mg (3%) Fiber: 1g (4%) Sugar: 33g (37%) Vitamin A: 140IU (3%) Calcium: 151mg (15%) Iron: 1.7mg (9%)
* Disclaimer: All nutrition information are estimates only. Read full disclosure here.