Crusty on the outside and soft on the inside, this Easy French Bread Recipe is easy to make and tastes amazing. It is the perfect addition to any meal.
Be sure to scroll down and watch the video!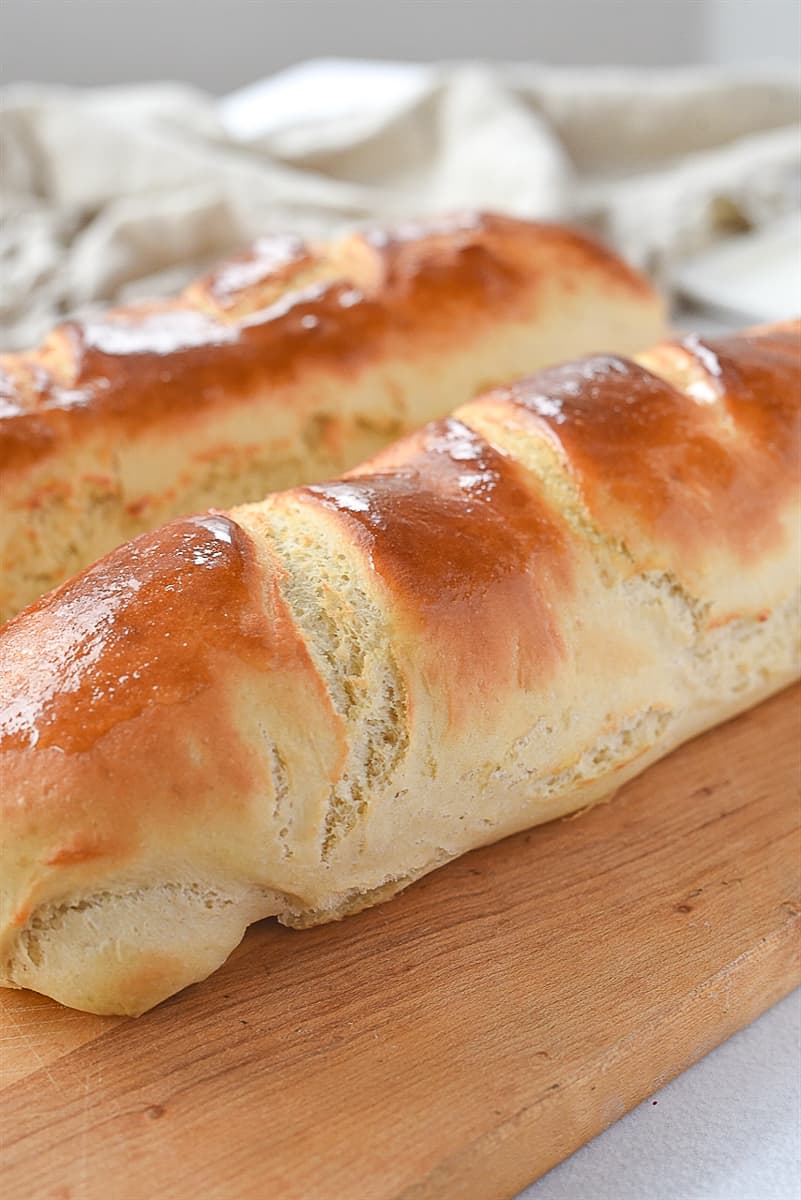 The only downside to fresh, homemade bread is that it can take a bit of time. Proofing, rising, rolling, rising etc. Today's recipe is a quick and easy one. It may not be quite as quick as the 30 Minute Roll recipe I have on my blog, but it is pretty close. And the results are a delicious loaf of French bread. Crusty on the outside and soft on the inside.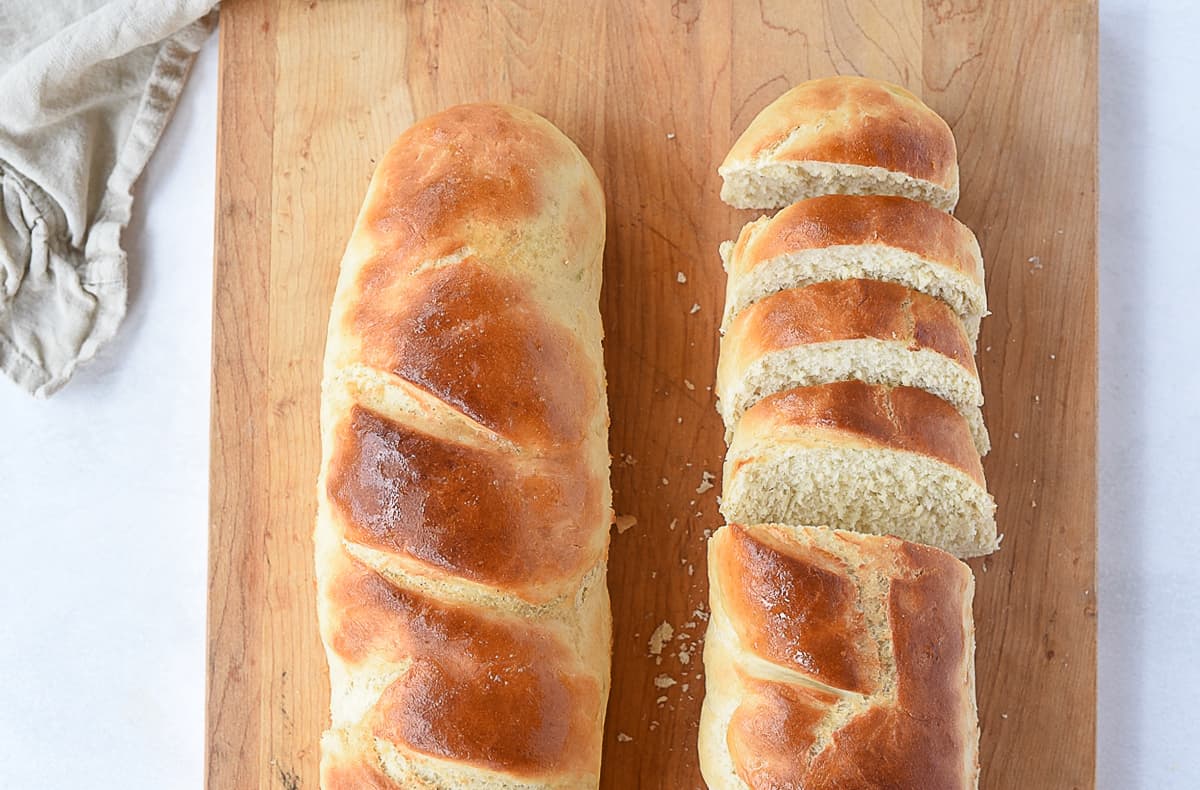 This easy French bread recipe makes one nice size loaf or two smaller loaves. I usually make two. We enjoy one loaf and I give the other loaf of French bread away. We have a delicious dinner and so do one of our friends or neighbors.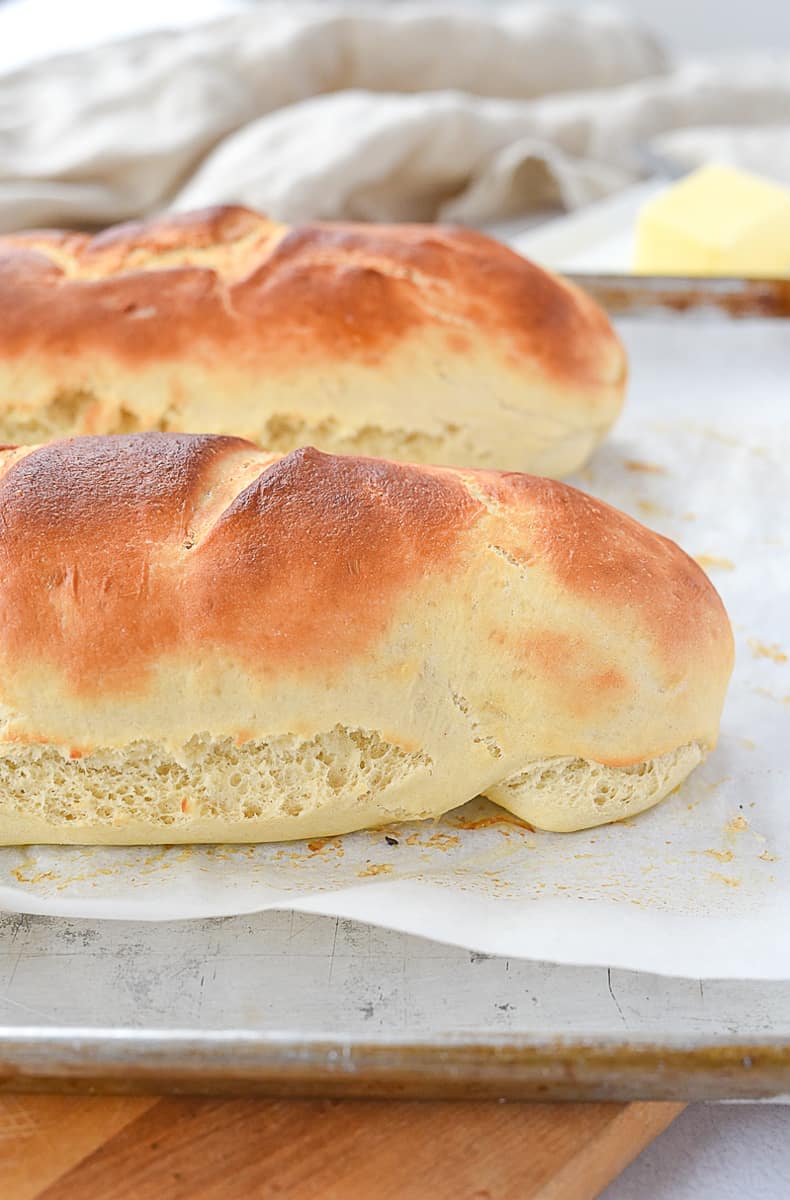 How to Make Easy French Bread
The dough from this recipe is mixed in your mixed with a bread hook in your Kitchenaid or mixer of choice.
Then, leaving the dough in the bowl, cover it with a towel and let it rise until it has doubled in size. It only takes about 20 minutes. The warmer your kitchen, the quicker your dough will rise.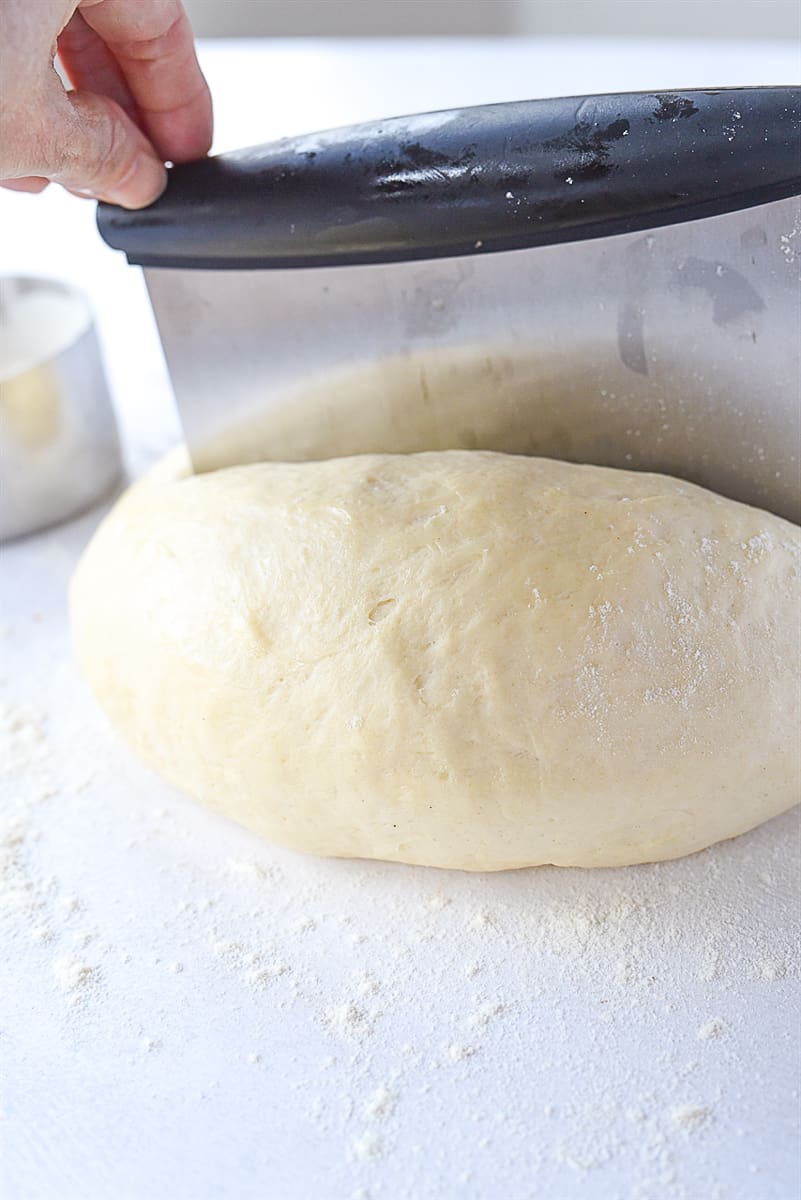 At this point, if you are feeling generous, you can divide the dough in half. If you have company coming or just aren't in a sharing mood, you can leave all of the dough out in one big piece. Now grab your favorite rolling pin. This is the rolling pin I like to use for bread dough.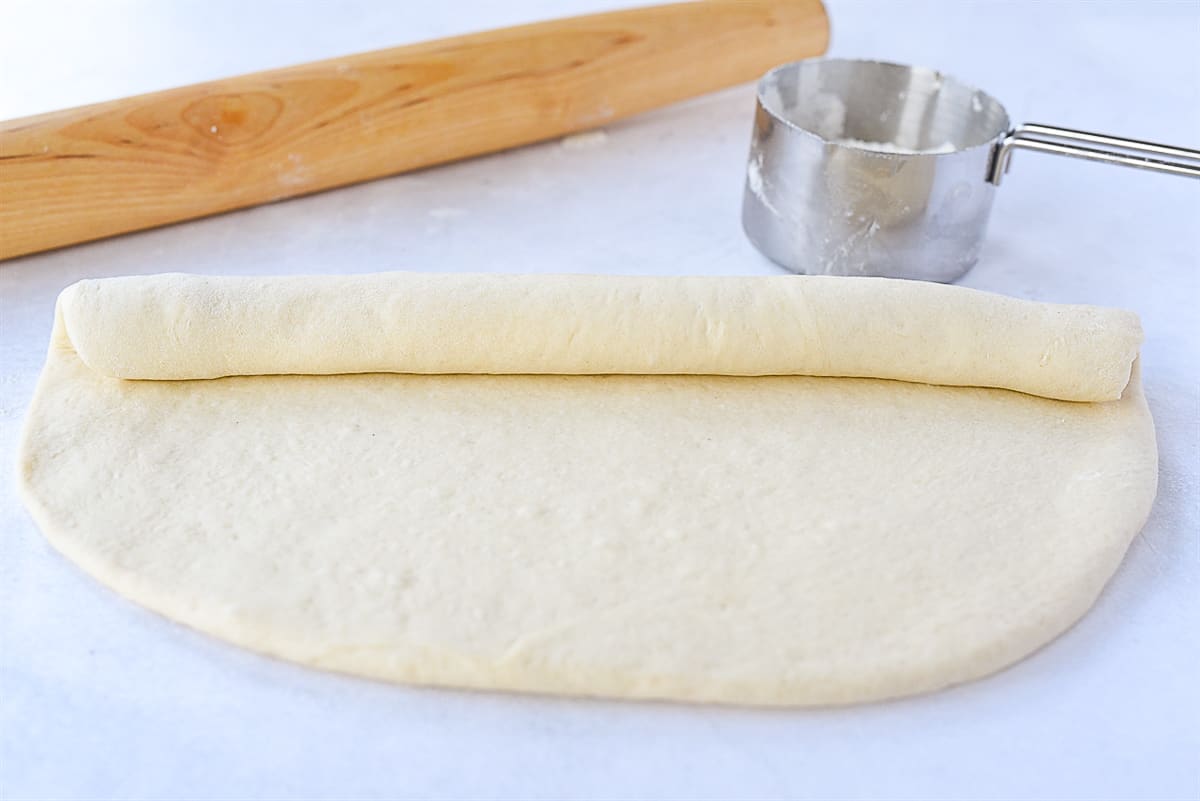 Before you roll out the dough, make sure you flour your counter generously. You will need enough flour so the dough doesn't stick. Once floured, roll out the dough jellyroll style and place the seam side down on a large cookie sheet. I also like to use a silicone baking mat on my cookie sheet. It helps the bread bake evenly and makes clean up a breeze.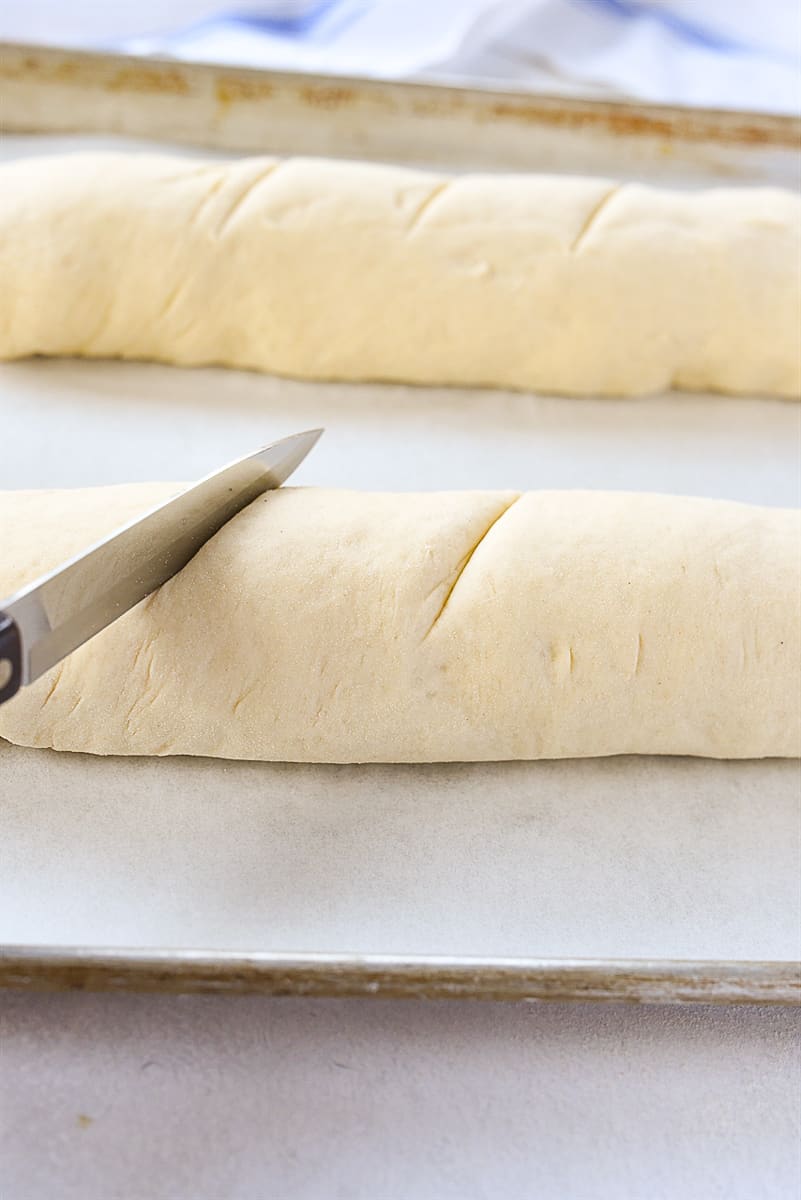 With a sharp knife cut three slits into the bread. Be sure to only go about 1/4 inch deep. If you go too deep your bread may look a little funny after it rises the second time. I know from experience.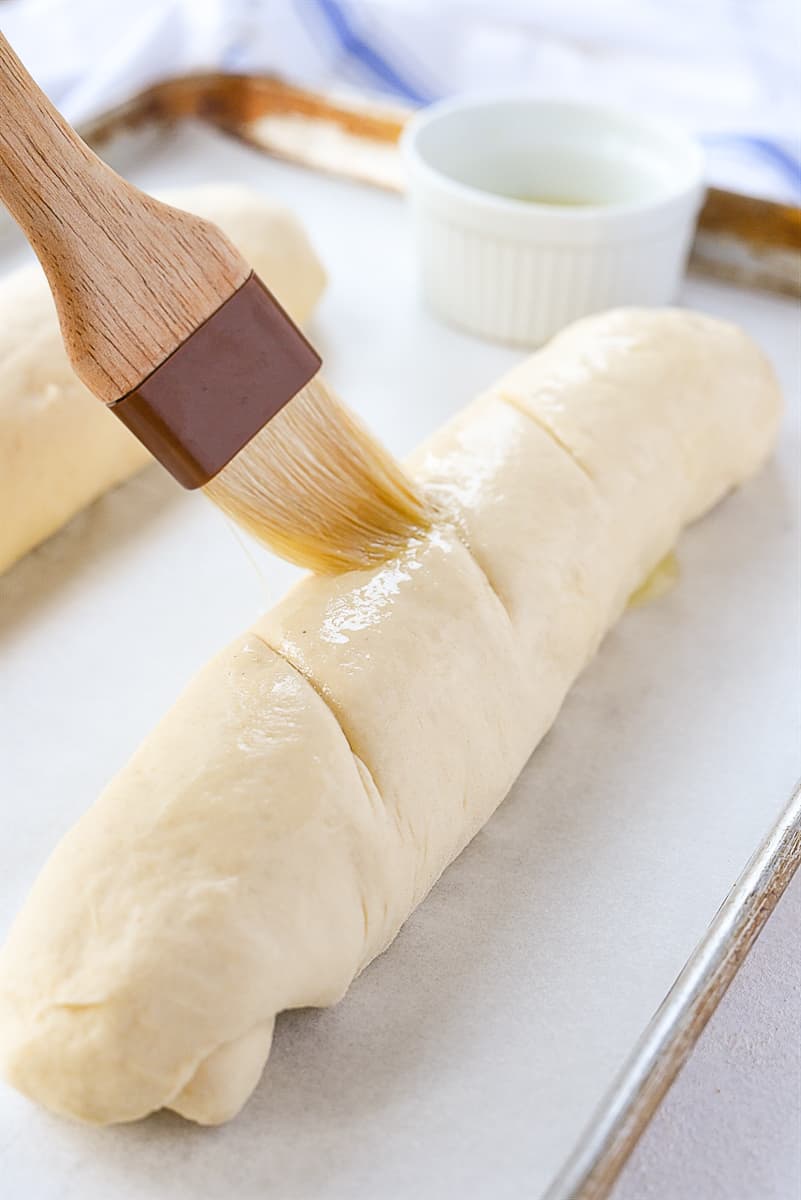 Then give the bread a nice little bath in an egg white wash. To make the egg white wash, just add 1 Tbsp water to 1 egg white and mix together.
How to bake French Bread
Next, heat up a pan of water on the stove until it boils. While you wait for the water to boil, preheat your oven to 300 degrees. Once the oven is preheated and the water has come to a boil, TURN OFF the oven. Then place the pan of boiling water onto the lower rack of your oven and place your loaf of bread on the rack above. Allow the bread to rise this way until double. This will take about 20 minutes.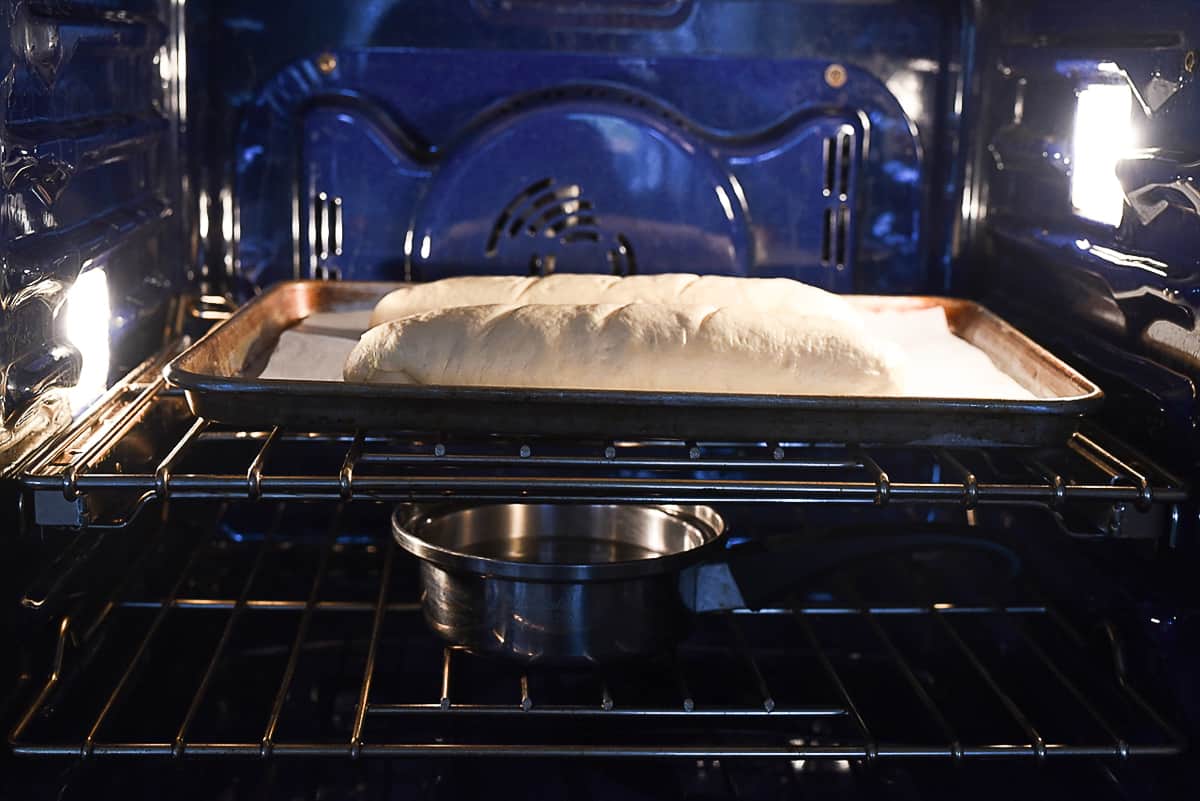 The steam that is given off from the water helps the loaf get that nice crust that a good loaf of French bread needs.
Remove the pan of water from the oven and turn the oven on to 425 degrees. Leave the bread in the oven as it is preheating. Bake bread for 10 minutes. The oven will usually have just reached it's 425 degrees at the end of the 10 minutes. My bread is usually always done at the end of the 10 minutes. If your bread is not done, turn the head down to 350 degrees F and bake for another 5 minutes or until done.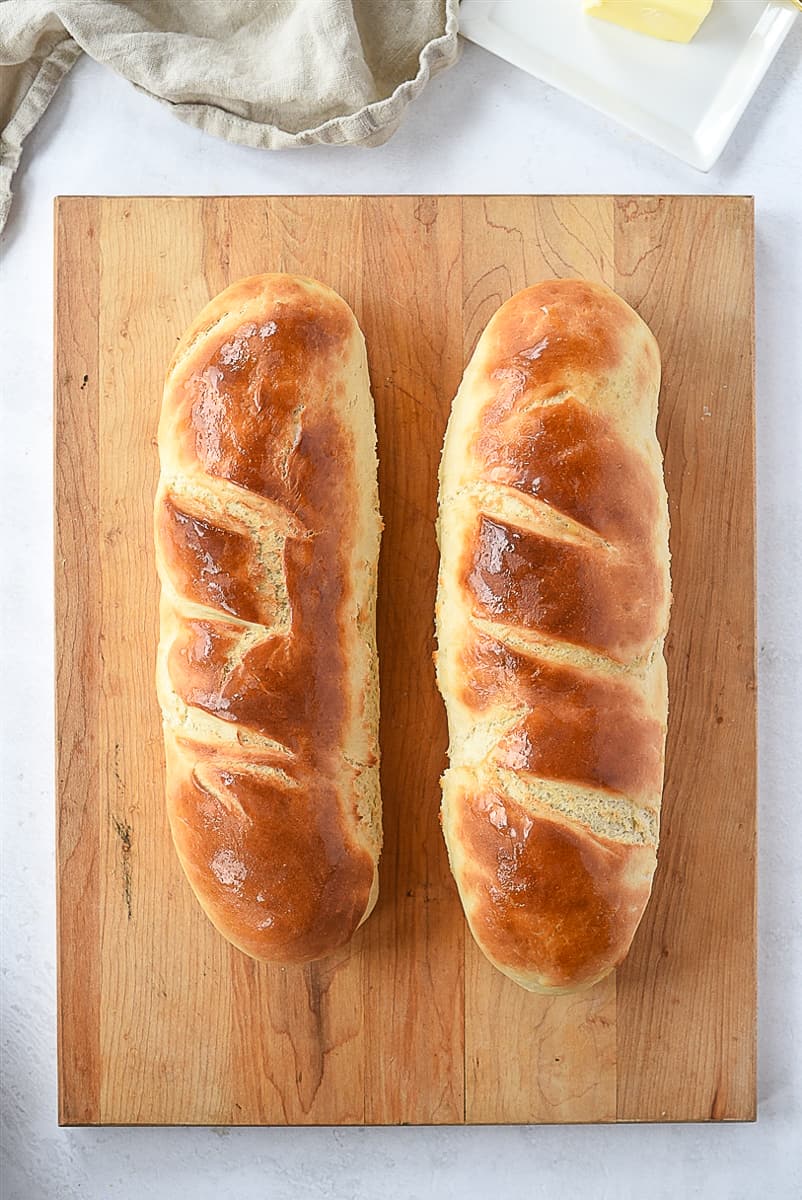 Enjoy a nice, warm loaf of home baked french bread with dinner!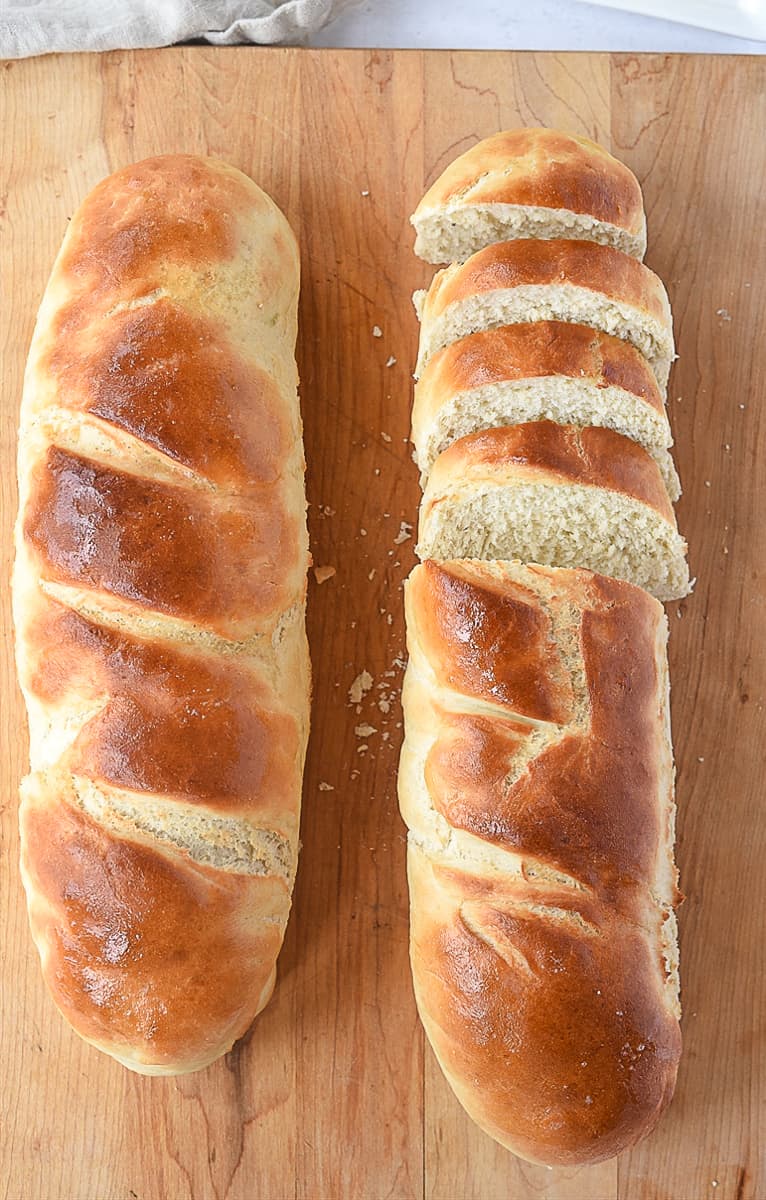 Check Out More of My Easy Bread Recipes:
Did you know I wrote a cookbook? Check out the Holiday Slow Cooker Cookbook for 100 delicious recipes.
French Bread Recipe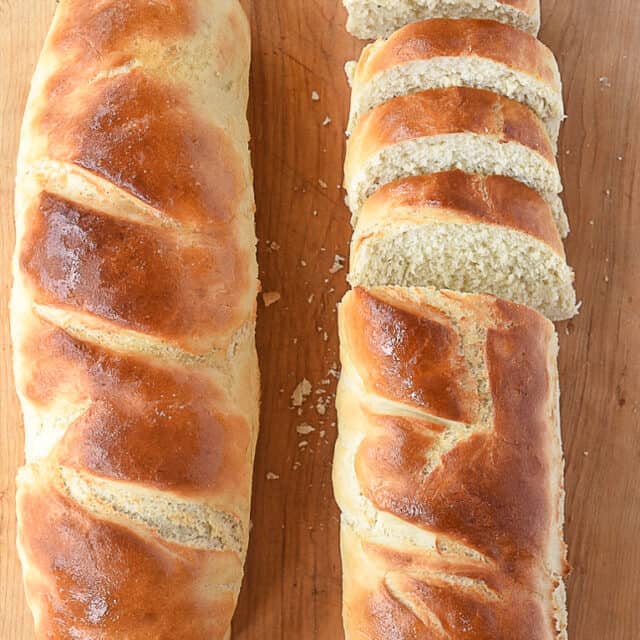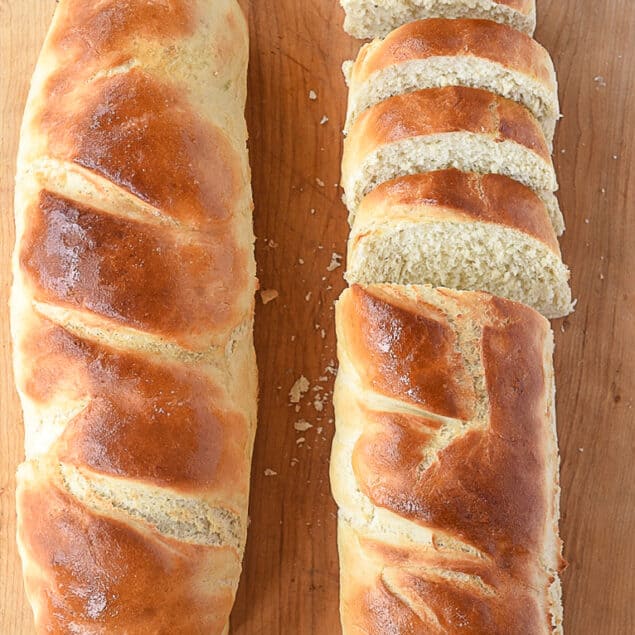 Easy French Bread
Enjoy the delicious taste of homemade french bread with this quick and easy french bread recipe.
Ingredients
1/4 cup warm water 105-115 degrees
1 pkg dry active yeast
1 tsp sugar
4 cups all purpose flour
1 Tbsp sugar
1 tsp salt
1 cups plus 2 Tbsp. warm water
1 egg white and 1 Tbsp water.
Instructions
Combine 1/4 C water, yeast and 1 tsp sugar into a bowl.

Allow to stand for 5 minutes until yeast is bubbly.

Add in 1 Tbsp sugar, salt and water.

Mix well.

Add flour.

Mix well and knead for 5 minutes or until dough is smooth.

Allow to rise until double (about 15-20 minutes)

On a lightly floured surface roll out with a rolling pin. (May divide dough into two pieces for two smaller loaves if desired)

Roll dough up jelly roll style and turn ends under and place seam down on a greased cookie sheet. Cut 3 diagonal slits into each loaf (only about 1/4 inch deep)

Mix together egg white and 1 Tbsp water and gently brush on loaves.

Preheat oven to 300 degrees.

Boil a pan of water and then put it into a shallow dish.

TURN OFF OVEN

Place pan of water on lower rack and then bread on shelf above pan of water.

Allow to rise and bake for 20 minutes.

Remove pan of water

Leave bread in the oven and turn oven to 425 degrees and bake bread for 10 minutes. (this includes the preheating time)

If the bread is not done at the end of the ten minutes, reduce oven to 350 and bake for an additional 5 minutes longer or until bread is golden brown.
Nutrition Facts:
Calories: 79kcal (4%) Carbohydrates: 16g (5%) Protein: 2g (4%) Sodium: 100mg (4%) Potassium: 24mg (1%) Calcium: 3mg Iron: 1mg (6%)
* Disclaimer: All nutrition information are estimates only. Read full disclosure here.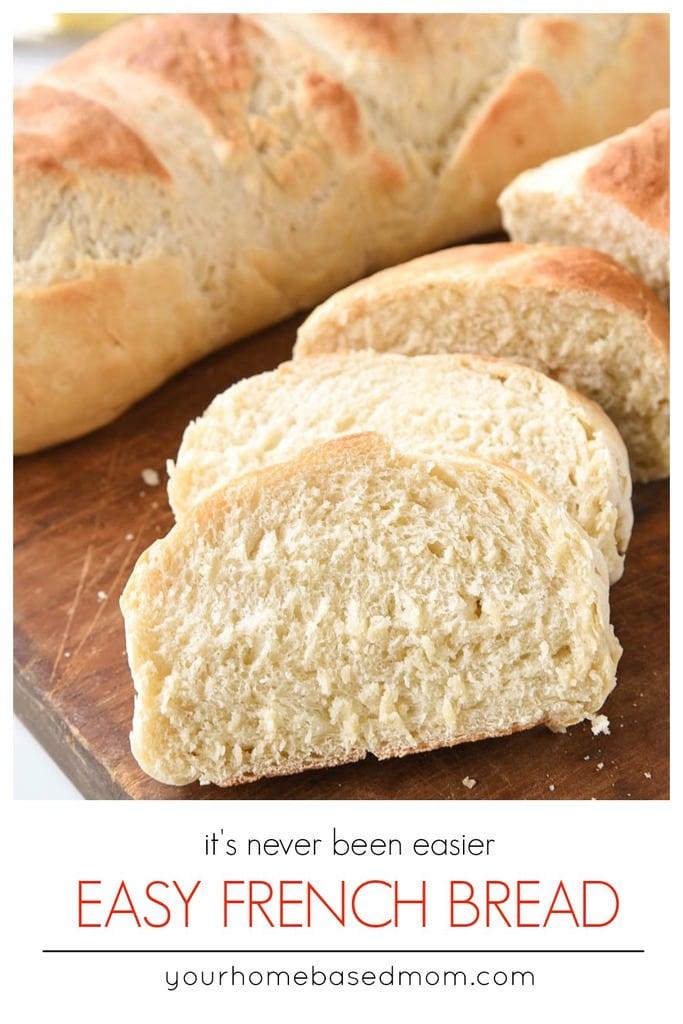 Recipe originally published May 16, 2012